Every company that is committed to long-term growth should concentrate on raising its brand's presence on social media platforms. Several, unfortunately, find it difficult to make their mark due to the intense competition. Instagram is gradually replacing other social media platforms as users' and businesses' favorite social networks.
Businesses must regularly create content to be successful, and in order to maintain consistency, you must make the workflow as simple as conceivable. You'll need the greatest tools to help you reach the top of your social media game as you work to increase follower growth and establish a strong online presence. Here are the top 10 tools to aid you in using Instagram to promote your brand and grow your client base.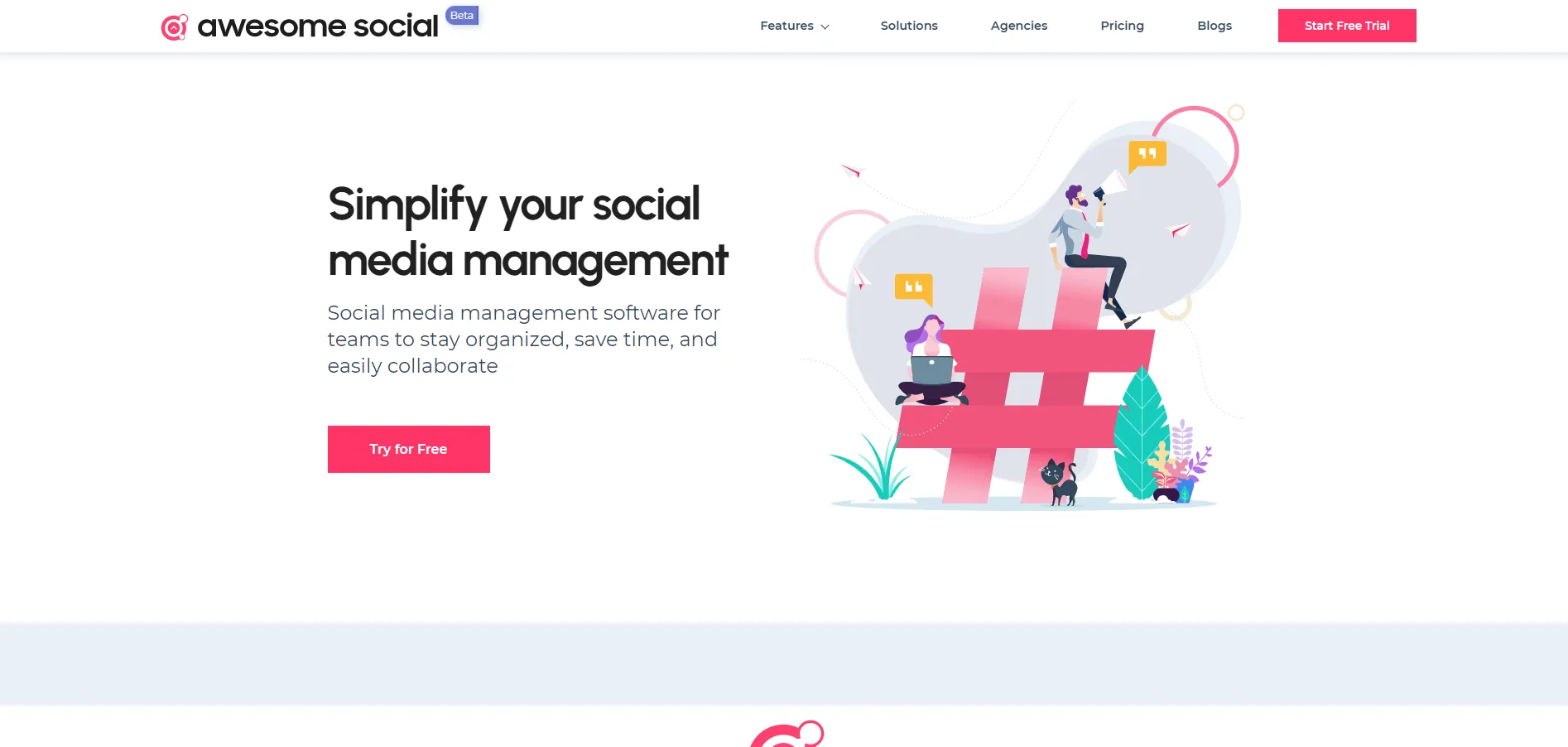 Awesome Social is a social media management application.  An all in one tool that allows users to plan, schedule, and manage multiple social media profiles. It has a calendar view of all published and scheduled posts that you can edit, remove, or reschedule directly from the tab.
Awesome Social also has a simple and user-friendly content dashboard where you can create, curate, edit, schedule, or save a draught post. It's an all-in-one solution and one of the best social media management tools available. It is a strong social media management tool that provides all of the features required to gain complete control over your social media and achieve tremendous growth.
2) Hootsuite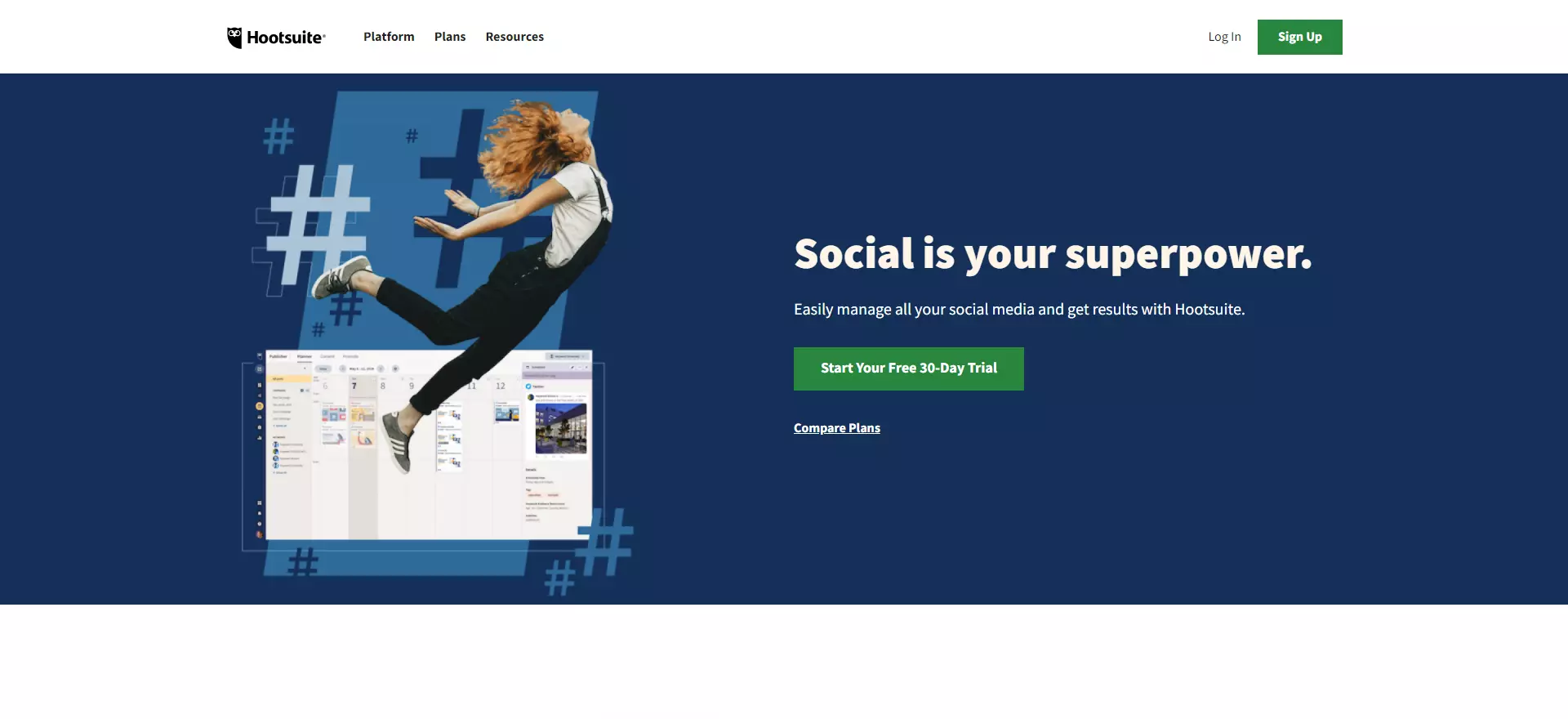 With Hootsuite, organizing your Social posts is simple. Select publication dates, write descriptions for your pieces, add the images you want to use, and then compose the captions. Now that Instagram supports post scheduling via third-party solutions, something their terms of service previously did not allow, it will publish automatically to your Instagram account at the set time.
Hootsuite can oversee and assess fresh content, track client interactions, schedule numerous posts, and offer real-time insights. With this software, you can quickly view a user's social data and find social queries, hashtags, and other pertinent information for your unique feed.
Google Drive, Dropbox, and Microsoft OneDrive are all accessible with Hootsuite. Since any member of the team can readily obtain digital information, the software offers efficient, interactive posting and workflows for large teams. An improved video-first feature was also recently developed to optimize video footage for different social media platforms.
It provides some of the most powerful analytics and report creation available, but it only offers certain key templates in the more premium subscriptions. For instance, the Enterprise Plan is the only one that offers Facebook Aggregate and collaborative performance reporting. Hootsuite's primary flaw is its cost, which might be unreasonably high for smaller companies. But this is a valuable, comprehensive tool for a major corporation with a bigger workforce.
3) Loomly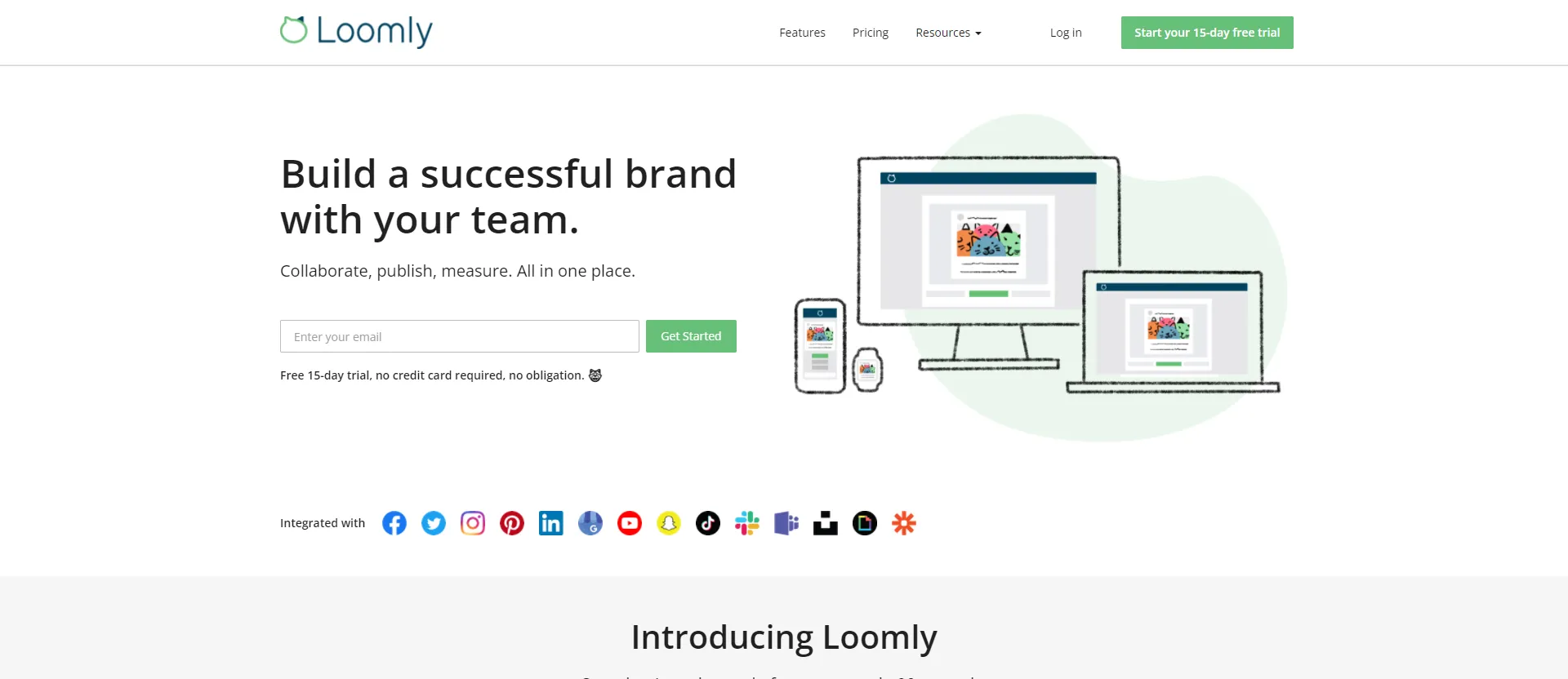 Loomly is a robust platform for managing and planning social media posts that has a simple, user-friendly layout. After a 15-day, no-credit-card trial, there are four pricing options available. They start at the $26/month Base plan for users with 10 or fewer social media accounts and go all the way up to the $269/month Premium Plan, which supports up to 30 users and 50 social media accounts.
Loomly can set a variety of scheduling workflows, which is a helpful functionality for first-time users. The procedure for creating a post is simple to follow and easy to implement. You have the option of starting a post from conception to completion or using post inspiration from RSS feeds to generate prototype posts automatically. Although you can alter the post's specifics for the social networking sites you would like to use, you must first construct the post's core copy.
You can choose your demographic and establish a budget for your ad campaigns if you want to make a sponsored post for Facebook from within Loomly. Loomly is one of the most user-friendly tools available which makes it ideal for anyone who's starting their digital marketing journey. But like most beginner-friendly tools it does not offer some complex features you may find in tools like Buffer or Hootsuite.
4) Pally
If you want more flexibility over your growth strategy, Pally has a terrific package to offer because it gives users a solution that they can entirely personalize. If you haven't ever utilized Instagram software before, it's a great place to start.
The first benefit is that you may access their product from any device since it is fully web-based and requires no installation. Lower-priced products could only let you build a strategy centered on a single crucial data point, like hashtags. However, Pally enables you to construct a coherent strategy based on many important data points, including language and location.
Before customizing Pally, it's critical to understand who your target audience is, especially if you're a start-up or entrepreneur. When you utilize this application, you can include your results in the demographic portion of your strategy. Pally is a unique, all-purpose solution for growing your Instagram following which you can utilize for a variety of purposes. It is a higher-end product but does offer a good value for money for large organizations.
5) Later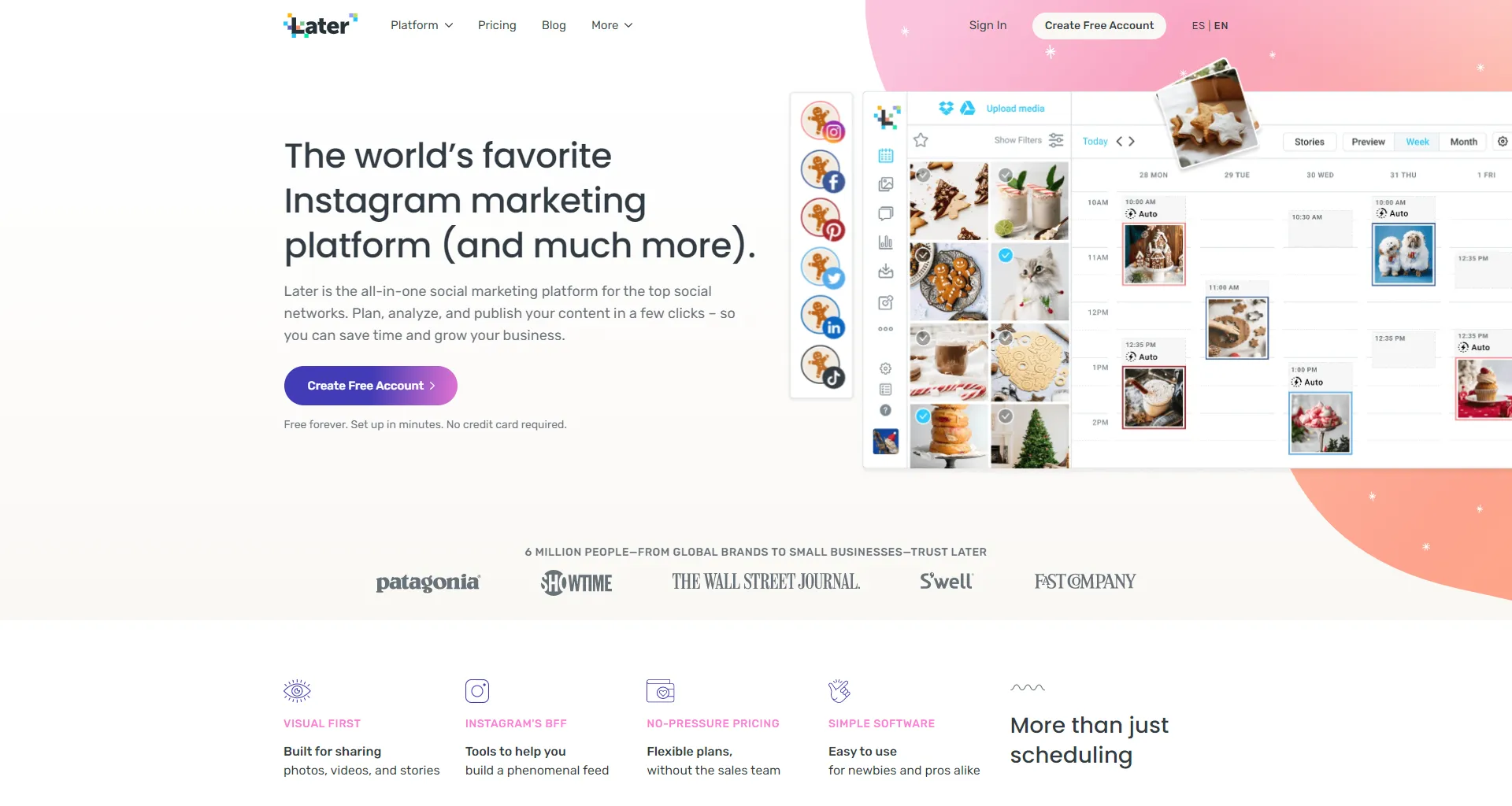 Although Later allows you to upload content to several different social media channels, Instagram is its primary focus. Later, you start a post with a photo instead of its words, contrasting many other social media publishing and scheduling applications. You post the picture to the Later app after which you write the caption for it.
Setting up Later such that it uploads directly to Instagram can be difficult at first. However, the workflow is simple once you have converted your Instagram profile to a Business or Creator page. A Media Library is the foundation of Later. Adding photographs to your Media Library at the start of each article makes them accessible for later postings.
Your media files offer the option to add labels and annotations to them, and you can give any photo you want to prioritize a star. Your photographs can be filtered in many different ways. If you own one of Later's subscription services, you can post and stream videos as well. Creating and uploading Stories is made easier using Later.
6) Iconosquare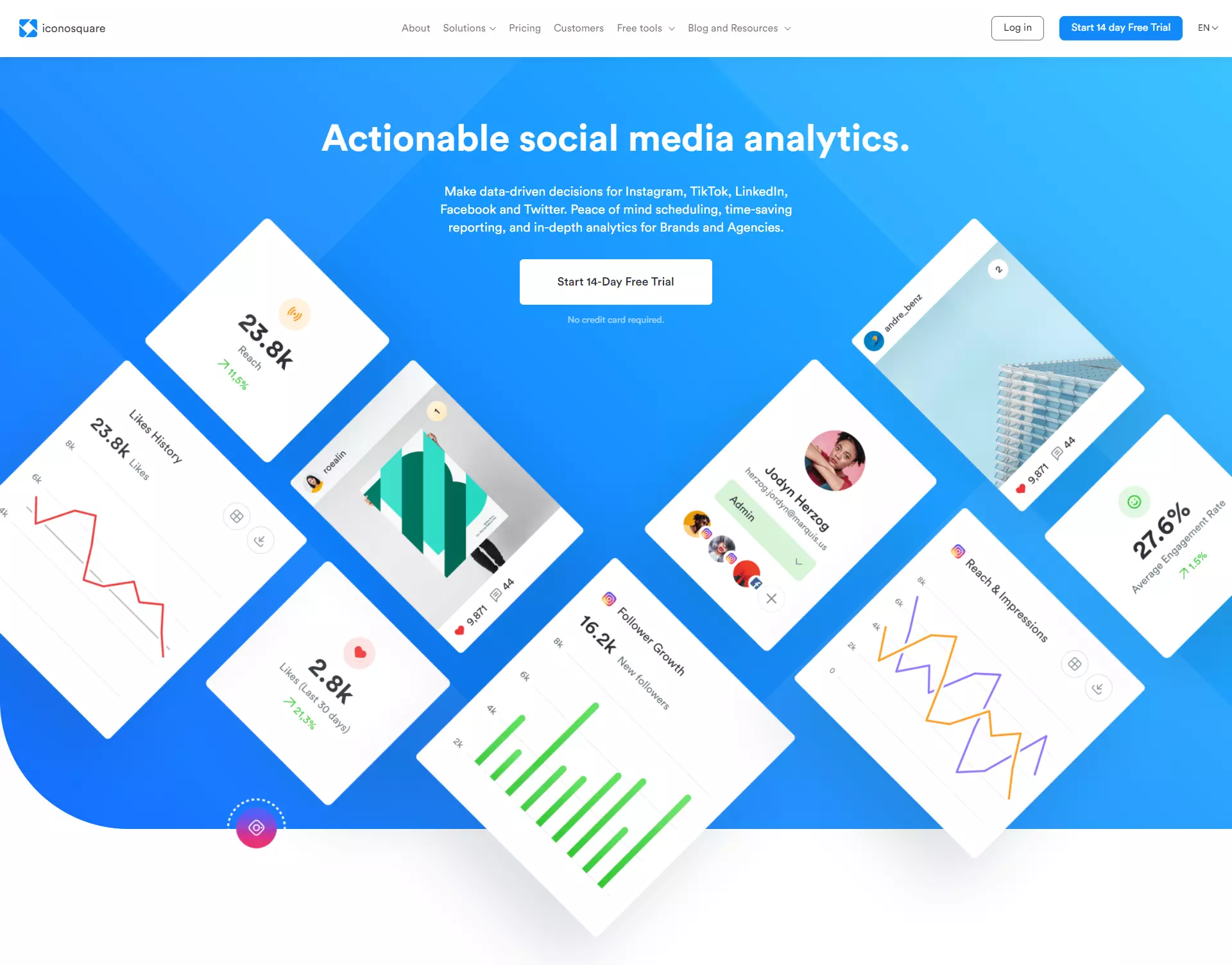 Many of the capabilities included in similar all-in-one Instagram solutions on our list are also found in Iconosquare. This also includes a sophisticated social planner and social media listening tools. When it concerns analytics, it does better than most. It gives you access to a lot of data and enables you to thoroughly analyze your efforts to determine what is and is not working.
Crucial performance statistics including organic reach, post engagement rates on average, exposure, and views are easily visible in simple graphs. To analyze how your marketing initiatives affected different KPIs, you may also compare promoted vs. organic postings. The Conversations tool also makes it easier to monitor how your company or rivals are mentioned on Instagram.
Iconosquare has recently broadened its range of services to include multi-profile social media management and is a robust scheduling device, even though it is best known for its in-depth social media insights. Instagram Facebook, Twitter, and LinkedIn are all covered by the available tools, however LinkedIn and Twitter now have fewer features that are readily accessible.
7) Canva
Canva is incredibly user-friendly in contrast to expert products like Photoshop. In fact, its user-friendly interface was created with non-designers in mind. You can choose from thousands of Canva templates to get creative while producing an Instagram picture or Story. You can submit your own photos or choose from a selection of free ones to place into the design. Canva offers so many options that it could feel like a barrage of options or like it's too much to handle. The most crucial principle to keep in mind for Canva is that less is more.
If you really like a design, attempt to alter it as little as possible rather than adding more and more components. When in doubt, use just one typeface and one or two colors to portray a professional impression. Always utilize sharp images when sharing your own photos. One of the best features of this application is that you can always turn to the templates for ideas if you're stumped for new designs. Canva also offers scores of colors and fonts for free so you can pick what matches your aesthetic and make amazing content without spending a penny.
8) Lightroom
Speaking of designing for non-designers, Lightroom provides a simple method for editing your photographs to give them a unified appearance. Lightroom will ensure your feed appears uniform, regardless of whether you want to use the presets that are already there or experiment to design your own ideal edit. Because of Adobe's user-friendly design, you won't need to spend a lot of time getting to know the program before you can produce photographs that look precisely how you want.
Additionally, Lightroom makes use of Adobe's cloud, allowing you to access and edit your photographs from anywhere at any time. On Lightroom, your pictures will be automatically tagged with identifiable keywords thanks to Adobe's technology. You may use Lightroom to upload immediately to social media once you've located your photographs and modified them to your liking. This can be a useful option if you don't want to schedule these photographs for the future. Browsing and customizing your Instagram photographs is a cinch using Adobe Lightroom.
9) Sprout Social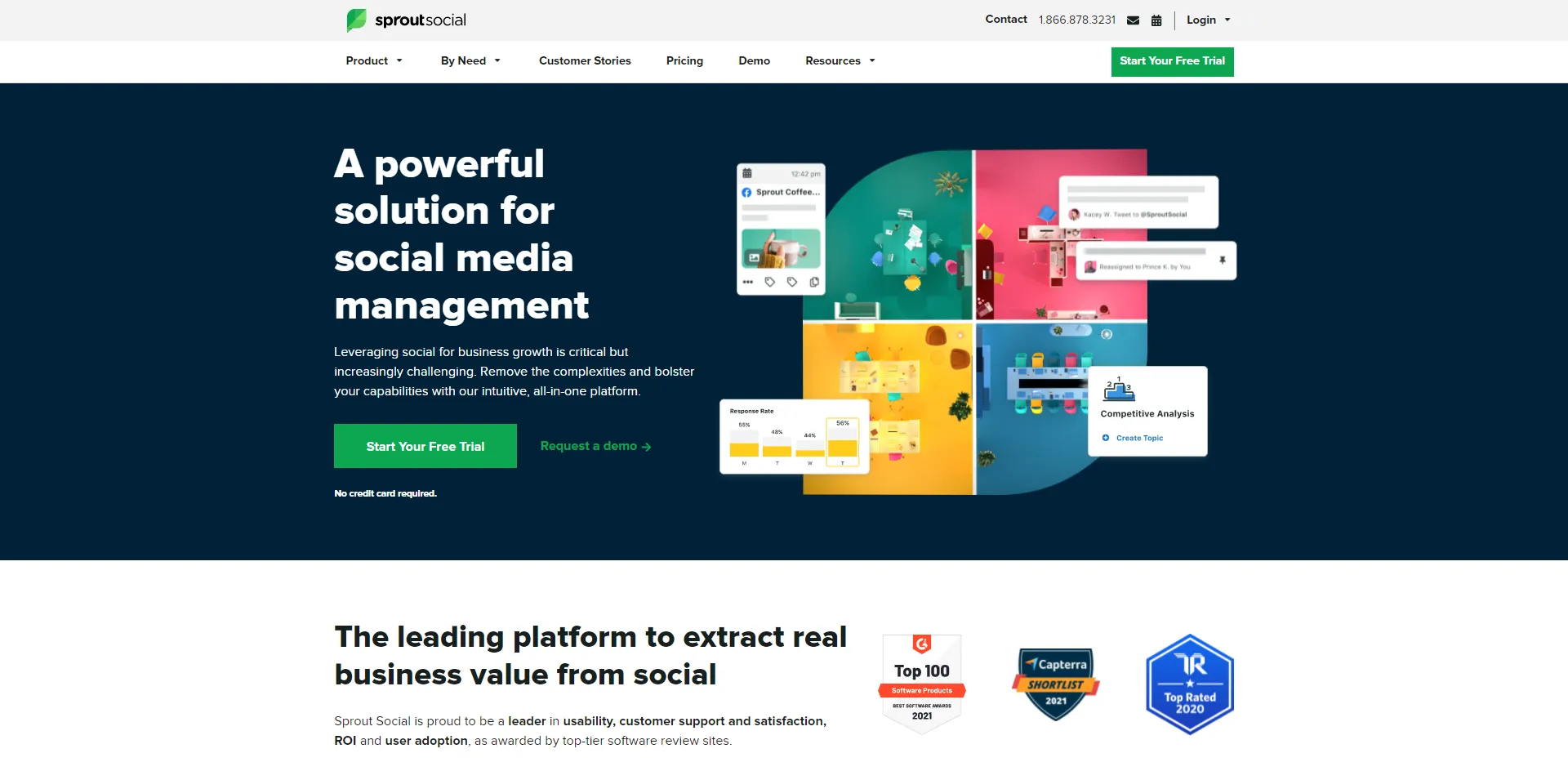 Sprout Social facilitates teamwork in addition to providing market-leading scheduling tools, a dynamic calendar, and an asset administration library. User-level authorization empowers marketing directors, writers, and anyone in between special access to participate in your marketing effort.
Your team can get a bird's eye perspective of what is posted and promoted each day using Sprout Social's calendar feature. To help you assess how effectively various pieces of content fare on social media, the suite also contains a range of social media metrics. Plans start with a free 30-day trial and run around $89 to $249 per month.
Additionally, Sprout makes it simple to evaluate the results and alter your long-term plan moving forward once your content has been planned and published. However, Sprout Social is a relatively pricey social media service, much like Hootsuite. Independent digital marketing agencies or content producers who don't need such advanced capabilities may find it to be unnecessarily complex and expensive.
10) Social Insight
As brands gain more traction on Instagram, engaging with users can become challenging. Companies could use Social Insight to organize and manage their followers, plan messages for particular times, and, most notably, track follower engagement. Additionally, the platform gives users access to comprehensive data insights that can be utilized to evaluate and modify marketing plans. Social Insight is a complex platform that provides a plethora of features and analytical data. The abundance of KPIs and tools makes it possible for practically anyone to develop a successful Instagram marketing plan.
You can create regularly scheduled postings and arrange your content using the platform. You can quickly change content around to suit your plan and post during popular times of the day. You can establish collaborations and pinpoint influencers using its algorithms to raise recognition of and interest in your company. Instead of manually searching Instagram, Social Insight can locate people who are already familiar with and passionate about your brand.
In Conclusion
Although you can always create a new Instagram story or post a photo using the app, it's not necessarily the most effective. Utilizing Instagram marketing tools gives you a large number of new capabilities and features. Several online social media management tools enable you to optimize and design your posts. For instance, several of these solutions allow you to organize the publication of posts.
This means that you can access and interact with your intended audience when they are active and free. Additionally, some of the top Instagram growth solutions incorporate data insights about your target demographic. Data can assist you in choosing the most effective approach rather than simply placing pictures on the social media platform and hoping it works out.
You can boost your Instagram following with the correct tools to improve your internet presence. Identifying those that will best fulfill your needs is all that is necessary. Discover the benefits of these technologies and expand your audience on Instagram now!