In the year 2020, when TikTok was having trouble staying in the market, Instagram Reels was released as a competitor. Thousands of people made use of this special feature to make the most of their lockdown time while at home, and this incredible new feature quickly caught the attention of audiences worldwide.
Content creators and companies all over the globe have come to appreciate it. And over the past two years, with a growth in the use of this feature by social media advertisers, the significance of Instagram Reels has indeed grown. Reels have gained a lot of popularity in part because it lets you express who you are using brief, entertaining videos.
Reels are typically 15-30 second videos, inspired by TikTok, and may be made with Instagram's camera or shared via the Image Library. Scripted text, Augmented filters, green screen mode, timing and speed options, and connectivity to an audio library are among the available effects.
Reels are one of the most well-known of Instagram's current features that helps users constantly create trends and captivate audiences due to the content's short length. Once or twice a week, experiment with Reels to discover what works with your core demographic.
Although a reel can last up to 60 seconds, most creators have discovered that shorter reels perform better. If you're looking into one of the fastest ways to reach new audiences, try your hand at making a Reel. Use these steps to create and share your Reels on Instagram.
Steps to create a reel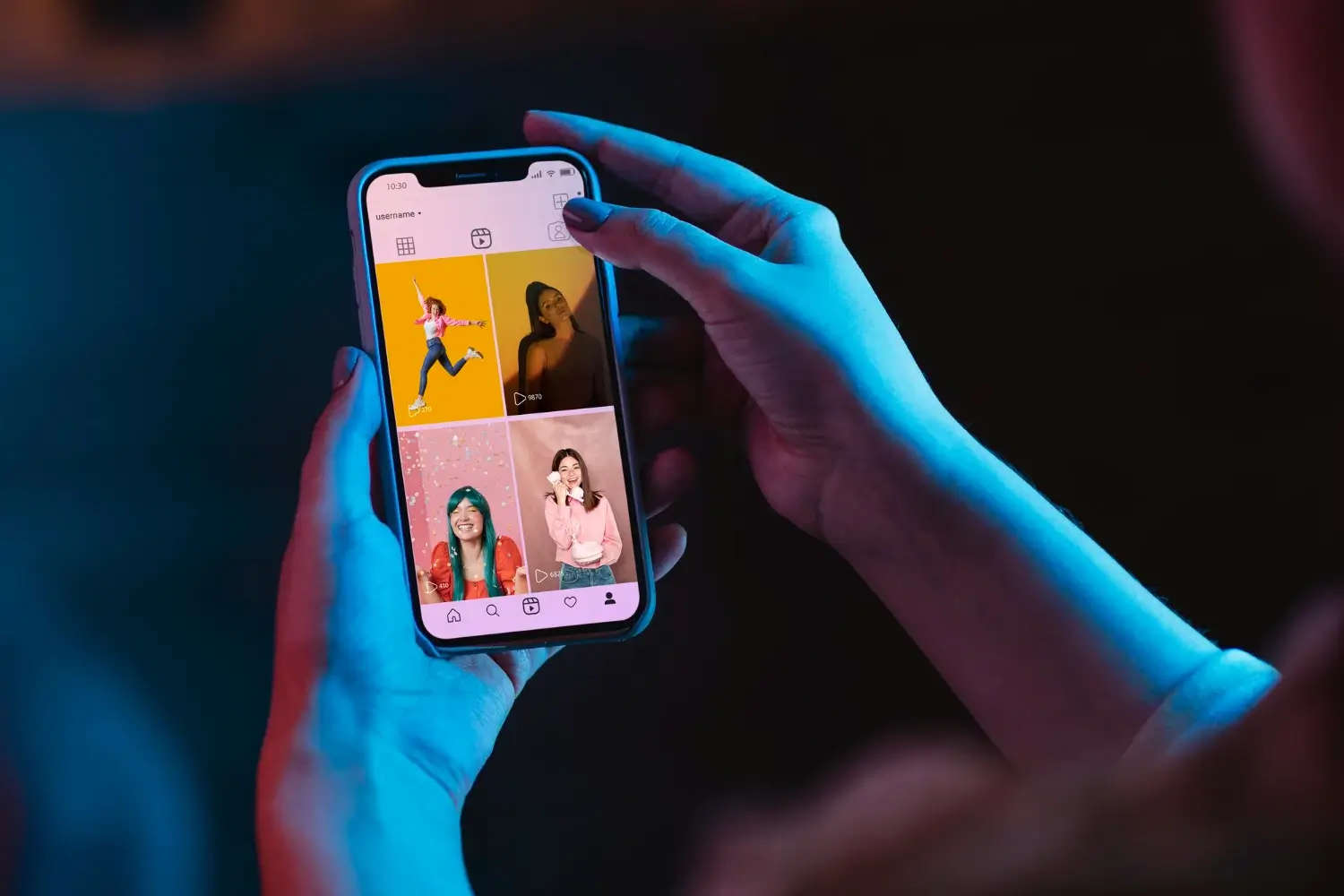 ●     Open the Reels feature-
●     Press the "+" button in the bottom center of the page after you've opened the Instagram app. Swipe to the right until you reach the Reels option.
●     Choose the runtime of your video-
●     Determine whether you want to capture a 15-second or 30-second video by pressing the top button on the left side.
●     Make your Reel more interesting by adding music to it-
●     Browse or explore the songs you want to utilize by pressing the music icon on the left side of the screen. Then, by tapping on your music, select the part of the song you wish to hear.
●     Select a video speed-
●     After that, you'll want to choose your video's speed. There are five different speed settings available, ranging from to. 3 to 3 times.
●     Select your effects.
●     You can use filters or effects from Instagram's gallery, just like you can with Instagram Stories. You can also film numerous clips with various effects at the same time.
●     Setup a timer-
●     It's now time to start your timer. Select the length of your video by pressing the clock icon on the left side of the page. Then select a 3-second or 10-second countdown by pressing the countdown button. Press "Set Timer" when you're ready.
●     Record the reel-
●     Press the record button in the center of the screen when you're ready to start recording.
●     Share your Reel-
●     Tap the arrow icon at the bottom of the screen when you're done. You can opt to share the Reel to Reels in your Feed, the Reels section, in Explore, or your Stories.
Try to use trending music, dances, and issues when you're creating a reel. Join in the fun and pick up a few new trends. Simply put your unique spin on it to make yourself stand out from the pack. Aside from that, don't restrict the variety of ways your new Reel can be discovered.
It can be shared not only on the Explore page and in your Feed, but also your Stories. Additionally, if you have a business profile, you can also use Instagram Insights to monitor how well your Reels are working and what content your followers are most interested in. Make use of this data to help you produce the types of Reels that your target audience wants to view.
This is the usual route beginners on Instagram take while embarking on their reel creation journey. It's crucial to keep in mind that you generally shouldn't post a reel without editing its contents. No matter who the person is behind the camera, there's an abysmal chance that your video turned out exactly how you wanted it. Video creation and reels necessitate an editing tool or app that can help you create a high-quality piece of content. In this article, we'll delve into some of the best video editing apps and software available at your disposal for Instagram reel creation.
iMovie is a robust video editor for Instagram reels that can be used to edit, enhance and improve videos. With a few taps, you can create beautiful cinematic videos. There are many different soundscapes available in the built-in library, and you may even record your own narration. Instagram reels could be effortlessly edited by changing the captions or backdrops to make them more appealing.
iMovie, which was created for iOS users, might be the tool that makes editing Instagram videos the smoothest for you. With its well-organized layout and user-friendly functionalities, you can easily make high-caliber videos with it. With the movie feature, you can edit everything yourself; with the trailer feature, iMovie will do the task for you.
iMovie's a completely free app available for all IOS users worldwide. These are some features users can utilize with iMovie:
●     Animation
●     Drag & Drop
●     Social Sharing
●     Templates
●     Video Creation
●     Video Editing
iMovie is a brilliant free option but you can only access it if you have an Apple device. This can be a downside for those who primarily use android devices across platforms.
Adobe Rush is another stunning intuitive video editing app that's available for iPhone users. Reels are one of the nearly all-inclusive features in this product that you'll require to make straightforward social videos. You can pick from pre-built Instagram Reel templates on it. This program works great if you want the simplicity of uploading your material on Instagram Reels straight away without any fuss because of its user-friendly interface that enables users to export movies in HD quality with only one click.
Not only is Adobe's well-known video editor, Premier, accessible on your mobile device, but it is also cost-free. Adobe Rush features a Freeform editing tool that enables you to further modify your edits after its initial audio sync. Adobe Rush seamlessly aligns your clip to the soundtrack of your choosing by utilizing Premiere Rush's selection or your own.
You may chop, drag, and move numerous video and image clips with the help of Premiere Rush's similarly extensive video editing tools. You can do this directly from the video and photograph albums on your smartphone, in the order you choose. Simply adjust the video's speed and add the appropriate lighting before sharing the finished clip immediately on Instagram, Facebook, Twitter, or YouTube.
Reels on Instagram are presented to users in a vertical viewing format. However, you can use InShot to handle the editing when you want to share or upload horizontal long-format videos. It makes the horizontal video vertical by adding bars above and below. Moreover, with a few taps, you can adjust the video aspect ratio to 16:9 (the ratio suggested for Reels).
A lifetime subscription costs $34.99, or you can opt for $3.99 each month. Making Inshots one of the least expensive editing programs for mobile users. Moreover, you might want to think about upgrading as the free edition only allows you to edit photographs in square format and includes their logo. Launch the app when you're eager to start making editing, then click on the video button to view your current files. As a side note, if the app is closed while the videos are loading, they won't finish rendering so ensure that you keep the app open at all times. Once you've finished editing the video, click the "share" button in the top right corner.
Using Inshot, you may also add transitions, logos, and personalized text captions to create stunning Reels. Additionally, you may speed up clips, merge files, apply filters or music in the background, and so on. InShot is a very user-friendly tool, which makes it the ideal option for beginners and new content creators.
Use the free video editing tool FilmoraGo to spruce up your Instagram videos and reels. Since it is free and doesn't trademark your recordings with any overlays or advertising, this app is worth mentioning. Additionally, there is no restriction on the amount of footage you can shoot, edit, or share. With FilmoraGo, you can create an Instagram video that is both eye-catching and enjoyable. Post-editing is also made easier by the absence of watermarks, commercials, and time restrictions on your video.
If you want some exciting effects, all you need to do is pay a premium. With it comes effects like holiday and retro filters for your films. Features on filmora are:
●     You can import films from the camera roll or social media sites like Instagram and Facebook directly to the app.
●     Filmora offers a variety of sophisticated features that give your videos a polished touch.
●     It has a selection of licensed songs in the library, or you can upload your own songs and backtracks while editing videos.
●     It exports all your videos at the Instagram ratio of 1:1
●     It enables you to fast-forward, rewind, or slow down your video.
●     Lastly, it allows you to add text, built-in transitions, and still and motion features.
Anyone looking for a quick, low-cost solution to create amusing Instagram videos should use FilmoraGo. It isn't, however, the most advanced app available. It would be better to use software such as Adobe Premiere Rush if you're a business trying to produce extremely polished videos through intensive editing. You could therefore link to Adobe Premiere Pro, which might handle more complex edits.

As the name implies, Splice lets you combine various video snippets on your phone to make a dynamic montage. Splice even has a collection of audio tracks that can be utilized as a soundtrack for your finished product, which makes it an exceptionally distinctive and original program. The app also lets you change the durations of the transitions between scenes and trim and edit the various video clips.
Splice's most popular features are among the following:
●     Create your own background, add outros, and use dynamic transitions
●     Utilize the zoom and pan effect
●     Get access to modern effects and filters
●     Use a large music collection
●     Be able to use audio blending
●     Add a narrative voiceover
●     And lastly, adapt playback speeds
Keep in mind that Splice is an iOS-only app while testing it out for yourself. If you enjoy stylish effects or transitions, Splice can be your go-to Reels tool. You can replace or modify backdrop videos as well as other cinematic effects with this user-friendly professional editing tool. The pan and zoom effect, fashionable filters, and dynamic transition styles are additional well-known features of the app.
The all-encompassing video editor VideoShow is a fantastic choice for enhancing your Instagram videos. You may rapidly produce captivating videos using this tool. To captivate your audience and lengthen view times, you can add graphics, emojis, text, and other elements. Additionally, you can produce films more rapidly by using the pre-made templates that are included.
These are some of VideoShows best features:
●     Voice-overs
●     Audio extractor
●     4k video exports
●     Pre-made templates
●     Low learning-curve
The ideal users of this application are those looking for a quick and easy solution to create beautiful videos for a variety of platforms. Using this tool to create a small amount of Instagram reels may seem unnecessary as it is a complex tool. But VideoShow is an obvious choice if you produce a lot of video content for your fans year-round.
Moreover, you get access to other helpful services like an audio converter, 4k video exportation, film splicing, and more for content recycling. That implies that you might quickly convert your Instagram videos into podcasts, Youtube videos, or other multimedia or audio-based formats. By doing this, you'll be able to use VideoShow to promote your Instagram videos more effectively.
KineMaster is the way to go if you're a professional content creator and want your Reels to seem flawless, polished, and high-resolution. Everything you require to produce content that looks elegant is included in the tool, along with the ability to record voiceover work and add sound effects—a feature Instagram Reels still lacks.
Both novice and seasoned editors alike love KineMaster, an intuitive Instagram reels video editor. Users of the multi-track editing software can combine layers and examine up to 9 recordings at once to produce eye-catching effects. To make dynamic videos, you may also use the keyframe animation software and features for your reels. You can create incredibly immersive and distinctive Instagram reels by utilizing the picture-in-picture technology in Kine Master.
With its simple drag-and-drop interface, you can utilize it to cut video segments from prerecorded occasions or produce original animations. Additionally, it has capabilities like text overlays, scene sequences, motion graphics, and contour masks for adding shapes and branding.
GoPro developed the video editing app Quik. Quik is the app you use to see your GoPro photos and movies, so if you own a GoPro you should be acquainted with it. However, you may also import video from anywhere, particularly your camera roll, to create a video on Quik.  You can choose to create your own videos from scratch or let the program compile and edit your films for you. There is music, it has a professional appearance, and the edits and transitions are effortless.
There is not much you can't do to make your ideal video using Quik's outstanding capabilities. It's useful that you are given the choice of editing yourself or letting the app handle it. Quik offers a 30-day free trial before you pay $4.99/month to use it. Additionally, your recordings won't have any advertisements or company logos. Moreover,  500 videos can be imported at once using Quick. This Instagram video editing software is for you if you're attempting to create an IGTV or Instagram video with many segments. Given how simple it is to combine several clips using Quik, you don't need any prior video editing skills.
A video editing program that helps you to make video reels that appear stylish and seamless is WeVideo. Among all of these tools, it features the most user-friendly design, with a full-screen display and a timeframe for editing your footage. To enhance such videos and make them more aesthetically appealing, it offers a chroma key effect and supports 4K quality.
Wevideo is the ideal app to assist you to augment the visuals for your Reels. It also provides a bank of royalty-free music, audio effects, and stock film clips. Users of all skill levels may make professional Reels films with WeVideo for their own use or internet dissemination. WeVideo's cloud service, which enables you to access your work from any location and on any device, is its strongest feature.
WeVideo has 5 payment plans available. Although the most basic option is free, it doesn't offer many capabilities, as you might expect. You'll only be given 5 minutes of publishing time each month and 1GB of cloud storage. It's probably advisable to invest in a paid plan if your company intends to upload videos to Instagram on a regular basis. For small to medium-sized businesses wishing to produce top-notch videos for Instagram, WeVideo is a great choice. It's a fun tool for video editing all around thanks to its straightforward design and iCloud sharing. Additionally, remote businesses can exchange and edit projects more easily thanks to the iCloud capability.
Instagram Reel Editors: Summary
Reels posted by brands increase their likelihood of appearing on the Instagram explore page. Reels' popularity is mostly due to Instagram's explore page, where suggested material is featured. A business is more likely to be featured on the explore page whenever they include a high dose of Reels in its content strategy since the Instagram algorithm presently prefers Reels.
According to Metadata, the explore page is viewed every day by almost 200 million people. For marketers to reach more people and raise brand awareness, creating reels for the explore page is crucial because it starts a user's path through the virtual marketing funnel. Additionally, reels are a fantastic way to tell compelling stories. Individuals prefer to observe actual people with their true personalities, expressions, and thoughts. For instance, having employees speak directly to the lens about important issues about their brand or business can help develop customer loyalty and grow an enthusiastic community.
When customers can engage with the people behind a brand, they may more readily relate to it. Sharing Reels can increase a brand's popularity and familiarity since they allow brands to display more depth to their identity than a two-dimensional image. Utilizing Reels for marketing efforts has never been so crucial, especially because Instagram users are now devoting an increasing amount of time to scrolling through the app to watch short videos. Editing natively in Reels is not necessarily the best idea, as the native Reels editor is still largely limited and restrictive. Consequently, it is your responsibility as the marketer to create high-quality, entertaining reels.
User expectations have evolved along with this social media platform.
This means that you require cutting-edge videos that are distinctive, interesting, and, of course, visually appealing. To create eye-catching and distinctive clips that stand out, you must look outside of the app. With the help of these top Instagram Reels tools listed above, you have more options than only enhancing the look of your Reels; you also have a better opportunity to improve your editing ability.