Instagram has become a vast platform for creators and brands and is considered one of the top social media platforms. The platform has shown immense growth in content and features such as reels, stories, product tags, shoppable feeds, AR filters, and whatnot that hook a billion users for hours at a stretch, and one can not stop himself from scrolling and watching it for hours at present.
In the past few years, Instagram has gathered a huge audience base, and users are intensively increasing day by day worldwide. Because of the highly used social media platform and its huge audience base of vast targeted audiences, people use Instagram to expand their presence. Businesses look at it as a significant opportunity to expand and profit through the fantastic audience base and provide value to people.
"It has the potential to connect you with audiences and build a lasting brand presence for lead generation and higher revenue."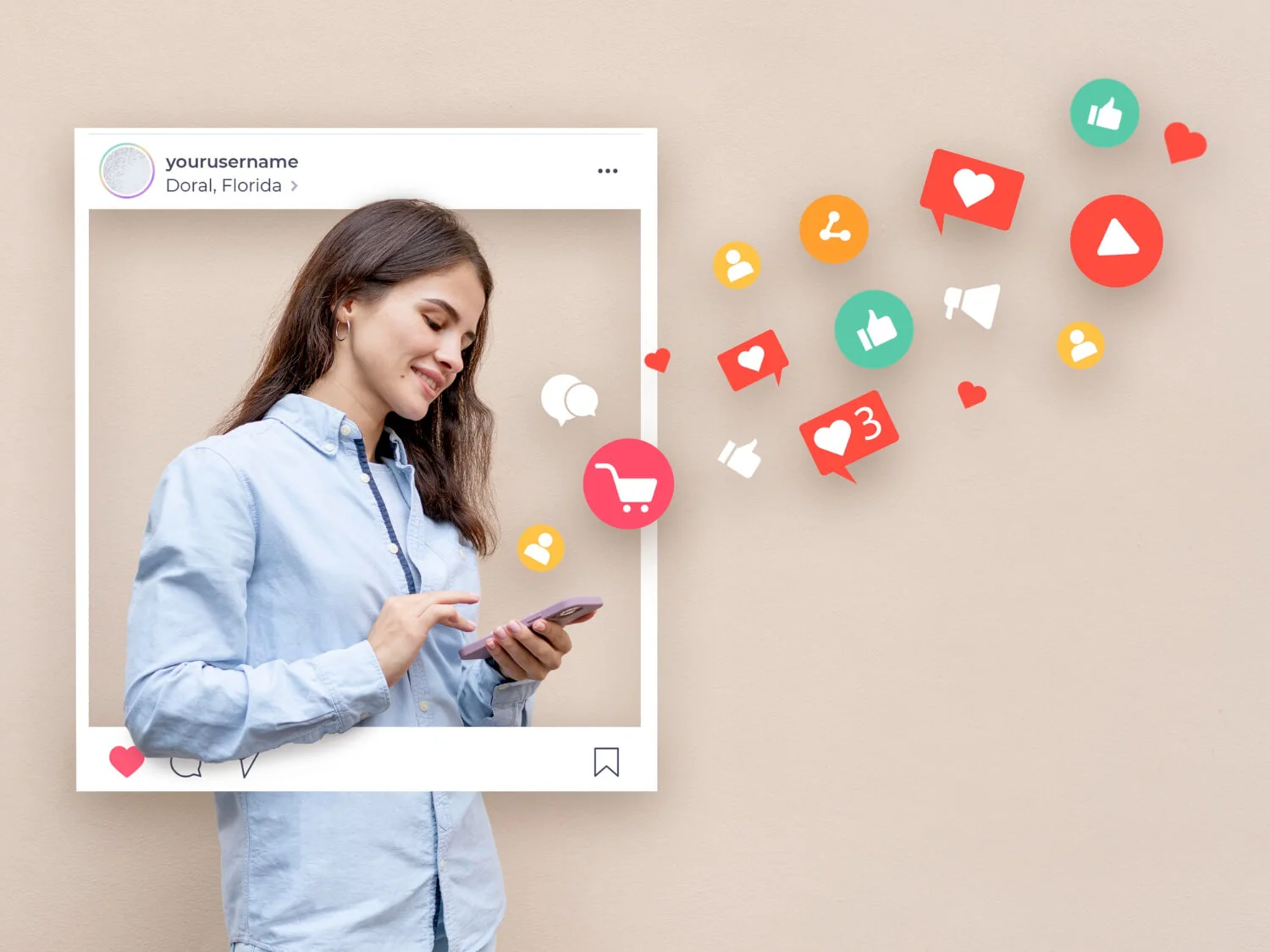 As an influencer, individual, or business, posting regularly and efficiently is essential for growth on a social platform, where millions of people are posting content regularly. It is very hard to stand out and maintain relevancy to get the best stats out of your content and optimize it to get the best performance and better returns.
Users can now create shoppable pins, live videos, reels, raise funds, create badges, and more. These recent developments call for Instagram tools to help users schedule posts, track analytics, create intensive reports, conduct hashtag research, and discover when their audiences are more active.
For a better profile, you need to use scheduling and management tools to control your content and better results better. Also, you need to know the best time to post a reel on Instagram so that you get the maximum reach.
The question is: How to schedule Instagram posts? So here in this list, we have provided you the best Instagram scheduling tools for 2022 that would drive your social media presence to the next level and benefit you in all the aspects you wish to.
Here are some of the best picks for your Instagram management.
1) Awesome Social : Free Instagram Scheduler for Small Businesses & Agencies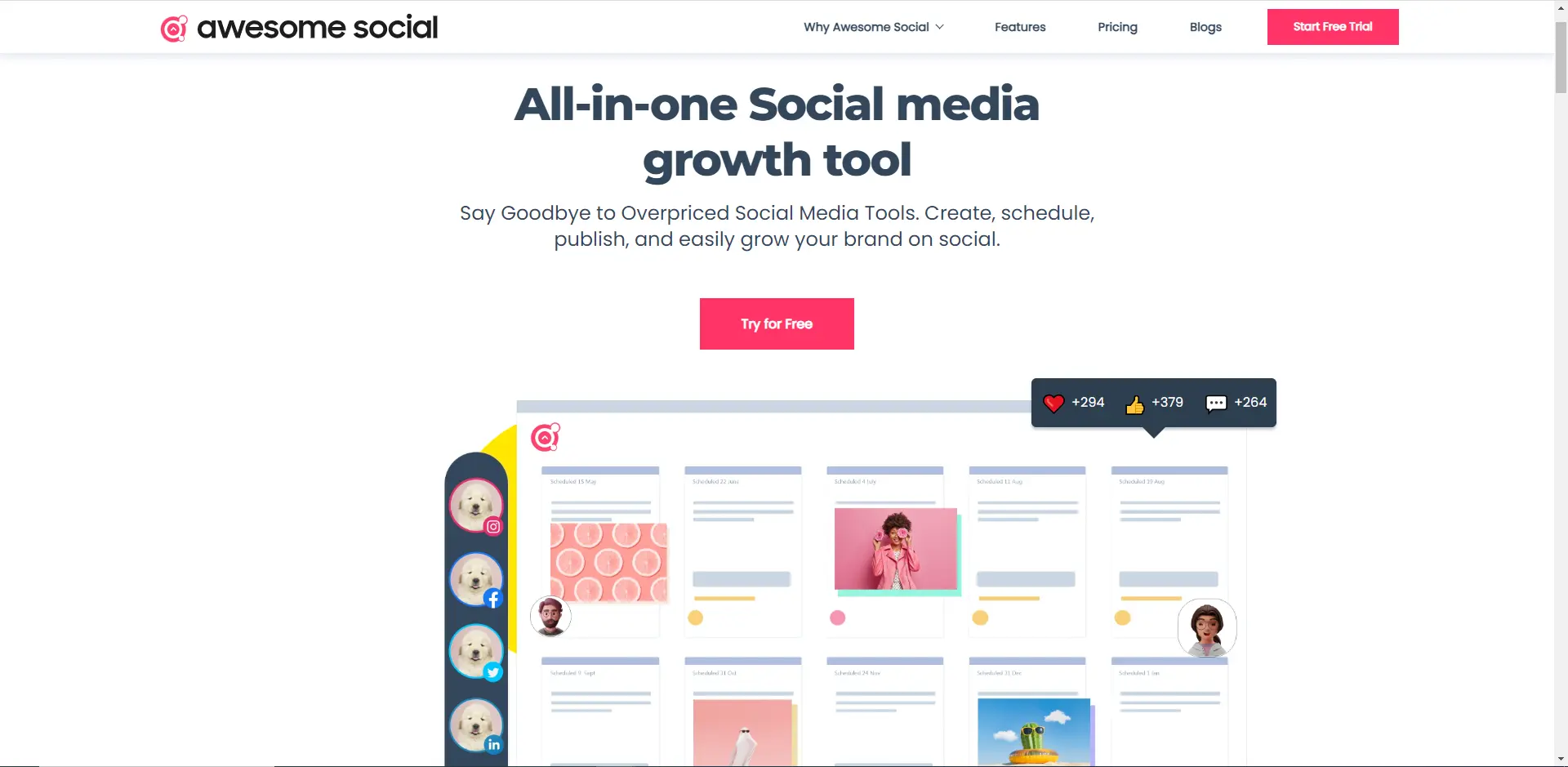 Awesome social is an all-in-one Instagram scheduling and social media management tool that empowers your social presence. You can easily schedule Instagram Posts. Post or queue your content on Instagram and other selected social media channels, measure performance, engage with people and collaborate with your team easily and efficiently.
Many features are present for your social presence monitoring and optimization, and also you can easily approve/disapprove the scheduled post according to your need through this tool .
Awesome social has features that can effectively empower your social media, including the one that tells you the best time to post a reel on Instagram
🌟 Features of Awesome Social:
Schedule Your posts directly: You can easily publish your content over IInstagram and other social platforms with a single click in bulk. That saves a lot of time and effort.

Instagram first commenting: Keep your caption neat, clean, and to the point by adding all your hashtags into your first comment. Increase the reach of your post by adding all your hashtags to your comment.

Content calendering:

You can easily make your social media content calendar through the grid view that provides efficient results. You can easily select photos you wish to share, drop them onto the social media content calendar, and choose when you wish they get published.

Team management and workflows: Invite your team members to manage Instagram accounts on Awesome social. Keep them in the loop and discuss and share your Instagram strategy and ideas all on one platform. Set multiple levels of approvals to make the entire process seamless and organized.
2) Agorapulse : Instagram Scheduler for Growing Marketing Teams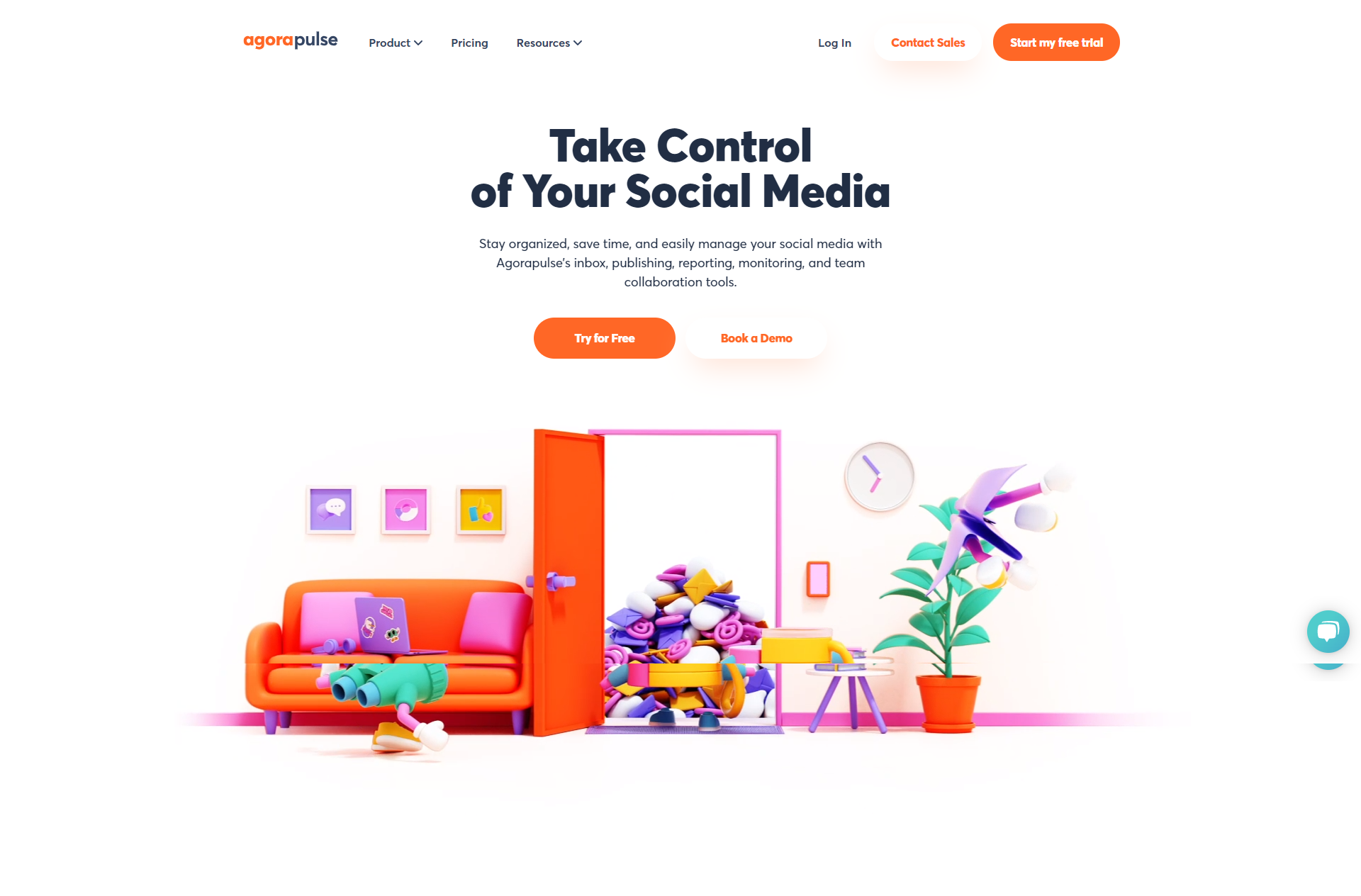 Agorapulse is the Instagram scheduler that helps you get extended control over your Instagram social presence. You can easily manage, post, schedule Instagram posts, and do a lot more than this through Agora pulse for your Instagram profile.
A large number of users use Agorapulse. It offers you amazing properties to post on Instagram that are highly optimized and provide better engagement. It allows users to create, schedule posts, analyze, monitor, and report from one dashboard. This ensures that all your social media profiles share noteworthy content and bring you closer to your targets.
🌟 Features of Agorapulse:
Bulk Scheduling: It allows you to post, schedule, and Queue the content to social media platforms you want with a single click and optimize the timed Instagram posts to get the best reach including reels, stories, and videos.

Content strategy: It helps you get the best content strategy that could provide you with magical outcomes. You can easily go across your competitor's strategy and also get to know what is trending according to your niches like reels, stories, and videos.

Social content calendar: Through this feature, you can design your whole month's content strategy at once and schedule them at the moment.

Team management and Workflows: Agorapulse offers you the feature to get your whole team on a single dashboard. Assign tasks and manage work to get the best through the whole team. This feature is very useful for team management purposes.

Optimizing posts effectively: You can easily find the most relevant tags to your post with a single click as also destinations, descriptions, product tagging, and many more Instagram post features that provide you the highest reach and better engagement. And, knowing the best time to post a reel on Instagram is one of the amazing methods that optimize your timed Instagram posts effectively.

Analytics and stats: Agorapulse offers you very accurate stats and performance reports which help you to make better decisions on the recent performing posts. It also helps you to manage paid campaigns and many other stats-related features to get better ROI.
Agorapulse is ideal for entrepreneurs, freelancers, agencies, and even in-house marketing teams.
💸 Pricing:
Agorapulse offers a free plan that supports 3 profiles. Paid plans unlock more features and start at $79/month for 10 profiles and 2 user accounts.
3) Social Pilot : Instagram Scheduler for Agencies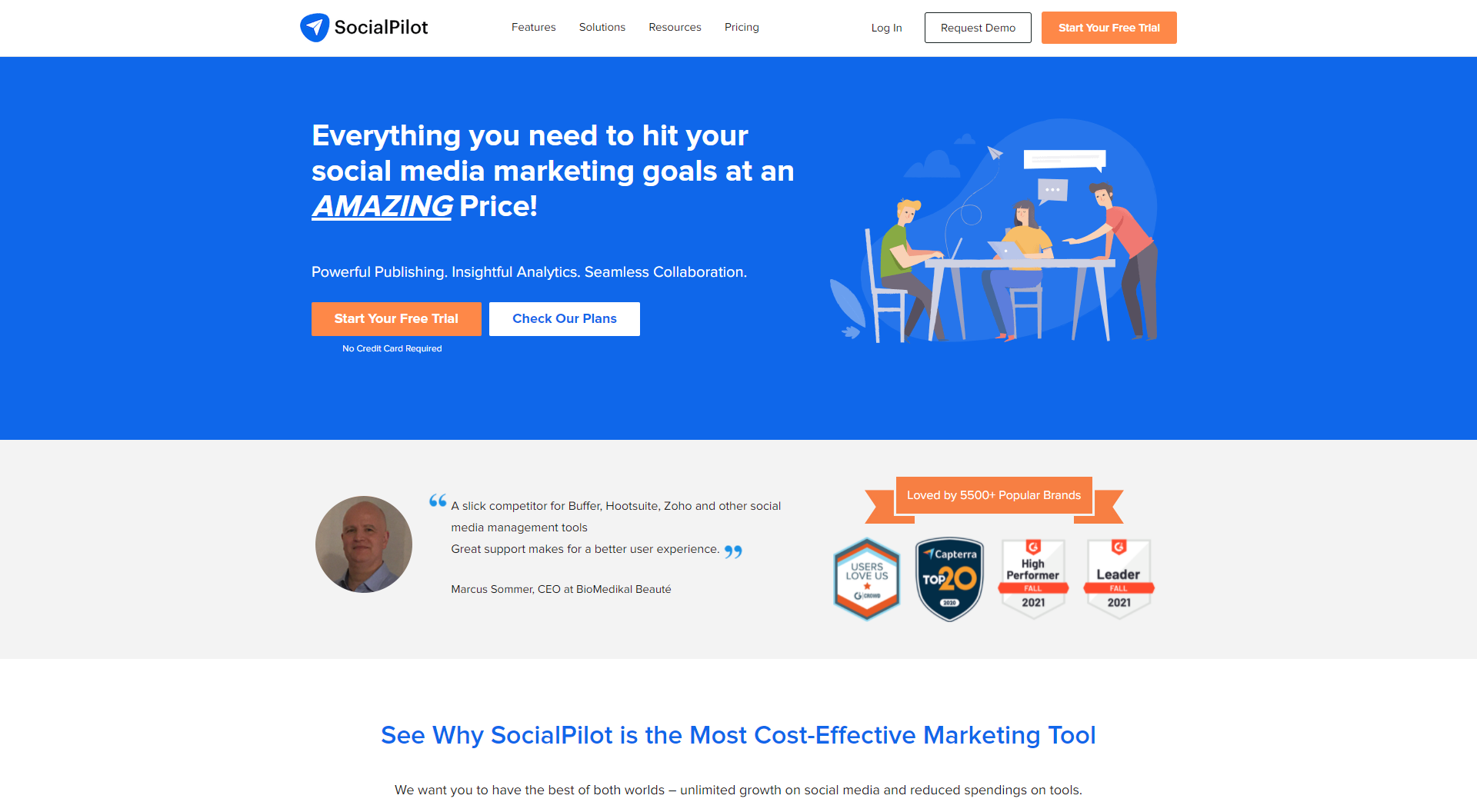 SocialPilot is another Instagram Scheduling that has all features that would help you get a highly optimized social presence that shows amazing results.
You can directly schedule your Instagram posts, stories, videos, and reels through your mobile device or system including all branding & optimizing elements.
Straightforward and simple to use, SocialPilot allows you to schedule posts on major social media platforms like Instagram, Facebook, LinkedIn, Pinterest, TikTok, Google My Business, Tumblr, and VK.
It allows users to create, schedule posts, analyze, monitor, and report from one dashboard. This ensures that all your social media profiles share noteworthy content and bring you closer to your targets.
🌟 Features of The social pilot:
Through the social pilot, you can easily schedule your post creatively and directly publish it to different social media platforms in a single click. And also you optimize the post, especially for a single platform, and publish easily.
Instagram optimization made easy:
You can easily optimize your post in terms of what is trending in your niche on instagram. Best auto-generated hashtags and other optimization helps you to get better reach.
You can easily post and customize over 100 social media platforms and get better results in each of them.
Team management and workflows:
This offers you the feature to get your whole team on a single dashboard. Assign tasks and manage work to get the best through the whole team. This feature is very useful for team management purposes and getting the work cleanly, efficiently, and fully transparent.
Effective content strategy:
You can easily create an effective content strategy to get a better outcome through proper content planning. Content calendering is very easy on this platform to effectively use for the whole month.
You can also create very engaging content on the same dashboard using Canva and its pre-made templates that can provide you high reach and attract users easily through its attractiveness.
💸 Pricing:
Starting at $25.5/month for 10 profiles and 1 user account, 42.5$ and 85$ per month with different plans and limits.
4) Hootsuite : Instagram Scheduler for Enterprises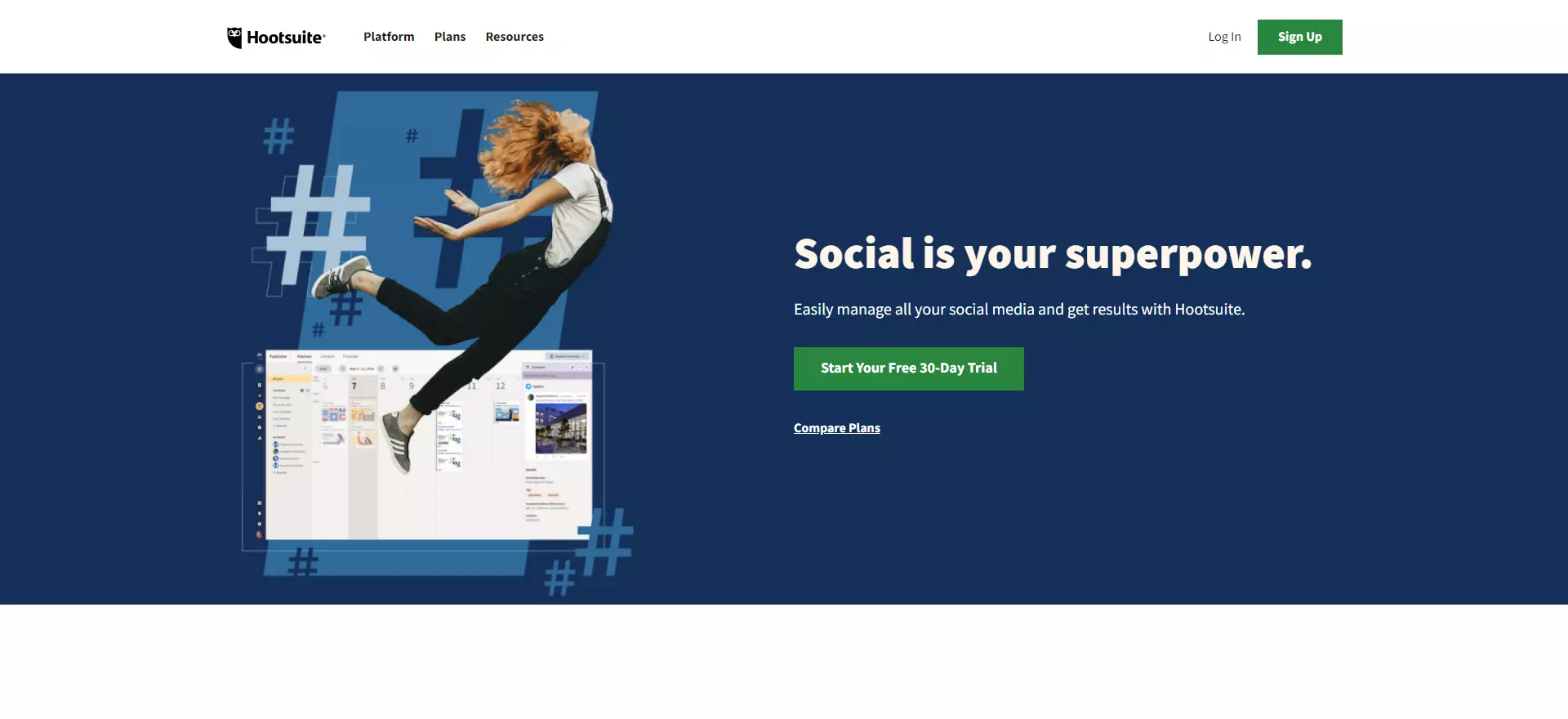 Hootsuite is an all-in-one Instagram scheduling and social media management tool. It helps you streamline all of your social media and get better results from it to a good extent.
It has been in the market, and people use it as a good Instagram scheduling tool.
Its main functions are posting and scheduling your content over Instagram, checking engagement and analytics, creating content, measuring performance, optimizing posts, managing the team, and providing you with better control over your social media platforms.
It is not just used for Instagram, you can also post on and manage other platforms such as Twitter, Facebook, Linkedin, Pinterest, and even YouTube.
🌟 Features of Hootsuite:
You can easily schedule, post, and queue your instagram posts, reels, and videos through this platform and also optimize them easily to get better results in less work.
You get to see the very accurate stats of 'the performance of your posts and tracking them is made very simple on this platform. You can also manage your ads and other campaigns easily and effectively.
Even though it is one of the best IInstagram scheduling tools, You can also connect with over 150 apps for a more efficient scheduling process.
Team management and workspaces:
You can get your whole team on board and get the most efficient and synced performance by your entire team. You get the power to approve and reject changes and many other features to improve your performance and get better effortless results.
Schedule Stories and Carousel posts via push notifications.
Get an instant overview of scheduled content using the built-in social media Planner.
💸 Pricing:
Hootsuite has a range of premium subscription plans, starting from $29/month for 1 user, 10 social profiles, and unlimited scheduling.
5) Buffer : Instagram Scheduler for Small Businesses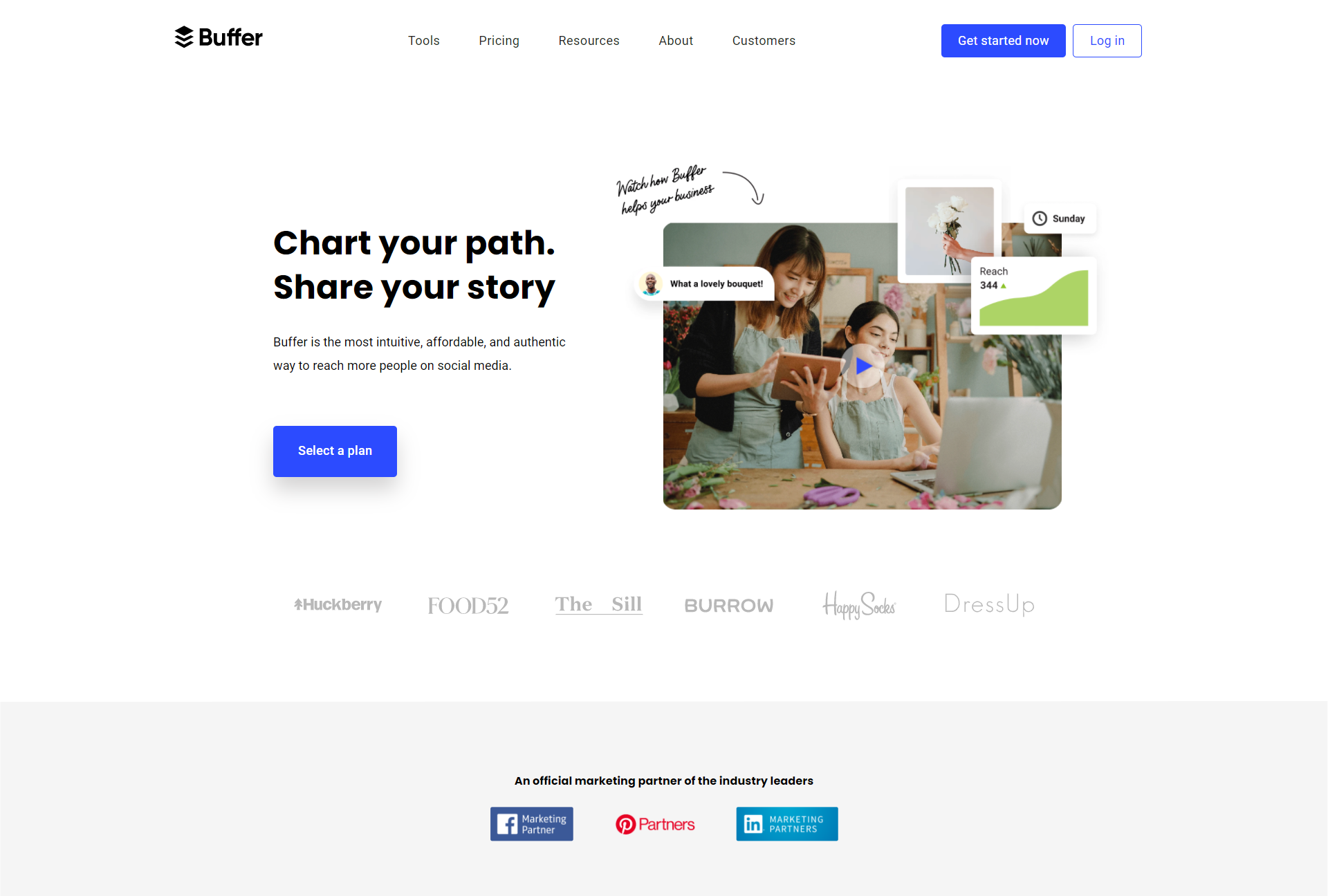 Buffer is the Social Media Management platform for scheduling posts, tags, automation rules, advanced reporting, in-depth social analytics, strategy recommendations, etc.
If you want to keep hashtags out of your Instagram caption, you can include them in a first comment when you schedule your post. And talking of hashtags, you can create, save, reuse, and organize hashtags in the Hashtag Manager.
It will let you create a preset publishing schedule for Instagram and many other social accounts. This platform will help you build your brand on your Instagram with loads of features.
🌟 Features of buffer:
You can easily schedule and publish 100s of posts and also reels, videos, and other content. Schedule Stories and Carousel posts via push notifications.
Add location and user tags as you schedule posts to optimize them to a better extent to get better reach.
This feature helps you to optimize your posts and content fully according to the trends by which you could get a better reach and better engagement.
It provides features for team collaboration. You will be able to work together with your team for drafting posts, approvals, staying in sync, and account management.
You can plan posts in advance and get notifications to posts natively.
Buffer provides the features and functionalities for crafting remarkable content such as drafting posts, coordinating with team members, and orchestrating social media marketing campaigns.
💸 Pricing:
Buffer has 4 subscription plans with a FREE plan as well. The Essentials plan starts at $5/mo per channel, Team starts at $10/mo per channel, and the Agency is priced at $100/mo per 10 channels. All have 14 days of Free Trial.
6) Later : Simple & Easy Instagram Scheduler for Brands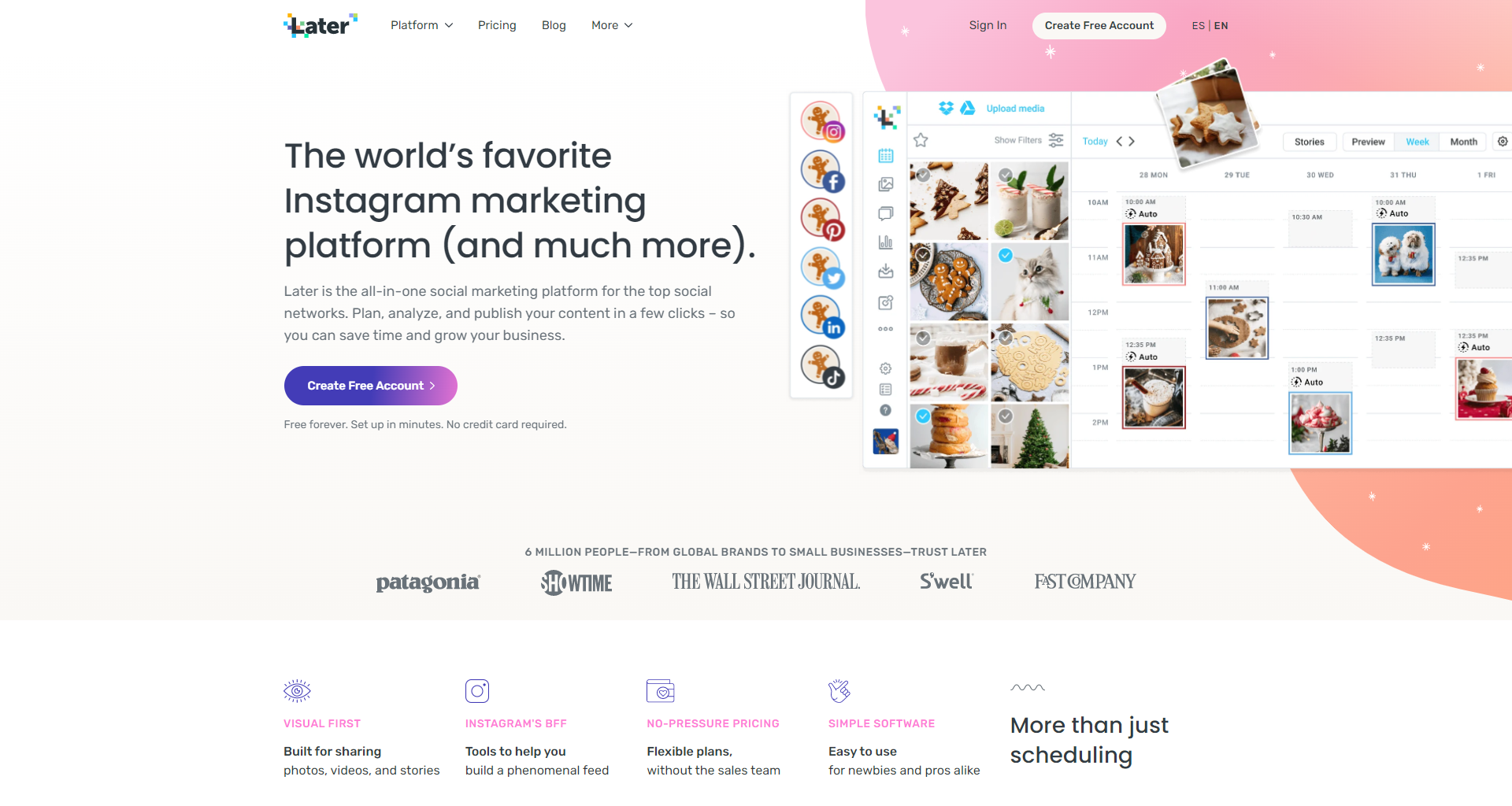 Later is an official Instagram partner that helps you streamline your Instagram profile and other social platforms to get better results in less effort.
You can easily use this tool for Scheduling, Instagram analytics, User-generated content, and Instagram stories. It lets you visually plan and schedule Stories and Carousels to publish via mobile notifications. Later for Instagram will allow the scheduling of photos as well as videos.
Later for Instagram also has a visual social media planner so you can create a beautiful Instagram aesthetic by dragging and dropping photos to see how they'll look in your feed.
🌟 Features of Later:
Schedule single image and video posts directly from Dropbox, Drive, or even their desktop or use the amazing feature called Quick Schedule to post in bulk.
It offers users the ability to track and review performance with its in-built analytics.
There is an added option for eCommerce users to sell products by including Linkin.bio integration.
Schedule Stories and Carousel posts easily via push notifications.
Visual planner:
This lets you create amazing and attractive graphics to grab users' attention and get better outcomes.
Content calendar and team management:
With, Later for Instagram, you can easily create an effective content strategy for your business through a social media content calendar and also manage your team on a single dashboard, divide work, manage them, see reports, and measure metrics such as progress, engagement, and many more.
These features empower your social media profile and provide you with better results.
💸 Pricing:
Later has a wide range of subscription plans for individuals and businesses, with premium plans starting from $7.50/month (billed yearly) for 1 profile and 100 posts per social platform.
7) Sendible : Instagram Scheduler for Marketing Teams & Agencies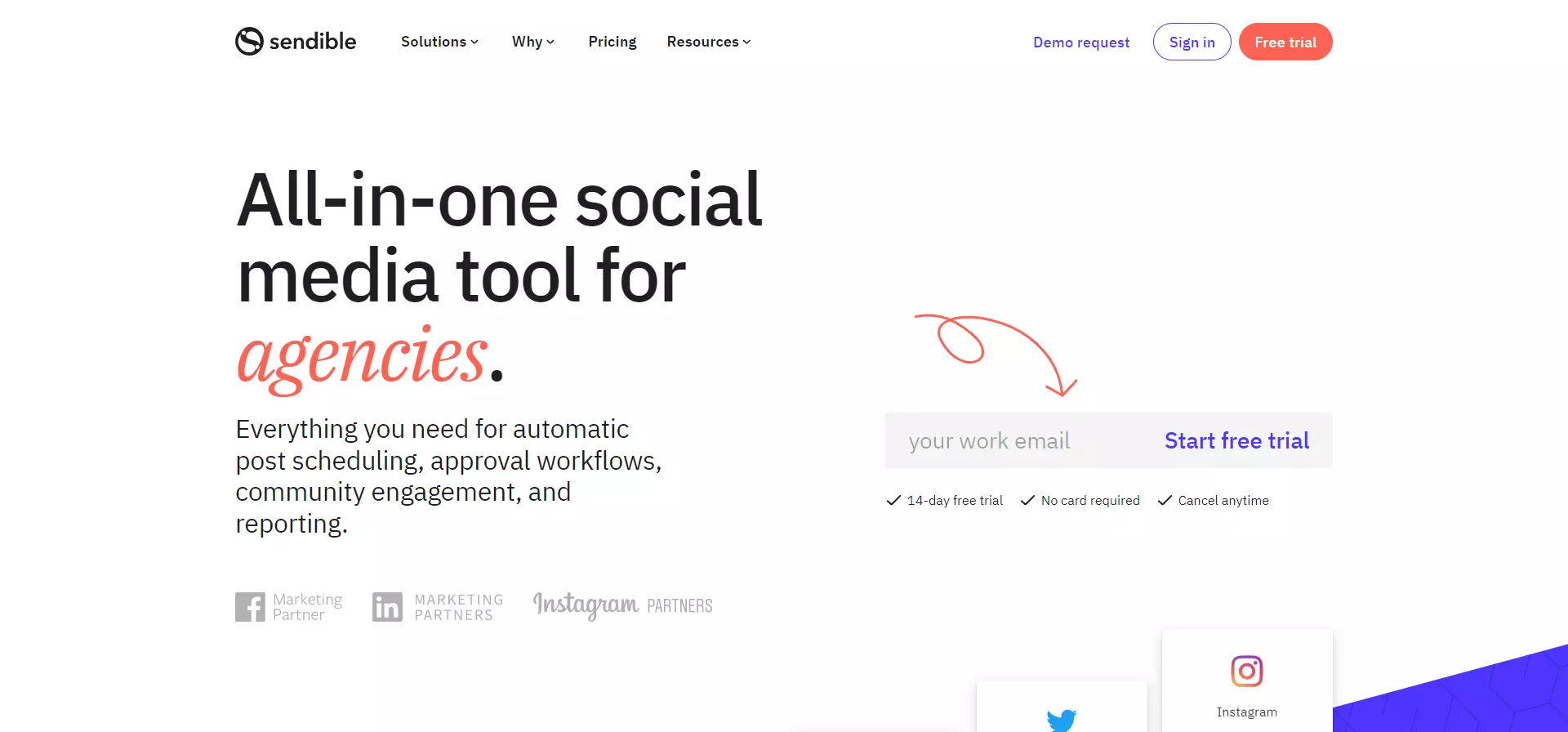 Sendible is a great app to schedule Instagram posts that has got all those features that people are looking for in an ideal Instagram scheduling and social media managing tool at the present time. You can easily post and schedule your content in bulk with full optimization to get the best reach through these tools.
It has all-in-one management features that allow users to schedule, design, create, and promote posts across various platforms like Facebook, Twitter, and even Tumblr.
🌟 Features of Sendible:
Sendible provides the features of custom reporting. It provides insights for the most engaging content, optimal posting times per network, web traffic, etc.
In a scheduled view, you will see all the posts saved as drafts or posts pending approval.
It provides the facility to preview the posts before publishing. These features will help you personalize text, find the right text length, and make sure that your pictures look dazzling. You can also add location tags and proper hashtags from the hashtag library to provide the best reach for your content.
Sendible also features a built-in CRM with a team management system.
You can also create very engaging content on the same dashboard using "Canva" and its pre-made templates that can provide you high reach and attract users easily through its attractiveness.
Schedule reminders for Stories and Carousel posts.
💸 Pricing:
Sendible offers a range of subscription plans, starting from $29/month (or $24/month billed yearly) for 1 user, 12 services, and 8 quick reports.
8) Tailwind : Instagram Scheduler for Marketing Teams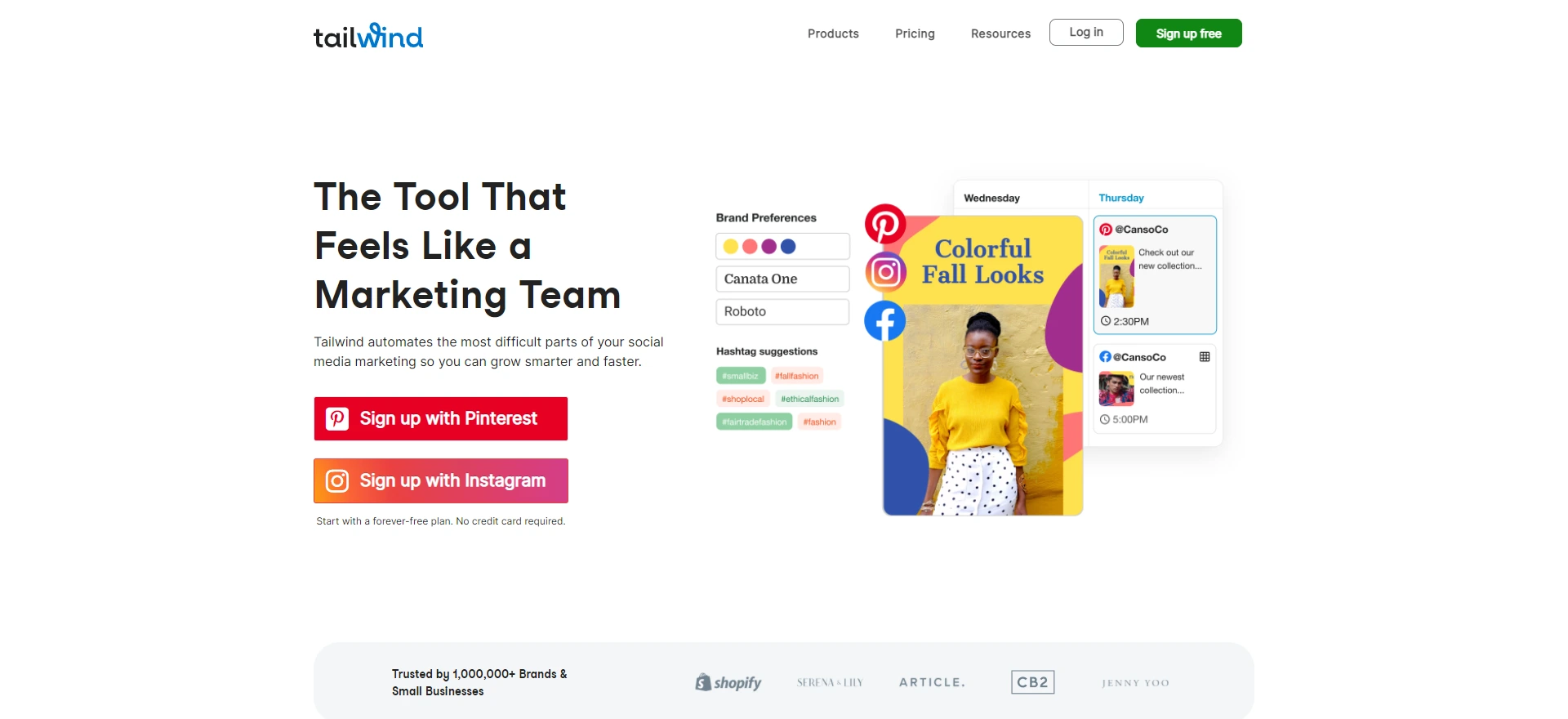 Tailwind is a free and easy Instagram and social media scheduling tool of the present time. Tailwind lets you schedule single image and video posts directly or schedule Stories and Carousel posts via push notifications.
It is a great app to schedule Instagram posts and also has a smart schedule feature that automatically picks when your audience is most engaged and posts your content to get better engagement and reach. This feature learns about your content and audience behavior to take the calculated steps.
Hashtags and other smart features allow you to reach more people with the perfect mix of popular and super-relevant niche hashtags to get discovered by the right followers.
Tailwind also features a simple drag-and-drop calendar so you can plan and rearrange your scheduled content. Plus, you can preview all your scheduled posts in the 9-grid visual plan.
🌟 Features of Tailwind:
Smart schedule that will pick the time when your audience is most engaged. Schedule single image and video posts directly.
It has features for scheduling posts, analyzing trends, discovering content, monitoring comments, and tracking results.
It has a Hashtag Finder that will recommend the hashtags to be used in your posts.
Tailwind provides actionable insights to learn faster, dive deeper, and monitor trends. It has a drag-and-drop smart calendar that automatically schedules Instagram posts, stories, and videos. You can choose specific dates and times for posting.

Preview all your scheduled posts in the 9-grid visual plan.
💸 Pricing:
Tailwind costs $14.99/month (or $9.99/month billed yearly) for 1 Instagram and 1 Pinterest profile and 100 posts/month. Higher tier plans offer more accounts and more scheduling. A free forever plan is available.
9) ContentCal : Free Instagram Scheduler for Creatives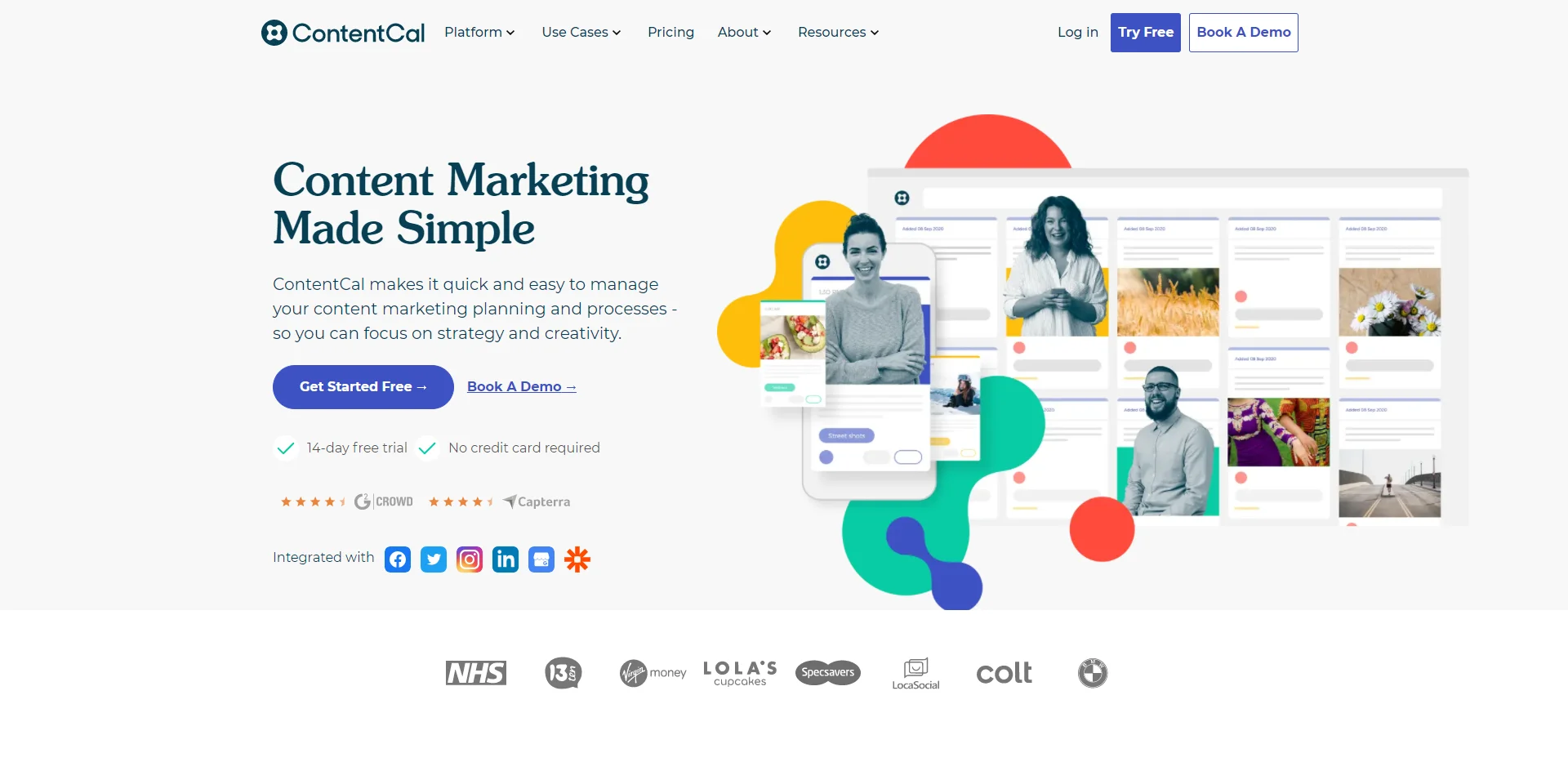 Contentcal is an all-in-one social media planner and content marketing system. This tool offers you the features like Bulk scheduling on multiple platforms, measuring performance & trekking results, streamlining the workflow by managing a team, and many more to get better ROI.
It's an amazing app to schedule Instagram posts you can easily streamline all your social media work and create amazing strategies to get the best out of it.
Collaboration and planning are a strong focus for ContentCal. This makes it ideal for in-house teams, agencies, freelancers, and solopreneurs working with other contributors.
A feature is automated Instagram publishing, which means you can plan and schedule all of your Instagram content, including stories within ContentCal.
🌟 Features Of ContentCal:
Bulk Schedule on Multiple platforms:
You can easily bulk schedule your post, reels, videos, and much more content over instagram and other social media.
Adding location tags and generating the most trending hashtags according to your post to get the best reach and engagement
Team management and workflows:
You can easily manage your whole team and through this feature assigning & monitoring tasks is made very easy.
You can also measure reports and performance of your post and plan further strategies for further growth and better performance.
Create a publishing times preset for your social profiles.
💸 Pricing:
ContentCal has 4 subscription plans starting at Pro which is $17/month (paid annually) with 1 user, 1 calendar, and 4 social profiles. Higher plans have more features, users, social profiles, and unlimited scheduled posts – from $47/month (paid annually).
10) SkedSocial : Instagram Scheduler for Agencies and E-Commnerce Brands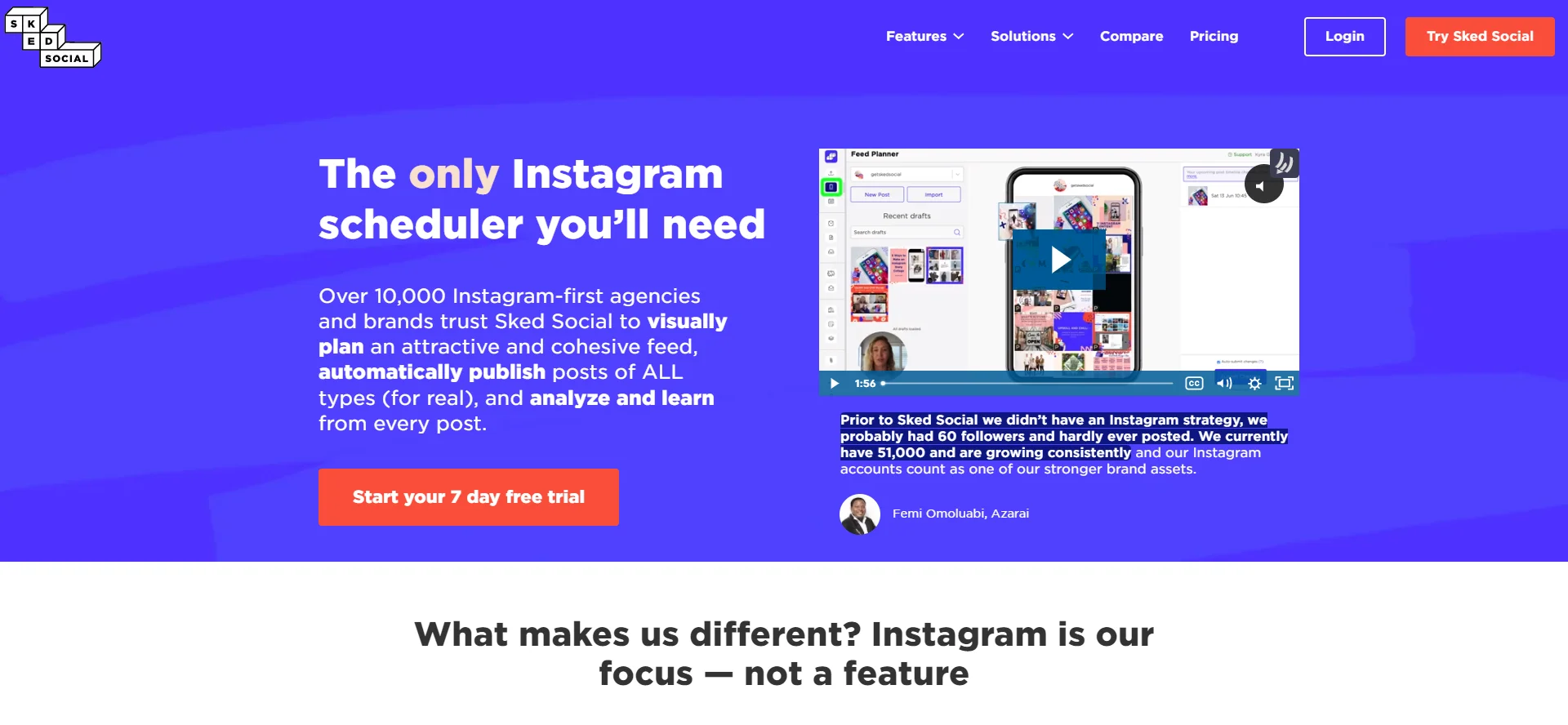 Sked Social provides you all the features that one wants in an Instagram scheduling tool and also it offers many other popular platforms to decrease the efforts and increase the results.
The Instagram Scheduler allows users to schedule, auto-post, and track the performance of every post, along with measuring the ROI of social media efforts and managing your whole team.
Sked Social offers bulk uploading of content. It also comes with an in-app photo editor allowing users to edit both text and filters while adding stickers. Along with the posting of Instagram images, Sked Social can post on Facebook, Pinterest, YouTube, LinkedIn, and Twitter as stories, carousels, and even videos & reels.
🌟 Features Of Skedsocial:
Team collaboration and management:
Sked Social has features to collaborate easily with team members.
It supports various platforms like LinkedIn, Twitter, Facebook, and Instagram.
It has a Drag & drop visual grid planner, bulk uploading facility, and powerful photo editor. It has a Hashtag manager.
You can easily post and schedule your content in bulk
It allows you to create high-quality graphics and get better engagement and user attention. It provides reporting for Instagram.
💸 Pricing:
Sked Social offers four pricing plans, Fundamentals ($25 per month), Essentials ($75 per month), Professional ($135 per month), and Enterprise ($260 per month).
11) Sprout Social : Instagram Scheduler for Large Teams & Enterprises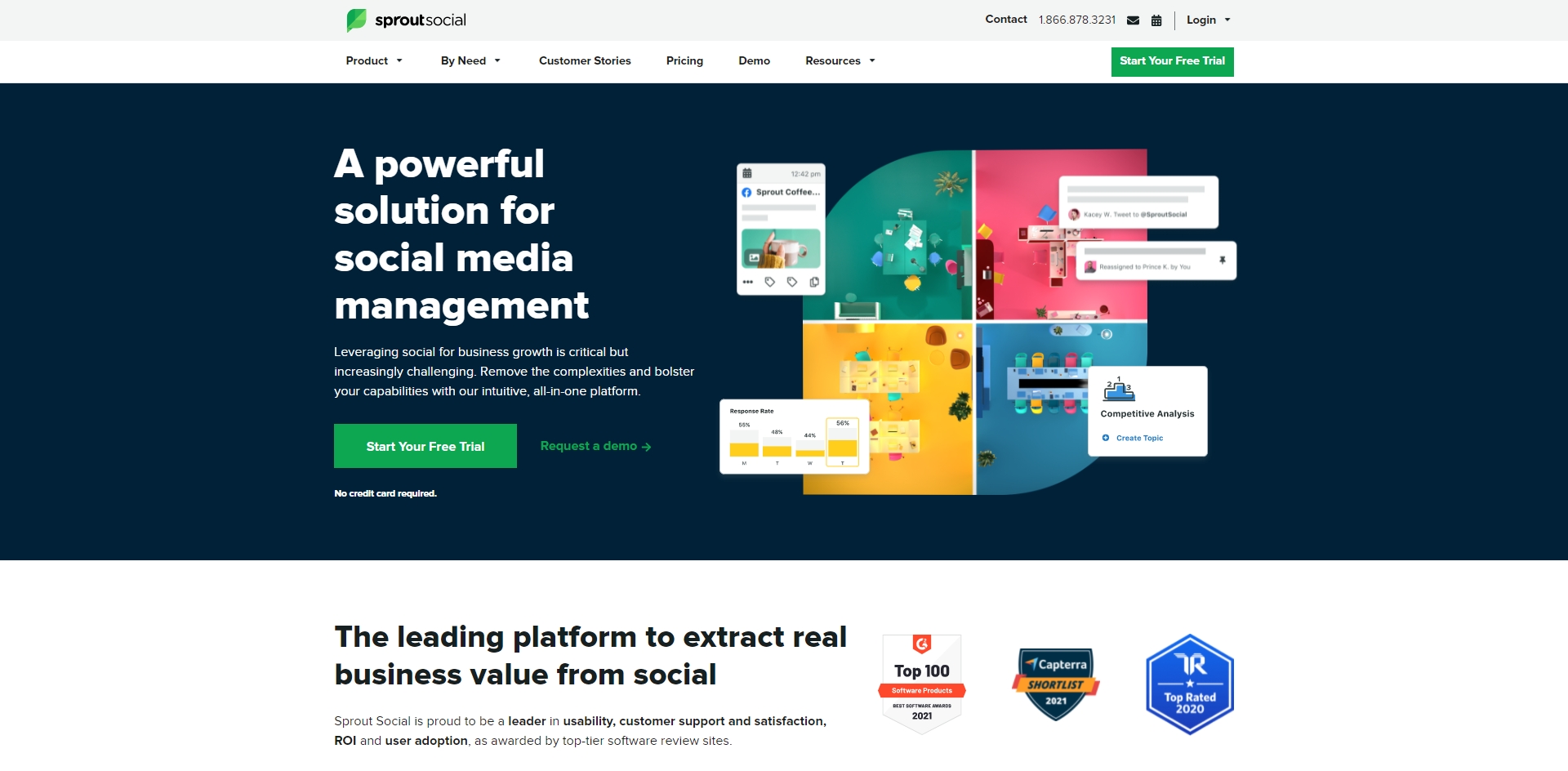 SproutSocial is a tool for publishing, scheduling, drafting, and queuing posts. You will be able to plan, organize, and deliver social content and campaigns with cross-network scheduling.
When using sprout social you don't have to worry about how to schedule Instagram posts. It will help you review management and monitor profiles, keywords, and locations.
Through this tool, you will get better control over your content and its tracking over platforms. It will help you to decide and adopt a better content strategy.
🌟 Features of Sprout Social:
Sprout Social provides social reporting for Instagram, Facebook, Twitter, and LinkedIn.
Bulk Scheduling:
It provides features related to scheduling your content, post, reels, videos, and many others on instagram and other respective platforms.
It provides features like incoming and outgoing message content tagging, custom workflows for multiple approvers & steps, saved & suggested replies, digital assets, and content library, etc.
It provides conversation management of tracking campaign performance and identifying, personalizing and responding to incoming messages quickly.
Provides features related to auto-tagging, location tag, and auto-generated hashtags for your post according to the chosen platforms to get the best reach.
💸 Pricing:
Sprout Social offers a free trial for 30 days. It has three pricing plans i.e. Standard ($99 per user per month), Professional ($149 per user per month), and Advanced ($249 per user per month).
12) SmarterQueue : Instagram Scheduler for Savvy Marketers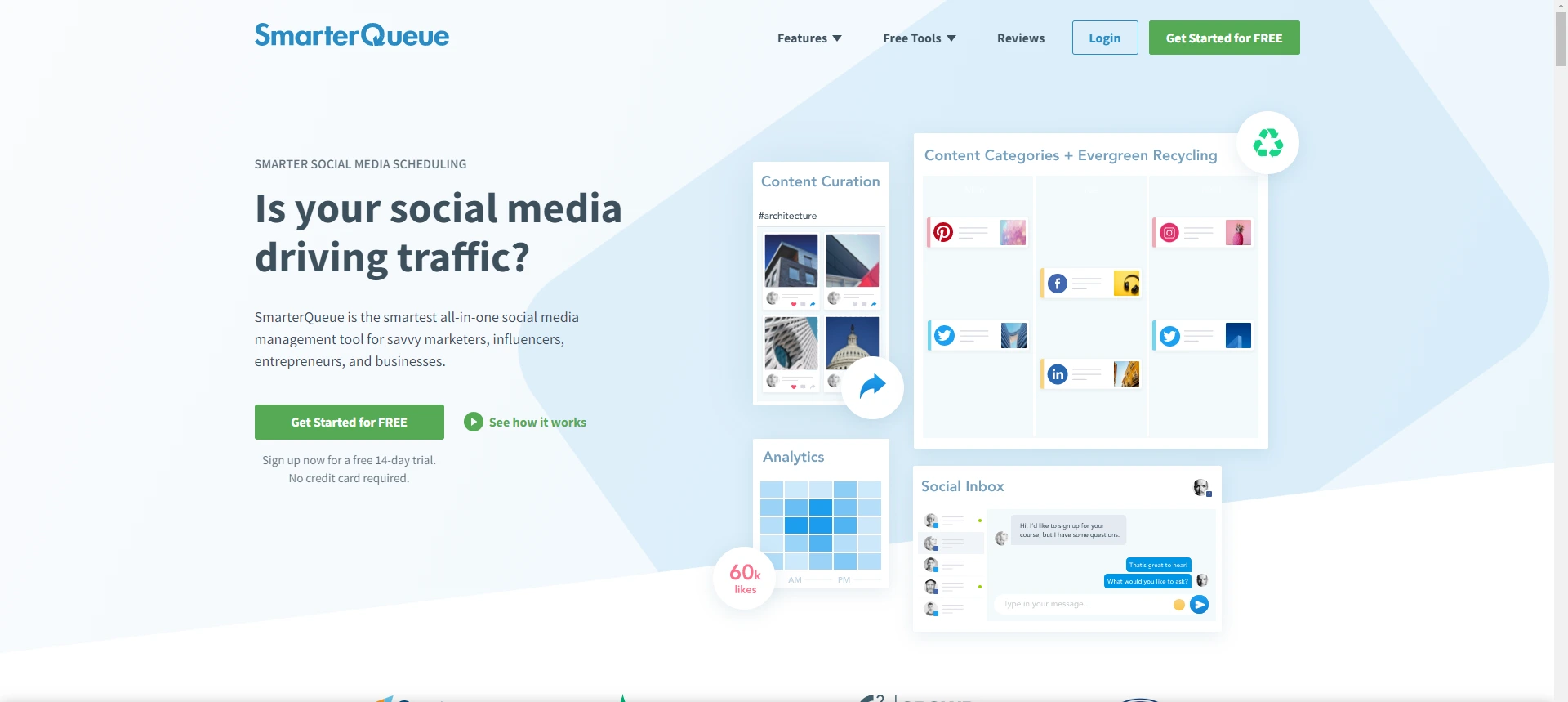 Instagram Scheduler called Smarter Queue lets you control stories and photographs. With the help of this tool, you can submit more than 10 photographs at once. With only one button click, you may add frequently used hashtags, captions, and emojis.
🌟 Features of Smarter Queue:
It provides a huge selection of media. Also, you can create a photo grid by dragging and dropping posts. And, you may easily preview your grid.
It makes it simple for you to include a hashtag in your posts.
This is one of the best emoji-equipped virtual keyboards for Instagram post scheduling.
💸 Pricing:
It has a 30-day free trial and subscription plans start from £13.99/month.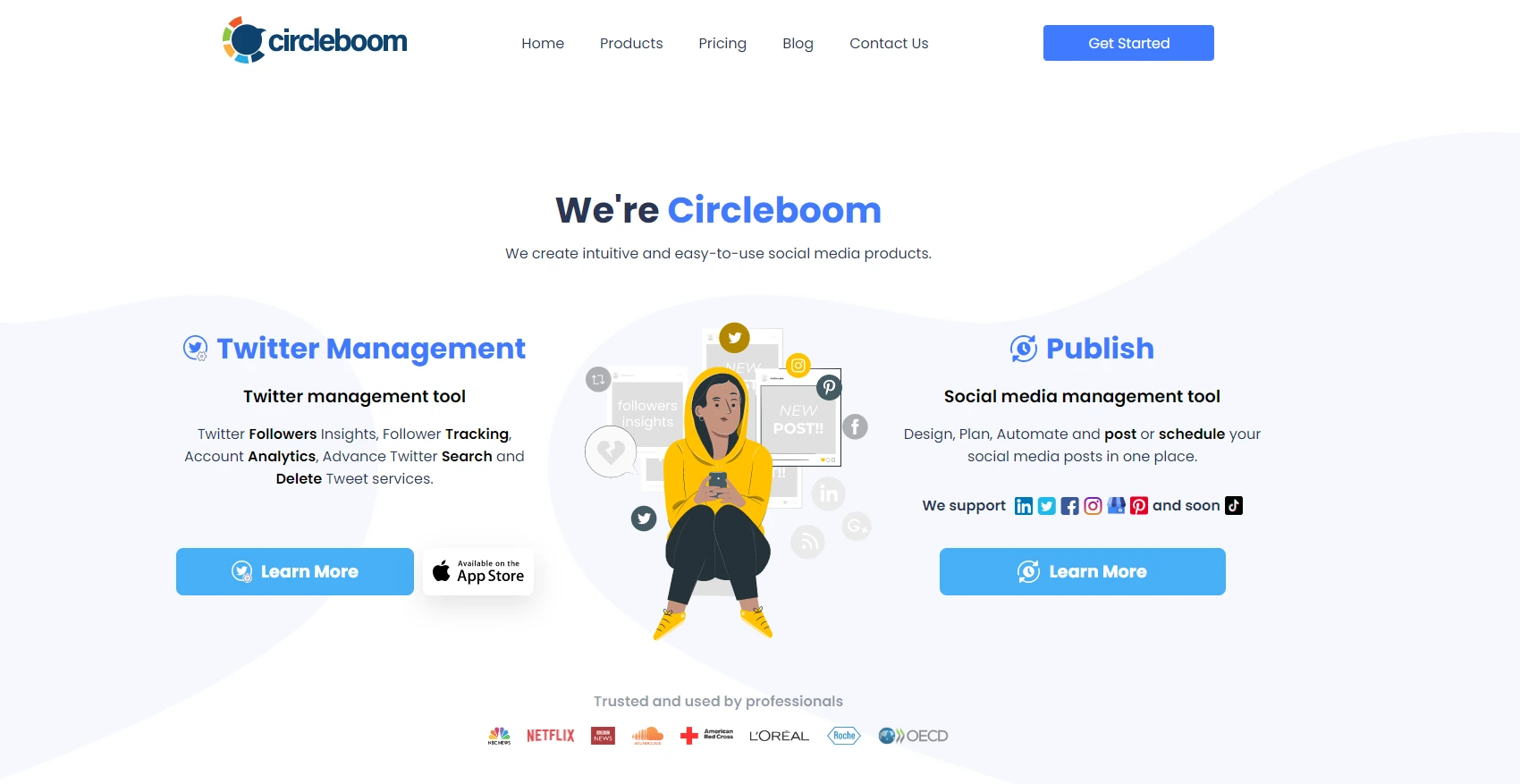 With the comprehensive social media scheduler Circleboom Publish, users may simultaneously create, design, post, and schedule Instagram photographs and videos for several Instagram profiles. You may enhance your Instagram posts with templates, pre-made photos, filters, effects, emojis, stickers, gifs, animations, fonts, and a variety of other materials by using the Canva built-in plugin. Circleboom's queue scheduling tool enables time interval setting and Instagram post automation. You can use Circleboom to make Instagram carousel posts if you need to publish more than one photo. You can also import your own photos and movies if you'd like.
🌟 Features of Circleboom Publish:
You can manage several accounts from a single dashboard.
You can create content with the Giphy, Canva, and Unsplash extensions.
The development of a carousel post is made easier by this application.
The feature provides many posting options like direct posting, scheduling, and automatic posting.
Utilize pre-made post templates and stay away from image size limitations.
It has a hashtag maker that makes it easy for you to choose the hashtags.
You can do cross-posting on many social media sites.
💸 Pricing:
It has five subscription plans, with the minimum one starting from $4.78 per month but when the price is paid annually, it is $3.99/mo. It goes up to $149.99/mo when paid annually with the most expensive plan. Also, if you pay annually, you'll get 2 months free. All the plans have 14 days trial period.
14) Planoly : Instagram Scheduler for Organizing your Instagram Grid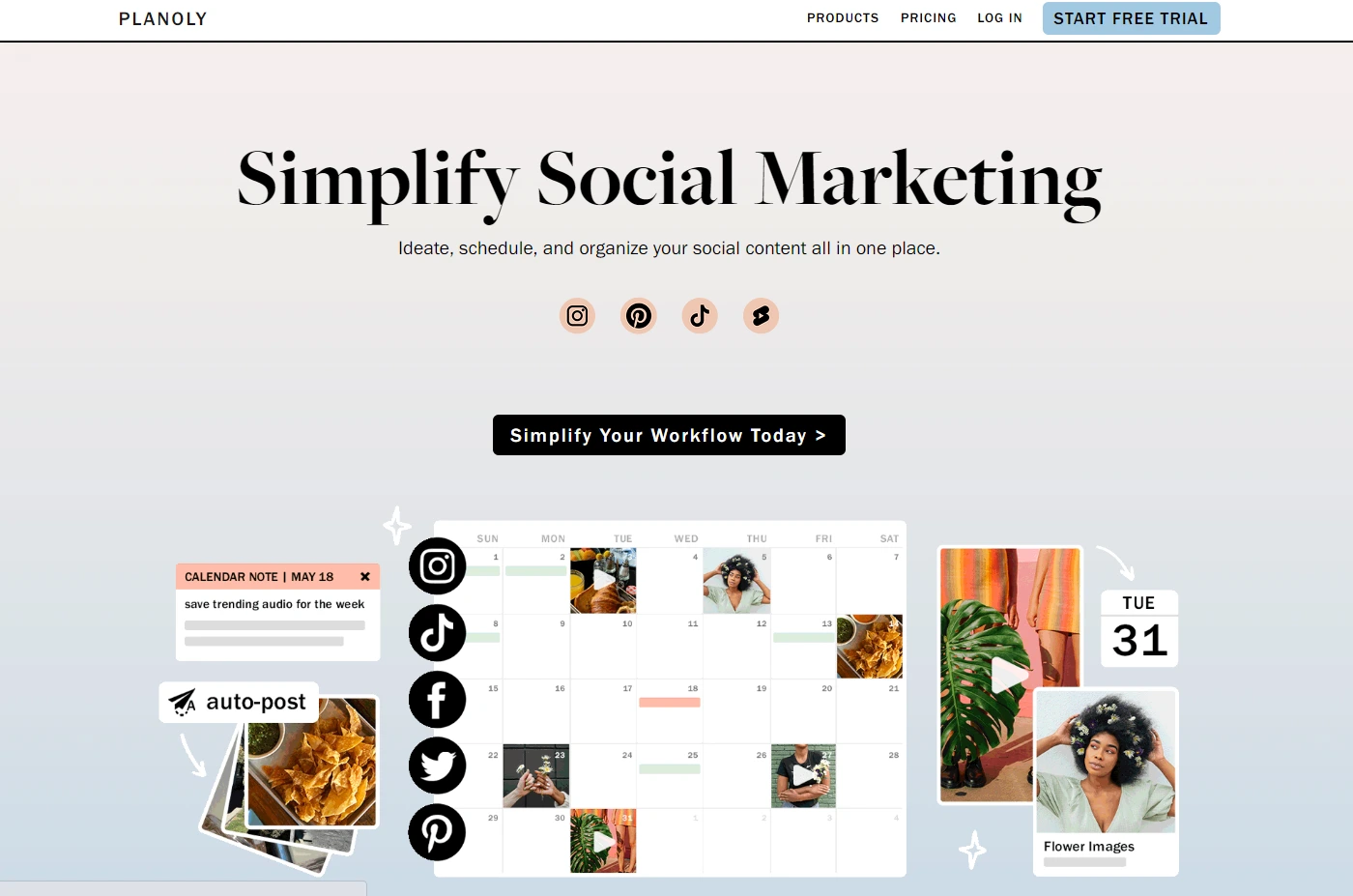 You can plan and schedule content for Instagram, Pinterest, Twitter, Facebook, and other platforms using the software Planoly. The platform aids in the analysis of your company profile data that will eventually help you in coming up with the best. You may easily make and alter your posts on a social media website with this application.
🌟 Features of Planoly:
It offers design, templates, and stickers. With the help of this, you can easily plan, draft and publish your social media content.
Web and Mobile Applications:
It is available for web and mobile phones.
Planoly is among the one of the best Instagram schedulers that enables and maximizes your chances of selling digital or physical products.
It has an amazing video planner and maker option that help you keep up with the trend.
💸 Pricing:
It is one of the best platforms to schedule Instagram posts free as Personal use is free and 7 day free trial for the subscription plans just makes it better. But, if you are opting for the businesses, then it has 3 plans starting from $11.25 and going up to $36.50.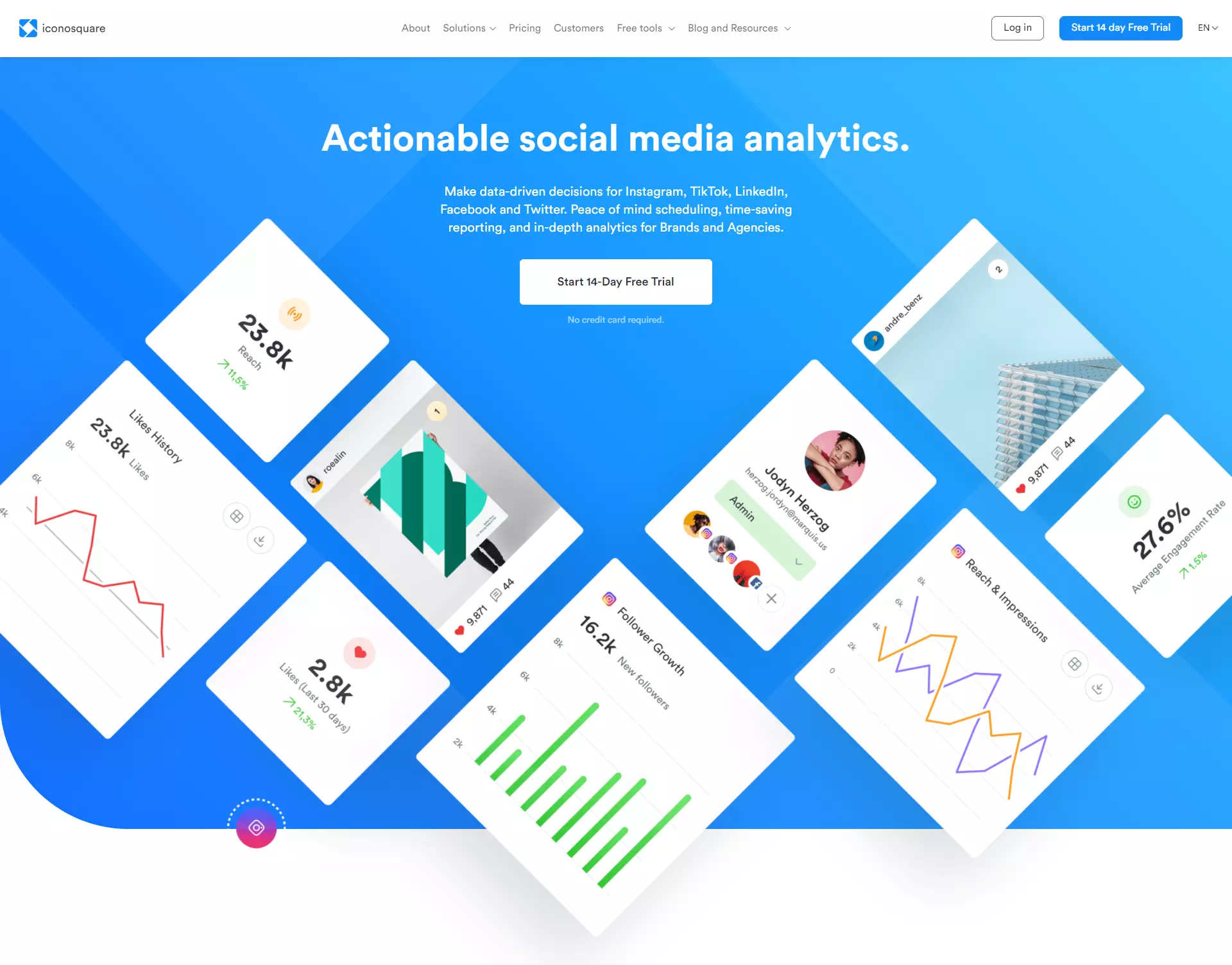 You can use the social media tool Iconosquare to decide on Instagram, Twitter, Facebook, and other platforms based on statistics. For agencies and brands, it offers comprehensive analytics. Iconosquare has existed since the beginning of the Instagram era. They are primarily recognized for their sophisticated Instagram analytics tools, but more lately, they have also started providing post-scheduling services.
🌟 Features of Iconosquare:
You can manage your profile using this application's single dashboard.
Your work is automatically published following time, user tags, and geolocation.
With immediate reporting, you may communicate how you performed.
Instagram scheduling options:
You may organize your Instagram posts in advance with the help of this Instagram schedule.
💸 Pricing:
The 14-day trial period will end in the subscription plans that start from $49/mo. It also has a custom plan for enterprises, or you can also choose the Advanced one for $79/mo.
Bonus Instagram Scheduling Tools:
Here are some of the best Instagram Scheduling tools that deserve a shot for your Instagram management.
16) SocialBee : Instagram Scheduler for Content Creators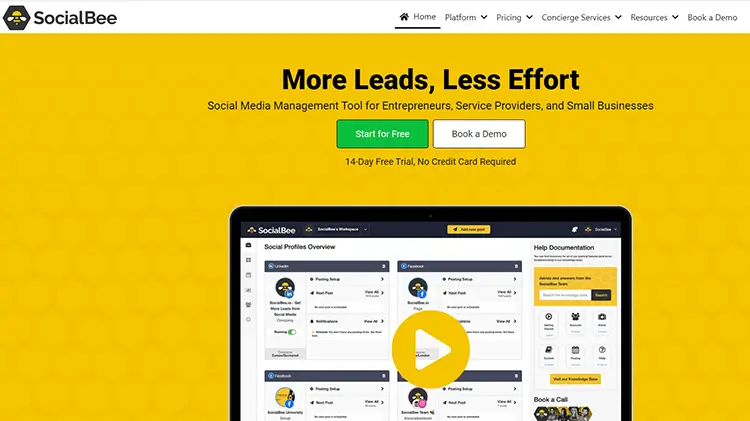 A social media scheduling application called SocialBee was created to simplify your hectic Instagram life. To save you time, SocialBee enables you to plan the posting of pictures, videos, Carousels, and Stories to your Instagram account, the latter two using their mobile app.
You can plan for posts to go live only once or to go live again at a later time. Posts can be made to continue eternally or to expire based on the date or the number of times they have been published. You'll see a preview of your post along with a grid view mode. The grid view mode helps you see what your followers will see. Yes! it will show you how your post will appear on your Instagram feed before scheduling or publishing.
One wonderful thing about SocialBee is that there aren't any features reserved for more expensive plans, so regardless of if you're a solopreneur, small business, or agency, you have access to every tool.
🌟 Features of Social Bee:
Post pictures, videos, carousels, and stories (direct posting).
First comments on your Instagram photos can be scheduled.
To see how your account might seem in real-time, use the grid view option.
Make a hashtag collection so you can easily add them to your posts.
In-depth analysis to look at views, reach, impressions, growth, and history.
Posts can be imported using RSS or content curation tools like Quuu or Pocket.
Uses Xara and Canva integration to build visuals.
Users and workspaces specifically designated for your team and various tasks.
💸 Pricing:
SocialBee offers three subscription packages, starting at $19 per month each: Bootstrap, Accelerate, and Pro. The number of workspaces, profiles, categories, and scheduled posts varies across each plan. On-demand, discounted yearly plans are available.
17) Brandwatch : Instagram Scheduler for Enterprises
An overview of all scheduled content is provided via Brandwatch's unified calendar. It displays posts that are scheduled according to dates and are easily recognizable by social networks. Brandwatch is the Instagram scheduler that also guides you about the best time to post on Instagram 2022. Your upcoming Instagram postings will be simple to discern from your impending YouTube video or series of tweets.
If you work in a larger team, Brandwatch's Campaign Planner can assist you in creating social media campaigns together. To improve quality, Brandwatch manages permissions using a set of roles, approval procedures, and an audit trail. It also gives you access to organizations that can facilitate your collaboration procedures.
Several post formats, including pictures, videos, and Instagram Stories, are supported by Brandwatch. It uses a Content Pool to centrally store content. Within Publish, a simple and user-friendly platform that controls all ads in one location, you may promote content through Facebook and Instagram ads.
With over 600 variables tracked, Brandwatch offers comprehensive insights, notably for Facebook and Instagram.
The Brandwatch social listening features are available if you have a Full Suite subscription. They provide you with a precise picture of what is taking place and who is engaged. They may be used to monitor your brand, discover influencers, track sentiment across different languages, follow trends, generate bespoke searches, and much more.
Additionally, Brandwatch promotes social interaction. A central inbox can be created with various feeds, labels, and filters.
🌟 Features of BrandWatch:
It provides a schedule based on categories.
For your social media, Analytics, Automated Publishing, and Content Management present the greatest content.
By using keyword filtering, you may find your intended audience.
The platform offers management of many accounts.
Social listening is a tool used by consumer intelligence products to assist brands in learning what consumers desire.
Audience techniques offer profound insights into both the collective and the individual.
💸 Pricing:
The pricing starts from $108.
18) Eclincher : Instagram Scheduler for Businsses & Large Teams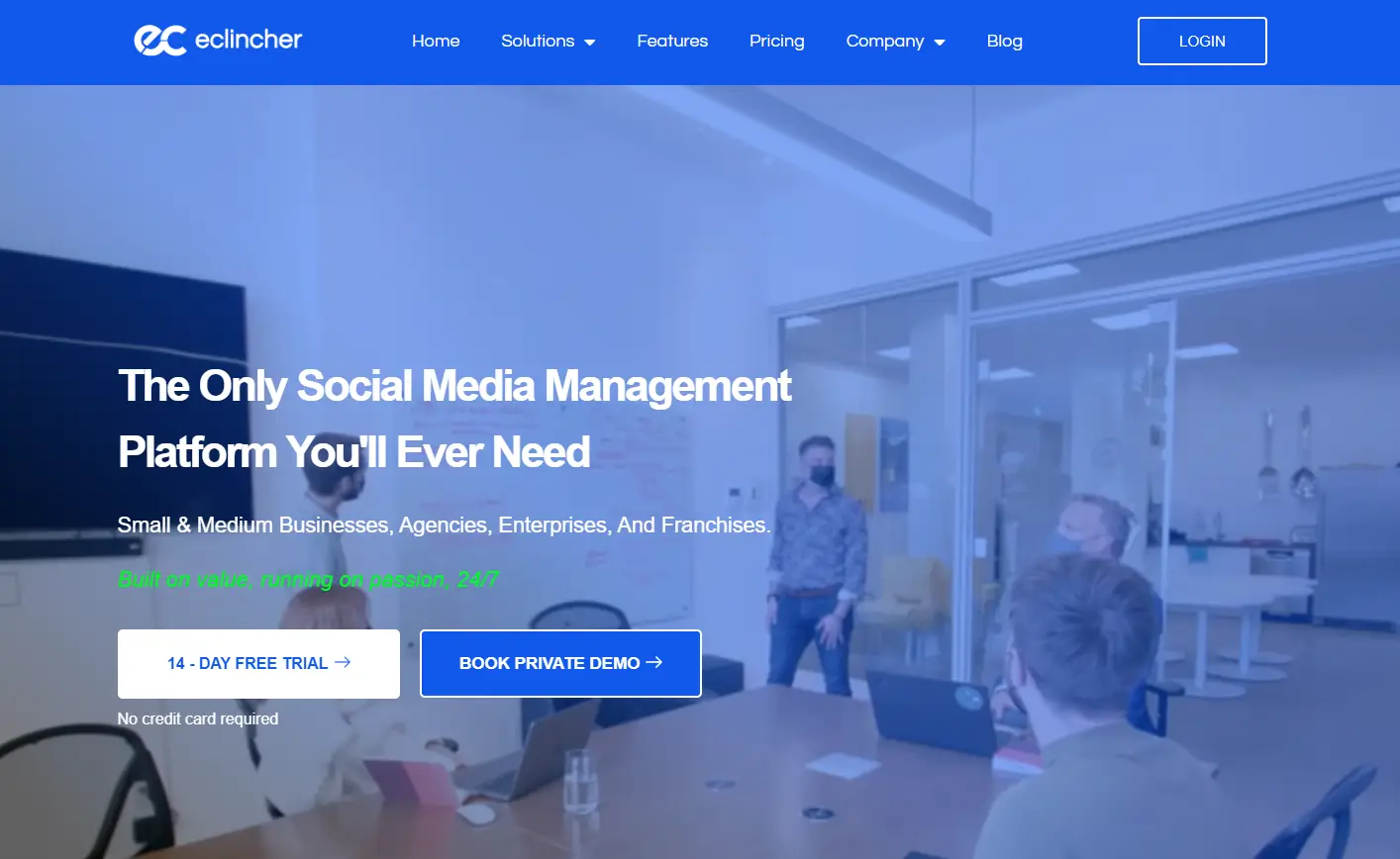 You are given all the resources you need by eclincher to plan and automate your timed Instagram posts so you can make the most of your campaign there. eclincher differentiates itself from its rivals because of its visual calendar, which makes it easier to organize, create, and schedule content on a single reliable platform. You will find a lot to like about eclincher if you're looking for a product that enables you to maintain control over your already-launched Instagram marketing campaign with a full array of tools to plan, engage, and evaluate posts.
🌟 Features of Eclincher:
Get immediate access to brand mentions in the news, blogs, forums, social media, and more.
Through sentiment analysis, learn what people's true opinions are of your brand.
Find out what's being said about any keywords, hashtags, or phrases online.
Recognize how consumers view your brand online.
💸 Pricing:
Eclincher offers three different plans. The basic plan is priced at $59 per month, the premier plan is $119 per month, and the agency plan is $219 per month.
19) SEMRush : Instagram Scheduler for Marketers
Discovering your competitors' social media strategies will be made easier with the help of Semrush. It offers scheduling and posting capabilities for five social networks. It has an image editor, link shortener, and UTM builder built in. It may measure your social media performance and identify the top-performing content. The Semrush Social Media Tool offers tools for automating publishing, following, promoting, and analytics across the main social networks. Additionally, it helps you in selecting the best time to post on Instagram 2022. The program provides capabilities for social performance analysis.
🌟 Features of Semrush:
It enhances your website's overall performance.
It aids in identifying new link-building opportunities.
You can monitor the most used search terms on Google.
It improves your website's technical aspects for improved search engine positioning.
It helps in producing material with a strong likelihood of attracting visitors.
💸 Pricing:
The Semrush platform is available for a free trial. Pro ($99.95/month), Guru ($199.95/month), and Business ($399.95/month) are the three available pricing tiers.
20) Onlypult : Instagram Scheduler for Content Publishers
A social media management app called Onlypult can be used to schedule Instagram posts, and post to blogs, messengers, and social media sites. You can post pictures and movies with its assistance. It has elements that encourage cooperation. Multiple accounts can be managed simultaneously from a single window. You won't need to change users. You may use social media sites like Facebook, Instagram, Twitter, YouTube, LinkedIn, and more by using the platform called Onlypult. Large teams will benefit more from its many features and functionalities, such as the ability to invite colleagues to administer an account without giving them access.
🌟 Features of Onlypult:
Multiple accounts are simple to handle.
With built-in Analytics, Onlypult makes it easy to keep tabs on the number and expansion of your followers.
The collaboration of the teams is excellent with the platform.
You may upload Instagram Stories and deal with videos and photographs with this Instagram schedule.
You can use it to deal with photographs and videos.
💸 Pricing:
Onlypult has four different pricing tiers: Start ($10.50/month), SMM ($17.50/month), Agency ($34.30/month), and Pro ($55.30/month). These costs are for the option of annual billing. The option of making monthly payments and a seven-day free trial period makes it one of the popular Instagram scheduler.
21) Combin : TikTok & Instagram Scheduler
If you want to schedule Instagram posts free, Combin Scheduler can be a choice for you. From the desktop, you will receive fully automated publishing. You can change the image size with our Instagram content planning tool. Platforms for Windows, Mac, and Ubuntu are supported. It has an in-app mobile preview that allows you to visually style your grid. An Instagram marketing and content planning tool called Combin Scheduler will assist you in gaining more Instagram followers. Due to its user interface and ability to generate traffic from Instagram bio, auto-publishing ANY material is simple to plan and implement on Instagram.
🌟 Features of Combin Scheduler:
It enables Instagram quick uploading.
A fully automated publication is available.
With this free Instagram scheduler, you may change the image's size.
Instagram stories can be bulk-uploaded.
Posts can be created with a single mouse click.
Your Instagram grid arrangement can be customized.
💸 Pricing:
Who doesn't love free things? It's free to download platform. You can schedule Instagram posts free with this amazing application.

Reasons to Schedule Instagram Posts:

For years, businesses have pleaded with Instagram to include scheduling options. Scheduling Instagram posts and stories is an effective method to increase engagement and expand your following, as well as free up time in your workday and promote productivity.

What makes so many marketers willing to queue up their material, though? The primary advantages of scheduled Instagram posts are listed below.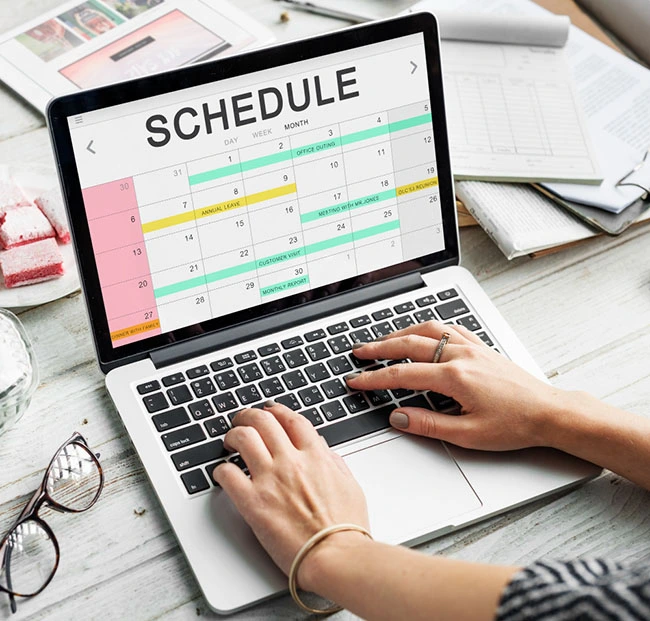 Comprehensive Content Strategy:

Instagram statistics show that various forms of content, such as carousels, pictures, Stories, and videos and all get different levels of interaction. Similar to this, brands must vary their content tactics rather than consistently posting the same kind of information.

Instagram post scheduling allows you to truly review your content calendar. Additionally, since you don't have to rush to post on Instagram, you can automatically research more, as you have more time for collecting the best conetnt and produce the organci and engaging material.

One of the best strategies to increase your Instagram following and develop your account is to focus on your visual style. And while the no-edit edit is still popular, it's crucial to develop a unified Instagram look for your profile.

People are using Instagram more frequently to look up their favorite companies. In other words, your Instagram profile is now just as significant as the home page of your website. Make a solid first impression because your Instagram feed is the first thing a visitor sees when they land on a new profile.

Therefore, a visitor is much more likely to click the "follow" button when they arrive at your profile and are aware of what to expect from your feed. Everything you upload to your profile should have a consistent and complementary design theme. Of course, this also includes your Instagram Stories, Reels, and IGTV videos as well. Therefore, it's time to look outside of your grid in 2022!

Of course, you should keep in mind how your posts appear next to one another, but you should also start thinking more broadly and start to include Instagram Stories and videos in your aesthetics strategy!

Additionally, organizing your content in advance is essential for producing a unified aesthetic. It assists you in upholding a constant look, and scheduling your posts in advance enables you to post frequently, which is crucial when attempting to increase your following.

Save Time for Other Projects:

You might find that you're spending more time on your phone than you'd want if you're still manually posting to Instagram.

And if you own a small business, this can be taking up valuable time that could be used on other tasks, like working on your 2022 objectives or strengthening your online community. With the use of social media schedulers, you can automatically publish more material with less effort and less time spent worrying about it.

Scheduling Instagram posts can at the very least help you make significant time savings. There will be more chances to engage with followers and respond to comments as a result. Even the finest Instagram scheduler cannot handle the pressure of maintaining the client connections. You may spend more time engaging with your audience when you maintain a posting schedule and are consistent.

Consistent Posting for More Engagement:

The value of consistency on Instagram cannot be overstated. You're effectively letting your fans know what to expect from you by sticking to a regular posting schedule. It gives your audience a consistent experience.

Your Instagram engagement can also be improved by posting more frequently. Your fans are more inclined to interact and connect with your material when they know when you'll post next. You'll be at the top of their feeds and more top of mind, owing to the algorithm!

Nevertheless, maintaining a regular posting schedule isn't always the simplest thing to accomplish. You may get caught up in things and your timed Instagram posts can mess up. However, by organizing and scheduling your Instagram posts ahead of time, you may create a regular posting schedule and publish material even on days when you're really busy.

Seamless Marketing Campaigns:

All of your channels, including paid and organic social media, email, and others, should use the same creatives, landing pages, and promotions. Better client experiences result from this. You may make sure that your posts go live on social media at the appropriate moment by scheduling them. You can actually sync all of your social media accounts such as Instagram, Facebook, and Pinterest if you use a social media management platform. It eliminates the need for manual or real-time posting.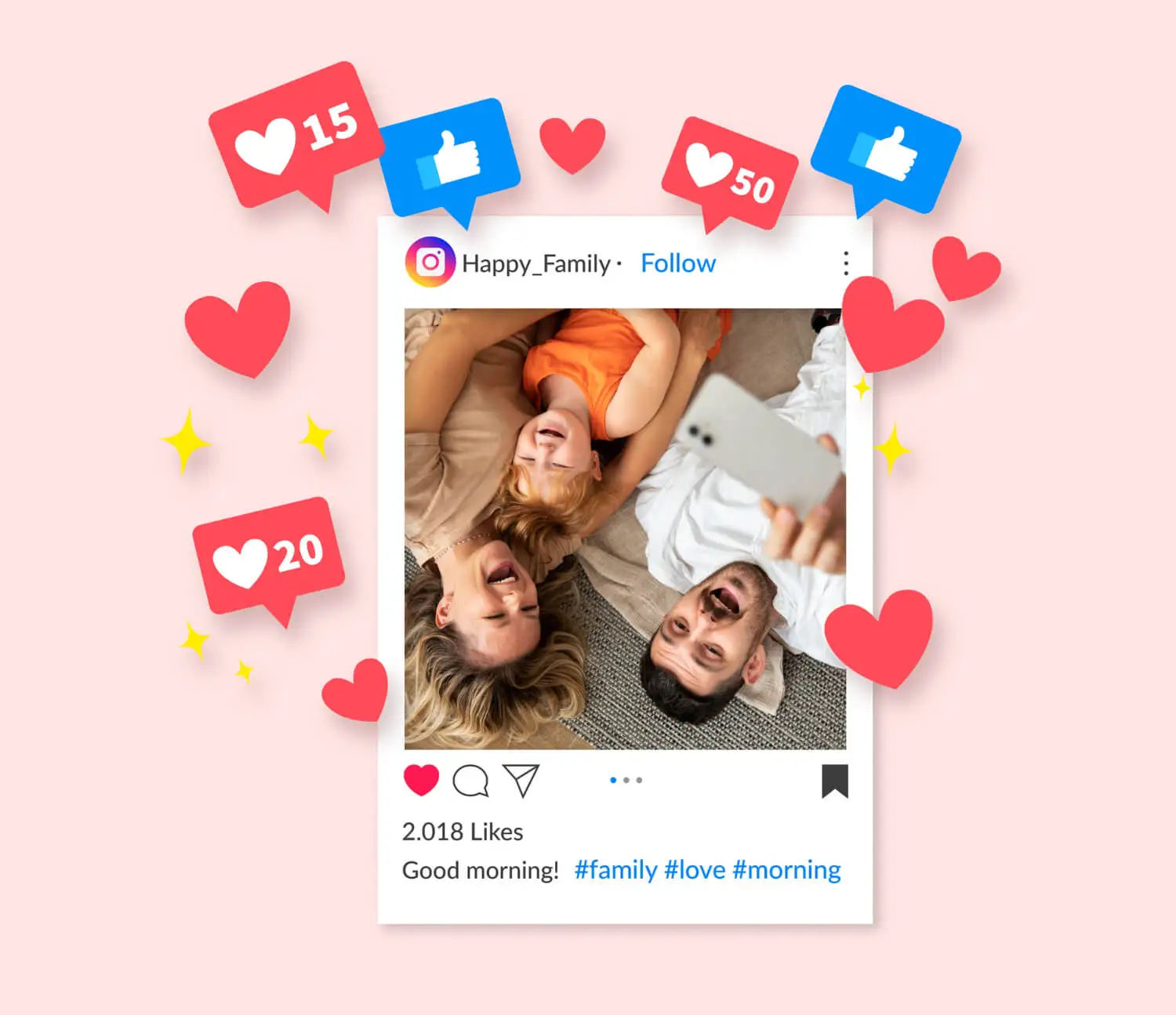 Plan and Launch Campaigns:

If you're organizing a unique campaign or the debut of a new product, you should make sure that every announcement is meticulously planned.

Additionally, there is teaser content you may want to post in the lead-up to the big event to generate buzz on Instagram and pique your followers' interest. Not to mention that there is plenty of campaign aftercare to ensure that the conversation on Instagram continues and you can constantly remind your followers about your new goods or services. Campaigns don't finish on launch day.

And the result of all this campaign preparation is a carefully thought-out content plan! Thankfully, Social media schedulers allow you to prepare and schedule all of your campaign content, even Instagram stories in advance.

Post when there is Most engagement:

Optimizing your posting timings is more crucial than ever because Instagram engagement and reach have been progressively falling. The optimal time to post on Instagram for your account hasn't always been simple to determine, though, because every account has a unique audience that lives in various time zones.

You have a better chance of driving engagement on a post if you publish it when your audience is most active on Instagram. And because of that interaction, Instagram will move your post up in people's feeds and perhaps even include it on its Explore page, which would encourage even more interaction with it.

Higher engagement increases visibility, which ultimately leads to more engagement. It all goes in a cycle, higher visibility, higher engagement, higher visibility…..

The ultimate goal of Instagram marketing for the majority of businesses is to attract followers to their website, where they can find out more, make a purchase, or interact with other online content. Therefore, it's simple to overlook the fact that the objective is to direct more people away from Instagram and onto your homepage or product pages when you're focused on producing excellent Instagram content and perfecting your aesthetic.

But for both regular grid posts and your Instagram Stories, that's where scheduling and arranging your material come into play. When you can plan ahead, you can obtain a bird's eye view of how and, more crucially, how frequently, you're bringing traffic to your website.

Using your link in the bio wisely is one of the simplest strategies to increase traffic to your website. It's one of the most effective traffic generators on your Instagram profile because it occupies prime real estate in your profile's bio, is very simple to find, and is easily clickable. The good news is that you can increase the effectiveness of your link in the bio for your brand.

Burnout is a sure sign of last-minute Instagram posting. You can better organize your time and create posts that are more meaningful by scheduling Instagram posts. Long-form captions are now the focus of Instagram, where images used to be everything. Longer captions may potentially even help your content get found by more users according to Instagram's new keyword search. Even brands are embracing the idea, particularly when it comes to promoting the causes they support. So if you haven't started writing lengthy captions, do it now!

Nevertheless, creating captions can be laborious because you frequently need to be in the "writing mode" to do it well and effectively express your ideas on screen. The Instagram app's caption editing box isn't the easiest to use, and it's incredibly challenging to evaluate and update your wording in such a small window on your phone! Plus, it's difficult to write Instagram captions, let's face it.

You can save time and create better captions by scheduling Instagram posts for free and writing all of your captions at once, as opposed to scrambling to think of one as you need it when you need to publish.

Scheduling motivates brands to start creating content well in advance. The greatest captions and creative materials can now be discussed by marketers and colleagues. Collaboration and Instagram scheduling are useful for both social teams and marketers seeking input from customers or influencers. It's simple to have several sets of eyes on your material before it goes live when combined with a social media approval procedure.
Factors to Consider before Instagram Scheduling:
Scheduling your content beforehand will allow you to preview it before publishing your posts! You can rearrange posts and make sure they're exactly as you want viewers to see them by scheduling your content. You and your social media team may plan ahead and maintain focus on other duties by scheduling your social media postings in advance. If done properly, scheduling posts is a brilliant method to use social media to increase views for your business. You may save time and give the impression of consistency to your followers by scheduling postings.
Making your brand successful on Instagram requires a lot of work. Before scheduling Instagram posts, there are several things to take into account. And, here are the key takeaways.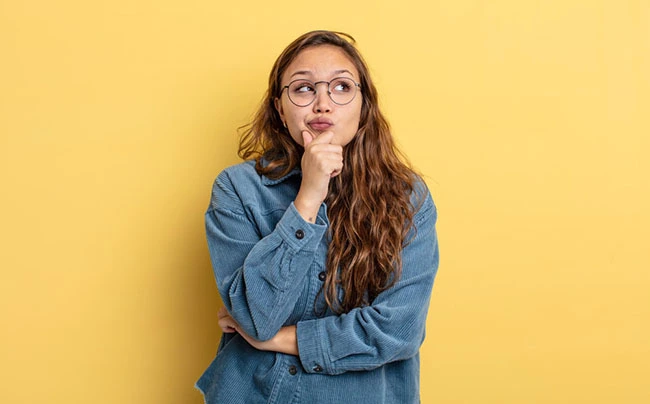 Create an Instagram feed plan to make the most of your posts!
Every post should reflect the unique voice that each brand has on social media. To move forward with Instagram scheduling, you must organize your feed methodically. Make a decision regarding the posts you will curate and the frequency. Additionally, this will reveal the general layout of your Instagram feed. When it comes to publishing on Instagram, some firms also adhere to particular color schemes and layouts!
Know what your target market expects from your brand!
You must understand what your target market anticipates from your brand as a brand marketer. Discover your audience's interests by analyzing the demographics of your audience. You can use this as a guide while you consider the types of material and content formats for your profile. You may even use the performance information from your earlier posts to figure out what your audience is interested in.
Know when to post and what your audience is doing!
Knowing when your Instagram followers are online is crucial. You can effectively schedule your Instagram posts using this. To maximize the effectiveness of your Instagram posts, monitor audience behavior and determine the optimal time to post for your page. Posting at the right times will increase your platform reach and engagement.
Avoid formulating a schedule plan and then forgetting them!
Every social media post may be made better! Check your Instagram schedule calendar frequently to identify which posts could use some editing. You can produce more high-quality material by doing this. Frequently, a trend will go viral, forcing you to post something else in its place right away.
Watch out for your Instagram rivals!
You may learn how to scale up your Instagram content by keeping track of your competition on Instagram. Examine the content that your rivals are posting on the platform. Keep tabs on the content formats they are utilizing and generating interest for. You may use this information to determine which content type is best for your brand and how frequently you should post to get the desired outcomes.
To improve posts, use hashtags, mentions, and geotags.
Your brand can benefit greatly from simple hashtag analytics on Instagram. Don't just write a post with a title and a caption! Use popular hashtags, geotagging, and mentions to broaden the reach of your posts.
Benefits of Instagram Schedulers:
Now that you have known the best Instagram Schedulers, it's time to know why you need them for your business. Social media schedulers are a savior, and with a platform like Instagram where the trend changes in the blink of an eye, Instagram scheduling is essential. You can not always be on your phones posting content for your audience. Here are the benefits of why you must invest in a good Instagram scheduler.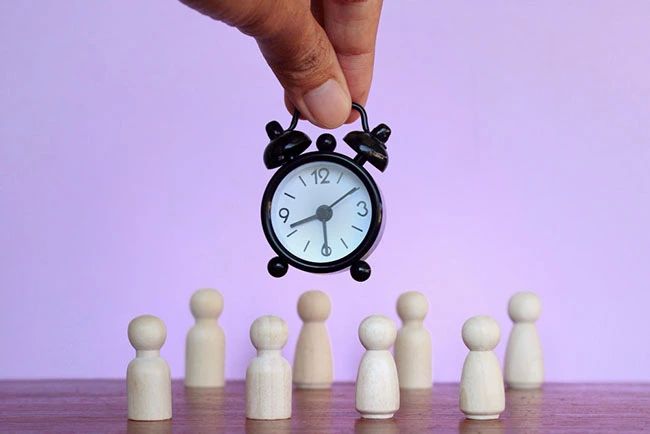 Since there are only a few hours in the day, time is money. The main benefit of scheduling your Instagram posts in advance is saving your precious time. It gives more freedom for coming up with creative content ideas and other business requirements. Additionally, you won't have to scramble to create a post immediately and may instead plan ahead.
Any social media manager or creator will tell you that maintaining a regular posting schedule is one of the key factors in their success. It's crucial to post engaging material throughout the week even if it doesn't have to be daily.
Craft a Cohesive Visual Story!
Users are still drawn to grids that convey a coherent visual story, even though the Instagram aesthetic may no longer be "picture-perfect." This might be a grid that combines memes and lifestyle posts, or one that uses complementing hues.
You just have a few seconds to make a good first impression, so planning an eye-catching grid will enable someone who hasn't seen your profile before immediately comprehend who you are and what you do.
Come with better captions!
Composing captions on the run is challenging. You run the risk of experiencing writer's block, it's simple to make a spelling error, and you lose the chance to convey the greatest possible version of your brand's story.
You may set aside time to think creatively and create excellent captions by organizing and scheduling your articles in advance. For SEO purposes, this entails customizing your post to contain popular keywords as well as pertinent hashtags to broaden its audience.
Keep the content calendar organized!
Another big advantage is to maintain order in your content calendar. You'll be able to see your content as a whole and see any gaps or possibilities for the next weeks. It's a quick and efficient technique to ensure that your material is constantly relevant and that you aren't just posting for the sake of blogging.
It's a terrific way to be productive to post to Instagram from your computer, especially if you're already producing graphics and social media content on your PC or Mac. By scheduling from your desktop, you can also evaluate forthcoming posts on a larger screen, type captions using a full keyboard, and quickly switch between tabs.
Conclusion
As the algorithms and functions of Instagram are constantly changing, it has become a need to get an Instagram management tool that can understand the system and algorithms to get the best conversions and engagement. The mentioned Instagram Management tools are highly functional in providing the needed outcomes to your social profile and providing you the best management, growth, optimization, automation, and empowerment of your social feed to get better outcomes every time.
Whether you are looking for how to schedule Instagram posts in the form of a free, straightforward, or multi-functional tool that can review the trending hashtags, and inform you of your audience's activities while recommending the best time to post on Instagram 2022 and also the right date and day to post, the tools listed above will surely come to your rescue. We hope you found what you were looking for through this content.