Currently, there are roughly 1 billion active users on Instagram, making it one of the most lucrative platforms to promote your business and grow your brand. Instagram used to be a much smaller and light-hearted sharing platform. However, the days of squared images lighting up our screens are long gone. When using Instagram for business, you can post photographs, reels, time-lapses, boomerangs, stop-motion animations, and live streams.
The advent of Instagram Stories in 2016 was a significant shift in the right direction. The biggest reason for its success is the small amount of the viewers' attention it demands due to its short length.
Instagram is one of the most prominent social media platforms in the world, with over one billion monthly active users. This social media app is notably widespread in India and the United States, where there are 201 million and 157 million Instagram users, respectively. In 2023, the volume of Instagram users in the United States is expected to exceed 120 million MAU.
Additionally, Instagram Stories is one of the most beloved features. Users can upload photographs and videos to their Stories stream, which remain visible for 24 hours before disappearing. In January 2019, the business announced that 500 million people were using Instagram Stories on a daily basis.
Moreover, Instagram Stories allow you to interact and genuinely engage with your target audience, resulting in stronger customer relationships. In reality, the Instagram Story feature was created to enable businesses to post brief photographs and videos with their followers to highlight what sets them apart. Plus, Stories give fans a sneak peek into what brands do behind the scenes, which they adore. Stories provide a more realistic glimpse of events and offer you more potential to impact your audience than a perfectly edited and formed snapshot on your Instagram feed.
Instagram Stories can be a lot of fun, but it can also be a terrific way to attract more individuals to follow you, browse your blog, purchase your product, or simply earn more exposure.
So first, let's get into what Instagram Stories are and how you can use them!
What is an Instagram Story?
Instagram Stories empowers users to post photographs and clips to their Story, which is viewable to other Instagram users who follow them. A rainbow border surrounding the user's profile photo indicates recently-posted Stories. Instagram Stories, like Snapchat Snaps, expire after 24 hours.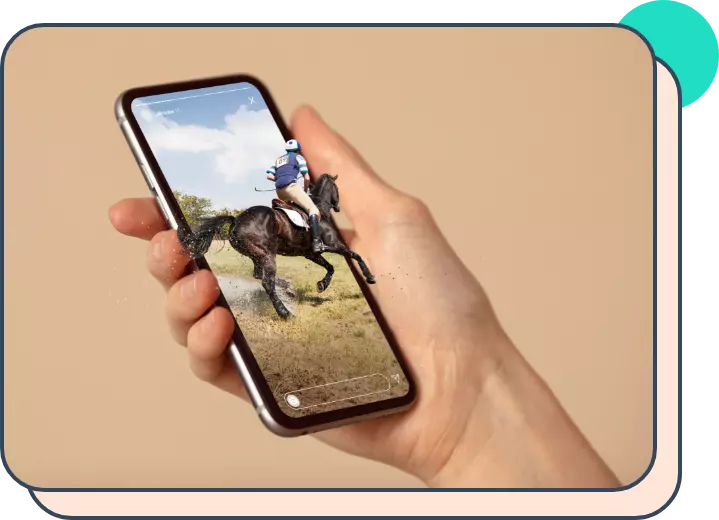 Your Instagram Story is posted independently from the visual content in your Instagram profile's tiled display. Although you may be familiar with the basics of posting them, there are additional tools inside the app that can help you add more creativity and engagement to the photographs and videos you share on your Story.
Instagram Stories allows you to post short films and photographs to a "Story" that is only visible for a limited period of time. Instagram Stories stay on your account for 24 hours before vanishing, however, a video within your Story can remain up to 15 seconds before transitioning to the next type of content. To add to your Story, you may also utilize third-party software to cut a larger video into 15-second segments.
The photographs and clips essentially have a time frame when consumers see and watch them, similar to how Instagram Stories last until 24 hours before expiring. Individual videos added to your Instagram Story have a limited roll time of 15 seconds as a general rule. If you add a clip to your Instagram Story, it will run for up to 15 seconds, irrespective of the length of the actual footage.
Each Story can be customized with stickers, location information, and drawings, as well as filters and sounds. If your profile is public, anybody can see your Story. However, if your profile is private, only people that follow you can see it. Viewers can reply to your Story personally via direct message (DM), but you can easily turn off responses in your app's preferences. By accessing your Story and swiping upwards on your device, you can also see who has seen it.
Now that we know a bit about what an Instagram Story is, you might wonder, why is it necessary? How is posting Instagram Stories different than the typical feed post, and how can it impact your profile positively?
Read more about: Instagram Marketing
The Importance and Influence of Instagram Stories
In our Instagram Story journey, the first step is understanding what a story consists of, and the second is understanding its value. Most users may view Stories as the least impactful or influential piece of content on Instagram. Especially as Instagram is filled with dynamic reels, eye-catching feeds, and other forms of content. Stories may seem like a shorter, less interesting feature from the outside. But the reality is very different as Instagram Stories offer a huge variety of benefits, some of which are: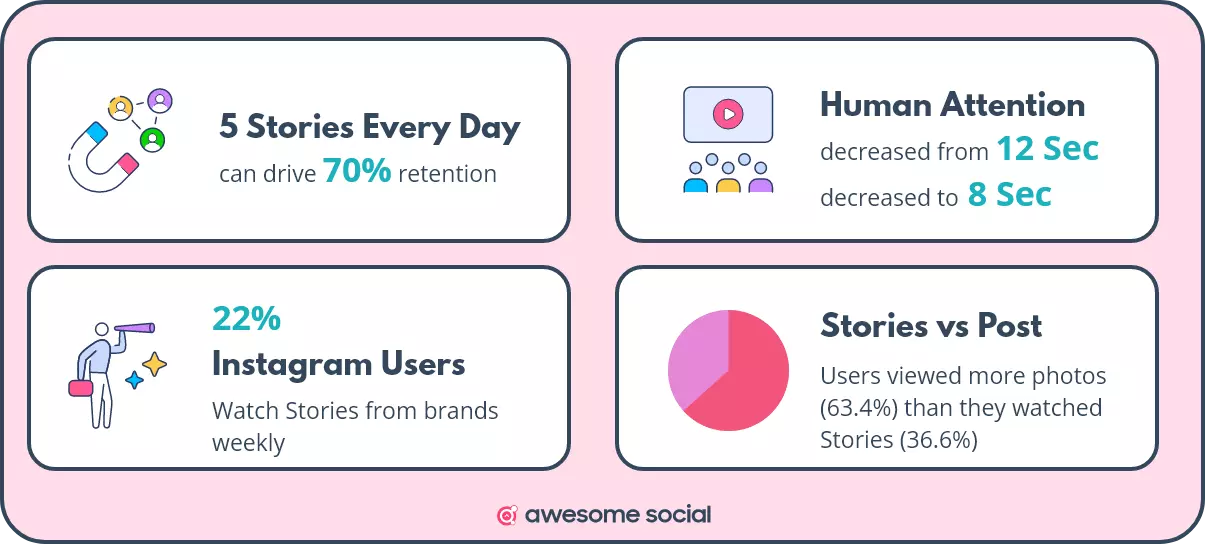 As you are probably aware, the stories of people you follow stay at the top of your feed with a colorful ring to signify that a new story has been shared. When you share a brand new Story, your viewers will be alerted, making it more difficult to miss than a typical Instagram post. According to an Instagram story study, sharing up to 5 stories every day sustains retention rates at above 70%.

You may communicate directly with your audience using Instagram Stories to better meet their needs. To engage your fans in your story and encourage them to share their enthusiasm, ask them questions. Stickers are an excellent tool to naturally increase such conversations.

The typical human attention duration has decreased from 12 seconds to 8 seconds, as shown in a study done by Microsoft. The spread of software has been blamed by many for the drop. But it works in your favor with Instagram Stories. As you can only publish clips of up to 15 seconds at a stretch on Instagram Stories, it belongs to this era of individuals with reduced attention spans.

Furthermore, the structure of this tool is ideal for mobile: you can share any place and at any time, making it extremely convenient to use while on the go. Instagram Stories, unlike the basic square style of Instagram photos, are shot vertically. Finally, Instagram Stories are deleted after 24 hours, so you won't have to bother if they don't match the overall aesthetic of your account.

Instagram Stories are quite easy to find. You may use Hashtags and mentions in Instagram Stories to increase the number of people who see your story. Instagram Stories has a reach rate of roughly 7.2 percent of your Instagram followers. Furthermore, one out of every four Gen Zers and millennials deliberately seeks out Stories about the items and solutions they're considering purchasing.

You can also use Instagram Stories to promote your company by sharing information that directs people to your webpage. You can drive followers to your website to buy your merchandise) if you operate a shopping or e-commerce enterprise. According to a recent Facebook study, one out of every three Instagram users were more intrigued by a business or product after viewing it on Instagram Stories.

Instagram launched this interesting shopping tool for Stories to expand its e-commerce efforts. If you want to boost traffic to your website, you can do it by using Instagram Stories' "Swipe Up" feature. You may use this functionality to send followers to your website, landing pages, and much more by integrating efficient and eye-catching CTAs.

Although your Instagram Stories only last 24 hours, you may lengthen their life by recycling them throughout all of your social media sites. This is a fantastic method to eke out more value from your content while conserving time. By integrating your profiles on the two applications, you may instantly share each post on Facebook.

You may also store and reshare your Instagram Stories on Pinterest or TikTok by downloading and saving them. Whether you use engaging surveys, DIY instructions, or campaign banners to make the most of Instagram Stories, the advantages remain the same: attracting a new or current market in a more engaging, compelling manner.
The benefits of posting Instagram Stories far outweigh any cons you may have in mind. These Stories give your brand a bigger chance at accessing large-scale audiences without putting intense amounts of effort. Unlike sharing feed posts, Instagram Stories are far less effortful. This is because of the difference in longevity and the fact that Stories have little to no impact on your overall feed aesthetic. But that doesn't answer an important question, when should you post an Instagram Story, and when should you post on your Feed?
Instagram Stories are best used for the following activities: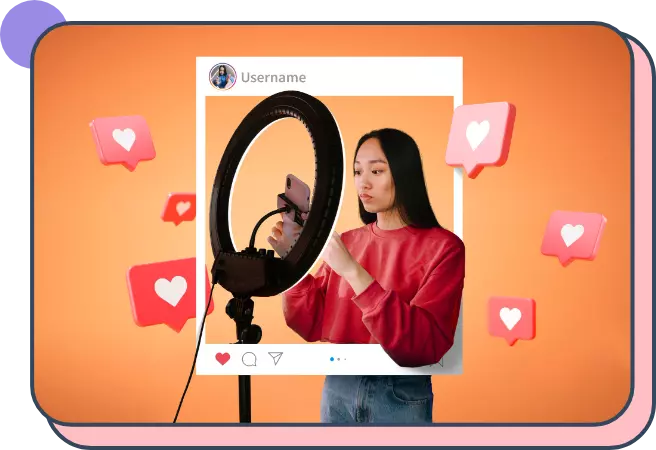 Short-form content- Because stories are just 24 hours long, they can be somewhat "on the fly."

Selfie pictures or behind-the-scenes content are becoming increasingly popular. When creating a Story, you can play around with stickers, effects, and more.

Crafted for engagement – Your existing followers will see your Stories. This means they're constantly prepared to react to a noteworthy announcement or amusing photograph.

Audio on - Because most people watch Instagram Stories with their audio on, you should include it when you upload.
For example, consider the following instances as ideal for Instagram Stories for business: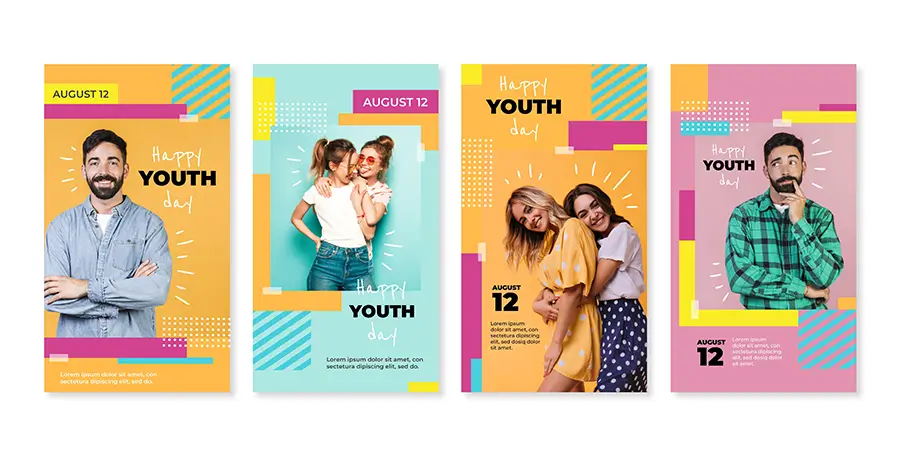 Important news
Discounts or sales that are only available for a limited time
Customer quizzes are a great way to keep your consumers engaged.
Conversations or behind-the-scenes footage
Instagram posts are best for the following types of content:
Eternal- Information that you want others to be able to see eternally. This should match the aesthetic and tone of your existing feed.

Carefully crafted — When curating your Instagram feed, strive for high-quality content. None of your posts should be pixelated, blurry, or somehow unappealing.

Optimized for reach — Posts are more likely than Stories to reach new audiences. Although Stories have their own strengths in this area, Feed posts have a bigger overall reach impact.

Soundless - The majority of people scan through their feed with the sound turned off. You can always upload videos, but when they're on the feed, always include captions.
The best Instagram feed posts for a business are usually: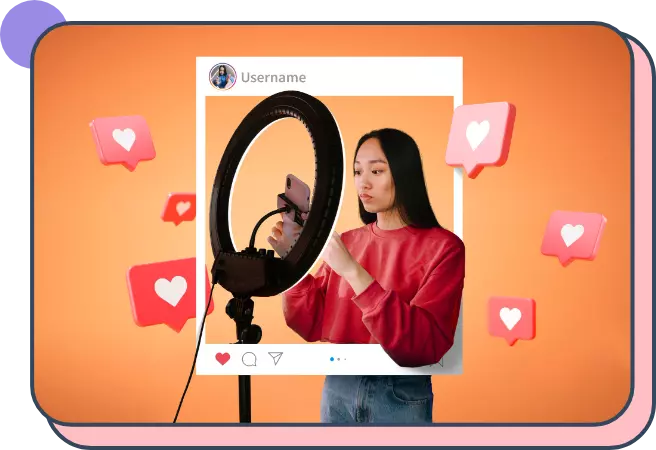 Photographs of high-quality products

Collaborations with a brand or influencer

Videos that have been professionally produced
Instagram Stories have an incredible number of advantages when used wisely. So let's get right into how you can create an Instagram Story and when you should be posting it.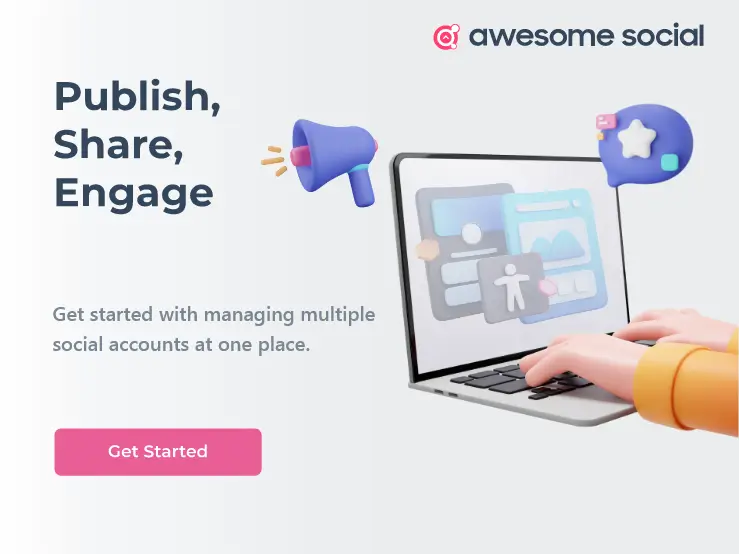 How to post an Instagram Story
To post a story, you must first complete the following steps:
Select the "+" button in the top right corner of your screen, then tap "Story" in the bottom right,

Another method of creating a Story is to simply swipe right on your screen, and the feature will slide into view.

Then, at the bottom, click or long-press the record icon to snap pictures or videos.
This is the simplest way to share Instagram stories from your profile.
Before we get into some of the tips and tricks to creating exciting Instagram Stories, let's first understand how to view them and how to see who's viewing your Story.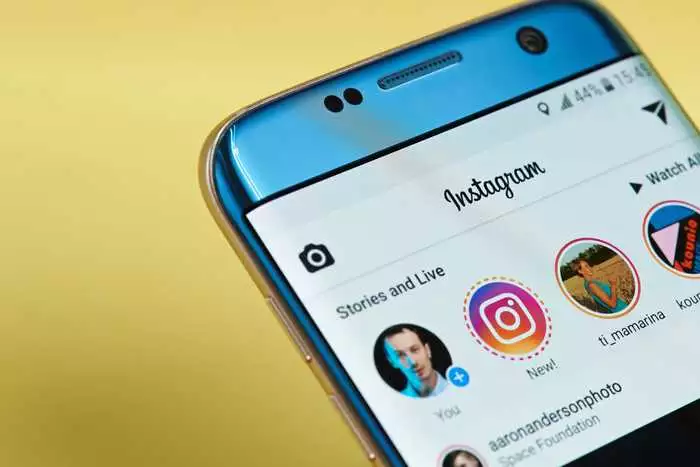 Image credit: Business Insider
How to check your Story Views
If your Instagram Story is still active — that is, if it has been less than 24 hours after you posted it — simply hit the Insta Story symbol on the app's home page to check the number of people who have seen it. To see the list of the individuals who contributed to those Instagram Story views, click the number in the bottom left corner.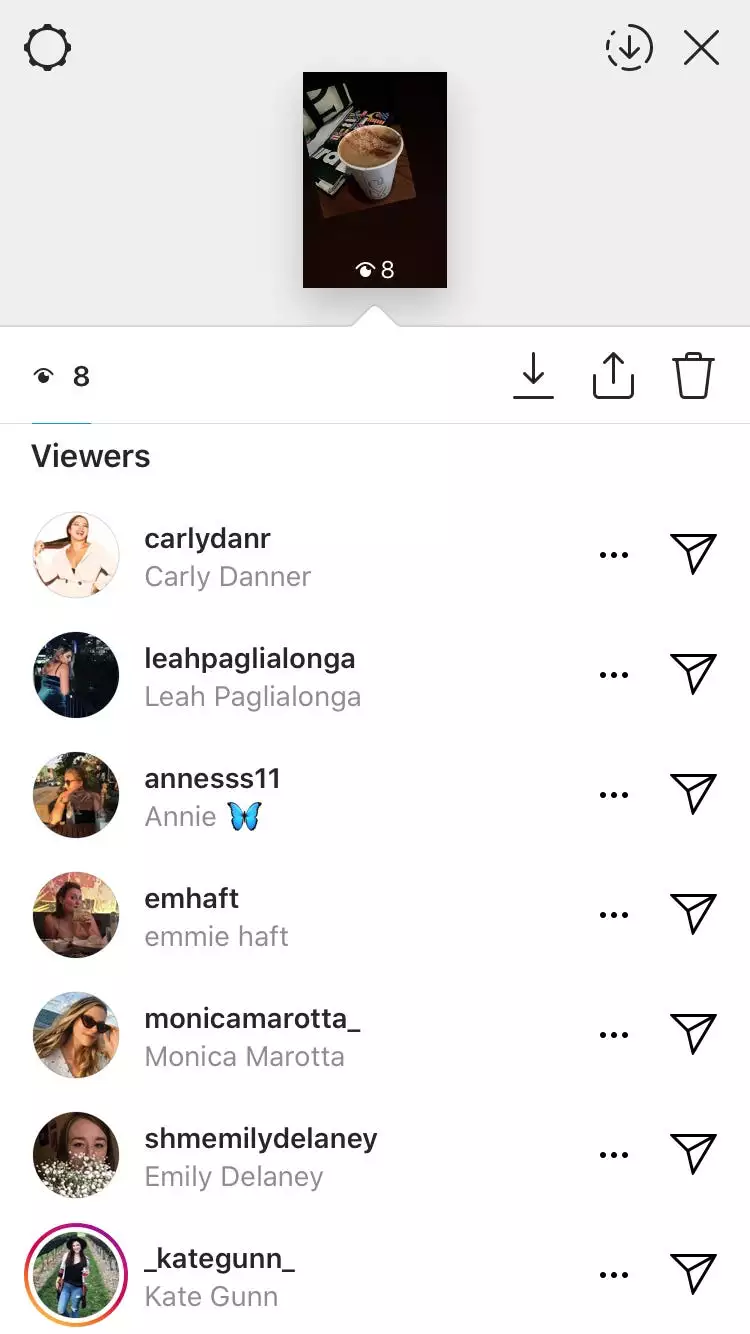 Image credit: Business Insider
After your Instagram Story has vanished for 24 hours, you can still view insights, such as reach and impressions. The number of unique accounts that watched your Story is known as reach. The overall amount of times your Story was viewed is referred to as impressions.
Here's how to do it:
Select your profile picture in the bottom right corner of the app's homepage.
Insights can be accessed by tapping on the icon.
Select the time period for which you want Insights: 7, 14, or 30 days, the previous quarter, or a specific period.
Tap on Stories after scrolling down to Content You Shared.
Select a metric and a time frame.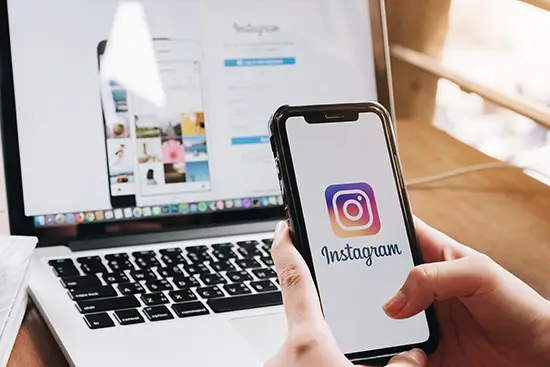 That's about it when it comes to viewing your Story Views. If you want to create Stories that are more dynamic and shareable Instagram offers several unique and fun features to spice up your next Story.
Some of the additional Instagram Story Options are as follows:
1. Create- The create option is ideal for when you want to share text or content with your followers and you can choose among multiple fonts and colored backgrounds.

2. Boomerangs- these are brief, entertaining videos that play backward and forward.

First, select the Story Icon on your screen or swipe right and choose the camera.
On the left side of the screen, you can select multiple options, and tap on the Boomerang option.
Press the record button to take a burst of photos.

3. Layout- this is an option that allows you to take up to 4 images or videos in four squares that create a layout.

4. Hands-free- To make a video, you no longer need to push and hold. You can capture a video without using your hands by selecting the Hands-Free option from the left menu.

To use the Stories camera, swipe right from your feed.
Press the left-hand downward arrow.
Select the hands-free feature to capture a video without needing to long-press on the recording icon.

5. Level- this option divides your screen into 9 equal portions to help you take photos that are perfectly leveled.

6. Instagram Story's multi-capture function consists of multiple photographs taken in rapid succession. It helps you take and post multiple photos at once directly onto your stories.
Furthermore, you can post a reel, live or Feed post when you use the story feature on Instagram. To use the live feature you need to do the following:
1. First open the Stories camera directly or you can swipe right from your feed.

2. Pick the Live option from the alternatives at the bottom of the screen.

3. On the left, you can caption, schedule, and make your Live video accessible to everyone, just your followers or keep it private.
A Live tag will appear on your Instagram Stories window to notify followers when you broadcast live.
Moving on from this, Instagram also offers several fun features to make your stories more exciting and interactive. Stickers, tags, drawings, and more can help you add entertaining elements to your Instagram Story.
Fun Story Features to add
Instagram Stories also has a lot of personalization options. Swipe over a photo or video after taking it to apply a filter. If you want to test a filter that you see someone else using on their Story, click the title of the filter. A menu will appear, giving you the option to try it right away or reserve it for later. Here's how to put them to the test.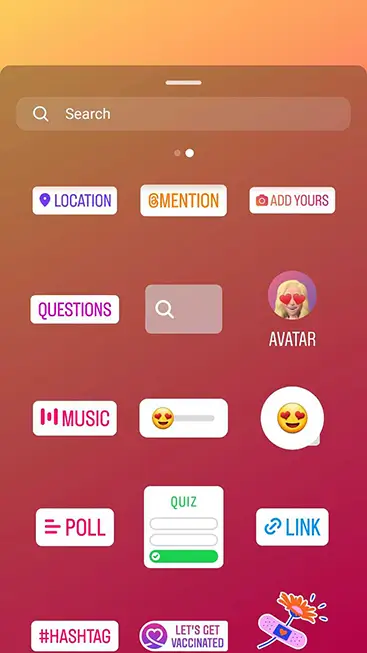 1. Open the camera in Stories.

2. Scroll down to the bottom to see the various filter options. To see even more effects, scroll to the bottom and press the magnifying glass.

3. Try on the filters by tapping them.
Another fun approach to making an entertaining Instagram Story is to use stickers to add your own flair. Some unique stickers even allow viewers to connect directly with the Story creator. So let's dive straight into some engaging Instagram stickers.
The Top Stickers To Engage Your Audience Are:
When you need external feedback from your audience, the sticker is a terrific tool to use. In a perfect scenario, you'd pose a specific question that has the greatest chance of piquing the attention of your audience. When someone responds to the sticker, it is done anonymously.
It's shown in your story under the view count icon. The responses can then be shared, and whoever submitted them will be alerted if you do so. This not only encourages genuine interaction but also demonstrates to your audience that you care enough to read their answers.
To find Instagram Stickers, go to your Instagram Page and make a story.

Once you've chosen your image or clip for your story, go to the top right of the page and select the 'squared smiley face.'

You'll be taken to another pop-up window as a result of this. Next, select 'GIF.'
Now that you have an idea of how to choose stickers, let's get into some of the top 8 sticker options available on Instagram.
A quiz sticker is a simple tool you can use to captivate your audience while also having some intellectual fun! It's one of Instagram's most engaging stickers, and as a brand, you can use it to quiz your followers, educate them about your offerings, or delve deeper into their passions.

Start adding locations using Instagram's geolocation sticker if you want to earn more clicks and interaction on your Instagram Stories. Whenever you tag a place on Instagram Stories, such as a neighborhood or a cafe, your story will display in that area's public stories feed, just like it does for standard Instagram posts. As a result, everyone looking for that area on Instagram will be able to view and interact with it.

When engaging with various businesses on Instagram or reposting user-generated media, it's critical to use the mention sticker to acknowledge their profile. Not only will the user be informed that you mentioned them, but it will also help you grow your audience. That account might then repost your story and compliment you for the mention, or they might even promote it with their fans.

Polls are a great sticker to use when you're running out of clickable content to share. Much like this or that post, it gives you a chance to collect ample information about customer likes, dislikes, and attitudes. There's a higher chance of customers answering polls when they're opinionated about the topic being shared or feel strongly about it. So choose your poll topics wisely and don't forget to have some fun with it.

The Add Yours Sticker is a brilliant way to bond with your Instagram community while creating content. Tell folks to use your "Add Yours" Sticker to post their own stories. "Show me what you ate for breakfast right now," for instance can push your followers to post on their Story as well. People will also share images or videos of their meals and create a chain of Instagram Stories by doing so.

The Countdown sticker is another fun feature you can use when you're offering discounts or launching a new product. When the timer runs out, this countdown sticker permits your audience to switch on notifications. This might be a really effective way to announce the launch of a product or piece of content. The only difficulty is coming up with a compelling case that will convince your followers to turn on the timer notification. The countdown sticker isn't simply for product launches or events. A countdown is great for any scenario, whether it's a big celebration or a quiet lunch. However, remember to incorporate an intriguing title as well as other features such as gifs or subtitles to reel in your audience.

The emoji slider stickers offer ease and convenience to your Story viewers and are great sources of consumer data for your brand. Despite the fact that the Emoji Slider and Poll Stickers are paired together, they can be utilized in very diverse ways. You select emoji to attach to a Story with the Emoji Slider, and then visitors rate the story based on that emoji by moving the emoji to the right or left. Individuals who slide the emoji can observe how their response compares to the average replies.

The captions sticker is quickly becoming a necessity not just in reels but also on Stories when you post a video. Of course, captions help individuals who are hearing impaired follow along, but a LOT of people watch IG Stories with no sound! Before the Captions Sticker, in order to provide narration, posters would have to type out everything they said, which took a long time. The Captions Sticker makes it much easier for IG accounts to create Stories with narration on the fly.

Shopping or Shoppable Instagram Stories stickers, also described as brand stickers or shop stickers, are stickers that are applied to Instagram stories to allow viewers to discover more about items with a single tap while watching the story. Even if you don't have 10,000 followers, you can use shoppable Instagram Tales stickers to include product links in your stories. You may tweak your stickers to catch your audience's attention and urge potential buyers to click, which is better than swipe-up links.

In July 2018, Instagram added yet another fun and engaging feature for users to experience. "Questions" is a sticker that you may put on your Stories to let your viewers ask you questions. Each question you get can be handled in a separate Story that is made public. Instagram's popularity stems in part from the fact that it is such a communicative medium. You may engage with accounts and companies in a variety of ways, including reacting to their photos, sharing their Stories, communicating privately, and replying to entertaining features like Questions.
Now that we have an idea of which stickers you can use to increase engagement, let's get into how you can use them!
1) How to use Polls on Instagram
Begin by following these steps to create your story:
Select the sticker icon in the upper right-hand corner of your screen whenever your photo or video is ready to launch.

Select a Poll sticker.

Simply write your question here.

Fill in the blanks with your two probable responses. You can input any response up to 24 characters long, including emojis, but the default is Yes/No.

Allow 24 hours for your poll to appear.

Don't forget to share your conclusions!
2) How to use a Quiz Sticker on Instagram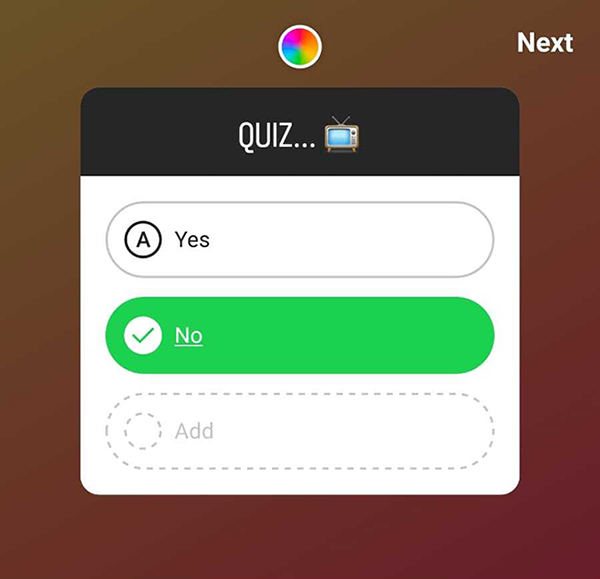 Simply select the quiz sticker icon after taking a picture or clip in the Instagram Stories camera to get started.

Assign your quiz a title, then write your unique questions and tweak the response options – you can have up to four (or as little as two) options. The answer that is "correct" will be marked in green.

By tapping the color wheel at the top of the screen, you can change the color of your quiz.

Once you've completed it, just share your story with your followers and see who gets it right!

When someone takes your quiz, they'll be able to see which option is leading at any given time, as well as the correct answer.
Swipe up to reveal the viewers' list and view your quiz findings. You can see how many people retaliated to each option, as well as who replied and how they responded, in this section.
3) How to use the Countdown Sticker on Instagram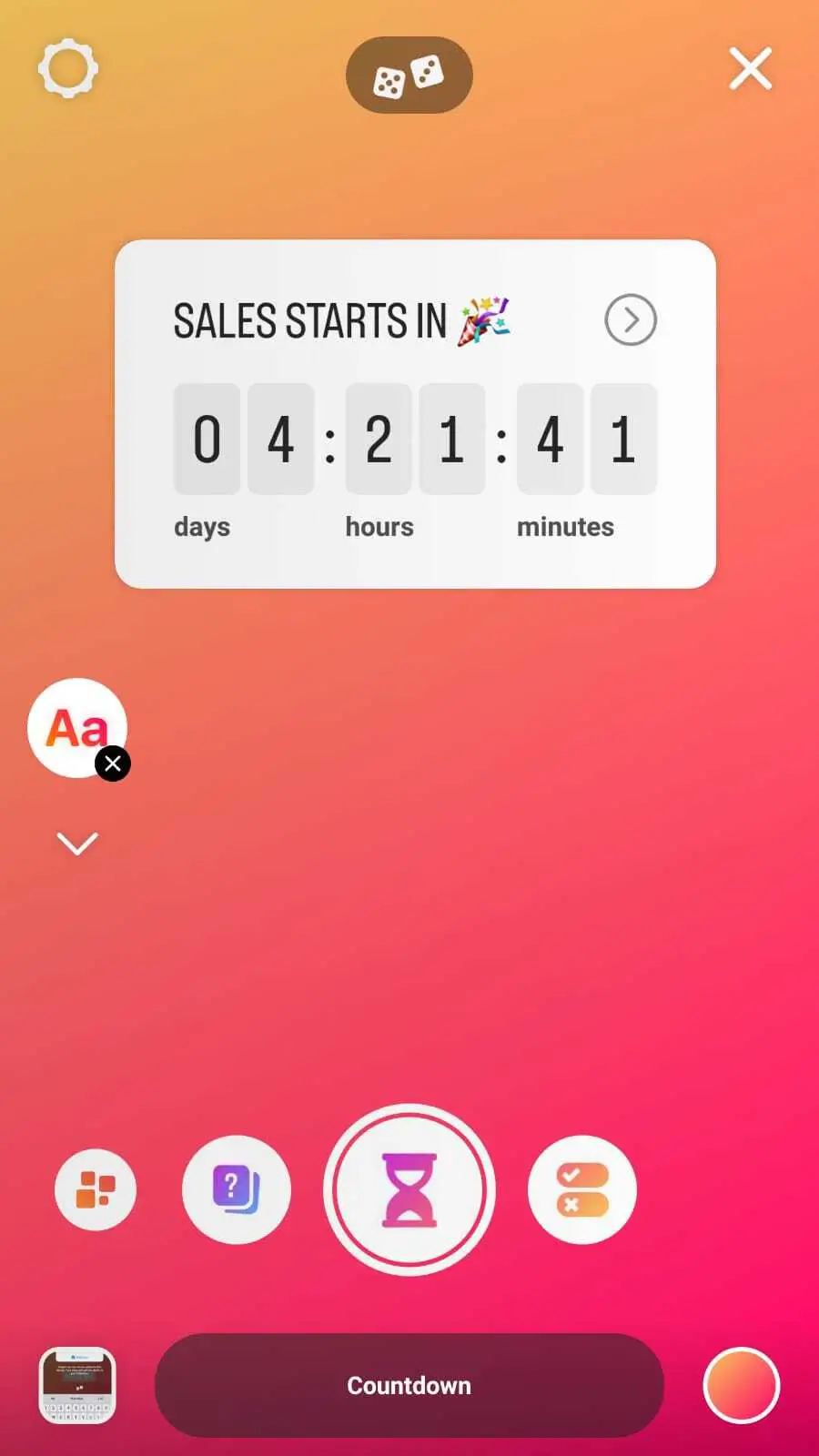 Open the Instagram app on your phone. To add a photo or video to your article, swipe to the right as usual. To snap a picture or clip, use the record button.

After you've chosen your countdown background, tap the square sticker icon in the top menu bar.

Scroll down to the "Countdown" option and tap it.

Type the title of your Countdown in the "Countdown name" field.

A pop-up box will display if you've already made countdowns. Choose which one you'd like to utilize.

To set a general date or a precise day and time, toggle the "All Day" button.

To change the color of the countdown, tap the circular color range at the top of your story window.

In the top right corner, tap "Done."
4) How to use the Captions Sticker on Instagram
Around 60% of users watch Instagram Stories with their audio settings on. Of course, this means that 40% of people will view with the volume muted. Subtitles are a terrific method to make your material more valuable to that 40% of people if you're sharing videos. Captions are another useful tool for making content more accessible. If you use the captions sticker, Instagram will automatically construct subtitles for your video Stories.
Begin by creating your story. If you use a video, the captioning sticker will appear.

Tap the sticker symbol at the top of your screen once the clip is ready to play.

The Captions sticker should be tapped.

Instagram will generate captions for you.

It's an advisable idea to check to see if the app did a decent job of recording what you originally said. If something isn't right, press the text to alter any word.

Utilizing the tools at the top and bottom of the screen, you may alter the caption font and color. Tap Done when you're finished with the captions.

As with any other sticker, you can touch and drag the caption to move and resize it.
5) How to use the Location Sticker on Instagram
Launch your Instagram story first. Inside the Instagram Stories app, you can take a photo or take a video, or tap and hold on to the Story screen to import any picture captured.
You must first add a sticker to your story post in order to access the location tag option. To access the sticker list, tap the square happy face (sticker icon) at the top of the Story window.

Choose the Location sticker from the drop-down menu. After that, begin writing the location you want to utilize in your story, and a list of results will appear.

Select the right choice from the drop-down menu. The location sticker on your story can be rotated, resized, and moved around the screen. Tap Done when you're finished.
6) How to use Hashtag Stickers on Instagram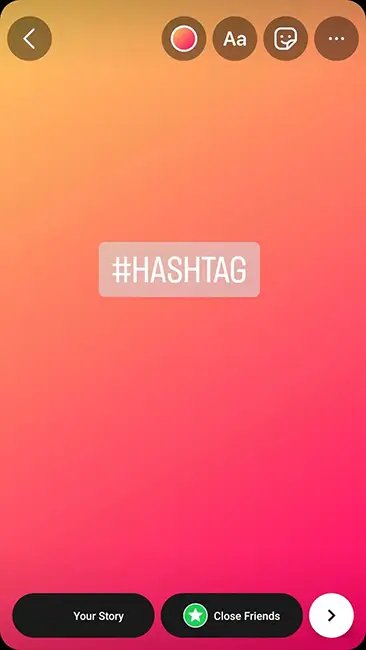 On the top left side of hashtag pages is an Instagram Story button. When you tap on it, you'll see a selection of Stories posts from users with public profiles that have been tagged with the hashtag.
In any case, once you start writing, Instagram will give some prominent hashtag suggestions to help you get started. In your Stories, you can use up to ten hashtags. Launch Instagram on your phone and, as usual, tap the plus sign to start your story.
You may add hashtags to your Stories in two ways:
The hashtag sticker is the first option.
Alternatively, you may just type out the hashtag using the text tool and the # sign, just like you would on a picture or video post.
Tap Done once you've added your Hashtag and are ready to post.
7) How to use the Mentions Sticker on Instagram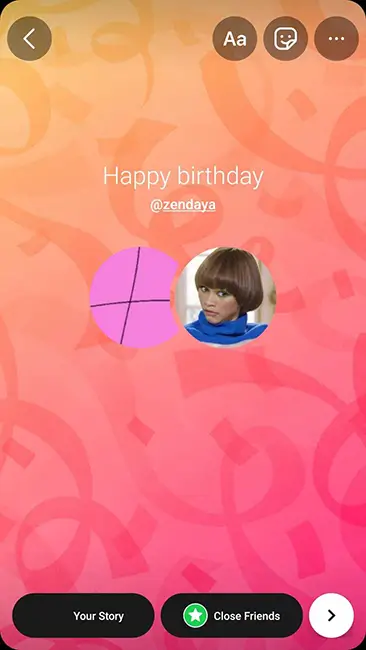 A mention sticker in your story allows your viewers to interact with the tagged account instantly. You can use this tool to support a company or a cause that is important to you, in addition to commercial partnerships. Launch Instagram on your phone and, as usual, tap the plus sign to start your story:
When you're ready, tap the text icon to add the mention to your post.
Type the @ sign followed by the username of that specific someone on the keyboard that appears.
You'll see user suggestions; choose the relevant one.
Don't forget to tap Done.
8) How to use the Add Yours Sticker on Instagram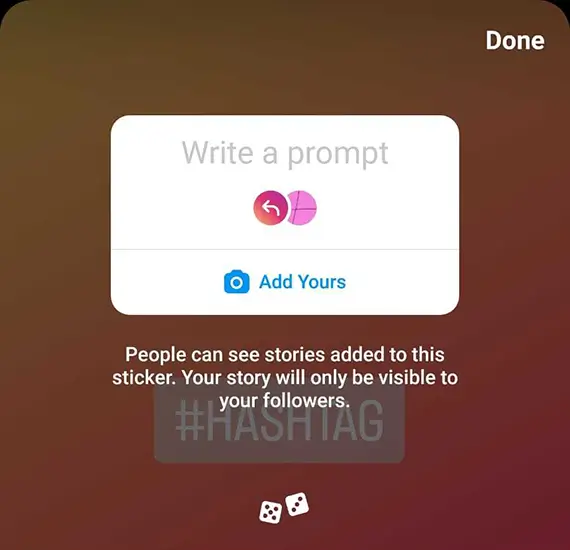 Make your own 'Add Yours' sticker chain by following these steps:
To use the Instagram stories creator, open the Instagram app and swipe right.
Add content, a design, or a background to your Story. If you're going to use a gradient backdrop for your 'Add Yours' sticker, make sure the color complements your brand.
At the top of the screen, select the "sticker" symbol.
Tap the 'ADD YOURS' sticker, which is marked with a camera icon.
To cycle among ideas, add content, or use the dice at the bottom of the screen.
Then, on the upper right side, hit 'Done.'
9) How to use a Shoppable Sticker
Add the shop sticker to make your Stories avenues to promote product purchases once you've set up your account. Steps to adding a Shopping Sticker:
As always, make your story.
Select the sticker icon at the top right of the screen before sharing.
Click on the product sticker
Select the product you wish to tag from your inventory.
Drag and tap to move and customize the shopping sticker.
Post your Story!
10) How to use a Question Sticker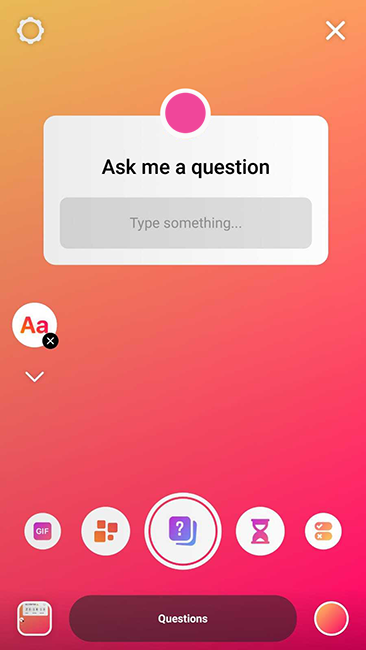 IG Stories questions, like polls, empower you to make your Stories more engaging. Rather than asking what your followers think, the questions sticker allows them to ask you anything. Consider it the Instagram version of a Q&A session.
To apply Instagram Stories questions stickers, follow these steps:
Begin creating your story by following the steps outlined previously.
Select the sticker icon in the upper right-hand corner of your screen whenever the picture or clip is ready to go.
Select the sticker "Questions."
Personalize the question prompt's content.
Don't forget to tap Done!
If you receive multiple or a huge number of responses to your Stories with stickers you should definitely consider adding them to your Highlights section. Let's get right into how you can do that in the next section of this post.
How to add Stories to your Highlight and what are Story Highlights?
Instagram Story Highlights are compilations of Stories that you select, and they appear as tappable circles at the top of your profile. They first appeared in 2017 as a means for people to save their favorite or most useful Stories for longer than 24 hours.
Story Highlights appear immediately beneath your bio, making it one of the first images your followers notice when they visit your account. Highlights have been employed by businesses to present significant information (such as restaurant menus, merchandise lists, and so on) upfront. Unlike ordinary Instagram Stories, which disappear after 24 hours, Instagram Stories Highlights can stay on your page indefinitely.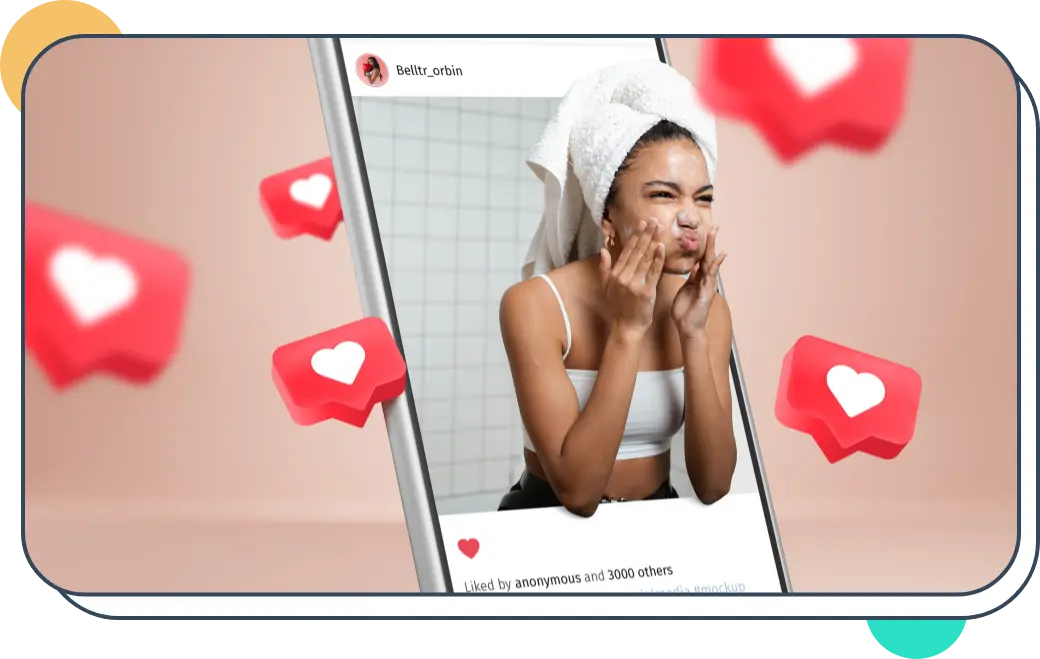 Make highlights to keep your greatest Instagram Story material at the top of your profile all the time. Now that we know a bit about Highlights, let's get right into how you can use them:
1. Tap Highlight in the lower right corner of your Story.

2. Select the Highlight to which you'd want to add your Story. Alternatively, hit New to make a new Highlight and give it a name. Then press the Add button.

3. Choose the Stories you'd like to include in your new Highlight. Word of advice: Instagram keeps a record of your stories going back several years. So don't be afraid to hunt around for those Stories in your Archive.

4. Select Next and give your new Highlight a name.

5. Tap Done after selecting your Highlight cover.
You can use whichever image you want for your highlight covers on Instagram. However, your brand is deserving of more than just "any picture." This location is ideal for converting newbies into followers. You want to make a good first impression, so choose an intriguing and interactive cover. Now that we've covered most of the features within the Instagram Story format, let's get into some strategies to make your Stories stand out!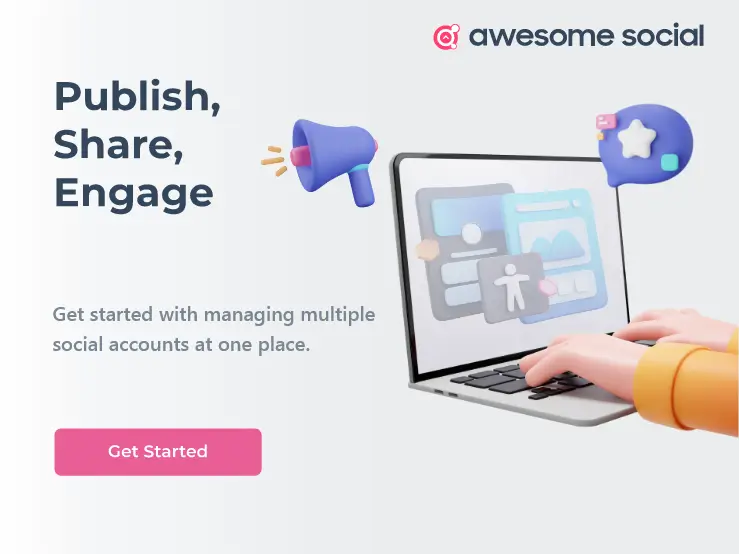 Instagram Story Strategies
1) Figure out your posting schedule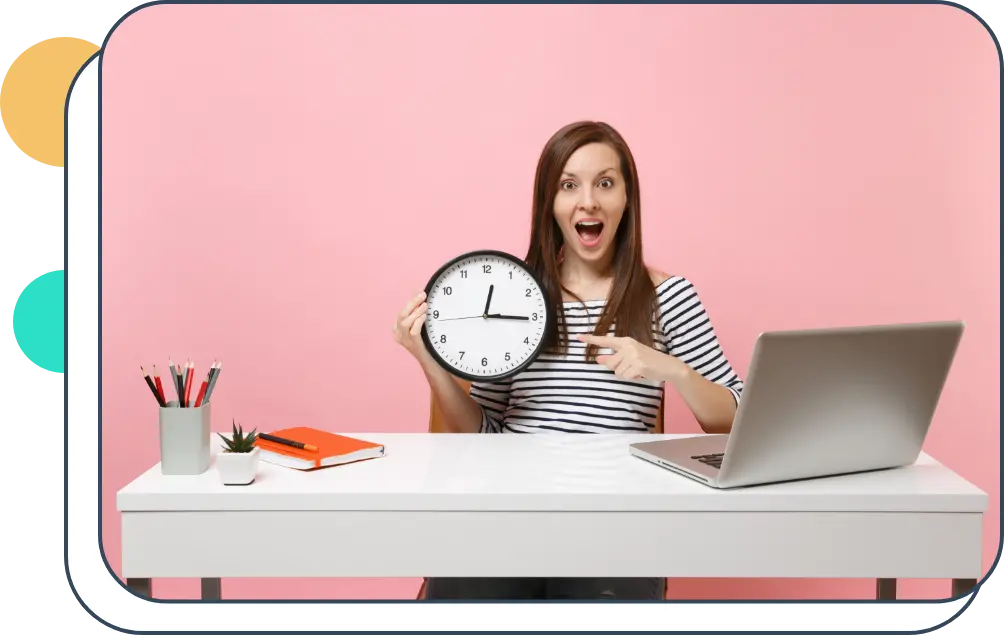 Consistently posting Stories is a terrific method to keep your viewers interested, but interrupting your workflow to develop and post Stories throughout the day can be inconvenient. Nevertheless, you can use the Awesome Social's Instagram scheduler to develop and organize your Stories ahead of time.
After that, you can incorporate your Stories into your social media sharing calendar to complement your other online pieces and efficiently incorporate them into any existing promotions. But the step before scheduling your Story content is to analyze the best time to post your Story.
There is hardly anything more disheartening than creating a brilliant collection of Instagram stories and then waiting for the views to come in. But don't get too worked up; it's unlikely that your pieces are the sole reason for the delay in views. Instead, it could be the time you choose to share it. Instagram stories receive up to three times the engagement of regular posts, which is an impressive observation.
As a result, if you're a business founder, stories are your best friend. Identifying your demographic and their behavioral patterns goes without saying when it comes to getting the most out of your content. The best views are found in the early mornings, lunch hours, and late afternoons.
Although users are more ready to upload stories on the weekends, they are far less likely to look at the stories of other Instagrammers. After all, the majority of them are out over the weekends, culminating in a flood of stories on the site and only a few of them receiving views. Share stories during the weekdays, around midday, if you seek more views. Because an Instagram story is only 15 seconds long, it serves as an aesthetic delight during your followers' downtime.
2) Always opt for a vertical content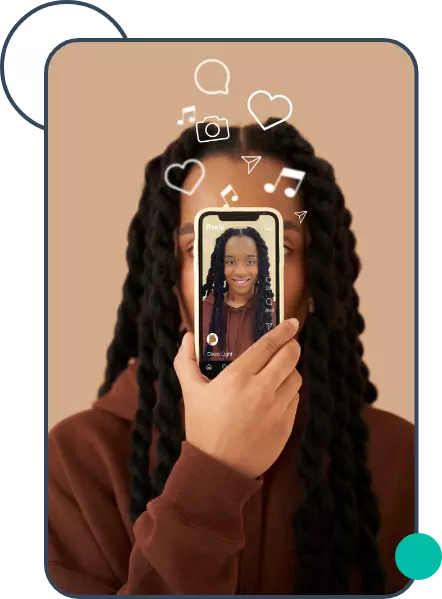 The vertical video format is a type of video representation that uses portrait rather than landscape mode. To put this into perspective, most Youtube videos are directed and produced in landscape mode, but TikTok videos and Instagram stories are filmed and edited in portrait mode. Vertical video appeal is a comparatively new trend in the social media advertising world. Because of its use in apps like Snapchat, Instagram, Facebook, and, most recently, TikTok, it has just lately become mainstream.
According to one survey, mobile accounts for more than 75% of video consumption, thus the emergence of vertical video isn't entirely unexpected. Not only that, but around 94 percent of mobile users hold their devices vertically. There's nothing wrong with recycling existing creative assets for IG Stories if you're just starting started.
In fact, Instagram will automatically optimize current content for the Stories medium if you want to place Stories advertisements. However, if you organize and film your Stories footage in a vertical orientation from the start, you'll get improved returns. The best part is that you don't need to go all out. Because brand-shot Stories from mobile appear very much like the content that ordinary users share. So whenever your film or shoot your next Story, ensure that it suits the vertical orientation.
3) Keep up with new features and get creative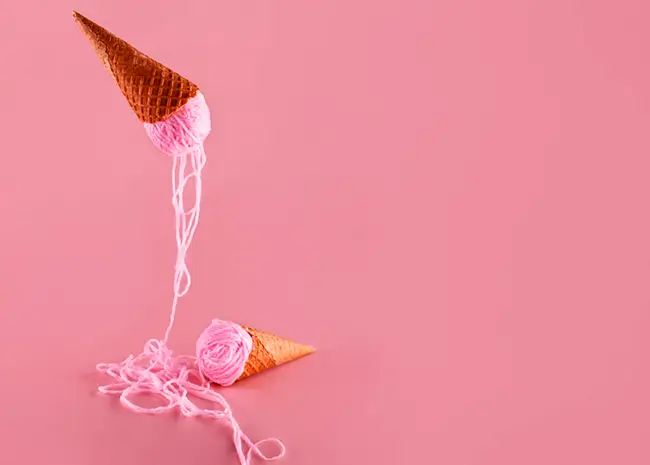 In addition to what we've already mentioned, Instagram is constantly adding new features and capabilities to Stories. We advocate keeping a careful eye on such improvements in order to uncover new ways to engage clients and stay on top of trends. Instagram's newest upgrades, which were designed to compete with TikTok, are a perfect example.
You can, for instance, cross-post your Reels and share popular music within your Stories. It's undeniable that Instagram Stories can be a lot of fun. Instagram allows you to share your artistic ideas and interact with your followers. After you've taken a picture or video, you should use one of three pen types to doodle on it, add a creative emoji, or choose fun filters that boost the Story's visual appeal.
Apart from that, aim to upload high-quality content to your Stories on a regular basis. In comparison to feed posts, they are more casual and informal. That isn't to say you can get away with mediocre content. Consistent visuals aid in the development of your audience's connection with you: they should be able to recognize your brand without needing to look up your account. A good place to start is with consistent colors, typefaces, gifs, and Instagram Stories layouts. An aesthetic reference is a useful tool for keeping track of all your creative decisions so that your brand's tone is consistent and your workforce is on the same page.
4) Consistently incorporate a Call To Action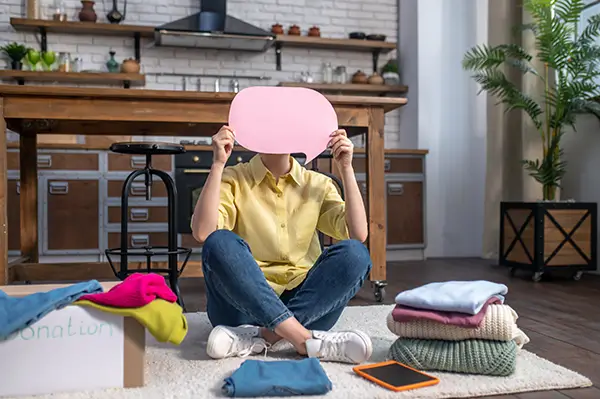 Encourage consumers to visit your homepage or maybe another additional page wherever you conduct the majority of your work, such as a Facebook page or an e-commerce store, with an efficient CTA. Whenever you launch a Stories ad on the site, you can add a call to action (CTA). "Swipe for more," "learn more," and "shop now" are just a few of the CTA alternatives available on Instagram.
Instagram's supplied Customized buttons that aren't overly distracting or flamboyant are known as CTAs. When visitors stumble upon your ad, they are a terrific approach to encourage them to take action. CTAs are important participation elements that can help your ad produce more clicks and purchases. Users can learn more about your business or purchase a product mentioned in your Stories Ad by clicking on a single link to an external website. These are the steps to adding a link to your Instagram Stories:
Tap the link symbol at the top of your window once the picture or video is ready to go.
Copy and paste your link.
Select Done or the green checkmark.
Swipe Up links can only be added to Instagram Stories if you have 10,000 followers or a verified account. If that describes you, the steps above should make a world of a difference in your Stories.
5) Track your performance meticulously
Likes, replies, saves, and other traditional social media stats aren't available on Instagram stories. They have their very own set of measures, which are broken down into three groups.
1. Discovery

2. Engagement

3. Discovery
Consumers use Instagram to find new businesses and products, with the majority claiming to be more attracted by a business or product after seeing it on Instagram Stories.
Reach: The number of users that have seen your story.
Impressions: The total number of times your story was viewed which includes views that were repeated multiple times by the same person.
Because Instagram has yet to roll out features to track engagement and navigation data, we'll concentrate on reach and impressions in this piece. Ensure that you own an Instagram business or creative account to monitor metrics for your Instagram Stories. To see your Instagram Stories analytics, go to:
Go to your profile in the Instagram app.
In the upper right area, tap the menu symbol and select Insights.
Scroll down to Stories and click See All to see all of the Stories that have been published in the last 30 days.
To receive a summary of all the activities taken throughout your Stories, choose an action, such as Reach or Impressions.
Swipe up to see statistics for a specific story.
Instagram Stories, on the whole, have a lower reach and a higher impression rate. The strength of your following will determine how many people see your Instagram Story.
Monitoring key performance indicators are critical because it helps you to examine Stories that generate the greatest interaction, address pain areas, raise brand recognition, and target your audience so that the correct message is sent to the appropriate person. These social media analytics are crucial because they allow you to enhance the performance of your Instagram stories and the frequency with which you post. If you observe a decline in reach, it could be because your Instagram stories are unstable or blurry, and you need to improve to provide your audience with the high-quality content they want.
This brings us to the next section, what are some exciting Instagram story ideas you can use?
15 Fun Instagram Story Ideas
The New Post Story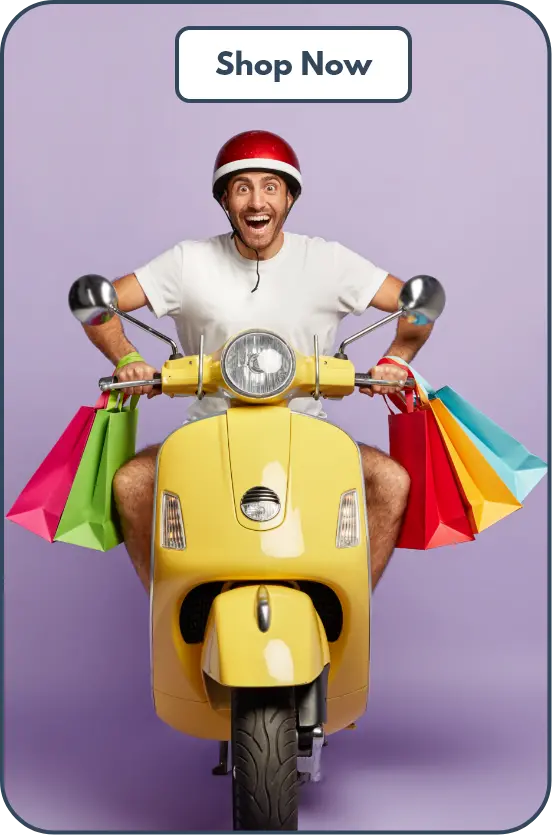 Most brands must provide engaging and informative content on a regular basis for their followers to watch, like, and share. Posting daily and sharing your content on your stories is the best approach to increase your brand's visibility. When your postings land at the bottom of your followers' feeds, the Instagram algorithm can be difficult to decipher. The easiest approach to combat this is to display new postings on your story, making it easy for users to see what's fresh.
Share a story with shopping tags
To begin, if you haven't already, now would be the time to turn your personal' Instagram profile into a business profile. For online shopping, this capability is a game-changer. There are a variety of stickers to pick from, which may be applied to clips or photographs. Ensure each merchandise has a brand sticker on it when you post images of it. Followers can click on stickers to read more about an item or even place an order while watching your story.
This or That Story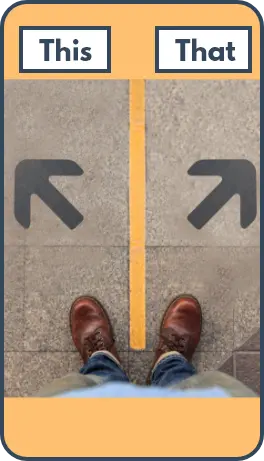 This or that posts are excellent ways to engage with your audience. By displaying information about your products in a "this or that" post, you can collect data about them at the same time. Your followers are more inclined to buy the product that receives the most votes. You can also think of methods to improve the appeal of the product that received fewer votes. You can do all of this while improving engagement and boosting your Instagram social media presence.
Timer for a product launch or reveal story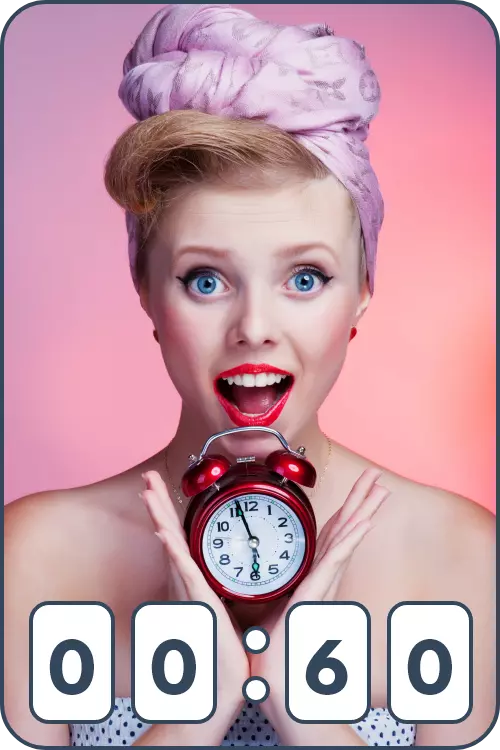 The timer tool on Instagram is a lifesaver for any firm launching or showcasing a new product, collaboration, or piece of content. It notifies followers who click on the timer when a product launch, webinar, or other company-related information is available. It enables followers to stay informed about a variety of events, such as special deals where they may purchase your product at a reduced price. Another time to share this story is if you're hosting a limited-edition sale and want to remind your customers of the dates.
Client Reviews and Positive Feedback
An excellent story concept is one in which you can include testimonials from pleased or delighted customers to demonstrate the strengths of your product to your audience. The client review not only motivates people to buy or test your product but also promotes your company by presenting it in a favorable light. Your audience will believe in your brand's potential to make a difference, especially if the evaluation comes from a high-profile celebrity or professional leader.
Start some fun discourse
This kind of Instagram Story concept is excellent for kicking off a discussion. It might be a meaningful or amusing issue, but the goal is that you add a statement, a number, or any other piece of information about it. Then, ask a question or invite your audience to participate in the discussion or offer their own stories. You could, for example, share an intriguing trend or research piece with some additional text/question. You can also use a Question sign to invite your followers to join the discourse or express their thoughts.
Announce an event or workshop
Instagram Stories may be a terrific way to introduce live or filmed content because there are so many possibilities! To lead your followers to the event or piece of content, you can add colorful stickers, links, and more to the story. Similar to timed posts, an announcement post can raise awareness among followers and assist them in noting down the timings or information of an event or product.
Ask _____ Anything
An AMA (Ask Me Anything) story is sure to pique your followers' interest and encourage them to communicate with your company directly. You can also add alternatives to find out what followers want to know about the person and pick the option with the most votes if the person being asked is someone of high regard or from a specific field of expertise. An AMA isn't always intended at a single person; it can be directed at a group of people or a specific product query. So, if you think your story needs a little extra oomph, consider using this story.
Post a meme or reel that's bound to get some laughs
Whenever it comes to Instagram Story Themes, who doesn't wish to have a bit of fun? Let's admit it: if you enjoy memes, wordplay, and humor, your audience is likely to enjoy them as well. This style of humor is something that most of us can connect to. So why not include it in your story to provide a little variety and a laugh? When it relates to coming up with Instagram Story Ideas, it's the ideal type of story to trust and rely on.
Add polls to spice up your story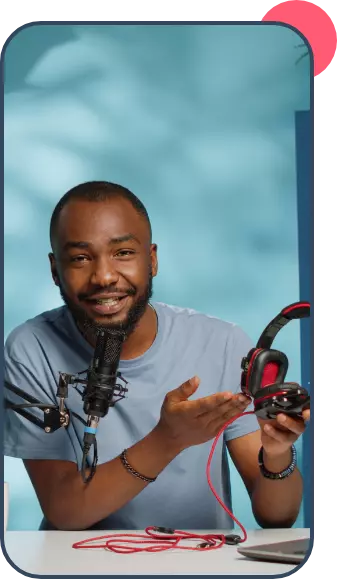 Polls are a great feature to use when you're running out of clickable content to share. Much like the this or that post, it gives you a chance to collect ample information about customer likes, dislikes, and attitudes. There's a higher chance of customers answering polls when they're opinionated about the topic being shared or feel strongly about it. So choose your poll topics wisely and don't forget to have some fun with it.
Quizzes and riddles
If the worldwide Wordle craze has taught us anything, it's the fact that everyone enjoys a good ole puzzle from time to time. Adding a quiz to your story with some intriguing data or information can not only educate your followers but also boost your social media engagement levels.
Post a guide or tutorial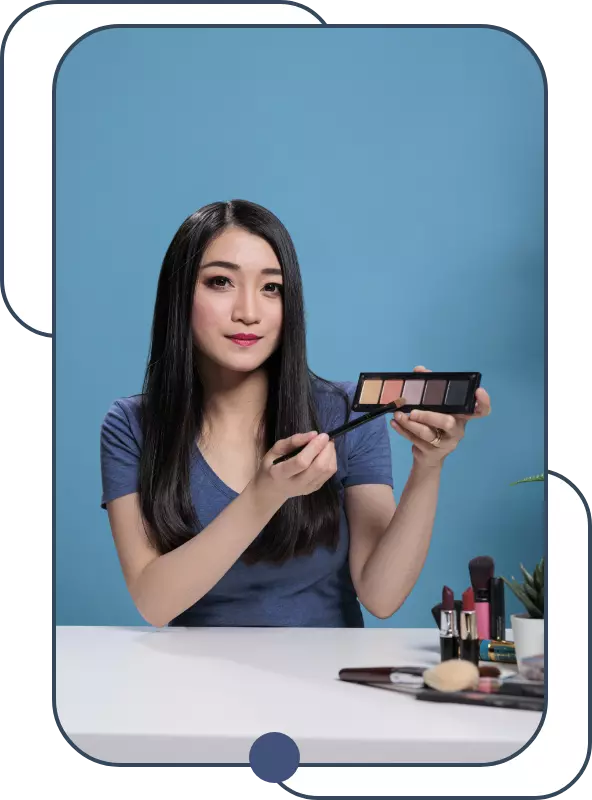 A guide or tutorial on how to use your product has a high chance of pushing followers to buy the product and test it out for themselves. Those who already use your products can also put this information to the test and know how to make the most of your product. The guide could also be completely unrelated to the product and just serve as an informational story that increases engagement levels in its own right.
The heart-eyed emoji meter
Most of us have had the chance to see stories with a heart-eyed smiley face meter to show how much followers like or dislike something. This is a fun element that pushes your followers to interact with a story with little to no effort. This is another great method of collecting follower opinions on your products or events.
Give helpful tips based on your experiences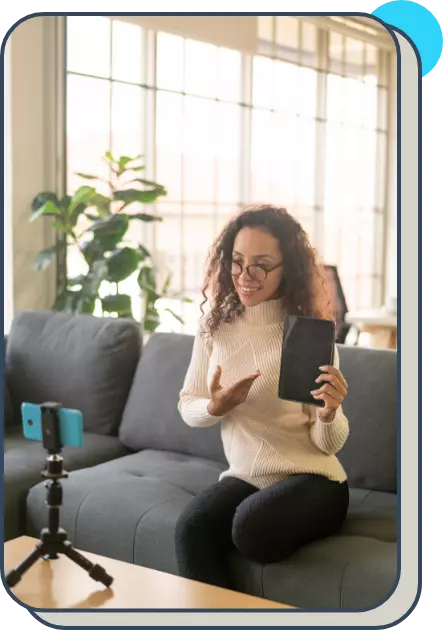 Show off your experience if you're an expert in any subject or industry! On a frequent basis, provide your audience with useful suggestions or how-tos. These short and easy solutions will undoubtedly be appreciated by your audience in their daily life.
Give your followers a peek into your team
Most of your avid followers would love a sneak peek into your team members, their daily tasks, and their accounts. A great way of promoting some stellar team members and getting your customers' attention is to create a team post.
And with that, we've reached the end of this post. When it pertains to Instagram story ideas, this is just the beginning. The best thing about stories is that they allow you to be as imaginative as you want. So whenever you go to create your next story, try one of these ideas!
Summing Up
Here it is: the definitive Instagram story guide. Hopefully, you have discovered solutions to all of your queries and have a decent notion of how to put them to use. There are numerous ways to use Instagram Stories, but one thing is certain: if you're undertaking social media marketing without them, you may be falling behind your competitors. Make the most of the knowledge you've just acquired and create the best Stories you can for your brand!