Instagram has long been a favorite amongst an array of content creators, influencers, celebrities, and the general public. Roughly a billion people use Instagram regularly. Instagram's straightforward design and visual nature have made it a lucrative app for brands and content creators worldwide.
It is an arena that provides many chances for individuals and brands to stand out and thrive. Despite all of this, the app itself hasn't provided any opportunities for content creators to monetize their work. Either you had to look for businesses to work with or you had to start your own Patreon or Ko-fi accounts and ask your fans to support you on those platforms.
Thankfully, Instagram caught onto the lack of this feature and created a subscription feature for its users. First, let's get into what the Instagram Subscriptions feature is and what it means going forward.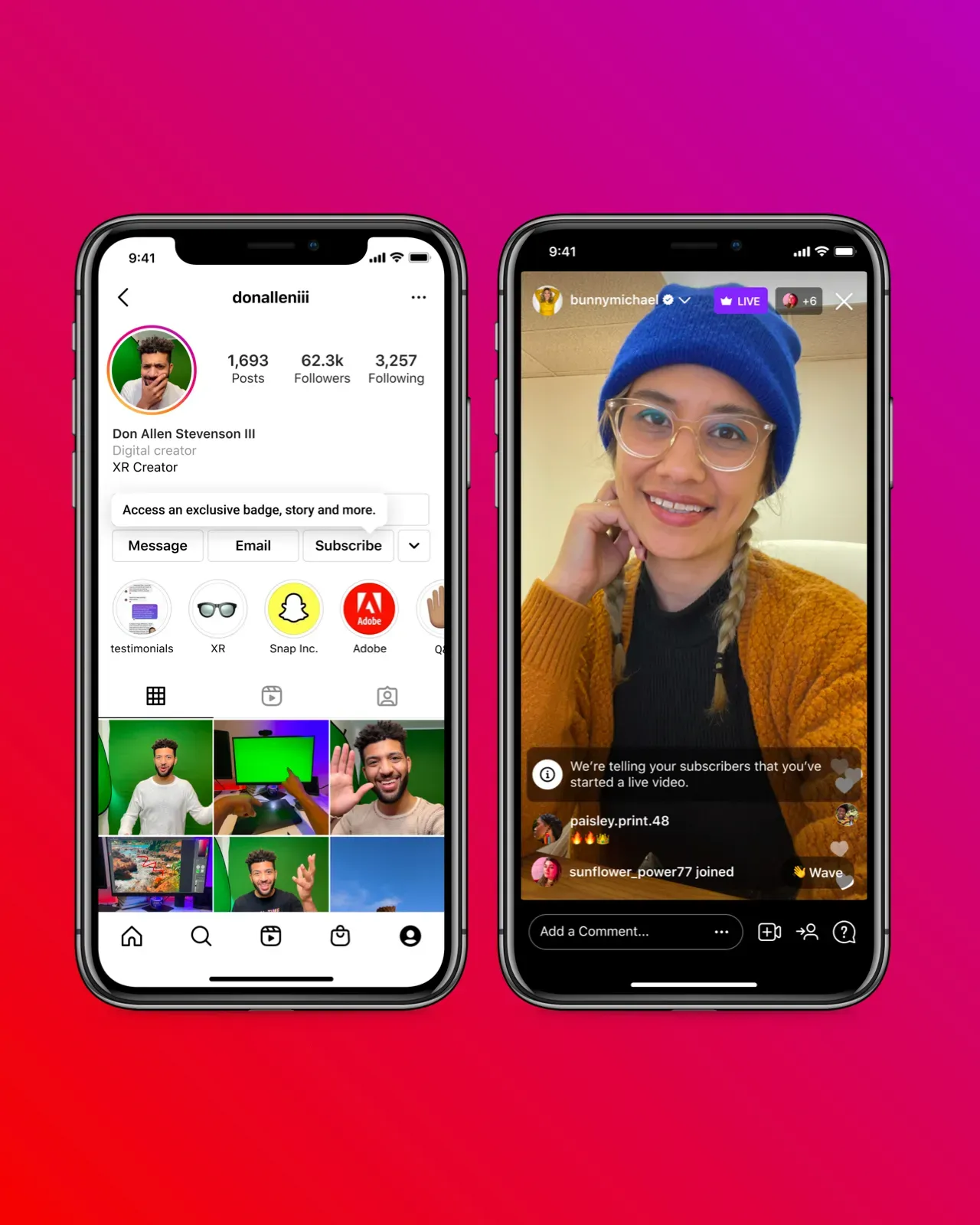 What is the Instagram Subscriptions Feature?
The most recent feature that makes it easy for creators to make money on Instagram is their subscription offering. For an ongoing subscription charge, this feature gives content creators' and influencers' devoted followers access to unique content and incentives. By providing exclusive content and interactions in one location, subscriptions enable creators to establish relationships with their most engaged followers and generate recurring, reliable income.
Examples of such content include:
●  Posts
●  Stories
●  Badges
●  Lives
●  Group Chats
Creators can now include a button that looks like a crown on their personal page that invites fans to subscribe on a monthly basis. This means that you as a creator will be able to have dependable, long-lasting, and scalable revenue using Instagram's subscription feature. This is huge news for both micro-influencers and Instagram's major content creators.
They can now choose from a few pricing options, ranging from $0.99 to $99.99, to begin earning recurring monthly revenue. Keep in mind that you can solely activate one model and no other tier systems. Additionally, those who subscribe to a content creator or influencer will get a unique badge that will make them stand out in creators' DMs and comment sections.
Who can access the new Instagram Subscriptions feature?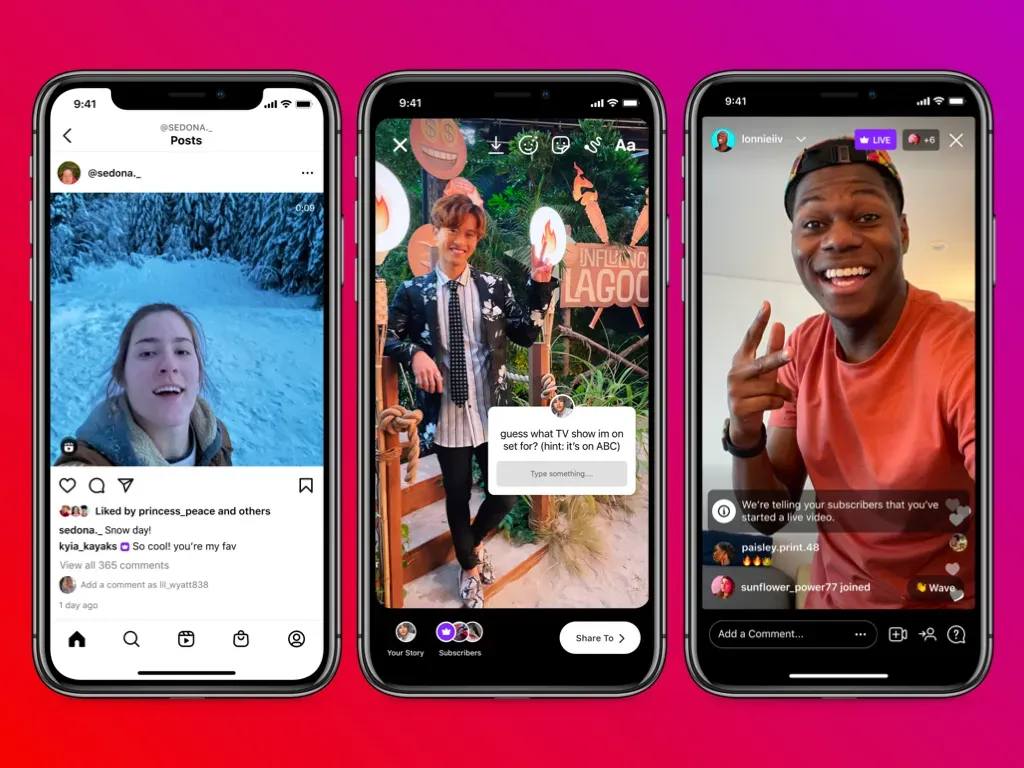 The subscription feature is still in its testing stage and has been primarily launched only in the US. The feature is in its test phases for the UK, Canada, and Australia. This means that other users worldwide do not have access to this feature. In order to qualify, creators must:
●  Have a genuine following of 10,000 users
●  Be eighteen years or older
●  Have a business or professional page
●  Meet the standards of the Partner Monetization Policy on Instagram
●  Follow Instagram's community rules to the tee
For now, Instagram will not take a percentage of any subscription fees; instead, subscription payments will be collected through standard in-app purchases on iOS and Android. Instagram is fully committing to the artist economy with the launch of its creator marketplace this year and its affiliate advertising features.
With adversaries such as TikTok, YouTube, and other platforms, Instagram Subscriptions are only another way to increase the app's viability for creators. This means that if you've been debating whether or not to start creating content, there is no better time than now.
But if you're a general user of the app and are wondering how to subscribe to your favorite creator's Instagram here's how you can do it. There will be a new "subscribe" option at the top of each creator's page if you want to subscribe to their unique content. You must pay the creator a monthly fee in order to see all of their private content.
What are the benefits of the Subscription feature for creators?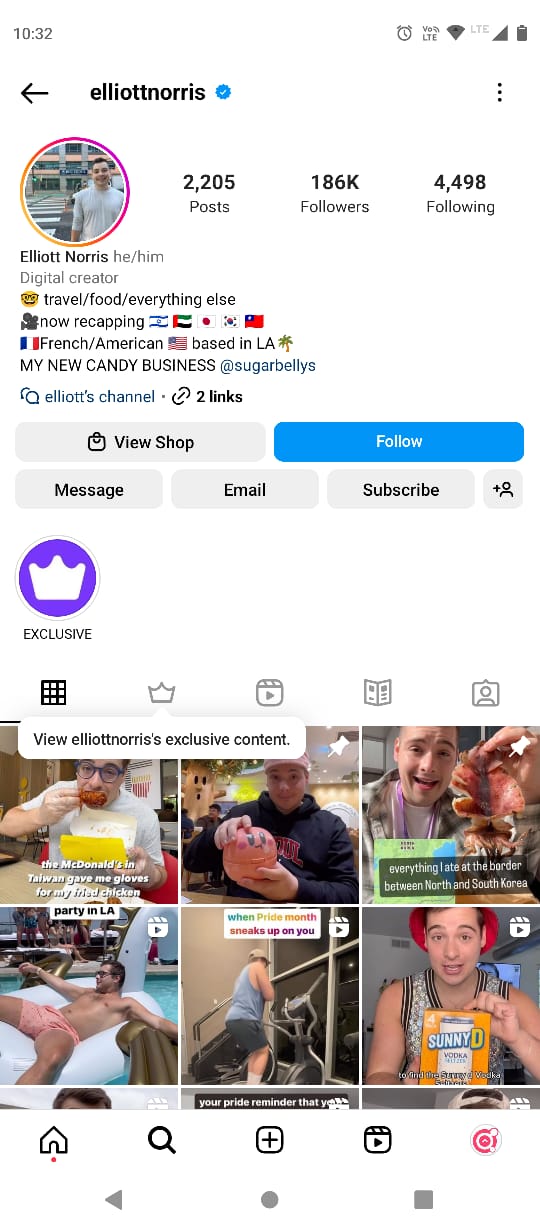 Instagram is a fantastic platform for content producers to highlight their work and engage with their audience. Instagram will become increasingly valuable and helpful to producers for distributing premium content to their fans by creating Instagram Subscription. The two main advantages that the Instagram feature offers are crucial for those who create content if they want to build their own brands and earn a living from them. These are some of the benefits of the new feature:
Build meaningful connections
Of course, it's nice to respond to each message and follower if you have time to spare, but as your following grows, it will get more difficult to stay in touch with everyone.
Fortunately, you can now detect your most active followers and guarantee that their direct messages or comments on your posts won't disappear in the sea of messages you receive. Additionally, these followers frequently have brilliant ideas for your page and may provide you with accurate audience insights.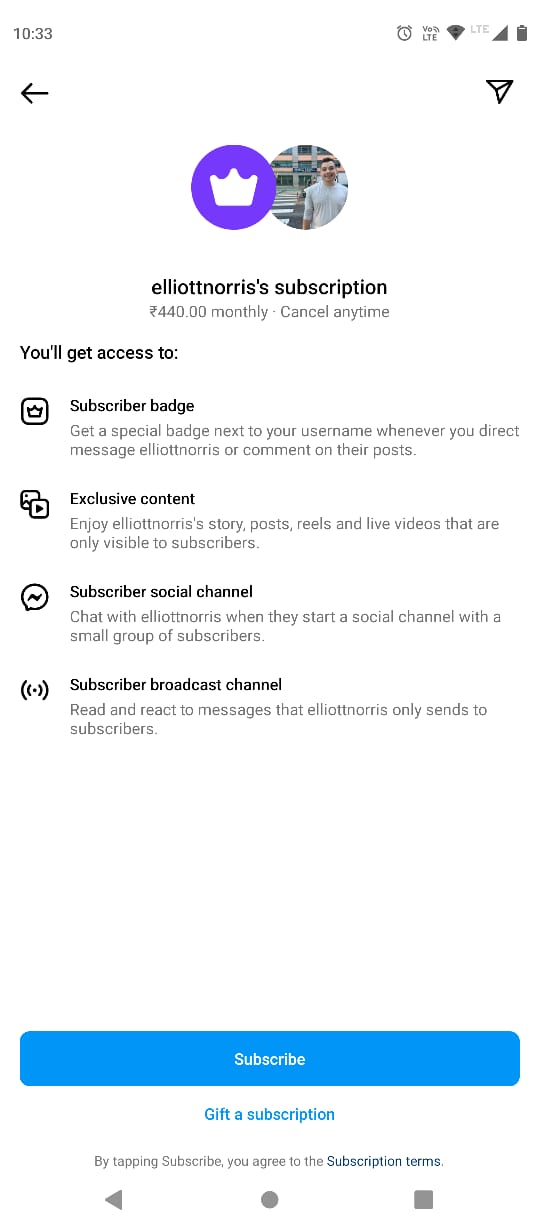 Securing monthly income
Content creators are often struggling to secure monthly incomes. Even though the creator economy is way past full-time jobs and monthly salary, still, it's relieving, especially for smaller creators, to have a secured monthly income apart from the brand collaborations. If you succeed at creating quality content worth paying for, your subscribers' number will grow, and so will your monthly income from Instagram subscriptions. ith brands.
On the other hand, your subscribers will be happy to support what you do. Moreover, they will be very excited to see exclusive content highlighted with a subscription.
These are the benefits a content creator can reap from using the subscription feature on their Instagram page. Let's get into the different offerings that come with this feature for users to enjoy.
Any Feed Post
Initially, Instagram's subscriptions feature was only for Stories which are temporary and ended in 24 hours. Objecting that they wanted to produce exclusive content that would be online for longer than 24 hours, producers voiced their displeasure once Instagram announced the concept of a subscriber story and subscriptions live. As a result, the Instagram team included subscriber posts and Instagram reels in the subscription package.
It has been established that the data that is on your account is a powerful tool for luring new users and expanding your community. With the help of this feature, subscribers may always return to and interact with the content you generated specifically for them. Similarly, subscriber stories resemble those of close friends quite a bit. That indicates that just a particular group of people can see the stories in question.
Subscription chats
Instagram is introducing subscriber chats as a result, allowing creators to establish a community with their users. You may schedule subscriber conversations where you can talk about a variety of subjects, become acquainted with your subscribers, provide information, etc. You must place a new "join chat" sticker on your story so that up to 30 members can join your talks.
Messenger powers the subscriber chats, which you may start from your email or an article. Another benefit is that you can choose exactly when you want to interact with your subscribers because they automatically expire after 24 hours.
Live Subscription
The opportunity to design subscriber lives is the second major subscription feature. You can now decide to host special lives for those who subscribe any time you go live. Every time you go live, your followers who've subscribed will be notified, and they can view your Instagram live. You can interact and have direct conversations with your subscribers by having the option to broadcast exclusively live to them.
Consequently, you have the option of paying more for Instagram subscriptions. On the other side, you can host private Q&A sessions, hold special classes, and more for your members. Have daily Instagram live classes, for instance, if you are a dance instructor. For example, online dance classes have proven successful in recent years.
The Badge
A badge that is presented to subscribers is the final element of Instagram Subscriptions. Every time a subscriber engages with you, the subscription badge will show up.
That implies that the sign will be visible when they DM you or leave a comment on one of your posts. By doing so, they may distinguish themselves from other accounts and make it clear to content providers who are paying them each month to be an integral component of their subscriber community.
Because it informs everyone who follows you of your subscribers while offering them high-quality, premium content, this function is useful for content makers. As a result, more individuals will be inspired to subscribe to your page on Instagram.
Let's next take a quick look at some tips you can keep in mind when creating content for your subscribers.
How to increase subscriber count on Instagram
The moment Instagram Subscriptions are open to all users, creators will seize the opportunity to use the function. In addition to the latest must-have tools like Instagram reel elements, etc., to set yourself apart from competitors and grow your devoted following. Here are some tips you can use when creating subscriber-based content:
Gratitude for your subscribers
These are your biggest advocates, so reply to them anytime they leave comments on the content you write or send you an email. Creating an individual message each week to greet new subscribers from the previous week is another option. Your subscribers will respect your appreciation more and remain devoted members of your community, which will benefit you.
Be reliable and consistent
You cannot publish merely when you feel like sharing fresh material on Instagram when you have followers. If there is a set schedule, subscribers will expect consistent content, which is fantastic. They will be able to plan ahead and not miss any of it because they will be aware of when to anticipate new stuff.
Be candid about your content
Inform your followers regarding the type of content and how frequently they can expect it by communicating with them. To encourage others to subscribe, you can share this strategy openly with your whole following. Reduce subscriber turnover by being clear regarding the content you are creating.
Finally, you are free to alter the content plan for your subscribers, but it is best to inform them in advance. In this manner, you may demonstrate your competence and keep your subscribers happy and keep your brand uniquely yours.