Today most companies are streaming their conferences online and opting for smart devices like laptops and tabs to simplify their tasks.
Business requires endless signatures each day. Many files and papers must be issued daily for smooth functioning. Thus, to reduce excessive work and benefit from technical advancements, it is very vital for individuals to opt for smart tools to simplify their work.
Sending the files to workers for signing purposes necessitates more time and work. Thus, to help you save on this additional time, we've curated a list of top-notch free PDF signing tools that you can quickly access to use electronic signatures for your business. The tools assist you in completing much more work than merely signing. So, use them to change, amend and alter your PDF files as you need.
PDF is highly preferable for most firms as it has spectacular features of sustaining the format of the documents irrespective of OS and hardware you use. Thus, businesses usually require PDF editing software to alter and revise their documents. The finest editor tool will assist the firm in revising text, graphics, and pictures with precision.
There are multiple free-to-use PDF Editing tools available on the internet market. However, most of them come with limitations; thus, you must be precise when picking one for your business needs.
Below we have listed each tool's features, benefits, merits, and demerits to understand the software that fits your business necessities better. Opt for the right one by selecting the finest tool.
This guide will extend detailed assistance about the top 11 free PDF signing tools. Using them, you can easily carry out your business amends without spending much. Thus, read to the end and grab the finest!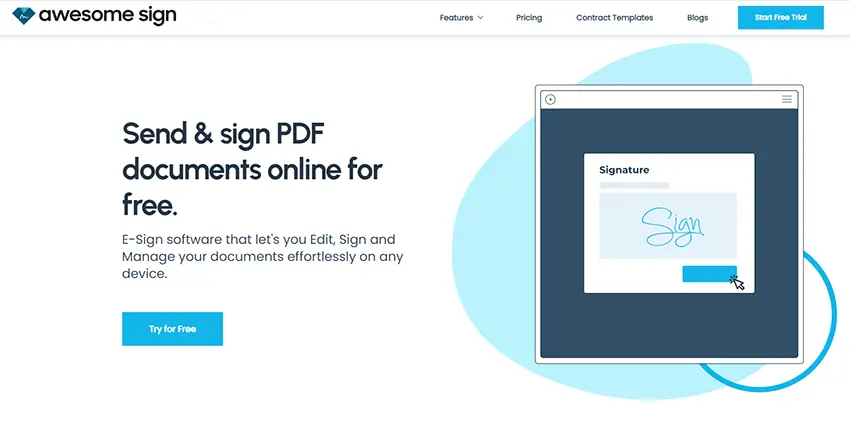 Awesome sign is the most powerful tool designed to complete all your PDF editing tasks easily and perfectly. The electronic signature solution helps users manage their file and signing workflows seamlessly. It assists firms in handling all of their core issues while working on PDF files and tracking their employees' work to determine progress.
This tool is a major part of AwesomeSuite's applications for business needs. At AwesomeSuite, they empower and encourage firms to use digital means to improve productivity by delivering perfect customer services. By opting for the topper of this list, i.e., Awesome Sign, a firm can skip much of their hard work and easily go paper-free. Doing so benefits the company and the environment equally.
Benefits Of Using Awesome Sign
Easy Cloud Connection

The tool lets you effortlessly connect to all the cloud storage apps to get quick access to all the documents and PDFs stored on the same.

Easy Editing

Awesome sign delivers only high productivity and simplifies the entire signing and editing procedures of PDF files.

Legal

While using this tool, all the signs are timestamped to ensure no trouble.

Simple operation

Using the tool does not demand much expertise. Most of the procedures are approved and extend better productivity at every step.

Cost-Efficient

The tool has the most suitable prices with amazing functionalities; overall, it extends spectacular productivity for all.
Features
Robust program with several functionalities
Cost-efficient plans for a premium shift
Easy electronic signing
Legally bound
Environment-friendly
Comprises all necessary integrations

Pros

Easy to use
Stunning interface
Offer unbeatable productivity

Cons

Permits only 3 free edits per person
2 Free PDF Editor : Small PDF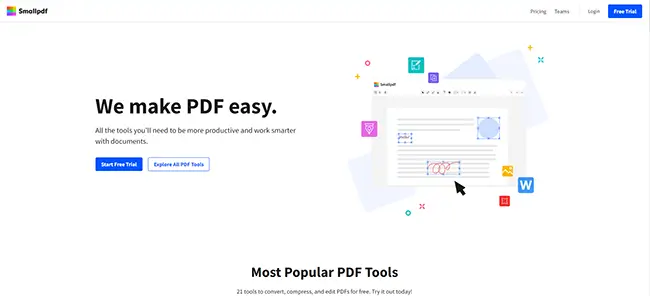 This tool was structured and curated in Switzerland. It is well-known assistance that claims to cover a
comprehensive selection of features found in over 18 PDF tools. The tool is used by millions and permits the usage of distinct languages as well. Small PDF has a unique and crisp interface to serve all your needs without complications. Further, not only uploading files but also amending and editing PDFs as one wishes is quite easy with the aid of this fantastic tool.
Today, there is an increased demand for the business to use PDF files and electronic signatures, so Small PDFs make a good choice for users that wish for simplicity. The Sign PDF tool option is visibly available on the homepage. You can sign a signature using two ways with this tool. First, requesting a sign. By this, we mean you can get the PDF files signed by others and also note the progress. Next, sign yourself.
Smallpdf is a manageable online PDF app with all the basic features to extend PDF solutions. A user can use this tool without installing or downloading the software. Some popular tasks you can exhibit with this tool are splitting, converting, editing, and merging PDF files.
However, Small PDF lacks robust features concerning its desktop functionalities. Yet, this could be a profitable aspect for most users. It is a fine choice for users who regularly work on PDF documents but do not need complex or advanced features. Small PDF is used by over 15 million users each month which clearly shows its effectiveness and the productivity it offers its users.
How Can You Sign a File Using Small PDF?
Press' Upload PDF' on Small PDF
Create an electronic sign to place on your PDF
Add date and text details if necessary
Tap on "Finish & Sign," then share or save your PDF
Benefits of Using Small PDF
The chief benefit of opting for this file is that it offers all the basic PDF features, offers top-notch security, and optimizes usage. Some benefits to the list are:

Basic PDF Features

The chief selling point of this tool is that it is a lightweight online platform that permits editing and altering PDF files without installing the software. Because of this, it only extends normal PDF tools and assistances, like converting various file formats like MS Word, Excel, and PPT files into PDF files and vice versa. It can further split and merge PDF files, and it also has the capabilities to edit and compress these documents. The tool is essential for the right users, i.e., those who need to get their basic PDF editing needs covered.

High-level safety

As Smallpdf is accessed by millions of users and multiple businesses worldwide, the application is equipped with high-end security to safeguard each user's details. Password encryption and digital signs are enabled for better document safety. High bank-grade 256-bit SSL encryption for document transfers also looks after information security. Every document processed is automatically deleted from the server.

Easy Use

This PDF editing tool is made keeping a user's ease in mind. Hence, it can complete all the basic PDF-related tasks online. The app has a free version that is a sturdy PDF tool that has capabilities of performing all the basic functionalities that a user needs. It also extends integration support along with other apps like Google Drive, which offer more dynamic, seamless, and effortless PDF procedures. Drop-and-drag assistances also easily assist in conversion, splitting, merging, and other PDF jobs.
Features
Unlimited file size
Safeguarded using 256-bit SSL
eSigns
over 16 Tools
Permits file compressing, converting, splitting, and merging
Google Drive and Dropbox Integrations

Pros

Permits easy signing and tracking
Simple usage
Works on all OS

Cons

Ad interruptions
PDF processing takes time
Not completely free
3 Free PDF Editor : Soda PDF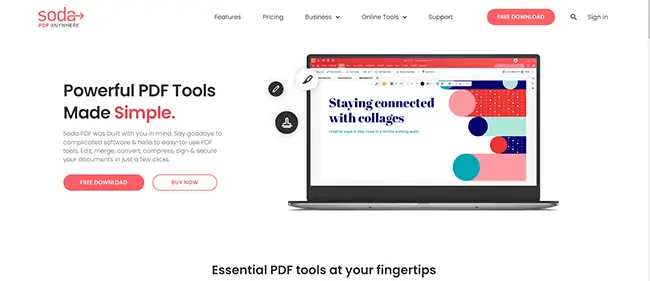 Soda PDF is another spectacular option to manage your PDF documents online. It is a crucial editor that will aid in completing your work effortlessly. The free tool caters to many functionalities to finish your work precisely. Soda PDF is a great replacement for the other free two, extending only one or a maximum of two functionalities to users.
While using the Sign PDF tool of Soda PDF, you need not bother about the safety of your sign or file. The tools utilize a secure technology to form a safe link between web servers and your browser to keep all your data away from breaches. The serve cannot store your file for longer than 24 hours, and it is automatically deleted from it after this period.
Soda PDF Anywhere is an additional assistance that provides users with advanced features online. You can opt for these fantastic features on any device or browser. The installable desktop version helps you complete everything without internet connectivity. You can easily form files, merge, edit, and inspect all files. Moreover, you can sign and safeguard your PDF documents. Soda PDF is introduced by the LULU Software, a firm known for extending robust services to clients with in-built user interfaces. Similarly, Soda PDF has a simplified interface with all assistance for the best outcomes.
How Can You Sign Using Soda PDF?
Sign electronically
After opening your document in Soda PDF, you should inspect the file and certain text fields you may have to fill out before electronically signing the file. To do so, tap on 'text field' and add the data that must be inserted in the text field.
After completing it, you are all set to sign the file by electronic means. You simply have to tap on the sign box and see a pop-up asking for the digital ID with which you wish to sign your document.
Create a Unique Digital ID
The software has an option with the assistance of which you can create a Digital ID for adding signs to the PDF files. However, if you don't have a Digital ID yet, you can opt for the option to make a new ID with which you can easily sign the files. After making this selection, tap on 'next' to proceed ahead.
After clicking on Next, a pop-up box will come on your screen asking you for details about your identity. Add mail and name to the same. If you are adding a signature on behalf of your organization or firm, add some details about the same. Also, ensure that the region or country is selected precisely with the aid of the drop-down arrow.
After inserting the necessary details and data, tap on 'next' once again present at the corner of the window. Doing so will give you access to another pop-up asking where you wish to save your final Digital ID. After picking a suitable place to save your Digital ID, you may have to give a robust code for maximum security. You may have to confirm the code after setting it to finish the process. After this, you can tap the finish button, and the software will generate your Digital ID successfully.
Sign the File
Now that you have completed your unique digital ID, you are all set to sign your Soda PDF file electronically with the assistance of the digital ID. Ensure that the menu on the following window has your ID and added password details. Before electronically signing the document, check the select at the bottom left of the window that permits an option of 'locking the document after signing. It will block users from making any changes or amends on the document after signing it.
You can now tap on the sign option after successfully signing the document on Soda PDF.
After clicking it, you might need to save the fresh document on your PC. To complete this, add a name to the system and select a place where you wish to save the document file.
Select a Place
Another vital aspect to add here is selecting where you wish to save your 'Soda PDF File.' After doing so, simply tap the save button, and you will notice that your sign is added to the file.
The steps are quite simple and can be completed within a few seconds. Use this guidance and complete the signing procedure with maximum ease.
Benefits of Using Soda PDF
The chief profits of using Soda PDF are its high collaboration and sharing features, file converting permits, cloud storing facilities, reliable services, and more. Some more explained benefits of using the app are:

Accessibility

Soda PDF Anywhere is an app you can use at any hour and place without hassle. You acquire it on your PC or opt for a web version. Soda PDF Online is accessible on the web with the assistance of any device and browser of choice. Even if you do not have access to your mobile device, you can still get permits for the app, files, and facilities you wish to use on your laptop. One can also view digital files and publications in 3D using Soda's striking page-flipping function.

Create multiple file formats

Creating files from over 300 file formats is also possible with this application. Converting to various file formats such as Word, PPT, image, Excel, PDF/A, and more is possible. You can amend and alter your files with complete flexibility. Layout custom forms, deliver, and track your file progress for digital signs.

Revise with Ease

Soda PDF makes revision quite simple. You can make collaborations easily with others and work using this software. Enabling an added layer of security of 256-bit AES and additional permission settings is also possible. Firms can use these functions to receive and deliver all legally bond documents with e-signs. Companies can also save all additional costs and save paper. Moreover, Soda PDF permits the user to opt for complete digital facilities with an OCR feature that permits the conversion of scanned images into amendable PDFs.

E-Sign and Additional Services

The fresh e-sign functionalities are known to be very dependable. You can create, send, and inspect the progress status of vital papers with utmost ease. The recipients can sign the paper with the aid of a browser without registering. It further helps save time and effort while ensuring that sensitive information is safe.

Soda PDF is also good for collaborations and teamwork. Teams can use the excellent Soda PDF features in the cloud with the software's fantastic facilities. You can profit from the discounts and additional facilities extended by the Soda team.
Features
Easy editing of PDF files
Simple collaboration and conversions
Permits editing of texts and images
Merging files and documents is possible
Safe sharing
Enables storing in the cloud
OCR available
Tracking document progress is possible

Pros

Great file encryption
Simple to use
Easy procession
Authentication

Cons

Only specific languages are supported
Free for 3 times per hour
4 Free PDF Editor : PDF Agile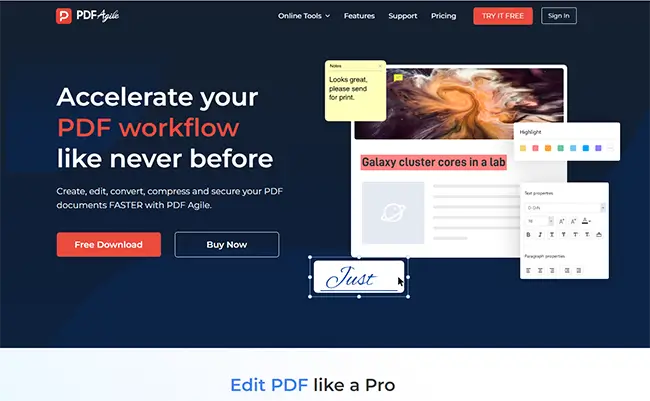 PDF Agile is designed with utmost simplicity to make working on PDF files simple, quick and practical. It is a robust PDF editor and conversion software for PDF documents and assists in scanning and accessing all the files without going back.
In addition, the software is a striking program that helps smoothly edit and convert PDF files in Excel, PPT, Word, CAD, and the other way while sustaining the authentic format.
The software is a full-fledged PDF file editor and conversion software powered by an OCR. With several striking tools for converting, editing, and merging your PDF files. It enables multiple formats and has a very simple-to-use interface.
PDF Agile is a stunning software that assists in the simple conversion of PDF files to Excel, PPT, Word, TXT, images, and CAD while preserving the original quality and formatting. It also ensures your workflow, organizing, and editing pages are effortless. Merge and split files, drop and drag documents and apply stamps, marks, and other features with complete ease using this excellent tool.
How to Sign Using PDF Agile?
Signing with the assistance of PDF Agile is quite simple. The document has multiple assistances, and you can take maximum benefit from them.
Go to the insert section on the homepage.
Select PDF Signature
Click on Insert Signature
Select the suitable type from the available options (handwritten, text, or image)
Tap on Add Signature to finish.
Benefits of Using PDF Agile
There are quite a few perks of using this striking tool. However, a few to the list are:

Edit PDF Files

Open the desired PDF file text. You can edit it using a variety of features on this program. It permits text font, style, line spacing, layout, multimedia, pages, and more editing.

Read Effortlessly

Multiple modes and reading functions are available for users to access on this program. They are pleasing to the eye and reduce strain to maximum levels. You can apply the toggle as desired and read your PDF documents with complete ease. Opt for the finest reading view modes suitable for you and extend multiple options to edit your Acrobat files.

Mark PDF

You can check and mark the documents by underlining, highlighting, and using various features to get the utmost ease.

OCR

Scan pictures into completely editable ones with varied languages that are detectable with the assistance of OCR. This advanced software technology can acquire text from any picture or scanned PDF file. Get desired text from any image or scanned file within seconds.

PDF Conversion

Converting PDF files into other formats without suppressing much quality is a much-needed facility that the tool provides to users. Reduce the document sizes without making many amends. You can generate varied files from one PDF doc.

Manage PDF

Merge varied files in one or cut one file into many. Crop, rotate, and delete the pages with utmost ease using this exceptional tool.

Protect PDF

Add watermarks or protect the PDF documents with high security, and generate a digital sign for your PDF document.
Features:
Helps reduce file size without tampering with file quality.
Assists in splitting PDFs into multiple files.
Has OCR facilities for maximum user ease.
A simple reordering of pages with drop and down facilities.
Simple conversion of files without hampering the quality.
Changes text from one speech to another in a PDF file and others.
Pros
Simple interface.
Free of cost Download
Permits easy adding of pages.
Enables easy converting of PDF files
It's manageable to add hyperlinks or other links to the PDF document.
Conver your file to an appealing presentation.
Powered by OCR
Cons
Limited customer support.
The free format has limited features.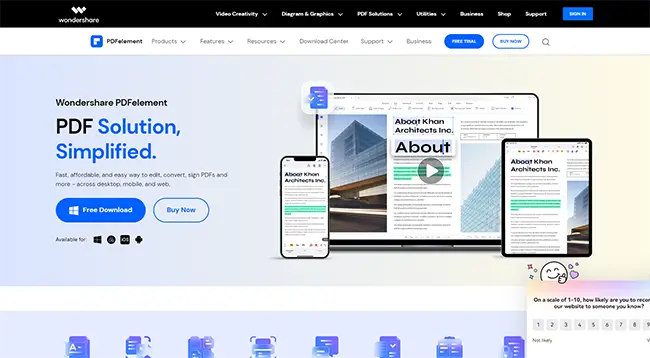 This simple software assists well in creating, amending, converting, and signing PDF files. It supports Mac and Windows platforms. The software is accessible in three varied solutions, Standard, Pro, and Business. Also, it has a mobile application that is easily accessible for Android and iOS devices.
PDFelement is not a very spectacular but quite decent application for your PDF editing needs. Despite being not as powerful as the other PDF editors in the market, the PDF element is not merely a simple tool. It includes various helpful features for a few users and allows you to work interestingly on your document. Also, it does not have advanced plans at a higher cost, making it even more convenient.
How to Sign using PDFelement
There are multiple ways you can use to sign with PDFelement. Opt for the finest to make your task effortless.

Digital Sign

Insert digital signs in your file with the assistance of a text or handwritten image. The digital sign extends a safe platform to acquire the document's author and ensure that the content is not changed.

Electronic Sign

Remotely request the electronic signatures and easily fill them in from different parties in real-time.

Handwritten Sign

PDFelement permits users to draw, type, or upload signs right from their smartphones, tabs, and suitable mobile devices. Using this, you can sign contracts and bonds remotely without interruptions in the workflow.

Stamp Options

If you are working on secretive files, you may wish to safeguard them from any unknown parties to prevent breaches. Many security tools are available online; however, PDF stamps can be suitable options. You can upload PDF stamps in different formats for best use based on personal preferences.
Benefits Of Using PDFelement
The chief perks of opting for PDFelement are reliable functionalities, easy customizing, and superb value. Some highlights are:

Edit Files

Have complete access and control on files, modify styles and fonts, edit scanned documents using OCR, and check all the texts using PDFelement.

Combine and Create PDF Files

PDFelement can suitably convert over 300 file formats into striking PDF files. One can even merge these documents and manage pages. Further, batch PDF creation organizing files in different ways is available using this fantastic tool.

Convert and Extract Files

With PDFelement, you can simply convert all the files into images, Word documents, etc. Further, you can also extract them from a location.

Make Fillable PDF Files

You can convert all the forms created in Excel, Word, or more to PDF forms. Using PDFelement's latest versions, you can add files, buttons, and boxes to your current files or make new forms using templates.

Export Data from a Scanned Files

With PDFelement, You can simply extract the scanned forms and invoices. Similar extraction norms are applied to all PDF documents with the same layout.

Customization

You can generate suitable forms with the assistance of buttons, checkboxes, and text fields and take benefit of the available templates to ensure the process is even smoother.

High-Level Security

Organize and make signatures using advanced password encryption facilities, allowing users different access, and ensuring sensitive content stays confidential.

Comment and Review

Work effectively with the team using PDFelement's partnering features. Users can use tick marks and extend comments to the documents they require to work on the future files.
Features:
PDFelement extends fine features to convert documents into editable PDF files.
It has features for generating PDFs, editing images and texts, safeguarding and signing pictures, converting PDFs, and filling out PDF forms.
Optimize and compress files.
Supports OCR
Extends advanced features for adding signs.
Pros
Simple and manageable interface
Wide range of beneficial features
Enables advanced features for simple access
Cons
Little expensive for paid plans
May work slow
6 Free PDF Editor : PDF Buddy
PDF Buddy is a simple web app that permits signing, editing, and filling PDF files whenever you wish. The finest aspect of this PDF editor is that it permits editing of PDF files, including adding pictures, signs, highlighting text, and more.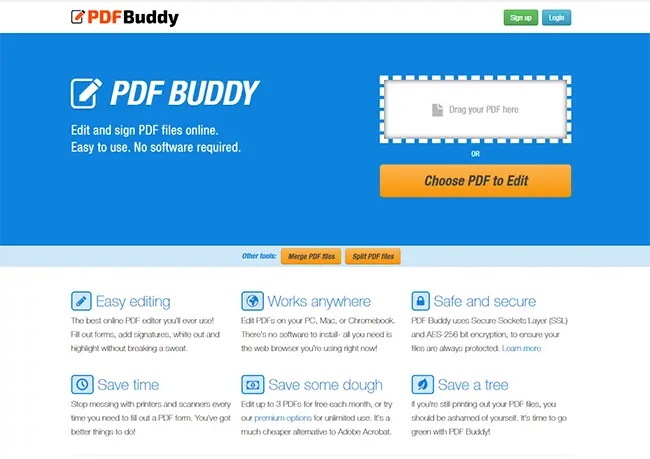 You will get access to an editing page whenever you add a file to the computer. On the editing page, there are quite a few accessible tools. You can easily see them on the left-side toolbar. If you wish to sign the page, tap on the "Signature" option to proceed.
PDF Buddy is another spectacular tool that assists you in editing and altering your PDF documents. It has a high-level AES-256 bit encryption that ensures your e-signs and documents are safe.
How to Sign Using PDF Buddy
To start, type the URL on the browser page. The software will now direct you to home, where you will be prompted to load your file or choose one.
After adding your document, click on the Signature option on the left bar. Then a login will be asked if you have not used the software before.
After successfully signing up, a window will appear from the "Signatures" option. Select your ideal signature options to get access to a suitable pick.
After uploading the signing, tap on "Use." Like other tools, place the signature in the desired box for the best outcomes.
Benefits Of Using PDF Buddy
Simple editing

PDF Buddy is the finest online editor that you can ever opt for! Add signs, fill signatures, highlight and mark without much trouble.

Accessible Anywhere

You can edit your files on the Chromebook, Mac, or PC. You do not need additional add-ons, just simple web browsers to perform the task.

Safe

PDF Buddy utilizes AES-256 bit encryption, ensuring all your files are safe and secure from threats.

Save time

You do not need printers and scanners when you use a PDF document. Opt for PDF Buddy and save on this additional hassle to get maximum work profits.

Save money

You can edit at least 3 free PDFs monthly and opt for the premium option for maximum usage. It's a cheap alternative and enables easy editing.

Save Nature

If you print PDF files to date, you should invite new amends. It is a necessity for all to be careful about nature and preserve the same.
Features
Easily accessible on multiple platforms and devices
Permits Adding of Texts and Images
Sharing of the document is possible
Free file storing facilities (upto 1GB a month)
Acquires' White Out functionality
Best for beginners
Pros
Do not necessitate additional software
Ensures maximum safety and security of information
Simple to use
Easy editing interface
Cons
Limited features
Permits only three free edits a month
7 Free PDF Editor : Ease PDF
The online tool permits editing all PDF documents in your space's comfort. It is a one-stop solution that permits PDF compression, merging, rotating, and splitting. The program extends over 30 tools and is frequently updated for best use. It is a safe platform and enables the automatic deleting of files after 24 hours.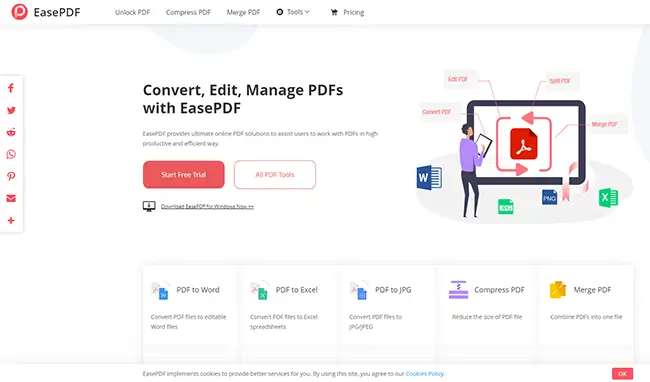 EasePDF is a free converter tool. It is simple to use and removes all the necessities of downloading or installing software. It extends high-end encryption to your files. This online tool enables easy universal conversion and permits you to convert files at any hour or time. It also extends premium plans for more editing access.
How to sign using Ease PDF
1. Upload your File.
Tap the "Add Files" option to upload the desired PDF document. Drop the PDF in the Drop file here section to proceed. Importing files with other functionalities is also possible.
2. Navigate to the the the section in which you have to add the signing. Now tap on the "Add a sign" and select the create option to proceed.
3. You will get access to two distinct options here. When selecting the "Draw" option, you can draw a sign using touch facilities or a mouse. Select an image if you wish to upload an image and then proceed further. After finishing, tap on the "Save" option.
4. Your electronic signature is now saved. You can alter the position of the sign as you like. After doing so, select the "Save" option on the top bar, and EasePDF will begin creating the sign. Once the PDF is complete, you will gain access to a downloading link for acquiring the final page. Tap the "Download" option to get it on your device, or export it to save later.
Benefits of Using Ease PDF
There are some striking and notable benefits of using Ease PDF. Know the finest to identify the most reliable features:

Security

While picking online tools, each user is more concerned about the safety of their files to prevent breaching or hacking. However, using EasePDF, one does not need to bother about that, as this program does not copy, analyze, scan or save your documents on their server. All the files are removed after 24 hours for maximum safety.

Further, it is supported by a 256-bit SSL Encryption to secure all the documents you upload on the tool. They ensure this information is not shared with any third-party users. Also, the security code you lock your documents with is not saved on the servers. So, for safety opting for EasePDF is very reliable.

Edit PDF

Rotate, sign, add watermarks, and pages, edit, and do much more to your PDFs with the fantastic tool. Adding images to the program is simple and does not require much effort. Adding numbers to the file can be a little confusing; however, it is possible if you get used to the process.

Convert from PDFs

EasePDF permits options to easily convert your PDFs into other file formats for maximum ease. Moreover, this fantastic program can easily convert multiple files without any issue.

Organize PDF

If you wish to cut your PDF into varied or combine it with varied PDFs, you can easily do so with EasePDF. There are multiple options to complete this aspect of your PDF files. Certain users may not be comfortable with split functions; however, with understanding and practice, it is easily attainable.

Conversion of Documents and Images to PDF

Sometimes, one must upload specific images and files in PDF formats. You can often complete it with the aid of native computer applications, but if not, you can opt for EasePDF to finish it within minutes. Converting multiple file formats to PDF is quite easily possible.
Features:
EasePDF permits the conversion of varied file formats to PDF.
Likewise, converting PDF to varied file formats is also possible.
It enables a high-end 256-bit SSL encryption security.
The tool is accessible on all devices and is easily available online.
Pros
Very manageable to use
Easy access to all features in cost-free plans
Complete safety of documents and passwords
Extends 256-bit SSL Encryption
Cons
Lacks proper client support
Only two free operations are allowed in 24 hours, which can make accessing features difficult
Pricing details are not listed.
Does not have a desktop version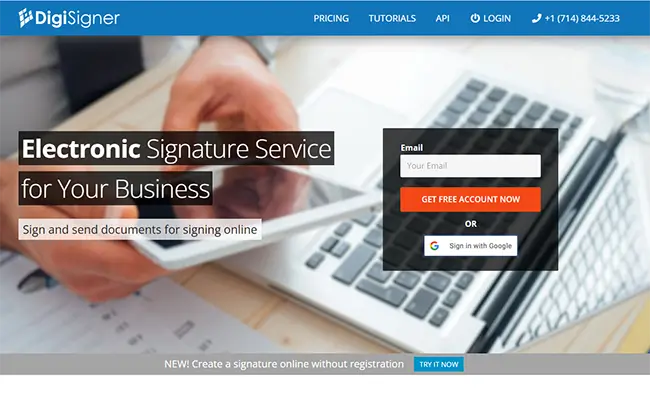 DigiSigner is another spectacular PDF signer tool for Windows. With the assistance of this software, a user can sign single and multiple PDF files with utmost ease. For signing the PDF files, you must create a fresh Key Store File or opt for an Existing Key Store. One can also sign files saved on the cloud and local files for the best assistance. In addition, you also acquire options to add hidden or visible signs to PDF files. There are multiple assistances that the tool offers to its users.
DigiSigner is an e-sign maker program to review and easily sign different PDF documents. It permits bettering client relations and maintains and secure exchange of details within the company. They are legally bound and provide the finest possible assistance to get maximum ease while signing a document. The program has SSL encryption for the best usage and enables the best possible security for all users.
With DigiSigner, one can upload an image or sign a document using their device. It gives an email notification once the signing is completed. You also opt for DigiSigner sign API to get files to your website and safeguard files from any breaches or hacking activities. Lastly, one can save their details and tag them to get easy access to them whenever it is necessary.
How to sign PDF file using DigiSigner:
To commence, get access to the PDF file in the program.
After that, tap on Sign Document and select the desired region where you want to upload your signature.
After highlighting the signature region, a window requesting to apply the sign with pop; now, either pick s key store file or create your specific key by tapping on the Generate my certificate option.
Now, you get access to filling various fields like Reason, Location, and Contacts. After delivering the needed details, tap on Sign Button to complete the process.
Benefits of Using DigiSigner
Easy Uploading

You can simply select and upload the desired file by establishing a safe connection with the server.

Different Signing Options

The tool offers three ways of signing the document, i.e., handwritten, text, and image.

Collaborations and Invites

A user can invite and track progress with this tool's assistance. The software gives an email notification of successful completion.

Legal

DigiSigner is bound to some strict regulating legal bonds like eIDAS, UETA, and ESIGN. All the signs created are identified in the court of law and legal.

Safety and Encryption

The program safely stores your documents and authenticates requests for the documents as well. This platform opts for SSL encryption for maximum security and protection.

Simple and Quick

Sign at your convenience and any time you wish to complete your tasks. One does not necessitate printing, faxing, or scanning documents any further.

Partner

With a few clicks, you can invite the individuals you need to collaborate with to work on your documents. Get the legal signatures quickly and get access to the finest aspects.

Professional Tool

The method of signing is professional. With the assistance of DigiSigner, your firm can display a professional image to clients and partners without any delays for maximum ease.

Sign with Ease

The software provides multiple assistances to sign the documents. Get maximum ease and sign your documents most easily.
Features
Easy tracking of task profess status
Enable multiple-party signing
Permits mobile signing
Legal and authentic platform
Complete safe with high-end encryption
Permits sharing of links
Pros
Very simple to access and use
Great customer support
Cost-efficient
Smooth interface
Easy sharing of work
Cons
Does not have 'undo' options; one needs to begin from the start.
No smooth mobile access
The audit trail can be a hassle
Foxit Reader is another fine option in this list for your Windows OC. Opting for this program, you can complete the signing of your PDF files with maximum ease. The software extends two varied PDF signer services to give users maximum ease. Filling and signing is an in-built option of this software; however, it may not be available for the free version.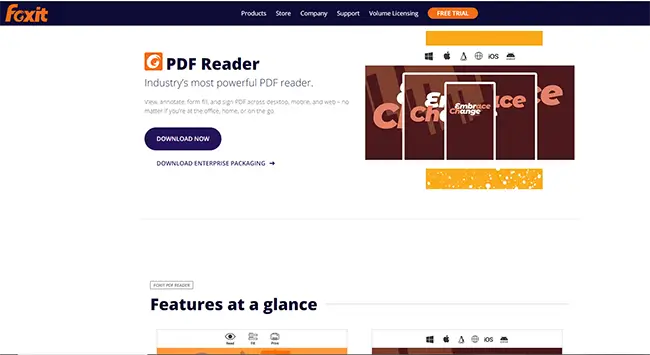 The software provides an external signing service known as DocuSign, and this program is also completely free for use. To use the service, you must sign up with the DocuSign account. After doing so, login into the account and start using it on Foxit Reader.
How to Sign Using Foxit Reader:
To commence, navigate the Protect tab and tap on PDF Sign to access the Create Signature pop-up.
Create Signature selections extends varied options to add or create signatures with the assistance of options like Draw Signature, Image, Paste from Clipboard, Type, and Online Sign.
After generating a sign, simply open the PDF document in the software and add the sign.
Using the software, you can generate and add multiple signatures to a single document by selecting the Apply All Signatures selection. Apart from adding signs, you can certify signed files and manage varied digital signs.
This software can also be utilized as a PDF Reader and Editor program as it acquires the maximum number of tools needed to edit a document successfully.
Benefits Of Using Foxit Reader
It is a universal software

When you generate files in word processors, any individual who opens the files necessitates the same software you use and even similar fonts. If they fail to have it, they can opt to convert the files, which generally messes with the document's formatting. Also, slightly distinct versions of the program can cause random issues and problems.

While using PDF files, one does not have any restrictions. They can create documents in the software, and anyone with Foxit Reader can easily access the file.

Offers Maximum Security

Common tools help you in encryptions and protecting your files using passwords; however, that is where the safety of your document may end.

This software lets you create files with the right management to get optimum results. You can secure files and also grant permits to specific individuals for use. Also, one can restrict certain individuals from printing or editing a file. You can also encrypt all the details of the file. Also, a user can redact sensitive data and permit rights for individuals that can view the content and those who cannot.

Search for Files

If you wish to search for specific files in the PDF editor, you must opt for the replace and find tool. Using the tool can be effective but not highly efficient always. This PDF software permits you to look for documents at any time and with utmost ease, which further assists in saving your valuable time. You can even look for the table of contents and the links for the aspects you seek.

Accessibility

If you wish to create documents for government agencies, or firms that deal in business with the government, you might have to ensure that the file follows all the guidelines for individuals with special needs. The PDF software acquires multiple tools to help you check accessibility issues and amend the problems you may encounter.

Interactive

Opting for this PDF software, you do not just get permits to create documents with pictures and hyperlinks but varied media files like audio and video. In addition, you can generate fillable forms to acquire electronic responses, unlike other forms made with the assistance of different word processors. Doing so eliminates all the time and effort of sending back and forth documents for signature purposes.
Features
Quick rendering of the PDF documents.
Customizable menu ribbon.
Easy filling of applications and interactive forms.
High-quality printing.
Possibilities of generating barcodes.
Robust accessibility to features to acquire better reading and connectivity.
Full touch control for all devices.
Pros
Easy and free downloading on Windows.
Highly efficient PDF rendering possibilities.
A user-friendly and customizable interface that permits better workflow.
Highly productive software for improved editing and prints.
Cons
The free version is only accessible on Windows
No Linux.
Limited smartphone access.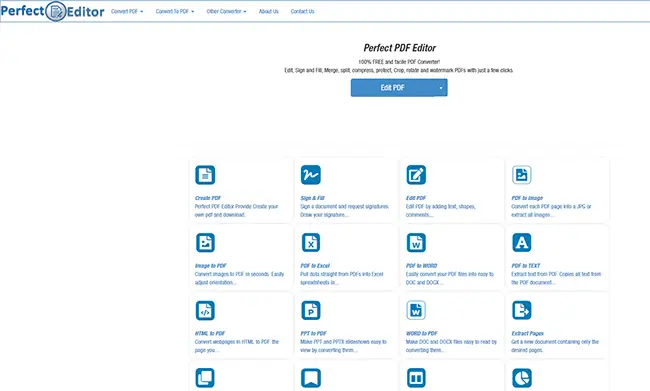 Another perfect software if you are a Windows user is Perfect PDF 8 Reader. The program is used for viewing your PDF files and editing the documents for managing the tasks with utmost ease. With high-end editing tools, it also extends Sign Document features that help fill and sign all PDF files in less time. There are quite a few ways to certify documents using the software. Some of them are PVK or PFX, self-sign, Personal Storage, and more.
How to Sign Using This Tool:
Step 1: Navigate to the Sign Document Menu in the Document section and add the Sign Properties.
Step 2: Select the kind of sign certificate you will necessitate for your firm. If you are using PVK or PFX Keystore files, you can opt for the same to certify your documents. Generating self-signed certificates if you do not have the above selections is also quite feasible. For self-signed certificates, you will require a name, email id, and valid duration.
Step 3: After completing this, you can stamp your PDF file. But the time stamp you add here will only be seen in this software and not in other reading or editing softwares.
Step 4: In the final step, you must select the type of appearance you want for your sign, i.e., image or text. Moreover, you should specifically add the position of the sign on the file and also opt to hide the sign. After completing the set-up, tap on the Sign Button to add the sign to the file.
After successfully adding the sign to the PDF, you must save the PDF file separately, or else the sign will not get added to the original file.
Benefits Of Using Perfect PDF 8 Reader
Easy Sharing and Creation of Documents*

Creating and sharing PDF files is quite simple. You finish it in no time. Further, if you wish to merge presentations from distinct formats like Excel, PPT, and other files into a single document, you can easily acquire a rich, high-quality file.

The e-Signing Abilities

PDF is the unique format that permits simple e-signing for users. It creates a lawful contract that allows you to manage the sign on the file easily. E-signing is gaining immense popularity today for endless causes. It removes the necessity for paperwork and assists you from depending on modern documentation to work online.

Compact Size

An individual can simply reduce the file size by 25% without suppressing the document's quality. It is one of the most prominent benefits of using the software, especially when you need to generate PDFs in a compressed and simplified version for uploading purposes.
Features
The software instantly opens the files and permits multiple viewing functionalities.
Comprising various layouts and tools.
Helps in easy and high-end printing.
Simple navigation using bookmarks, links, and more.
Easy searching of texts and details.
Enables creation of PDF forms.
Supported by layers.
Pros
Robust program
Simple to use
Device-independent
Cons
No accessibility-related features
Works only for Windows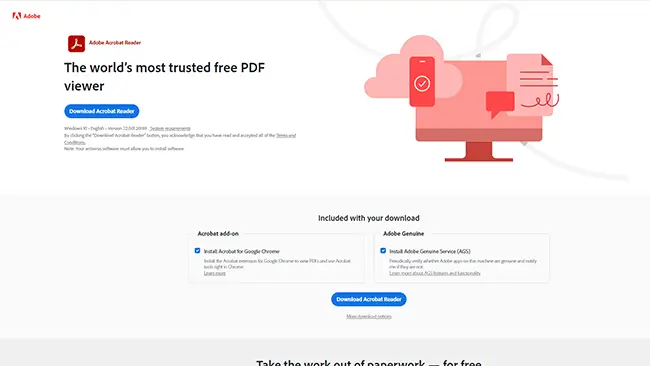 Last but the most spectacular PDF signer tool for Windows is Adobe Acrobat Reader DC. With the assistance of this software, a user can sign any PDF document with maximum ease. It is powered by an -signing feature to simply add digital signs to a file without hassle. A user can also sign different PDF files at one time with this software with the help of the multi-tab feature it extends.
How Can You Sign With This Tool:
Get the tool and go to the Fill & Sign option.
After this, add a PDF file you wish to sign by clicking Select a File.
The PDF file you will import will now be visible on the interface. Now, sign in to the necessary account and start using it.
After this, navigate to the Sign Menu and select the Add Signature Button to enter the desired signing details, i.e., drawing, image or text.
Once you have added the sign, tap on Apply to save the sign.
Last, reposition the sign to the right place and save the file.
You can do much more to a PDF document using this software besides adding or correcting signatures. Suppose you navigate to the Tools Section of the software. In that case, you will easily access many other tools like merging, editing, combining, repositioning, cutting, and doing much more to your PDF documents.
Certain tools available in this document are locked for the free download option. You will need a paid version to get access to these additional functionalities.
Benefits Of Using Adobe Acrobat Reader DC
Generate PDF from anything

Mac and Windows permit you to print anything with the assistance of integrated printers. However, the procedure might have quite a few limitations and demerits. Acrobat 2020 provides users with a pool of tools they will require while working on PDF files. Further, in addition to generating PDFs via scanned files and pictures, users can drop and drag the files in their app.

Edit PDFs From One Place

Apps like PPT, Excel and Word allow you to save the documents in PDF formats, which is suitable if you require a one-off file. Working can get tough if you need to edit, specifically if the files are located on the storage services. This software saves you from individual downloads and excessive returns, which could be problematic.

Easy Collaboration

Acrobat's send-for-review option assists in streamlining feedback from varied contributors. The reviewing individuals get an email invitation with links to gain access to these files. Simply tapping on it lets your colleagues gain access to the host tools.

Auto-Complete Files

For most individuals, the Fill & Sign option is one of the most spectacular selections that the Acrobat 2020 offers. It permits you to finish the files digitally that do not have any built-in electronic files in them. You can opt for the Form tools to add custom fields anywhere in the current PDFs, adding personal details depending on your PC profile.

Safe and Optimized Files

With the assistance of some taps, you can protect your file using a password to safeguard your sensitive information. These tools are particularly vital for files that comprise sensitive data and if you wish to safeguard copyrighted content.
Features
Excellent collaboration features
Third-party integrated
Permits adding notes and comments
Easy mobile access
Good file storage
Safe usage
Pros
Easy editing and simple design
Exceptional print quality
Quick loading and saving of files
Cons
It might be difficult to use
The free version does not offer many features
Conclusion
All of these free PDF editor tools are fantastic and reliable options. Select the most reliable option from these tools and get started with editing your PDF files today. Check on the features, benefits, pros, and cons to get a better view of the most idea-free PDF tool for your use. Edit, merge, cut, and amend your PDF files with maximum ease using these top free tools. Working with them will help you reduce efforts and acquire the best growth for your business. Invest your time in valuable aspects and leave the rest of the work on these fantastic tools for optimum results. Select the ideal PDF editor for your use and implement easy working today!