Competition in social media marketing and overall marketing is getting intense. If you wish to make your position and impact in such an atmosphere, you must use to do something extra. And doing extra requires a lot of time if you have no tools and ways to help you out. But in this age of technology, we have several social media scheduling tools that are helping many businesses throughout the world and can also help to grow yours too. If you make the right choice, you are going to have a benefit over others and that's why you need a guide to the best social media scheduling tools.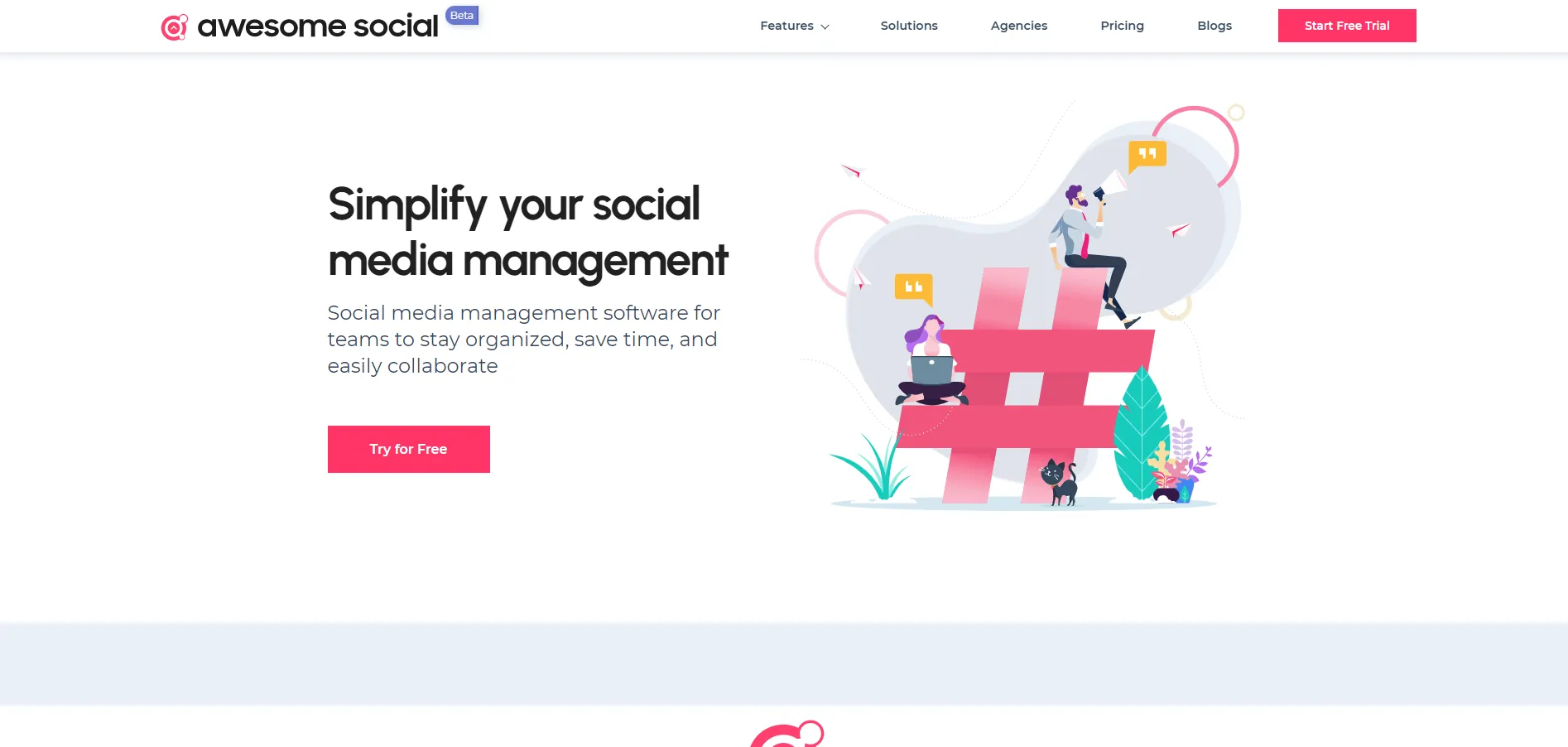 Awesome Social is a new and simple product for social media management that brands and agencies can safely use. One of its time-saving features is that it contains a social inbox tool that is not going to exhaust you by going through the comments individually and responding to them. Since everything is contained in one place, a lot of time is saved.
Overview:
· Teamwork: To save time, you might need the workflow to proceed comfortably. Awesome Social facilitates you in form of workflow approvals for better management of the organization.
· Platforms: You may want to work on many platforms and Awesome Social works on many platforms such as Facebook, Twitter, Instagram, and LinkedIn.
· Plans: If you are just getting started, you will have a free account and one social profile. It has trial versions too.
Buffer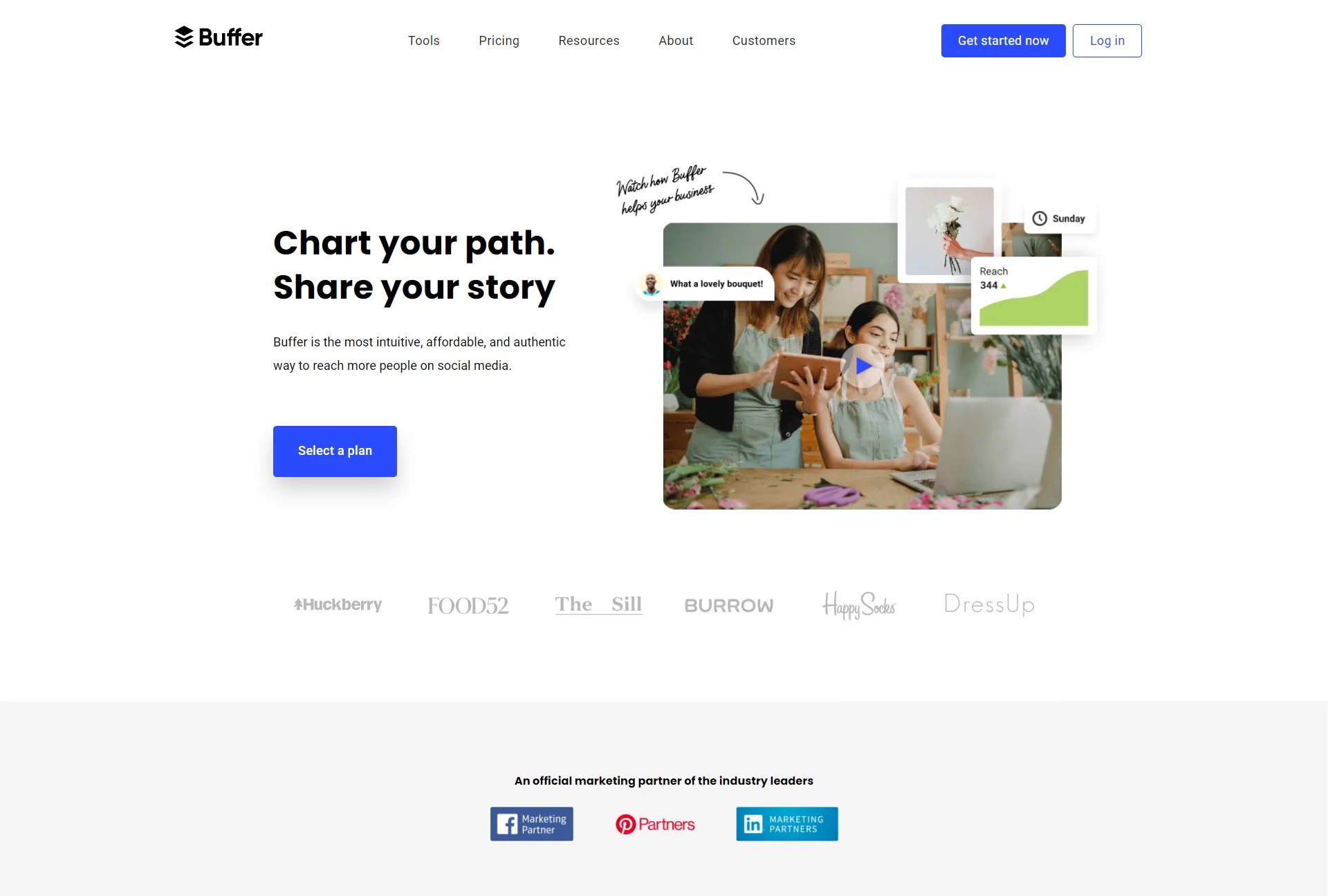 To respond to the most important comments, Buffer helps you to respond to the most important comments leaving out the unimportant ones using labels and hotkeys.
Overview:
· Teamwork: This tool also contains the system of workflow approval to hasten your work. You can also add draft posts, receive feedback, and refine content.
· Platforms: Buffer is available on Twitter, Facebook, LinkedIn, Instagram, and Pinterest.
· Plans: With up to 3 social media platforms and 10 posts per platform, you can use the free version of Buffer. It also comes up with an Essential Plan with $5 monthly per social channel.
Publer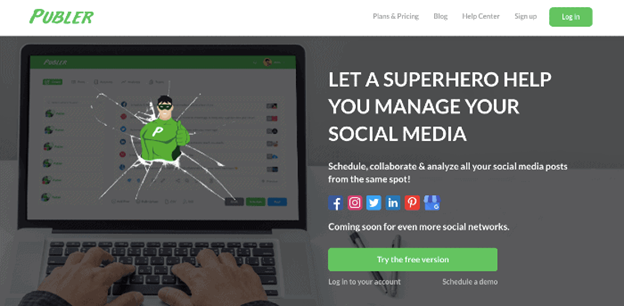 To share content across the platforms, you might need to open new tabs, again and again, to do so. Publer doesn't make you open a new tab and gets you to share content from several social media platforms simultaneously.
Overview:
· Teamwork: You can own teamson Publer and you can invite other members and teams to it. This can create a whole atmosphere of team collaboration on an online platform.
· Platforms: A wide range of platforms including Facebook, Twitter, Google My Business, Instagram, Pinterest, Youtube, and even WordPress sites have it.
· Plans: It includes a free plan with 5 social accounts and allows you to schedule approximately 50 posts. Apart from that, there are several other packages that you may try out.
SocialBee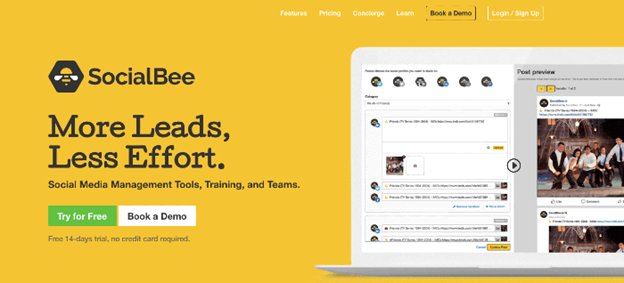 This tool does all the basic work that the best social media scheduling tools do with many additional features. Using this, you will be able to automate the whole process of social media scheduling by assigning each post to a specific content category. It also has a feature of "Evergreen posting" that helps you create ever-green most relevant content for your social media management. You can set a content category as evergreen and the tool keeps recycling the content.
· Teamwork: As it is appropriate for small businesses, hence it can help you work with a team of 3 members.
· Platforms: You can manage a wide range of platforms including Facebook, Twitter, Google My Business, Instagram, Pinterest.
· Plans: They have 3 different plans. Bootstrap for the authors and solopreneurs, Accelerate for startups and businesses, and Pro for agencies and freelancers.
Pallyy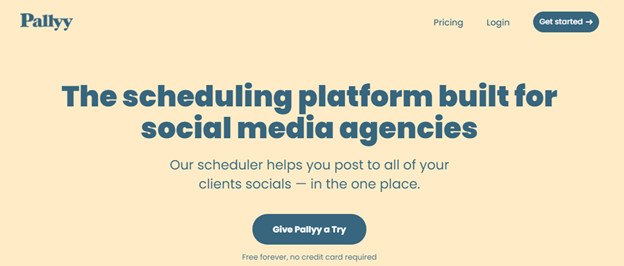 For social media agencies and managers, the software Pally was made. It helps to create and garnish content in different ways. It also helps you analyze your strategy to perform well in the future.
· Teamwork: It has the feature of "unlimited teams" ensuring that you maintain the efficacy of your content.
· Platforms: It works on a PC, mobile, or iPhone and works on all the major platforms such as Facebook, Instagram, Twitter, and Google My Business.
· Plans: It offers a free plan with 15 posts for a month for a single brand and also has a premium package of up to $15 per month.
HootSuite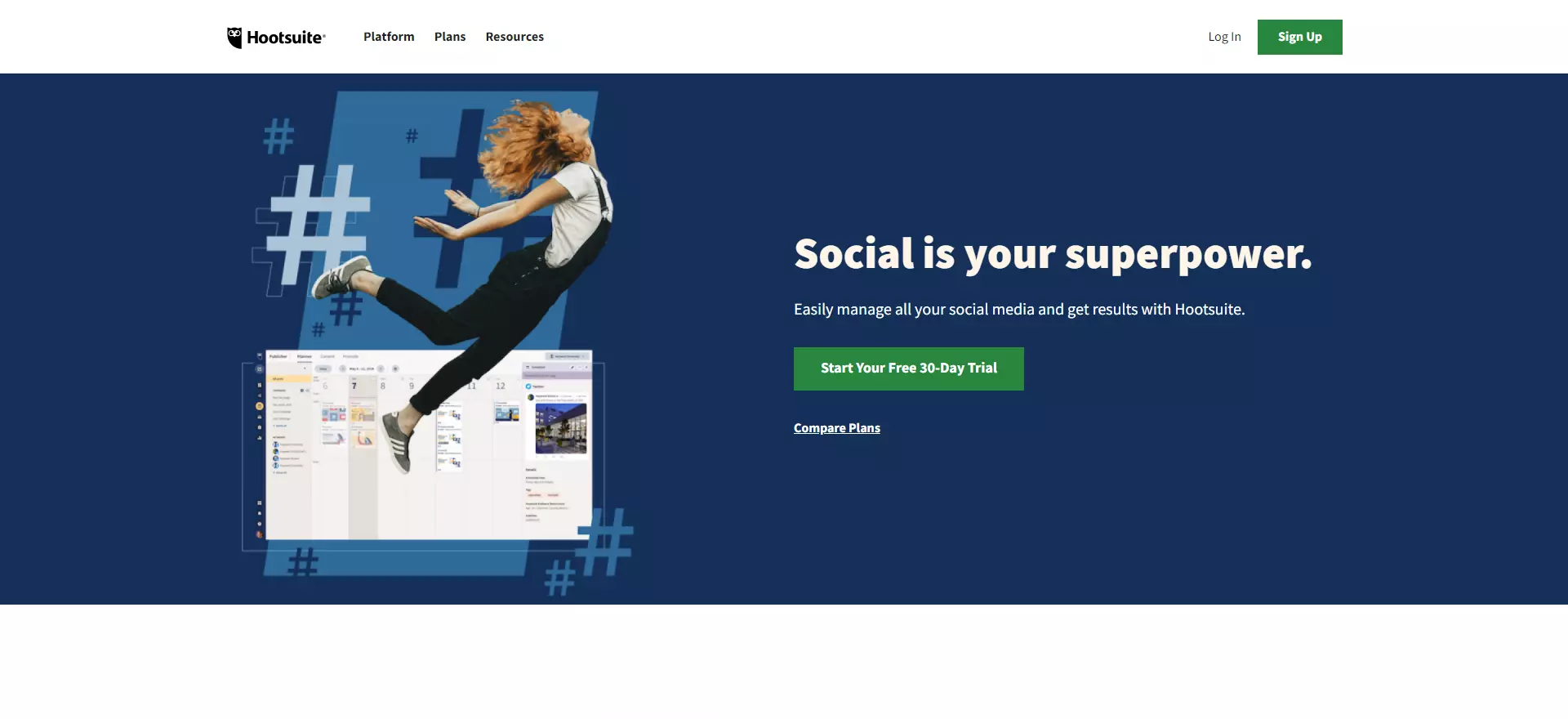 Hootsuite is by far probably the most used platform by over 18+ million of the world's social marketers. Using this software, you can manage your multiple social networks in a convenient dashboard where you will be provided with a bird-eye-view of what's happening in the social universe.
· Teamwork: You can collaborate as a team and can discuss the best ways to put out your content and engage.
· Platforms: Apart from Facebook, Twitter, Instagram, and Youtube there are other features.
· Plans: It offers you a free plan for up to three profiles and trials for the other plans like Professional, team, business, and enterprise. Also, you can compare the plans here.
Sprout Social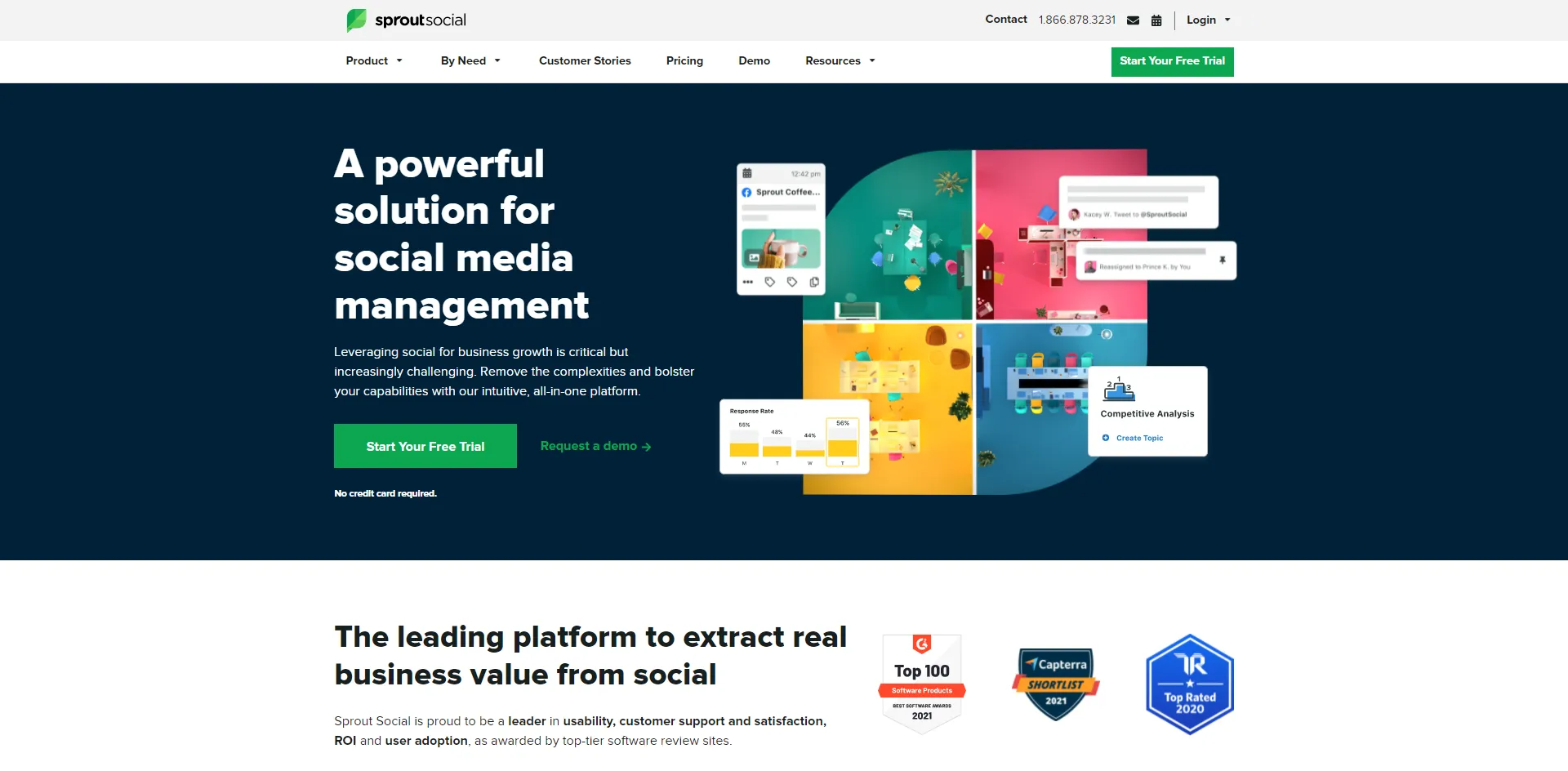 Sprout Social can be regarded as a very user-friendly and simple interface and a load of features making it one of the best social media scheduling tools.
· Teamwork: It is a great tool for team collaboration providing you with the option of approval workflows to make the process of social media management much easier.
· Platforms: Facebook, Twitter, Instagram, LinkedIn, Youtube, Pinterest, Reddit, Google My business, Glassdoor are some of the wide range of platforms supported by Sprout Social.
· Plans: Sprout Social doesn't give free plans but a free trial of up to 30 days with relatively expensive premium plans.
Grum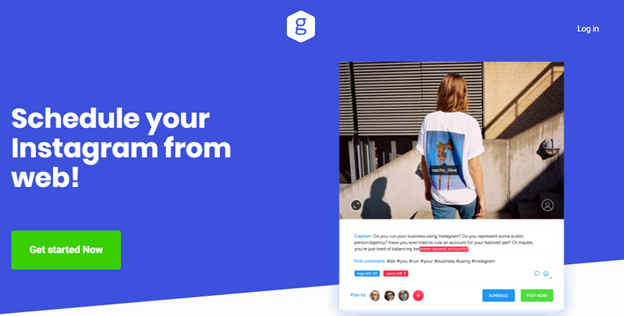 This is a product exclusively made for Instagram users solving an important issue for them. Instagram doesn't allow you to add pictures and videos from your Desktop. Grum solves this drawback by making this possible through its features.
· Platforms: It is exclusively for maintaining Instagram social media.
· Plans: It has different pricing plans for a "start", "grow", and "agency" with pricing decreasing as we move on.
Planable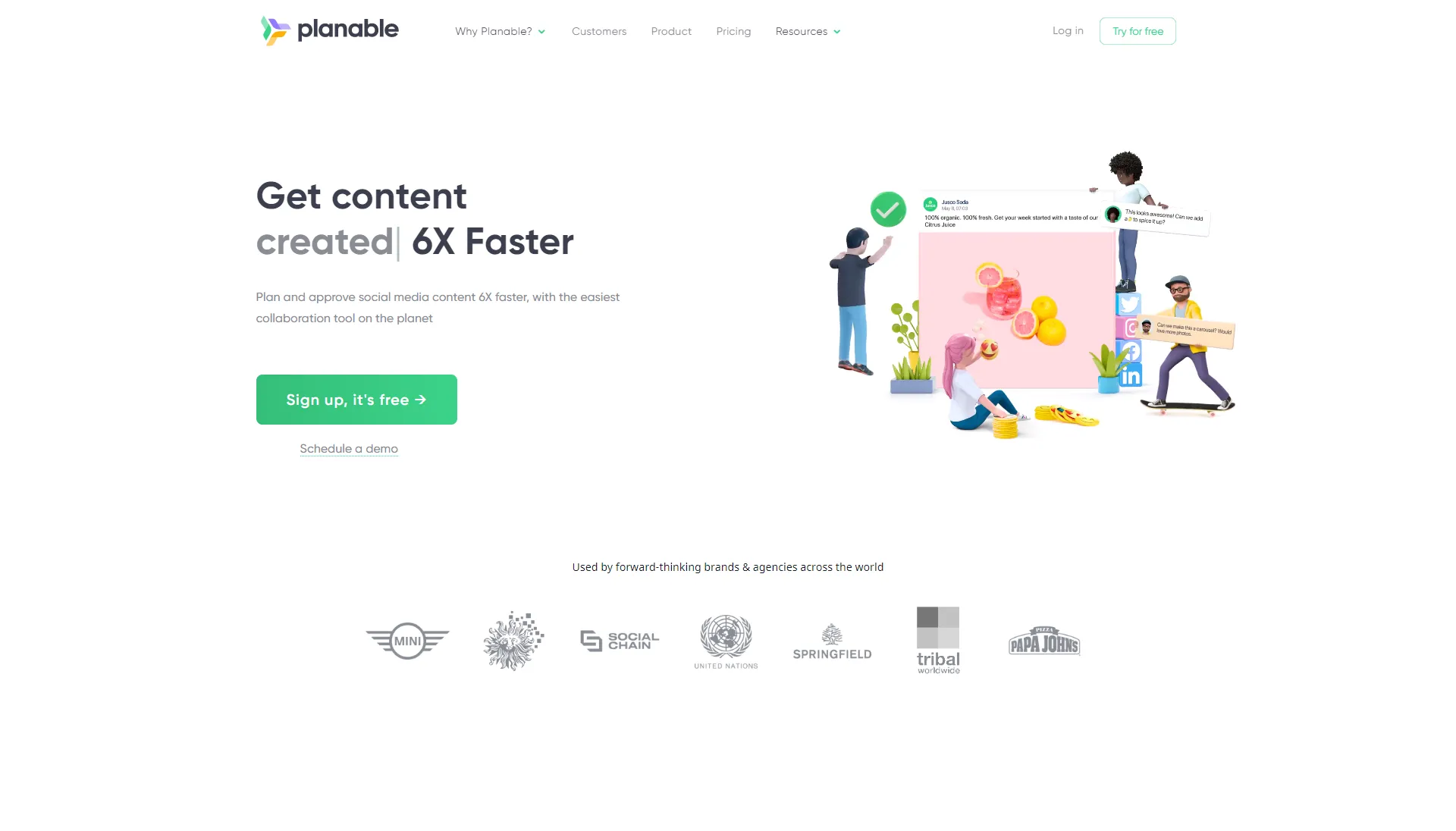 Planable is one of the best social media scheduling tools for digital marketing agencies. It promises a remarkable speed (up to six times) saving a lot of your time. All your content can be placed in a single place using the software and it has other features such as social media approvals and other things.
· Teamwork: The features like social media approvals create a better teamwork environment. It can enable from 3 users to custom users as you upgrade your plan.
· Platforms: You can use it on Facebook, Instagram, Twitter, Google My Business, Youtube, Tik Tok, and others.
· Plans: It has a free plan for teams that are trying out. But, it has premium plans like Starter, Premium, and Enterprise.
Semrush's Social Media Poster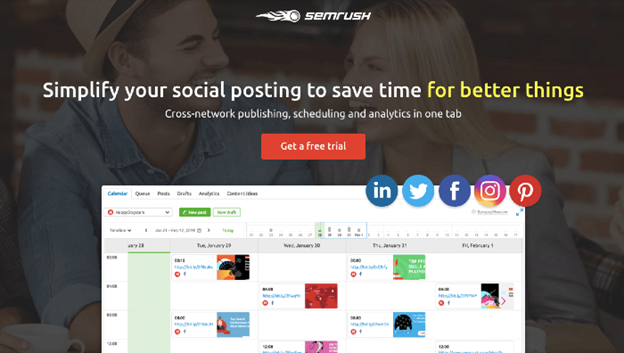 This product is a part of a larger Semrush Software Suite. Just like its simple name, Social Media Poster has a simple user interface. It will give you multiple features such as helping you to identify your organic competitors, proper keyword research features, site audit, fixing errors, PPC analysis, and much more.
Teamwork: With the amazing features, you can create a better team environment.
Platforms: The scheduler is available on 6 different platforms Facebook, Twitter, Instagram, Pinterest, LinkedIn, and Google My Business.
Plans: Semrush doesn't have a free trial but there is an option of a 30-day free trial which can be used by people who have not yet used Semrush.
Coschedule
CoScedule enables you to create a social media calendar as well as a marketing suite with some extra features. 30,000 marketers start their day with CoSchedule. Different case studies of using the software reveal its importance for several businesses. It has a feature of Best Time Scheduling where you can share your messages at the time of most traffic to attract more audience and, thus, more success of your product.
Teamwork:     You can engage with your team and discuss what you want to post.
Platforms: Multiple platforms schedule to support that many other schedulers don't support like Trello, Slack, and others.
Plans: It has a free version, but there are Pro and Business as well.