Most businesses are operating their business using Facebook and its fantastic tools. Sometimes the online service can be tough to use. Users often face issues while working on the service and fail to identify helpful sources.
Today, users are vastly opting for the meta business suite. The tool has some advanced features that make working and improving business simpler. So, if you are working on the Facebook manager and looking for some valuable assistance, this article is for you.
Most users do not identify how to reach out to Facebook officials and support in case of problems. So, we're here for you if you are searching for the right aid. Also, worry not; you are not alone.
In the digital generation with lots of online support, most online services can offer the best assistance for their clients. Emails, calls, and online chatbots are the most used and instant ways to connect with firms with everyday service providers.
In the case of Facebook, the scenario may not be similar. The giant online service has its means of connecting with its users in the most hassle-free way.
Connecting with its support team may be tough, but it is not impossible.
Here we have a few fantastic ways of connecting with Facebook. Use these efficient methods to make maximum perks and get the best results.
Ways to Connect with FacebookSupport
1.      Acquire Answers From Facebook Support
In most cases, support officials are helpless and may be unable to assist. Despite having a big name, they offer users little information and stale data. However, thankfully, the case with Facebook is not the same, and their site is frequently updated knowledge.
Facebook's help center is frequently updated and an extensive resource that assists in using the platform, handling Facebook accounts, listing general rules or guidelines, and security.
Opt for this panel in case of any queries, as it is the truest and most beneficial assistance to use the platform correctly. Accessing it is free and readily available at all times, even if you have not logged in to your account. You can use the Facebook help panel even if your account is not working or stopped.
Many pages have different explanations about the platform's working; however, it summarizes the platform and presents aid with an FAQ section.
Facebook users encounter several issues while using the different services and tools like the Facebook scheduler and Facebook manager. Thus, the help panel lists the most common queries in the FAQ section to provide the best aid. Selecting the topic that interests you, a solution page will direct you to its most relevant answer. Also, you can find the reliable solution you were looking for without much complication.
Navigating via the Help Center is quite simple. The site has plenty of beneficial resources, answers for issues, and solutions for queries.
Before reaching out to the official support, ensure you utilize the Help Center as your primary step to finding a solution. However, irrespective of how vast the Help Center is, it may not have the answer to your query every time. So, if you do not have the query in the FAQ section, you can check the list mentioned ahead to get reliable solutions.
2.      Connect With Support to Report an Issue/Problem
Before you opt for this option, ensure you have logged into your Facebook account. Only users logged in to their Facebook accounts can access this selection. If you fail to access your Facebook account via this option, you must opt for the other options mentioned.
Opting for "Report a problem" can be very helpful if you have a technical or service-related issue. You can easily locate the option under the Help and Support option on your Facebook page. Further, again this option is only accessible if you have logged in to your account, which was not necessary with the previous solution.
Further, Facebook permits users to report broken pages, payment issues, offensive content, and other similar issues via this option.
It is critical to note that Facebook cannot access all of your data, so ensure you describe your issue clearly.
In addition, including screenshots and proofs is also suggested. You get a reply from the Facebook administrator once they analyze the report and locate the issue. You can also view your ticket status with the aid of the account. Further, you can make an appeal in case your decision is rejected.
If you use the Facebook business manager, this selection might benefit you the most. Reach out to Facebook directly if you have a possible business account with this option. However, ensure that you are an active account admin and have complete access.
An advertiser can use Facebook's unique assistance here. Creating an Facebook ad account is completely free and quite simple. You will not need much investment to get access to one – all you need to do is make an ad account and promote your posts using it.
Creating an ad account can be very beneficial for your business as you can utilize it for promotional and advertising needs. For users that have logged in, the form needs (before approving) that you mention the ad account that is linked with the business profile.
Further, you will also be reporting problems that block you from buying ads with the help of this form. You may get some instant replies if your report issues using this method. Handle all name amends, ad issues, removing content from the Facebook page, or specific links that cause problems. You can further write on other people's behalf as well; however, this may further worsen situations, and it's also tough to predict the outcomes of third-person interventions.
Making an account with the Facebook Business Manager can also help you get responses. Facebook takes these accounts seriously and treats their issues instantly.
4.      Connect With Facebook Using Chat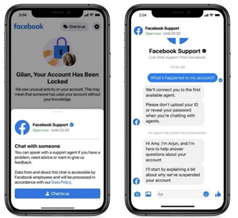 Before proceeding, it is vital to identify that not all accounts are equipped with this option. There are no particular necessities or demands for accessing the Facebook support chat. Depending on available agents, this option is permitted to accounts.
Also, chat support was severely restricted and limited during the pandemic season because of resource limits. Chat support is highly effective and one of the finest ways of making an instant conversation with users. The support does not have time delays and gives instant answers.
Chatting with experts can only be initiated by clients operating active ad campaigns on Facebook. Individuals that are not advertisers must fill a firm instead.
You can get access to the chat using these ways:
By tapping on this link below,
The chat will be visible in Messenger, and the chat will be accessible at a specific time.
5.      Use Email
In addition, specific email IDs are used, which you can connect with Facebook support. Most of the time, you get instant replies from the autoresponders, but later may also get an actual reply from the Facebook official responder.
Some helpful emails are listed below– however, keep yourself updated as most of them get deactivated and updated with time.
This email is suitable for solving all your financial and refund payments-related issues.
This email is useful if you wish to contact the Facebook law team.
You can contact this email in case of your name, profile, or content abuse.
You can solve all issues relating to your data with this email.
To connect with Facebook regarding press issues, opt for this email ID.
For Facebook ads and problems related to advertising, opt for this email ID.
For intellectual property-related issues, contact opt for this email.
6.      Search for Questions

For users that do not have a business account, this is another great option that they can use. It helps users to get queries solved with the help of questions.
Once you sign in to your Facebook account, it will direct you to this forum. Search using category or specific topics to identify your queries. Plenty of answers are available in the forum, which has been used for years! Tap the grey button on each forum page's right corner to raise a question, then choose subtopics and topics. Post a query or question and wait for the solutions from Facebook users. You will be astounded to view the answers or solutions that you get.
7.      Opt for Official Facebook Sites
It is no surprise that Facebook is now aiming to shorten its procedure of sending solutions to users. Another fantastic option that they have for users is their special thematic pages. Some of the pages also offer updates or beneficial insights.
Use Facebook for Business to get details about Facebook updates and new changes.
To identify how media uses and can use the platform, check this site: a
To deal with privacy-related issues, check
For all technical problems and queries related to tools, check
For more advanced Facebook solutions, check
For building communities around designers and employees, check.
8.      Check Deeper
Sometimes, getting details and sources to contact Facebook might seem impossible, specifically in complicated cases. The technical and legal pages of Facebook are quite advanced, so it takes plenty of research and digging to get an ideal solution for some cases.
For instance, if you wish to report the breach of your issues and rights concerning trademark, it might be quicker, better, and more suitable to choose the right options to deal with these issues.
Random issues or reports are often overlooked or ignored, but breaches reported in this manner or trademark problems reported using this page are suitable for quick replies. You may necessitate additional details to finish them.
Thus, we suggest digging into the advanced tools and details to get the best solutions. Use this technique when you fail to find suitable ways.
9.      Schedule a Call or Text Consultants
If you are working on social media campaigns, it's obvious that some Facebook marketing experts with connecting with you via emails. These individuals offer free of charge advice, expertise, and suggestions to run successful marketing campaigns on Facebook. Most times, individuals do not show much interest in these offers or do not even view them. However, now when you seek to find the right Facebook support, looking for such emails in your inbox may be a profitable decision.
These emails and direct emails from Facebook employees, so you can try to reply to them and get direct help for the issue.
In addition, you can also arrange a call with the Facebook marketing consultant using this link. The short consultancy may easily help answer your queries, and you will get assistance for free without contacting Facebook support.
Note: Facebook likes to offer services that are localized. So, you most likely get a call from the operator in your area. This option is most suitable for users who are not comfortable conversing in English and prefer local language operators.
This way might seem intrusive, but the method you use to make things work does not matter if the result is positive. If you want to reach out to Facebook employees, you can check on employees that have previously connected with you using Twitter or LinkedIn. Sending them random messages and tweets might be pushy and will not help you get ideal results. So, try getting involved in discussions and reply to their tweets to connect better. This method may not guarantee you complete success but may work out in some lucky cases.
11.  Live Chat
This feature is not available on Facebook for quite a few years; however, the company is currently working on it. Most creators prefer to contact Facebook for their issues using Instagram and other social media platforms. A query could be about anything. Users may face various problems, from understanding a new feature to a tool complication.
Facebook is planning to introduce live chat support assistance for its users worldwide. Advanced aid is specifically provided for users that have been banned due to unusual activities or violations of rights.
Currently, when the option is available for all users is not mentioned. However, the platform will inform its users as soon as they introduce the feature.
12.  Check previous requests
If no option works, check if you have contacted Facebook before or not, and utilize that contact information if needed. How do you achieve this? By opting for the '2' method mentioned above.
The overview of every request and report is present in your Support Inbox on Facebook.
Some reports might be old; however, that does not matter. The best report is the one relating to your ads. After this, tap on "Options," and you can view the "Appeal" command.
Selecting it permits you to create a message for Facebook. As it is related to a specific issue and not some casual and random request, the message will be seen and answered in a personalized manner.
Again, we cannot assure that Facebook will also reply using this method. Most times, the answer is not fitting. However, you can always try your luck.
13.  Bonus
Is your problem yet unresolved? Have all your online issues failed? Well, you may have to opt for an offline method.
Sending the issue via an old method or mail might also be quite effective in resolving your issue. However, it is a lengthy way to connect with Facebook support. Also, note the letter should strictly be in English.
In the case of an advertiser, you will be asked for the ID of your ad account before commencing. If needed, this can be a catalog ID and/or a specific advertising ID.
At specific points, Facebook displays errors and gets buggy, hindering its operation. In such cases, you should wait hours and connect with the support if the issue is not solved in time. Also, at the same time, you can look for a few social groups and see common FAQs to locate your issue. These sections normally display errors and give your suitable answers in the comments. So, check on that for the most profitable results.
In addition, if you can prefer the following:
Opt for Facebook's English interface
Prefer presenting the complaint in English
Add videos and screenshots to support your report or issue
Ensure you have all the data ready in case of any issue
Further, note that Facebook support will not help you if you do not follow Facebook's norms and conditions. The support consultants do not make these rules and thus are liable for the same standards as normal users.

How Much Time Does Facebook Demand Take to Respond?
Many aspects can hinder the way Facebook chooses to respond. On normal working days, the time for responses is 24 hours. However, accomplishing it may not always be possible, and the cause is plenty of similar reports and complications of the topic.
Facebook Help Centre: How Can You Use It?
If you use the meta business suite, this section might help you the most. The help center is your most reliable solution if there are random issues. Some keys for looking across it are listed below.
Use the search panel on the primary page to type the issue you need assistance with. Your search will give your Facebook's top articles for help.
For instance, you search a query that 'help with changing profile password.'
Opt for a relevant article from the choices you get.
The Help Center lists or categorizes its articles in four varied sections. Here on the left panel, you will locate the home page.
Under "Using Facebook," you will get assistance with making changes and amends on your profile page, Facebook groups, and messages.
Under "Managing Account," you get assistance with Facebook login and deleting or deactivating your Facebook account.
You can get the best help by keeping your Facebook account secure under the 'Privacy and Security section.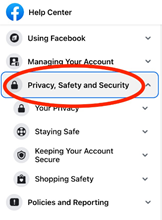 The last "Policy and Report" section assists in reporting about Facebook guidelines breaching. You can find additional aid for working on a deceased individual's account here.
You can also opt for an ideal option from the 6 categories in the Help Center bar.
How to Gain Access to Facebook Support for Businesses?
Facebook also has a Business Help Center if you wish for business-related aid. You can opt for it to get ideal outcomes at any time. Also, this will help you make valuable decisions and get suitable solutions for your queries at the right time.
How to acquire assistance if you are logged out
You can access the help center even if you have not logged in to your Facebook account. So, to get help regarding the logging-in issue, raise a query accordingly.
Other alternatives to connect with Facebook
If the help center is ineffective, you can opt for other means to connect with Facebook and solve your problem. However, ensure you know these trials may not always be effective. Also, sometimes this may redirect you to the Facebook help center page.
You can opt for tweets or direct messages for contacting Facebook as well.
The newly named Meta Twitter, the Facebook app Twitter account, and Messenger account are some apps that Facebook runs.
Some people acquire lucky replies; however, they are usually directed to the help page.
Also, you can try to mail the Facebook general aid at: support@fb.com. However, again this may not be completely valid for perfect outcomes.
Facebook support number
Depending on the region you reside in, Facebook has specific numbers that you can use to contact. Dialing the numbers will send you a pre-recorded message via Facebook's online support in case of any issues.
Benefits of Using Facebook For Your Business
Connecting with Facebook support is not quite tough. All you necessitate is the right plan and strategy to reach out to the ideal Facebook operator to resolve your issue. So, if you hesitate to use this giant due to technology-based errors, we suggest you don't make this blunder. The platform has fantastic perks for your business, so using it will surely not disappoint you.
We have listed a few perks below to help you understand why you necessitate Facebook for your business. Identifying these aspects will give you suitable outcomes. Make the best use of the Facebook tools and support, and enjoy these perks.
1.      Wide Reach
Without a doubt, the first perk of using this platform. Facebook is one of the largest platforms for connecting with users. It has billions of users that interact daily and thus, is the finest to market. Most users opt for this online service because of its wide reach.
So, if you are a business and wish to grow without much trouble, create a business account. Also, use effective tools like the facebook business manager to get ideal outcomes. Without the right online presence and effectiveness, you will be unable to get the victory. So, creating an account correctly with the help of Facebook support is a must to get desired success online.
2.      Improved productivity
Most individuals think that social media cannot do any good and distract employees at work. However, this is far from the truth. Using Facebook, your employees can do productive work online and improve your business in no time. Also, they can create engaging content to reach out to clients easily.
Using Facebook can be complicated. Thus, introducing your employees to Facebook tools and the support is important to get productive work. For instance, if your employee is stuck with an online process, they must find a solution without wasting much time. Further, it can also quickly connect and take a short break.
3.      Cost-efficient
Using this fantastic service correctly can be the most reasonable investment for your online firm. Using Facebook for marketing needs can cost you promotions, but as we know, the reach is unlimited and wide. With the aid of this platform, you will easily connect with users and can get massive returns for minimal investments.
4.      Connect on phones
Facebook has an app that is readily accessible on every gadget. The online service provides you with a wide reach to connect through the phone. Every person has a mobile phone today, and connecting via it is the most feasible option for most users. Getting a notification on the handset is much more attention-grabbing than elsewhere.
Thus, the major perk of using Facebook is direct connectivity with users. With this platform, you can reach out to users directly and target audiences at the right time.
How Is Facebook Valuable for your Firm?
Facebook is a social platform that helps you interact and connect with your close pals, family, workers, and more with ease. Also, it has multiple groups and communities that share similar interests. This fabulous platform lets users share pictures, incidences, experiences, and so much more.
To acquire maximum profit from Facebook, a business owner must identify how this social network differs from the rest. When the medium was first launched, it focused on individual connection and experience. However, with time it has changed and become a highly profitable platform for all cases. Today most businesses are running on Facebook and are gaining massive profits with the help of this super aid.
Facebook pages can be very effective for marketing purposes. So, if you wish for promotional needs, use this platform for the best aid. Some highlights are:
A business can now easily interact and connect with a large number of clients using this platform. They can share updates, target clients, offers promotions, products, reviews, and much more. Interacting has never been simpler and more manageable.
Simple notifying and sharing:
Individuals that follow your Facebook Page get instant updates and notifications in case you post something fresh. Just in a click, they can share it across users and different platforms for your benefit.
We all know commenting on this social media service is fascinating. However, direct messaging is also possible now.
A Facebook Page can improve client engagement. Answering your clients' queries and solving them is very necessary. And with this service, you can resolve them in minimal time and from any place.
People and followers that do not share your updates also indirectly make your posts visible to other common individuals. The site improves your visibility and helps you link with people with like interests.
Several social media sites are available online, and every one has its distinct uses. For instance, Twitter permits a business to share short notes and write-ups for their clients to share views. However, Facebook has the widest and most notable reach amongst them all. The features enable new business openings and help them engage seamlessly with clients.
Facebook has the best aid for everyone. The online platform has the best possible tools and support solutions to assist its users well. Using this fantastic platform, one can benefit and improve productivity in many ways. Check more Facebook-related articles on Awesome Social to get better insights.
Connect with the Facebook support team using the suggestions listed and solve your queries today. The platform has multiple assistances for you to make beneficial decisions. Get an ideal solution and solve your query today.