Facebook as a social media platform provides users the full control over their profile and content they are posting or managing.
Users can easily and effectively customise their feed according to their interest and also have full control over their timeline and accessibility of the content they are posting through their profile.
Hiding and unhiding Facebook posts is also a very amazing feature to get better control over your content. You can easily hide a post you've created without actually deleting it - this is convenient for removing it temporarily from your timeline.
If you are a facebook page owner and want to hide content from the audience for an instance of time and if at some time your decision changes and you can easily unhide it and people would be able to see it and engage with your content.
But there are some limitations of hiding content over facebook, it  only allows certain posts, such as cover photo updates, events, and profile photos to be hidden. All other posts cannot be hidden or archived.
So here in this post we will uncover the best possible ways to solve your query of "how to unhide posts on facebook".
Why hide a facebook post.
Facebook provides all users a better control over what they want to see in their timeline and customize it as necessary where you can easily hide, unhide or privatize things as necessary easily.
Often, hiding a piece of content on social media is a lot better option than getting rid of it permanently. Hiding a post allows you to get back at it at a better time or when you want personally..
Situations while unhiding a facebook post
The instant and aggressive actions: whenever we post something over an issue or matter by getting emotional or aggressive. Sometimes whatever actions that we take at a moment seems to be correct for an instance but after sometime you feel like removing it from your feed. As you cool down, you may reconsider your decision.
You don't want the efforts to be wasted: whenever we post anything on facebook and feel like this post is not meant for the present time but don't want your efforts to go to waste. Instead, you may have wanted to put the post on pause and make it visible again at some future point with little editing
The content or post is date sensitive: It is date sensitive: There are certain memories or events that you might not gather attention for a particular time. Afterward, you might want to give them a spot again on your timeline.
Whenever we post something by mistake:  as we know that it just takes a few clicks and taps to publish posts on facebook so it is very generous that it needs to be hidden.
Note: before unhiding your hidden post and making it visible to the audience, always think deeply about the decision before taking it back to the timeline and making it visible. There is nothing bounding you to take something out of public grip.
Think twice over your decision of making it public again but do not regret your decision for the future.
How To Unhide A Post On Facebook Using Desktop (Web)
Step 1: Login To Your Facebook account which you want to edit or work with.
Step 2: Click on the "triangular" dropdown button located on the upper-right side of your dashboard which will take you to the main facebook menu. And click over the activity log button found under the dropdown.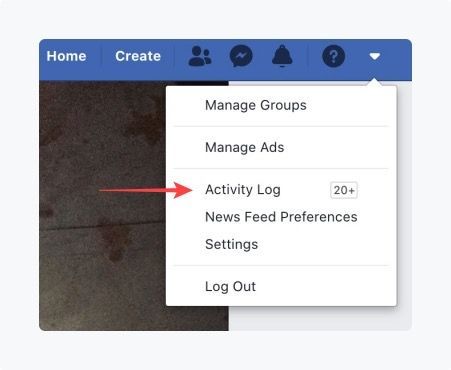 Or click on your profile link and visit the profile page. Then click the Activity Log button, which is located in the lower right corner of your cover image.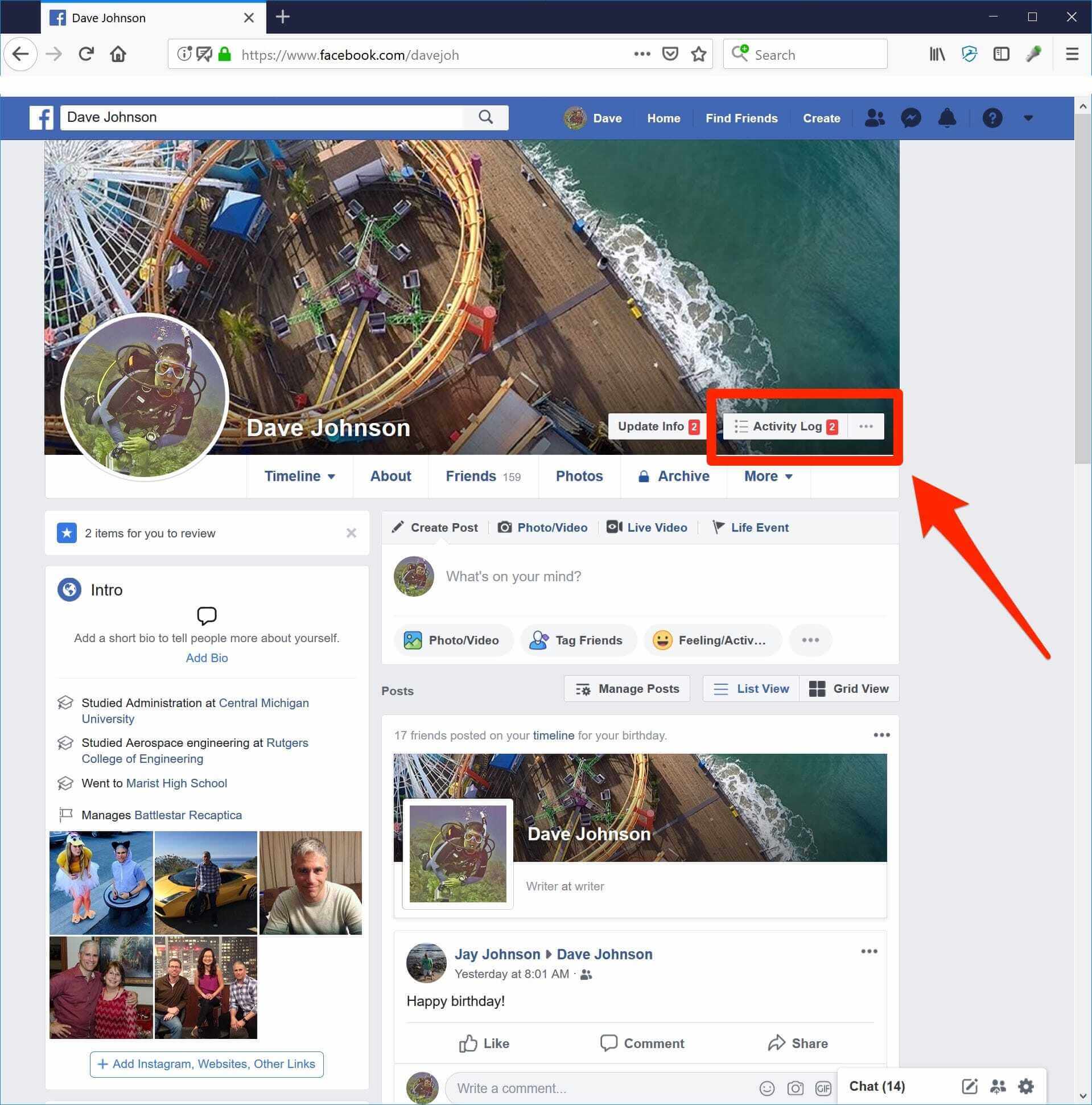 Step 3: when you click on the "activity log" you will be redirected to the activity page where you will find all your activity done like all comments, shares, reactions and many more.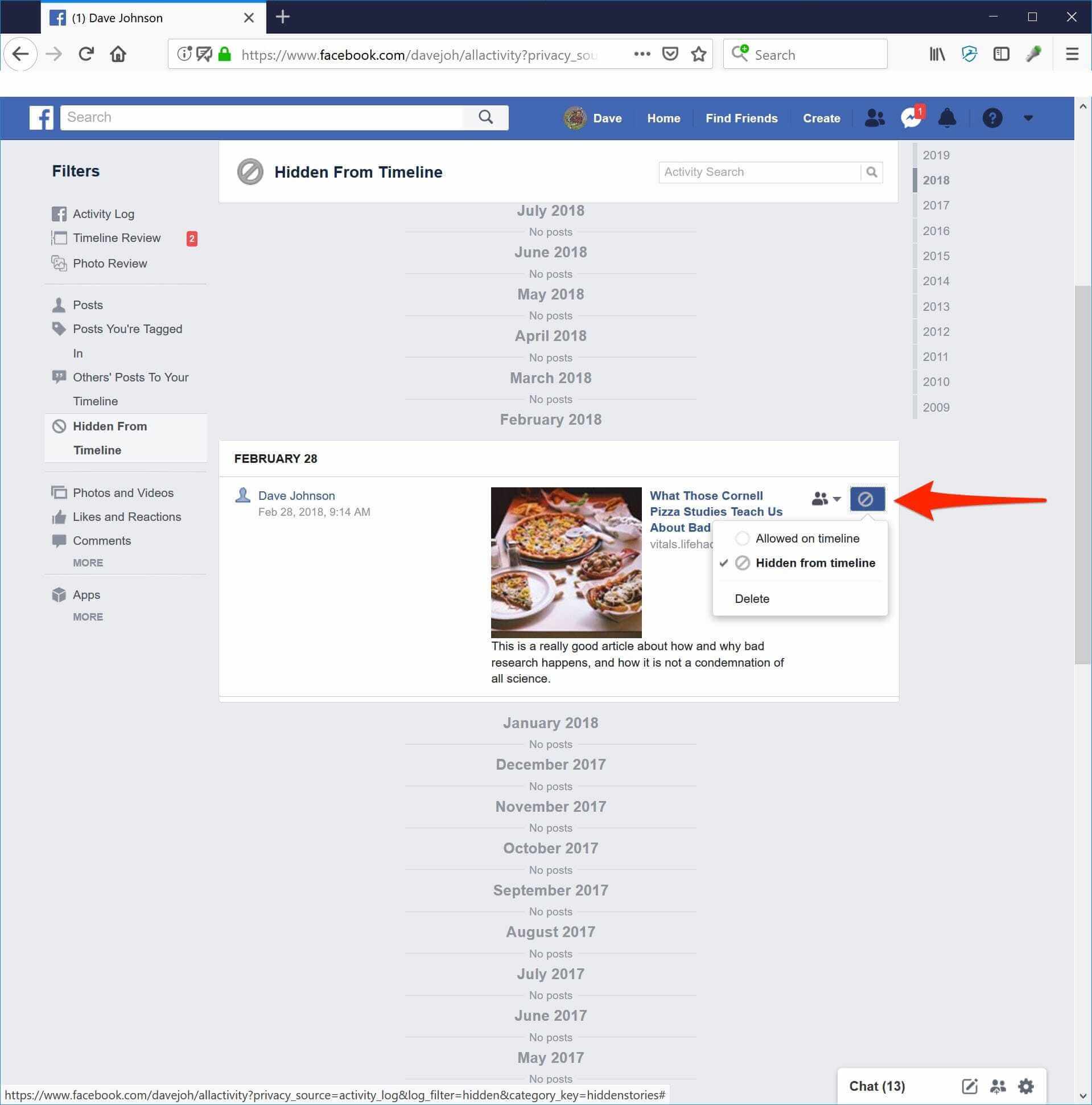 Just find the "hidden from timeline" link which is on the left side of the dashboard to find all the hidden posts and content of your profile. On this page, Facebook lists all hidden content in reverse chronological order.

Step 4: Now you have found all of the hidden content from the timeline. Here in this page you will find all the hidden content and you can scroll down to see more of the hidden content.

Step 5: To unhide the hidden post just click on the round icon on the side of the post and From the drop-down menu, click on Allowed on timeline.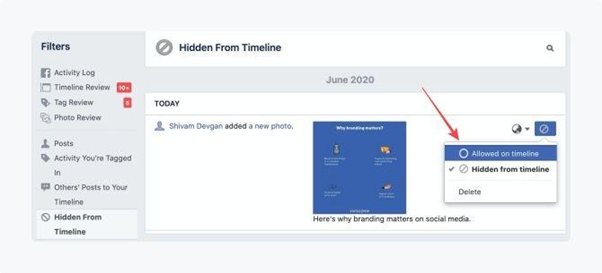 Now your hidden post is live on your timeline and can be seen by people and Depending on your privacy settings, Facebook friends, friends of friends, or any random user can now view and engage with the posts you've unhidden.
How To Unhide A Post On Facebook Using Mobile App
Unhiding posts on facebook is just as easy as doing it on desktop just by a few taps over your profile and all done. Just follow these mentioned steps.
Step 1: Open the facebook app on your mobile or tab and login to your facebook account that contains the hidden posts you want to unhide.
Step 2: Now we need to find the "activity log" . You can find it easily by these two                      ways.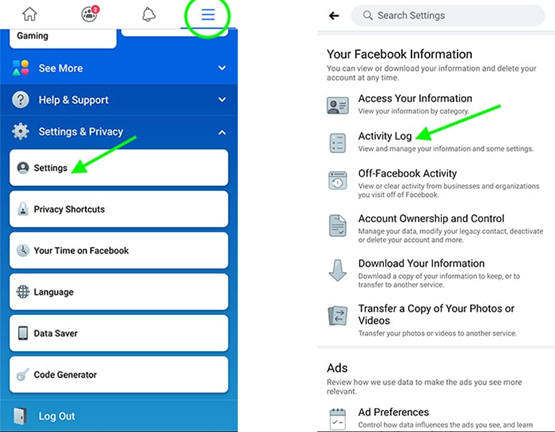 a) Tap over the three line hamburger icon on the top right corner of the dashboard to visit the main menu. In the menu scroll down and tap on "settings" then in the settings tab scroll down to the section marked as "Facebook information"  and find the activity log in the section and click on it.
b) Visit the profile page by tapping the "profile icon" on your profile page, tap the "three dots" under your name. Then open your "Activity Log", which is located near the center of the Profile Settings menu.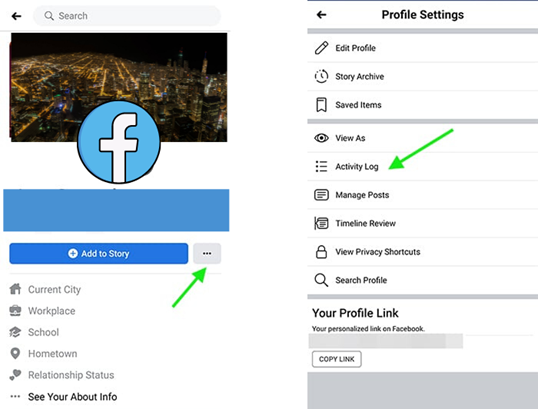 Step 3: Once you get into the activity log select filters from the top and tap categories.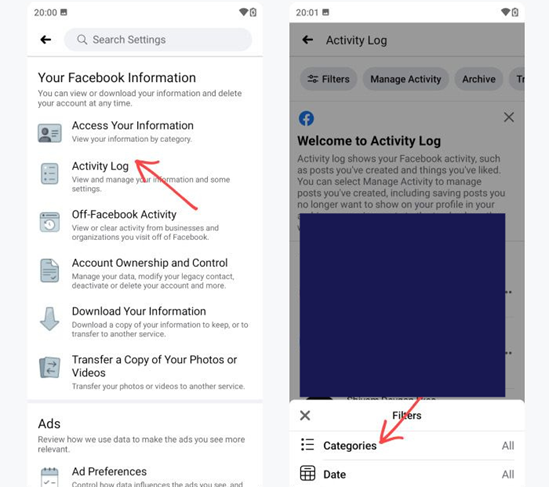 Step 4: Then tap to select "Hidden from Timeline", and you'll see all the posts you've hidden in reverse chronological order and you can see more of the hidden content just by scrolling down.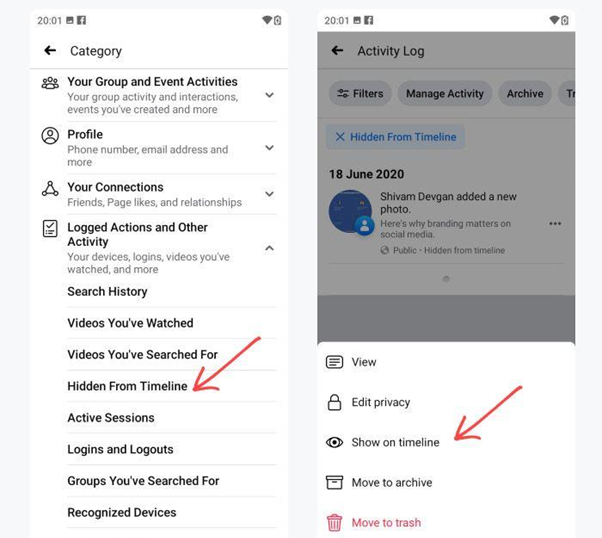 Alternative: you can easily skip the "activity log" process and find the hidden content directly from the Settings menu.
In the menu find the section named "your facebook information" than tap access your information and click on the first link which is posts and after clicking on the posts you can easily navigate to "posts hidden from timeline"
Note: you can choose any of the above mentioned steps to find the best way according to your convenience.
Step 5: Now to unhide the hidden posts you can easily tap on the three-dot menu beside the post you want to unhide and select "Show On Timeline."
Repeat the same process with posts until you've revealed all the posts you want to unhide. Finally, tap the back arrows in the upper left corner of the app to navigate back to your profile page, where you can review your timeline.
How To Unhide Posts On Facebook in Summary
Hiding and unhiding features can highly empower your content strategy and profile timeline. It can be highly useful while saving content for future publishing and saving content related to soft issues and republishing when needed.
Unhiding features can save your optimising time. So instead of deleting the content and wasting time for optimisation consider hiding it from the timeline and unhiding it when needed. This feature gives you the added option of removing content temporarily and saving efforts.