Do you want to earn more as a social media manager? Whether you are a freelance social media marketer or own an Social Media Marketing agency, your main aim is to get more clients. So, how will you reach your goal and expand your social media business?
More than 80% of SMBs are using social platforms for marketing campaigns. Moreover, Fortune 500 companies and other large businesses invest a significant amount in social media marketing and advertisements. They are ready to pay $500 to $2500 just for social media account setup. So, you have an opportunity to earn a big amount from every client. You can make your business profitable with the right social media tools and strong marketing skills.
If you are looking for social media clients, you have to choose between 2 options.
The first option is to focus on developing your presence on a single channel. So, take time to master your marketing techniques to promote a business on a particular social platform.
The second option is diversifying the social media marketing campaign by leveraging multiple channels. You will get more leads with this approach.
Thus, you may work on one social media channel and set your realistic goal. Social media marketers with limited resources can also choose this pragmatic approach.
However, the channel you should choose depends mainly on your strengths and your business status. For instance, if you have good writing skills, you can give importance to content marketing activities. Similarly, if you currently have a vast network, it will be easier to get referrals and recommendations.
Again, with your pitching skills, you can make cold outreach.
But, it would be more advantageous if you are skilled at managing multiple social networking channels. Startups will also find higher-quality leads every month from different channels.
Every social media agency is unique; still, you should apply various techniques to draw clients. When you decide on your social media channel, you should consider the payback period and the cost related to it.
For instance, Upwork and other platforms for on-demand work have multiple clients. However, how will you bring in quality leads steadily? Inbound marketing activities, such as regular social media content posting, can be highly effective in making your program successful. Create a rough estimate of the number of leads you will get.
So, focus on these factors for winning clients from social networking platforms. Start with a short-term marketing goal and then move ahead to make a long-term strategy to drive future growth.

Getting your First Client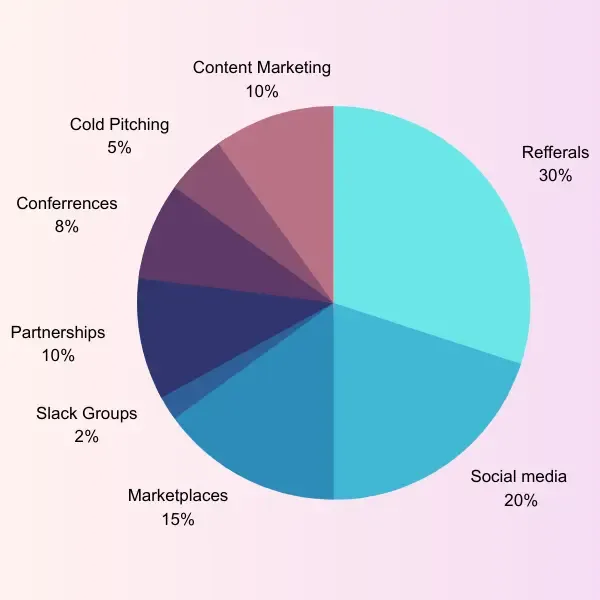 If you have just entered the social media industry, the biggest challenge is to find the first paying client. From the above image, you can understand how a marketing mix can help you land the first client. 30% of clients can be gained as referrals, while 20% of clients come from social media. Similarly, other ways to draw clients are online marketplaces, partnerships, conferences, SEO content marketing, and cold pitching.
Build a rapport with other agencies within your niche
The digital marketing industry is highly collaborative, and there are several professionals in this sector. One of the best tricks for finding your social media agency's clients is to partner with other experts in your niche.
Start thinking of the ideal clients of your social media business. They might need other marketing services for their businesses. But, you do not offer those additional services. For instance, if your company provides social media solutions, you can look for partners who help with web development and SEO.
You can schedule your Zoom meeting to learn about your partner. This relationship will also help you exchange referrals.
Niche down
As a new social media agency owner, you feel tempted to leverage a wide network. However, although it brings in new clients, they are not a good fit for your business. That is why you should niche down to generate quality leads and develop industry expertise.
Suppose a law agency needs to hire an SMM expert to manage its social media accounts. But, does this company want to work with a general social media agency? Or, will it prefer to deal with professionals who have strong knowledge of the legal industry?
Of course, the law firm will go for someone with industry expertise. So, to find the right client for your social media business, you should ask a few questions to yourself.
Which industry your existing clients are associated with?
If you have not found any common niche, you need to know whether you can deal with only particular types of business.
Do you like to continue with the existing clients?
Focus on these questions to build relationships with the right clients.
Your potential clients will not hire you if they do not encounter any problems with their existing social media strategy. That is why the best trick for you is to provide a free social media marketing audit to attract these potential clients and persuade them to buy your service.
You can offer a free audit for a particular platform, such as Instagram. You should provide some tips for making improvements. Besides, it is essential to discuss the audit report with your potential clients and provide them with comprehensive solutions.
So, leverage your expertise to get more value from your clients. When they trust you and are ready to buy your social media services, you will earn more.
The most common value offers are-
· Sharing highly relevant white papers
· Creating a comprehensive social media marketing guide
· Providing a template for a content calendar
While sharing these documents, you should ensure you have added your business name and other details.
Most businesses need help with their social media marketing in some respect. As a new agency, your challenge is to be seen as an expert. Hosting a social media workshop can help position you as a thought leader and build your credibility in the digital marketing space.
But, where will you find attendees for your social media workshop? The best way to do so is to do a Google search and find forums where the community members want to learn social media marketing techniques. Similarly, you can run an Instagram or Facebook advertisement to promote an event, which targets various local businesses.

You can use Eventbrite to create your page and capture the emails and names of people who have registered for the event.
However, you should send follow-up emails to the attendees after the workshop. If anyone has missed your workshop, you can deliver a recording with a few notes on the topic. It would be great if your advice works for them. As you have recorded the workshop, you can repurpose it on your website's blog.
Start networking in the offline mode
As a social media agency owner, you should develop your presence in the online world. However, establishing a strong connection with people in the real world is highly important.
Networking sessions and sponsoring events help you spread your business name in the online world. Face-to-face interaction is highly powerful. No matter whether you are an exhibitor in a tradeshow, the offline event will give you an opportunity to connect with other businesses. So, you can attend expos, education events, and networking events. Some events may not be business-centric. However, as a member of a small community, you can easily converse with people.
The main purpose is to develop an authority in the local business communities. Let fellow business owners learn about your social media marketing services. But, make sure you distribute business cards to these business owners. Another good trick for you is to use a card with a QR code. The recipient will be able to scan the code and get into your website. Some business owners may also send you referrals.


Best Places to Find Social Media Marketing Clients
The Social Media Manager Market is one of the online directories where you can look for new social media clients. There are several other places where you will find your potential clients.
As a social media marketer, you can register your business with Social Media Manager Market. It will be easier for your clients to locate your business.
Listing your social media marketing agency in the most popular directories will help you gain more leads and clients. It will also improve your visibility in search engines. So, let us make a list of those directories.
Clutch is one of the reliable online directories for B2B businesses from different industries, including digital marketing and technology. You can register with this directory free of cost.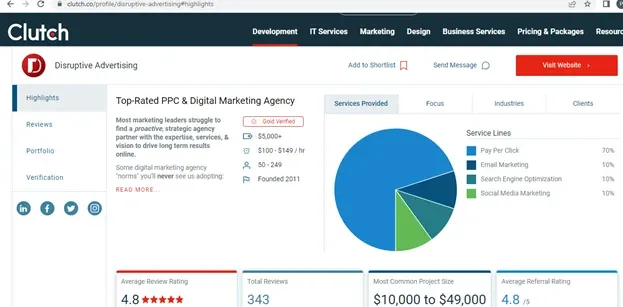 The above image is an example of a digital marketing agency (Disruptive Advertising) that has been listed in Clutch. Disruptive Advertising has shown comprehensive business details in the directory. So, their clients can easily check its services, number of employees, ratings, location, portfolio, and many more.
DAN is a platform where member agencies can show their ads. The overall cost depends on the placement of the ads. Higher placement of ads needs a higher budget, but your marketing agency will get more traffic and gain visibility.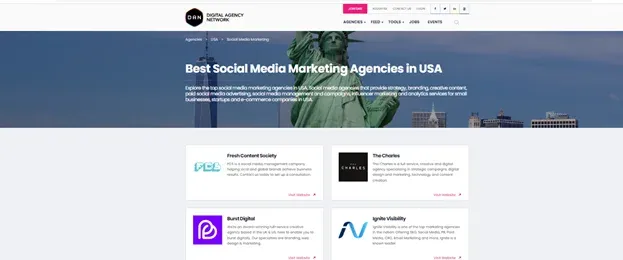 The image shows the listings of various social media management companies and a brief overview of their services.
Sortlist is another destination where several companies search for digital marketing agencies for their promotional projects. Sortlist uses an advanced method for filtering the requests. So, if your agency fulfills your potential clients' requirements, you have a chance of getting hired.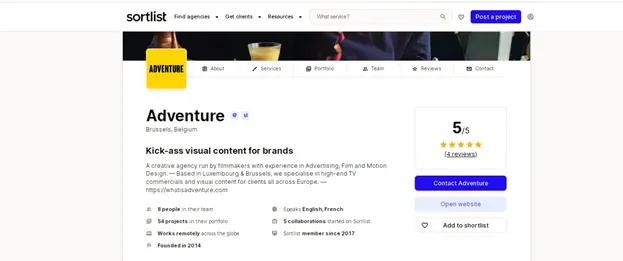 The above image displays the profile of a Belgium-based creative agency that has managed projects on social media, video production, and graphic designs.
Credo has a large network of digital marketing agencies from different countries. So, if you sign up with Credo and get your business verified, you will win more clients. Although Credo is a comparatively small platform, it maintains strict quality standards. It aims to match clients with the right service providers.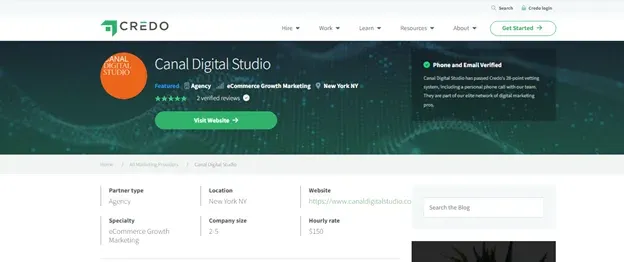 The image is an example of a growth marketing company, Canal Digital Studio. Its potential clients can easily check the list of services provided, location, website URL, and hourly rates.
Several SEO agencies and marketing service providers have registered their businesses with FindBestSEO. The vetting process is highly strict, as it verifies the company's business practices and success rate in previous campaigns. This directory is only for social media and internet marketing agencies.

The image shows the profile of a marketing agency, func.media with a score of 50%. The profile also shows the awards, website URL, and services of the company. So, get your company listed in FindBestSEO and find your clients.
2)  Your Private Network
People who are in close contact with you every day can help you find new clients. You can send them emails and texts or make phone calls. Let your contacts know that you provide social media management services.
3)  Incentivize Your Loyal Clients- Offer Referral Credits
It is a very simple strategy, as you need to leverage benefits from your client base. Inform your existing clients about your new services or discount on your offerings. You may also pay out an amount for every referral. However, if you have not yet won any clients, it is difficult to apply this strategy.
This strategy may not help you win a new client in a day. But, you will find the opportunity to grow your social media marketing business for several years. If you want to be considered an expert or thought leader in the social media marketing world, you need consistent effort. An effective content marketing strategy will help you gain a strong authority in the niche.
So, consistency is the main factor in this game. You may create a spreadsheet to track your publications.

Freelancing platforms are the best destinations where you can find clients for your social media management business. However, you need to compete with both global and local freelancers while sending proposals to your clients. Ensure you have read the terms and conditions of the chosen freelance website. Besides, every platform has unique payment schedules, and you should consider them before making a deal with the client.
Upwork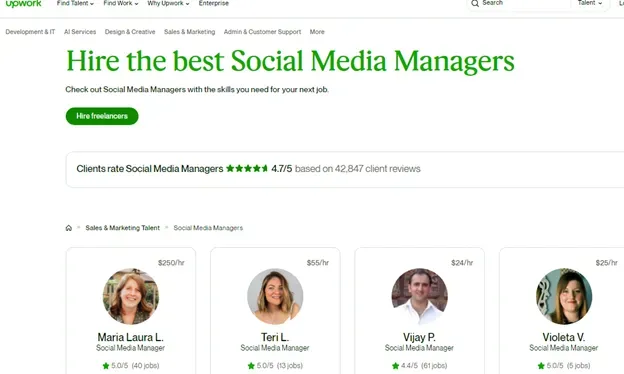 Upwork is one of the top-rated freelancing websites connecting freelancers and clients across the world. However, this platform welcomes freelancers with several other skills, such as graphic design, software development, and web design. Once you have worked for your Upwork clients, they will give ratings based on your service quality.
Freelancers and clients at Upwork have different ways to connect. Clients may post their social media marketing requirements or purchase a predefined social media service from the catalog. On the other hand, freelancers can provide services for sale or access the job board. The commission charged by Upwork is 20%, but this percentage will go down when you work more.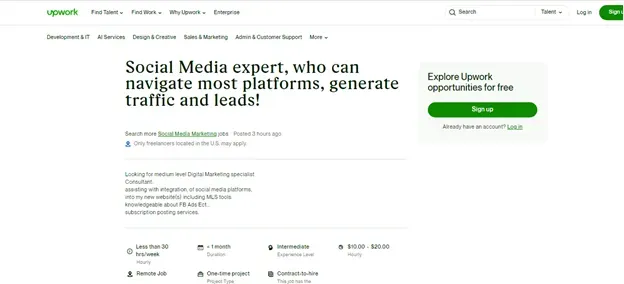 The image is an example of a project in Upwork where the client is looking for a social media expert to generate more leads and quality traffic.
So, you can sign up with Upwork and send your proposal to the client. Let him know how your skills will help you meet the project requirements.
Toptal
Toptal is another freelance website where you can find several potential clients for your social media business. The above image shows how a lot of qualified and talented social media designers have managed their clients' projects. However, you need to undergo a screening process to join Toptal as a freelancer.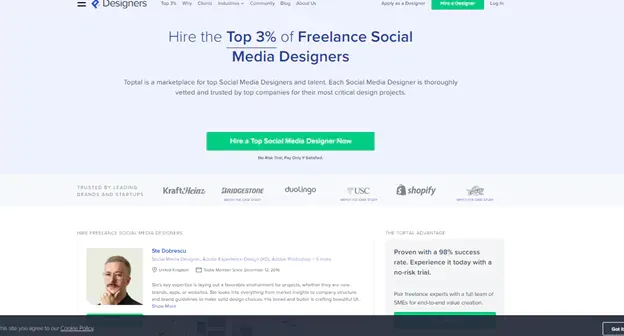 The image exemplifies the profile of a Linsey Peterson who has enrolled her name in Toptal as a social media designer. She has briefly described her skills and abilities. Toptal also provides you with a space to show your portfolio.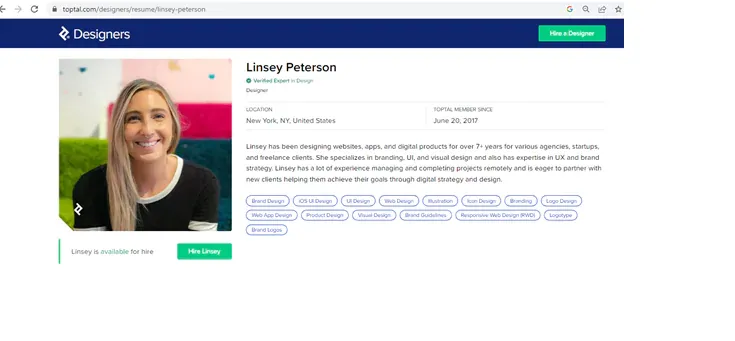 Jooble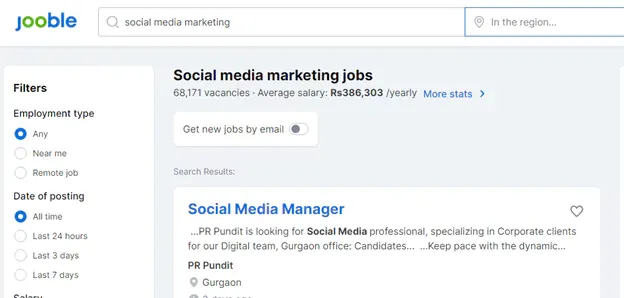 Jooble lets you find temporary or full-time social media marketing jobs. There are more than 68000 vacancies in Jooble. You can also search for jobs based on the date of posting and work experience. Jobble is different from other social media networking websites.
The image is an example of a project where PR Pundit is looking for a social media specialist to work for his team. So, you can also search for social media projects on a contract basis.
People Per Hour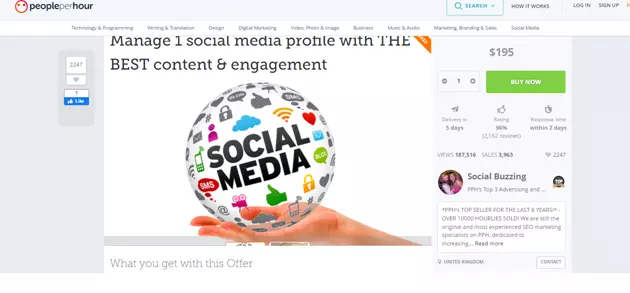 People Per Hour is a prominent platform where professionals get paid by the project or hour. The image shows an example of how a social media marketing manager has created his profile at People Per Hour.
You can create your People Per Hour account free of cost and set it up. The moderator will approve it after reviewing it. After delivering a project, you can set prices and send offers. The dashboard also allows you to raise an invoice.
We Work Remotely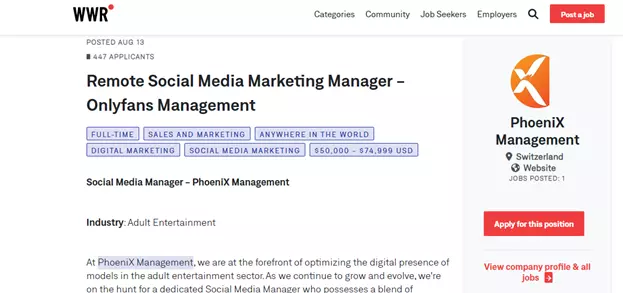 Set up in 2011, We Work Remotely is a reliable platform with millions of monthly views. ATS integration, job board syndication, and manual candidate screening are some features of We Work Remotely. As a social media marketing expert, you can search for remote gigs on this platform. The above image shows PhoeniX Management has been searching for a social media manager for its business. Professionals can check the company profile and apply for the job.
FlexJobs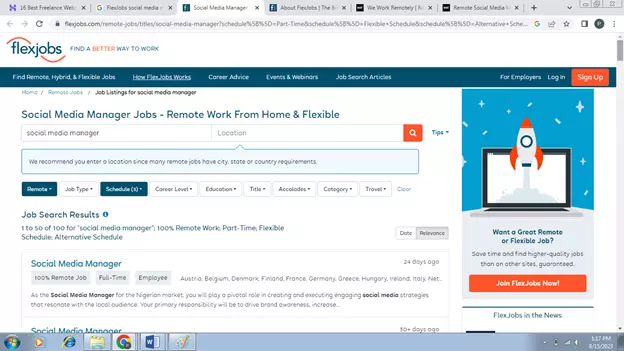 As a professional SMM expert, you can look for jobs with flexible schedules. Clients from various countries like US, Austria, and Belgium are looking for professionals to monitor and manage social media pages. You can just create your profile and search for jobs at FlexJobs.
Freelancer.com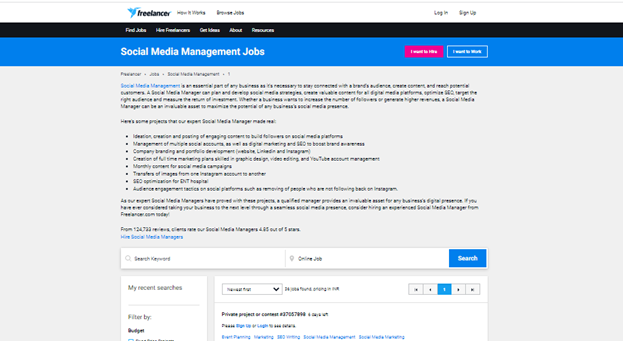 Freelancer.com is a trusted website with live chat, a progress tracker, and 24/7 customer service. Fill out a short registration form to join Freelancer.com. Your potential clients will check your work experience, skills, and ratings before assigning a project. You will receive payment after delivering the project. Freelancer.com will deduct 10% of your earnings as the commission.
Guru
Guru is a secure platform for professionals with various skills like social media management and programming. After registering with Guru, you can start browsing job listings and submit your quotes to clients. Guru has provided multiple withdrawal methods to transfer your earnings to your bank account. You can become a paid member to get more advantages.

The image shows the profiles of various social media managers and their earnings at Guru.com.
6) Engage with Your Ideal Clients
Instagram, Facebook, and other social media platforms are the best destinations to look for your potential clients. The main steps for finding and engaging with your ideal clients are-
· Add hashtags- If you want to leverage social platforms to connect with your potential clients, adding hashtags to your post is important.
· Create social media posts- You can use hashtags to find the latest social media posts from your ideal clients. Leave comments on those posts and present yourself as a genuine professional.
· Send a direct message- Direct messaging helps you develop trust through conversation. You may also respond to the stories and articles of your potential clients.
According to Yesware, cold emailing techniques help you get 30 to 50% of responses. But, results may vary depending on whether you have made cold email blunders.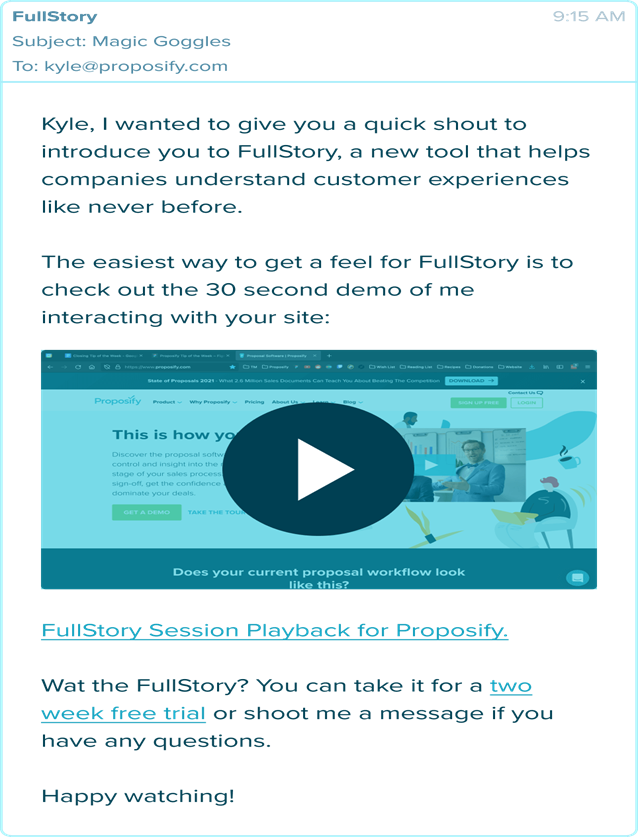 The above image shows you an example of a good cold email. The company that sent the email did not promise revenue and growth. But, it has promised to provide something highly tangible. So, you can also apply this to reach your top-tier leads.
Make sure you have created well-formatted, clear content for your email.
8) Start Networking with Local Businesses
Some local businesses match your client profile. Although they may not be your high-paying clients, you can connect with them to develop a reputation in the local community. So, take the right step to introduce yourself and develop a strong impression. You can deliver personalized emails and distribute flyers. Besides, you may follow the social media pages of local businesses.
9) Find out relevant conversations in the digital world
One of the best tactics is to find relevant conversations on social media platforms. The social listening strategy will let you track your competitor's activities. This strategy will help you strengthen your industry knowledge. Moreover, you will learn whether your B2B clients are talking about your social media business. There are tools to track what they are conversing about SMM campaigns on social platforms, websites, news articles, and blogs.
Audience listening is a method that allows you to delve deep into your target audience research. Besides, you can develop sustainable and meaningful, long-term relationships with your potential clients. With a proper social listening technique, you can understand your audience's motivations and needs. So, it will help you provide better service to your clients.
10) Take advantage of your existing network and get more referrals
Your existing network will help you find referrals and good business opportunities. Networking is important for every business, including your social media agency. If your clients are satisfied with your work, they will naturally recommend your service.
Find the right contacts from your network and approach them properly to get referrals. You should follow up with your contacts to make your networking effort successful. It is also essential to provide them with updated information about your services. For instance, let your contacts know about the latest discount offers on your services.
11) Make new business partnerships
A strategic partnership with non-competing businesses will bring mutual success. It will reduce your business risks and strengthen your marketing efforts. At the same time, you will be able to improve your ROI by expanding your client base. A strategic collaboration or co-branding allows your SMM agency to share relevant information and resources. So, you can access resources without a big investment.
For instance, as you have a social media marketing business, you can collaborate with content marketing companies or tech development agencies. Both you and your agencies will benefit from the partnership.
12) Check out online marketplaces
You have perhaps heard that Airtasker and other online marketplaces are not the right destinations for finding clients. Some professionals and freelancers claim that clients pay a fixed rate that is too low.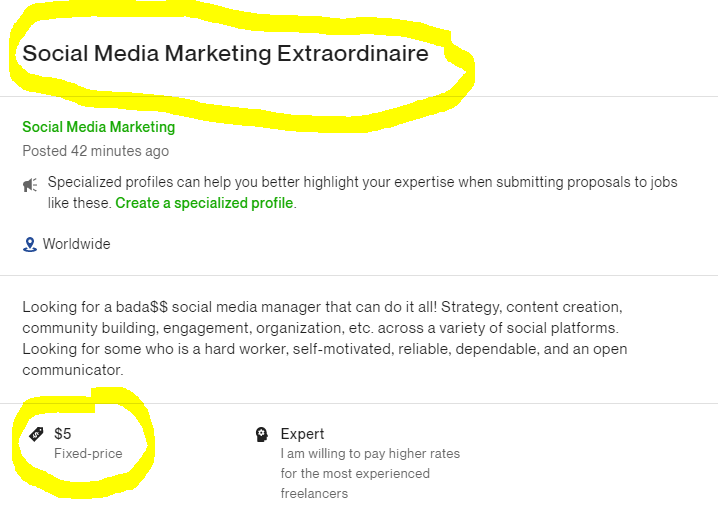 Still, many freelancers choose to search for clients on these marketplaces. These platforms already have clients who need social media marketing services. There is also a chance to find big organizations, such as Microsoft. Besides, some clients want specialty services at a reasonable rate.
So, which clients should you avoid if you leverage online marketplaces? You should avoid gigs where the job description contains vague words. Besides, if the jobs request free work, you do not always need to go for them. Although some service providers are ready to provide trials, your client should pay you for the effort. Moreover, it is safe to avoid working with social media clients who have negative reviews or no reviews. Check out what other social media agencies and freelancers have talked about the client.
The above image shows that a client has posted his requirement for social media marketing. Although he has been looking for an expert, the amount he offers is very low. Thus, you should be careful about choosing the client from online market places.
13) Request your clients for a Testimonial for Your SMM Services
If you have already served a few clients and satisfied them with your social media services, you can request them to provide testimonials. There are various ways to make this request. Many social media agencies send their testimonial requests via email. But, it is essential to craft the email properly with attractive subject lines.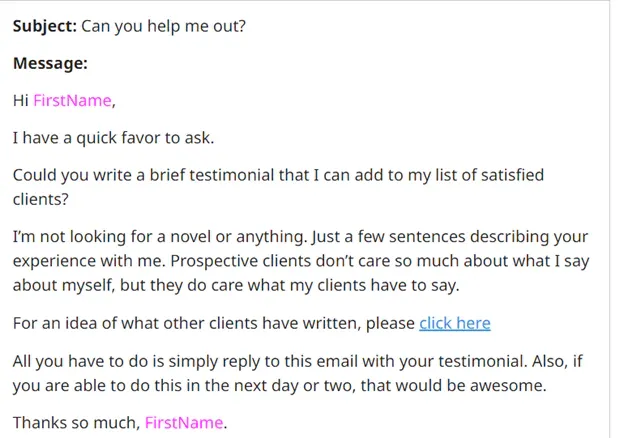 The above image is an example of an email where the sender has asked his client for a testimonial. But, when will you send the email? If you have just delivered your project and satisfied your client, ask for a testimonial via email.
You want your client to say YES to your testimonial request. However, how will you convince him to write a review of your work? In most cases, your client's inbox is full of other messages. Thus, you should write the email in a way that draws their attention. The best trick for you is to offer some incentives for writing the testimonial. For example, you may declare a discount on the next project.
Besides, when you engage in casual conversation with your client, he may talk about the quality of your work. It is the best time to track his words and use them as testimonials.
No matter how you have asked for a testimonial from your client, you should avoid privacy and legal issues. Ensure that you have received written permission from your client.
But, not every testimonial from your clients will be grammatically correct. That is why you should edit the content to remove typos.
You can also use LinkedIn and other social platforms to ask your clients for a testimonial. The best option for you is to have organic feedback. When your service gives 100% satisfaction to your client, he will naturally give a positive review about your company.
As a social media marketing agency, you should not overlook social platforms to promote your own business and get clients. It is important to focus on the profiles of your company and your employees. Some studies have revealed that if employees share or post content, it results in a higher engagement rate.
So, you should encourage your employees to market your agency on social platforms. Let us now see how you can develop a strong presence on social networking platforms.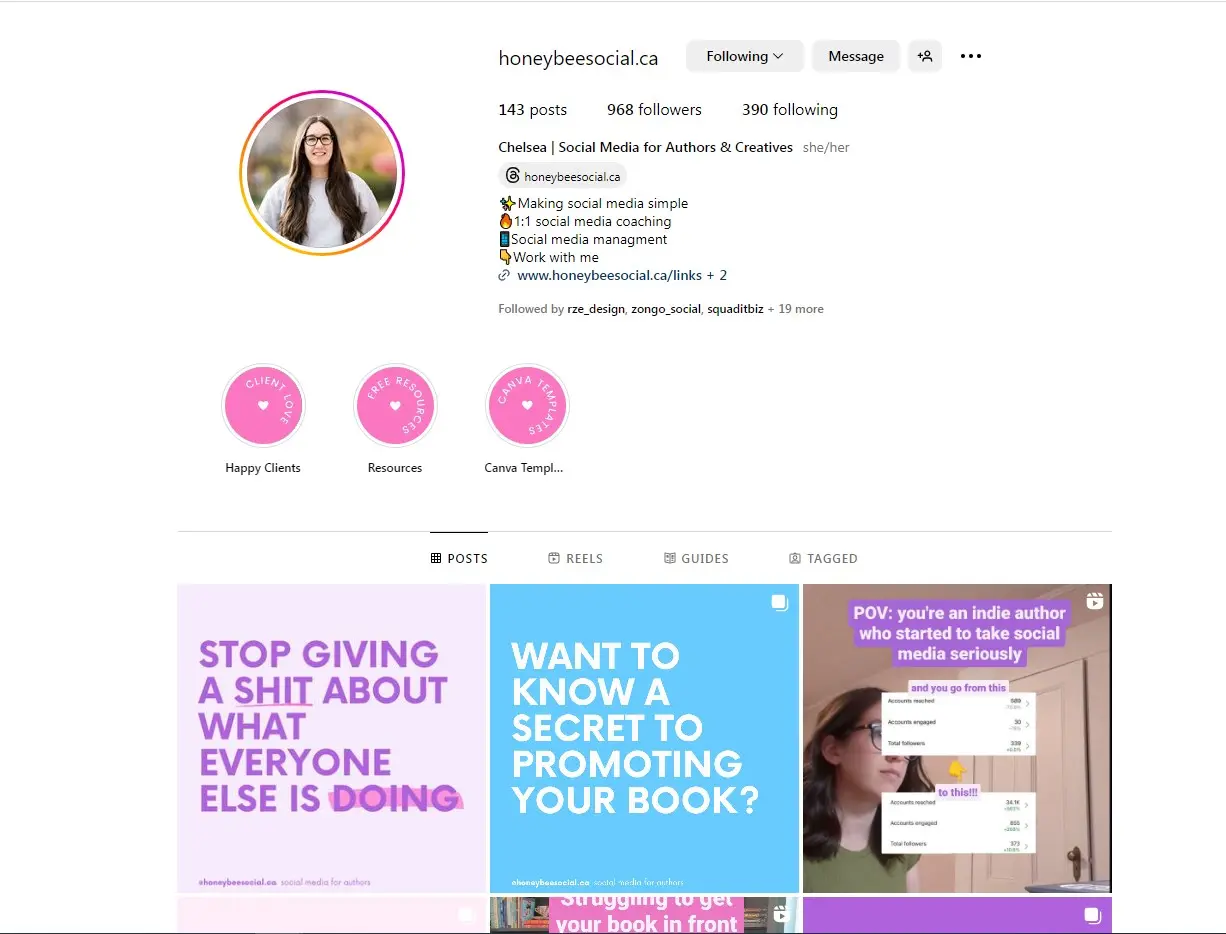 Identify your target audience
Understanding your target audience is highly essential to reach the relevant message. You have to compile data about the type of business you want to target. Besides, you should understand the competition and learn about your competitors' activities.
Define your KPIs
Setting the KPIs and goals is vital to make your promotional campaign successful. So, identify a particular goal, which is measurable and easily achievable.
Allocate resources strategically
Optimal use of the available resources will help you move forward. However, proper social media management needs organizational skills, strategic thinking ability, and branding expertise.
Your workforce is the backbone of your social media marketing agency. So, you should encourage your team members to share posts related to your SMM services and industry news on their own networks. It will boost the visibility and reach of your agency.
Use Instagram and TikTok for video content creators
Some social media marketers focus only on LinkedIn and Twitter to find clients and promote businesses. However, it is essential to create visual content for higher audience engagement. Thus, you can develop video content that showcases your work culture. You can distinguish your company from your competitors.
Make sure you have tailored every post to your chosen social platform. Your posting effort should be consistent, and your followers need to get the latest updates. Add keywords and hashtags relevant to your business and niche.
Collaborate with industry experts and influencers
To make your presence stronger in social media, your SMM agency has to partner with industry experts. It will enable you to develop fresh and interesting content that gains the audience's attention.
Make a plan on how to exchange benefits with influencers to make your partnership successful. An effective strategy for collaboration will spread your brand awareness. Your social media agency will gain credibility in the digital world.
Host webinar
It is another winning strategy to promote your social media marketing firm. You can host a conference and invite decision-makers from different sectors. You may also sponsor any event to engage with target attendees. So, you should not only plan a webinar but also actively participate in events. These approaches will help you develop a rapport with your potential clients.
However, if you have thought of hosting a webinar, it must be hosted on social networking platforms. Adjust your strategy based on your campaign analytics. Besides, PPC ads also let you generate quality leads.
One of the effective ways to improve your organic reach is to host a live-streaming session. Your followers will have a fear of missing out on important things. Attendees in your real-time streaming session will have a detailed insight into your social media business.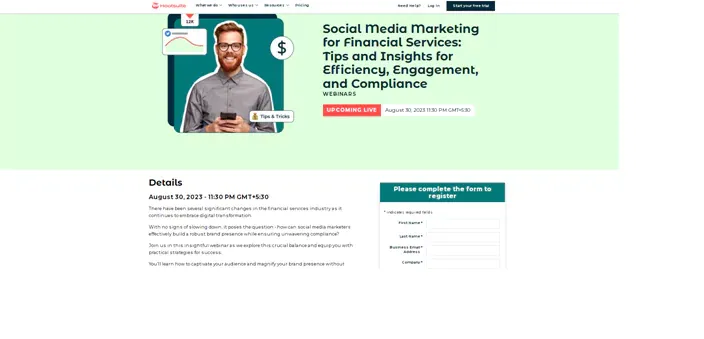 The above image is an example where a social media expert has declared a webinar for his potential clients. He wants to host the webinar to show how social media marketing solutions benefit financial companies.
At Hootsuite, the host has revealed every detail, including the time and date of the webinar. What's more, the page shows the registration form for potential attendees who want to join the webinar.
Besides, the host clearly revealed the importance of attending his webinar on social media marketing. The target audiences will be aware of what they will learn from the webinar.
Use referrals and lead magnets
You should learn the technique for gaining more referrals and having more lead magnets. These strategies will generate trust and interest among your potential clients.
Your first step should be to understand the type of content useful for your target audience. For example, it may be a whitepaper or eBook. Create quality resources to solve your potential client's issues.
Lead magnets enable you to attract more clients to your social media marketing agency. It will also increase the chance of producing qualified leads. You can establish your authority in the field as a social media marketer.
Let us provide you with some great lead magnet examples.
Cheat sheet
A cheat sheet is a good lead magnet for marketing businesses. If you own a social media agency, your cheat sheet should cover a highly complicated topic. It has to include the terms that are relevant to your potential clients and provide useful information.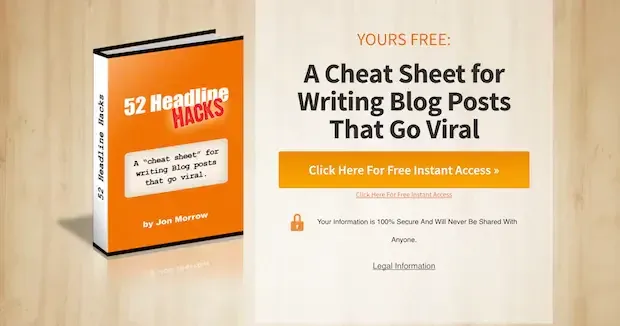 The above image is an example of a cheat sheet used as a lead magnet. Those who are interested in writing viral blogs will want to use the cheat sheet. To learn about the hacks, they need to submit some basic details.
The lead magnet is created with headings of various sizes. It also shows relevant images to persuade the visitors to become leads.
Quiz
A quiz is another amazing lead magnet idea to draw the attention of your website visitors. However, you need to choose the right theme to create this type of lead magnet. Use Typeform and other tools for quiz creation.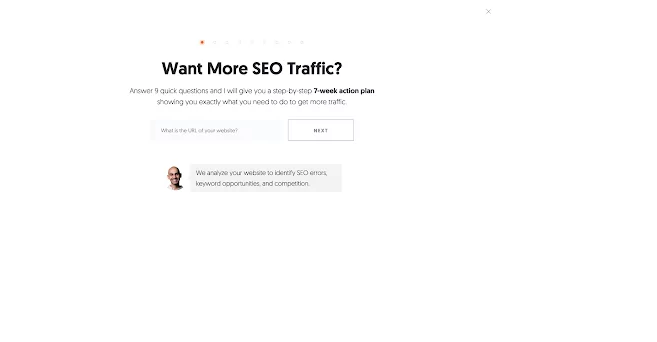 The image shows how Neil Patel has chosen quiz as his lead magnet for better SEO. He asked his leads to answer 9 quick questions. In exchange, he will provide a 7-week action plan.
Gated content
Creating gated content for your website is another way to draw leads. The concept of gated content is very simple; you have to hide the major part of your content behind a pop-up. Visitors who are interested in your business will provide their email addresses and access the gated content.
Several news publications have applied this technique as the lead magnet. However, you can also develop gated content for your social media agency.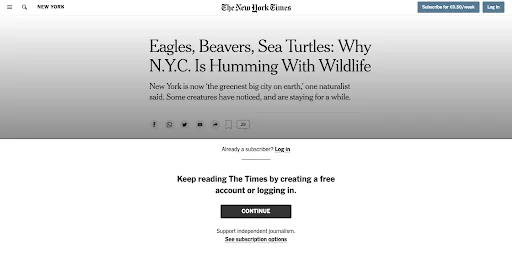 The image is an example of how the New York Times has created such content because it is confident about the content quality.
Tailor your content strategy based on your analytics
If you have used analytics tools to get insightful data, you can customize the content accordingly. Identify the type of content that leads to higher engagement. Thus, you should try to develop high-performing content for your social media campaigns.
It is also essential to find out the hottest topics in your niche. You can then develop content on those topics. Another significant trick is to detect the right time for making your social media post.
You can rely on Google Analytics to determine the traffic volume generated by your social media campaigns. Besides, you may partner with another digital marketing company to create a highly effective content marketing strategy.
But, the most crucial step that you should never overlook is to optimize social media profiles and pages. Use keywords for your social media posts and on-page blogs.
Invest in paid ads
Although it is good to focus on the organic growth of your SMM business on social media, paid ads will give a boost. You can optimize your reach with these ads.
Navigate various ad platforms
Your first step is to make yourself familiar with ad platforms to promote your services. For instance, explore Google Ads, LinkedIn Campaign, and Facebook Ads Manager.
Allocate your budget for ad campaigns based on the desired reach and ROI.
You can start with a small investment and test various ad formats. Furthermore, you should track performance metrics like conversion rates and click-through rates. Another good strategy is to run a retargeting campaign and allocate funds to re-engage your potential clients.
Measure results
Several factors affect your marketing campaign on social platforms. That is why you should analyze and determine the results. Analytical data is essential for an optimized campaign. You can also set new goals for the campaign and evaluate the tracking metric. The most commonly chosen metrics are video views, impressions, engagement, reach, mentions, and post clicks.
Although organic social media marketing is important for your business, you should never overlook social media ads. Paid ads will make your business name visible to your target audience. So, let us provide you with some tactics to make your social media advertising successful.
Display faces to make the ad more authentic
Most of us feel very shy do not like to show face in our social media ads and the landing page. However, displaying the face is a good tactic to increase the click-through rates.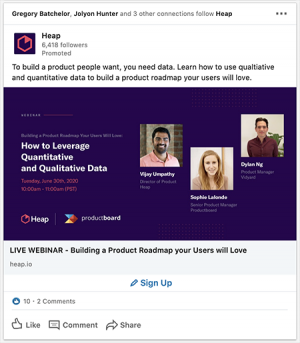 The image shows an example of a webinar advertisement on LinkedIn. If you show your face, it will develop an interest. Your target audience will know who will present the webinar. Another interesting approach is to show the names of people associated with the webinar. So, apply this tactic for your upcoming virtual event and find the result.
Create Checklist
Indeed, it takes time to create a piece of quality content for your social media agency. However, your potential clients like to see something actionable and simple.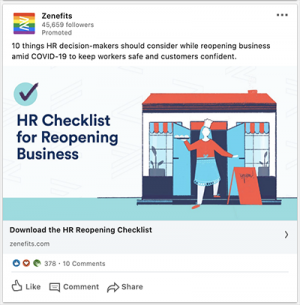 Checklists often ensure a better conversion rate when compared to eBooks and massive reports. Zenefits, a San Fransisco-based tech company has applied the same strategy to get the best outcome.
Create a faux interface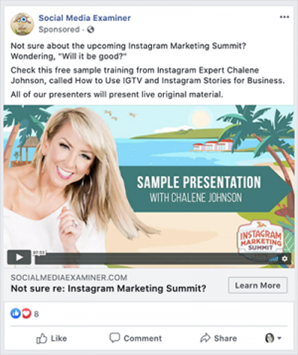 It is an image ad where the bottom part shows a faux interface. The viewers will feel as if they have to click on the Play button. However, it is just an image, and if the viewer clicks on it, he will reach another step of the funnel. It results in a significant hike in the CTR. The algorithm of the Facebook ad will consider that people are interested in it. So, you will find a low cost per click and better reach with the ad.
Promote the old social media content that had shown excellent performance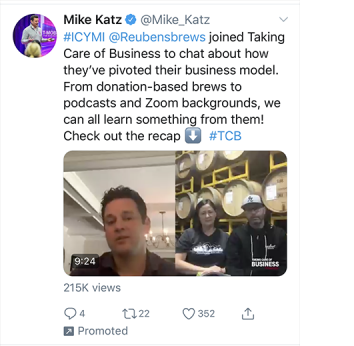 The above image is an example of a Twitter ad where Mike Katz has advertised his top-perming content. So, if someone has missed your older content, it will be beneficial to him. Look for the content that had performed well a few months ago. You have a chance of winning high-quality leads for your social media agency.
Add a touch of fun

You may find a lack of fun and humor in most B2B social media business ads. However, if possible, you should try to incorporate some fun elements into your ads. B2B content is slightly serious. Still, you can put an effort into creating a fun content to grab everyone's attention. The image shows how LinkedIn Marketing Solutions have talked about the ridiculous GIFs for marketers.
15) Publish Your Guest Posts on Industry Blogs
Like other businesses, your SMM agency needs guest posting on authoritative industry blogs. By writing on third-party websites, you can promote your blog. Guest blogging helps you share your expertise in the social media marketing field. You can raise brand awareness and drive more traffic to your site.
Guest blogging is an off-page SEO technique that helps you build authoritative backlinks. Moreover, if you get more leads, you can find more opportunities to turn them into customers. So, how will you start your guest posting campaign for social media business? Let us talk about the steps for posting content on guest blogs.
Set your goals
You should have a realistic and measurable goal for your guest blogging campaign. Ensure that these goals are related to your website performance or business-related performance. For instance, it may be about improving referral traffic and search visibility. Depending on your goal, you can apply the right tactic and make an investment.
Select topics based on your goals
In many cases, guest bloggers fail to derive the best result from their effort. The reason is that they give more importance to the publications and not to the content. Although it is a good strategy to get the content published, it only serves the publishers.
Whether you manage the guest posts on your own or hire a professional, you should pick the right topic. Make a list of web pages that you like to promote in future blogs. Evaluate the current status of every page. For example, you should identify the monthly traffic and determine your goal to achieve within a particular timeframe of guest posting.
You can create various types of guest posts, such as ultimate guides, case studies, and how-to articles.
Look for the most reputable guest posting sites
As you have now mapped out the content ideas, it will be easier to find the best guest blogging sites. Just browse Google to find guest blogging opportunities on top-rated websites. Besides, you should check competitors' backlinks while searching for sites.
The easiest way to look for a guest blogging website is to type the keyword and the guest post-related phrase. For example-
"keyword" + "guest posting guidelines"
Other phrases that you can use with the keyword are- write for us, submit guest post, or guest post submissions.
Google will show you a list of several websites that accept guest blogs on social media marketing.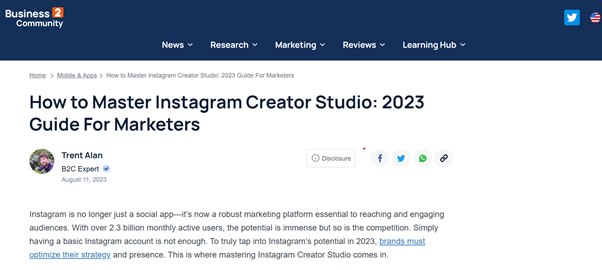 Business 2 Community is a highly authoritative website that accepts content from guest bloggers. This platform is intended mainly for B2B businesses that want to expose their brand names with guest blogging. The above image shows an example of how an expert has written content on social media.
Pitch the content for your guest post
You can check the guest posting guidelines before pitching the content. Besides, you should add your contact details to the email. So, send the customized pitch to the editorial team. Let the team learn about your name and basic details. It will persuade them to open the email.
Commenting on the latest blogs, sharing articles on third-party platforms, or engaging in social media interactions can give you guest blogging opportunities. While writing the email for your guest post pitches, you should make it personal. Create an attractive subject line for the email. Demonstrate your qualifications and skills and include some writing samples.
Write quality content for your guest post
If the website has accepted your content idea, you can start writing the content. Although every guest blogging website has different guidelines, you should implement the right practices.
You must consider the search intent while writing the content. Ensure you have covered the most important issues about the topic. Make the content unique by adding new information and actionable tips. You can also insert expert quotes and develop a highly authoritative post.
The most important thing is to avoid promoting your business. According to the guidelines of most guest blogging websites, bloggers must not explicitly promote their services and products. Besides, you should add keywords to improve the SEO of your blog.
Match the formatting and style of your content with the existing posts. For instance, the language, content organization, and comprehensiveness must align with the blogs already published. At the same time, you should focus on the readability of the content. Short paragraphs, simple language, and ordered lists are some characteristics of the best blog.
Add an attractive headline
A highly enticing headline will persuade potential readers to read the blog content. So, how should you write the headline of your article? The main thing is to address the reader's issues and create an appealing title. Some bloggers choose the numbered headlines that result in higher click-through rates. Another option is to create the headline in the question format.
Use external and internal links
Internal linking is good for the SEO of your target website. Besides, the editor will feel you are familiar with the blog post on his site. It increases the chance of getting your guest post published. The best way to discover the relevant post is to enter the website name and keyword on Google. Using contextual anchor text is a way to help users and search engines identify the cited source.
Besides, you can insert external links to direct traffic to your blog. Include these links in the content to make it contextually relevant.
Submit your guest blogs
If you have created your blog properly, you can now submit it. Make sure you have proofread and edited the content. There should be no spelling mistakes, grammatical errors, unclear images, and broken links. Write a short bio as a guest author.
Ryan Robinson, a guest contributor in Forbes, has written a bio properly because it is not overtly promotional. He has added his website link to the bio and mentioned the number of blog readers.
After delivering the email, you should wait to get a reply. Even after publishing the blog, you should maintain a positive relationship with the editor or blog owner.
16) Improve Search Engine Optimization
Without an SEO campaign, you will not be able to draw more potential clients to your social media marketing agency's website. You have to make your website accessible to your target audience to bring traffic. So, let us talk about SEO techniques for your business website.
Understand your potential clients
Learn about your target audience's behavior before starting the SEO campaign to improve the website's rank. If you understand the search behavior of your clients, you can identify the right keywords for your content.
Start keyword research for your website
Keywords and phrases used by your potential clients play an important role in your SEO campaign. Make sure you have matched the keywords on your site with the terms used by your clients. These keywords should be used for your page content, page titles, and image files. Choose keywords related to your services, business, or location. But, you should not overuse these keywords as it will result in a penalty.
Many websites struggle to make their SEO campaign successful, as they target too competitive keywords. But, it is better to use untapped, low-competition keywords. Besides, you can choose long keywords or phrases that are in the question format. The "People also ask" section will help you find the question keyword. Semrush Sensor has found that almost 60% of organic search results contain this section.
Add fresh content to your page regularly
Refreshing your content regularly allows the engine to crawl your site more often. More frequent visits to your website ensure your content is easily discoverable. Besides, you will find benefits in ranking. For example, your new content should contain information on your newly launched products, videos, and stories. You may also share the success stories of your clients. Let your visitors know how your social media services have benefited your clients.
Get referrals to your site
Search engines want to check whether other sites have cited your website or any particular web page. Referrals from other sites make visitors feel confident in the usefulness, relevance, and accuracy of your content. But, not every referral gives you considerable value. Especially referrals from reputable sites are more significant than ones from less reputable platforms. So, the more referrals you receive from other sites, the higher rank your site will achieve.
Metadata is the information about every page content. If you modify the website anytime, you should update the metadata.
Title metadata is the information displayed in your page title. The organic search result shows the title metadata as the headline. If you have a CMS website for your social media business, the web team uses automated technology to create the title metadata for every page on your site. However, you should edit it and make it more relevant to your page. Add keywords to your metadata and make it SEO-friendly.
The metadata used by your browse in the page search is the textual description. Make sure your meta description is concise yet appealing. Include 2 sentences to write this short description according to your page content.
Another important thing for SEO is keyword metadata. But, it is rarely used for managing search engine rankings. As you know the relevant keyword phrases, you can use them for the metadata. You may choose around 3 to 4 phrases to write this metadata.
Alt tags are important for describing videos, images, and other visual elements of your site. They are alternative textual descriptions to let the engine identify the page. It is essential for users who rely on screen readers and text-only browsers.
Manage technical SEO for your business website
Although your website content and keywords are significant for SEO, your site's performance makes a difference in user experience.
· Links and website navigation: Search engine crawlers use links to look for content. You can also set text-only links and ensure easy navigation for your website visitors.
· URL structure: The lengthy URLs with complex words are not readable to search engines. Keep these URLs short and include the primary keyword in them to optimize the webpage.
· Page speed: Another technical SEO factor is the load time of your web pages. Page speed indicates the performance of your site. Use Page Speed Insights Tool to check the speed of your website.
· Broken redirects and dead links: If your webpage has a dead link, it will direct the traffic to the non-existent page. On the other hand, a broken redirect guides the visitors to the resource, which is not present there. So, these problems will prevent your content from getting indexed by search engines.
· Duplicate content: Webpages containing similar or identical content will confuse the search bots. In most cases, search engines avoid displaying pages that have duplicate content. If they have found duplicate content on your site, they will impose a penalty. So, duplicate or copied content will have a negative effect on your website's rank.
· Robots.txt file and sitemap: A sitemap shows the URLs on your website. Google and other search engines check the sitemap to find the pages to index and crawl. On the contrary, the robots.txt file tells the engine about the content it should not index. For instance, it may be the content on your policy page. You have to consider both these factors to increase the crawling speed.
Manage your local SEO campaign
As an SMM agency owner, you may target local businesses to provide your services. So, running a local SEO campaign is important. But, Google's principles for global and local rankings are the same. If searches involve local intent, your website will be visible to the searcher. So, you should create your Google My Business profile to show your business location and other information, such as opening hours, images, descriptions, and reviews. Your potential clients will be able to locate your business and connect with it for social media services.
Track and monitor your SEO results
Your webpage content, links, and technical setup are important for driving your site to a higher rank. You should constantly monitor your SEO effort and adjust your strategy for better results. Measuring success in your SEO campaign involves tracking data related to engagement, traffic volume, and links. You can set your own SEO KPIs. The most commonly chosen KPIs are organic traffic level, conversion rates, keyword rankings, indexed pages, and top landing pages.
Building a social media marketing business is a good idea. But, it takes effort and time to get clients for your business. You should create a solid plan to achieve success with your effort. It is important to be business-savvy and gain some strategic knowledge for setting up your social media management business. Whether you have only a few clients or a large client base, you should aim to grow your business.