Social media management may entail more than you realize. Management teams have their work cut out for them, from brainstorming and drafting pieces to coordinating and posting content.
Today, social media is used by 4.2 billion people worldwide. While this represents little more than half of the planet's population, it also represents 90% of all internet users. With such a massive number of people to market to, it seems like getting their attention and building a big following should be relatively simple.
Many brands, however, fail to create interesting content and appeal to their intended audience. With social media performing such an essential part at the beginning of the sales funnel, let's delve into the top social media tools that every social media management team requires for a stunning social media presence that also scales with your brand. These tools can range from simple scheduling services and design tools to complex CRMs making this list a comprehensive one for everyone looking to grow on social media.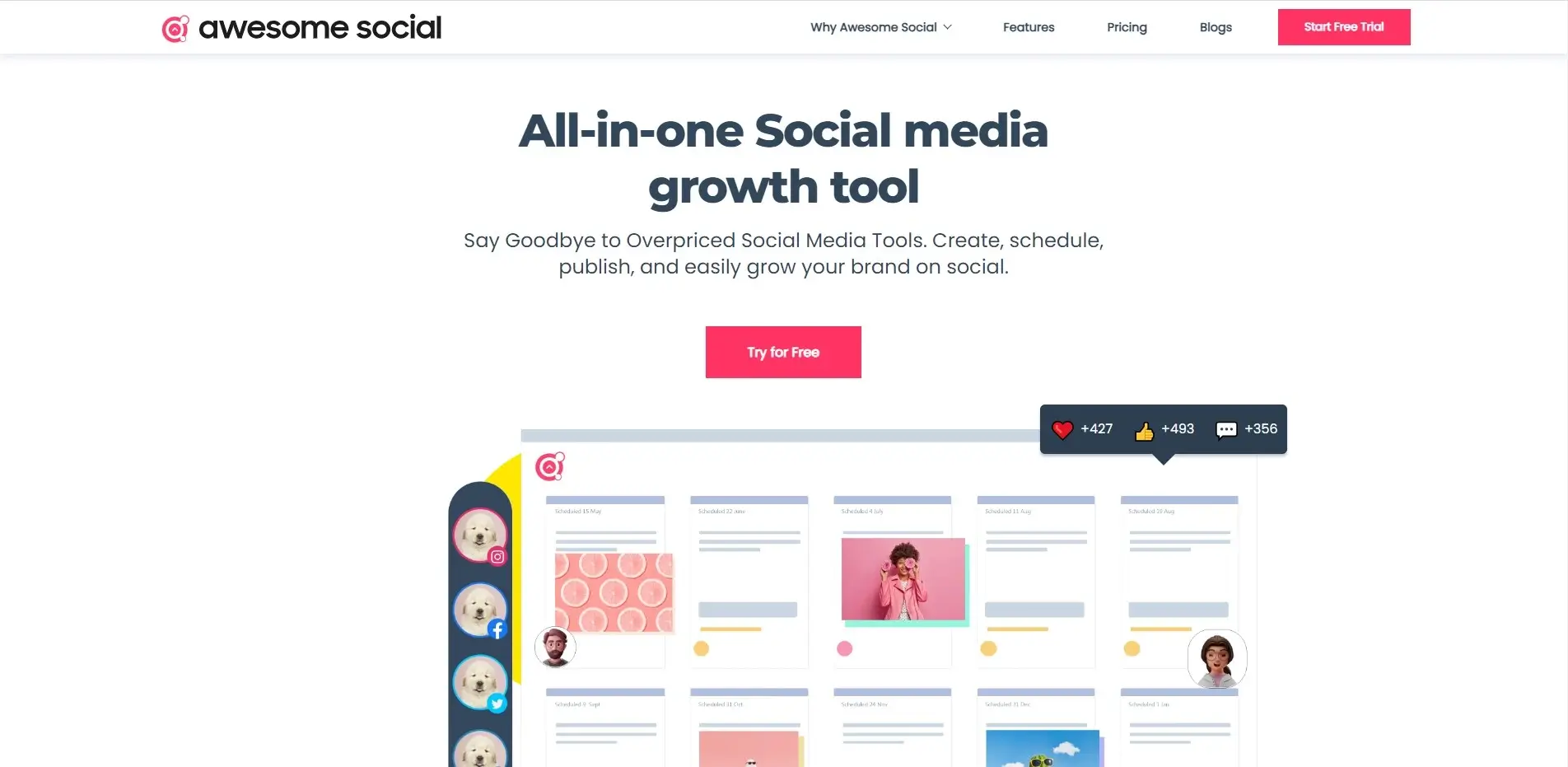 Awesome Social is an all-in-one and one of the best social media management tools. But, it just not manages, it also keeps you on track with its amazing scheduling features. This amazing combination of features makes Awesome social one of the best social media scheduling tools as well. It is a high-functioning social media management tool that offers all the needed features to get full control over your social media and get immense growth with minimal effort.
This social media scheduling tool will provide you with all the important features like:
Scheduling
Social Inbox
Managing multiple platforms and workflows
Post statistics
Analytics
Team Collaboration
Hey.bio (link-in-bio tool)
But this is not all! Awesome social provides many much more that can give you full control over your social media. And, bring it to the top as well. Awesome social will definitely empower your social presence to the next level.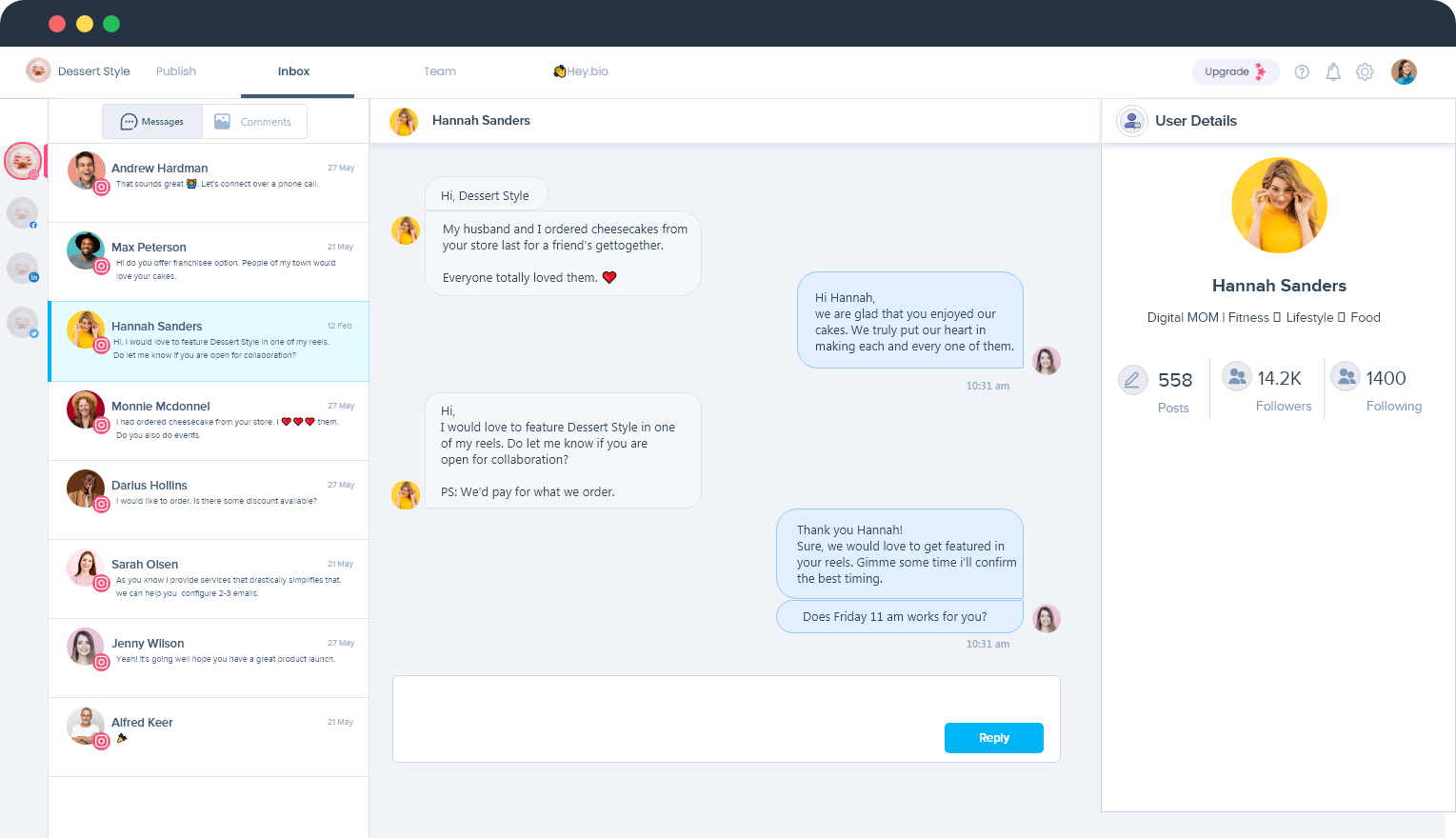 Features of Awesome Social:
Bulk scheduling and publishing: You can easily schedule your posts on different channels to reduce the work and get the best out of it at a time.
Social inbox: Engage with your customers and turn them into loyal fans. With Awesome Social's Social Inbox, reply, comment and Direct Message all your followers from one place.
Content calendering: You can easily make your social media content calendar through the grid view that provides efficient results. You can easily select photos you wish to share, drop them onto the social media calendar, and choose when you wish they get published.
Hey.bio : A powerful link in bio tool for all your social links. Hey.bio allows you to build mini web pages for your Instagram and TikTok profiles — making your content clickable and shoppable.
Team management: Through this amazing and one of the best social media management tools, you can easily get your team on board and distribute work and tasks. This is made so easy through these platforms, your entire team is gathered on a single dashboard, and performance is made better.
Approval posting: This feature takes everything in your control and provides you the power as a decision-maker to approve, reject or edit a post that makes everything much easier and better. This just makes the social media posting schedule much easier to work with.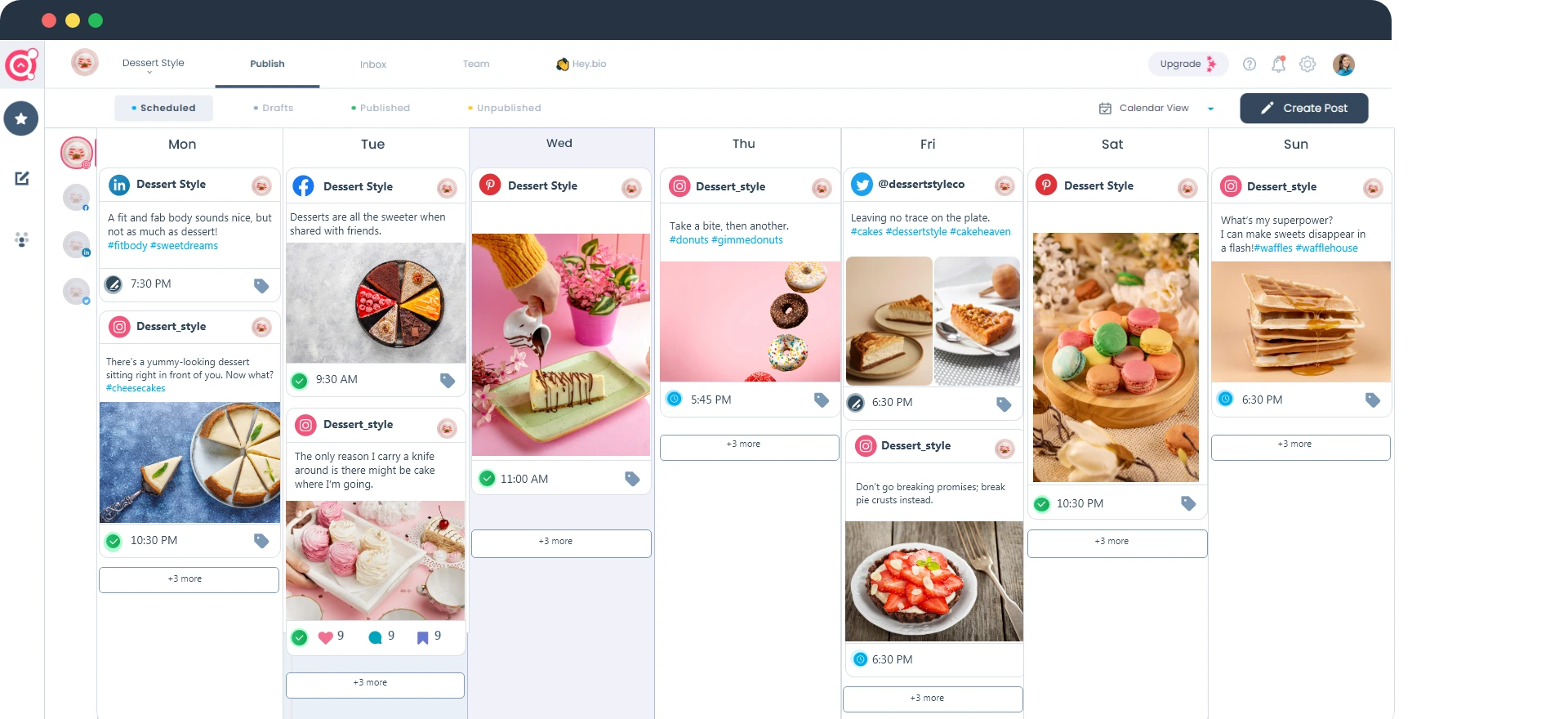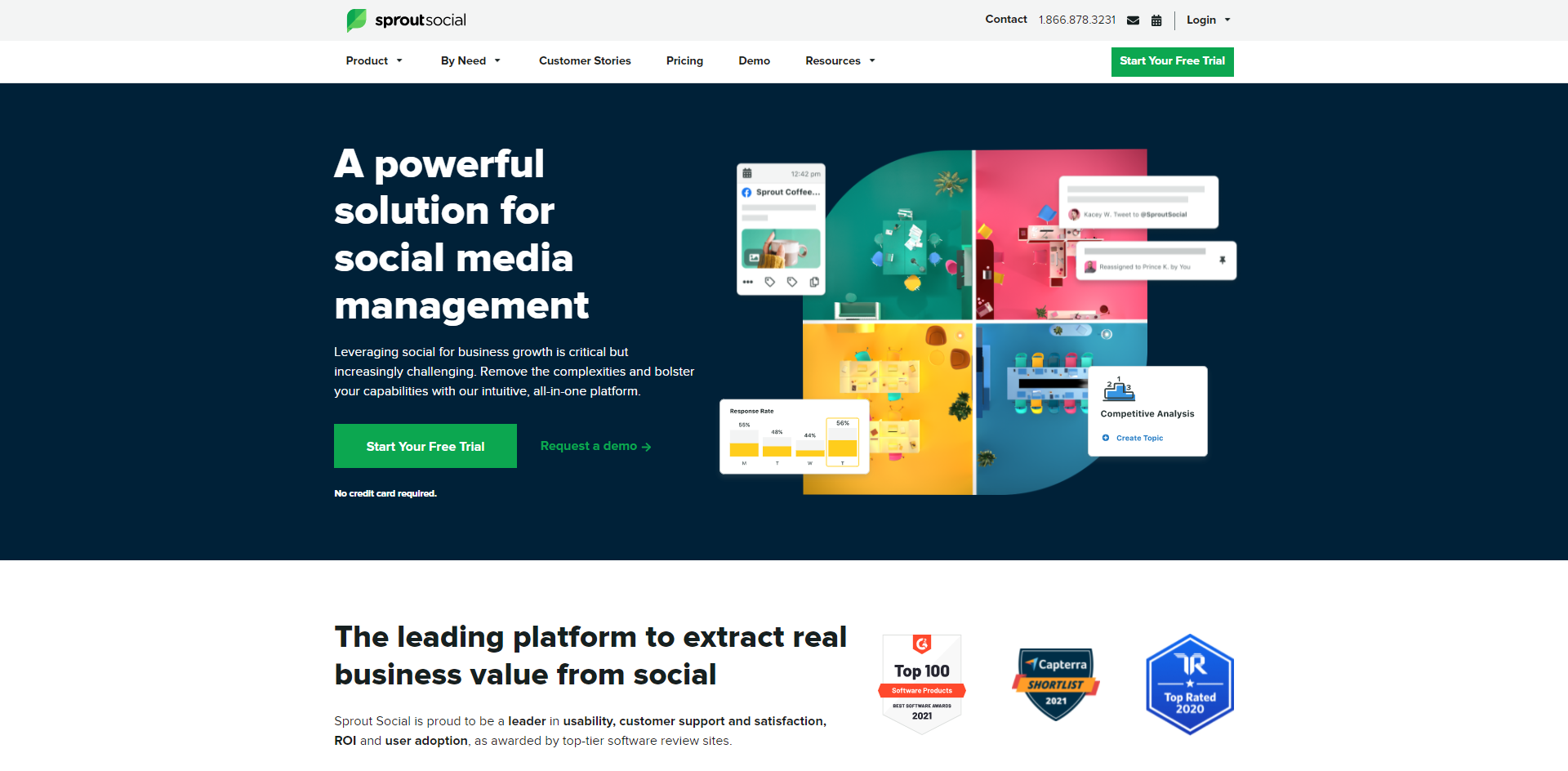 Sprout Social facilitates teamwork in addition to providing market-leading scheduling tools, a dynamic calendar, and an asset administration library. User-level authorization empowers marketing directors, writers, and anyone in between special access to participate in your marketing effort.
These are the key features of Sprout Social's solution:
A single social inbox allows empowers users to view and respond to messages from TikTok, Facebook, Twitter, Instagram, LinkedIn, and WhatsApp all in one location.
Access to see the entire conversation history across all profiles and social media platforms for crucial context and useful references.
With Sprout Social, you can utilize Twitter's Smart Inbox to conduct real-time brand monitoring using keyword, hashtag, and geographical searches.
To stay informed while out and about, customize smartphone push alerts for each message type across any social media platform and profile.
Optimize your social media reaction time by benchmarking response times and rates against engagement goals.
Establish a shared, 360-degree view of your clients that includes their conversational history, contact information, and departmental notes for each follower across networks.
Additionally, your team can get a bird's eye perspective of what is posted and promoted each day using Sprout Social's calendar feature. To help you assess how effectively various pieces of content fare on social media, the suite also contains a range of social media metrics. Plans start with a free 30-day trial and run around $89 to $249 per month.
Additionally, Sprout makes it simple to evaluate the results and alter your long-term plan moving forward once your content has been planned and published. However, Sprout Social is a relatively pricey social media scheduling service, much like Hootsuite. Independent digital marketing agencies or content producers who don't need such advanced capabilities may find it to be unnecessarily complex and expensive.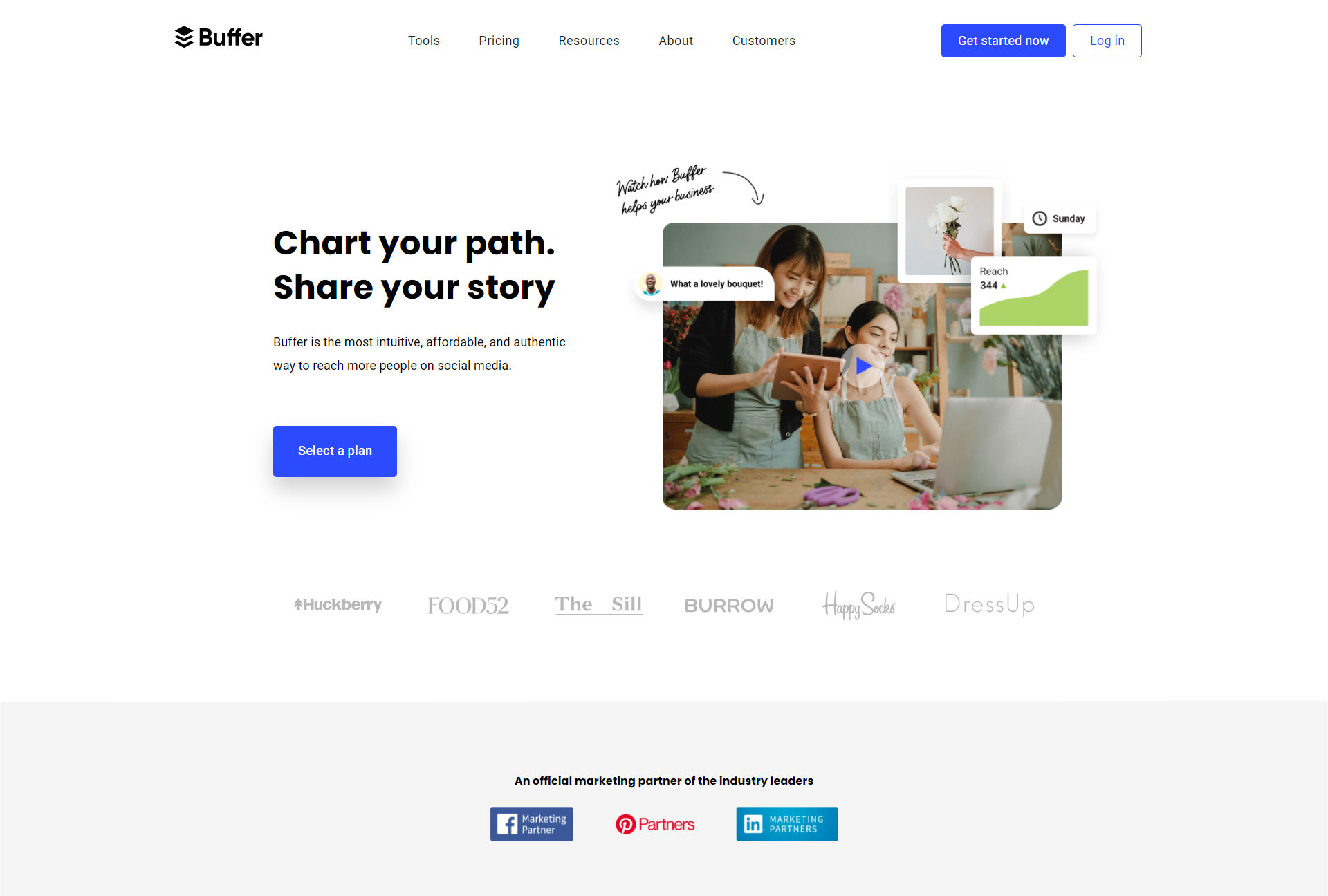 With a premium account from Buffer, you can schedule an infinite number of social media updates. Buffer uses a freemium business model. A newbie has plenty of opportunities to determine if social media automation will be useful to them. Buffer, as the moniker suggests, lets you compile a list of significant content you want to publish and schedule them to go out at times that are more relevant to your demographic.
You can customize and tweak your posts on every social media platform using Buffer. It is simple to add website links, headlines, and photos swiftly to your Buffer calendar using the mobile Buffer tool and the Internet browser extension. It also offers tips on when you should post to each of your platforms. Additionally, Buffer offers stats that illustrate the effectiveness of your posts.
These are some of Buffer's top features:
With Buffer, you can instantly plan posts to business accounts from your desktop. While it is not possible to schedule Instagran stories from within the app, you can plan ahead, set reminders, and get a mobile alert when it is time to share.
With the use of Buffer's slot feature, users can schedule time slots in advance. Posts that you curate subsequently are added to these timeslots. It's not necessary to establish different times for every post.
You can use their plugin or directly upload stuff to their dashboard. The plugin enables you to right-click on photos and upload them as well as schedule links and images.
The posts you've published and the queue of scheduled posts are displayed in a calendar view.
Under the Publish label, Buffer offers three plans: Pro ($15/month), Premium ($65/month), and Business ($99/month). Pro ($15) and Business ($35) subscription options are available for their Reply package. This makes Buffer one of the more affordable tools for posting on various social media platforms but they do not offer features as comprehensive as Hootsuite or Sprout Social.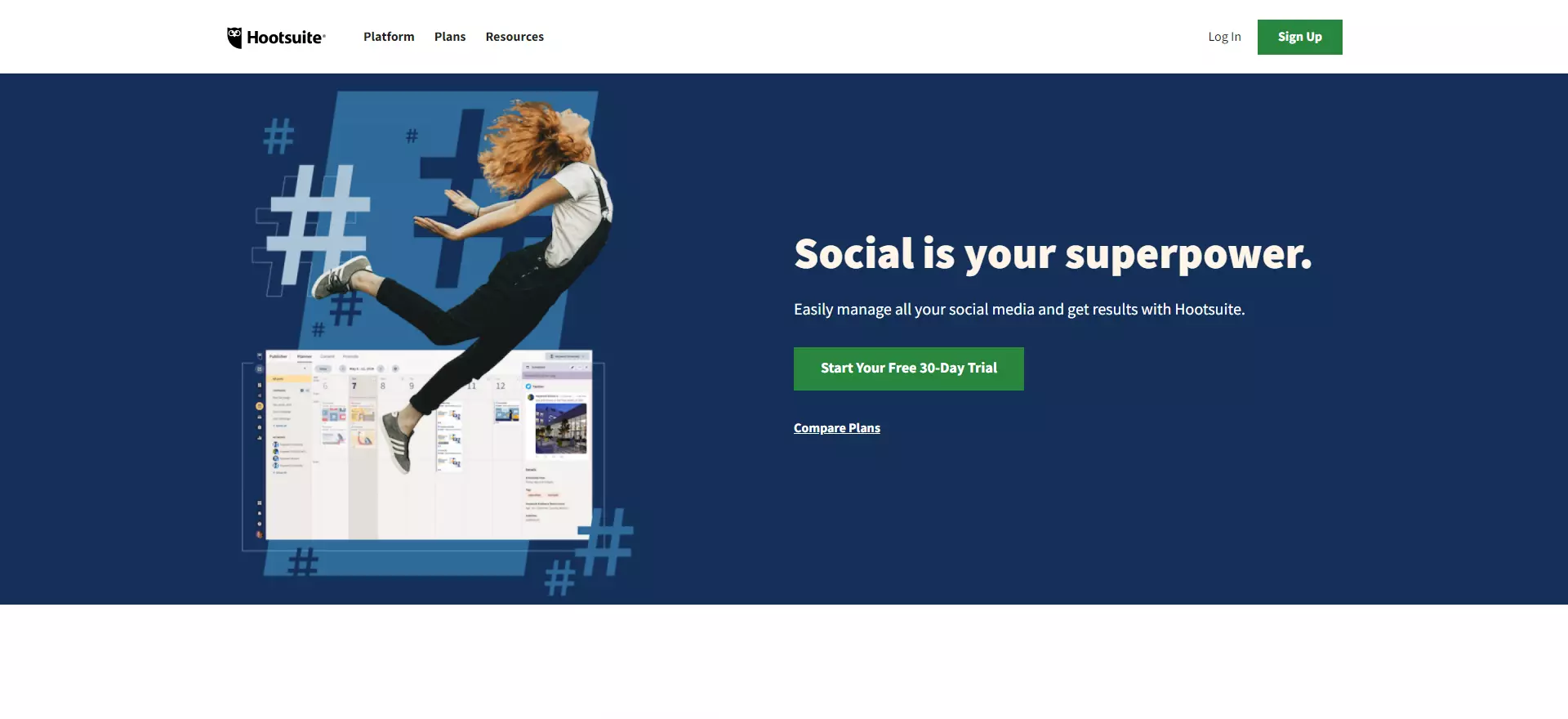 Among the most widely used applications for planning social media posts is Hootsuite and for an understandable reason.
Here are some of its best features:
Hootsuite's social media management tool enables users to plan out posts in advance for Facebook, Instagram, Twitter, LinkedIn, and other networks.
Hootsuite provides tools to assist users in finding and collecting pertinent content from the internet, which may then be quickly shared on social media sites.
To assist customers in tracking their social media performance and gauging the success of their campaigns, Hootsuite offers comprehensive analytics and reporting capabilities.
Hootsuite makes it simpler to manage social media accounts under a team by allowing users to collaborate with integral team members and manage permissions for numerous users.
Hootsuite's social listening feature enables users to keep an eye out for mentions of their brand or specific keywords on social media sites.
One benefit is that it lets you maintain and operate many social media accounts across platforms like Facebook, Twitter, Instagram, and YouTube in distinct columns. WordPress is supported as well. Even while the streamlined dashboard is pretty simple to use, the amount of data it contains may first seem overwhelming. The fact that you may alter what information appears for each account is another advantage.
It provides some of the most powerful analytics and report creation available, but it only offers certain key templates in the more premium subscriptions. Their pricing plans are as follows:
Users of Hootsuite's free plan can schedule up to 5 posts in advance, manage up to 2 social media accounts, and view basic analytics.
Users of Hootsuite's Professional plan can manage up to 10 social media accounts, schedule an unlimited number of posts in advance, view advanced analytics, and work together with up to 1 team member for $19 per month.
Users of Hootsuite's Team plan can manage up to 20 social media accounts, schedule an unlimited number of posts in advance, access advanced analytics, and work together with up to 3 team members for $99 per month.
Users of Hootsuite's Business plan may manage up to 35 social media accounts, schedule an unlimited number of posts in advance, access advanced analytics, and more starting at $739 per month.
Hootsuite can oversee and assess fresh content, track client interactions, schedule numerous posts, and offer real-time insights. With this software, you can quickly view a user's social data and find social queries, hashtags, and other pertinent information for your unique feed.
Google Drive, Dropbox, and Microsoft OneDrive are all accessible with Hootsuite. Since any member of the team can readily obtain digital information, the software offers efficient, interactive posting and workflows for large teams. An improved video-first feature was also recently developed to optimize video footage for different social media platforms.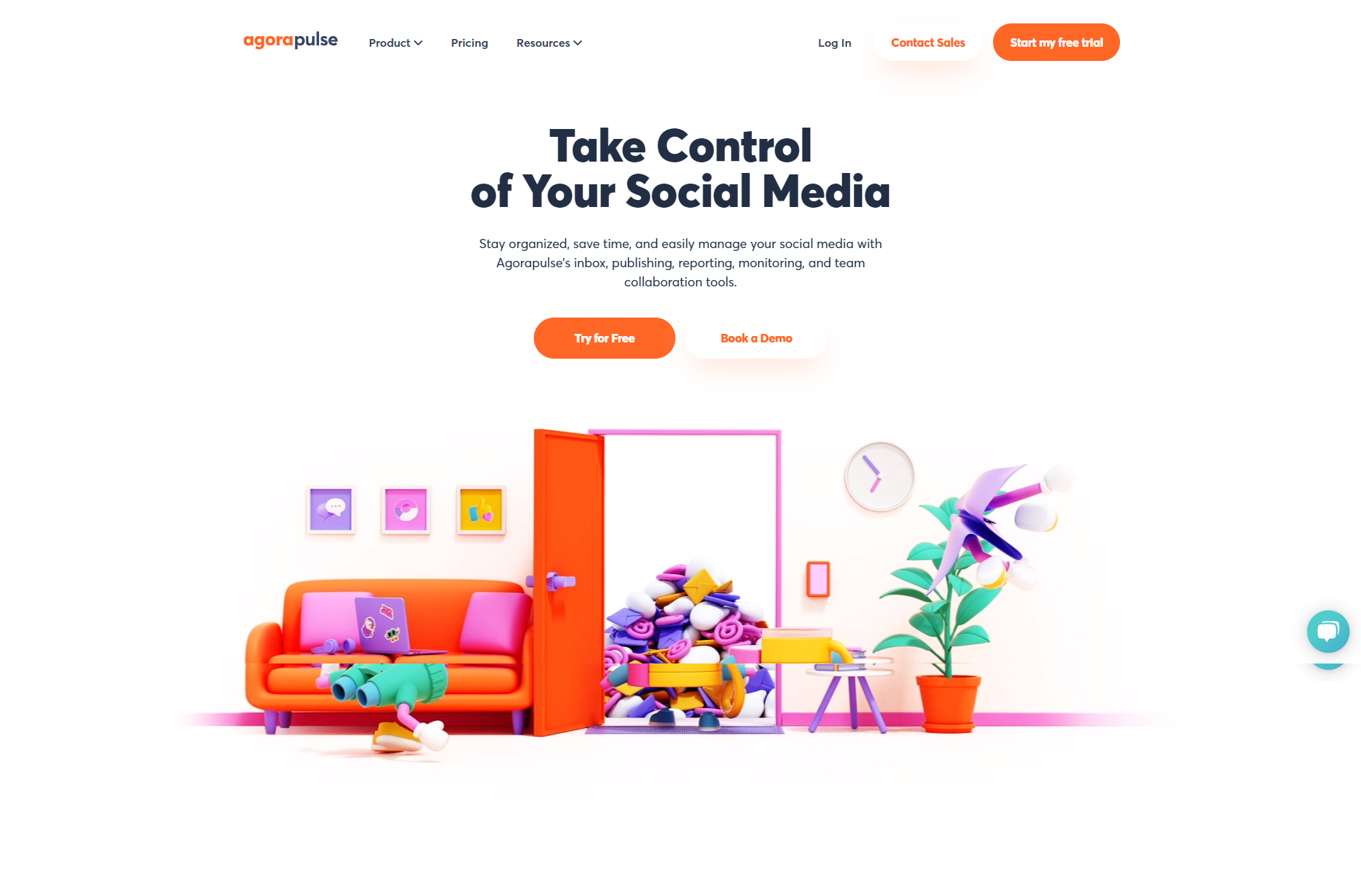 Agorapulse offers team members and businesses an economical social media calendar and scheduling solution. It provides four options, ranging in price from $39 per month for Solo users to $239 for Enterprise users. The number of social accounts and users supported by each plan varies significantly, while there are also distinctions in terms of information retention and ad comment regulation.
These are some of its main features:
Your Agorapulse ROI dashboard keeps track of all the customers, sales, and income generated as a result of your social media posts. Wondering which social media platform or campaign generated the most value? You can see charts of all these metrics in the ROI dashboard.
You can add subtitles, and hashtags, and upload videos using Agorapulse's publishing composer. Just click the hashtag symbol to access, utilize, or alter your saved hashtag groups in the composer.
Calendars for social media content can fill up quickly, especially if you're in charge of several social media accounts or your approval process is convoluted. You can remain on top of your workflow and manage material well using Agorapulse's new calendar filters.
You may connect with your social media platforms using Agorapulse to post, communicate, analyze, and monitor your content. It integrates YouTube, LinkedIn, Facebook, and Instagram. All of your social media profiles may be updated simultaneously, and a pipeline or timetable will guarantee that your content is posted at the most effective times. You can re-queue or re-schedule seasonal posts using this software. Each post can be modified to make use of features unique to each social media platform.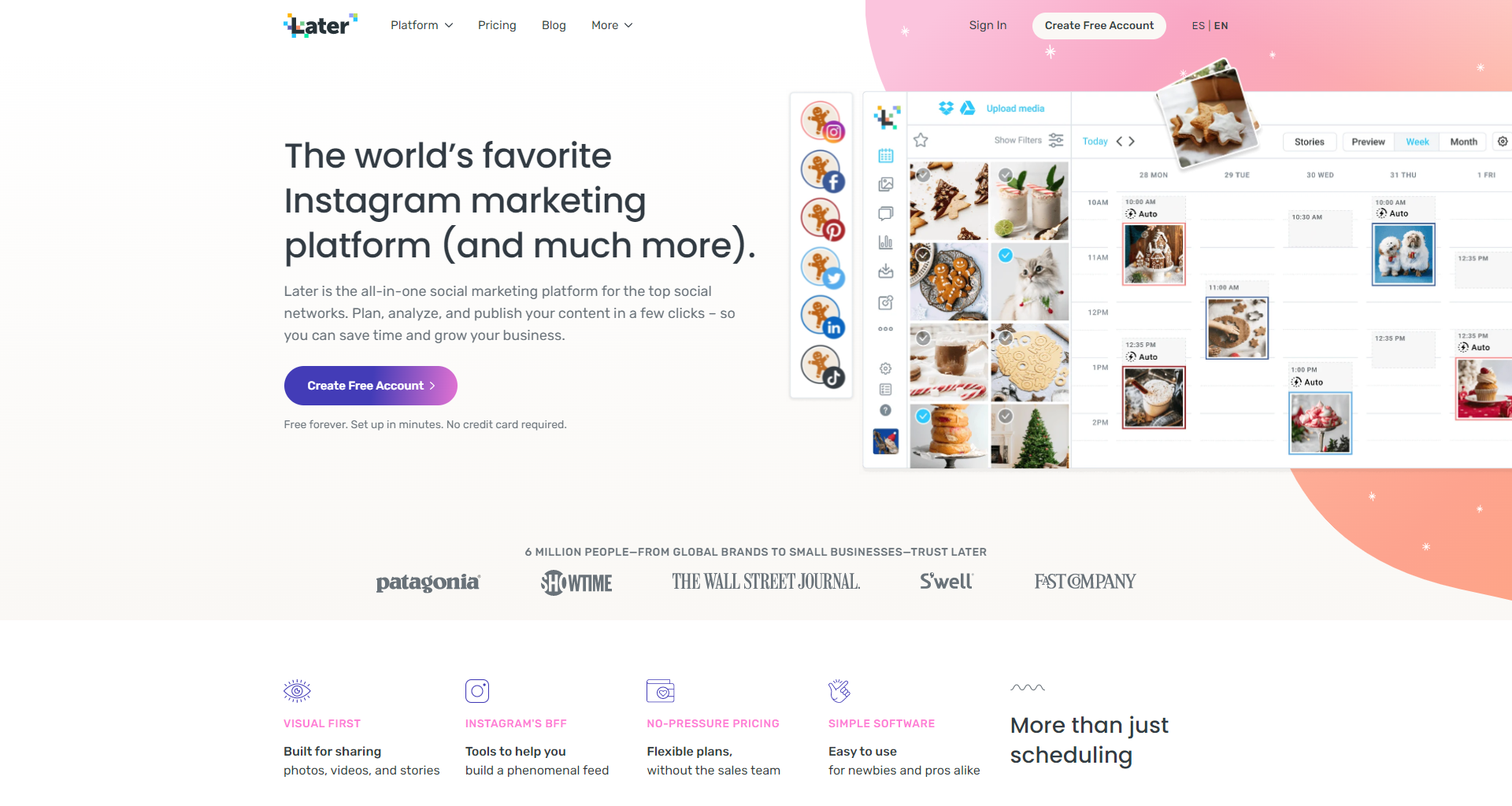 Although Later allows you to upload content to a number of different social media channels, Instagram is its primary focus. Later, you start a post with a photo instead of its words, contrasting many other social media publishing and scheduling applications. You post the picture to the Later app after which you write the caption for it.
Setting up Later such that it uploads directly to Instagram can be difficult at first. However, the workflow is simple once you have converted your Instagram profile to a Business or Creator page. A Media Library is the foundation of Later. Adding photographs to your Media Library at the start of each article makes them accessible for later postings.
Later's pricing plans are as follows:
Users can manage up to two social media accounts per platform, schedule up to 60 posts each month, and access additional features like Instagram Stories scheduling and user-generated content management with Later's beginning subscription, which costs $18 per month (paid annually).
Users of Later's Growth plan can schedule up to 150 posts each month for each social media account, manage up to three social profiles on each platform, and access extra features like Instagram statistics and hashtag ideas for a monthly fee of $40 (paid annually).
Users can manage up to five social media accounts per platform, schedule up to 250 posts each month for each social media profile, and access advanced features with Later's Advanced subscription, which costs $80 per month.
These are some of Later's main features:
On Later your media files offer the option to add labels and annotations to them, and you can give any photo you want to prioritize a star.
Your photographs can be filtered in a number of different ways. If you own one of Later's subscription services, you can post and stream videos as well. Creating and uploading Stories is made easier using Later.
You can drag and drop content into available time slots on your calendar using Later's Quick Schedule. This is what a queue would be in Later. Your multimedia content will be added to the next available timeframe Later.
You can use Conversations if you buy one of Later's business plans. You can also manage your Instagram responses directly within Later using Conversations.
Later is a great social media scheduling tool for Instagram but if you're looking for an app that helps you with other platforms it may not be the best option.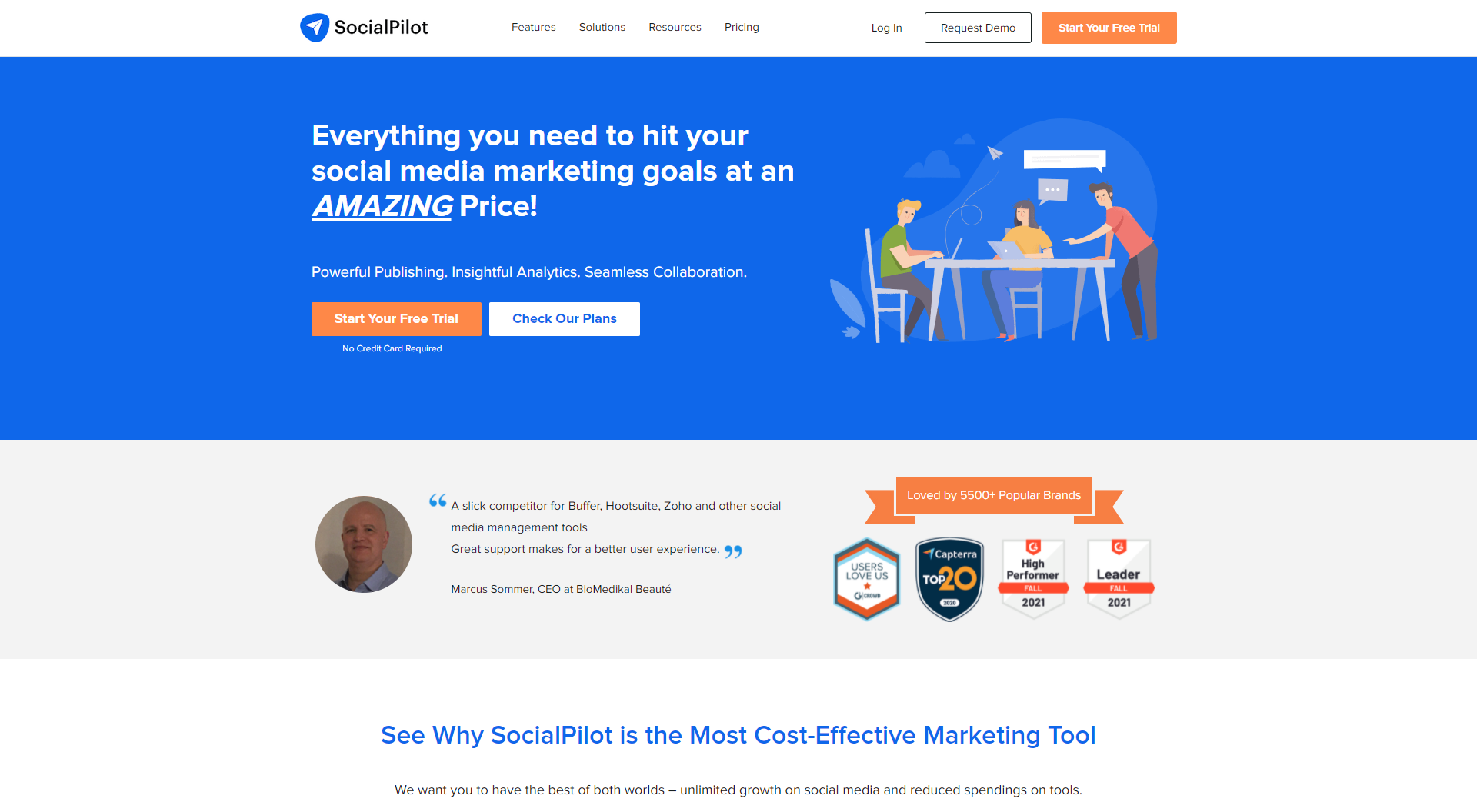 With numerous of the apps in this group of products, you'll find yourself paying a hefty price for the ability to assign social media management to another individual within your company. Hootsuite, for instance, demands almost $3,000 per year for a group of three and nearly $9,000 each year if you'd like to have some sort of approval-based workflow. For the sake of saving money, you may always share your Hootsuite login information with others, but doing so raises a number of security issues. However, the Small Team plan from SocialPilot starts at $50 a month and comes with two more team members who can handle up to 20 social media accounts. This is 80 percent less than Hootsuite. These are their main pricing tiers
The professional plan, which starts at $30 per user per month (when paid monthly), offers features like 10 social media accounts, post scheduling, straightforward reporting,URL shortener, boost posts, and team collaboration.
The Small team plan starts at $50 per user per month (when invoiced monthly). This package offers features like 20 social media accounts, post scheduling, straightforward reporting,URL shortener, boost posts, and team collaboration. Moreover this plan encases team management,Instagram tagging, Location tagging and more.
The Agency plan starts at $100 per user per month (when invoiced monthly). This package offers features like 20 social media accounts, post scheduling, straightforward reporting,URL shortener, boost posts, and team collaboration. This plan also encases team management,Instagram tagging, Location tagging and more. They add the ability create custom fields and no not place any watermark on images.
Its features are as follows:
Facebook, Instagram, Twitter, YouTube, LinkedIn, TikTok, as well as Tumblr are supported, despite SocialPilot's user experience being on the plain side of products. T
he sidebar contains sections for handling your online profiles and postings, monitoring analytics or inboxes, arranging information from RSS feeds, setting up your employees and clients, as well as running adverts.
These are all the tools you'd anticipate from a solid social media management app, but the Team options are what really stand out. Depending on what you need them to be able to do, various members of the team can be given distinct duties.
You could set up things to ensure all posts from content producers must be submitted for approval, or you could give managers permission to edit and schedule, but keep the final authorization for yourself. Doing this allows you to assign tasks to your coworkers without giving them complete control.
Additionally, SocialPilot and Zapier are integrated, allowing you to automatically add information to your queue if anything occurs in the other services you use the most.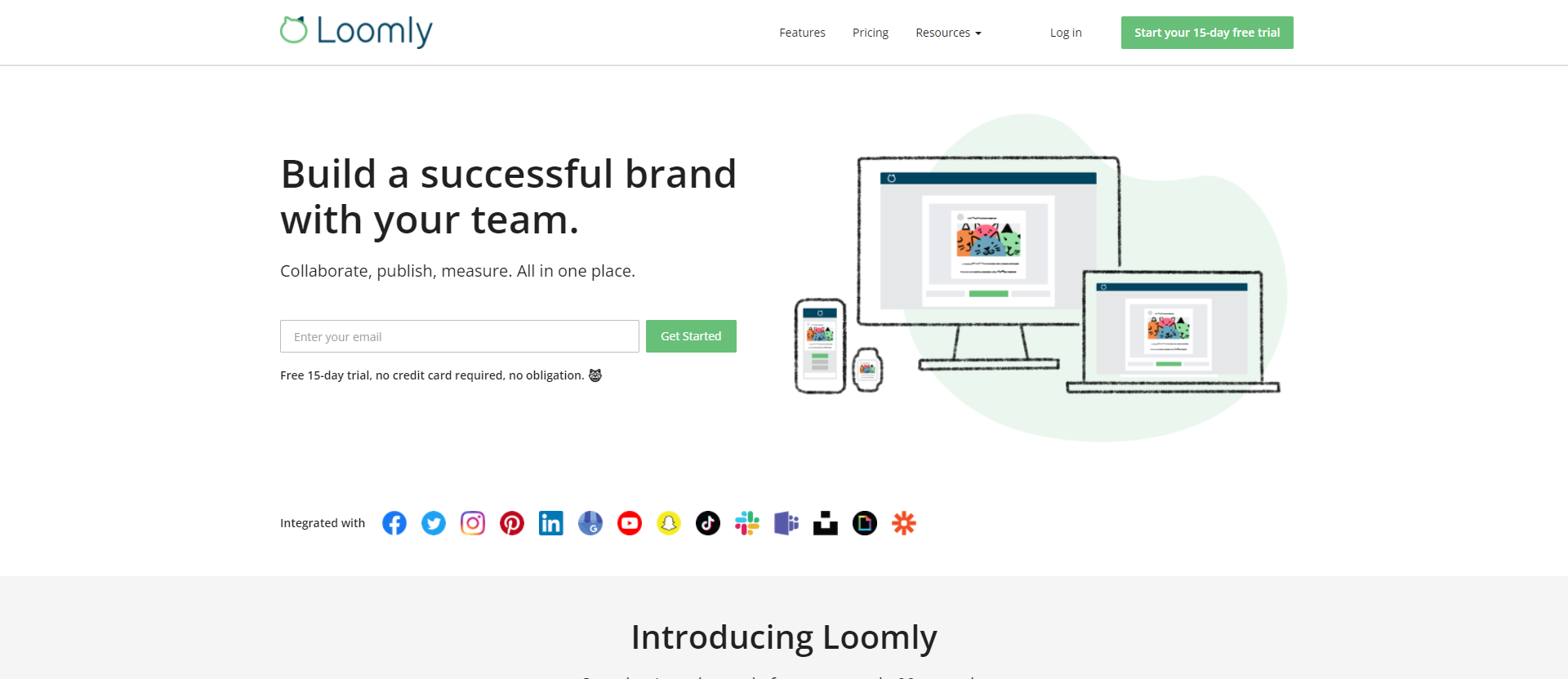 Loomly is a robust platform for managing social media posts and it offers a simple, user-friendly layout. After a 15-day, no-credit-card trial, there are four pricing options available. They start at the $26/month Base Plan for users with 10 or fewer social media accounts and go all the way up to the $269/month Premium Plan, which supports up to 30 users and 50 social media accounts.
Loomly's features are:
Loomly can set a variety of scheduling workflows, which is a helpful functionality for first-time users. The procedure for creating a post is simple to follow and easy to implement.
You have the option of starting a post from conception to completion or using post inspiration from RSS feeds to generate prototype posts automatically.
Although you can alter the post's specifics for the social networking sites you would like to use, you must first construct the post's core copy.
You can choose your demographic and establish a budget for your ad campaigns if you want to make a sponsored post for Facebook from within Loomly.
Loomly is one of the most user-friendly tools available which makes it ideal for anyone who's thinking of managing social media accounts on various platforms. But like most beginner-friendly tools it does not offer some complex features you may find in tools like Buffer or Hootsuite.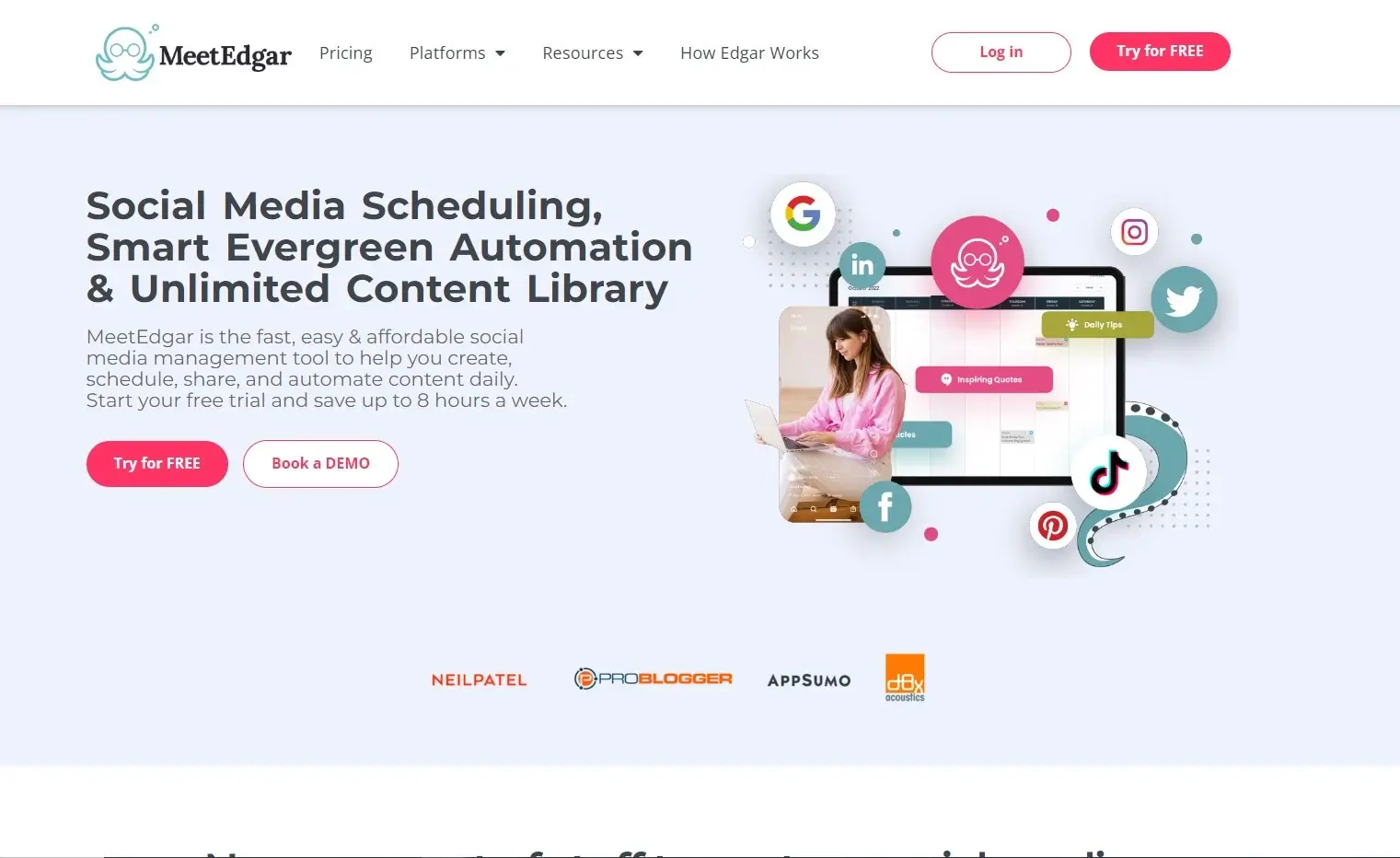 MeetEdgar is a one-of-a-kind social media management application that schedules your posts for you. Edgar intelligently selects posts from the content archive to keep your social media channels interesting on a daily basis. Edgar stores your content in an infinite library. When you run out of information to post, Edgar can retrieve it from your archive and adapt prior content through content resharing, so you don't ever run out of concepts to choose from. It is functional with Facebook, Twitter, LinkedIn, and Instagram, and it handles a lot of the labor-intensive tweaking and making of posts for various social networks on your behalf. But this is only a managing tool, not an analytics app.
Its main pricing tiers are as follows:
The monthly price for the Eddie Monthly Plan is $29.99.
This strategy is ideal for folks who are just starting out and for side businesses. This package features unlimited scheduled posts, 10 weekly automations, 4 content categories, up to 20 team members posting, 5 social accounts, additional social accounts for $4.99, and 5 social accounts.
The monthly price for the Edgar Monthly Plan is $49.99. Small enterprises and entrepreneurs should use this plan. It has 25 social media accounts, the option to add more for $2.99, unlimited scheduled posts, 1,000 weekly automation, limitless categories for personalized content, and 20 team members.
Stand out features of MeetEdgar:
The degree to which MeetEdgar automates processes is what sets it apart from other platforms. The program can hypothetically extract quote-worthy text and photos from any links you provide it with, and then create revisions to go in addition to them. Just select Suggest Variations after inserting your link, and MeetEdgar will produce four different versions based on the information provided.
More importantly, it can reuse previously useful components by creating fresh iterations of previously popular content. This means that data can be reposted without being duplicated.
MeetEdgar doesn't have many analytics features, but it uses A/B testing to determine which postings are most effective for your target demographic.
Additionally, you can track clicks using the integrated ed.gr link shortener. It's sufficient to identify which material receives the most attention, but it won't provide you with the same comprehensive perspective as a tool like Hootsuite.
Because MeetEdgar and Zapier are integrated, you could, for instance, have your own and other people's photographs and videos immediately added to your Edgar collection for social media posting.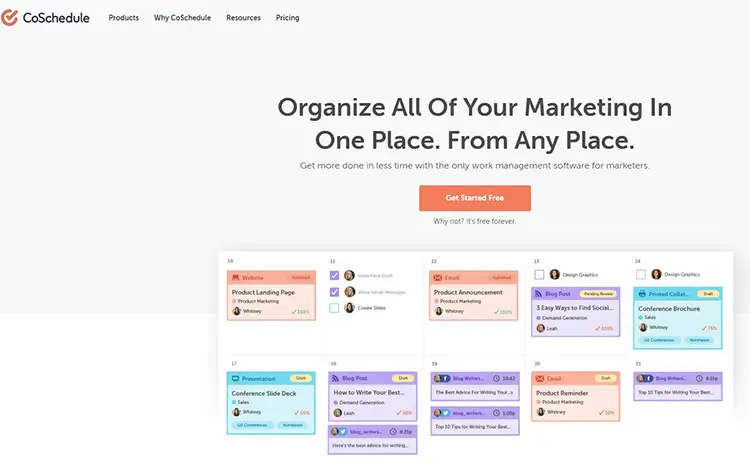 CoSchedule started out as a content marketing firm and has since expanded to include social media management and a calendar. Their main objective is to assist organizations in maintaining marketing organization by enabling teams to plan out all marketing content, including blog content, using their content calendar.
It's pricing tiers are as follows:
The free plan offers the following features: Personal Project & Task Management, Unlimited Marketing Projects & Content, Marketing & Project Management Integrations, Social Media Publishing of Up To 2 Profiles, a Self-Serve Knowledge Base, and Basic Support.
Marketing Calendar plan: this plan costs $39 a month, you can connect exclusively up to 10 social media accounts with 10 members of your team. If your organisation has numerous clients, you must use their Marketing Suite to manage everything in one location.
Its core features are as follows:
A calendar of content that shows when each piece of marketing content will be published. Using project management tools, you can keep track of the development of marketing material and determine when it's ready for publication.
Its pricing, which happens to be free for basic access to the calendar, reflects its limited features; users wishing to access more features must contact the sales team. You can organize and work together with your team using CoSchedule to produce your social networking posts, content, events, and projects.
For entrepreneurs who want to centrally organize all of their initiatives (social media, written material, events, emails, etc.), CoSchedule is fantastic. Your greatest posts can be used to fill in any gaps in your social media calendar thanks to their ReQueue tool, which automatically determines the optimum publishing times and lets you manage all content creation with a single dashboard
Better headline writing assistance from a headline studio can increase traffic and attention.
All sizes of enterprises can use CoSchedule. But it concentrates especially on businesses that have a weblog or at the very least a frequently updated website. It delivers the Marketing Calendar for sole proprietors, bloggers, start-ups, and small businesses at its lowest rung. In order to better serve the needs of smaller organisations, a condensed version of the entire product has been created for blogs and social media. If the requirements for marketing are more pressing, you may either subscribe to CoSchedule's Marketing Suite or hand-pick the parts that work best for you.
11) SocialBee : Social Media Management Tool for Content Creators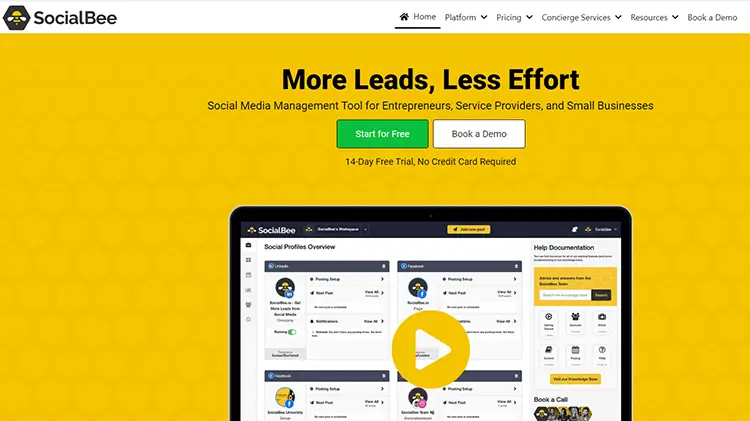 One of the most popular aspects of SocialBee is the ability to generate posts for social media using numerous platforms such as Canva and Giphy. It primarily conducts the scheduling duty by providing a time and date for publication on several accounts. It is a low-cost tool that can also provide you with perspective into the posts.
SocialBee also allows you to post based on prior posts, and hashtags that focus on fresh trending topics can be produced. In addition to adding several posts to each network, you may examine the suggested sequence of posts on each of them. You may also plan comparable posts that work effectively on the platforms using the engagement features on SocialBee.
These are its main pricing plans:
Bootstrap plan: This plan starts at $29, is accessible for personal use only, gives users access to a selection of SocialBee's features. This plan is ideal for what SocialBee calls Solopreneurs, Authors or Coaches. It comes with 5 social media accounts and 1000 posts per category. This plan has very limited access to the analytics features.
Accelerate: This package starts at $49 and gives you access to several features. This plan is ideal for Startups and Small Businesses. It comes with 10 social media accounts and 5000 posts per category. This plan offers full fledged access to 2 years worth of analytics data. But this plan does not enable users to export pdfs directly.
Pro: This package starts at $99 and gives you access to a huge fleet of features. This plan is ideal for Enterprises and Agencies. It comes with social media accounts and 5000 posts per category. This plan offers full fledged access to 2 years worth of analytics data and 5 workspaces. This plan enables users to export pdfs directly.
It's core features are as follows:
The best users of SocialBee include independent entrepreneurs, new businesses, small enterprises, as well as independent contractors and advertising agencies. You can take advantage of this app for monitoring the effectiveness of your accounts using reporting and data analysis.
SocialBee also helps recover evergreen content, lapse time-sensitive posts, gather content using RSS feeds, build posts using the Canva integration in the post editor, see an instantaneous preview of your planned posts, use URL shorteners to keep tabs on your links and do all of this while having access to a variety of workspaces and collaborative team features.
With SocialBee, you can easily and affordably manage all of your social media management requirements from a single location.
12) Planable : Social Media Management Tool for Content Planning Teams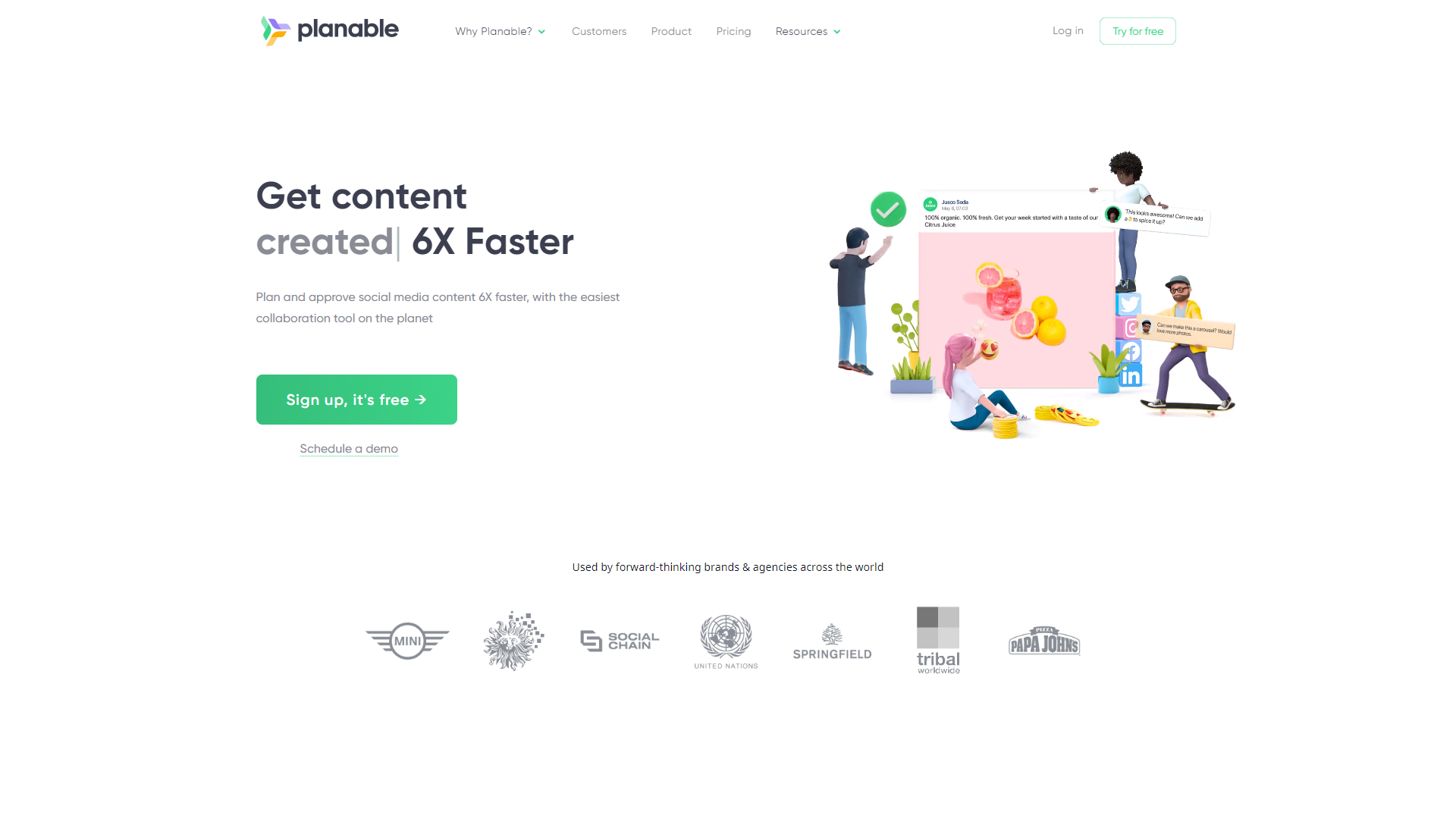 With the use of the social media content collaboration tool Planable, teams can produce, organize, schedule, and evaluate content more quickly and in real-time. Planable stands out from other forms of social media management solutions because of its focus on teamwork. With the help of your team, you can produce captivating visual material all at once, tag individuals in comments to solicit their opinions, and determine who should receive notifications. This makes the process of receiving criticism, amending, and collaborating incredibly easy and accessible. They do offer a free plan but it has very limited features.
It's main pricing tiers are as follows:
Basic plan: this tier is perfect for businesses getting started with social media. This package offers 4 social media pages per workspace, unlimited posting, two forms of approval, and feed and calendar views.
The Pro plan: this plan is ideal for growing social media teams. This package offers 10 social media pages per workspace, unlimited posting, three forms of approval, and feed and calendar views, everything in the Basic plan and grid view.
Enterprise: this is a custom pricing plan. This package offers 10 social media pages per workspace, unlimited posting, multiple level approval, and feed and calendar views, everything in the Basic plan, grid views, list view the option to pay by bank/wire transfer and dedicated account manager
Planable features include:
Planable is a completely cloud-based social media management solution that enables collaboration amongst many stakeholders. For the management of content, automated publication, planning, and sharing with customers, teams, and other stakeholders, you can add various accounts to the exact same system.
Posts can be scheduled for various timeslots to ensure flawless end-to-end work. More than just posting content, it assists in creating high-quality content that can hasten approval processes.
Tasks can be given a priority based on their importance. There are four different views of the posts: list, feed, grid, and calendar.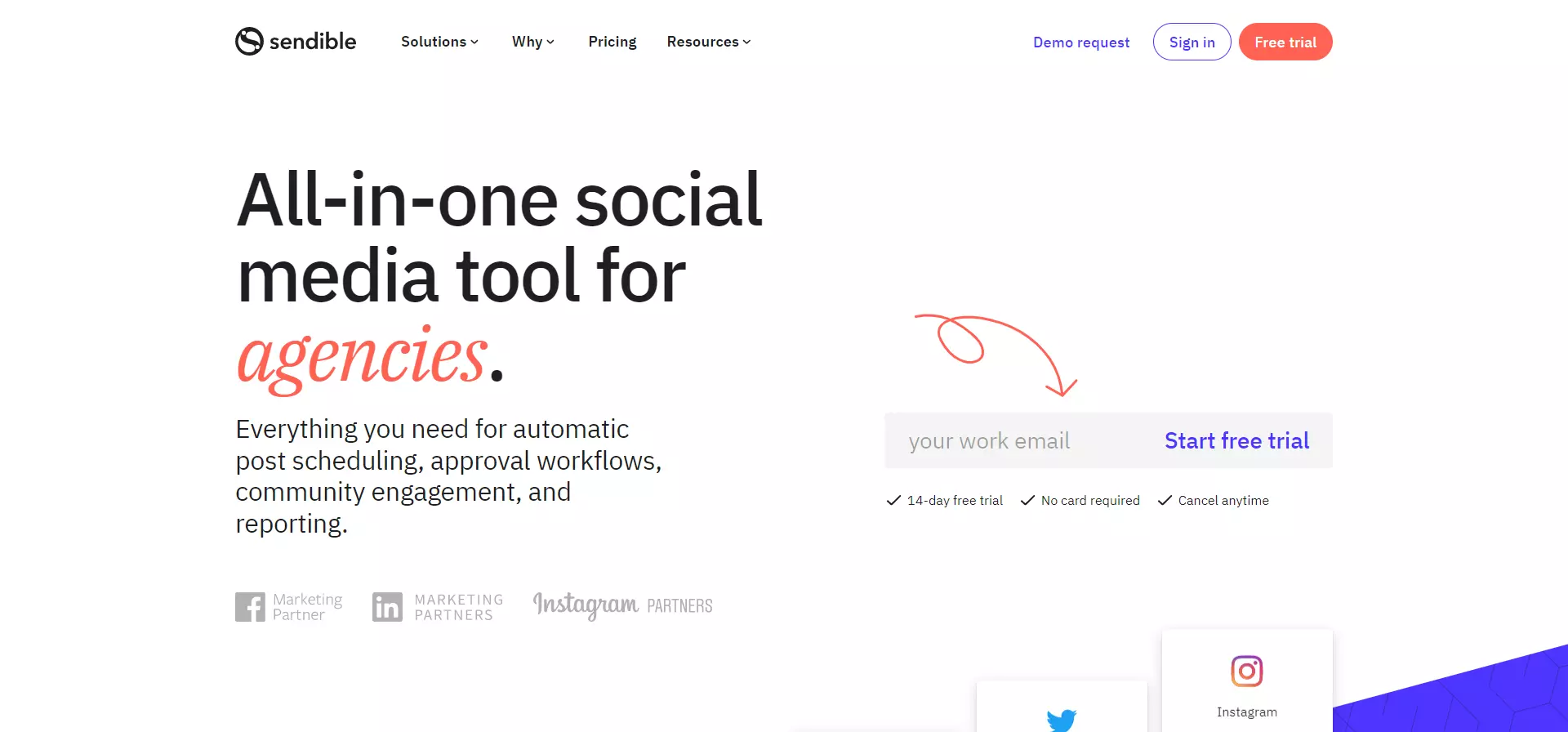 The social media management tool Sendible was created especially for agencies. You and your colleagues may observe and work together on every one of the social posts that have been created, scheduled, and shared using the interactive and configurable content calendar provided by the platform.
It's core pricing plans are:
Starting at $29, the Starter plan provides a single user with access to 12 services.
The $89 Traction plan allows for three users and 48 services, the $199 Scale plan allows for 12 users and 192 services, and the $89 Growth plan gives seven users and 105 services.
You can try Sendible for a respectable amount for an extended period before committing to a long-term payment plan thanks to the 30-day free trial that is offered on all plans (no credit card is needed).
Main features when using Sendible are:
All of the major social media platforms, such as Facebook, Twitter, Instagram, Facebook advertisements, LinkedIn profiles, and pages, Google My Business, YouTube, and Pinterest are supported by Sendible.
This suggests that it has the ability to serve as a small business and brand's all-purpose social media platform. Compared to Hootsuite and Buffer, Sendible approaches social networking a little differently. Every contact with a network is referred to as a "service," so posting to Twitter and streaming to it constitutes two separate services.
With Sendible you can get fresh ideas for material that will appeal to the audience of your client by using the content recommendation option. Additionally, there is a priority filter option that enables you to filter and prioritise chats, as well as a single-view inbox where you can read all client messages simultaneously.
In order to need specific team members to approve client information prior to it going live, configure user hierarchies and processes to assign access for specific team members.
Sendible is a powerhouse thanks to a lot of its capabilities. These consist of a share button that enables customers of agencies and staff members to quickly and simply share information as well as a mobile app that provides convenient access to robust monitoring, interaction, analytics, and other features while on the road. Any business needs social media monitoring tools, and Sendible already has one. To keep track of what is being said publicly about your company, use the Monitor tab.
One interesting feature of Sendible is that it automatically creates keyword monitors for you depending on your internet presence and the interests you specify when setting it up. Additionally, you can add your own, which is helpful if you need to keep track of a variety of websites or subjects.
One of the finest free social media CRM options available, HubSpot CRM, offers useful features that are beneficial to teams in sales, marketing, customer relations, and management, making it the ultimate solution for managing social media profiles. But the catch with HubSpot comes in the form of its ever-increasing price range that most small businesses cannot afford. The software automatically adds information from millions of organizations to your contact list so you can learn in-depth details about potential and current customers. Basic CRM options for businesses are supplied by HubSpot's free HubSpot CRM package. Here is a summary of the HubSpot CRM pricing options:
The free package: HubSpot CRM's free package comes with essential CRM capabilities like email integration, deal management, and contact management. It is appropriate for small enterprises or new ventures that are only beginning to address their CRM requirements.
HubSpot CRM's professional plan offers all the capabilities of the starter plan in addition to more sophisticated features like custom reporting, sales automation workflows, and predictive lead scoring. Growing companies that want to streamline their sales operations can use it for $1600 per month.
Enterprise Plan: The enterprise plan for HubSpot CRM comes with all the capabilities of the professional plan in addition to extras like customized event reporting and sophisticated automation. Large organizations with sophisticated sales requirements should use this strategy. Depending on the requirements of the business, this plan's cost fluctuates.
HubSpot is an all-in-one platform for inbound marketing, sales, and customer care that provides a number of capabilities to aid in the expansion and scaling of enterprises. Here are a few of HubSpot's standout attributes:
HubSpot's Marketing Hub provides a variety of services to help companies draw in, keep, and delight customers. It has capabilities for analytics, lead management, landing sites, email marketing, social media marketing, and SEO.
The HubSpot Sales Hub provides a number of services to assist companies in streamlining their sales procedures and completing more transactions. It consists of tools for processes such as sales analytics, deal management, pipeline management, and sales enablement.
The HubSpot Service Hub has a number of capabilities that can help companies deliver excellent customer care and assistance. It consists of tools for ticketing, knowledge bases, customer analytics, surveys, and feedback.
HubSpot's CMS Hub provides a number of services to assist companies in creating and maintaining their websites on HubSpot. It contains tools for website design, hosting, analytics, and optimization.
The free CRM software from HubSpot includes features like email integration, transaction management, and contact management.
It has a global inbox that provides excellent connectivity across all teams and a centralized view of your customer experience. Your team may access communications from any channel from this inbox, delegate them to the appropriate team members, and instantly engage with your clients.
It also connects with your CRM to give each team the background information required to deliver seamless client experiences. As a result, they can tailor their chats depending on active tickets, prior conversations, and contact information. Customers can easily acquire the assistance they need as a result of not having to constantly resubmit the same details.
Nimble is a CRM platform that focuses on relationships and organizes your contacts and engagement history. Depending on the functionality and user count you need, Nimble CRM offers a number of price options. Here is a summary of their main strategies:
Nimble Contact: The Contact plan from Nimble is a fundamental plan that contains capabilities for managing contacts, social listening, and sales intelligence. It is suited for individuals or small enterprises who require a straightforward CRM system and costs $9 per user per month.
Nimble Business: The Nimble Business plan offers all of the Contact plan's capabilities in addition to extras like team collaboration tools, task and project management, and sales projections. It is appropriate for small and medium-sized enterprises that want a more sophisticated CRM solution and costs $19 per user per month.
Nimble Enterprise: The Enterprise plan for Nimble provides all the features of the Business plan in addition to extras like advanced analytics, customized reporting, and interfaces with outside technologies. Depending on the particular requirements of the firm, this plan's cost fluctuates.
It's important to note that Nimble also provides a 14-day free trial of their Business plan, allowing companies to test the software before signing up for a subscription. Additionally, Nimble provides add-ons like Nimble Mobile, which allows access to the CRM platform from a mobile device, and Nimble Prospector, which gives users access to a database of business contacts.
These are some of its main features:
It functions as a single relationship manager for all of your contacts, correspondence, social media connections, and inboxes across more than 160 apps. This gives you a thorough understanding of your interactions with customers and offers the interaction depth.
The site assists you in your endeavors to socially prospect by providing crucial information about your contacts. So that you can learn more about people's backgrounds, employers, and the number of employees, as well as who they are and where they are from. You may identify your most promising leads using all of these characteristics and give them high priority in your effort.
Nimble streamlines your outreach activities by enabling you to segment your connections to enable you to send each client a personalized email that is meaningful to them.
Even better, segmenting leads depending on how likely they are to close makes it simpler to follow up appropriately. As a result, you can quickly assess how well these emails performed in terms of opens and clicks since they're measurable.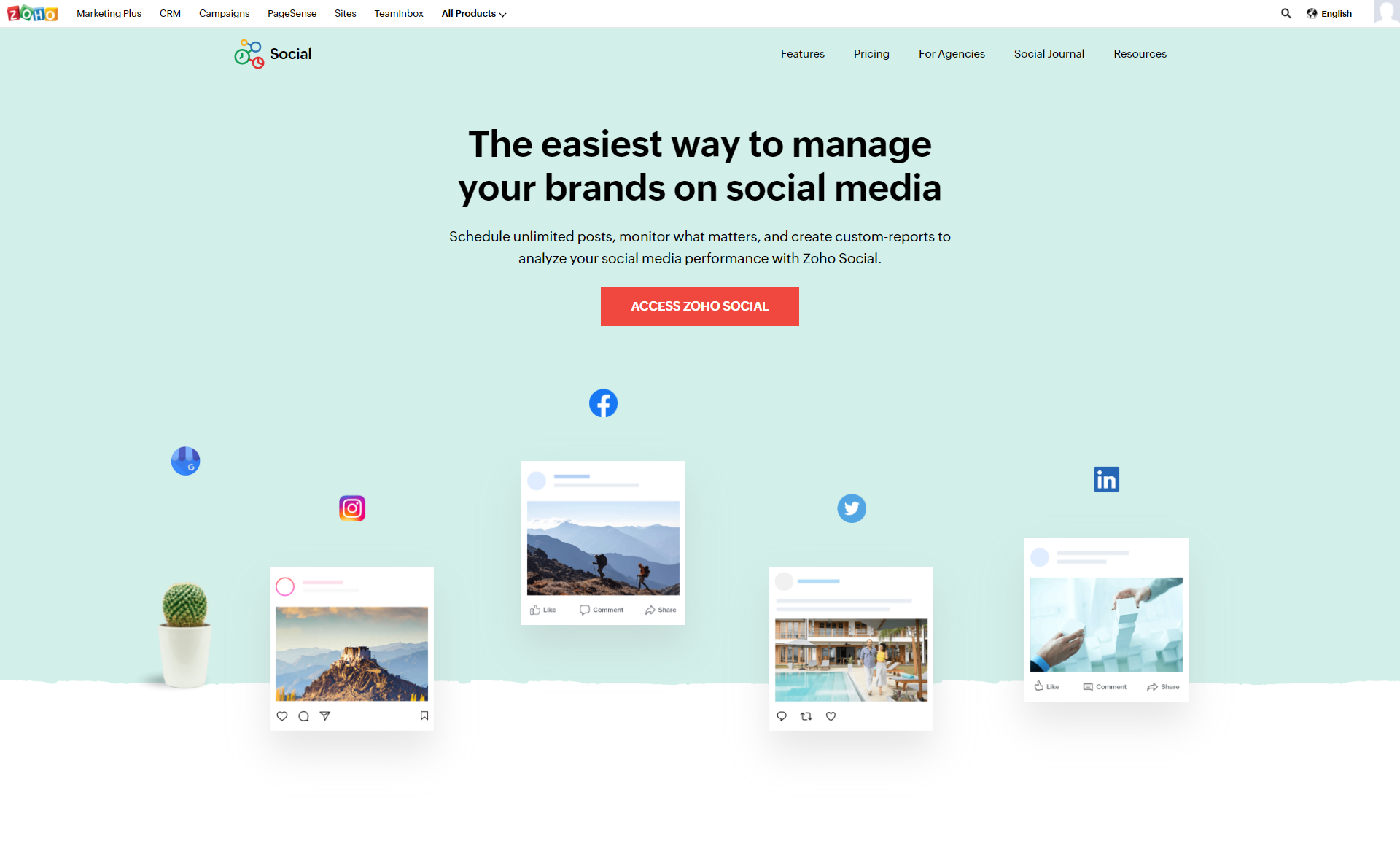 A powerful CRM software with integrated social media management features is Zoho CRM or Zoho Social. Depending on the functionality and the user base you need, Zoho CRM offers a number of price options. Here is a summary of their main strategies:
Standard package: Zoho CRM's Standard package covers fundamental CRM functions like deal and contact management as well as simple analytics. It is appropriate for small organizations that require a straightforward CRM solution, and it costs $18 per user per month.
The Professional plan for Zoho CRM offers all the capabilities of the Standard plan in addition to advanced analytics, team collaboration tools, and sales forecasting. It is appropriate for small and medium-sized enterprises that want a more sophisticated CRM system and costs $30 per user per month.
Enterprise Plan: Zoho CRM's Enterprise plan provides all the capabilities of the Professional plan in addition to extras like territory administration, sophisticated customization possibilities, and connectors with external tools. It is appropriate for larger enterprises with complicated sales demands and costs $45 per user each month.
It's important to remember that Zoho CRM also offers a free subscription for up to three users, which includes fundamental CRM capabilities like contact management and deal management. Furthermore, Zoho CRM provides add-ons like Zoho Campaigns, which offers email marketing resources, and Zoho SalesIQ, which offers live chat and website visitor tracking. Depending on the particular requirements of the business, these add-ons are priced differently.
Some of Zoho's top features are as follows:
Analyzing posts, responses, shares, mentions, and communications across numerous social networks is made possible with ZOHO.
Based on these activities, the platform enables you to develop automatic lead generation workflows that are sparked by particular user behaviors, like sharing a post or sending you a social media message.
You can monitor and manage customer relations on the platform from a single location thanks to its integration with popular social media sites like Facebook and Twitter.
Additionally, this unified experience extends beyond social media to include other forms of contact including email, live chats, and even telephone conversations.
With the help of Zoho CRM's social listening features, you can keep an eye on online discussions pertaining to your company's brand and sector for a more thorough understanding of your audience. Understanding what your clients want will help you improve your plans and provide even better service.
Overall, Zoho Social offers a wide range of capabilities that can make it easier for organizations to manage their marketing, sales, and customer care operations.
A unified dashboard is all you need to handle all of your customer interactions with Simplify360's omnichannel customer experience tool. Across all interactions, such as the main social networks, email, and messaging apps, you may use it to keep an eye on interactions in real-time, making managing social media pages a breeze in terms of engagement. This is primarily for the purpose of improving customer service with prompt responses.
The cost of Simplify360 starts at a reasonable $39 and rises in accordance with the requirements of each customer and the size of the team. It's important to point out that Simplify360 CRM also provides a free trial of their software, allowing companies to try it out before committing to a subscription.
Additionally, Simplify360 CRM provides add-ons like a social media command center, sentiment analysis, and influencer analytics. Depending on the particular requirements of the business, these add-ons are priced differently. There are several price ranges for the CRM, but the best course of action is to get in touch with the business and request an estimate that is tailored to your particular requirements.
To handle your online customer experience in one space, the platform provides robust features.
Here are some of the top features:
Customer assistance inquiries can be quickly opened as tickets, given to members of the team, and addressed. To stop glitches from getting worse, Simplify360 even enables you to concentrate on situations that are most important to you.
You can monitor your mentions and customized hashtags on social networking sites with the platform's built-in social listening features.
You can use these beneficial social insights to comprehend your audience more fully and create plans that will have a greater impact.
To gauge your effectiveness, you can also use important indicators like the number of mentions, the distribution of mentions, the attitude of mentions, and the number of responses.
Simplify360 provides customer service management systems that let companies respond quickly and effectively to consumer questions and concerns. This includes tools like ticket management, message assignment, and response templates.
With the help of Simplify360's social media publishing tools, companies can plan out and publish content on a variety of social media sites. This covers functions like content scheduling, post preview, and content libraries.
Team members can collaborate on social media campaigns and customer service management with Simplify360's collaboration capabilities. This includes tools like workflow automation, team notes, and message assignment.
All things considered, Simplify360 offers a full range of social media management and customer experience management tools that can assist organizations in enhancing both their online presence and customer service.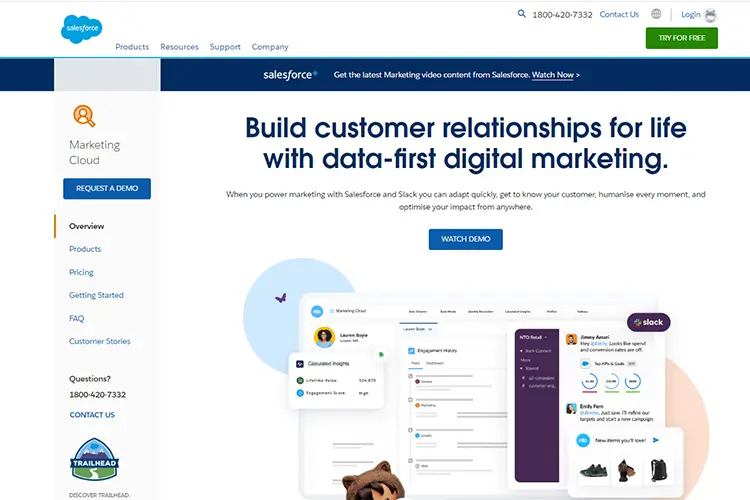 You can deepen your relationship with each customer by using the Salesforce Sales Cloud, which gives you a comprehensive understanding of every single one of them. You can retrieve contact details, activity histories, and customer communications through CRM software to learn how to engage customers in an efficient manner. These are the pricing tiers offered by Salesforce:
Basic sales and customer support functionalities are included in the $25 per user per month in their Essentials plan. Small organizations with up to 10 users should utilize this plan.
The Professional plan has a monthly starting price of $75 per user and comes with more sophisticated features for sales and customer service, as well as collaboration tools, reporting, and analytics. For small to medium-sized firms, this plan is created.
Starting at $150 per user per month, the enterprise plan offers sophisticated customization and integration tools in addition to more extensive reporting and analytics capabilities. This strategy is intended for bigger companies with more complicated needs for sales and customer service.
The Unlimited plan includes infinite customization and integration choices, as well as access to professional support services, and it costs $300 per user per month in the beginning. This program is intended for large businesses with intricate sales and customer service requirements.
Salesforce's top features are as follows:
It even extracts information from social media posts made by your consumers in order to determine what they're saying about your company's image and its goods and services.
It provides marketing automation solutions that let companies design and execute social media campaigns, email campaigns, and other marketing initiatives.
Their solution offers sales management capabilities, such as lead and opportunity management, sales forecasting, and territory administration, to assist firms in managing their sales operations.
Salesforce provides team members with collaboration capabilities so they can share knowledge, work on projects together, and communicate more effectively. Features like Chatter, Salesforce's internal social network, are included in this.
Businesses may track and analyze their customer, sales, and marketing data with Salesforce's analytics solutions. Predictive analytics, reports, and dashboards, for example, are elements that fall under this category.
Salesforce offers connectivity with many different third-party products and services, such as social media platforms, accounting software, and marketing automation tools.
Overall, Salesforce CRM offers a wide range of capabilities that can assist firms in managing their client connections, sales operations, and marketing initiatives. Salesforce is a highly adaptable CRM solution that can be modified to match the unique demands of any business thanks to its wide customization possibilities and interfaces with other technologies.
Salesforce is excellent at determining what your clients expect from you and whether they've got unmet needs that you should satisfy is essential to your growth on social media platforms. This tool is great for social media managers who need a traditional CRM's capabilities.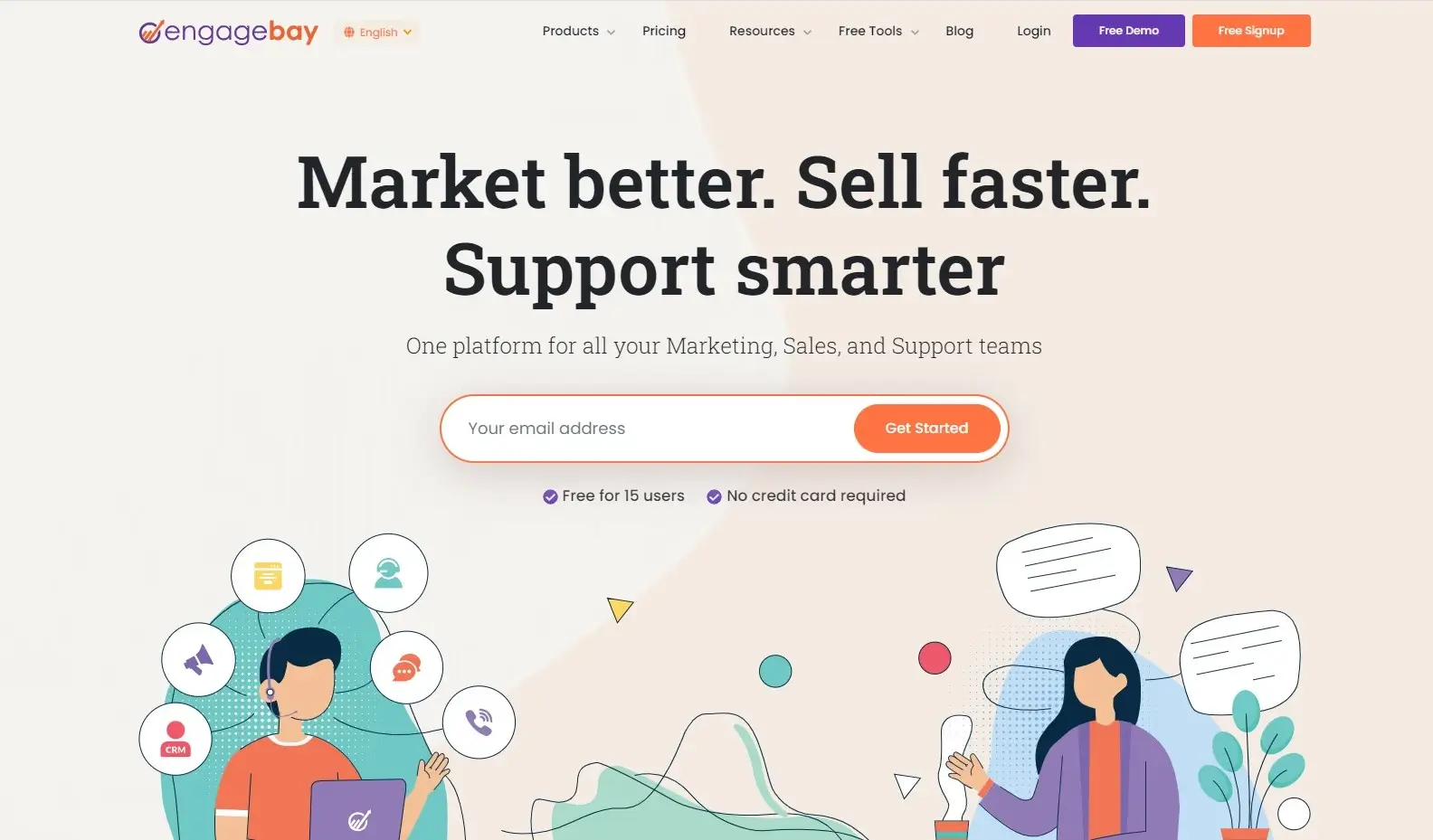 You can manage your marketing, promotions, and service in one location thanks to this CRM software. Using information from several touchpoints, such as social network profiles, sites of engagement, communication histories, lead scores, and more, you can utilize it to create detailed personas for your prospects. EngageBay's pricing points are as follows:
Free: Up to 15 users may use the basic marketing, sales, and service functions of the Free plan. Businesses can manage up to 1,000 contacts on this plan and send up to 1,000 branded emails each month.
Basic: The Basic plan has higher contact and email limitations and starts at $12.74 per user per month. It also has more sophisticated marketing, sales, and support functions. With this subscription, companies can manage 15,000 contacts and send 10,000 branded emails each month.
Growth: The Growth plan contains more sophisticated marketing, sales, and support services as well as higher contact and email limit starting at $42.49 per user per month. Businesses can manage up to 50,000 contacts and send 50,000 branded emails monthly with this package.
Pro: The Pro plan has larger contact and email limitations and starts at $84.99 per user per month. It contains all the capabilities of the Growth plan in addition to extra marketing, sales, and service tools. Businesses may manage up to 1 million contacts with this subscription, and they can send as many branded emails as they want each month.
This provides you with a 360-degree picture of each of your consumers on a single screen, allowing you to get in touch with them and tailor their experience for them, managing social media platforms requires such software that helps you zero in on consumer experiences.
These are some of EngageBay's top features:
With EngageBay, businesses can develop and streamline email campaigns, social media campaigns, and other marketing initiatives. This features drag-and-drop email builders, landing sites, and lead capture forms.
Businesses may handle client queries, grievances, and support requests with the use of customer service management tools from EngageBay. This includes tools like chatbots, the knowledge base, and ticket management.
Businesses may track and analyze their customer, sales, and marketing data using analytics solutions from EngageBay. This includes tools like real-time analytics, reports, and configurable dashboards.
Businesses may manage their sales processes with the aid of EngageBay's sales automation solutions, which include lead and opportunity management, sales forecasting, and deal monitoring. For placing calls and sending SMS messages, it also has an integrated dialer.
The visibility of crucial contact information is guaranteed across all teams by EngageBay. Sales representatives, for instance, may immediately access the lead score and historical information for each prospect, enabling them to perform the necessary follow-up steps.
This straightforward and reasonably priced marketing and sales CRM software includes all the features small businesses and start-ups require to turn visitors into satisfied clients. With their extensive tools, which include live chat, marketing automation, and help desks, businesses can expand their audiences and relationships on social media platforms more quickly.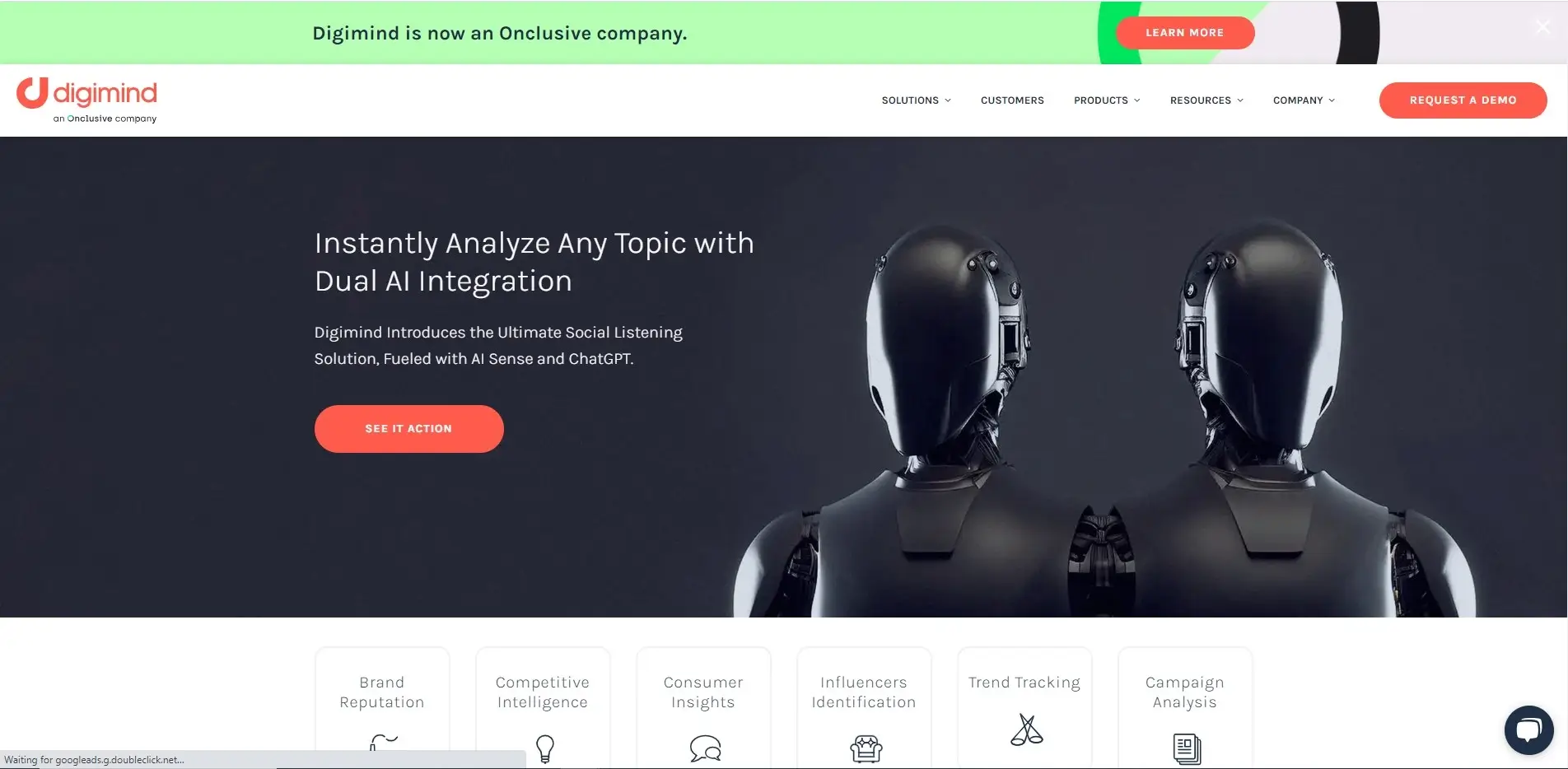 Digimind is a potent platform for market information and social listening. This straightforward social media management tool assists in turning your data into useful insights. Depending on the requirements of its clients, Digimind offers a variety of price options. It should be noted that Digimind's pricing may differ depending on the individual needs and prerequisites of its customers. To obtain a customized price for your company, please contact Digimind directly and speak with a sales representative.
Here are its core features:
Brand image monitoring, competition analysis, customer insights, trend charting, campaign analysis, and more features are included.
Digimind offers all the information you require to interpret social and online data and transform it into valuable business insights. Market Intelligence and Social Listening are the two assets it focuses on delivering.
With the help of Digimind's technologies, you can monitor the conversations that are most important to your business in real-time across a huge number of online sources and acquire insightful data that you can use to guide and enhance your social strategy.
Using Digimind Social Analytics, an infinite assortment of social accounts may be analyzed and calibrated at once. Yet, you can look beyond social media to determine how Google search activity impacts your company.
Moreover, Digimind's software empowers you to monitor what your consumers want to know in real time about your businesses, services, people, and more with Digimind's Top Reputation feature.
The sentiment of social media comments and other online information relating to a brand is examined by Digimind's sentiment analysis tool using natural language processing. This enables companies to monitor how customers are interacting with their brand online.
Businesses may develop customized dashboards and reports with Digimind to monitor their KPIs and online performance. Scheduled reports can be sent to stakeholders automatically.
In general, Digimind's features offer companies a full range of tools to track and examine their online presence and make data-driven decisions to enhance their digital marketing efforts.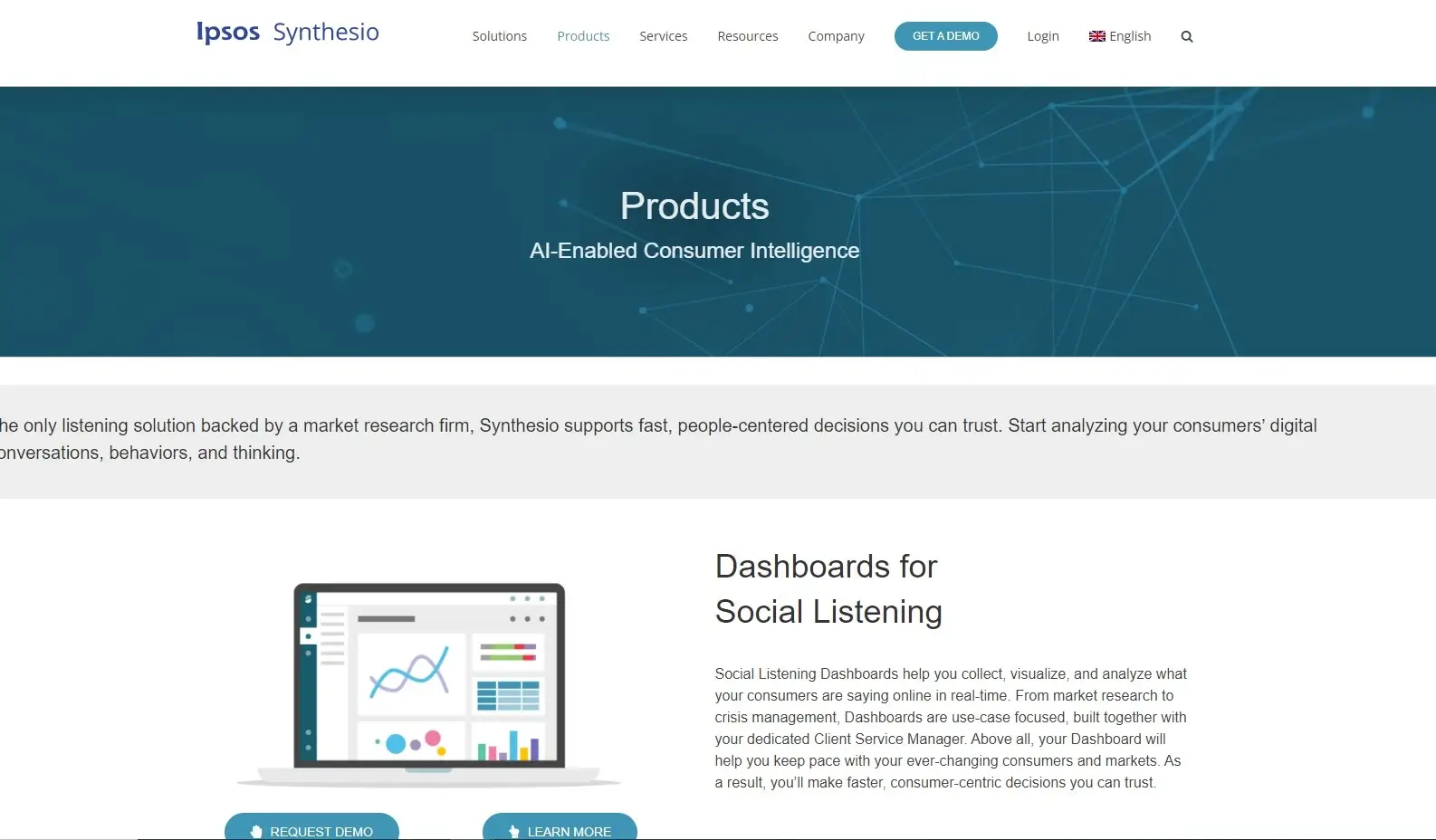 A social listening tool called Synthesio Social Media Intelligence Suite continually keeps tabs on brands' online presence and offers its clients crucial insights. It presently gathers social media data across more than 80 languages from 195 different countries. For more than 20 of those languages, automatic sentiment analysis (AS) is provided.
Sythesio's pricing plans are as follows:
Starter: The Starter plan is intended for small businesses and has a monthly cost of $1,000 to $1200. It comes with access to Synthesio's social media listening and monitoring tools, as well as basic analytics and reporting capabilities. There isn't much information regarding the price points of the following tiers but we've listed them for their feature set.
Ultimate: The Ultimate plan is aimed at larger businesses and is priced based on the customer's individual needs. It contains all of the Pro plan's features, as well as more extensive analytics and reporting tools, data integration possibilities, and specialized support.
For companies with particular demands or objectives, Synthesio also offers custom pricing options. These packages may also come with extra features and offerings like consultation and training.
Its core features are as follows:
It has social listening displays that are fully customizable and provides a tonne of information about online brand mentions. The Synthesio Social Listening Platform includes detailed metadata about the tone, author, and substance of every mention. They are easily filterable.
Businesses may develop customized dashboards and reports with Synthesio to monitor their KPIs and online progress. Scheduled reports can be sent to stakeholders routinely.
Businesses may gain deeper insights into their online performance with the use of advanced analytics capabilities provided by Synthesio, such as audience segmentation and social media ROI tracking.
With Synthesio, you may export sizable pre-filtered sets of data via API or make use of an internal tool called Reveal to combine performance data from several SaaS business intelligence applications with social listening analytics.
Synthesio's main goal is to collect useful web-based insights that may be put to use. Modern technology is being used to refine data with a human helper. The platform is perfect for businesses that need accurate and useful data.
Additionally, you may incorporate consumer evaluations, paywall data, and logo recognition tools into these dashboards. On your social media tracking dashboards, you can also stay on top of views, likes, favorites, comments, retweets, and shares from Facebook, Twitter, Instagram, and YouTube. By using the Media Value and Engagement Rate tools, you can also access sophisticated actionable insights.
Several online tracking services are provided by Keyhole. All plans feature trackers for hashtags and keywords, accounts, and influencers; however, the quantity of each varies based on the price. These are Keyholes pricing plans in detail:
Social Lite: The Social Lite plan, which has a monthly starting price of $49, is intended for both people and small enterprises. It gives one user and up to 10,000 monthly mentions access to Keyhole's social media tracking and monitoring tools.
Social Plus: The Social Plus plan, which has a monthly starting price of $99, is intended for expanding enterprises. It offers up to three users and 25,000 monthly mentions with more sophisticated social media monitoring and analytics capabilities including sentiment analysis and competitor tracking.
Agency: The Agency plan, starts at $199 every month and is intended for marketing agencies. All of the capabilities of the Social Plus plan are included, along with options for white labeling, bespoke branding, and extensive reporting for up to 10 users and 50,000 monthly mentions.
Enterprise: The cost of the Enterprise plan depends on the particular requirements of the customer and is intended for large organizations. All the components of the Agency plan are included, along with personalized support, limitless mentions, and bespoke integrations.
These are some of Keyhole's core features:
Social media analytics and reports for an account constitute the foundation of Keyhole. Keyhole's insights can be utilized to assist you to optimize your publishing schedule while allowing you to keep track of all accounts and updates in real time.
For your staff and clients, this consumer monitoring tool helps create a live dashboard. Teams can make more informed decisions and thus save time thanks to its analytics and reporting capabilities.
Moreover, real-time hashtag and phrase monitoring are possible. This will help you with social listening. The data from Keyhole can be used to improve and track your hashtag campaigns.
You may learn how many posts overall, what the engagement rate is, and the number of total impressions and reach your hashtags have produced.
The Influencer View feature of Keyhole separates apart people who are interacting with your business or target keywords and phrases into a separate table. You can evaluate and filter influencers using this table's metrics for Impressions, Followers, Exposure, and—crucially—Average Follower Engagement.
Average Follower Engagement, or contextual impact on your social media presence, gauges how involved an influencer's followers are with Tweets including your target keyword or phrase. When selecting influencers to hire as brand advocates, this metric is excellent and telling.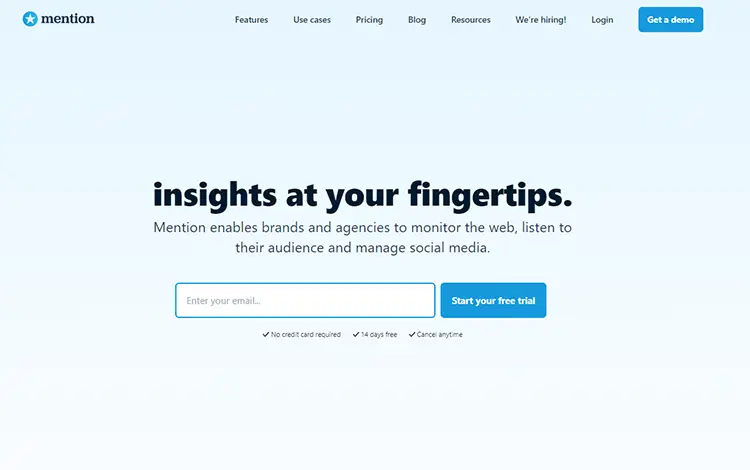 Mention is a tool for brand management and social listening. The application scours millions of websites, social, and online sources for insights that will assist your team in managing your brand's digital presence. These are its pricing tiers:
The Starter or Solo Plan is designed for small businesses or freelancers priced at $41 and serves to track their brand and rivals. At this level, you have accessibility to sentiment analysis, have a dashboard, and therefore can access an influencer's dashboard.
But you only have access to a lot of Mention's features if you have the Pro Plan at $83. This is intended for agencies as well as businesses looking to expand their brands and clientele. Accessibility to other features like Facebook crawling, historical information, a Twitter dashboard, and more is available with this plan.
Along with all the features listed in the earlier plans, the final Pro Plus plan, which costs $149, also allows you to specify how to track results and enhance team collaboration.
These are Mention's core features:
Mention makes it possible to track the web, social networking sites, forums, and blogs for information about your business and sector.
Using sentiment analysis, you can instantly examine popular opinions for all mentions.
Personalize your alerts by source, language, and date. You can fine-tune your alerts by including or removing keywords.
A single user can monitor their brand with the Solo plan making this ideal for startups or freelancers.
Mention is now a complete social media management package that allows you to plan posts on sites like Facebook, Twitter, Linkedin, and Instagram. It is no longer just a listening tool.
Retweets, saves, copies of blog posts, and other similar actions are collected through a function called Group Mentions. An indicator rather than duplicate content in your alert feed lets you know how many times a message has been shared.
You can use Mention to filter the upcoming mentions based on tone.
By doing this, you may quickly find complaints made regarding your company's reputation.
Mention is a stellar option for users interested in a simple and straightforward tool for their social media monitoring needs.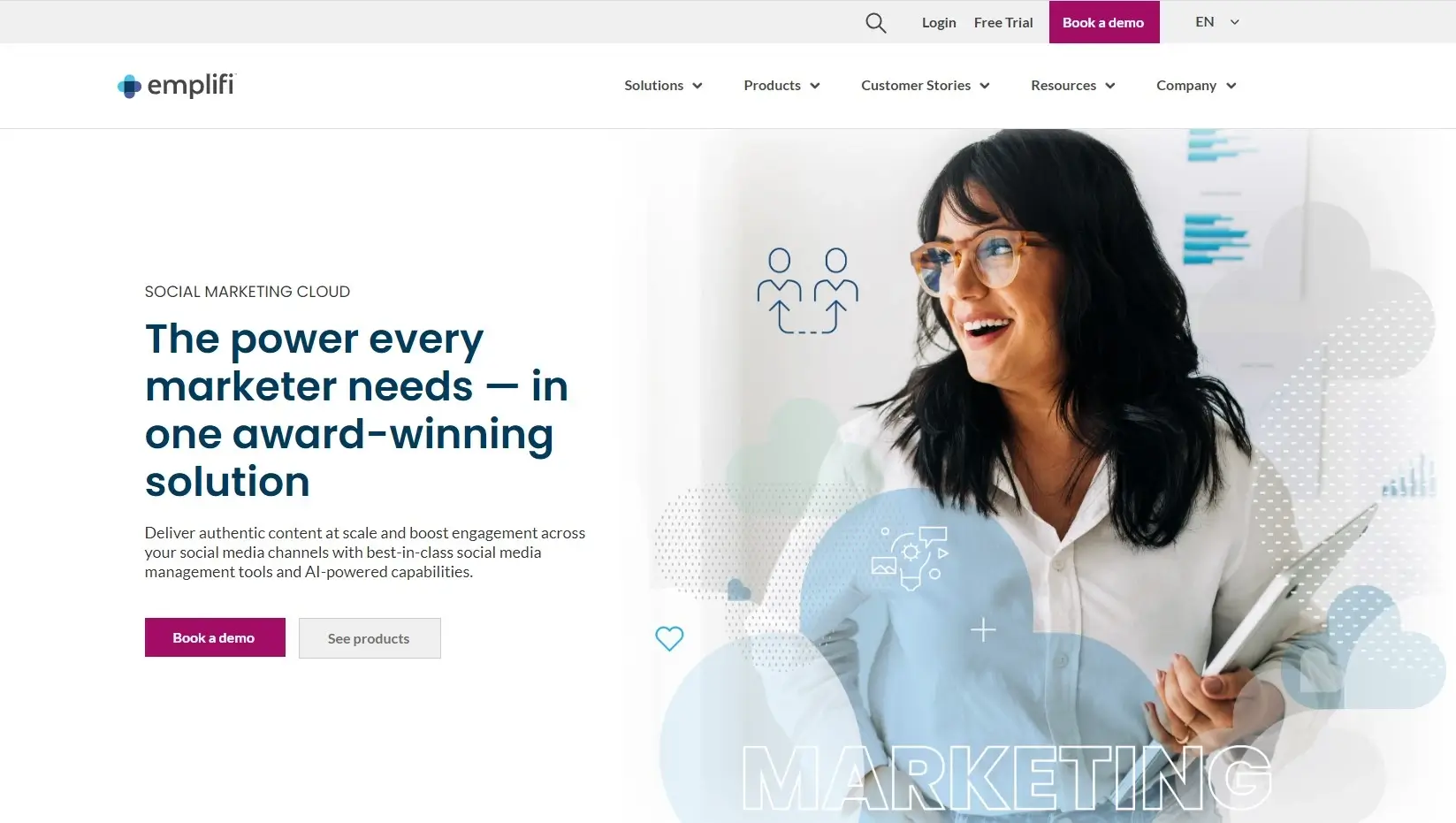 An effective tactic for brands trying to maximize their social media marketing endeavors is campaigning with Emplifi. The company's suite of products offers thorough insights into the ROI and success rate linked to various initiatives, assisting you in making more informed choices about which ones will be most effective in your situation.
Customers have access to a variety of plans from Emplifi, but only the top-tier service includes influencer marketing capabilities. As for the plans:
Straightforward social media marketing and administration for 5 people and 10 social profiles costs around $240 per month or $200 per month payable annually. includes mobile apps for accessing all these services while on the road, as well as content management, scheduling, posting, analysis, and publishing.
Approval Workflow, Sentiment Analysis, Community Management, and Personalized Dashboards are also included in the Smart plan, which has a pricing that depends on the number of users and the number of social accounts you want to use.
The Scale plan, which is also priced on request, includes all of the aforementioned features for an infinite number of users and up to 100 social media profiles, plus Cloud Storage Integration, Automated Content Labelling, Marketing Persona Mapping, Performance Optimisation, and Influencer Marketing.
These are some of its top features:
On the statistics side, the comparison tool is a notable feature because it enables you to examine profiles in-depth and see the true impact of an influencer. You may more readily determine which influencer will provide you the best return on your marketing investment by looking at a variety of metrics, including follower growth, content reviews, and interaction. The tool can help you better grasp the value that each influencer delivers, and it's not usually the one with the largest following.
In order to assist organisations interact with their audiences and foster customer loyalty, Emplifi developed new services for managing social media presence, including content curation and schedulers.
They provide "Persona Mapping" driven by AI, which finds a target market for your company. Their AI identifies influencers throughout your own audience as well as content creators whose audiences match the Persona.
You can track and examine data from all of your organization's touchpoints with Socialbaker's social media listening tool to gain an understanding of what customers expect. By improving the content quality across each level, from discussion generators like hashtag searches or competitive monitoring through keyword research in articles themselves, you can use the knowledge provided by the app to make your future campaigns more successful.
Awario searches the internet as well as social media for Instant mentions. In addition to APIs, it regularly searches over 13 billion online pages. Every publicly available website, including Twitter, Linkedin, Google+, YouTube, Instagram, blogs, forums, and news sites, may be searched using Awario to locate all mentions of your company or organization.
Here are Awario's core features:
Awario constantly scans the Internet for mentions of your brand's keywords in order to keep you informed about any talks that may have an impact on your company and enable you to take action before anybody else.
Track the increase in the quantity of your mentions and their overall Reach, use sentiment analysis to categorise them as positive, negative, or neutral, find the top influencers on each social network, compare several alerts, and use Awario's analytics to assess your progress.
The lead generation and social selling tool offered by Awario is called Awario Leads. It gathers posts where users request recommendations for products comparable to yours and searches for posts where users criticise your rivals. In-app notifications about sales opportunities are delivered in real-time.
These are Awario's pricing plans
For managing their brand, small enterprises and individuals can use the Beginning Plan for $39. You can configure three mention notifications, and one leads alert, and get up to 30,000 fresh mentions each month even at this level. Awario will track a term or combination of keywords for you as an alert. As a result, you will detect mentions across various platforms through these alerts.
The Pro Plan for $119 is ideal for small to medium-sized enterprises that want to keep track of their image, industry, and competition. You can establish up to 15 mention notifications and three lead alerts under this tier. It can discover up to 150,000 new mentions monthly.
The figures increase even more with the Enterprise Plan to $399, which is aimed toward larger firms monitoring several brands and adversaries. This level allows for 50 alerts and 10 lead notifications. Every month, Awario discovers up to 500,000 new mentions under this plan.
Using Awario's analytics, you can follow the evolution of your mentions and their cumulative reach, filter mentions by positive, negative, and neutral sentiments, identify major influencers on social media platforms, compare multiple alerts, and analyze overall progress.
Nuvi is a suite of tools for social media management, advertising, and user experience (UX). It contains management resources for social listening, planning, posting, engaging, reporting, and more — all with the objective of providing your customers and potential customers with an exceptional experience.
NUVI has not disclosed a price for this product or services. This is standard procedure for software vendors and service providers alike.
Its features are as follows:
You can add authorization to your processes so that your agency's team members may collaborate and every content is vetted by the appropriate individuals before it goes public.
You can develop, schedule, and arrange your content with Nuvi to ensure that it goes live when it is required. Next, evaluate results and keep a watch on your rivals to see which social media tactics are most effective for them.
Users can compare various data sets, such as demographic information and regional variables, and apply precise filtering criteria with the aid of Nuvi's segmentation tool. Brands can analyse automatically labelled segments with the help of their hybrid detection system. The social information warehouse also gives users the ability to create custom Postgres databases and write SQL queries.
The social networking engagement feature will make it simple to organise, prioritise, and share these kinds of interactions internally with the appropriate team members. Additionally, you won't miss a single beat throughout any of your accounts thanks to social listening capabilities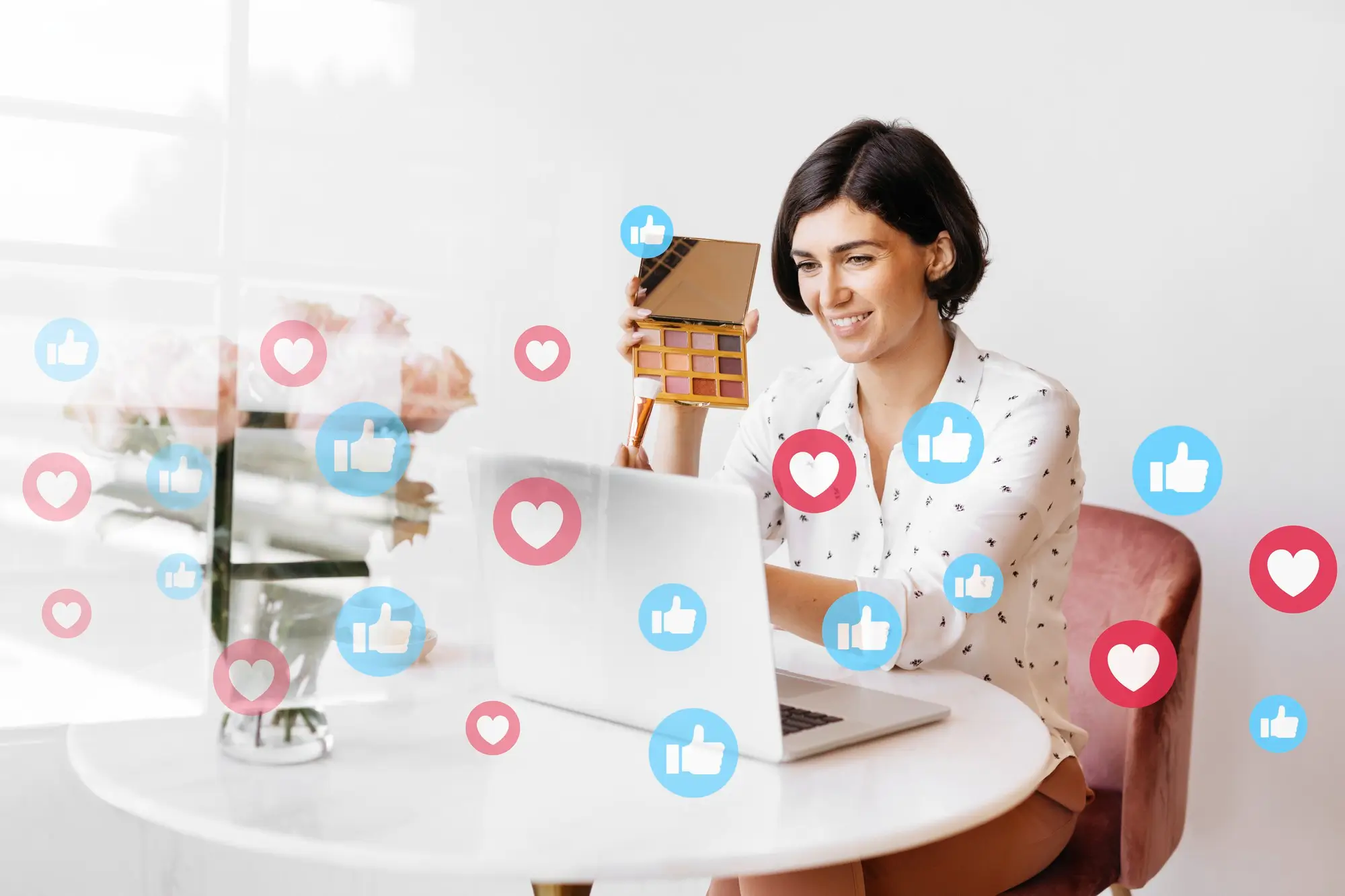 Social media management is the process of implementing a social media strategy across several social media sites like Facebook, Instagram, TikTok, Twitter, and LinkedIn by developing, scheduling, analyzing, and editing content for these channels. To accomplish what we've defined as social media management, you need the assistance of social media management tools.
Even if your company or business isn't established online, social media management software is a crucial component of marketing today. For most businesses in 2023, their online presence and strategy will be just as vital as their physical stores. This means that managing your social media channels is akin to making an appealing shopfront for a retail store or socializing at major events for B2B organizations. Failing to invest in the right tools to help you build your social media presence can be detrimental to the growth of your brand. This software can range from full fledged feature sets that offer automation, scheduling, reports and tracking capabilities. They can also just be the tool you use to oversee major campaigns on social media.
But wait, what are the kinds of social media management software and how do they help managers?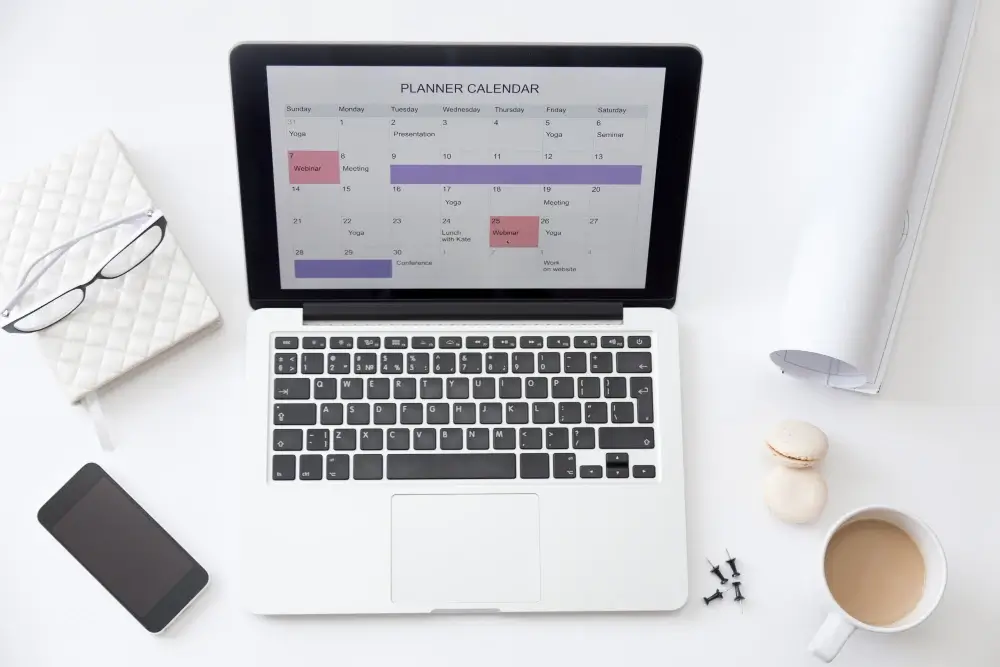 Fully free plans: there are several options for users worldwide when it comes to free social media management software. These tools typically cover the basic features available in most social media management tools. But the free nature of these tools also increases the chances of having very limited access to specific features and functionalities. Sometimes tools that are subscription-based do have a starter tier which is free, but typically those tiers come with a clear push towards purchasing a higher tier of the same platform to gain access to the more functional tiers.
Subscription-based plans: as I've mentioned, subscription-based social media management software is generally the norm in this area. Most tools come with monthly or annual subscriptions that they charge and have different tiers to accommodate different companies. For instance, a brand like Hootsuite or Buffer has comprehensive plans in each tier and high price points even for the entry plan. In contrast, tools like Meet Edgar and CoSchedule are far more pocket-friendly but don't offer the same level of robust features as you can expect with the former brands.
Startups and small businesses should initially concentrate on building their presence online and invest in products they really require at the moment. But enterprises and massive corporations will be better off picking a comprehensive tool that helps you manage everything from a single centralized screen.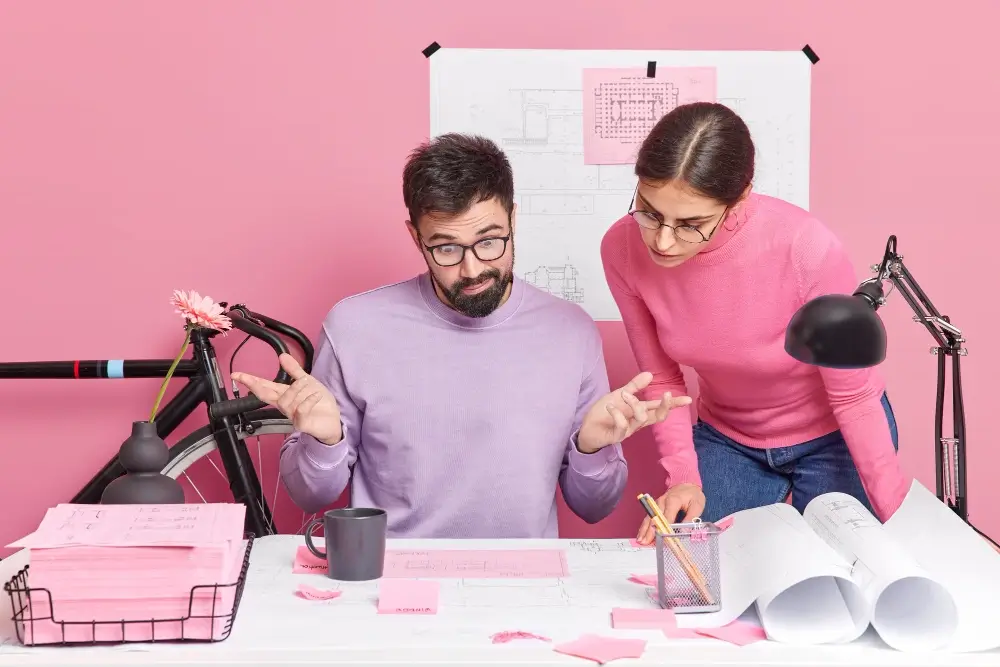 Social media as a whole is overwhelming for a single person to deal with and manage, especially as a brand grows and evolves as a unit. Software to manage social media accounts and different activities you partake in online exists in massive numbers at this point in time.
Several small businesses and Startups may not realize just how much work managing multiple accounts across different platforms can be. Moreover, these platforms constantly require monitoring and listening to your community or you won't be able to track your growth and keep users online engaged. There are several reasons for the heightened importance of using a tool to manage your social media presence, let's get through some of its main uses:
Content creation: one of the hardest aspects of managing social media accounts across the board is the need to constantly create content that is enjoyable and engaging. Gone are the days when you had to sit and brainstorm daily for each and every post you create. There are several platforms like Canva and Pablo that do half the work for you. You don't need to stress about the aesthetics or the layout with software that helps sort your future posts in a grid layout weeks in advance. Marketing your brand on social media hinges heavily on your ability to create compelling content and doing so while maintaining quality is practically impossible with how fast things move online. The best tool for any social media manager is one that boosts content creation as at the end of the day content is the most crucial component of your business's growth online.
Multiple accounts management: one of the main reasons for any brand to hop onto the social media management tools journey is the fact that they need to manage multiple accounts year-round on social media. The more apps you plan to establish your presence within, the more exhausting your social media management gets.

For instance, Instagram demands a daily posting schedule to ensure your followers keep you in mind. Whereas LinkedIn requires well-thought-out content aimed at professionals within your industry. This means that Instagram thrives with short-form content that fits a small attention span.
In contrast, LinkedIn posts thrive when they are long, detailed, and informative. Both platforms have vastly different demands that a single person would find difficult to meet. A social media management platform will help you streamline posting schedules, organize your weekly content, keep track of your engagement levels and help you achieve faster response rates with curious commenters. Several solutions also offer automated posting features that can be immensely helpful and come in clutch for those who wish to post daily on all the popular social media platforms.

Tracking and reports capability: picture this, you've managed to establish a strong social media presence with a sizeable number of followers and users who frequently engage with your content and buy products from your posts. Now you want to know just how effective each campaign is and how each product is being perceived by your community. Most social media apps have a built-in standard solution that helps you track your metrics on the app. But these features don't come with features like social listening or KPI analysis and reports for your team to understand the true trajectory of your growth online. You don't know what your best times to post on social media are or what your best-performing content is over time because each of these analytics doesn't get automatically converted to a pdf that you can download and store for future reference. This is where social media management tools come to the rescue. Most social media management tools on the market have robust social media monitoring and tracking features that help you keep a close eye on your social media presence. When you fail to track your performance you simultaneously rob yourself of the opportunity to improve and expand. Social media management tools help prevent exactly that.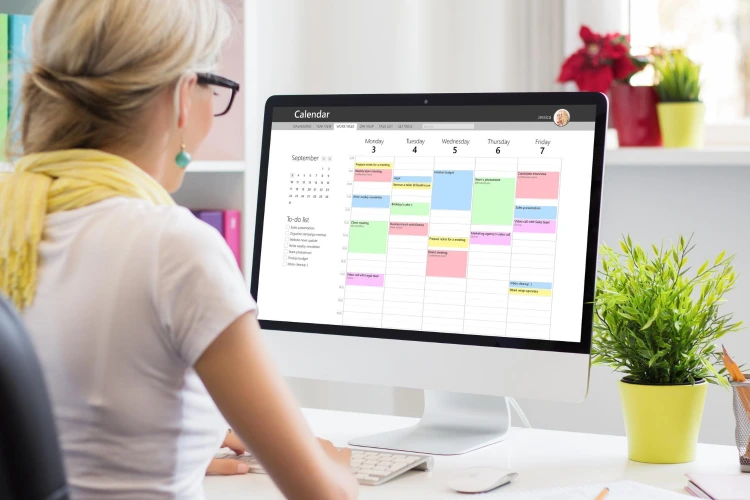 Scheduling tools: as previously mentioned, social media management software helps you manage accounts across multiple platforms. Most of them also help you schedule posts in advance. This ensures that you're always prepared to post content across different platforms. Software solutions that offer social media calendars also help you keep track of how effectively you post in comparison to your created content ideas. Consistency is key when creating and cementing your presence on any social media app. Sporadic and inconsistent posting won't help you create a strong community online as your followers won't have a clear idea of when they can expect to see your content. On the other hand, if you follow a schedule that takes into account your followers' most active periods and you post accordingly, high-performing posts will be the immediate consequence of such efforts.
Integrations with other apps: you may have noticed how some of the tools on this list are CRMs that have special features that aid the social media management industry tremendously. These CRMs are great at helping you segment your customer base, identify your target audience online, and offer highly granular reports on your performance across social media and even in sales. Apart from CRMs, there are several chatbot solutions that you will need to integrate with your social media management solution if it isn't a feature they offer. These solutions require whatever social media management software you're using to smoothly integrate and access information from apps outside its feature set. Most of the tools listed offer several integrations to different platforms and software that help your social media management journey.
Online reputation management: keeping track of your presence on the world wide web manually is literally one of the worst tasks anyone can perform. There's truly no way to personally sit and respond to each and every person who reaches out to you in a timely manner if you're the only person handling customer inquiries and reviews. Social media management software helps you prioritize leads who show signs of conversion first and then move on to lower levels of priority given to leads who just like a post. These tools ensure you don't miss out on any feedback, positive or negative. For instance, if you've noticed a complaint on your Instagram post from a commenter who states that your product isn't performing correctly you can quickly reach out to them and address their concerns. Without a solution that helps you sort out such complaints from random comments, you would have to manually sift through a barrage of comments and answer each one by one.
Now that you why these tools are necessary for the growth and success of your social media strategy, let's get right into the features you need when investing in a social media management software.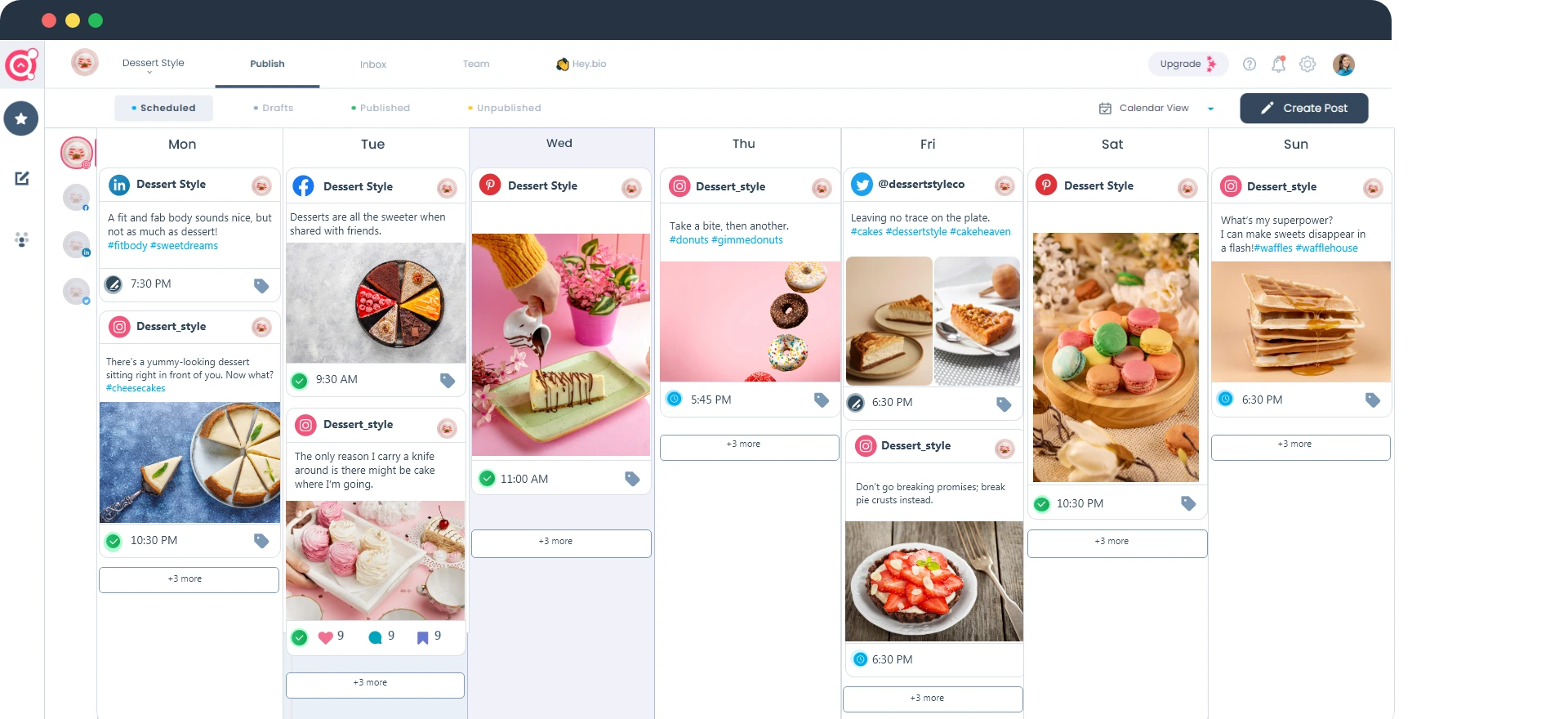 Automation- Posting content each and every day across 5 to 6 platforms at different times through the day can be tedious and effortful for anyone. Whatever social media management software you select, it should come with a feature that lets you automate your posts based on your existing schedule. Moreover, responding to comments, DMs, and replies to your Stories and tracking your mentions without an automated solution that shows you all the information in one area is impossible to handle. Another aspect is the ability to share campaigns and ads automatically when scheduled for whichever platform. Automating such processes can make your managing processes far easier while ensuring you maintain a high caliber of content.
Scheduling: as mentioned in the section about the need for social media management tools, scheduling your content in advance is imp[erative to your success on any social media platform. Several solutions come with highly user-friendly scheduling tools that even offer content calendars and help you incorporate any new post ideas and updates according to how the social media landscape evolves over time.
Analytics: a social media management solution without the necessary analytics and reports feature is useless to most. This is because most software hosts a diverse amount of customer information that is necessary for your behavioral analysis, projecting future content needs, and more. Integrating analytics software into another tool is always an option, but its far easier to pick a solution that has it inbuilt. Measuring your performance is crucial to your success on any website. Integrating an analytics app into your existing social media software can take time and may not deliver information in a seamless and accurate manner. But if the analytics software has access to information readily as a feature within your existing social media management solution you won't have to do any work in terms of collating information from across two different platforms.
Alerts and notifications: engaging your followers can be difficult when you're trying to do it all by yourself. The best way to combat this problem is to install or invest in social media management software that notifies and alerts users whenever there's a customer inquiry or complaint. Some solutions also offer built-in chatbots and response templates that users can employ to improve response rates. Most apps bombard us with notifications and mentions if we have a major presence online. Social media management solutions can filter such messages, flag high-priority ones and help the customer service team work in tandem with the social media management team. This software also helps capture feedback which when positive can be used as social proof that encourages other followers to buy the same product. Speedy handling of any complaints also guarantees higher satisfaction levels among customers.
Management of multiple profiles: most solutions on this list offer users on different tiers the option to manage 4-5 accounts on their platform. This is because managing these platforms is immensely challenging when done alone. These social media management tools also offer users the ability to grant specific users permissions to complex tasks and help managers delegate tasks and collaborate on various platforms without leaving the social media tool. With the use of social media management software, users are able to merge brand pages from numerous websites into an all-encompassing unified screen where displays visually provide the users with insightful graphs and let users contribute and share content, receiving feedback from other users for one or more accounts. To ensure that your account details remain current, personas are completely customized, and advertisements are organized, the resources available frequently also offer authorization features as mentioned beforehand.
Now that we know what are the must-have features of any social media management tool, let's get right into software and services that can be used in combination with these features to boost productivity and employee performance.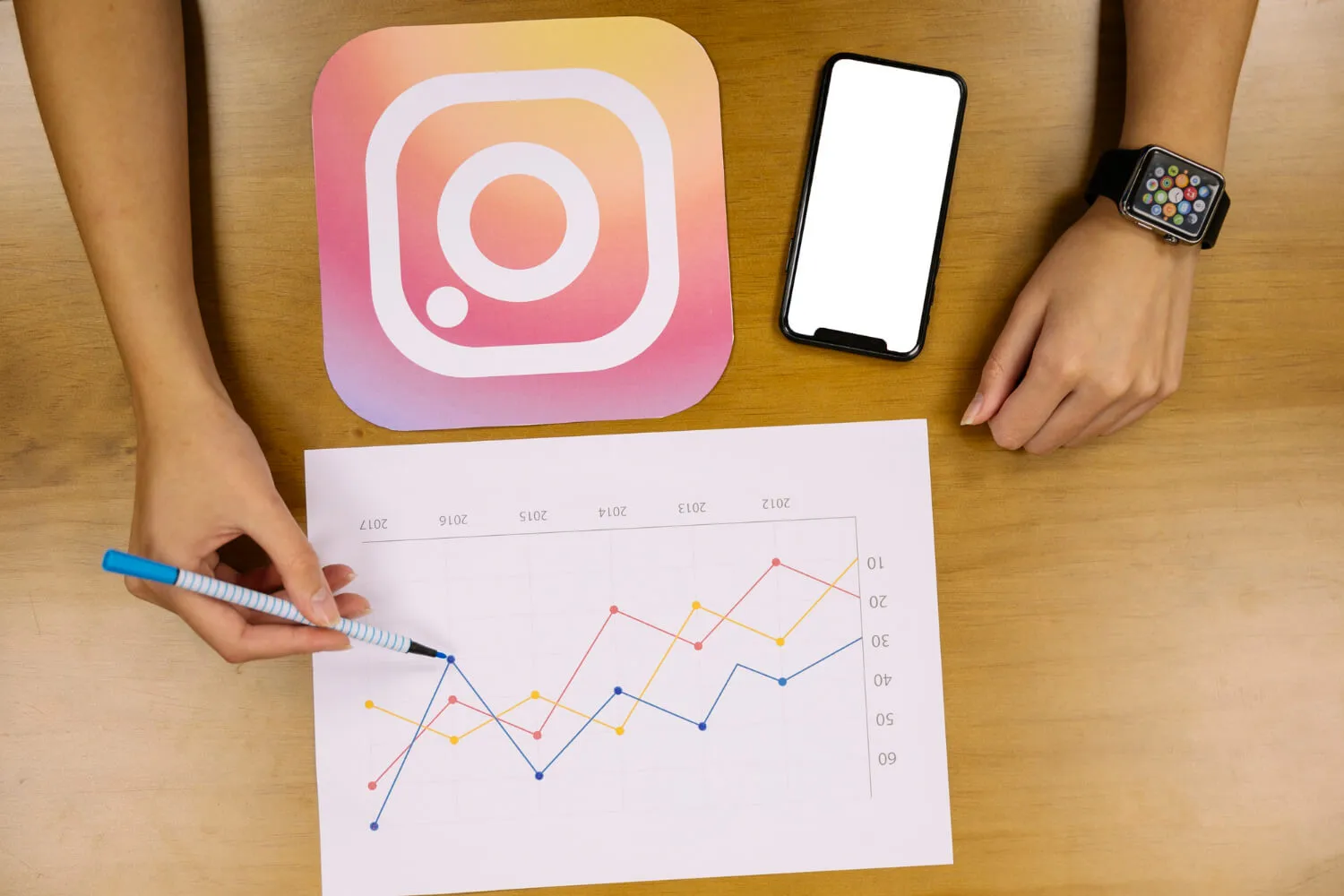 Advertising software: there are several platforms that can help you advertise and market your brand on social media. This can come in the form of a CRM similar to that of HubSpot's which can help you create unique ads and identify your target demographic and display the ads on their social media profiles. For instance, most of us who've used Instagram Stories can recall an ad popping up in between swiping through the Stories feature on the app. These ads are generally things we may have searched or browsed or shown interest in online. This is something your advertising software can track and zero in on when showing products to interested leads. These platforms can also help you A/B test each ad and show you how well the ad performs which will help you achieve higher conversions over time when you find an ad template or format with a definite success rate.
In-built software on social media platforms: while I did state that the software for tracking and analytics in existing social media software is not nearly enough to help you measure your metrics, that absolutely does not mean you should abandon them. In fact, most of these networks have immensely intelligent reporting software that can be more than enough for a Startup or small business. They may not give you in-depth granular details about your campaigns but most of the networks do a great job of keeping you informed and aware of their expectations. Moreover, social media managers and their respective teams must adjust and adapt to the ever-changing world wide Web as necessary to keep these methods of communication current for individuals globally as the social media ecosystem expands and shifts.
Predictive analytics and machine learning: while most social media management software comes with a robust analytics and reporting feature set, they rarely offer predictive analytics and machine learning functionalities. In the framework of the existing social media platforms, predictive analytics can help you forecast trends and project your success in a campaign based on data it has collected and curated over the course of your presence online. Sentiment analysis falls under predictive analysis and is a powerful feature for any social media marketer to access. It helps brands identify how their community and the members of any social media platform feel about them and the general attitudes and perceptions held in relation to the company. It can help you prevent any major misdemeanors and keep you ahead of the curve due to its ability to forecast upcoming challenges. Machine learning is another feature we don't often see in a social media management app, but it can be vastly helpful in terms of image recognition(which can help you understand your brand's exposure and recognisability) and language processing worldwide. Brands must maintain a positive presence online to attract potential customers and the best app to ensure you do just that is a predictive tool.
Customer service software: telephony apps and customer service chatbots are great options to help you guarantee a high-quality of customer experience. Customer satisfaction is a major indicator of how well your brand performs and low customer satisfaction despite great numbers online can be a huge problem. Most companies tend to focus on amassing more followers and forget to cater to their existing base in an engaging and timely way. This can be detrimental to your bottom line over time as your most loyal and returning customers expect you to treat them with a higher level of consideration and care. You cannot successfully show such care without the right tools to empower you in this journey. Additionally, you can always outsource this work to customer service agents and companies that offer similar solutions. Focusing on customer service to give the best possible customer experience is a must in 2023, ensure you have the required tools in your arsenal to deal with such challenges.
Marketing agencies or services: this isn't a tool per se but it is a service you can make use of in your organization. Most small businesses can't afford to outsource tasks like social media management. However, if you're quickly expanding or a larger enterprise, outsourcing your social media management to a team of experts can prove to be a blessing. Instead of hiring and forming a massive team within your growing company, you can always reach out to agencies that offer their social media management and marketing services. These agencies often have a great handle on social media management and marketing and can help you grow on several platforms at the same time. This can be especially helpful to those who aren't particularly social media savvy and who struggle to keep up with the constantly evolving trend cycles across multiple platforms. A major reason to outsource such work is because of how many social media platforms exist and act as great opportunities to sell and build meaningful customer relationships. Even within your company, you would have to create separate teams for each social media platform because of how different each platform's purpose is and how layered your work can get over time.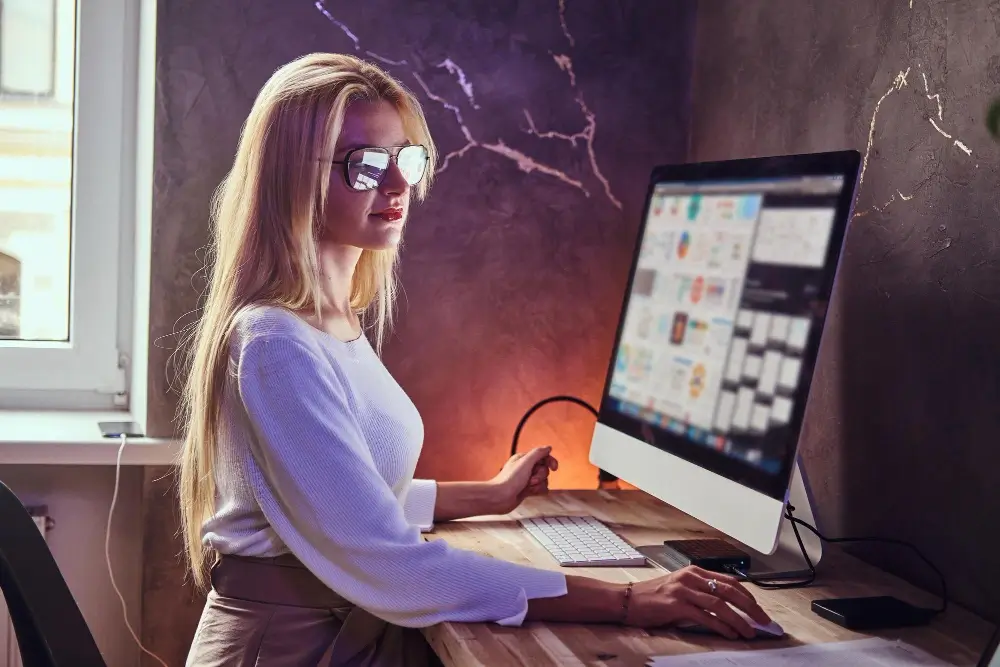 Marketing agencies: as we've previously mentioned, larger brands are constantly on the lookout for competent agencies who can deliver outstanding results on social media platforms. This also means that marketing agencies are likely to be the most interested and enthusiastic users of social media management software to help them achieve their client's objectives. Digital marketing agencies specifically focus on building a brand's presence online and amassing followers while boosting conversions. This means they typically invest in a slew of software to fit their diverse needs and customer demands. Generally, these marketers are creative and inventive by themselves, the software helps them optimize their efficiency and launch campaigns, and come up with strategies at a faster pace than if they were doing it manually.
Freelancers: freelancers in any field be it photography, painting, coding, and so on need to build an attractive and inviting portfolio online that markets their abilities in a polished manner. Moreover, as they are managing their social media presence across several platforms alone, investing in social media management software once they hit their stride is inevitable. Social media management software helps them keep track of their performance and gives them insights into their progress in a centralized area. This means that they don't have to painstakingly go from one display to another to figure out what they need to improve on in their career. Multiple account management and tracking features are a must-have for freelancers due to how difficult it can be to complete those tasks manually.
Small businesses and startups: any small business looking to grow should invest in some kind of social media software whether it is free or paid. These businesses generally have a lot to handle when working as they're focusing on growth at this point in time. This could cause a decline in quality and importance being relegated to their social media streams and they may forget to focus on also growing as a brand online. Starting any business can be daunting but if you steadily build a community by engaging members across different platforms the sales with roll in eventually. Small businesses should invest in tools that help them stay consistent and keep their audience engaged. Tools that specialize in scheduling and engagement are most suited for their existing needs.
Customer service: customer service companies and agencies generally invest hefty amounts of money into social media management software. They tend to focus on software that helps them record conversations, track customer journeys, and lead nurturing tools. Generally, a CRM is the ideal customer service software as it helps the agents' segment leads based on priorities and reach potential customers when they are active. They typically go for tools that have in-built telephony software or APIs they can use to integrate their existing customer service software.
With that, we come to the end of this section. Hopefully, we've covered all the bases on the types of tools you can look out for when managing your presence across social media platforms.
It can be cumbersome and tedious to browse through several pages online to figure out what social media management tool you can purchase, its benefits and price points. That's why we've organized all this data in one area for users to access and read through whenever they're on the lookout for any social media management software. This is a comprehensive list of all the tools you could possibly need in your social media management journey. We hope you find a social media management solution that fits your unique needs and meets all your expectations!