Starting an online business involves several complicated steps. It is also true for those who want to own a social media marketing business. You should understand social media platforms and various marketing tactics well. But, what are the steps for developing the business? This comprehensive guide covers various tips and tricks to help you establish your business. You can make your SMM agency successful with the right approach.
Do you want to establish an independent business? Do you desire unlimited earning opportunities? Have you gained some knowledge about social media marketing? If you say YES to these questions, establishing a social media business is a good decision.
Besides, there are more reasons to start a social media marketing business.
A rewarding and lucrative option- As a social media marketing service provider, you will get the opportunity to help small businesses and startups expand their businesses. So, you can set up your own business and run your agency to work with different clients. It does not cost much to establish this business. However, there is a potential to earn money for a long-term period.
Get fun and explore your creativity- Social media is an interesting and creative field. It lets your clients grow their brands in the digital world. But, there is a release of new social media platforms with more innovative features and the latest algorithms. So, you need to try out different techniques to promote your client's business on social platforms. The social media marketing world will never get you bored.
Have you already created your social media marketing company? You can then skip to the subsequent section. If you are yet to set up your business, these tips will be helpful to you.
Without identifying your goals, you will not be able to establish and grow your social media marketing business. What do you want to accomplish with your SMM business? Startups in this field may want their website visitors to fill out the forms.
Focus on the single platform at first
As a seasoned SMM professional, you may like to work on multiple social platforms. But, the best practice is to target a single platform and devote more time to analyzing its features. You will be able to create the best strategies. You should have a solid understanding of the chosen platform.
You should use analytical data to determine the effectiveness of your business approach. From Google Analytics to Buffer, several tools are available for analytics.
Know about the ideal customer's profile
If you do not market your business to the right audience, you will not get the desired result. Understand the concerns you can address with your social media marketing skills.
Determine your success indicators
The most common indicators are conversion rates, customer sentiment, total shares, brand mentions, and so on. Based on these indicators, how can you determine your business's success?
Step 2: Choose Your Business Niche And Identify Your USP
SMM agencies promote their businesses in different ways. While some companies focus only on content development, others help clients create ads or run an influencer marketing campaign. But, as a startup, you should not try to provide everything at a time. The social media marketing field covers different activities, namely-

Content development
Campaign management
PPC marketing
Lead generation
Engagement managing
Online reputation management
Social media reviews management
Analytics
Be a specialist or generalist social media agency
As there are several social media marketing companies, your first step is to decide on your niche. For instance, you can set up a specialist agency that provides social media solutions for a particular sector (such as, legal, healthcare, IT, fashion, sports, and so on).
No matter whether you have decided to be a specialist or generalist, you must learn about their positive and negative sides. In different online forums, you may find discussions on establishing a social media marketing business. However, the best recommendation for you is to present yourself as a specialist in the social media industry. You can then grow your business over time and make your portfolio bigger by including other niches.
So, determine your niche to start your SMM agency and select the right social platform to reach your audience. Remember that every social platform has its unique rules and algorithms. Thus, you should master them before taking any step.
If you have decided on your niche, you can create a team for your company. Employees you choose should have specialized knowledge about the chosen field.
According to a social media industry specialist, Jason White, it is important to learn everything about a single platform at first. It will help you build your social media marketing business.

As per the report of Agency Pricing and Packaging, more than 30% of agencies consider them as full-service SMM businesses. If you can define your agency properly, it will help you identify tools to be used. You may also be able to set the right price for your services.
Before starting your specialist agency, you should learn about various types of niches.
Specialization
It is a type of agency niche, depending on what services are provided by your company. Your team needs to be specialized in one or multiple marketing areas, including
It means you can establish a full-time SMM company that offers content creation and paid advertising services. For example, OhMyDigital, an Australian company, offers social media solutions, but it keeps its verticals open.
Vertical or industry

While deciding on the niche, you should focus on the particular industry. Common verticals you can target are fashion, healthcare, legal, hospitality, restaurants, and real estate. Smile Marketing is a marketing company has works on dental websites to provide SEO services.
Geography
Another option is to niche down by geographical areas. It means you can work with local businesses and offer social media solutions. If you have chosen this approach, you should include the city where you operate your own business. It will improve your search relevance.
As a specialized SMM agency, you have to do a number of things-
Social engagement- Get more comments and shares to beat competitors
Go viral- Reach a milestone in terms of the number of likes and views of your content.
Spread your unique voice- You should show your creativity and provide services that break traditional norms and reveal your brand's voice.
Community- Create a niche-oriented highly engaged community that your client will use to promote his services or products.
Many social media agencies create bundles of services they provide to promote a brand. Packaging your social media services benefits your clients in various ways-
Your potential clients can make the right choice from the given options.
They get a clear idea of services included in the package. They also become aware of additional solutions you offer.
They can compare packages to some other agencies.
With proper packages, you will show professionalism.
Do thorough audience research to determine the services you will provide for your clients. Small businesses look for general packages at an affordable rate.
But, how will you organize your packages? Let us provide you with some options-
Goal-driven packages- Instead of providing a range of social media services, you should consider expressing the value of services. Thus, packages should be organized depending on how much your client tries to achieve.
Service-driven packages- Create different packages based on the services you provide. You may also level up these services by incorporating additional services. For instance, if it is a basic package, you can include content development as an additional service.
Budget-driven packages- Some potential clients give more focus on budgets. It is especially true for small and medium-sized businesses. Moreover, if you have included paid advertising in your services, you can create budget-driven packages.
The number of platforms- If you have diverse skills for managing more than one platform, you should design packages depending on the number of social platforms you work on. So, your clients will choose the platforms where they want to flourish your business.
Suppose your client wants services for 2 social networking platforms. Thus, the package will be like what is shown in the image-

The number of social platforms or channels your client needs to manage is a commonly chosen factor for package creation. For instance, Onlinedrea has created a strategy that comprises- an action plan, social media page optimization, and social media audit. It has offered 3 monthly social media maintenance packages, a Growth package, a Starter package, and an Everything package. The last package contains add-ons, such as video content and paid growth strategies.
If you have now created your packages, you can now decide on add-ons. Ensure that your packages include your main services to get repeat customers. But, some potential clients like to have services to meet their particular needs. You may miss out on deals if you have not considered them. So, what optional services should you provide?

You will get a better idea from an example.
Social Cut, an Australian company, has created Instagram marketing management package with some add-ons like custom photography, comment moderation, and daily posting.
So, you may also think of some extras that you can offer your clients.
Another option for customizing your services is to provide create-your-own opportunity. Although there should be a standard or basic package, this innovative option will make your clients happy.

Fisher Green Creative has provided this exclusion option for its clients. Thus, your potential clients will also be able to design a tailored package according to their goals, budget, and needs.
Based on what they have chosen, you can send a quote.
Set the pricing for your clients
Pricing is the most challenging step for a new social media marketing company. Novice social media marketers often like to provide services at a low rate to attract customers. But, it will not make their businesses sustainable. If you set a low price, your potential clients will believe that your services are not valuable or effective. You can provide various pricing methods for your SMM business.
Most commonly, clients choose a fixed monthly fee for social media service packages. Many digital marketing agencies combine various pricing methods. Instead of focusing on billable hours, you can set a particular fee. It will make your business more profitable
Point-based pricing is another idea that lets you charge the client per point (service). For instance, each point may cost around $50.
Value-based pricing is a strategy for which you have to evaluate your competitors' offerings. Determine your competitors' charges and the uniqueness of your packages. It will help you perceive the right value of the package.
For example, the monthly package price of your strong competitor is $600. However, as you provide more services, you need to consider the worth of additional services to your customers. You may also rely on your customer feedback for price adjustments in the future.
The most important thing is to make a profitable pricing model.
Select the payment options
How will you charge for providing services? You should have a clear plan for your payment schedules. The most commonly chosen options are-
Monthly or recurring payment: Clients who need your social media services regularly can choose this payment option. They will pay you on a particular date every month.
Project-based payment: Some clients prefer bespoke social media services, such as strategy development, campaign audits, and training.
Some crucial things included in social media services are-
SMM campaign strategy- Account development, growth, and branding
Community and social media account management
Content development- It can range from graphic designing to copywriting. You may also need to develop platform-oriented content.
Content publishing
Content analysis and research
Social media consulting
Based on your capabilities, you can create packages and set charges. Most clients want a comprehensive report on social media activities.
You have now already decided on your pricing, packages, and payment schedules. However, while revealing the details, you should ensure that your packages are displayed properly.
Many newly launched SMM businesses make long, complicated packages. As a result, their clients become confused and cannot make decisions confidently.
One of the best tips for you is to display SMM packages side-by-side or row-by-row. It will enable your potential clients to compare them. They will learn what is included or not included in every package. Another tactic is to place the most popular package in the middle.
Besides, you should be concise enough while revealing the social media marketing packages. Too many options or packages will not encourage your clients to make a deal.

Step 4: Create a business plan
Like other businesses, your social media marketing company needs a comprehensive plan. Most importantly, your financial foundation should be solid enough to continue operating a business.
However, before making the plan, you should be aware of your USP. Differentiation is a tactic that a company should never overlook. Enventys Partners' co-founder, Roy Morejon, said determining the differentiator helps you distinguish your business. You need to compete not simply with social media marketing companies but with the business world. As a startup, you may not have a differentiator. But, you can find it later to achieve success.
So, how will you identify your USP? A proper USP lets you define your brand identity and services to distinguish them from your competitors. Suppose the USP of a business is that it always takes care for every need of a customer. So, based on it, the company should create-
Blogs on the significance of customer service
Videos on the tailored services and products
Video advertising campaigns on customer services.
Thus, identify your own USP and create a proper business plan for your SMM agency. If you have learned about your USPs, you have to develop your plan. Although you do not need to convince a top-rated CMO or search for investors to start your business, you must not skip the step for planning.
Whether you need to grow your existing SMM business or start a new one, you should have a proper business plan. A comprehensive plan will also enable you to find the sources of funding. But, it is essential to update the document every year with the growth of your business.
The main funding sources for your SMM business are credit cards, personal savings, and bank loans. Now, we have to discuss every section of your SMM business plan.
Executive summary
It is an introductory part of the overall business plan. But, you may write it at the end of making the plan. It has to summarize each section of the plan.
The main purpose of Executive Summary creation is to keep the readers engaged. Readers should learn about the type of SMM business you run and your current business status. For instance, as a startup, you can talk about your plan to grow your business across multiple markets.
Write an overview of every section that you like to include subsequently. Say, it may be about the SMM industry overview. You should also write about your target customers. Besides, it is essential to identify your team members while developing the business plan.
Company Analysis
This section of your plan will cover the type of SMM business that you want to operate. You may also create a plan as a full-service company.
Paid advertisements: Your digital marketing business can focus on social media ad creation and SMM campaign optimization.
Strategy: In this case, you need to run campaigns based on a particular goal.
Content: It is another category of business that creates content for single or multiple platforms.
You should write about your business background to create the Company Analysis part of the plan.
Why and when have you established your business?
Have you achieved any milestones? (such as the number of customers and positive feedback)
Clarify the legal structure of your business (Sole proprietorship or LLC).
Industry evaluation
This section has to include an overview of the SMM industry. Although it does not seem important, it is essential for some purposes. Besides, market research lets you refine your strategy, and you will learn about the market trends.
Customer Analysis
It is another vital part of the business plan. Your customer segment may include corporations, SMBs, and non-profits. So, choose the type of clients and identify their psychographic profiles.
Step 5: Landing your First Client
Landing the first client for your business is the most challenging task. Still, a few significant steps will simplify the process.
Develop your portfolio - To persuade your client to buy your SMM services, you should showcase your talents and skills. Your clients may not have much time to learn a lot of things about your services. So, design a professional portfolio that is easily navigable and aesthetically pleasing. Make a proper presentation of your projects. Your portfolio should show how you have worked with various types of businesses.
Create a social media presence for your own business - Many social media agencies do not consider it important to create their own pages on social platforms. However, it makes their brands look less professional. So, establish your strong social media presence and connect with your potential clients. Your branded account must also be managed properly. Expand your follower base and build a solid foundation for more sales.
Leverage benefits from your personal network - It is another way to secure first clients. Your family or friends may have acquaintances interested in buying your services. Make sure that you have delivered services according to what you have promised. It will help you make your relationships stronger.
Apply your lead generation tactics - Without a lead generation campaign, you cannot get clients for your social media agency. So, create a strategy to convince potential clients to visit your site and submit their contact details. Suppose you have written an e-book on social media marketing. If entrepreneurs have found it helpful, they will need to submit contact information to download it. Thus, they become your leads, as they are aware of your business.
Acquire more advanced skills - You should continue learning more about SMM techniques. Your effort to refine your skills will help you attract new clients. You may research on your own or undergo a course. In other words, you must consistently try to hone your skills. You can also talk about your skills while communicating with your clients. With the growth of your skills as an SMM professional, you will be able to earn more.
Choose agency marketplaces - Some SMM agency owners think they often need to sell their services at a low rate if they hire clients from marketplaces. This claim is not totally wrong. However, one exceptional marketplace is Credo because it does not allow companies to pitch for jobs. Instead, this platform manually introduces vendors to clients. There are many other marketplaces, such as Fiverr, Crowdspring, and Upwork. Although these websites deal with projects, it is comparatively easy to use Credo.
Use paid advertisements - The paid advertising strategy lets you attract new clients to your SMM company. According to AgencyAnalytics, almost 70% of clients like to stick to their chosen marketers for more than 2 years. So, to run your paid campaign, the most important step is to know your target audience and identify their demographics and behaviors. Set your advertising goals to get the highest returns on your investments.
Attend different events for networking - It is another way to pursue business. Companies from different verticals and industries host networking events and conferences. If you attend these events, you have an opportunity to get new clients. Conferences drive interactions on social media platforms, and you can leverage their benefits.
Find 5 prospecting tips and win more clients for your SMM agency
You have now already acquired a few clients for your business. But, now you should continue your effort to get more clients. Check 5 effective tips for winning more clients.
Use online forums and groups - You can join different online forums and Facebook Groups. You will be able to talk about the business or industry you have chosen. Look for SMM groups where you can demonstrate your expertise and skills. Quora and Reddit also help you share your knowledge.
Develop content and make partnerships - Producing quality content lets you showcase your skills and address issues faced by your niche. It may be time-consuming to write blogs for your social media agency. But, it helps you manage your brand. While making strategic partnerships, you can publish content as a guest blog writer.
Ask for referrals – You can gain referrals only if you have gained the trust. Your existing clients will be so happy that they will recommend your business. There are some other ways to take advantage of your loyal clients.

For instance, Lyfe Marketing, a prominent social media agency, reveals its client's revenues. It has also displayed its previous campaigns on the home page. If your client relationship is smooth and stronger, you can easily ask for more favors.
Have some case studies ready to show - As a young social media agency, it is often difficult to answer your potential client's question- Can you show a case study? If these leads have entered your pipeline, the case study provides them with a sense of security. It lets you back up your promises and claims. So, after building a relationship with a few clients, you must create case studies. You can engage your in-house team to write the case study. Make sure that it is beautifully formatted and showcases your success. It should encourage your potential clients to make a deal with
Deliver personalized email - According to a study, 80% of buyers prefer email to contact sellers. So, you can create personalized email content to attract your potential clients by addressing their needs. Ensure that your email is mobile-optimized to increase the click-through rates.
How to write a social media proposal to convince a client to sign
A social media proposal refers to a document that reveals the proposed social media marketing activities. It shows how your tailored SMM campaign affects your business goals. The document also establishes your social media expertise and outlines the details of the project. Besides, you should be clear about the cost of your service. Although there are many social media proposal templates, you should know the way to write the document.
Identify the goal of your client's business.
Learn about his target audience.
Analyze the activities of his competitors.
Run an audit of the social media campaign.
Create your marketing strategy and write down your proposal.
Prepare a contract and get it signed by the client
While writing the contract, you should include the contact details of both parties. Besides, you have to mention the terms of your social media project. Your payment terms need to be established properly. For instance, your contract needs to reveal how will get paid. The contract should let your client know the payment schedules.
Furthermore, you must not overlook the details about the termination of the project before the stipulated date. Finally, the legal contract should be signed by the parties. You can use DocuSign's services to collect the signature of the client.
Step 6: Build and nurture your relationship- Pitch your potential clients
Crafting the best sales pitch is important for nurturing your relationship with the client. The main reason for writing the pitch is to prove that your services are the solution to your client's business issue.
Customize your sales pitch - Ensure that your pitch is intended for a particular client. Your potential client will see how you have put effort into learning about his business. It is also essential to highlight the challenges of his business.
Add a value proposition - How will you provide value for your potential clients? The pitch should focus on the value proposition because your clients will be more interested in your social media services to improve their businesses. They like to know about the expected results, like higher revenues and productivity.
Make your pitch short and clear - A lengthy sales pitch will not effectively engage your clients. You must consider your client's time to create the content. Most clients have little patience to read your pitch. Your sales pitch must be short and precise without deviation from the main message that you want to communicate.
Present the issue - The most significant thing is to explain the issue faced by your clients. You can then introduce your services and their benefits. Talk about the challenges of your client's business. It will help you draw his attention and persuade him to connect with your team.
Narrate a story - If possible, you can illustrate a story that provides a clear idea of how your social media services will move your client's business forward. Your story may be based on a case study or a testimonial. You may curate the testimonial to turn it into a story.
Develop an emotional connection - The most crucial thing is to understand your client before crafting the sales pitch. You may need to conduct an intensive study on the client's business to create the best sales pitch.
So, these are some steps for composing your sales pitch and convincing the potential client to make a deal with you.
Step 7: Track your business progress- Create a portfolio- Have a social proof
It is not easy to learn the way to run a social media agency within a few days. Consistent tracking of your business status lets you determine the steps to be taken. Regardless of the size of your marketing company, you should review and track your growth.
During your regular performance-tracking effort, you will understand what is successful and what is not. So, how should you track your progress? The most important things that you must measure are-
Lead-to-client conversion
Your marketing effort has yielded results. Your SMM agency's leads have entered your sales funnel. But, it will be of no value if most leads do not subsequently convert to customers. Thus, you cannot overlook the conversion rate as one of the metrics to track progress. It helps you measure the effectiveness of your marketing program.
If you have found a comparatively lower conversion rate, you should adjust your website's CTA button and optimize landing pages. You can also analyze the sales pipeline and find the reason for drop-offs. Train your team members to improve sales competence. But, do not adjust too many things at a time to boost conversions.
Customer Acquisition Cost
While tracking the growth of your social media business, you should calculate the cost of acquiring a new client. It refers to the cost of persuading a lead to buy your social media services. This cost also helps you know your business profitability. If you find a higher acquisition cost, it indicates an issue. You should try to reduce the acquisition cost while expanding your client base. In fact, you cannot calculate a client's lifetime cost without considering the acquisition cost.
Customer Lifetime Value
It is another metric that must be tracked and monitored regularly. How much revenue have you earned from a particular client over a certain timeframe? If your social media marketing business retains a client for a longer period, it increases the lifetime value. The main reason for determining the CLV is to make sure that your investment in new leads is not higher than the amount you earn.
Customer retention rate
Also known as CRR, Customer Retention Rate is the metric to identify the number of customers retained by your company over a particular period. According to Jay Bats, ContentBase's (social media template company) developer, CRR indicates customer loyalty. If your social media agency starts with only 10 clients but loses 2, the customer retention rate is 80%.
A marketing consultant, Black Smith, has said that analytics showing ROI are important for client retention. You should encourage your clients to give feedback that helps you show your brand's authenticity.
According to a study, acquiring a new client is 5-25 times as costly as retaining existing clients. That is why you should give importance to client retention to make your social media marketing business profitable.
Richard Barker (the former owner of an SMM agency), the founder of Clarion Security System) has opined that your potential clients may not be interested in your social media channels. They do not have time to check your old posts on social platforms. Their only aim is to have help from social media experts and increase their sales. For instance, the TikTok account of Truffle Social, the marketing agency, has more than 9,000 followers. Again, their Instagram account also has 12,000 followers. However, the main effort of this company is to develop content and encourage clients who are looking for services.
There are some ways to increase the client retention rate. The most important thing is to ensure the best experience with reliable social media services. Moreover, you can provide customized services and offer discounts to your loyal clients. Many SMM agencies also use tools for maintaining relationships with clients.
While focusing on a good retention rate, you should not overlook the churn rate, which denotes a reduction in repeat sales. It is a significant metric to measure your business performance.
Source: Reddit (Social Media Marketers Community)
Establishing a social media marketing company is truly a complicated process. However, growing this business is a more challenging task. You should not only have a clear understanding of how you run the business but also maintain professional relations. It is better to grow your social media business slowly to pay attention to every detail.
Besides, you should focus on your work quality and service delivery. If you provide quality services, there is no need to pitch a lot of clients. According to Richard Barker, chasing new business and leads is important for every company. However, he advised us not to forget your existing customers. So, you should always give importance to what you deliver. It will allow you to get several referrals.

As an owner of an SMM agency, you can also join a community to connect with people who are associated with your industry. For instance, Demand Curve is a marketing-focused community that enables you to continue your journey with other professional marketers.
Communities are highly powerful, according to Anna Sullivan (The Creative Exchange). It is because you can meet like-minded people to assist you in your work.
Celebrate wins and keep your clients engaged
Whenever your social media marketing business achieves a goal, you can celebrate its success. You and your employees will take pride in the achievement. At the same time, your clients will learn about the way you grow your brand. Even if it is a small achievement, you may celebrate it during your meetings with the client. To keep your clients engaged, you can show-
Testimonials from your loyal clients
Brand mentions
User-generated posts on different platforms
Industry-related news
Social media tips
Set expectations and timeframes – Tips for building relationships with your clients
If your client has already signed a contract with your business, you can now start working with him. You can host a video call or make phone calls to deal with the project. The most important things that you must not overlook are-
Your client needs to know your KPIs and the details of how you will work for his business.
You can share your custom plan for the project.
Explain how your team will work for the client.
Set your response times and working hours.
Create a schedule and get the client's approval.
Discuss everything during your regular meetings.
Using social media management tools is not enough. You must be aware of other tools that help you do admin tasks. So, find a list of the most common admin tools.
Social Media Management tool : Social media management extremely essentail for agencies more than you realize. Management teams have their work cut out for them, from brainstorming and drafting pieces to coordinating and posting content. These tools can range from simple scheduling services and design tools to complex enterprise solutions.
Office Suite- Google's G-Suite provides different applications, including spreadsheets and emails. The cloud-based solution lets you share and store files in the cloud. It also allows real-time collaboration with everyone associated with your agency.
Business email- If you continue using a personal email address, it appears unprofessional. So, choose your unique domain for a professional-looking email address.
Appointment Scheduling- It is time-consuming to send emails manually to schedule your meetings. However, Using Calendly, you will easily be able to share time slots available for invitees. Invitees will book the slot according to their convenience. Calendly is shareable via email. You may also embed the tool on your site.
CRM- Customer Relationship Management software is essential for every business to track your customer contact details like phone number, website URL, and email addresses. For example, you can choose the free CRM of Hubspot to organize and nurture leads and clients. Use the CRM dashboard to learn about the current deal's status.
Whether you want to pitch to new clients or serve your existing clients, it is essential to manage your social media accounts efficiently. You will also save time with this approach. So, how do SMM agencies manage social media accounts for their businesses?
We have listed a few tips for you.
Make a routine according to your convenience
If you want to manage the social media activities of your agency with your own effort, you should create a routine. For instance, in the morning routine of your SMM campaign, you can include activities such as checking emails and a social media calendar.
Again, as a part of your afternoon routine, you can track analytics and curate content according to the trends. Review the day's activities every evening. So, if you maintain a routine, you can stay organized.
Choose the right social networks for your client's business
There are millions of users across various social networks. Indeed, you can reach new clients on these platforms every day. But, if you have devoted your time and resources to several networks, you cannot make your presence stronger on any platform. It is challenging to manage your business activities on every social channel regularly. So, concentrate only on popular sites where you can meet your target audience. For instance, LinkedIn, Instagram, Facebook, and Twitter are the best platforms to find your leads. Prioritize your efforts for the chosen platforms only.
Create your content development plan in advance
Planning your social media content in advance is advantageous. You will be able to maintain consistency, and there is no way to miss posting days. Your content will also be aligned with your goals.
However, your SMM agency's team members have to work together to make a plan for the content that they will publish. For instance, one expert will gather data, while another professional will create the content. Others can involve in content curating and editing works.
Consider batching
Batching is a good tactic for your social media management activities. You can choose at least one day of the week to spend some for scheduling and curing content. Thus, on other days, you will save time while checking in the content. If you schedule your labor-intensive work in advance, you will find it advantageous. There is no need to waste several hours a week on SMM for your business.
Batching and regular rescheduling will allow you to post content within a particular timeframe. If you use the older content, it will minimize the need to write new content.
Outsource a few tasks
It is difficult to manage everything on your own. You may not have time or good skills. For instance, if you have no graphic designing skills, you can look for a professional graphic designer for stunning visuals.
Experiment with various social media activities
If you have saved some time every day, you can try to do some experiments with social media activities. You can use new features of Instagram to boost engagement or scale up your networking game on Twitter.
These are some tips for efficient and successful social media management for your business.

You can find many premium tools to let you manage your social media marketing business.
Awesome Social : Social Media Management Tool for SMM Agencies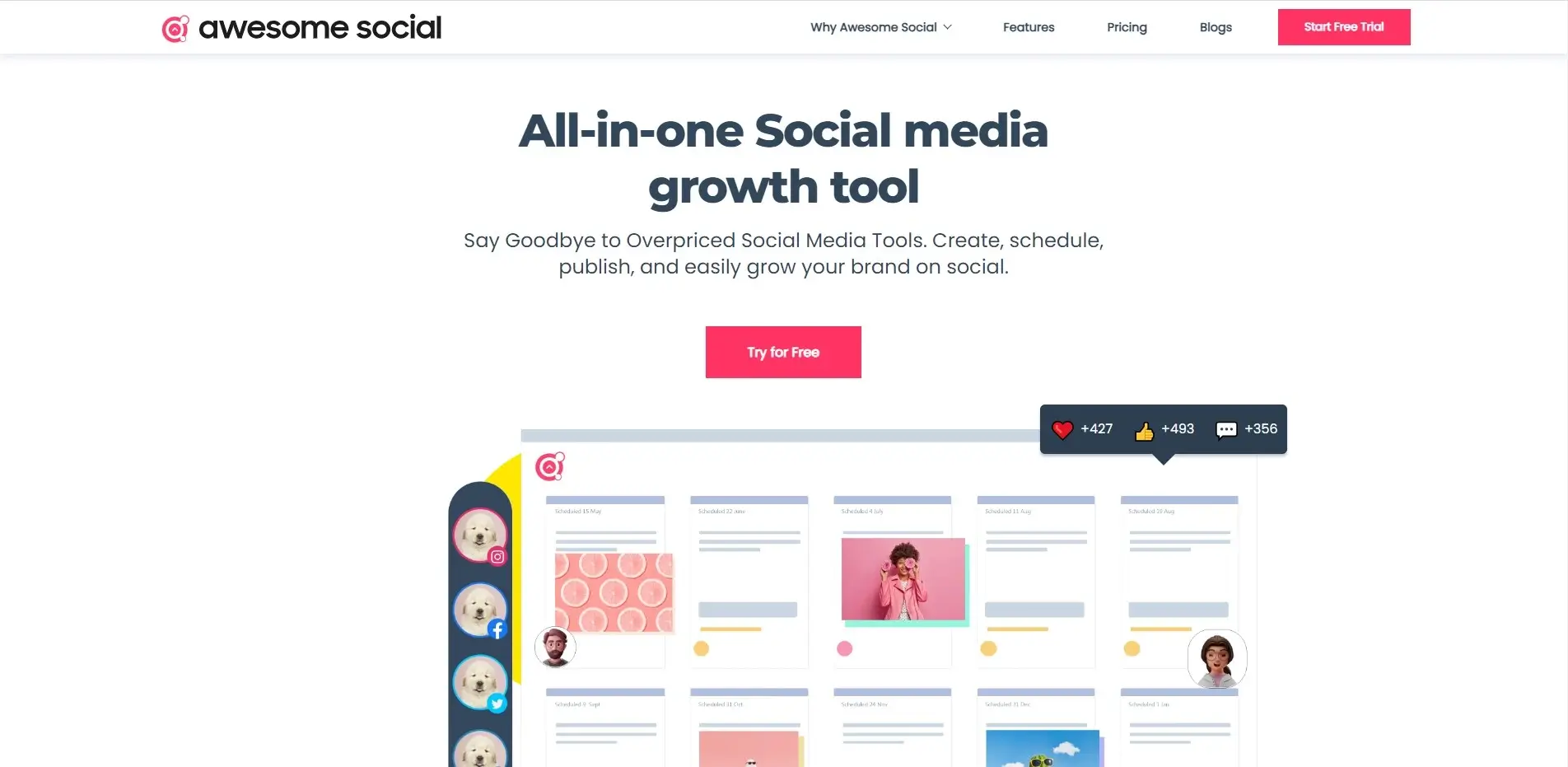 Awesome Social is an all-in-one and one of the best social media management tools built for Agencies. It's a powerful tool with amazing scheduling, engagement and Analytics features.
This social media management tool for agency provides you with all the important features like:
Scheduling
Social Inbox
Managing multiple platforms and workflows
Post statistics
Analytics
Team Collaboration
Hey.bio (link-in-bio tool)
But this is not all! Awesome social provides many much more that can give you full control over your social media. And, bring it to the top as well. Awesome social will definitely empower your social presence to the next level.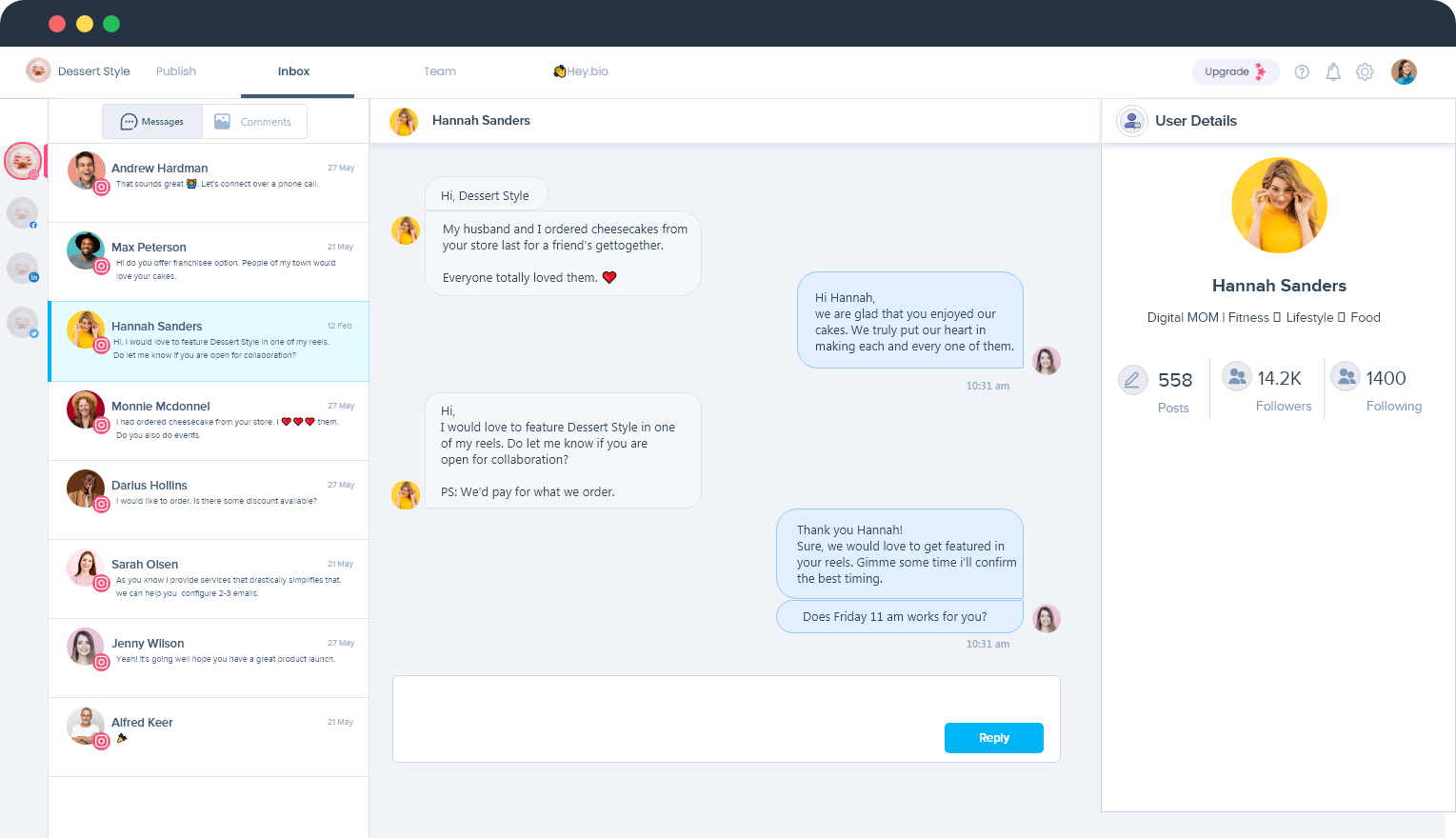 Features of Awesome Social:
Bulk scheduling and publishing: You can easily schedule your posts on different channels to reduce the work and get the best out of it at a time.
Social inbox: Engage with your customers and turn them into loyal fans. With Awesome Social's Social Inbox, reply, comment and Direct Message all your followers from one place.
Content calendering: You can easily make your social media content calendar through the grid view that provides efficient results. You can easily select photos you wish to share, drop them onto the social media calendar, and choose when you wish they get published.
Hey.bio : A powerful link in bio tool for all your social links. Hey.bio allows you to build mini web pages for your Instagram and TikTok profiles — making your content clickable and shoppable.
Team management: Through this amazing and one of the best social media management tools, you can easily get your team on board and distribute work and tasks. This is made so easy through these platforms, your entire team is gathered on a single dashboard, and performance is made better.
Approval posting: This feature takes everything in your control and provides you the power as a decision-maker to approve, reject or edit a post that makes everything much easier and better. This just makes the social media posting schedule much easier to work with.
Agorapulse :
Agorapulse is a well-designed social media management tool with an intuitive interface. Scheduling and publishing content on social platforms has become easy with Agorapulse. Your social media team can collaborate with each other. Besides, social media insights and clear social media engagement reports are easily available to users. You will save hours and track statistical data effortlessly. You may choose the free plan before upgrading to the paid version.
Hootsuite :
Hootsuite is a prominent name in the social media marketing field. It lets you manage your marketing activities across various social media platforms, including Facebook, Pinterest, YouTube, and TikTok. You can find a number of social media marketing tools in one platform. Hootsuite tools also present you with in-depth insights.
Zoho Social : Using this SMM management platform, you can gather actionable insights and build your presence on social media sites. Many social media agencies have chosen Zoho because of its detailed reports and smart prediction capability. It predicts the best time to post your content on each social platform. You can integrate your CRM system into Zoho to manage leads. The premium version offers a 15-day free trial.
Sprout Social : Manage the social media accounts of your agency using the multi-tool known as Sprout Social. Social media posts published on various platforms are easily manageable. Sprout Social is equipped with a range of amazing features, such as a visual content calendar and ViralPost. It also has built-in analytics and sends reports across various platforms. But, Sprout Social is a costly option, and it may not be an affordable choice for a newly launched SMM agency.
If you have established a social media marketing business, you should invest in reliable tools. Without highly functional social media tools, your marketing effort will not be effective. Besides, there is a risk of miscommunication or loss of leads if you do not use tools.
You can better start with free tools as a startup agency. Later, you can upgrade them or choose premium tools. There are several social media tools available in free versions. We have listed only a few of them.
Trello- Trello is a highly functional tool for managing team projects. You can easily set it up and organize your social media marketing projects. Using Trello, you will be able to add your new clients to the board. However, your SMM team knows the way to use Trello efficiently.
Zoom- Zoom is one of the commonly used tools for professional purposes. The primary use of Zoom is to host a video meeting. However, you can also use Zoom to host a webinar or conference and provide training. 1000 participants can join the video conferencing session via Zoom. Moreover, you will be able to add up to 10000 viewers to your conference. Your SMM company must also have Skype IDs for calling clients.
Dropbox- It is essential to have a cloud space or server to secure your important files, artwork, employee information, and ongoing social media marketing projects. Flexibility is the most important aspect of Dropbox. Access permissions are manageable for your files. If you need more space, you can upgrade your Dropbox account.
Canva- Like other businesses, your social media marketing company needs to leverage benefits from visuals. As you are a startup, it may be costly for you to employ a full-time graphic designing expert. So, you can rely on Canva to design your social media covers, web banners, ad imagery, and invitations. Later, you can engage a professional designer or pay for the premium version of Canva for better features.
Social media marketing agency tips
Running an SMM business is challenging for entrepreneurs. A few basic tips will be helpful and make your task easy. For instance, you should create a document to learn about the new client. For instance, your client needs to submit details like USPs, emergency contacts, landing page URLs, and legal disclaimers. Besides, it is essential to manage time for social media campaigns.
3 Time-Saving Tricks for Social Media Agencies
Use templates
One of the best time-saving weapons in the social media marketing world is templates. You will also be able to make your account appear more professional and polished. So, look for templates for your social media advertisements, posts, videos, and stories to showcase your services and products. The pre-designed templates allow you to create cohesive content of different types.
Pre-schedule and save your time
Free social scheduling tools will be highly advantageous for your business. You can use these tools to make your plan ahead. The most commonly chosen scheduling tools are Awesome Social and Hootsuite . Although you use these scheduling tools, you should track social media accounts regularly.
Automate tasks
Another way to save time is to leverage automated technology. If some social media tasks are repetitive, you can use automated tools. For instance, social media posts can be scheduled at a particular time or date. Do these things several times, depending on your regular workload.
Today, many businesses outsource their SMM activities to get the best results. However, the number of social media agencies is also growing rapidly. That is why you set up your business properly and promote it to your clients. Your competitors are trying to expand their services to satisfy more clients. You can also take steps to grow your business steadily. So, learn about the social media landscape and analyze the competition to improve your business outcomes.