Business via these modern tools is rapidly growing with time. More firms are investing in efficient tools to complete their work with utmost. One such tool is Facebook Business Manager. All of us have heard about this standard business tool. However, is it applicable everywhere?

There are certain aspects in which the manager assists. But, the factors that don't work well with you need additional tools. So, here we will check all insights about the Facebook business suite. Study them well to opt for the right tool for your pages and ads.
Facebook Business Suite: What is it?
The Facebook Business Suite was introduced in Sept 2020 and is a management tool for managing your Facebook account well. It is an advanced tool that assists users in keeping up with daily updates and staying on-mark with all timely needs related to their Facebook account. In addition, the tool makes your management much more straightforward than it used to be.
Facebook Business Suite surely does replace the management tool; however, you must understand all its perks and features before opting for it. The all-new modern tool is undoubtedly the finest for use and makes work convenient and fun.
Facebook Business Suite Vs. Facebook Business Manager
The Business Suite has replaced the facebook page manager tool in several aspects. Now, even Facebook and its authorities direct users to use this efficient page to make their work more manageable.
So what is the variation? Facebook has offered a unified tool built to manage all firm activities on Facebook and Instagram in the business suite.
Specific notable vital changes in the two tools are:
Home Page
The primary screen of the facebook business suite has much more information than the earlier version. For example, you can manage notifications of both Instagram and Facebook and summarize the latest ads and posts you have posted. Further, it also offers specific performance insights that help you notice growth.
Facebook Inbox or Message Box
The all-new modified Inbox comprises direct messages from Facebook messenger, Facebook, and Instagram. Further, it also gives you a brief outlook of comments from both the business accounts on a single page.
You can also set automated messages by using the Inbox features and also add Facebook chat plug-ins to your site.
Facebook Insights
In business suite facebook, the tool offers a more unified outlook of the insights screen. For example, it provides information about paid and organic posts on your business accounts on Instagram and Facebook.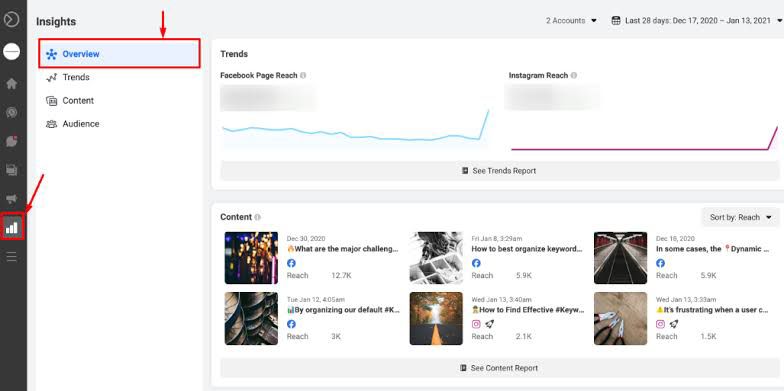 Image Credit : promonavigator
How can you get access to the Facebook Business Suite?
The tool is accessible for use on both desktop and handset. You can opt for it according to your convenience.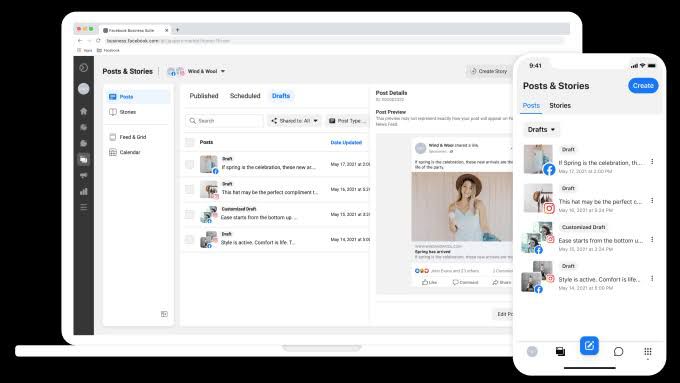 Image Credit: Hootsuite
For access Facebook Business Suite on desktop
To access this tool on your desktop, log in to your Facebook account linked to your business. After this, to acquire access to the Business Suite, click on this link at http://business.facebook.com.
Earlier, this link would direct users to the Facebook business manager. However, with time it permits access to the all-new business suite. The link now automatically redirects you to the Facebook business suite. However, you can still access the Facebook business manager by tapping specific options.
For access Facebook Business Suite on a handset
You can get simple access to the Facebook business suite on your mobile by downloading the app. The new app replaces the Facebook business manager app and gives you advanced features. As of now, downloading the Facebook business manager app is not possible anymore.
Who can make the most from the Facebook Business Suite?
The new tool is handy for individuals currently using Facebook and Instagram for marketing and promotional purposes.
However; if you are a content creator, blogger, or have monetized your Facebook and Instagram social accounts via brand collabs and advertising, then in such cases, a Creator Studio could be more beneficial for you than this tool. Yet, you can also use the Facebook business suite to note your accounts' insights and performance rate.
Also, if you are using any social platforms that Facebook does not own, you might need access to other tools that support working on these social media sites. For example, Facebook business suites and managers are solely for Facebook-based accounts.
So, the most suitable user for facebook business suite is a newly launched or small firm owner. Also, a social media manager that manages professional accounts on these two social media platforms can benefit from this tool.
Certain Aspects to Consider in Facebook Business Suite
By now, you are already familiar with a few aspects of the Facebook Business Suite. You also know how it benefits you over the Creator Studio and Facebook business manager tool. However, some elements are highly beneficial. We have listed a few here; check on them to know all about the new Facebook business suite and its use. Also, to get complete access to this tool, you must link your accounts to it. Both Instagram and Facebook accounts are linkable and are manageable via this tool.
Home screen
The home page of these fantastic tools offers a complete view of all that is happening on your Facebook and Instagram business accounts.
You get access to specific insights, engagement metrics of some posts, the latest ads, a calendar with scheduled posts, and a list to remind you of errands you need to run.
You can generate ads, posts, or stories right from the home page or boost the overall performance.
The screen also has a menu to access Facebook's business features and tools.
However, while managing more than one account, ensure you link the right ones and choose the apt accounts to avoid confusion while working.
Make and Calendar posts.
To schedule posts, you first go to your home screen and tap on create posts.
Now select the placement of the posts, i.e., Instagram, Facebook, or both.
Add all the details you want to put in your posts and make the content ready for display. In the case of Facebook, you can also add links and previews. Further, try to customize the text and add different styles on both accounts instead of copying the same.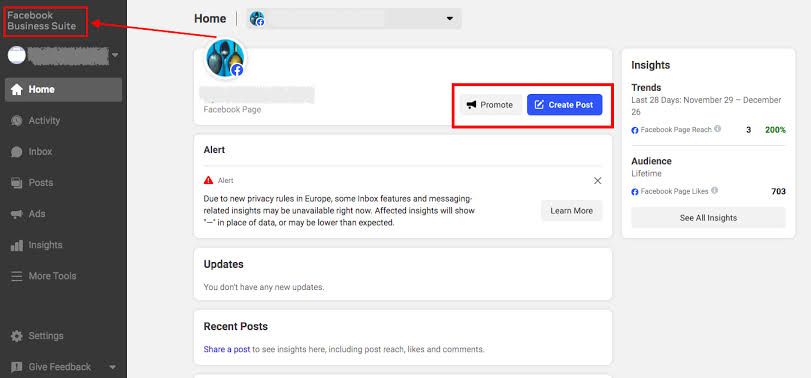 Image Credit : promonavigator
Now tap on Publish to post. And for scheduling the post, tap on the down arrow located right next to Publish and then select Schedule Post in it. After this, add the hour and date for your future post.

Generate and Calendar Stories
Again tap on Create Story to make a story. Follow a similar procedure as above and select the placements.
Now put in all details, photos, and content that you wish the story should display.
You can also add a link by opting for Additional Features if needed.
Share the story to post immediately. And to schedule, tap on the arrow present next to the share button. Add hour and date to post on desired time. You can also opt for these scheduling tools for better access
Alter and view the scheduled content
After scheduling a few stories and posts, you can look at them via the calendar.
Tap on Planner. It is present on the left side of the menu to access this facility.
Now view the calendar as desires, i.e., week or month. At first, you will get access to all the scheduled content. You can also use the drop-down menus to access the information and segregate it according to the social platform and type.
Further, drag and move to reschedule it for some other day. Or tap on the posts to get a brief preview of it.
Make ads
Tap on Promote to create an ad.
Choose an aim for your ad. And then generate an advertisement on the following screen. The data and creatives you provide to the suite will alter as per need. After you feel content with the ad, tap on Publish to post it.
Boost a content
You can also boost a post instead of creating a new ad. Tap on Boost Post. The option is available next to all posts placed on your home screen.
Pick the apt features on the next page, and then tap Boost Post Now.
You can preview your ads at any hour by tapping on Ads on the left side of the home screen. You can also preview all content, insights, and details about each ad on the Ads screen.
Obtain Insights
Using the Facebook business suite to access insights is much more productive than any other.
You can quickly get access to the performance of every individual post by tapping on them that are published.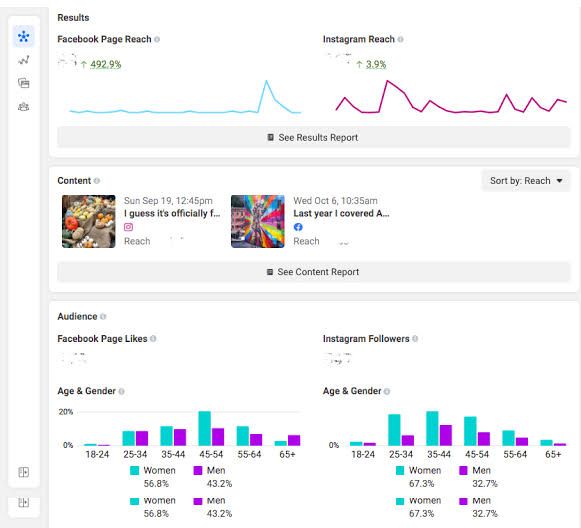 Image Credit: Hootsuite
On the primary screen of the Insights tab, you'll get access to page reach, fine performing organic and paid posts, and audience details.
Tap on the results option to get access to all details quickly.
Inbox
Lastly, the tool assists you in responding to DMs and comments via one screen. You can also hide comments and access other details quickly using this tool. Assigning conversations and redirecting them is also possible here.
Every conversation details like the person's profile and other insights are available here. You can also label and add notes for better access.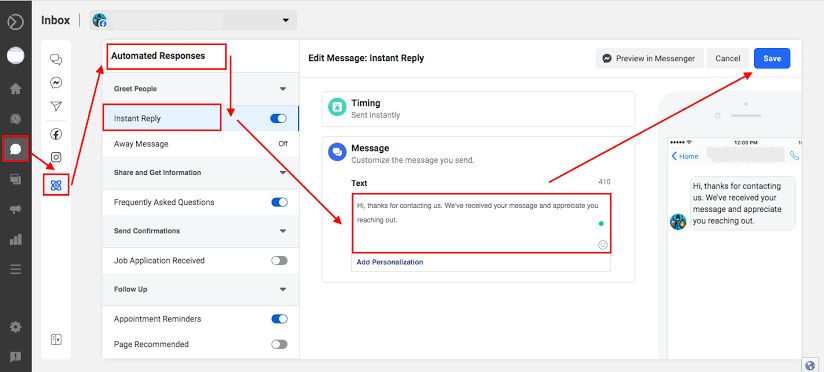 Image Credit : promonavigator
Inbox assists in organizing the posts better and keeping updates. The most convenient feature is setting automated messages depending on keywords and phrases. It works like a chatbot that gives you simple access and instant replies. Using this tool, you can customize and set messenger plug-ins to access the inbox section better.
Facebook Business Suite Conclusion
All details you need for the Facebook Business Suite are available right here. Identify its perks and make a switch to the beneficial tools if required. The all-new advanced tool will certainly assist you in better working and account managing.