Instagram has become essential for several brands' social media presence. It increases sales, drives valuable traffic to websites, and cultivates interested audience members. The Instagram app is used by 130 million users to shop daily and make direct payments. Even though Instagram's shop app is still a relatively new function, it gets better each year. You can now purchase goods without ever leaving the Instagram interface with the new checkout feature.
This makes it the perfect time to discover how to hone your techniques for attracting genuine, authentic followers on Instagram. This can be especially helpful if your Instagram visibility isn't nearly as strong as you need. You have greater chances to interact with users and provide them with fresh experiences as your platform grows.
The organic difference is crucial since, when attempting to increase their Instagram following, some firms opt for the quick fix- buying followers. Numerous sites offer sponsored followers and likes. But using these shortcuts is never worthwhile because the Instagram algorithm is always being modified to screen out engagements and relationships from sponsored, low-quality profiles.
But first, why is it necessary to increase your follower count? Isn't an engaged small number of followers better than an inactive large following? Let's address these questions before delving into how you can increase your follower count.
Why do we need a large following on Instagram? How does a large follower base help Instagram Marketers?
Instagram followers can significantly widen a person's visibility and reach on the platform. An ever-increasing follower count can help strengthen both interpersonal and professional contacts. It's crucial to have as numerous Instagram followers as possible for several reasons.
First off, possessing a larger Instagram following lends credibility to a company or brand. Those attempting to establish a brand on Instagram must project an honest, trustworthy public persona. A large follower count is necessary to create and project this persona.
People may question the authenticity of a profile, for instance, if it just has a few dozen followers on the network. On the other hand, individuals are more inclined to take a business page seriously if it has thousands of followers.
The ability to participate in affiliate income is generally only available to those with a larger following. For individuals who may not be aware, this is when a different business hires people to promote and sell a specific good or service on Instagram. A portion of the proceeds from the sale of that product will go to the account.
A user's account will have more prospective clients as they gain more followers. Significant affiliate marketing and promotional sales programs will be accessible with a greater number of followers.
Finally, an Instagram user's experience will be more joyful the more followers they acquire. The ability to communicate with more people and receive reviews on the profile and its content increases with the number of followers.
Opportunities continue to increase more than ever when you have a large audience. Having a social media account ultimately serves the purpose of engaging in social interaction. But one point to note is the fact that quality will always beat quantity.
For instance, a recent Hootsuite survey found, that brands with 10,000 followers or fewer, interact with customers more than those with 100,000 followers. This serves to highlight the following factors
Engagement is wholly reliant on the quality of the brand's content. Most brands with a small number of followers generally focus on increasing this figure.
A large number of fake followers or bot accounts are easily noticeable to users worldwide. If an account has 100,000 followers but each post receives less than 10,000 likes, users realize that the page may not have any authenticity. This is one of the most critical reasons why brands need to invest in organic follower growth.
It is tempting to purchase followers and use solutions that help increase follower counts. But rest assured that you won't gain anything by acquiring fake followers in the future. You might be questioning how having a few thousand fake followers could be harmful to you rather than just allowing you to integrate links to your stories and have them appear at the head of your profile.
Your engagement ratings, reach, exposure, and more metrics will all suffer from fake growth. This will also negatively impact your digital media marketing efforts. We strongly advise you to follow our recommendations and only employ organic growing methods.
Despite the complexity of the Instagram algorithm, fake followers won't be identified as such. The algorithms will deem your content uninteresting if, out of 3000 followers, only 30-40 liked or even saw your post. Therefore, even the most devoted fans who genuinely like your posts will not see your content.
This is why Instagram marketers need to focus on organically engaging their audiences consistently. The most challenging aspect of Instagram marketing is the amount of time, energy, and effort it demands from the average user. In order to grow, marketers must invest in useful instagram tools that help them ideate, organize, measure performance and create meaningful relationships with their following.
In this article, we'll give our top picks for best instagram tools across different categories such as scheduling, video editing, design, etc, that help you boost interaction and develop a significant following over time—one that's made up entirely of engaged genuine fans that boost's your brand's growth.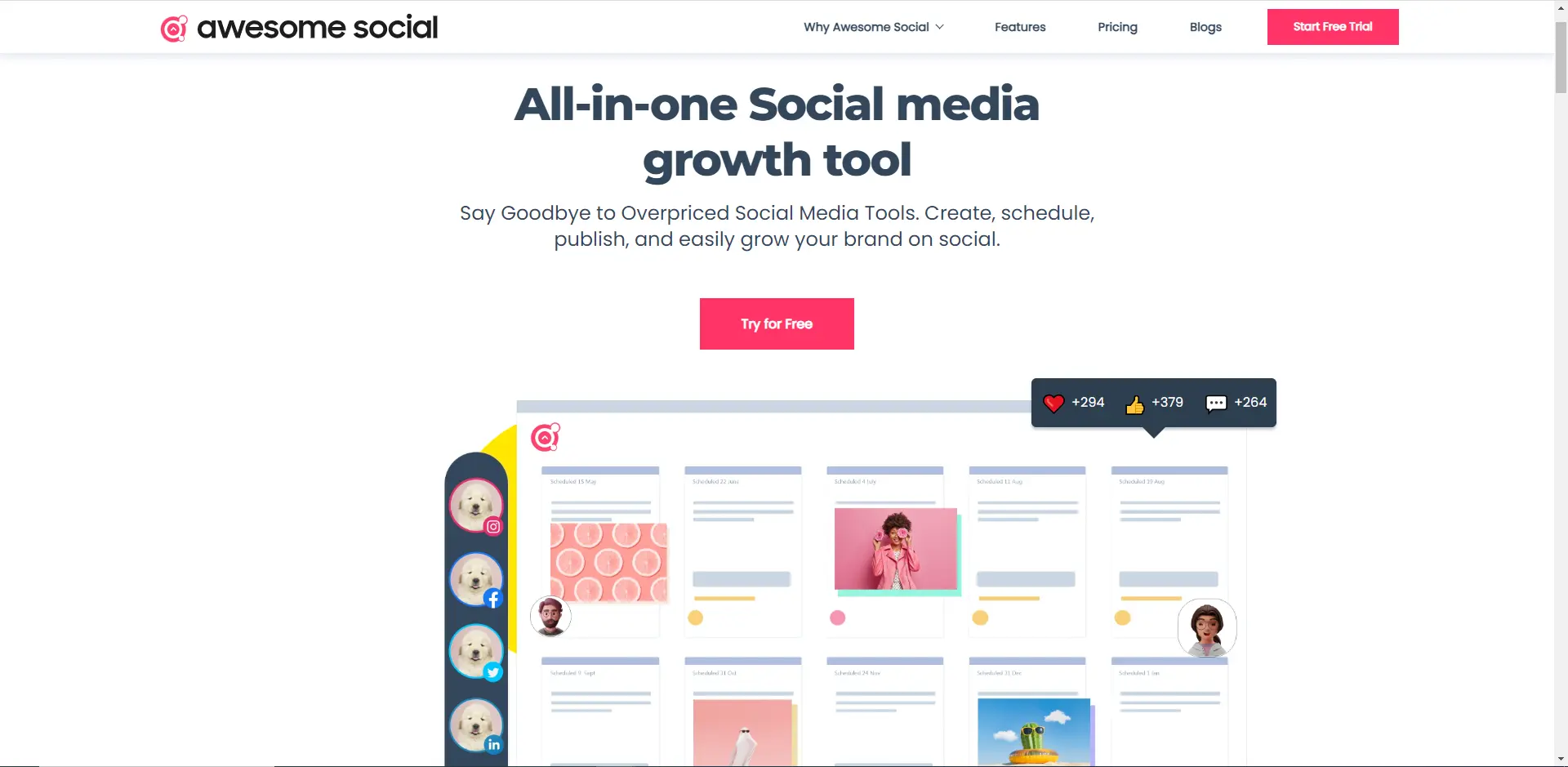 Awesome social is an all-in-one Instagram scheduling and social media management tool that empowers your social presence. You can easily schedule Instagram Posts. Post or queue your content on Instagram and other selected social media channels, measure performance, engage with people and collaborate with your team easily and efficiently.
Many features are present for your social presence monitoring and optimization, and also you can easily approve/disapprove the scheduled post according to your need through this tool .
Awesome social has features that can effectively empower your social media, including the one that tells you the best time to post a reel on Instagram
📑 Features of Awesome Social:
Bulk scheduling and Publishing: You can easily schedule your months of content strategy in a minute, as well as with full optimization. This feature is wonderful when it comes to LinkedIn schedule posts.

Social Inbox: Manage all your social comments and direct messages easily from one place.

Hey.bio: Manage all your social links at one place with hey.bio an awesome link in bio tool for your instagram

Team collaboration: Through team collaboration, you can easily collaborate, you can easily moderate the workflows, and can distribute work, and approve or reject it easily.

Approval workflows: Organize and manage your publishing workflow. Set approvals before publishing and scheduling Linkedin posts from clients or team members.
Among the most widely used applications for planning social media posts is Hootsuite and for a discernible reason.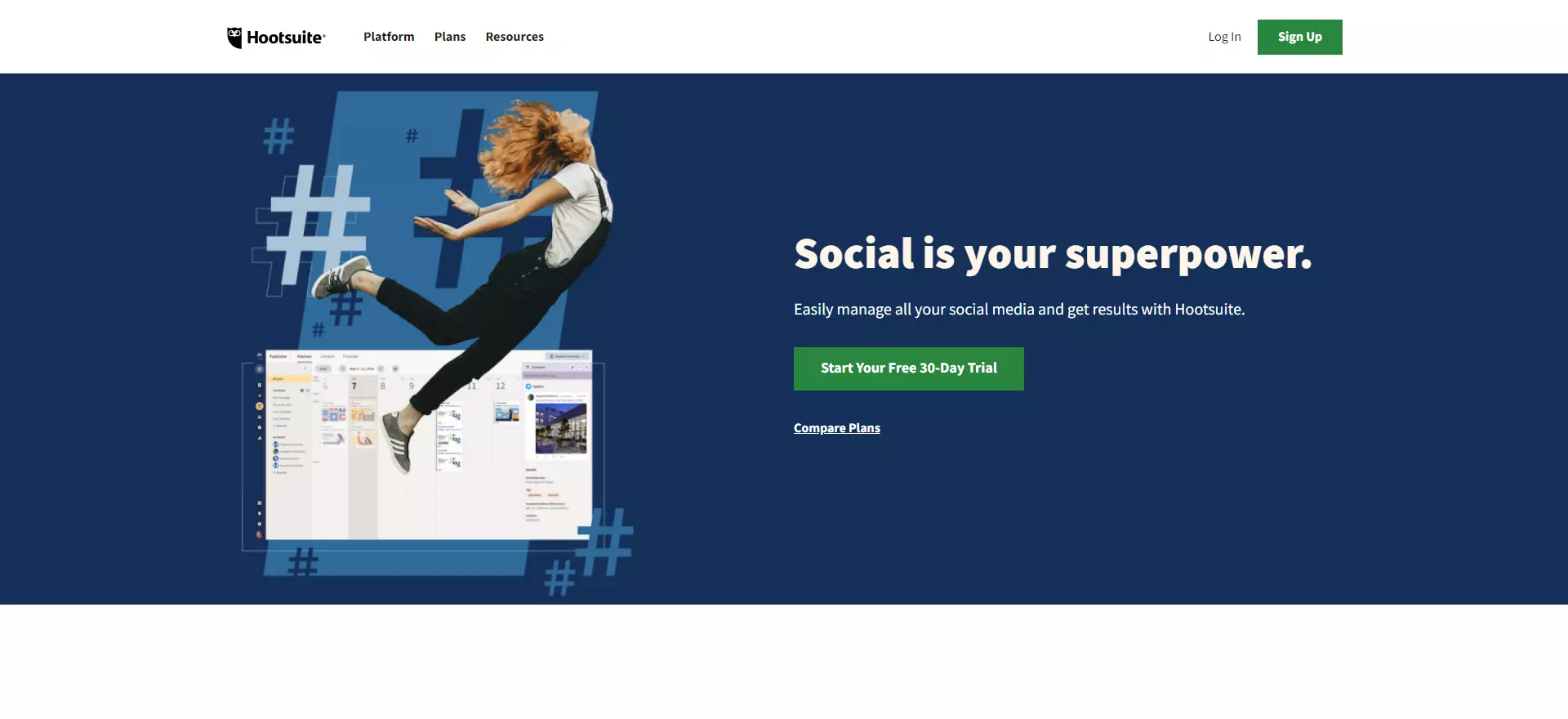 One benefit is that it lets you maintain and operate many social media accounts across platforms like Facebook, Twitter, Instagram, and YouTube in distinct columns. WordPress is supported as well. Even while the streamlined dashboard is pretty simple to use, the amount of data it contains may first seem overwhelming. The fact that you may alter what information appears for each account is another advantage.
Hootsuite can oversee and assess fresh content, track client interactions, schedule numerous posts, and offer real-time insights. With this software, you can quickly view a user's social data and find social queries, hashtags, and other pertinent information for your unique feed.
Google Drive, Dropbox, and Microsoft OneDrive are all accessible with Hootsuite. Since any member of the team can readily obtain digital information, the software offers efficient, interactive posting and workflows for large teams. An improved video-first feature was also recently developed to optimize video footage for different social media platforms.
It provides some of the most powerful analytics and report creation available, but it only offers certain key templates in the more premium subscriptions. For instance, the Enterprise Plan is the only one that offers Facebook Aggregate and collaborative performance reporting. Hootsuite's primary flaw is its cost, which might be unreasonably high for smaller companies.
We've curated a list of Best Hootsuite Alternatives, that can help you save a lot of money on your Hootsuite subscription.
Although Later allows you to upload content to a number of different social media channels, Instagram is its primary focus. Later, you start a post with a photo instead of its words, contrasting many other social media publishing and scheduling applications. You post the picture to the Later app after which you write the caption for it.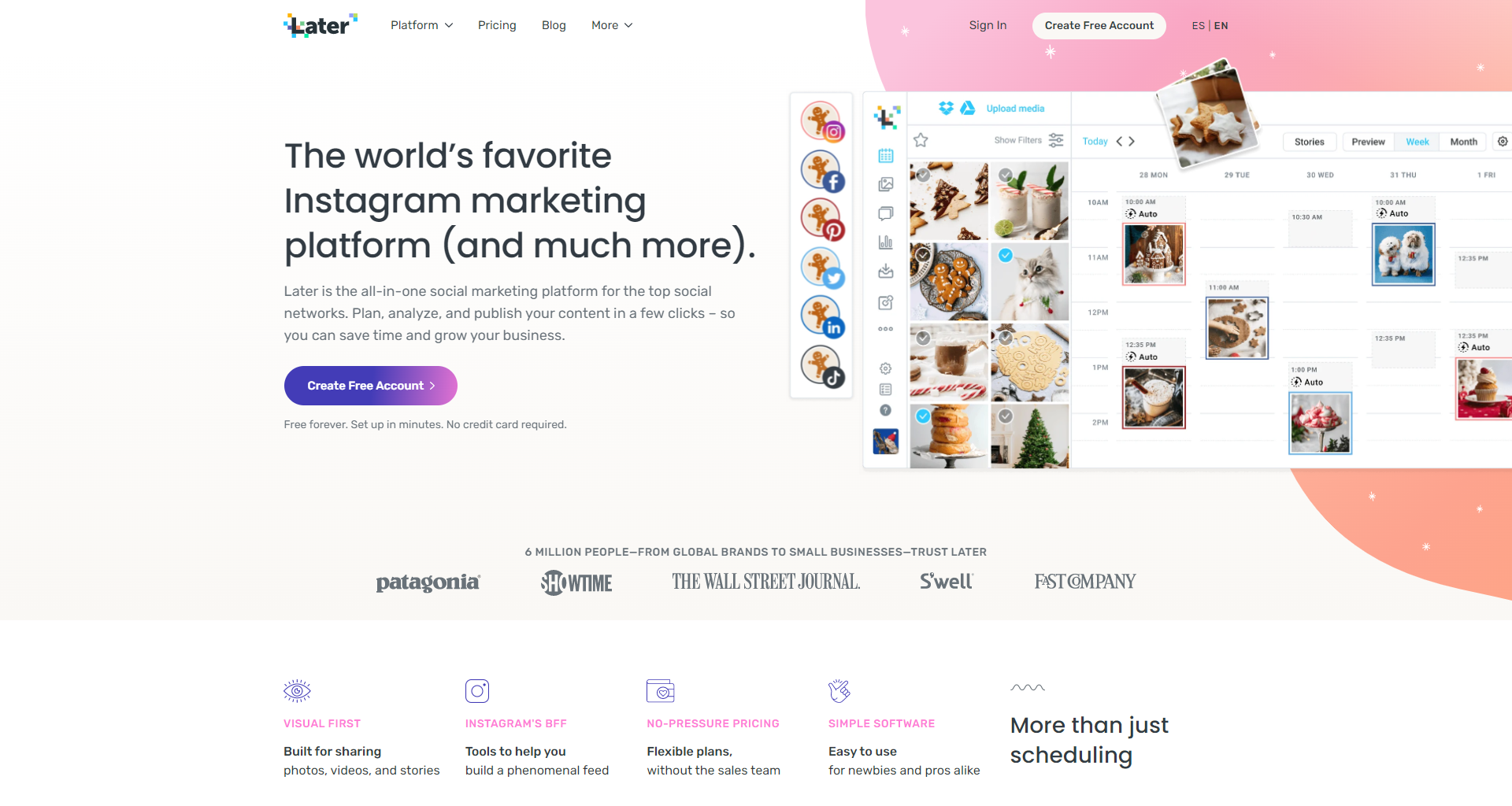 Setting up Later such that it uploads directly to Instagram can be difficult at first. However, the workflow is simple once you have converted your Instagram profile to a Business or Creator page. A Media Library is the foundation of Later. Adding photographs to your Media Library at the start of each article makes them accessible for later postings.
Your media files offer the option to add labels and annotations to them, and you can give any photo you want to prioritize a star. Your photographs can be filtered in a number of different ways. If you own one of Later's subscription services, you can post and stream videos as well. Creating and uploading Stories is made easier using Later.
You can drag and drop content into available time slots on your calendar using Later's Quick Schedule. This is what a queue would be in Later. Your multimedia content will be added to the next available timeframe Later. You can use Conversations if you buy one of Later's business plans. You can also manage your Instagram responses directly within Later using Conversations. Later is a great social media scheduling tool for Instagram but if you're looking for an app that helps you with other platforms it may not be the best option.
Sprout Social facilitates teamwork in addition to providing market-leading scheduling tools, a dynamic calendar, and an asset administration library. User-level authorization empowers marketing directors, writers, and anyone in between special access to participate in your marketing effort.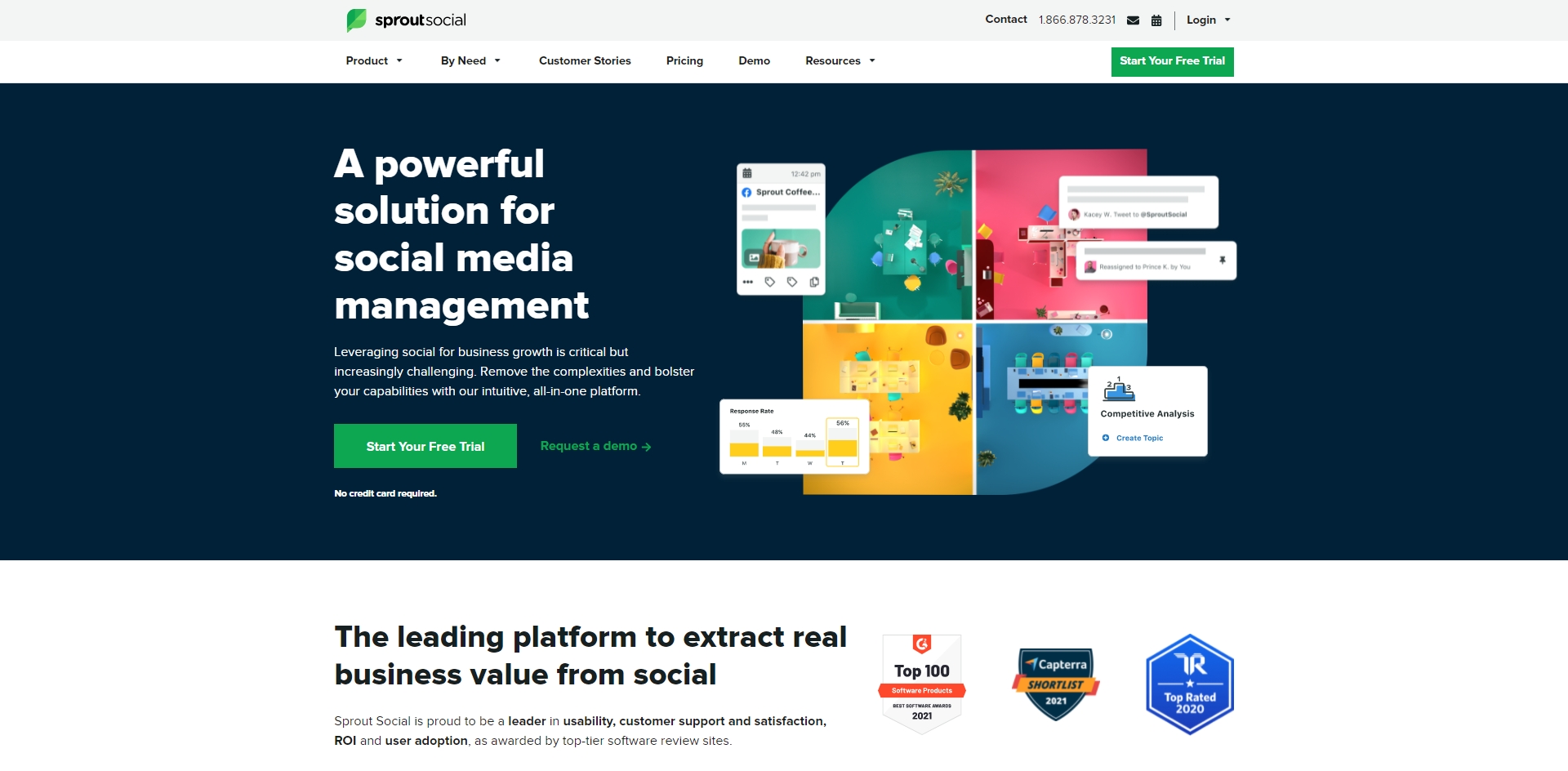 Your team can get a bird's eye perspective of what is posted and promoted each day using Sprout Social's calendar feature. To help you assess how effectively various pieces of content fare on social media, the suite also contains a range of social media metrics. Plans start with a free 30-day trial and run around $89 to $249 per month.
Additionally, Sprout makes it simple to evaluate the results and alter your long-term plan moving forward once your content has been planned and published. However, Sprout Social is a relatively pricey social media scheduling service, much like Hootsuite. Independent digital marketing agencies or content producers who don't need such advanced capabilities may find it to be unnecessarily complex and expensive.
We've curated a list of Top Sprout Social Alternatives to help you save money on your sprout social subscription.
In contrast to the majority of the products we've listed in this article, Monday.com isn't focused on coordinating and posting to social media sites. Unrelated to social networking, numerous businesses use Monday.com to schedule various content pieces. Its main objective is to make your teams more productive and efficient.
But because of this, it's perfect for those who want to organize their social media account management processes. Monday.com is built around its boards. To handle your assignments, workflows, and regular tasks, Monday offers boards that are completely customizable columns. As a representation of your workflow, users create calendars. Any tasks and operations your team completes can be arranged on the boards within the site.
There are many starter templates available on Monday.com, including one made especially for managing social media. This builder creates two boards:
Proposals and requests for campaigns
Project Status and Growth
In the Campaign Suggestions and Requests board, personnel of your organization can offer ideas for future social media pieces. Then you employ it to develop a productive and consistent strategy for your social media efforts. Monday.com is a brilliant option if you need an all-encompassing scheduling tool for your content. It offers a great variety of content scheduling and publishing features that are helpful to writers and creators alike. But if you're looking for a more social media-specific scheduler this is not the best option.
Loomly is a robust platform for managing and planning social media posts that has a simple, user-friendly layout. After a 15-day, no-credit-card trial, there are four pricing options available. They start at the $26/month Base plan for users with 10 or fewer social media accounts and go all the way up to the $269/month Premium Plan, which supports up to 30 users and 50 social media accounts.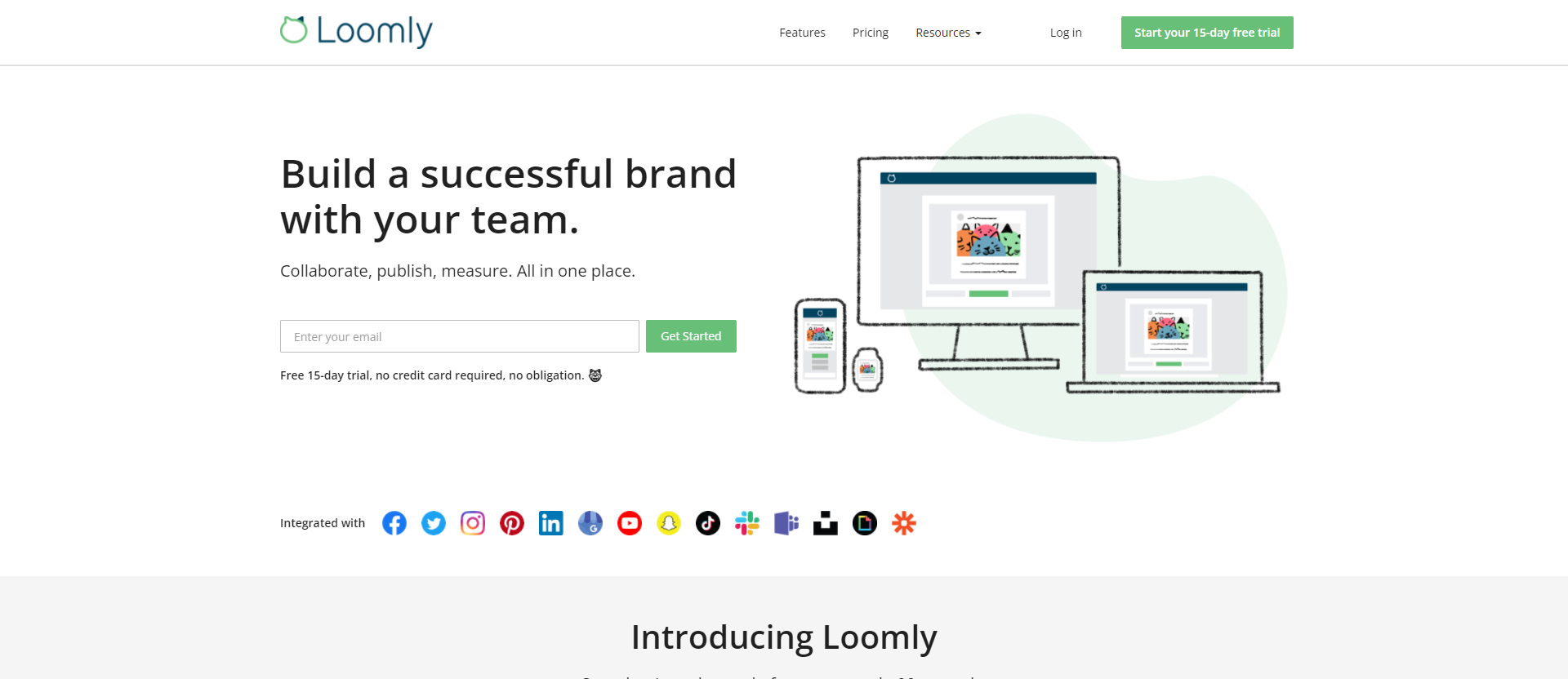 Loomly can set a variety of scheduling workflows, which is a helpful functionality for first-time users. The procedure for creating a post is simple to follow and easy to implement. You have the option of starting a post from conception to completion or using post inspiration from RSS feeds to generate prototype posts automatically. Although you can alter the post's specifics for the social networking sites you would like to use, you must first construct the post's core copy.
You can choose your demographic and establish a budget for your ad campaigns if you want to make a sponsored post for Facebook from within Loomly. Loomly is one of the most user-friendly instagram tools available which makes it ideal for anyone who's starting their digital marketing journey. But like most beginner-friendly tools it does not offer some complex features you may find in other top instagram tools like Buffer or Hootsuite.
Agorapulse offers team members and businesses an economical social media calendar and scheduling solution. It provides four options, ranging in price from $39 per month for Solo users to $239 for Enterprise users. The number of social accounts and users supported by each plan varies significantly, while there are also distinctions in terms of information retention and ad comment regulation.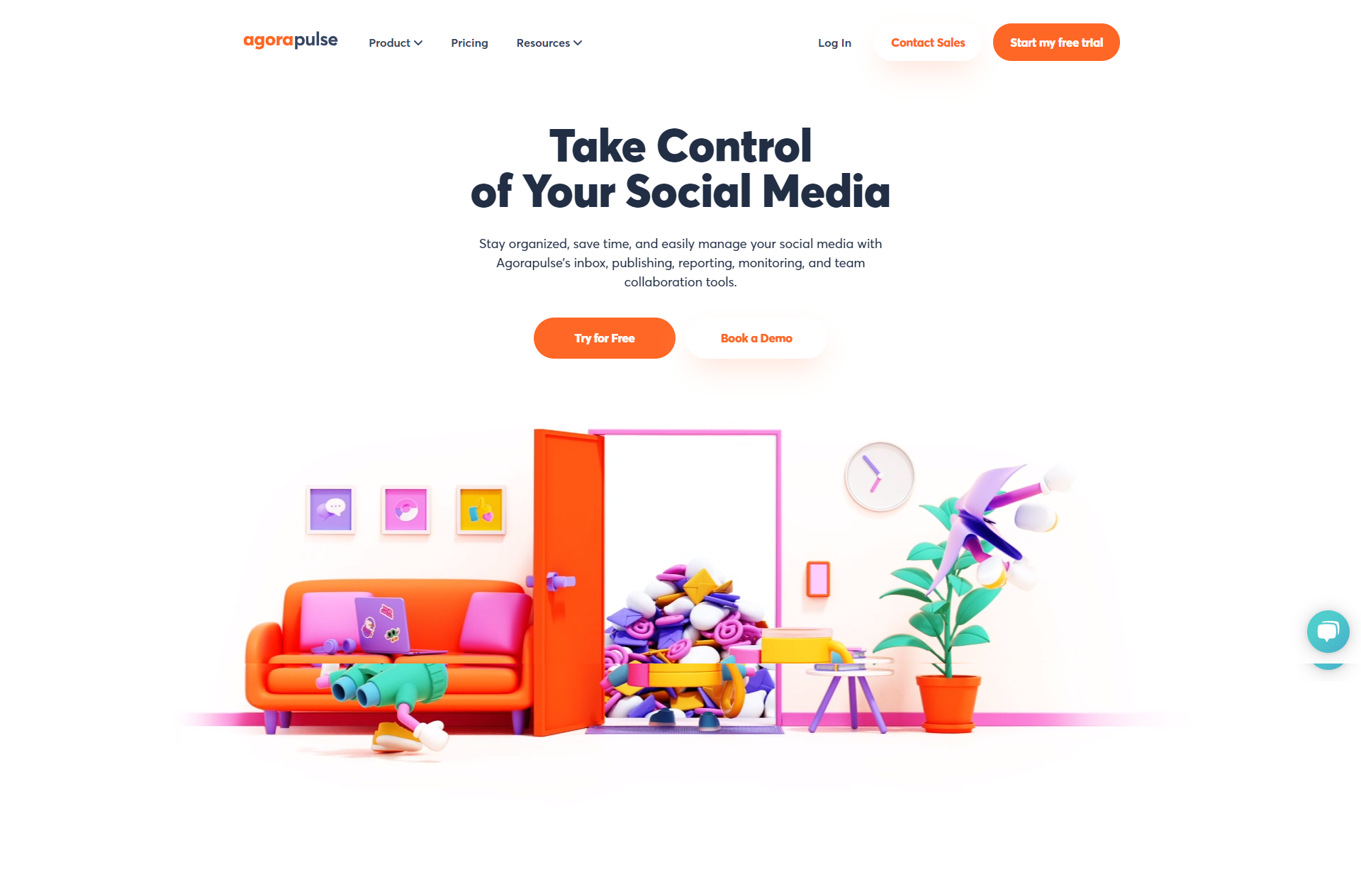 You may connect with your social media platforms using Agorapulse to post, communicate, analyze, and monitor your content. It integrates YouTube, LinkedIn, Facebook, and Instagram. All of your social media profiles may be updated simultaneously, and a pipeline or timetable will guarantee that your content is posted at the most effective times. You can re-queue or re-schedule seasonal posts using this software. Each post can be modified to make use of features unique to each social media platform.
With a premium account from Buffer, you can schedule an infinite number of social media updates. Buffer uses a freemium business model. A newbie has plenty of opportunities to determine if social media automation will be useful to them. Buffer, as the moniker suggests, lets you compile a list of significant content you want to publish and schedule them to go out at times that are more relevant to your demographic.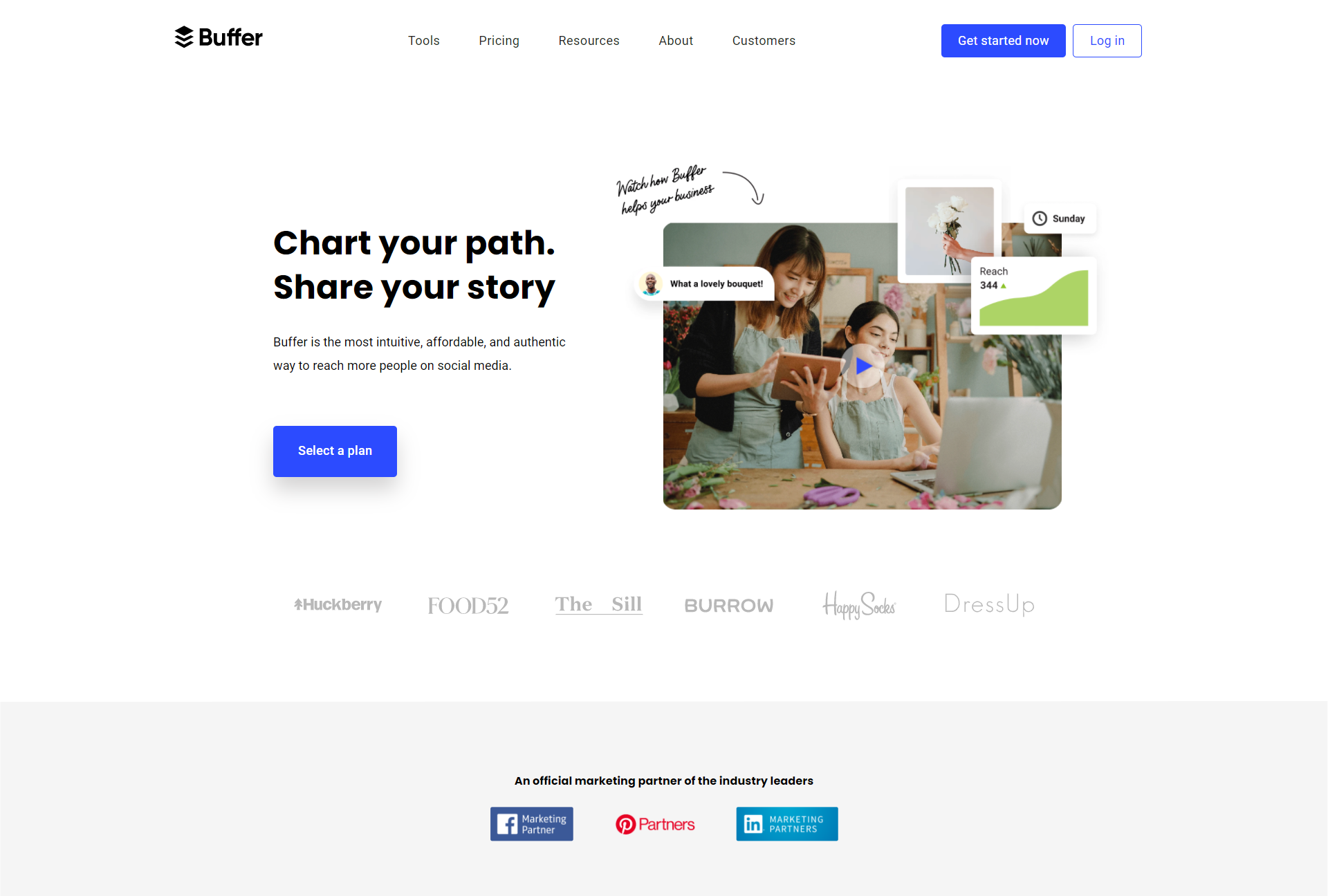 You can customize and tweak your posts on every social media platform using Buffer. It is simple to add website links, headlines, and photos swiftly to your Buffer calendar using the mobile Buffer tool and the internet browser extension. It also offers tips on when you should post to each of your platforms. Additionally, Buffer offers stats that illustrate the effectiveness of your posts.
Under the Publish label, Buffer offers three plans: Pro ($15/month), Premium ($65/month), and Business ($99/month). Pro ($15) and Business ($35) subscription options are available for their Reply package. This makes Buffer one of the more affordable instagram tools for scheduling and posting on various social media platforms but they do not offer features as comprehensive as Hootsuite or Sprout Social.
A social media scheduler can make a huge difference when you start seriously dedicating efforts toward building your following online. But apart from a scheduling tool what are some tips to keep in mind when scheduling your content? Let's get right into it in the next section.
Many of the capabilities included in similar all-in-one Instagram solutions on our list are also found in Iconosquare. This also includes a sophisticated social planner and social media listening tools. When it concerns analytics, it does better than most.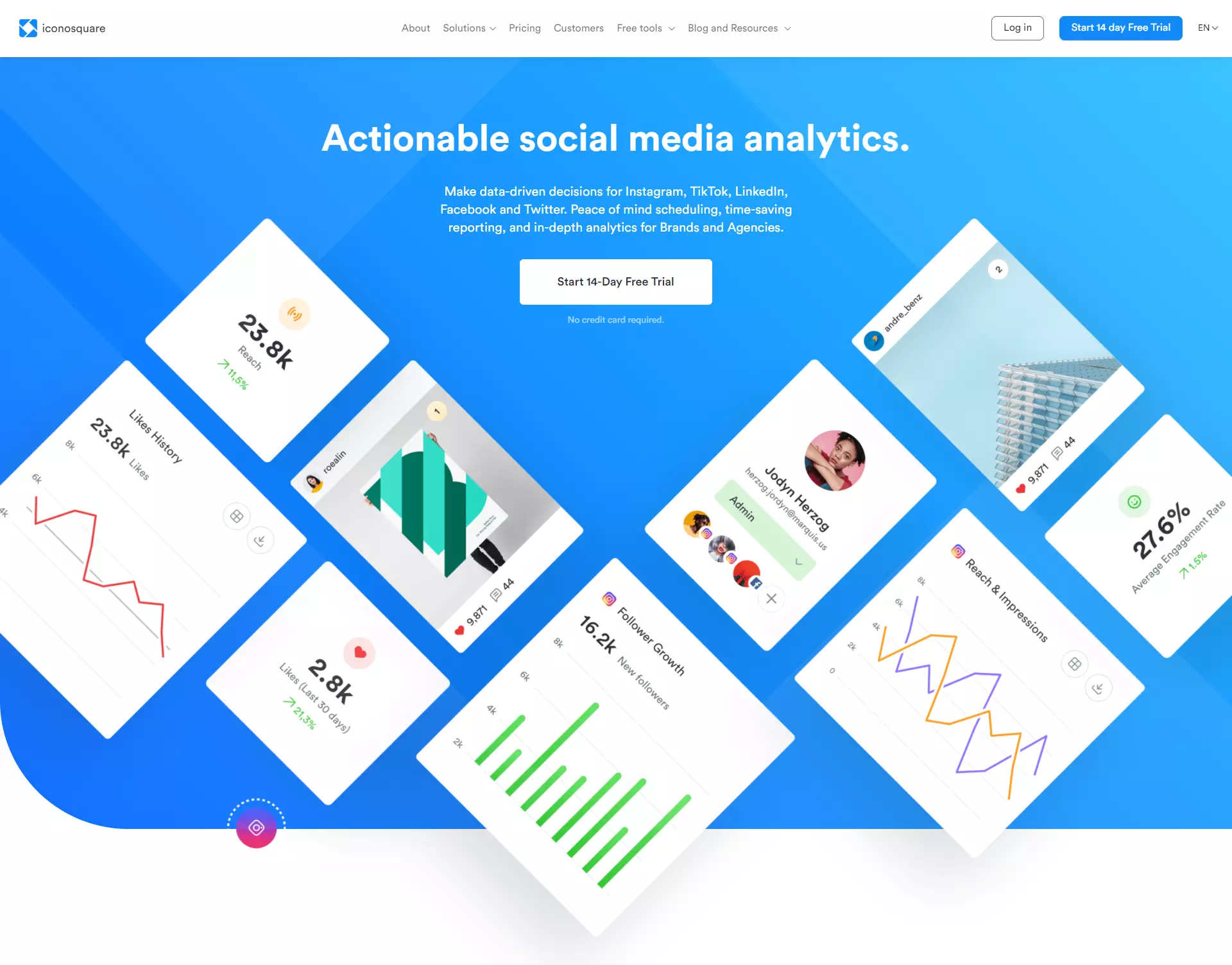 It gives you access to a lot of data and enables you to thoroughly analyze your efforts to determine what is and is not working. Crucial performance statistics including organic reach, post engagement rates on average, exposure, and views are easily visible in simple graphs. To analyze how your marketing initiatives affected different KPIs, you may also compare promoted vs. organic postings. The Conversations tool also makes it easier to monitor how your company or rivals are mentioned on Instagram.
Iconosquare has recently broadened its range of services to include multi-profile social media management and is a robust scheduling device, even though it is best known for its in-depth social media insights. Instagram Facebook, Twitter, and LinkedIn are all covered by the available tools, however LinkedIn and Twitter now have fewer features that are readily accessible. The only Iconosquare tools applicable to your LinkedIn account, in particular, concentrate on analytics.
You could use the Iconosquare program or your desktop to schedule posts for Instagram and Facebook in due course. Plan your initial message, add preset captions or hashtag collections, and cross-post to numerous accounts at once with just a few clicks. Then, with the drag and drop, you can quickly examine planned posts and rearrange your feed.
Sendible uses Services, which is slightly different from how most companies handle their social network accounts. In your Sendible membership, services are similar to networks or profiles that you develop. They enable you to pick the social platform features you require. With various functionalities for each channel, Sendible enables you to work with all the major social media and blogging sites.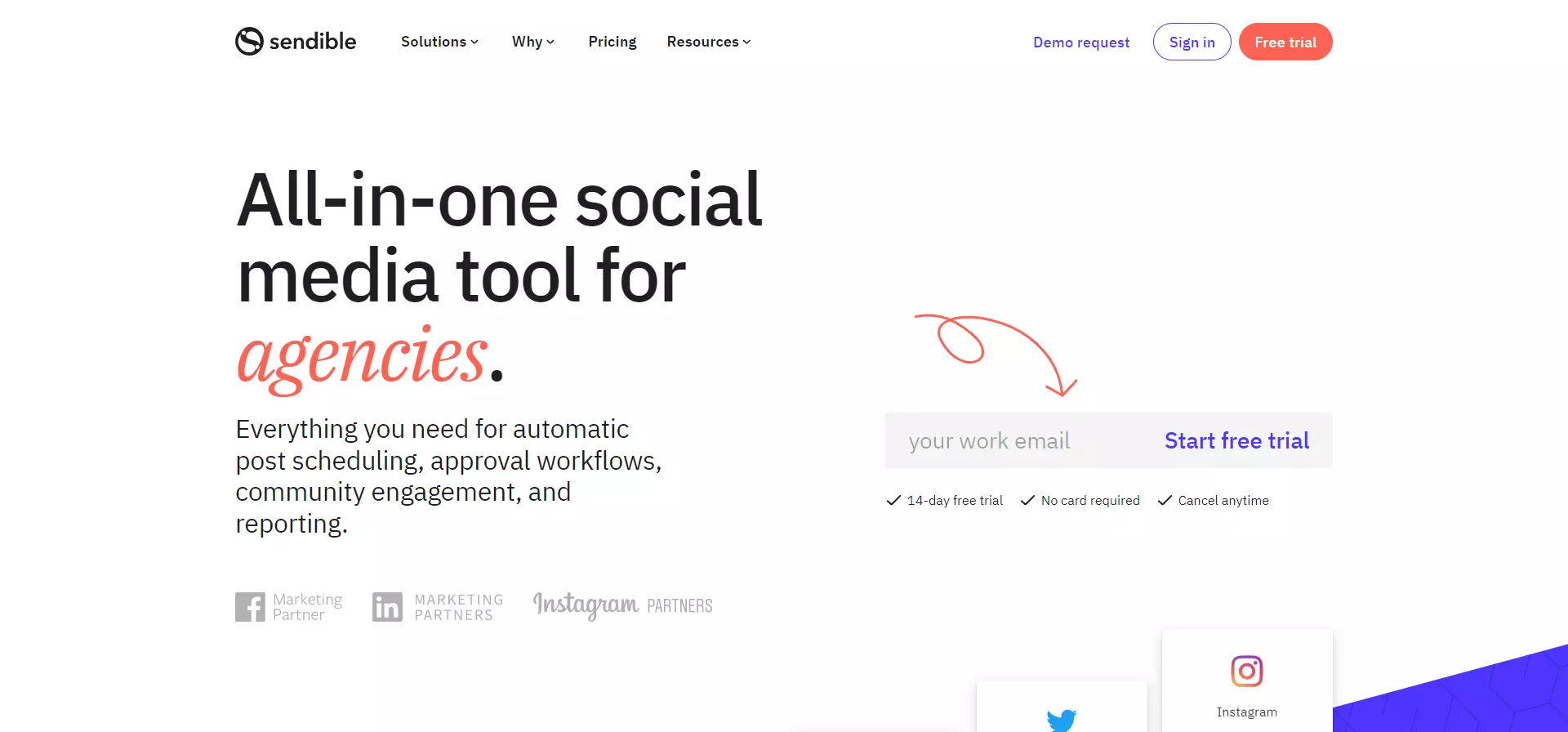 Sendible allows you to plan carousel pieces with in-app reminders, post photographs, and clips seamlessly to Instagram business pages, and keep track of your hashtags and metrics. You can also use Canva to make social media visuals and schedule them to appear on your accounts and sites without ever leaving Sendible, which is excellent for Instagram users.
The geo-targeting tools in Sendible can enable you to identify precise segments of your followers. You may share videos on YouTube, Twitter, and Instagram with the aid of Sendible. Sendible has capabilities for posting, communication, metrics, CRM, listening, and mobile, as well as an integrated interface.
Using their dynamic compose box, you can concurrently plan, organize, and publish posts, photographs, and clips to a number of social platforms. As far in preparation as you need, you may schedule solo or batch posts on social media, both photographs, and videos. To maximize the activity of your social media profiles, Sendible enables you to set your finest material on repeat. You see your content on a scheduled calendar that is shareable and easy to access.
NapoleonCat has established a remarkable clientele over the course of over seven plus years of its operation, which includes companies like Avon and Allianz. Overall, it is simple to implement and set up. Once you establish your social media profiles after signing up, a functionality that warrants special attention involves keeping track of your competitors.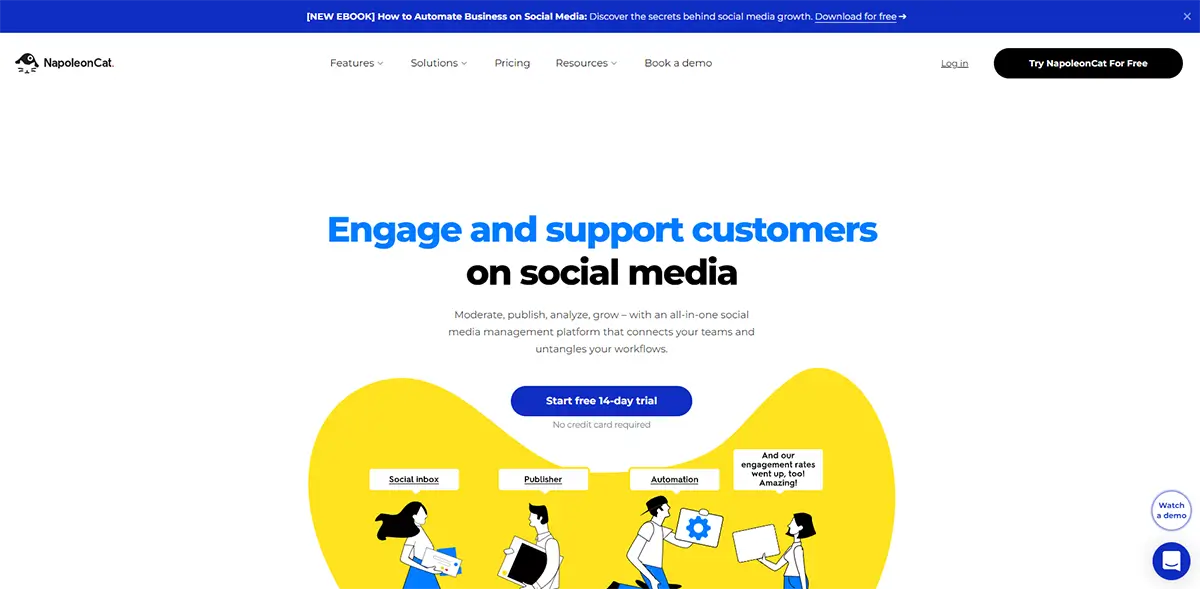 You simply enter the social media page name of the competitor and add it to your monitoring list. Additionally, you may configure it so that every team member is given a particular set of permissions. If you want to limit who can produce content, this is especially helpful.
You may use it to seamlessly schedule and publish your material on Facebook, Twitter, Instagram, LinkedIn, and more. You can accomplish all of this with the help of just a single interface, to create posts and schedule content. Additionally, it displays post previews as you are creating them, which is more helpful than it might seem. Following the publication of your content, you may use its performance metrics to keep track of your audience reach, engagement levels, and click-through rates.
Although it has a fairly similar feature set to other social networking platforms, it takes a very different and far more versatile pricing technique. NapoleonCat is a great tool for smaller businesses since, unlike most solutions, it truly lets you choose the number of social network profiles and users.
You can schedule content for both Pinterest and Instagram using Tailwind, a fantastic social media scheduling service. It has some strong analytics and design features, and you could use it to organize your pictorial posts in advance. Using Tailwind, which is marketed as a platform that behaves like a marketing agency, scheduling on Instagram is simple. And in fact, it is how Tailwind works.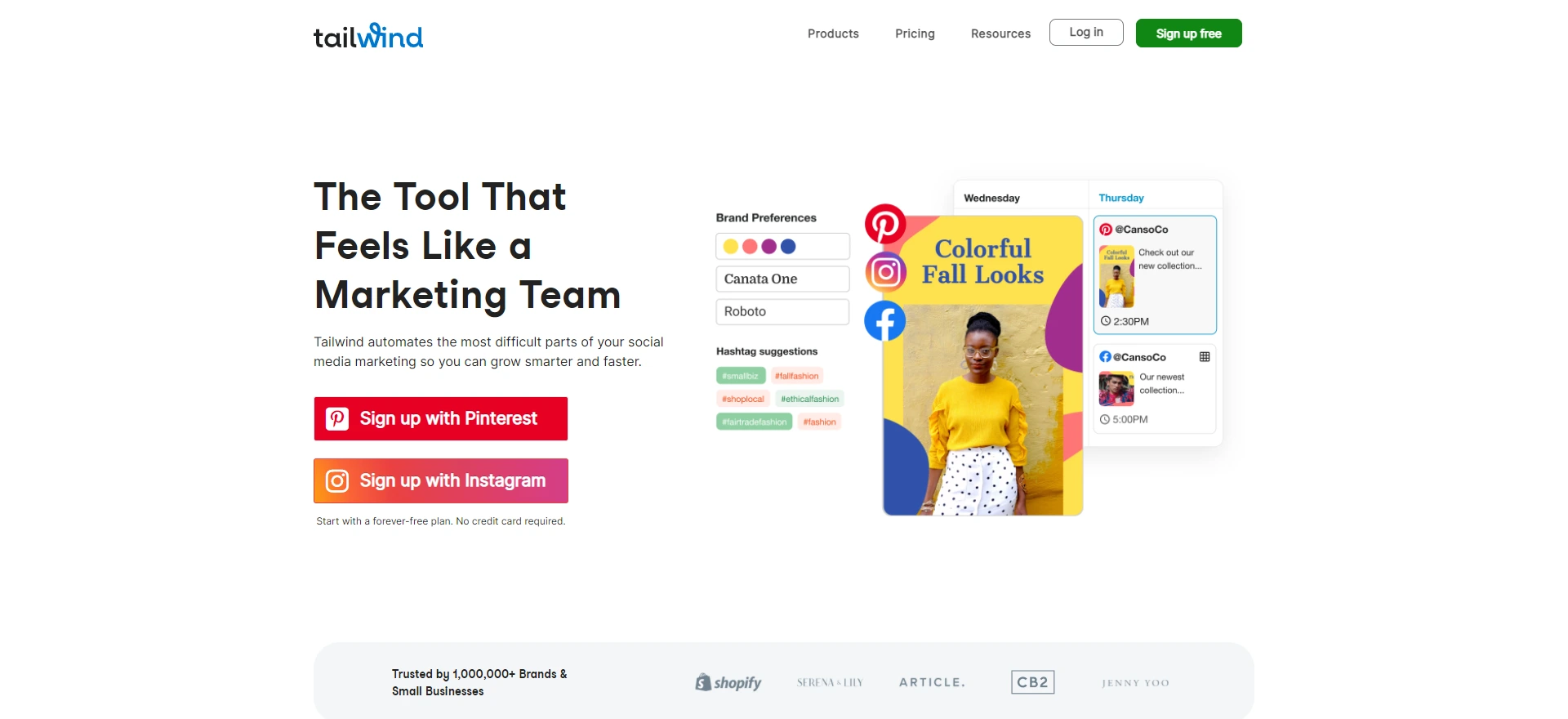 With the use of SmartSchedule, a feature of Tailwind, you can identify when consumer engagement is at its highest. The tool will help you learn more about your audience interaction as you utilise the capability over time, which it can then use to better optimise your schedule. Additionally, Tailwind has a straightforward drag-and-drop planner that you can use to structure your upcoming content.
Similar to AgoraPulse, this application lets you independently schedule the posting of specific photographs and videos. You can also use real-time notifications to do the same for Carousels and Stories. Additionally, the tool offers an Instagram bio link option and a hashtag-generating service, both of which are immensely valuable to Instagram users. For users of Pinterest and Instagram, it's a fantastic all-in-one solution.
Canva is a drag-and-drop tool for creating graphic content. Users just need to merge premade visual materials, make a few adjustments, and save their files on the site within the media library for future use. You can find ideas from tens of thousands of editable, well-created templates to jumpstart your creative process. Canva and other companies offer themes for Instagram posts, stories, and Reels videos.
All the essential capabilities you need to compose and customize Instagram posts are included in Canva's free plan. But, you can use Canva Pro in place of the free version if you want access to their advanced features.
Here's how you can use Canva to create an Instagram post:
To begin, open Canva and type "Instagram Post" into the search bar.
Choose among ready-made post themes that have been specifically created for Instagram. Each layout precisely fits the proportions of an Instagram post, be it a story, feed post, or reel. Choose a color, theme, or style to narrow down your results.
By altering the text, selecting unique font styles and colors, and changing layout components, you may modify any design. Submit your product photos or choose from the vast selection of stock photos, audio, video, and graphics available.
Use their photo-editing tools to make adjustments to your pictures. Also, you may include dynamic elements like animated writing, page transitions, and interactive stickers.
To post, save your design as a high-resolution JPG, PNG, or MP4.
Canva empowers you to accentuate your brand by using fresh and eye-catching design components. Tons of free and pre-licensed stock pictures and videos are available in the Canva library for usage as reference points for your business's goods and services. You can easily convey information to your followers by tinkering with icons, graphics, and vectors. Moreover, by using appealing images, you can improve brand recognition. You can also add animated stickers, exciting transitions, and text animations to your Instagram posts to make them more vivid and dynamic using Canva.
While not as well-known as Photoshop or Illustrator, Adobe Spark, now known as Adobe Express is nonetheless incredibly appealing to most users. Adobe Spark is entirely free to use. It has over 34,000 templates offered for users. The simplest way to get started is to select the kind of Instagram post you would like to compose from the main page, then browse for it in the left sidebar using the Templates search filter.
To create a new post, choose the Plus icon at the bottom of the page while the Adobe Express Post app is open on your device. You can start with a background of a solid color or pattern and then add any photographs you choose to the social media post. You can select the post's size once you've decided what content to include in it. Every social media post format, including Instagram Stories, has a set of dimensions available in Adobe Express Post.
You may also create your own Instagram illustrations by using the sidebar's icons, design elements, and backdrop categories, as well as the tools for adding your own photographs and writing. A remarkable aspect of this application is the convenience with which you may resize and reorganize your content for social media platforms across the board and not just Instagram.
Pablo, an essential tool for adding text to photographs, was developed by Buffer. Its functioning and layout are both quite simple. You are instantly directed to the graphic design tool when you open the website. You don't need to set up an account when using Pablo.
When you open the site, the center of the screen displays a preview of your snapshot. You can add a picture from Unsplash on the left or submit your own by clicking Upload Image. By choosing Templates at the top of the screen, you can choose from one of the six pre-made templates. You can alter the canvas's dimensions and shape, add a filter, rearrange the content, and add a logo or other design elements using the controls on the right.
Using Pablo's Buffer integration, you can immediately share a picture you've generated to any social media platform by clicking the Share button, adding it to your queue as the next item, or scheduling the image upload for a later time so it displays at the optimal time. Buffer keeps all the clicks, reshares, responses, and likes that your post receives and presents the images just as you'd like. After installing the extension, you may access Pablo from any website and use the page's contents to create your next Pablo image.
Desygner, on the opposite end, boasts some of the most comprehensive features of any of the applications mentioned above while remaining user-friendly. If you are not interested in employing its templates, various tools like a free-drawing pen instrument and the ability to import files give you a lot more artistic freedom. It also has plenty of gorgeous templates to choose from. If you spend a significant amount of time and work creating an Instagram post, you'll want to have the ability to able to make use of comparable features on Facebook as well as other social networking platforms which Desygner offers with seamless ease.
Desygner is completely free to use. The paid edition costs $9.95 per month and includes additional templates and content. You can also save your custom designs and make them work as templates for future posts in this form. Developing content for social networks does not have to take a long time. Desygner allows you to quickly scale an Instagram post to fit Twitter, Facebook, and LinkedIn. There's no reason to visit another website or change apps. You may post your designs directly to Facebook, Twitter, Instagram, Pinterest, and other social media platforms. If you want to schedule your social media content, the Desygner iOS and Android apps include a built-in Social Media Scheduler, which is available to all Pro+ subscribers.
Snappa is the only tool on this list whose free version includes the availability of the same templates, illustrations, pictures, and other design materials as the subscription plan. The caveat is that you can merely download three designs per month, rather than needing to carefully monitor which template you're utilizing. If you only need to create photographs for your social media pages on occasion—or if you just want to make a one-time poster for your Instagram account or Facebook page- it's a wonderful option as it ensures that you do not have to deal with upgrade reminders or themes that are only accessible on the Pro plan.
Another minor variation is that Snappa's templates aren't as well-themed in comparison to other options, and there's no simple way to browse through them. You should think of the presets as a starting point from which you may tweak and expand, rather than something ready-made to which you just add a photo and change the content. If you want to create a launch post, for instance, you should check through the templates and choose one with a layout you like, then customize it by adding your own photographs—or choosing one of the royalty-free stock images offered that works for you. You can further personalize it by selecting Effects and inserting a color overlay, blur, or any other alteration.
.
VistaCreate is notable because of the features it provides for free. Whatever templates we browsed across were accessible on the permanently free plan, and there are reportedly over 100,000 of them spread over all design areas. You can also add upwards of a million pictures, movies, and vectors to your designs, which increases to more than 70 million with the $13/month Pro plan.
Furthermore, the editor's Styles function allows you to easily change the color palette and typeface of any template, providing you with even more options. You may even develop your custom "branding kit" with your logo, color palette, and font of choice so that any template can be customized to reflect your company image with a single click.
Furthermore, VistaCreate gives you nearly 10GB of storage space, allowing you to add all of your brand images and promotional materials. Of course, Vista is probably expecting you'll take advantage of the chance to design and acquire some coordinating business cards or placards, but what's on offer is hardly at fault.
You'll need to upgrade to the $13/month Pro plan if you want to communicate with your colleagues, have several brand kits, or instantly scale any image into a new format. Still, it's a fairly good deal with additional storage and version history. Even the free plan competes favorably with Canva.
When it pertains to creating content for social media, you want to choose the program that enables you to get your information out there and work collaboratively using it as quickly as possible. Because each of them provides free graphic design tools that are very simple to use, give them all a try for a few hours to determine which one makes the most sense for you.
This article featured 27 apps for creating engaging, interactive, and dynamic Instagram posts. Let's go over some of the strategies you can use in conjunction with these top instagram tools to ensure you constantly attract a huge audience to your Instagram content.
iMovie is a robust video editor for Instagram reels that can be used to edit, enhance and improve videos. With a few taps, you can create beautiful cinematic videos. There are many different soundscapes available in the built-in library, and you may even record your own narration. Instagram reels could be effortlessly edited by changing the captions or backdrops to make them more appealing.
iMovie, which was created for iOS users, might be the tool that makes editing Instagram videos the smoothest for you. With its well-organized layout and user-friendly functionalities, you can easily make high-caliber videos with it. With the movie feature, you can edit everything yourself; with the trailer feature, iMovie will do the task for you.
iMovie's a completely free app available for all IOS users worldwide. These are some features users can utilize with iMovie:
Animation
Drag & Drop
Social Sharing
Templates
Video Creation
Video Editing
iMovie is a brilliant free option but you can only access it if you have an Apple device. This can be a downside for those who primarily use android devices across platforms.
Adobe Rush is another stunning intuitive video editing app that's available for iPhone users. Reels are one of the nearly all-inclusive features in this product that you'll require to make straightforward social videos. You can pick from pre-built Instagram Reel templates on it. This program works great if you want the simplicity of uploading your material on Instagram Reels straight away without any fuss because of its user-friendly interface that enables users to export movies in HD quality with only one click.
Not only is Adobe's well-known video editor, Premier, accessible on your mobile device, but it is also cost-free. Adobe Rush features a Freeform editing tool that enables you to further modify your edits after its initial audio sync. Adobe Rush seamlessly aligns your clip to the soundtrack of your choosing by utilizing Premiere Rush's selection or your own.
You may chop, drag, and move numerous video and image clips with the help of Premiere Rush's similarly extensive video editing tools for instagram. You can do this directly from the video and photograph albums on your smartphone, in the order you choose. Simply adjust the video's speed and add the appropriate lighting before sharing the finished clip immediately on Instagram, Facebook, Twitter, or YouTube.
Reels on Instagram are presented to users in a vertical viewing format. However, you can use InShot to handle the editing when you want to share or upload horizontal long-format videos. It makes the horizontal video vertical by adding bars above and below. Moreover, with a few taps, you can adjust the video aspect ratio to 16:9 (the ratio suggested for Reels).
A lifetime subscription costs $34.99, or you can opt for $3.99 each month. Making Inshots one of the least expensive editing programs for mobile users. Moreover, you might want to think about upgrading as the free edition only allows you to edit photographs in square format and includes their logo. Launch the app when you're eager to start making editing, then click on the video button to view your current files. As a side note, if the app is closed while the videos are loading, they won't finish rendering so ensure that you keep the app open at all times. Once you've finished editing the video, click the "share" button in the top right corner.
Using Inshot, you may also add transitions, logos, and personalized text captions to create stunning Reels. Additionally, you may speed up clips, merge files, apply filters or music in the background, and so on. InShot is a very user-friendly tool, which makes it the ideal option for beginners and new content creators.
Use the free video editing tool FilmoraGo to spruce up your Instagram videos and reels. Since it is free and doesn't trademark your recordings with any overlays or advertising, this app is worth mentioning. Additionally, there is no restriction on the amount of footage you can shoot, edit, or share. With FilmoraGo, you can create an Instagram video that is both eye-catching and enjoyable. Post-editing is also made easier by the absence of watermarks, commercials, and time restrictions on your video.
If you want some exciting effects, all you need to do is pay a premium. With it comes effects like holiday and retro filters for your films. Features on filmora are:
You can import films from the camera roll or social media sites like Instagram and Facebook directly to the app.
Filmora offers a variety of sophisticated features that give your videos a polished touch.
It has a selection of licensed songs in the library, or you can upload your own songs and backtracks while editing videos.
It exports all your videos at the Instagram ratio of 1:1
It enables you to fast-forward, rewind, or slow down your video.
Lastly, it allows you to add text, built-in transitions, and still and motion features.
Anyone looking for a quick, low-cost solution to create amusing Instagram videos should use FilmoraGo. It isn't, however, the most advanced app available. It would be better to use software such as Adobe Premiere Rush if you're a business trying to produce extremely polished videos through intensive editing. You could therefore link to Adobe Premiere Pro, which might handle more complex edits.
As the name implies, Splice lets you combine various video snippets on your phone to make a dynamic montage. Splice even has a collection of audio tracks that can be utilized as a soundtrack for your finished product, which makes it an exceptionally distinctive and original program. The app also lets you change the durations of the transitions between scenes and trim and edit the various video clips.
Splice's most popular features are among the following:
Create your own background, add outros, and use dynamic transitions
Utilize the zoom and pan effect
Get access to modern effects and filters
Use a large music collection
Be able to use audio blending
Add a narrative voiceover
And lastly, adapt playback speeds
Keep in mind that Splice is an iOS-only app while testing it out for yourself. If you enjoy stylish effects or transitions, Splice can be your go-to Reels tool. You can replace or modify backdrop videos as well as other cinematic effects with this user-friendly professional editing tool. The pan and zoom effect, fashionable filters, and dynamic transition styles are additional well-known features of the app.
The all-encompassing video editor VideoShow is a fantastic choice for enhancing your Instagram videos. You may rapidly produce captivating videos using this tool. To captivate your audience and lengthen view times, you can add graphics, emojis, text, and other elements. Additionally, you can produce films more rapidly by using the pre-made templates that are included.
These are some of VideoShows best features:
Voice-overs
Audio extractor
4k video exports
Pre-made templates
Low learning-curve
The ideal users of this application are those looking for a quick and easy solution to create beautiful videos for a variety of platforms. Using this tool to create a small amount of Instagram reels may seem unnecessary as it is a complex tool. But VideoShow is an obvious choice if you produce a lot of video content for your fans year-round.
Moreover, you get access to other helpful services like an audio converter, 4k video exportation, film splicing, and more for content recycling. That implies that you might quickly convert your Instagram videos into podcasts, Youtube videos, or other multimedia or audio-based formats. By doing this, you'll be able to use VideoShow to promote your Instagram videos more effectively.
KineMaster is the way to go if you're a professional content creator and want your Reels to seem flawless, polished, and high-resolution. Everything you require to produce content that looks elegant is included in the tool, along with the ability to record voiceover work and add sound effects—a feature Instagram Reels still lacks.
Both novice and seasoned editors alike love KineMaster, an intuitive Instagram reels video editor. Users of the multi-track editing software can combine layers and examine up to 9 recordings at once to produce eye-catching effects. To make dynamic videos, you may also use the keyframe animation software and features for your reels. You can create incredibly immersive and distinctive Instagram reels by utilizing the picture-in-picture technology in Kine Master.
With its simple drag-and-drop interface, you can utilize it to cut video segments from prerecorded occasions or produce original animations. Additionally, it has capabilities like text overlays, scene sequences, motion graphics, and contour masks for adding shapes and branding.
GoPro developed the video editing app Quik. Quik is the app you use to see your GoPro photos and movies, so if you own a GoPro you should be acquainted with it. However, you may also import video from anywhere, particularly your camera roll, to create a video on Quik. You can choose to create your own videos from scratch or let the program compile and edit your films for you. There is music, it has a professional appearance, and the edits and transitions are effortless.
There is not much you can't do to make your ideal video using Quik's outstanding capabilities. It's useful that you are given the choice of editing yourself or letting the app handle it. Quik offers a 30-day free trial before you pay $4.99/month to use it. Additionally, your recordings won't have any advertisements or company logos. Moreover, 500 videos can be imported at once using Quick. This Instagram video editing software is for you if you're attempting to create an IGTV or Instagram video with many segments. Given how simple it is to combine several clips using Quik, you don't need any prior video editing skills.
A video editing program that helps you to make video reels that appear stylish and seamless is WeVideo. Among all of these tools, it features the most user-friendly design, with a full-screen display and a timeframe for editing your footage. To enhance such videos and make them more aesthetically appealing, it offers a chroma key effect and supports 4K quality.
Wevideo is the ideal app to assist you to augment the visuals for your Reels. It also provides a bank of royalty-free music, audio effects, and stock film clips. Users of all skill levels may make professional Reels films with WeVideo for their own use or internet dissemination. WeVideo's cloud service, which enables you to access your work from any location and on any device, is its strongest feature.
WeVideo has 5 payment plans available. Although the most basic option is free, it doesn't offer many capabilities, as you might expect. You'll only be given 5 minutes of publishing time each month and 1GB of cloud storage. It's probably advisable to invest in a paid plan if your company intends to upload videos to Instagram on a regular basis. For small to medium-sized businesses wishing to produce top-notch videos for Instagram, WeVideo is a great choice. It's a fun tool for video editing all around thanks to its straightforward design and iCloud sharing. Additionally, remote businesses can exchange and edit projects more easily thanks to the iCloud capability.
Create and develop an Instagram marketing strategy
Your presence on Instagram can greatly depend on your Instagram content strategy. A content plan for Instagram will keep you on course and ensure that you've identified the aims you're intending to pursue. One of the first goals any Instagram business account should reach is to create posts that fit its brand image. Instagram is a highly visual platform that depends on the aesthetical value you bring to its users.
Your marketing strategy will alter over time to take into account the continuing societal and behavioral changes. To ensure that you achieve your marketing objectives, it is essential to have a defined short-term goal. Know how your profile will represent your company and what theme it will be centered around. This is the best strategy for reeling in your target demographic.
Curating and posting high-quality content is the first step toward growing your followers. One of the best ways to go about this is to convey your brand's aesthetic and express your brand identity. Some easy ways to achieve this are by using brand-specific fonts, colors, symbols, and images. For example, if your brand's logo colors are red, white, and black, incorporating these colors into your content can help cement your brand image in the eyes of your followers.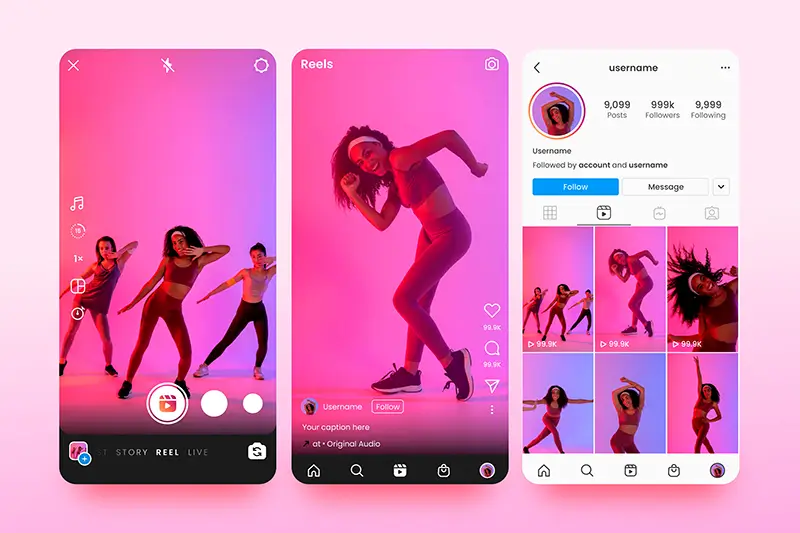 Another aspect of your content strategy must focus on creating an easily distinguishable presence on the social media app. Several brands and services are constantly competing on Instagram to gain more followers. Differentiating your brand and showing your unique appeal can be a major game-changer when building your Instagram presence. Doing this can be immensely difficult if your brand markets a commonly available or accessible product.
But difficult does not mean impossible and Instagram users appreciate brands that make an active effort to engage audiences. Even if your brand or product is competing in a highly saturated industry, for example, beauty or makeup products, you can still differentiate your brand from the masses by showing your brand's unique selling points. This has become all the more achievable with the help of reels and video content where you can use trending audio bites to bring followers to your feed.
Additionally, to remain relevant, your Instagram business account will require a regular posting schedule (we'll go into more detail about this in the following section). However, take care not to oversaturate your followers with posts. Determine what will benefit your brand the most first. Check the results after posting at various intervals and times. You can make a collaborative posting schedule once you discover what works for you to stay on top of what you intend to post and when.
Post content consistently with the help of scheduling tools
The simplest technique to save time on Instagram so that you can concentrate on what matters is to understand how to plan posts ahead of time. A planning tool becomes increasingly valuable when your Instagram marketing techniques become increasingly elaborate. Regardless of whether you run a modest business or oversee a large workforce, this is essential. Planning, creating, and sharing timely, high-quality content becomes simpler when some of the tedious tasks are automated. Investing in a robust Instagram content scheduling tool can save you time and energy in the long run.
Posting once a day or whenever it's convenient limits your Instagram post's capacity to reach your target audience. It's ideal if you post frequently. However, be sure that whatever you upload is of optimum quality. The posts of users you follow appear on their Instagram feeds, this includes Instagram Stories, Reels, Videos, and Image posts. The most relevant ones appear near your profile logo, however, in the app, only 4 Stories appear at once. To remain in touch with your viewers, you must post frequently.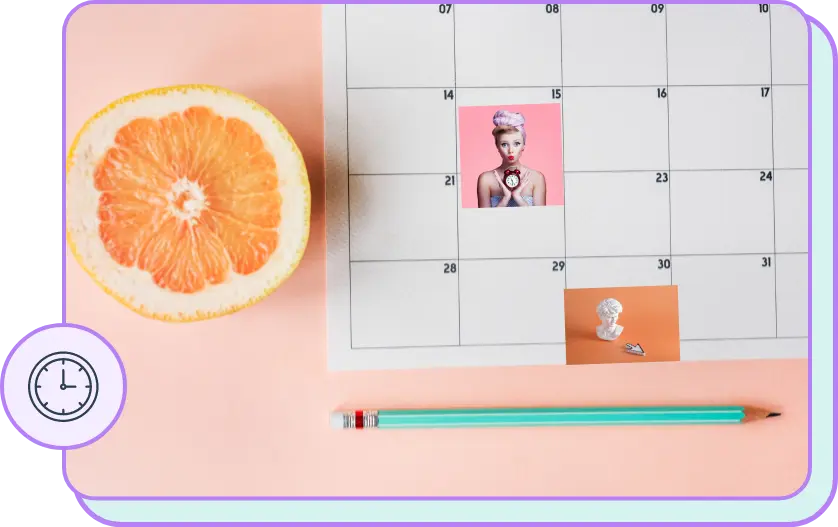 It's a good idea to use a social media planning or content calendar for your Instagram Stories. Assuming you maintain an Instagram Business profile, you can create and organize Instagram Posts using Facebook's native Business Suite. If you only publish to Facebook and Instagram, Facebook Business Suite is a wonderful tool. But most contemporary media marketers can save time and effort by using a social media management platform and managing all social networks from a single platform.
Understanding how to plan Instagram content will save you a bunch of time and make posting less disruptive to your day. Instead of creating and posting content on the fly numerous times each day, you should sit down and plan out your entire week's worth of posts in one meeting.
Whenever it's time for your planned posts to go live, all you have to do is click a few buttons. Of course, if you want to keep your audience up to date on anything that is happening right now, you can publish live Stories or share images interspersed with your scheduled ones. Planning also ensures you have a consistent set of high-quality content to post no matter what happens in the future. As I've mentioned in the previous section, figuring out what periods bring the greatest amount of engagement is essential to creating a content schedule.
For instance, Later looked at over 35 million feed posts to see when the optimal time was to share your content. The Best times to post on Instagram during the week, according to Later's study of 35 million global Instagram posts, are:
Monday at 5 a.m.
Tuesday, at 6 a.m.
6 a.m. on Wednesday
5 a.m. on Thursday
6 a.m. on Friday
6 a.m. on Saturday
6 a.m. on Sunday
They also determined that Saturday and Sunday are the greatest days to post on Instagram, with the greatest average interaction for posts uploaded at 6 a.m. on Sunday. These are just the timings they found based on their location and brand though. It is equally or doubly important for you to test when your posts gain the most traction on your feed. There's no other way of going about the Instagram algorithm game as it favors authenticity over everything else.
Focus on keyword SEO
Instagram SEO is the process of making your content more search engine-friendly. You want your profile or post to show up near the front of the results when somebody uses the Instagram search bar to look for a meaningful keyword or hashtag. Generally speaking, SEO is a blend of science and art. SEO on Instagram is similar. There isn't a precise recipe that will catapult your profile to the top of the search results.
Instagram is transparent about the algorithms it employs to prioritize search results, which is a good thing. Here is how the Instagram search bar chooses what results to display. It should come as no news that the keyword signal that is entered into the search field is the most crucial. Instagram searches for related usernames, profiles, captions, hashtags, and regions depending on the search keywords.
How this affects brands: You must be aware of the search terms people use to find content similar to yours. You can gain insight into the keywords people use to search for your company using Google Analytics, Hootsuite Insights, and other social media monitoring applications.
The greatest location to use significant keywords and search queries is in your Instagram account (also known as your Instagram bio). Instagram profile Instagram name SEO is the beginning of SEO. Pick a handle and account name that is appropriate for the content of your page. If your handle or username has an area for a keyword, incorporate that as well.
In order for your work to rank in as many spaces as possible, including search results and recommended content feeds, it must be specifically tailored for Instagram. It's an important strategy to use to increase your instagram views. You have a better chance of increasing your following and creating a vibrant Instagram community the more folks notice your post. Additionally, be sure to add pertinent keywords to your bio. What do you stand for and who are you? What sort of content can users (and Instagram's search tool) anticipate finding in your grid?
Last but not least, if it pertains to your company, make sure to provide a locality in your bio. This is yet another reason, if you haven't already, to upgrade to a business account since only Professional and Creator profiles can add a region. Launch the Instagram application and tap on your profile icon to add a profile location for Instagram bio SEO. Select Contact Options, then edit your profile. You can be as descriptive or vague as you wish when entering your location information. But this too will help followers searching for these locations find you faster.
Measure your metrics
If you have an Instagram business account, you get access to Instagram Insights, which is a free analytical tool. The Insights tool can tell you when your main demographic is on Instagram, which among your posts are the most successful, and how many impressions and influence your account has.
One of the many reasons we encourage upgrading to an Instagram business or creative profile is because Instagram Insights (Instagram's in-app statistics) is only available to company or creator profiles. You can simply check your metrics if you have an Instagram company or creator profile by going to the Insights tab in the Instagram app.
Begin by hitting the menu symbol in the top right-hand corner of your account, then choose the Insights tab to access your business or individual profile's metrics. You can also go to your profile page and tap the Insights icon. You'll find a wealth of stats and insights for your posts, stories, and consumer characteristics once you access your Insights.
You may also evaluate your initial post to a promotional version of the same post to see if your advertising efforts are paying off. Admittedly, you can exclusively use the tool inside the smartphone (there is no web version), and it isn't the most user-friendly, but it gives you a good basic description of your Instagram metrics for individual posts as well as your entire account.
Once you start posting keep track of the following Instagram Insights:
Number of people who have seen the story
The number of times a link shared in a Story has been clicked.
The overall number of taps to exit your story
Backward taps, or the number of people who pressed to see the earlier Story Forward taps or the number of people who tapped to see your upcoming Story
How many distinct or unique accounts watched your Story?
The number of likes and comments on an Instagram Story.
Determining which Instagram indicators to monitor can seem difficult if you're new to the realm of research and analytics. Studying and evaluating these indicators can be transformative for your brand's development once you're up to snuff. When it relates to tracking your brand's Instagram progress, one of the most crucial metrics to consider is reach.
If you want to raise brand exposure and reach the largest potential audience, you should concentrate on expanding your Instagram reach. Although the app's statistics may not arrange in terms of reach, you can independently check it. Some great social media management tools like Awesome Social, HootSuite, and Sprout Social offer great insights into your Instagram analytics and can even help forecast your future growth rate.
Final Thoughts
You can use all of the strategies we discussed to increase your Instagram following, but they can't all be checked off at once. It's critical to maintain control over your social media content strategy. Post planning and scheduling take time. Additionally, engagement management might be difficult. In these cases, Instagram Schedulers or a social media scheduling tool can be of great assistance. Some key points to note when trying to grow your follower count is:
Look into how you can land yourself on the Instagram explore page of your potential followers. This is where "you can locate photographs and videos which you might like from profiles you don't yet follow," according to Instagram. Posts, Stories, and IGTV from Instagram are available on the Explore tab.
Users initially view a grid of items that Instagram's algorithm has selected. Utilizing the topic feeds at the top of the screen, they can then select to delve deeper into particular content themes. Every month, half of Instagram accounts go to Explore. That is a fantastic opportunity for businesses trying to expand their customer base. Always aim to promote yourself on this explore page.
Knowing what times of day your following use Instagram is one of the most important things to keep track of so that you can publish when individuals are more likely to view and interact with your post. A social media marketing tool might be something social media enthusiasts who wish to go further should think about.
Additionally, focus on establishing a consistent SEO strategy for your business; you'll soon start to reap the benefits of greater exposure and reach. You can quickly enjoy the benefits of Instagram searches and recommended posts with a few simple improvements and modifications.
With that, we come to the end of this article. Do invest time in increasing your follower count from time to time and ensure that your audience enjoys the content you release.