Since its debut in 2016, Instagram Stories has been a mainstay on the social media platform. Rather than publishing carefully picked photos that will remain on your page permanently (until you delete them), Stories allows you to submit multiple pictures that are displayed as a slideshow and set to expire after 24 hours.
You can use your Story to share images, clips, writing, and posts from other users. As  Stories don't pop up in your feed grid, they're ideal for sharing a photo or anecdote with your audience without having to resort to a complete, captioned post.
But first, let's understand what an Instagram Story consists of and how you can use it to engage with followers.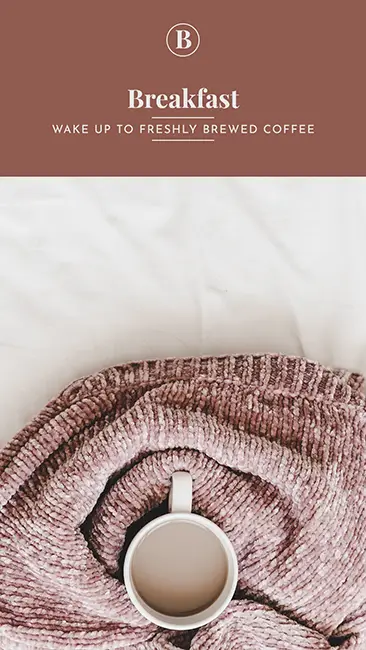 What Are Instagram Stories?
Stories are a novel way to keep up with the latest activities from the folks you follow. Stories are generally shown at the top of your feed in a horizontal line.  If an account you like has shared a Story in the last 24 hours, a coloured circle will appear around their profile photo. You can view that account's Story if you tap the circular image.
Continue tapping to discover all the Stories shared by the profiles you follow for the day. It's easy to navigate through the stories. Swipe right to get to the last Story and left to navigate to the next, and tap to skip the present photo or video when viewing Stories.
Now that we know how to navigate the Story feature on accounts you follow, let's get right into how you can post stories on Instagram effectively.

How to Post Stories on Instagram Effectively
To post a story, you must first complete the following steps:
1) Select the "+" button in the top right corner of your screen, then tap "Story" in the bottom right,
2) Another method of creating a Story is to simply swipe right on your screen, and the feature will slide into view.
3) Then, at the bottom, click or long-press the record icon to snap pictures or videos.
This is the simplest way to share Instagram stories from your profile. If you want to create Stories that are more dynamic and shareable Instagram offers several unique and fun features to spice up your next Story.
Some of the additional Instagram Story Options are as follows: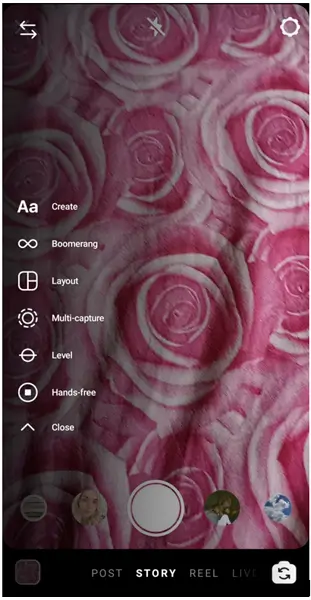 Create- The create option is ideal for when you want to share text or content with your followers and you can choose among multiple fonts and colored backgrounds.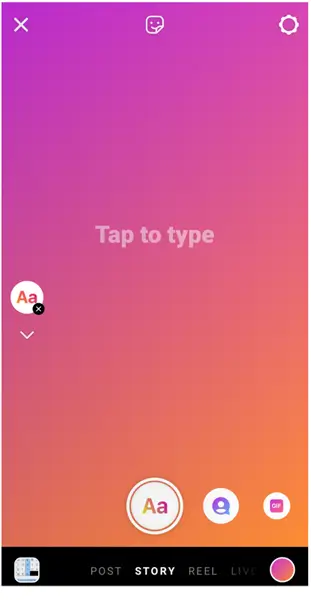 2. Boomerangs- these are brief, entertaining videos that play backward and forward.
 1. First select the Story Icon on your screen or swipe right and choose the camera.
 2. On the left side of the screen you can select multiple options, tap on the Boomerang option.
 3. Press the record button to take a burst of photos.
3. Layout- this is an option that allows you to take up to 4 images or videos in four squares that create a layout.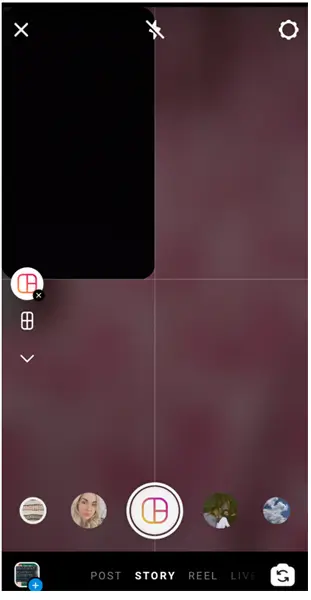 4. Hands-free- To make a video, you no longer need to push and hold. You can capture a video without using your hands by selecting the Hands-Free option from the left menu.
 1. To use the Stories camera, swipe right from your feed.
 2. Press the left-hand downward arrow.
 3. Select the hands-free feature to capture a video without needing to long-press on the recording icon.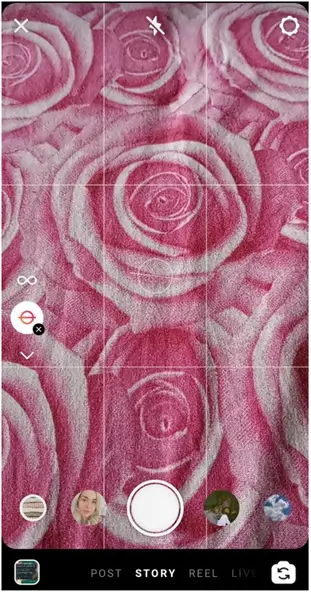 5. Level- this option divides your screen into 9 equal portions to help you take photos that are perfectly leveled.
6. Instagram Story's multi-capture function consists of multiple photographs taken in rapid succession. It helps you take and post multiple photos at once directly onto your stories.
Additionally, you can post a reel, live or Feed post when you use the story feature on Instagram. To use the live feature you need to do the following:
●     1. First open the Stories camera directly or you can swipe right from your feed.
●     2. Pick the Live option from the alternatives at the bottom of the screen.
●     3. On the left, you can caption, schedule, and make your Live video accessible to everyone, just your followers or keep it private.
A Live tag will appear on your Instagram Stories window to notify followers when you broadcast live.
Moving on from this, Instagram also offers several fun features to make your stories more exciting and interactive. Stickers, tags, drawings, and more can help you add entertaining elements to your Instagram Story.
Fun Instagram Story Features to add
Instagram Stories also has a lot of personalization options. Swipe over a photo or video after taking it to apply a filter. If you want to test a filter that you see someone else using on their Story, click the title of the filter. A menu will appear, giving you the option to try it right away or reserve it for later. Here's how to put them to the test.
1. Open the camera in Stories.
2. Scroll down to the bottom to see the various filter options.
To see even more effects, scroll to the bottom and press the magnifying glass.
3. Try on the filters by tapping them.
Another fun approach to make an entertaining Instagram Story is to use stickers to add your own flair. Some unique stickers even allow viewers to connect directly with the Story creator. So let's dive straight into some engaging Instagram stickers.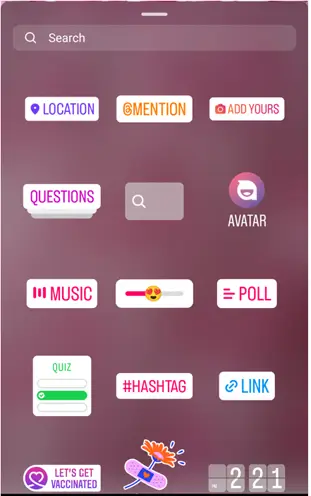 The Top 4 Stickers To Engage Your Audience Are:
1)    The quiz sticker is a simple method to captivate your audience while also having some intellectual fun! It's one of Instagram's most engaging stickers, and as a brand, you can use it to quiz your followers, educate them about your offerings, or delve deeper into their passions.
2)    Start adding locations using Instagram's geolocation sticker if you want to earn more clicks and interaction on your Instagram Stories.Whenever you tag a place on Instagram Stories, such as a neighbourhood or a cafe, your story will display in that area's public stories feed, just like it does for standard Instagram posts. As a result, everyone looking for that area on Instagram will be able to view and interact with it.
3)    When engaging with various businesses on Instagram or reposting user-generated media, it's critical to use the mention sticker to acknowledge their profile. Not only will the user be informed that you mentioned them, but it will also help you grow your audience. That account might then repost your story and compliment you for the mention, or they might even promote it with their fans.
4) Polls are a great sticker to use when you're running out of clickable content to share. Much like the this or that post, it gives you a chance to collect ample information about customer likes, dislikes, and attitudes. There's a higher chance of customers answering polls when they're opinionated about the topic being shared or feel strongly about it. So choose your poll topics wisely and don't forget to have some fun with it.
With that we come to the end of this handy Instagram Story Guide, do keep creating and posting Stories and engage with your audience consistently. If you're looking for some fun story ideas, click here!