Writing the perfect Twitter Bio matters!
Think of it: The first things a person sees landing on your profile are the profile picture, cover photo, and Bio. The first impression is the last right?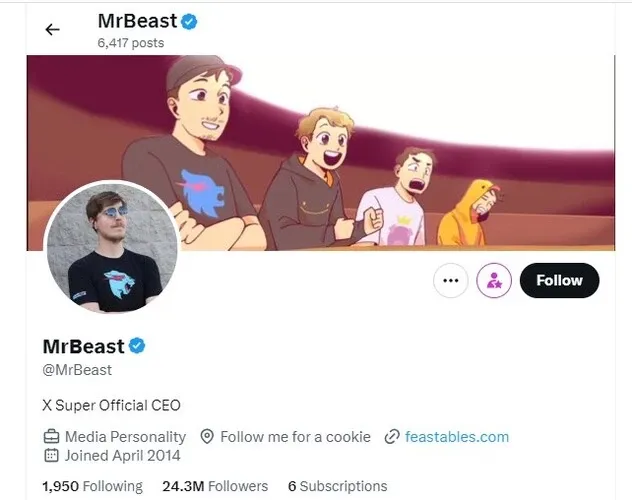 You have to make sure the Bio is perfect.
We've made a master list of all Twitter Bio's to to choose and select from.
✨
Sample Bios of the top Creators
MrBeast  @MrBeast
X Super Official CEO
2. Justin Welsh  @thejustinwelsh
The Diversified Solopreneur | Building my one-person business to $5M in annual profit and sharing everything I learn along the way at http://justinwelsh.me
3. DAN KOE @thedankoe
I write about human potential, doing what you want, and mastering your mind. Building: @kortexco Pre-order my book: http://theartoffocusbox.com
4.  Easlo  @heyeaslo
Notion Ambassador. Infusing clean design into productivity and lifestyle.
5.  Chris 🃏 The Brand Jester thechrisbaumann @thechrisbaumann
How many brands could a Brand Jester brand if a Brand Jester could brand brands? Answer: All of them
6. Ayman Al-Abdullah @aymanalabdul
Former CEO of @AppSumo (grew from $3M to $80M+/yr). I help CEO's go from 7 to 9 figures by working less. Join Waiting List 👉 http://bit.ly/9FigureCoaching
7.  @jason @Jason
World's Greatest Moderator (TM): @twistartups @theallinpod ; investor  @launch
8.  Nick Gray / How to Make Friends @nickgraynews
Hi 👋🏻 I built and sold 2 multi-million dollar companies, Museum Hack and FDS Avionics. Follow me for tips to meet new people and grow your career
9.   Brennan Dunn @brennandunn
Writes about email marketing (new book: http://thisispersonalbook.com), founder of http://RightMessage.com, agency owner (http://slicedice.agency), and smitten with @lauraelizdunn
10.  Jason ✨Be Kind✨ Lemkin  @jasonlk
GET funded ➡ $150m http://SaaStrFund.com🦄🦄🦄🦄🦄 LEARN SaaS ➡ http://SaaStr.University JOIN us ▶ http://SaaStrAnnual.com Founder/ceo #AdobeSign
11.  Rob Lennon 🗯 | AI Whisperer  @thatroblennon
17+ years in startups. International speaker. 47x published author. Teaching you AI and business frameworks. Get $1350 in courses for $29/mo → http://lennonlabs.com
12.  Jon Brosio @jonbrosio
There's a 6-figure solo business inside you (I'll help you unlock it) | http://completecreator.co
13.  SHRAWAN KC  @theshrawankc
Innovating one-person businesses. Working 9-5, building a Creator-Consulting agency on the side and sharing my journey online.
14. Scott Oldford  @scottoldford
Advisor & Investor in Education, Media, SaaS. Helped 200+ Entrepreneurs Scale past 7+ Figures. CEO/Founder of The Wisdom Group (portfolio of 30+ companies).
15. smoul  @itsmoul
Solopreneur helping you build a personal brand. Boosting your productivity and efficiency through@notionhq systems. Reached 0 → 14,000 in 7 months on @medium
16.  Paul Lapkin @DesignedByPaul
Freelance Digital Designer and @Framer  Expert. Inquiries → hello@paullapkin.design
17.  Dr. Julie Gurner  @drgurner
Executive Performance Coach. Doc of Psych. Compared to Wendy Rhoades of Billions via WSJ. "Crown Yourself." Newsletter: http://drgurner.substack.com Inquiries: ⬇
18.  Sean Sweeney @seandsweeney
Design driven, community focused real estate developer. $150 million + in projects developed since 2017. Co-Founder Hall Sweeney Properties.
19.  Rare | Tribally 🛠 @RareAxies
Director of DM slides @TriballyGames  - building a social platform for the next generation of gamers 🕹️ Co-Host @TheRoninRadio  🎙️ Follow for GM memes ☕️
20.  Ole Lehmann  @oledoteth
| Founder of @aisolopreneur  | 0 to six-figure profits in 4 months | 0 to 100.000 followers in 65 days psychedelic fanboy, investing nerd & internet cowboy
21.  Lara Acosta  @Laraacostar
just here for the vibes
22.  Patrick Campbell @Patticus
Bootstrapped and sold @profitwell  for over $200M to @paddlehq. Deep expertise in pricing, retention, and high output management. How can I help?
23.  Eddy Quan  @waronweakness
Cubicle Non-Enjoyer ➡️ Professional Life Enjoyer | Watermelon King 🍉 | Join my list to get enjoyable daily tips on enjoyable ways to enjoy life professionally
24.  Joshua Lisec, Ghostwriter  @JoshuaLisec
I will give you blunt, actionable feedback on your manuscript or book idea. Schedule me here: https://lisecghostwriting.com/meet
25.  Christina @V2Christina
Experimenting to find the best ways to collect, earn, win, & find side income to use for fun.
26. Nathan Lands  @NathanLands
Entrepreneur. E/acc. Building a portfolio of AI companies at http://Lore.com. Collaborating with Tiny on Alpha(http://alphastudio.ai).
27.  Thomas Frank @TomFrankly
Building @FlylighterHQ and other tools for @NotionHQ. YouTuber (2.9m) & @WatchNebula co-founder. 💪 Less Friction = More Action.
28.  Andrew Kirby  @IAmAndrewKirby
I help YouTubers make $100,000/month (and I do it for free) 650k on http://youtube.com/andrewkirbys/ | Financially Free at 22 The Audience Monetization Guy
29.  lya Miskov @ilyamiskov
✦ Human Interface Designer ✦ Currently at: @WhopIO ✦ Previously: @Sketch, @Frame_io, @Data_Axle ✦ Limited project availability → ilya@miskov.ee
💬
Famous quotes ideas for Twitter bio
Showing up is responsible for 80% of success.
My dear Watson, it's as simple as that.
Much is expected of those who are given much.
To be honest, my love, I couldn't care less.
One percent inspiration and ninety-nine percent sweat equal genius.
Make my day, please.
He who goes alone travels the fastest.
The wrath of hell is nothing compared to the wrath of a woman scorned.
Other folks are hell.
I'm talking to you, kid.
We have a problem in Houston.
I dream that one day, my four small children will live in a country where they will be assessed on the content of their character rather than the color of their skin.
I've always relied on the benevolence of strangers.
The scent of napalm in the morning is one of my favorites.
As a result, I believe I am.
If you don't succeed the first time, try, try again.
Keep going if you're going through hell.
They will come if you build it.
Do it yourself if you want anything done properly.
Ask a man if you want anything spoken; ask a woman if you want something done.
I'll return.
I'm going to make him an offer he won't be able to refuse.
I get a feeling we're no longer in Kansas.
Maintain a safe distance between you and your friends, but a safe distance between you and your adversaries.
Knowledge is a powerful tool.
It's like a box of chocolates when it comes to life. It's impossible to predict what you'll get.
It's like riding a bicycle through life. You must keep moving to maintain your balance.
May the Force be with you at all times.
Without your permission, no one can make you feel lesser.
Not everyone who wanders is lost.
Except for death and taxes, nothing is certain.
Parting is a bittersweet experience. Power corrupts, and absolute power corrupts totally.
Speaking softly while wielding a large stick is one small step for a man, but a tremendous leap for humanity.
Money lust is the source of all evil.
Fear is the only thing we have to be afraid of.
You will be set free by the truth.
There's nothing quite like being at home.
If two of them are dead, three people can keep a secret.
It's preferable to have loved and lost than to have never loved.
The question is whether to be or not to be.
To make a mistake is human; to forgive is divine.
Be honest with yourself.
In the woods, two paths split, and I took the less traveled one, and that made all the difference.
We are stronger when we are united, but we are weaker when we are separated.
What doesn't kill us strengthens us.
We have a failure to communicate the situation here. Some men are simply impossible to reach.
Be a nice person in anything you do.
You can fool everyone part of the time, and some of the time you can fool everyone, but you can't fool everyone all of the time.
You must lead by example and be the change you want to see in the world.
Are you speaking to me?
🙌
Bio ideas for your personal Twitter account
List of Twitter Bio's for your personal Account
Introverts, extroverts, Granddads, millennials, Gen Z, and whosoever signs up on the bird app (Twitter's nickname) gets stuck in the 160 characters space. For some, it is too limited, while others lament about the pressure you have to face writing the bio. After all, the few words in your Twitter bio are the first impression you are making.
Now, for Personal Bios, you will find a long list here. Check these out, or explore the list down below.
Mom of three-I can take anything.
I spend hours searching ten-minute videos.
Hey! Nothing much to see here, except the cutest person you ever saw.Still have to do the dishes.
Where do babies come from?
Too lazy to think of a Bio.
I'm cooler on Twitter.
🤣
Humorous Bio Ideas for your Twitter account
Throw in a bit of humor, and see a dramatic rise in followership.
What did the apple say to the chili? Nothing, apples can't speak.
What's common between money and water? We love when they flow.
I still have the body of a college boy (in the closet.)
Need to stop spending time in this bird app.
Signing up was a huge mistake, but don't want to correct it.
I will come to listen to your problems across the globe if you buy me the tickets.
Covid was made by professor Doofenshmirtz - he died.
Got the vaccine from a homeless guy - why is everything so blurry?
Life has been pranking me since I was born.
Money doesn't make you happy? Here's my Venmo.
Beware - I escaped from a Russian Prison.
How to hide things you have stolen? I'm a politician btw
I was left on earth by inhabitants of the Choco milky Way. (Cooler than your galaxy)
8 billion people on this earth and I still went to jail for killing one.
I'm still waiting for the iPhone I won on the online spin wheel.
How long does this WinRAR trial last?
No politics: my social batteries are drained.
What kind of a person does not love ?? (Drop into DMs)
So now that you are here, follow to make my day.
Fun fact: it's legal to kill people who don't like me.


😎
Cool ideas for your Twitter account
Your mates will only know you are fun to party with if your profile speaks it out loud.
Had a dream, farted so big and loud - only it wasn't a dream and I was in School.
People, who aren't busy saving the world like me, what are you up to?
Suggest me good movies. I won't watch them though.
Been doing it for years now.
Trespassers will be shot.
Running low on caffeine and high on ice.
I belong to Arkham. Where is it anyway?
I'm fun
I post fire.
My meme collection is better than yours
Why should I know?
Not putting any pretentious things about myself here.
I hate those who hate hating hate.
I am funnier than anyone on this bird app.
Not going to apologize for spitting the truth.
The odds are not in your favor, swallow it.
Hard pills to swallow: Some can take on more than you.
Sometimes lit, most of the times shit.
This app needed me, so I'm here.
Why did I even sign up?
A living form that is heavily reliant on coffee.
Constantly striving to be a rainbow at the end of a storm.
I resent my parents because I'll never be able to have a child as cool as theirs.
Being sexy isn't an option for me right now, so I'll have to be hilarious.
A nice Samaritan who isn't much of an athlete but is highly gifted when it comes to napping.
💃
Bio ideas for women & girls for their Twitter account
Follow these examples and set yourself apart from the rest. Own that incredible girl inside you and show everyone what you are capable of.
The wiser you get, the more you'll like me.
I post what I want.
If you don't believe in women, don't follow me.
Girls are the best. Period.
I don't remember when I asked your opinion.
Pretty dresses and good words - that's all it takes.
Hey there Queens, love you all.
Cinderella got nothing on me.
Miss Universe in the making.
Unapologetic Feminist.
Came here looking for a title, eh?
Going to wear red whenever I want, going to wear black whenever I want.
Who said you decide how beautiful I am?
Create your own magic.
Born to express, not to impress.
Behind every successful woman is herself.
Love me or hate me, either way I am gonna shine.
I turn can'ts into cans and dreams into plans.
This world is my red carpet. And I am its Queen!
I dress to impress myself.
50% savage, 50% hotness.
I am 99% angel, but oh, that 1%...
A lady with class, a girl with nature, and a bitch with attitude.
I'm the queen who isn't looking for a king.

👨
Bio ideas for men & boys for their Twitter account
Show the world that kind, hard-working, amusing, and warm side of your male personality.
I don't think about what people think of me.
HUSTLER | ACTIVIST | THINKER
How do you do?
Welcome to my Twitter. You'll love it here.
I am so intelligent that I deserve an IVY Scholarship.
I post half-baked thoughts on this page.
Chasing my dreams, but why is the police after me?
Why do I get hungry in the middle of the night?
I should get back to the gym.
Even Insta filters don't make me look good.
Money? No, I love my homies.
Homie Checkpoint: Are you winning Son?
Let's play together.
Living my life like its GTA.
I'm just a poor boy, nobody loves me.
A smiling face, with a heavy heart.
Living the boy life!
Bro code is the only code I know.
🤓
Twitter Bio ideas for the inner nerd in you
To all the nerds out there! You have amazing brains and amazing personalities! Don't let anyone tell you otherwise. Show them the real you and the remarkable you.
Real World?? I only know the world of Minecraft.
Make fun of me all you can, but you'll end up working for me.
Nerd is the word!
My brain has too many tabs open.
I am basically a human version of Google.
My mom says I am cool!?
Alpha Nerd of the whole geek herd.
I am a wizard school dropout.
Better to be a Nerd than one of the herd!
I was uncool before uncool was cool.
I love my computer because my friends live in it.
Nerdy and Single, Ready to Mingle!
Living the life- The Nerd Way!
Stay sharp! Nerd Alert!
A life? Cool! Where can I download one of those?
I think like a proton and stay positive.
Nerd? I prefer being called more intelligent than you.
Talk nerdy to me!
I like big books and I cannot lie.
🙄
Twitter Bio ideas for the inner introvert in you
Being an introvert you are often misjudged and misunderstood. Express yourself and your enigmatic personality with these bios.
I am an introvert and I love people around me- not all the time!
I enjoy the outdoors, the trees, the flowers, and the sky- all by myself!
Alone is my comfort zone.
Naturally introverted, selectively extroverted.
Happily introverted!
Eww, People!
I am not anti-social. I am pro-solitude.
What I lack in social skills, I make it up for it through my hiding skills.
What do I say when I see a large group of people? - No thanks!
The wandering introvert.
Don't look for me in the crowd, come find me in solitude.
Mysterious and magical at the same time.
People… Not a big fan!
Solitude, it is the air that I breathe.
Beneath the quiet exterior, hides a wild mind and a passionate heart.
Struggling to be the original version of myself.
💼
Twitter Bio ideas for proffesionals
Your career and your profession is the true picture of your life. Tell the world about your career, your ambitions, and your dreams through a perfect bio.
Don't mess with me! I might be your doctor one day.
A Doctor by profession. A Human by heart.
Medicine is my profession and passion.
For me the only instrument is a stethoscope.
Wearing my stethoscope like a precious jewelry.
Dr. is not just a prefix. It's my superpower.
Studying to save lives.
I get paid to poke people with sharp objects.
An apple a day keeps the doctor away. But if the doctor is cute forget the fruit.
Can't cure the stupid. Hence, sedating them!
The white coat team!
I am an engineer, creating his own problems.
½ air, ½ water. Technically the glass is always full –#TheEngineersView.
Being a freaking engineer!
Building a personal brand as an engineer.
I am tired! Now I am doing engineering right.
I am an engineer. To save time let's just assume that I am never wrong!
Being that "last minute productive" engineer.
In a complicated relationship with engineering.
My family no longer considers me an engineer. Because I am not repairing the home appliances.
As an engineer my cv is: ctrl+ C ctrl+ V
As an artist I want to….
Art is my happy place.
Breaking the rules like an artist.
Running away from everything through art.
Life is so plain without art in it.
An artistic soul with a creative mind.
I wanna paint the world happy. #Artislife
Expressing myself with art!
Seeing the world from the eye of an artist.
Healing and exposing my wounds at the same time. Yep I am doing Arts!
Artists are the real OG!
Van Gogh lives in my eyes.
So comfortable in my art world.
Making a living through writing.
Thinking through my fingers, expressing through my pen.
I write to live, and I live to write.
Hoping that someday I write something i.e worth plagiarizing.
Creating myself with my pen.
I am a writer who can survive anything but a misprint.
Writing the story of my life.
First draft of everything is shit. So is this draft. #Writerlife
🎂
Twitter Bio ideas for your birthday
A great way to collect wishes, and maybe gifts.
Blow the candles, it's my b-day.
I was born today, today is special.
Everyone, it's time to give me gifts.
Am I supposed to celebrate today? They say I was born on it.
Do you know why the weather is great today? It's my birthday.
Today, the cutest person you know (me) was born.
So, where's this surprise party you have planned for me?
I accept PayPal, Venmo, Bitcoin, and Cash. It's my bday after all.
Just finished eighteen years here. It wasn't easy.
Starting a new decade of life. I'm so excited.
Just so you know - I like cutting cakes with swords.
Anything chocolate is perfect.
💪
Bio ideas for your personal Twitter account
Use the small space to tell the world about your achievements.
I won a gold medal once.
I'm the guy you see on national television.
Valedictorian!
If you can think of it, you can do it. Like me!
Alexander couldn't have done it if he had thought he couldn't do it.
You win in your mind before winning in real life.
Go on, you will get there.
When life gives you lemons, set up a lemonade stand.
The leagues of the greats await you.
It is hard, but the view at the top is better.
Purpose, passion, and goals: that's how I roll
I am making my mama proud of me.
Do you think what they say matters? No, it doesn't.
Aint stopping till I've won.
Run m like a racehorse - I can take it.
A few silly hurdles don't mean anything to me.
Yes, I fell but I'm back up better than before.
Earning, saving, investing – I am the next Warren Buffet.
I love the pain after intense workouts.
Where do you think winners come from?
No one has done it before. I am going to change it.
I am trying to be the change I want in the world.
It will not be easy, but it'll always be the right thing to do
The key to happiness is simplicity
Be the warrior in a world of trouble
🏎️
Twitter Bio ideas for Car enthusiast
Make your love for automobiles known to like-minded people on Twitter.
Let's all contribute money to buy me my dream cars.
See you at the car show.
Electric cars are nowhere as fun as gasoline powerhouses.
How many CCs is the Tesla Engine?
Our automobiles reveal a lot about us.
Racing is Life; everything else is just a matter of time.
Straight roads were never designed for real drivers.
Life is a frantic race filled with turbulence and uncertainty.
My only vice is fast automobiles.
Work hard until the doors of your car open upwards.
Work till you can afford to buy a sports automobile.
Automobiles make me ecstatic.
👦
Twitter Bio ideas for Teenagers
Stressed from school, rejected by peers, and taunted by siblings - Teenagers have it hard. Blow off some steam and make new friends using Twitter.
My only vice is fast automobiles.A new bio has been written. Who is this person?
You are thoughtful, intelligent, and influential.
I've come to serve the cat lords.
Don't die with dreams; die with memories.
Because the epithet "lazy" is so derogatory, I prefer to participate selectively.
Inserts self-important nonsense here.
I'm already planning a nap for tomorrow.
Because life is so brief, make an effort to smile while you still have all of your teeth.
BRB, I'm going to be a billionaire.
The only Twitter user who does not profess to be a social media expert.
Four out of five people recommend me.
I said to my WIFI signal, "Be strong."
My bio is loaded to the hilt.
Take care of your body because it is the only home you have.
I used to be indecisive, but now I'm not so sure.
Maintain your modesty. Kindness is important. Put forth your best effort.
I'm not sure what I'm doing, but I'm doing my best.
Dispersing kindness like confetti.
To see my hidden bio, scratch here » ».
Just like my makeup, I'm winging it.
I'd rule the world if it weren't for the fact that the couch is right here.
I'm posting for a friend, who happens to be me.
Survivor of a paper cut.
My puns are always meant to be funny.
We can only be as powerful as our WIFI signal allows us to be.
🎓
Twitter Bio ideas for Teachers & Proffessors
Aren't you proud of your noble profession? Also, you could help out many more through Twitter. Here is how to introduce yourself in your Bio.
I'm not just a teacher. I get my students to think
All of my students' questions can be answered by me.
I am a teacher, a learner, and a respecter. #iteach
My students learn life lessons from me.
I'm prepared to learn. That is why I decided to become a teacher.
Teachers are thrilled about their students.
As a teacher, I have a soft spot for my class's mischievous students.
It is neither easy nor gratifying to be a teacher. It's a life adventure that only a few people can appreciate. #beingateacher
You shouldn't expect your kids to appreciate you simply because you're a teacher. For yourself, you must earn it.
Teachers are second only to God in importance. Life is given to us by God, and our lives are given significance by our professors.
Being a good teacher is difficult. To educate everyone, one must have unwavering motivation. #goodteacher
The best teacher is the one who fights for and cares about the students who are the most vulnerable.
I treat my students as my children.
There is no such thing as a good or terrible instructor.
The meanings in our life are incorporated by the teacher.
My teacher is my friend, philosopher, and advisor.
When you have the intention to accept, a teacher can be your best friend.
When you have a hilarious small kid to teach, it is a lot of fun.
🎩
Twitty Bio ideas for classy individuals
Show them how it's done with these Classy Twitter Bio Ideas.
We may still be sultry and colorful, trendy and sophisticated, and fly until the day we die!
Everything classy, I've grown to believe, does not fade away.
I prefer to think of myself as a refined individual.
The true class can never obtain the highest grade because it has an infinite grade.
Being well-dressed is a sign of decency.
I dress in a smart and classy manner, and I always dress in a way that my mother would be proud of.
You can be a princess or the wealthiest woman on the planet, but you can never be more than a lady Tact is the ability to tell someone to go to hell in such a way that they enjoy the journey.
Our morals are guided by our regard for ourselves, and our manners are guided by our respect for others.
It's not a decision to be classy. It's a way of life.
I'm not a goody-goody, but I do prefer to be thought of as sophisticated.
Braininess isn't attractive unless it's accompanied by characteristics of grace and refinement.
A very elegant palate is usually accompanied by heartfelt excellence.
The highest excellence is simplicity in attitude, manner, style, and everything else.
We have both refined and seductive items. No matter how big we get, we like to appear well.
Style, harmony, grace, and good rhythm are all dependent on simplicity
⭐
Twitty Bio ideas for Aesthetic lovers
It's all about the vibes. If you are the stare-at-the-night-sky kind of person, these Twitter Bio Ideas are just perfect for you.
I tweet random thoughts here. Stick Around
Pretty skies and mild breezes are the best.
I'm someone you talk about life with.
Money won't make you happy, a night under the sky would.
Aren't koalas the cutest animals?
Coffee and slow music are the best combinations ever.
Best Twitter Bio ideas
Life without meaning and purpose is just breathing.
Aristotle said to follow me.
Goals & Dreams
Why is the air so polluted if "love is in the air?"
It took me years to get to this point.
Right now, I'm saying yes to new adventures.
I'm in pain, yet I'm still smiling. That is the story of my life.
Snacker in the middle of the night.
Because everyone else was taken, I'm the only one left.
I'm a cake junkie on the mend.
I earn money while sleeping.
Sara is a nickname for me, but you can call me Sara tonight.

📚
Twitter Bio ideas for Booklover and avid readers
I earn money while sleeping.
You must read: To kill a Mockingbird.
Books are the only way to go
I will do anything for Books
hhmmmmmmmm...Books
Anytime, Anyplace - Books
University Student Bio Ideas
Twitter Bio Ideas for Entrepreneurs
Bio Ideas for engineering students
Seeking to learn
💕
Twitter Bio ideas for love birds and romantics
Love is the one word that frees us from all the weight and pain of life.
When love is absent, the human heart is the loneliest place on the planet.
We do things properly out of duty, but we do them brilliantly out of love.
Love is not an affectionate feeling, but a constant longing for the loved one's ultimate good, to the extent that it is possible.
First and foremost, love yourself, and then love others.
When properly understood, jealousy is an essential component of true love: it is a never-ending desire for the well-being of the one you love.
Love is more about service than it is about sentiment.
Love is the outpouring of all of nature in selfless service.
You will find love at work if you work at it.
It is possible to give without loving, but it is impossible to love without giving.
Where there is love, nothing will be purposely lacking.
Whoever is not filled with love has a tiny, withered, shriveled outlook on life and things.
No charm compares to heartfelt tenderness.
Giving love always benefits you.
Friendship and love are the most effective healing therapies.
Love removes the masks we fear we won't be able to live without and know we won't be able to survive within.
The most beautiful things in the world cannot be seen or heard but must be felt with the heart.
We can only do so much on our own; collectively, we can accomplish so much.
To love someone wholeheartedly without expecting anything in return is to be brave.
"I love you" starts with I and finishes with you.
Love is the state of mind in which another person's pleasure is vital to your own.
You don't marry someone you can live with; you marry someone you can't imagine not having in your life.
Take a walk with me through life...and I'll provide you with all you'll need.
You've transformed my nightmares into dreams, my concerns into joy, and my fears into love.
When you can't sleep because reality is finally better than your dreams, you know you're in love.
You may be one person to the rest of the world, but you are the entire world to one person.
You may be one person to the rest of the world, but you are the entire world to one person.
Compassion and love are basics, not extras. Without them, humanity will perish.
It's preferable to have loved and lost than to have never loved at all.
In life, the finest thing to cling to is each other.
It's lovely to see two people in love, alone and cut off from the rest of the world.
The greatest joy in life is knowing that we are loved; loved for who we are, or rather, loved despite who we are.
The perfection of love, in my opinion, is that it is imperfect.
Love is made up of a single soul residing in two bodies.
Love cultivates rather than dominates.
What we love shapes and forms who we are.
It is enough to love or have been loved. Ask no more questions. In the dark recesses of life, there is no other jewel to be found. in the movie 500 Days of Summer
Love knows no boundaries. It leaps over obstacles, leaps over fences, and smashes through walls to arrive at its destination full of optimism.
If you live to be a hundred, I want to live to be a hundred plus one days so I can never be without you.
Affection is accountable for nine-tenths of our life's substantial and long-lasting enjoyment.
To become unbalanced Sometimes, for the sake of love, is a necessary element of having a healthy existence.
Love has no natural expiration date. We don't know how to replenish its supply, thus it dies. It perishes as a result of its blindness, blunders, and betrayals. It dies of exhaustion, withering, and tarnishing; it dies of illness and wounds; it dies of tiredness, withering, and tarnishing.
When all you want is for that person to be happy, even if you aren't a part of that happiness, you know it's love.
I've discovered a paradox: if you love till it hurts, there can be no more hurt, only more love.
The want for love is far more difficult to satisfy than the desire for food.
We always try to be better than we are when we love. When we work to improve ourselves, everything around us improves as well.
It is preferable to be despised for who you are than loved for who you are not.
Unhappy marriages are caused by a lack of friendship more than a lack of love.
Love is a flower that must be allowed to bloom.
Love is the experience you've had with someone.
Nothing would be too much for me to make you feel my love.
Being deeply loved provides you strength, while deeply loving someone gives you courage.
Love is the most powerful of all passions because it attacks the mind, heart, and senses all at the same time.
Fearing love is fearing life, and people who dread life are three-quarters dead.
Perhaps I don't know much, but I do know one thing: I was blessed because you loved me.
A friend is someone who knows everything there is to know about you and yet loves you.
There is life where there is love.
Giving love is an education in itself.
I admire how she inspires me to believe that anything is possible and that life is worthwhile.
Love gives us a fairy tale now and again, right in the thick of an average life.
The most essential thing you can learn in life is how to give and receive love.
I really enjoy being married. Finding that one special person you want to irritate for the rest of your life is fantastic.
You want the rest of your life to begin as soon as possible when you realize you want to spend the rest of your life with someone.
To be truly grateful for the proper relationship, everyone must love at least one lousy one in their lives.
You don't love someone because they're flawless; rather, you love them despite their flaws.
When you love someone, you love them for who they are, not for who you wish they were.
✨
Twitter Bio ideas about Hope & Positivity
A man who is full of optimism will take action.
Hope is the future tense of faith.
We must tolerate a certain amount of disappointment but never lose hope.
The stars can only be seen in complete darkness.
Grief's best melody is hope.
There is hope for all the living because a living dog is preferable to a dead lion.
The past teaches us something, and the future gives us hope. Faith in the future is implied by love for the past.
The ability to be hopeful and aspirational is a trait shared by geniuses.
Patience is built on the foundation of hope.
When hope animates us, we feel a surge of energy throughout our bodies.
Most of the world's great things have been accomplished by people who persisted in trying even when there seemed to be no hope.
You've lost everything when you've lost hope. And even when it appears that all is lost, when everything appears to be hopeless and dreary, there is always hope.
When things seem hopeless, hope means expecting the best.
There is always something you can accomplish and succeed at, no matter how horrible life seems.
Patience is based on the belief that something good will happen.
We experience a surge of energy throughout our bodies when hope animates us.
Most of the world's great accomplishments have been accomplished by people who continued in trying even when there seemed to be no hope.
You've lost everything when you've lost hope. And there is always hope, even when it appears that all is lost when everything appears to be gloomy.
When circumstances appear bleak, hope entails hoping for the best.
No matter how bad life appears, there is always something you can accomplish and succeed at.
Optimism is the belief in one's own ability to succeed. Nothing can be accomplished without hope and faith.
Dreams, inventiveness, and the fortitude of individuals who dare to make their dreams a reality are all sources of hope.
Learn from the past, live in the present, and hope for the future. The most important thing is to keep asking questions.
We don't have to feel hopeless since we can't be irrevocably damaged.
Being able to realize that there is light despite all of the darkness is what hope is all about.
The heart would crumble if it weren't for hope.
Tremendous persons are born from great hopes.
Allow your hopes, not your sorrows, to guide you into the future.
This world has some good in it, and it is worth fighting for.
This fresh day, with its aspirations and invites, is far too precious to squander a second on the past.
We will find recompense in any disappointment if we are quiet and prepared enough.
Hope is a type of happiness in and of itself, and it may be the greatest enjoyment this planet has to offer.
Hope instills perseverance and a desire to see what will become a reality.
Anything is possible once you choose hope.
The world's most important resource and best hope for the future are children.
We must not allow our worries to prevent us from achieving our dreams.
A person with health has hope, and a person with hope has everything.
In reality, hope is best obtained after defeat and failure, as it produces inner power and toughness.
We've all heard quotes we love, but no one wants to put them up in their bios as they are. Here are a few twisted versions of quotes you can add to your Twitter bio. (And we suggest you shape them the way you want.)
If you can't find one from the list above, you are pretty much out of luck.
What makes a Bio perfect?
Do the same guidelines go for professionals hunting jobs and teenagers doing whatever teenagers do?
No, that's not how it works!
If you are a cybersecurity expert offering network security solutions, you can't go with whatever bio you had when you first made your account. Before we tell you what makes a perfect Twitter bio, decide what you are going to use your account for.
Personal Accounts are for socializing, and sometimes campaigning for a cause. Professional Accounts are for promoting your career and your work. Brand accounts are for companies to broadcast their products and services. There are different ways you treat each of these accounts. And in this guide, we cover all of them. For saving time, you can just skip to the desired portion.
Branding Accounts:
Twitter is as much a face for your company as your website. And the hundred-and-sixty-character BIO decides whether you land a new customer or not. Apart from getting customers, Twitter is necessary for customer engagement. What are the people saying about your product, what do you need to add, what is the best thing about your product? Twitter is your ultimate marketing tool.
From a single emoji to utilizing all the 160-character space, leading companies have all the kinds of Bios. Here is how you can have the perfect, sales-driving bio.
Ditch the formalities. Twitter Bios are business proposals, not official documents. They are there to bring in more people. If you fill up the small space with technical jargon or big fancy words how do you expect the reader to scroll down to your content? Formal bios do not seem inviting and do exactly the opposite of what you want to do.
Tell them what you are great at, without sounding like a boasting grandmother. You shouldn't be shying away. Instead, talk about your awards, how your services are loved by people, how your processes are the best. Tell this all while being concise. Not only do lengthy brags sound made-up, but they also won't be leaving much space for anything else.
Emojis, Emojis, Emojis. Ever heard "a picture speaks a thousand words". Well, emojis are pictures. They say volumes. Instead of writing "Handbag" why not simply put a "?". Moreover, Emojis are more casual.
Let them know what you stand for. From eco-friendly production methods to their standing on social matters such as the BLM, consumers choose products that work towards the betterment of the world. Let them know what you are working towards. Do you offer discounts to traditionally marginalized communities? Do you maintain gender-neutral hiring standards? Put it out there.
Put up your Insta, Tick Tock, and LinkedIn Profiles. A user looking to learn about your company lands on your Twitter profile. But say you are a content creation company; don't you want the user to switch to YouTube to see your work?
Yes, you do! It won't happen magically; you have to tell them where to find you.
Hashtags: Appropriate hashtags can be the deciding factor between a thousand accounts and a million accounts reach. Find the right hashtags, and maximize your reach. It also helps to find your account through search. For example, you are selling accounting services. Some guy named John is looking for accountants, he'll be searching using hashtags like #accountingservicesflorida or something. Target the right hashtags, and you'll be driving greater revenues.
Include Keywords. How does the Twitter algorithm know you are an accounting from if you don't tell it? Twitter AI scans through your bio to ascertain what your account is about. Research the appropriate keywords, and stuff them into your BIO. This too helps your account to get discovered more.
Those are just the basic dos and don'ts. We'll now cover some examples that rocked their Twitter bio games.
Check these Bios out.
See how welcoming the Pepsi Bio is. If that does not force you to scroll down their Twitter profile, what else will?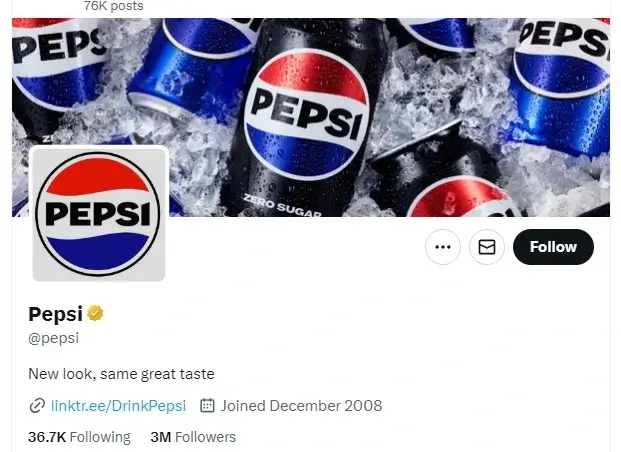 KFC introduces itself in a unique, welcoming, and fun way. The world's best chicken-selling brand has indeed one of the best Twitter bios as well.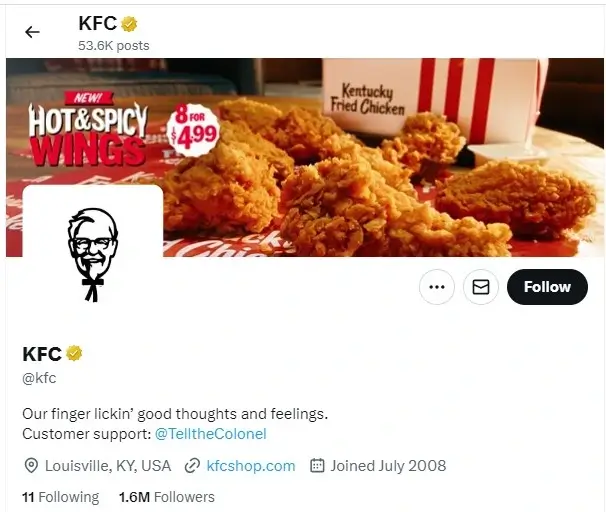 Talking about the perfect Twitter bios, and not including Uber facts is hurtful. The Twitter bio of Uber facts says "The most unimportant things you'll never need to know". They fill our brains, with necessary and sometimes unnecessary yet hilarious facts all day, every day.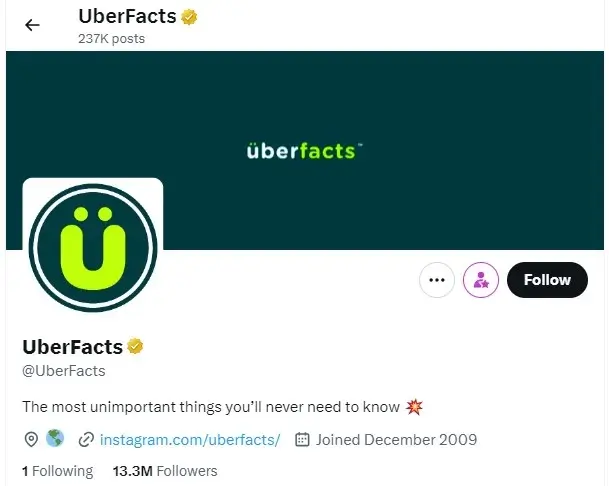 A pun on the platform you are on, along with reminding your slogan to people. Genius!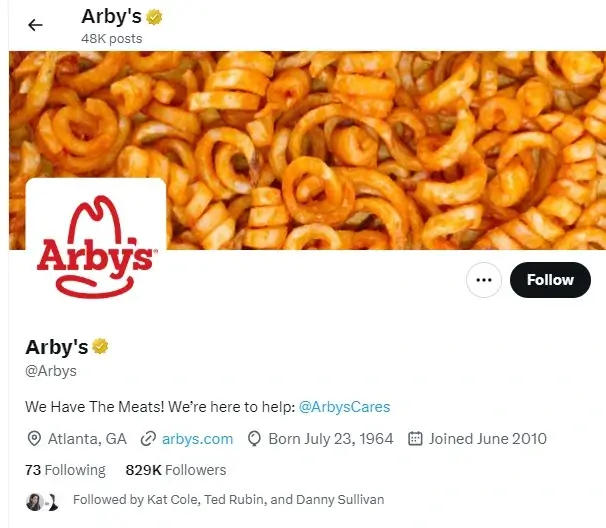 The main goal of Topicals is to bring a skincare routine that soothes anxiety through a bunch of fun and exciting products. And, their Twitter bio tells us just that.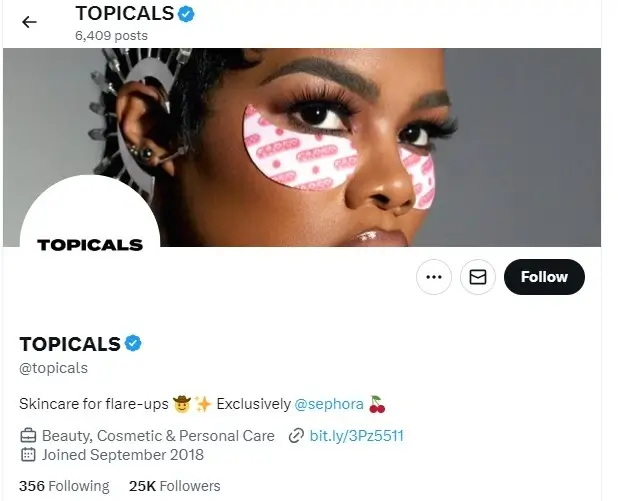 The satirical news site has the perfect satirical Twitter bio as well. In the bio, they sarcastically claim that they are one of the "America's Finest News Source".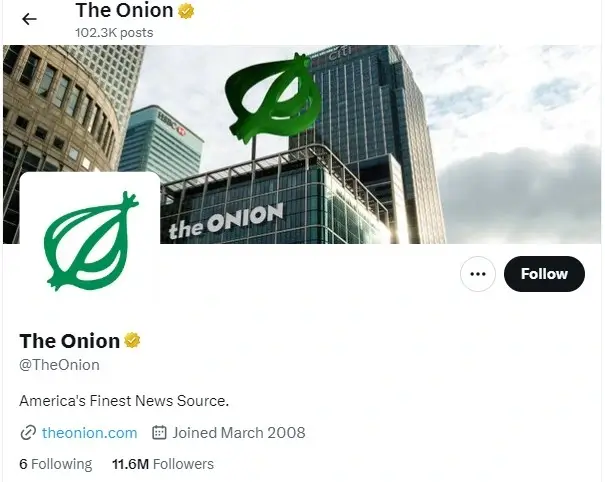 A list of great twitter bios, without including Twitter can't happen. Simply, "What's happening" is the platform's Twitter account, and undoubtedly, it's a clever play on the words displayed in the draft box before typing a tweet.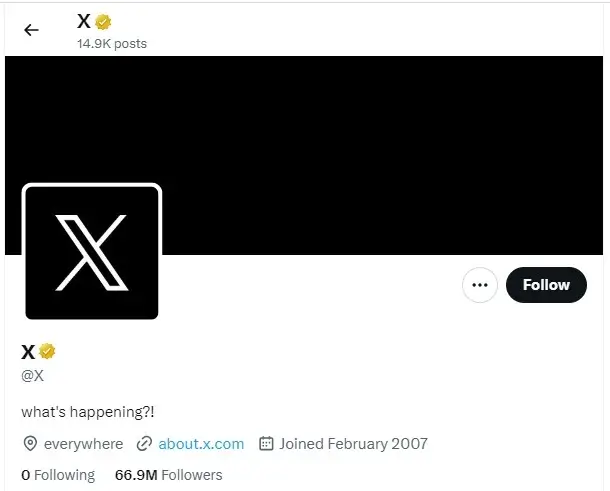 You've read through the ideas/tips above, but it doesn't stick with you. You are a professional, and you mean business. Here's how you can put up the perfect Twitter Bio.
Search Keywords: Ever heard of Search Engine Optimization? Well, Twitter's algorithm works similarly. You have to single out the exact keyword that talks about your services, your expertise, and your niche.
Utilize the small space to tell the very best things about you. Imagine in an interview you are given just 60 seconds to sell yourself. Do you tell them about the project you did in some forsaken place five years ago? No, you get to the point. You tell them the best things about yourself and buy some extra time. The same goes for Twitter. If an employer/ potential customer is looking for the services you provide, you have to impress them through your Bio. Tell them about the national award you won, or the big-and-famous clients you have.
Tell them who you are: Twitter Bios have but one purpose. Introductions. If your bio doesn't put you out to the world, why even bother having one? Your bio should elaborate your professional side as well as your person. Take this as an example. "Mechanical Engineer| Project Manager at Houdini Engineering | Can't live without my dogs." Now, was that last part necessary? Is it a part of your Job Description? No, it isn't. The fact is, all the last few words are doing is giving your profile a personal touch. Gone are the days when companies preferred robots. Today, the best companies are looking for driven, motivated individuals who express their human side who heartedly.
Add a bit of humor, but just a bit: It's tempting to add a pun to your twitter bio. After all, what interests one more than a well-crafted joke? But don't. Its better to avoid it. But if you must, don't overdo the jokes. You want to appear serious and professional in your bio. Puns make you appear the exact opposite.
Link to your LinkedIn: Twitter isn't the best place to build connections and foster your career. For that, we have Linked in. You must link to your LinkedIn profile in your Bio.
Call them for a chat: Studies have shown that a call-to-action can drastically increase your chances of interaction. Sometimes that might be the only thing you need to get your foot in the door. Add a "Drop me a message" or "Feel free to contact me" would help.
That's it. That's your ultimate guide to writing the best Twitter Bio ever. Do let us know what you came up with in the comments below.