Facebook stories is an amazing feature for influencers, brands and business owners to reach an immense amount of audience and take the engagement rate to a peak level and reach the new audience base with unique interests.
We know Facebook reach is declining. And Facebook stories can be a go through for you and your reach. With approximately 500 millions of daily facebook stories active users. That makes it pretty much clear that facebook stories can be a life saver for businesses and new customers.
According to huitsuit's data- After viewing a business' Story, 58% of people say they've browsed a brand's website, 50% say they've visited a website to buy a product or service and 31% headed to a store to scope things out.
Stories can be another opportunity for businesses to get eyeballs on their content, especially because they take up prime real estate on both the website and mobile app.
Page Stories appear at the top of News Feed in a highly visible area. People can also tap on your mobile Page's profile picture to see your Page Story.
How to create facebook stories for pages
Here in this post we would let you know the most used and easiest ways to publish stories for your facebook pages and get the best out of your facebook content strategy.
We will let you know the most used three ways of posting stories for your facebook page.
1) From Your Facebook Page Dashboard:
Step 1: open the facebook app and access your page by logging in to your account.
Step 2: open the page you manage and want to add the story to.
Step 3: scroll down to find the "add to story" icon and tap on it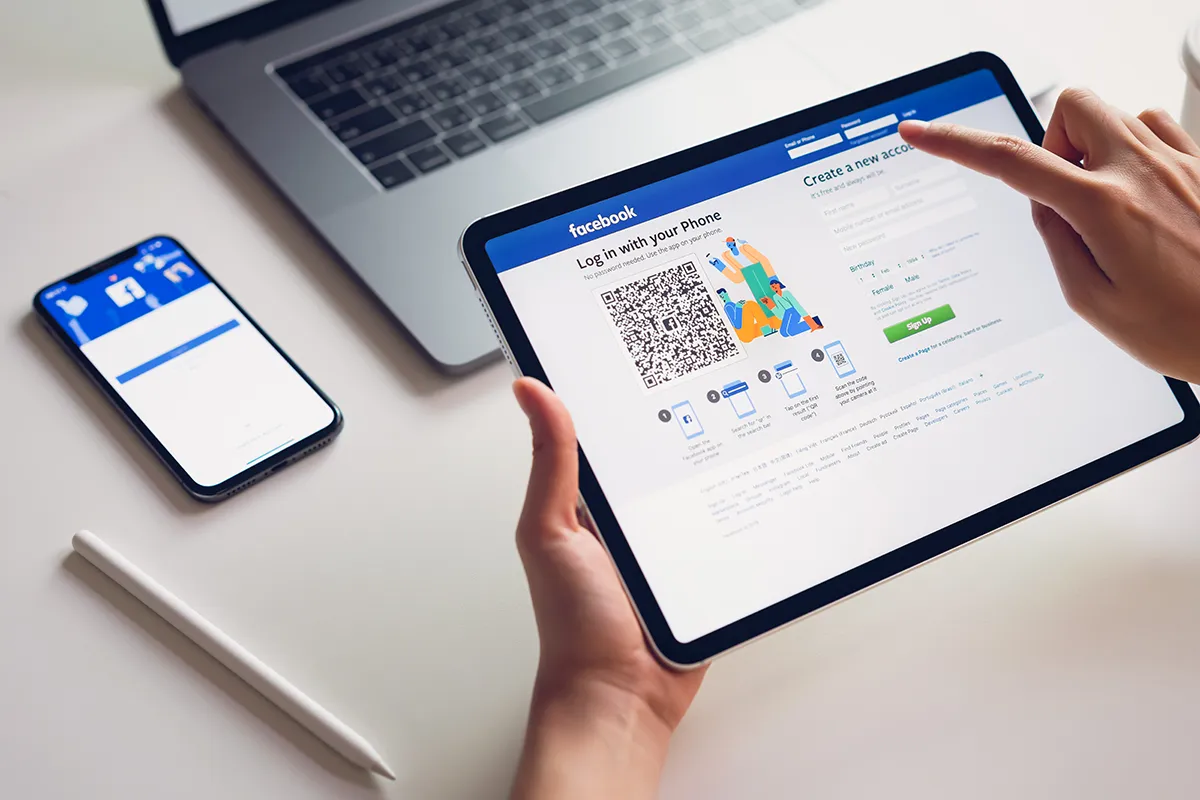 Step 4: on the desktop you can choose "Create a Photo Story" or "Create a Text Story," but on your phone, you'll have additional options.
○ To add a photo or video story, tap a photo in the camera roll or take a photo or video using the camera icon at the bottom of the screen.
○ Tap "Aa" to add text to your story.
○ Tap "Music" to share a song to your story.
○ Tap "Boomerang" to take a burst of photos, which then plays forward and backward as a short, looping video.
○ Tap "Mood" to choose an image from the GIFs library, to which you can add text and other effects.
○ Tap "Selfie" to do exactly that - take a selfie and add emojis and effects.
○ Tap "Poll" to create a poll for your friends. You can pose a Yes or No question, or edit the Yes and No so your friends can choose a different response.
Step 5: once you are done by customizing the story just click "share to story"
2)From Your Mobile Phone
Step 1: Visit the facebook mobile app and login to your account.
Step 2: Click on the "add story" element just in the opening screen.
Step 3:create your story according to your need and add elements and graphics as you want.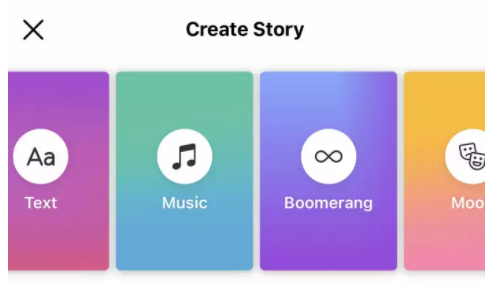 Step 4: if you want so just play around the setting like privacy and and who can view your story and much more in "story settings"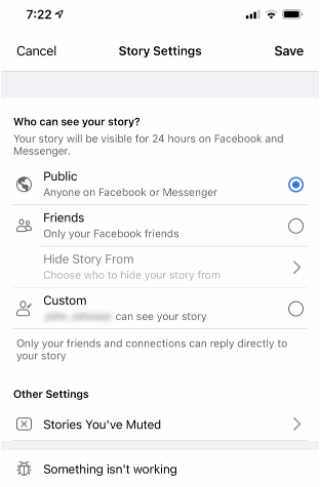 Step 5: click "add to story" and it's all done.
3) Share Your Instagram Story:
This is one of the easiest ways of publishing stories to your facebook page. Just by publishing it one instagram and automatically syncing it to your facebook.
Step1: open your facebook settings tab and in the accounts tab make sure your facebook and instagram accounts are connected where you want to sync the device.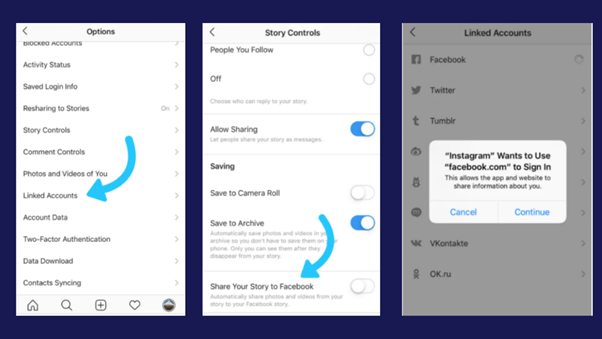 Step 2: Visit the instagram profile dashboard and simply tap on the "plus icon" to create stories or content located on the top-right of the instagram dashboard.
Step 3:then you can create stories using text, images or other amazing and engaging graphics. Just as you could do on facebook.
Step 4: Click publish and will ask you to post stories to the facebook as well
Step 5: "accept and publish" to sync and post instagram stories to your facebook account as well.

How to Make Facebook Stories More Engaging
There are various ways through which you can make your story much more engaging and attractive. We would suggest to you all the possible ways by which you can multiply the glory of the stories.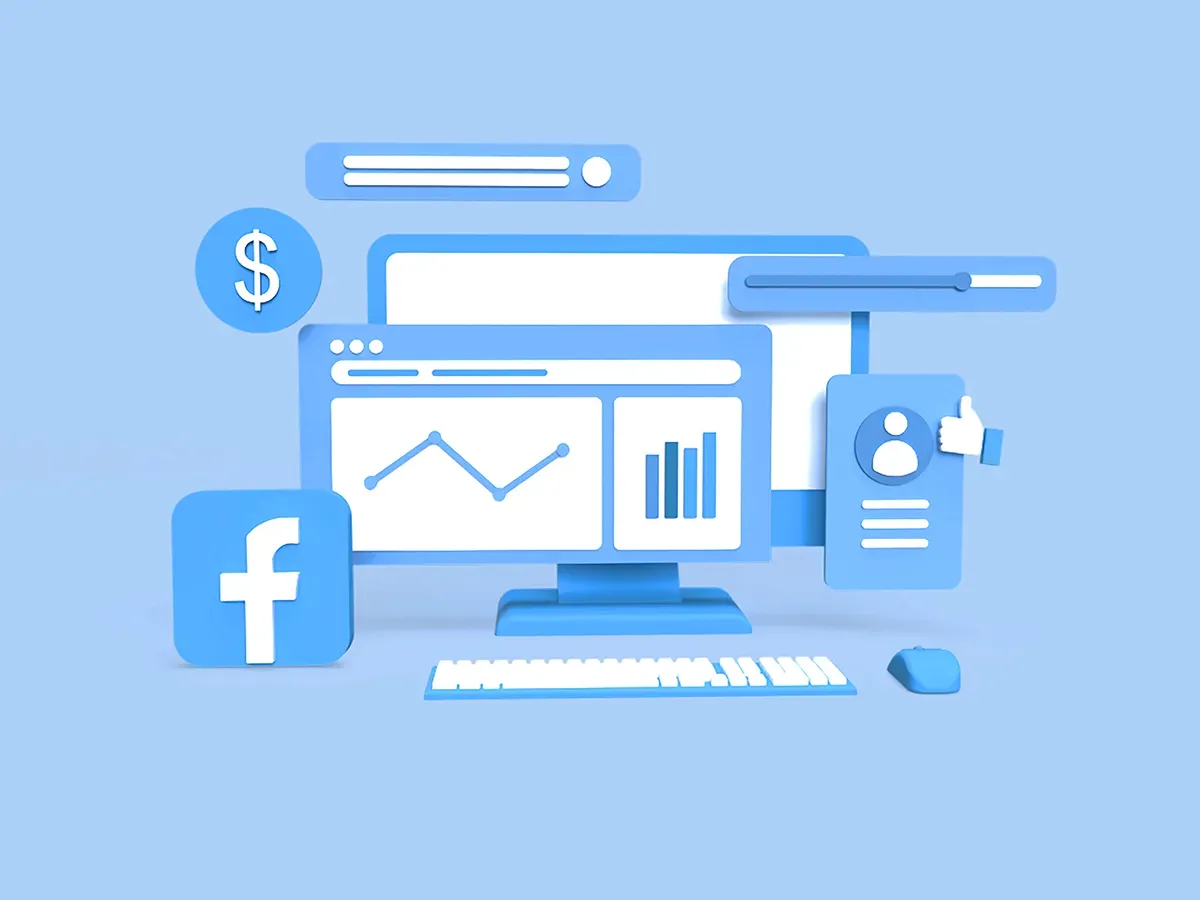 So here are a few tips for your stories strategy which would attract more users.
Plan Before: Planning is an essential part of any content creation journey because to attract users and make them interact with your piece of content totally depends upon your content and its research.
So always plan your content and try to add an engaging factor that forces users to engage.
Use Video and music elements: As of human nature, we all are attracted more towards the visually appealing and attractive sounds cause these are the factors that gathers the most attention. So try creating these kinds of stories and definitely add music and video elements that speak to your motive.
Create amazing graphics using canva: Canva can be a lifesaver for your stories graphics, through canva you can easily create visually attractive stories which could fill the missing part for your stories and provide your dream outcomes in terms of engagement and attraction.
Create time sensitive exciting content: The "urgency factor" is what makes stories such a popular feature because of its 24-hour availability. Take advantage of this to create time-sensitive content that can build excitement and urgency.
So to get better outcomes try to include CTA that targets urgency to click under 24 hours.
Use boomerang and hyperlapse for stories: through Boomerang you make images flip forward and backwards or Music to add sweet tunes to your Stories. You can also add some more flavor to photos or videos with filters, stickers, text and doodling options, and special effects.
Hyperlapse is a timelapse app from Instagram available for iOS users only. It will speed up your videos for humor or to represent time passing.
How to check Facebook stories Insights
Facebook provides you a better control over the story function by providing the most accurate analytics related to your story performance. Through these accurate metrics related to your content you can easily implement better strategy and efforts to get dream outcomes.
Just visit the page and open "page settings" then "page insights"and under the page insights section choose "stories".
Here you can find such amazing metrics to do an in depth analysis like:
1. Unique opens: The number of unique people who have watched one or more of your active stories within the past 28 days. New data is provided on a daily basis.
2. Navigation: The cities and countries where your viewers are currently located. Like age and gender.
3. Engagements: All of your interactions within your Stories from the past 28 days. These include replies, reactions, sticker interactions, swipe ups, profile taps and shares.
4. Demographics: With enough viewers, you can see how your audience shakes up by gender and age range.
How to Delete A Facebook Story
You can delete your Facebook Story at any time. Simply view the piece of the Story you'd like to delete and tap on the three dots in the upper righthand corner. You'll see the option to delete.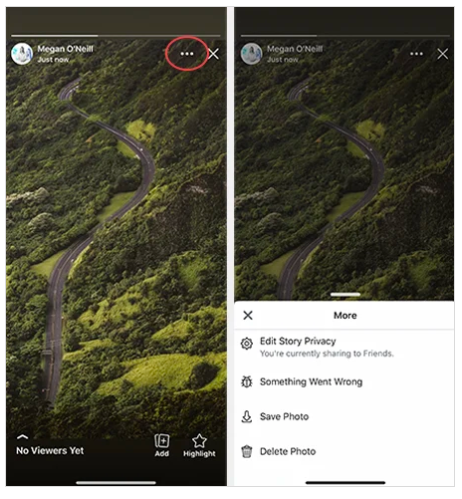 Benefits Of Facebook Page Stories
● Shared more often: Businesses often think about how frequently they should post to their Page. If you've already shared content to your Page or are running a Page ad, A Story can help you engage your audience with a different type of media to enjoy.
● Humanize your business: You want your Page to come across as friendly and accessible. Stories can help people get to know you and your business better. Stories let you share personal, relatable content through fun, fleeting moments that bind everyone together.
● Reach people consistently: If anyone in your audience misses a post, they'll see your Story at the top of their News Feed. Stories let you re-engage a passive audience and provide updates in a dynamic way. You can see how many people watched your Stories in Insights.
Facebook Stories in Summary
Haven't tried facebook stories yet?
I bet that facebook stories could be the solution that you were looking for your organic reach and gain better engagement.
Now is the time to embrace the power of facebook stories and get the best out of your social media content strategy. Through this amazing feature offered through facebook you can help your brand stand easily with the power of organic content that generates outcome.
Here in this post we have shared the best and the easiest ways of posting stories to the facebook pages, also the how you can make your stories much more interesting, how to track the data and analytics through the stories, and also mentioned the benefits about the facebook stories which would help you at every point of your social journey.