One of the top social media sites for online brand promotion is Instagram. Over 200 million Instagram users view at least one company page every day, and 60% of customers say Instagram is where they find new products. If you want to attract Instagram users, your company must stand out, and the best way to achieve so is with an eye-catching Instagram aesthetic.
Displaying your brand's identity is a fundamental component in developing a captivating Instagram aesthetic. You can do this by incorporating your brand colors in your text, stickers, and image backgrounds when sharing Stories. Instagram only shows a small selection of colors by default, but you can find a larger selection to complement your brand's look. Before we get into how you can create the ideal Instagram Stories Aesthetic, let's understand how Instagram Stories work.
What are Instagram Stories?
Since its debut in 2016, Instagram Stories has been a mainstay on the social media platform. Rather than publishing carefully picked photos that will remain on your page permanently (until you delete them), Stories allows you to submit multiple pictures that are displayed as a slideshow and set to expire in a day.
You can use your Story to share images, clips, writing, and posts from other users. As Stories don't pop up in your feed grid, they're ideal for sharing a photo or anecdote with your audience without having to resort to a complete, captioned post. Instagram Stories empowers users to post photographs and clips to their Story, which is viewable to other Instagram users who follow them. A rainbow border surrounding the user's profile photo indicates recently-posted Stories. Instagram Stories, like Snapchat Snaps, expire after 24 hours.
Your Instagram Story is posted independently from the visual content in your Instagram profile's tiled display. Although you may be familiar with the basics of posting them, there are additional tools inside the app that can help you add more creativity and engagement to the photographs and videos you share on your Story. Individual videos added to your Instagram Story have a limited roll time of 15 seconds as a general rule. If you add a clip to your Instagram Story, it will run for up to 15 seconds, irrespective of the length of the actual footage.
Each Story can be customized with stickers, location information, and drawings, as well as filters and sounds. If your profile is public, anybody can see your Story. However, if your profile is private, only people that follow you can see it. Viewers can reply to your Story personally via direct message (DM), but you can easily turn off responses in your app's preferences.
By accessing your Story and swiping upwards on your device, you can also see who has seen it. Before we explore how you can alter the background color and more on your Instagram Stories, let's first understand how to post an Instagram Story.
How to Post Stories on Instagram
To post a story, you must first complete the following steps:
1) Select the "+" button in the top right corner of your screen, then tap "Story" in the bottom right,
2) Another method of creating a Story is to simply swipe right on your screen, and the feature will slide into view.
3) Then, at the bottom, click or long-press the record icon to snap pictures or videos. Another option is to go through your media library and find images, videos, and text pieces that you've created beforehand.
This is how most users create an Instagram Story. As we've mentioned in the first section, you can always spice up your Stories by including more visually appealing elements like brand-specific colors, font, and more. Since it's not immediately obvious how to change the background Instagram selects depending on the colors in your image, usually companies settle for the preset wallpaper Instagram selects depending on the colors in your picture.
Thankfully, sometimes the gradient's standard hue is sufficient for an Instagram story backdrop. However, the majority of the time, you will profit from having a little more flexibility and freedom when creating Stories.
Why should you develop and build an aesthetic on Instagram?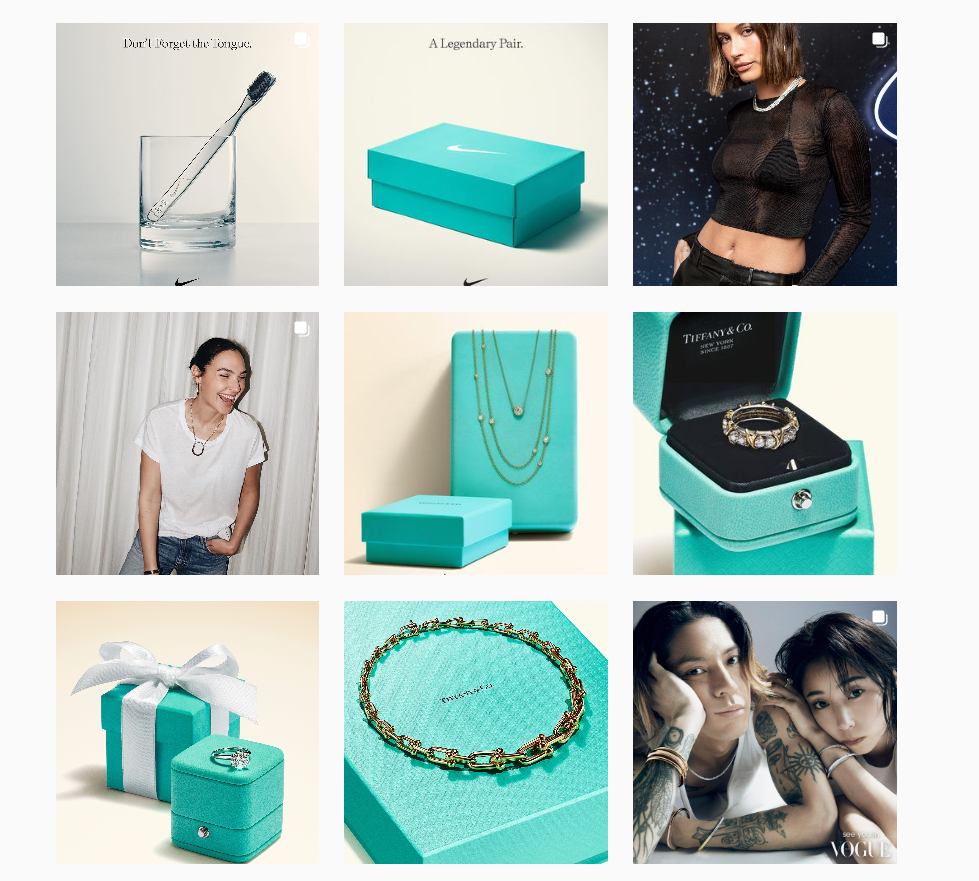 One of the best ways to build your brand image is to maintain consistency across all your media channels and content formats. Consistency throughout the entire app, not just in your posts, is the best method to improve product awareness on Instagram. Even while your feed is the most crucial component, you should keep in mind that the app also has other crucial components. The secret to converting browsers into followers on Instagram is having a stunning and well-coordinated Instagram aesthetic.
In fact, one of the finest methods to promote your Instagram profile, gain followers, and promote your company's voice and products is to have a thoroughly representative aesthetic. Moreover, you'll want to ensure you consider your Instagram Stories when creating your Instagram look. Instagram Stories are becoming more and more popular, and businesses are taking them just as seriously as their normal Instagram posts by crafting visually exceptional stories that prevent users from brushing past them.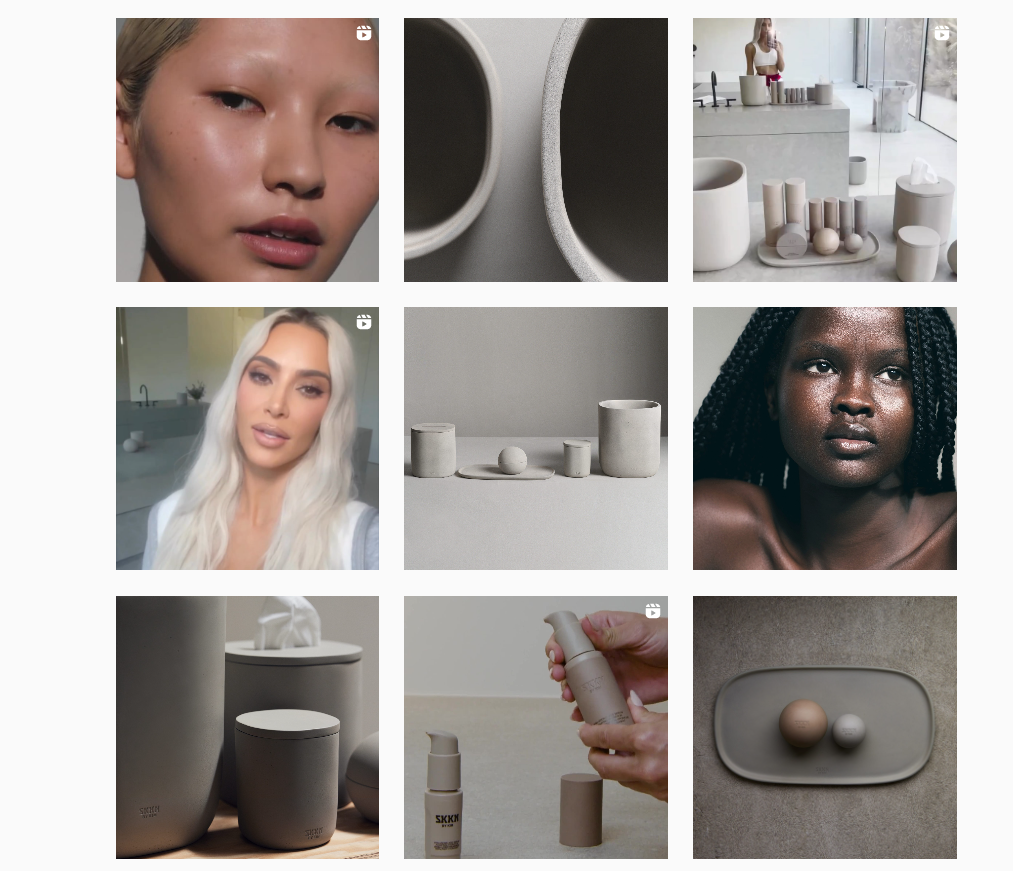 Over 60% of youngsters use Instagram stories every day when they log in, and in recent times, services like Guides and Reels have become more popular. You could ensure that your posts, stories, IGTV, and reels have a consistent aesthetic and raise brand awareness by utilizing the same typefaces, effects, and color throughout each of these formats.
You could exert more influence over how your audience will view your Instagram Story by changing the background color. You can choose a color palette for your Story that emphasizes any theme you want to convey. Additionally, establishing an Instagram aesthetic helps people identify your account right away. Your primary audience ought to be able to come across your post in their feed and understand that you published it without needing to visit your profile. It boosts brand familiarity while also effectively and strikingly showcasing your products or services.
Let's look into how you can change your Instagram Story backgrounds, font, and more as a means of developing a cohesive aesthetic on your business page.
How To Change Instagram Story Backgrounds
Instagram Stories typically contain a photo or a video. Therefore, your Story will include some vacant areas in the backdrop unless your media takes up the entirety of the screen much like wallpaper.
In the first method, you'll be using the drawing tool to change the background color.  This technique lets you choose any color you want for your backdrop despite being a little confusing and covert. Additionally, people that have a trademarked color that isn't represented on Instagram's standard color wheel frequently use this inventive technique.
●     Activate Instagram Stories
●     You can either capture a picture or a movie using your camera, or you may select a picture from your photo library as usual.
●     In the top right corner of the screen, touch the three-dot icon.
●     Choose the Draw tool next.
●     The display's top and bottom will present the sidebar menus. Select the customized color directly from the video or photo by tapping the pencil symbol in the bottom left.
●     Wait until the selected color fills the full screen before tapping it.
●     Within a few moments, the chosen color will be put on your Instagram Story.
●     Choose the eraser tool now to expose areas of an image embedded by a colorful backdrop.
Despite the fact that there are a couple of steps involved, this method is a great way to alter Instagram's default settings and enables you to personalize your stories in more interesting ways by using any colors you choose.
Instagram Stories also has a lot of personalization options. Swipe over a photo or video after taking it to apply a filter. If you want to test a filter that you see someone else using on their Story, click the title of the filter. A menu will appear, giving you the option to try it right away or reserve it for later. Here's how to put them to the test.
1. Open the camera in Stories.
2. Scroll down to the bottom to see the various filter options.
To see even more effects, scroll to the bottom and press the magnifying glass.
3. Try on the filters by tapping them.
Some other image-related features on Instagram Stories are:
Layout- this is an option that allows you to take up to 4 images or videos in four squares that create a layout.
Level- this option divides your screen into 9 equal portions to help you take photos that are perfectly leveled.
Instagram Story's multi-capture function consists of multiple photographs taken in rapid succession. It helps you take and post multiple photos at once directly onto your stories.
With that, we can move to the next section, how you can use the create tool to change your Instagram Story Backgrounds.
You can also upload text-based content, polls, timers, or GIFs by using the Create tool. This approach does not let you create a custom backdrop color or insert images or videos, in contrast to the one above. When utilizing Instagram questionnaires and templates, you may choose to use the narrow palette of background colors that are provided. Here are steps to use this method to alter your background colors:
●     Select the Ae Create tool on the left after opening Instagram.
●     There will be a menu with templates. Find the small sphere in the bottom-right corner of this screen.
●     To choose among the available background colors, tap this bubble, and pick a color you want for your Story background.
With that, we've covered both the main ways of altering your Instagram Stort's background. In the next section, we'll cover how you can change Story backgrounds when you get mentioned in another user's Instagram Story.
How To Change The Background Color of a Reposted Story
Consider a scenario in which a fan tags you in a story, and you want to repost it while simultaneously altering the background color of your Instagram story.
The actions to take are as follows:
●     Choose the article where you were tagged.
●     Simply click "Add This to Your Story."
●     Make your selections from the menu at the bottom of the screen.
●     Use the droplet tool to match the color of the story that was reposted.
●     Simply move the dropper to the appropriate color and place it there.
●     On the screen, tap done once you get the color you want.
And that's it! When reposting an Instagram story, you can change the backdrop color in this manner. These are two of the most basic methods of changing your Story backgrounds. But there are several other options to make your Stories more engaging and attractive, we've listed some of them in the next section.
Other ways to change the background of your Instagram Stories
1) How to share feed posts on Instagram Stories and customize your background
Instagram Stories that you upload from posts in your feed can have their backgrounds customized. By adding this, you give your stories that unique touch of panache to make them stand out. This Instagram Stories trick can also be used to hide a new Story for a spectacular discovery.
Launch the Instagram Story window.
In the top right corner, select the drawing icon.
Choose a color for your Instagram post using the shade dropper tool located at the bottom left corner of the page.
For a couple of seconds, press and hold the display.
There will be one of two outcomes. The whole display will appear with the chosen color on top of your image or video if you've just created a fresh Instagram Story. The backdrop color will take on the hue you have selected if you are sharing feed content in your Instagram Story.
You can also try this technique with the eraser tool if you don't want to just upload a simple block of color when doing this.
Try this:
When your color has filled the screen, click or tap the eraser symbol in the top right corner.
The screen portion you want to display should be erased.
To encourage your audience to "swipe to see more," you can now add writing or graphics.
This is one of the best options to create a sense of interest and get users to click on your posts. This Instagram Story style will also boost engagement greatly for the post you wish to highlight.
2) How to add a different photo to create a new background for the Story
As you now know you can alter the background color, the next step is to also include a background photo from your media library when you upload a feed post to your stories! This is how to add a photo to the background of your Instagram Stories:
Choose "Add post to your story" after identifying the post you want to publish on Instagram.
Choose the Instagram "Add from Camera Roll" sticker by tapping the sticker tray. Choose the picture you wish to utilize as the background for your story by scrolling through your photographs.
Expand the extra photo with two fingertips and drag the feed picture to one area of your Instagram Story display (in a pinch motion). Press and hold with your finger the first feed post while doing this. It will move to the top of the screen as a result.
As people often tap here while browsing through stories, placing the feed post on the right side of the screen will improve the likelihood that users will select it.
You must select an Instagram aesthetic if you wish to build a visually stunning Instagram feed. An Instagram theme will lend your feed a unique appearance and vibe and increase user recognition of your profile. You can employ a variety of different Instagram aesthetics, so make sure the backgrounds and colors of the stories you share fit your theme flawlessly. If you don't want to alter a Story's background but still want to add some visual interest to the post, you can always try the next method of adding a translucent overlay.
3) How to add a transparent overlay to your Instagram Stories
To attract attention and increase participation, your Story needs to grab viewers' curiosity on Instagram. Intrigue is one trait of people that you can use to your advantage to achieve an objective. People are curious beings who like to know what's happening in other people's lives, particularly the lives of well-known figures.
People are more driven to research when they are curious. To keep your audience interested, as a brand you can drip-feed interesting information into their content and promptly provide previews. Fill the gap of knowledge between users' present understanding and what they desire to know with interesting information if you want to generate excitement for your impending launch. Give them just enough details to pique their interest and leave them craving more.
Transparent layers are one of the coolest Instagram Story tricks to attract viewers. With the aid of these overlays, you can hide crucial details or merchandise while still letting viewers know that something big is coming. To apply a transparent overlay to your Instagram Stories and make them gorgeous, follow the instructions below:
Add your Story, and upload the picture or video.
"Draw" can be chosen by clicking the three dots in the top right corner.
Pick your favorite color for the highlighter pen.
Until an overlay covers your picture or video, tap and hold your finger on the screen. Once that takes place, you're done!
Finally, one of the Instagram Story tricks you can use is to add a question sticker. Ask fans to identify what the news might be with a question sticker that you paste on the overlay. This will boost engagement and encourage your followers to interact more with the post.

4) Convey your brand identity with your font colors
If changing the background of your Instagram Story feels like too much of a hassle when you're posting on the fly, an even easier way of maintaining consistency with your aesthetic is by using a font that matches your brand colors. Follow these steps to create text with your brand's color pallet:
1. First from the Instagram Story options, choose the brush tool.
2. Press and hold any of the bottom-of-the-screen color circles that are its default color. A hue slider will appear.
3. Use the hue slider to choose the shade that best suits your aesthetic and branding.
4. You can also add a picture to your Story and use the color picker tool to find the identical shade (after which you can delete the picture). If you have a picture of your brand kit that includes all your brand colors, you will find this option much easier.
So far most of the options to alter your Instagram Story are usable and accessible on the app itself. But whenever there's a major announcement, giveaway, or product launch, a better option would be to use an app or tool that helps you design beautiful Instagram Stories. In the next section, we'll delve into one such app, Canva.
5) How to create templates and access backgrounds for free using apps
Most of us might fight it challenging to design and develop Instagram Story templates, backgrounds, overlays, and more. However, it doesn't necessarily imply that our Instagram Stories can't be visually stunning. For all content designers who frequently fret about their visual design abilities, Instagram Story templates on Canva are a life changer.
These designs consist of pre-designed displays with changeable text, images, and transitions. Employing the same theme for all of your Instagram Stories will give them a consistent structure and look, and it's completely free. Numerous template options are available on graphic design websites like Canva and Spark Post. The most popular design tool for this is Canva. On the webpage of Canva, type in "Instagram Stories template," and options will start to appear shortly. Choose the one that resonates with you the most and modify it accordingly.
Every component, including the typeface, content, color scheme, and photos, is modifiable. You can submit the brand's logo and the appropriate graphics if you have created a new product and want to announce the exciting news. But your decision will determine your level of success. The template should be chosen and modified to reflect the style and tone of your social media presence. Apps like Canva can greatly boost your brand's aesthetic across different social media platforms and a great place to start would be your Instagram Stories!
6) Design a rainbow effect to add fun colors to your Story
Making fascinating and distinctive images has never been more important than it is now on Instagram. Sticking out on the site and engaging your audience by clicking through to the finish of your content can be difficult due to the constant stream of fresh Instagram Stories. A little rainbow writing, with all its technicolor ombré possibilities, is a proven way to cut through the digital noise. Dynamic photography and video material that expresses spontaneity and realism are the first steps toward building a large following.
This is how you do it:
1. Enter your text. Write down your content using the type tool, choosing the appropriate font.
2. Make your text stand out. You can choose to select only a letter (or word) or the entire sentence when you tap on it. Select all, then move on to Step 3.
3. Click to reveal the color gradient. Holding down your finger on one of the colors above the keyboard will cause a rainbow gradient to display while your text is highlighted.
4. Build a rainbow. It's time to perform some fingertip exercises. Drag one fingertip along the gradation while simultaneously dragging the other fingertip along with the text. After choosing your preferred color scheme, carefully affix the finished text to your image.
This is also a great effect to use during Pride month or when your brand is supporting an LGBTQ cause. It's an even better choice if you wish to highlight some members of the community at the workplace or among your followers.
7) Add a unique or brand-specific font to your Stories
Another way to keep a cohesive and consistent aesthetic across your Stories is to add some interest back into the image or video by using typefaces or fonts your brand is known for. There are now 9 typefaces available on Instagram for users to select from. Unfortunately, sometimes the fonts don't quite capture the tone you're hoping for.
Many bloggers and entertainers are already using unique typefaces in their Instagram stories, as you may have seen. Furthermore, you don't require 100K followers to be given the right to use these unique fonts. Essentially, you can just access it for free. The following is one method:
To add text to your Instagram stories from any website that generates custom fonts.
Choose your typeface by going to a website like Qwerty. Dev.
Copy the text you typed, then go to Instagram.
Simply paste the content into your stories.
Another way where you can accomplish the same thing is by:
Installing the GoDaddy Studio mobile app.
Your phone should now have the brand's typefaces. Airdrop is a simple technique to accomplish this. The font files must be in the.OFT file format.
From the selection that appears after clicking this, pick "Over."
Your unique typeface has now been uploaded. There are two ways to include your unique font in Stories. The new app allows you to create Stories utilizing templates, or you may add text to your Stories by adding it from your photo library using the "Add from Camera Roll" sticker.
Using a unique typeface or font can help you convey different aesthetics and moods in your Stories and content. It's one of the easiest ways to display your brand identity and aesthetic vision.
8) Create and share photos with shapes of your choice
If layering different background images or changing the color of the background is getting a bit stale, this is a great way to highlight an image or video without exerting too much effort. With this unique Insta Story tool, the Photo Shape function, take your mosaic to the next level. Here's how to go about it:
●     Add a picture or video to your Story.
●     Select "Sticker" from the menu at the top of your screen.
●     Select "Photo Sticker" from the menu.
●     Select a picture
●     Your Story screen will display the picture.
●     To alter the shape of the picture, click on it.
Select the Instagram story sticker box to get started. Once inside, choose any picture from your photo library, adjust the size, and then position it wherever you desire. Tap the image to choose a different form from a ring, diamond, rectangle, and more.
Using programs like Canva, which provides a variety of shapes in which you can fit your photo, is another way to approach the same problem. It's easy to alter a photo's shape with Canva. Go to the Elements tab after you've submitted your photo. To locate the "frames" category, scroll below. Drag the image onto the frame after selecting the frame's shape (such as a rectangle, triangle, etc.). You can also employ the cropping tool to achieve the same effect.
With that, we reach the end of this section.
Changing Instagram Background : In Conclusion
You probably can't wait to get started now that you understand how to alter the backdrop color of your Instagram Story. But before you rush into it, there's another important reason to use or change your background colors in Stories. One of the lesser-known uses of altering the backdrop color is for making branded Instagram highlight covers. A little color on your Instagram Highlight reels might also help you maintain a consistent and distinctive personal brand on the platform.
Finally, the last thing to keep in mind is to create content consistently. As creating a cohesive brand identity across the different Instagram formats depends on your ability to zero in on an aesthetic and recreate it in a consistent and organized manner. So in your journey of creating backgrounds that are more colorful or brand-relevant, consider investing in an Instagram scheduler or social media scheduling tool to help you along the way!