It makes perfect sense for all Instagram business pages and content creators to want to boost brand visibility and reach on Instagram, given that 90% of users follow at least one brand. However, with such fierce direct competitors, it may be challenging to succeed. Thankfully, there are a few unique Instagram marketing techniques you may use that have worked well.
For example, you may time your uploads to get the most participation, collaborate with an influencer to raise publicity or assign a content producer to create more interesting content. Additionally, you should also think about holding an Instagram giveaway to excite your loyal fans and reach out to potential followers in the process.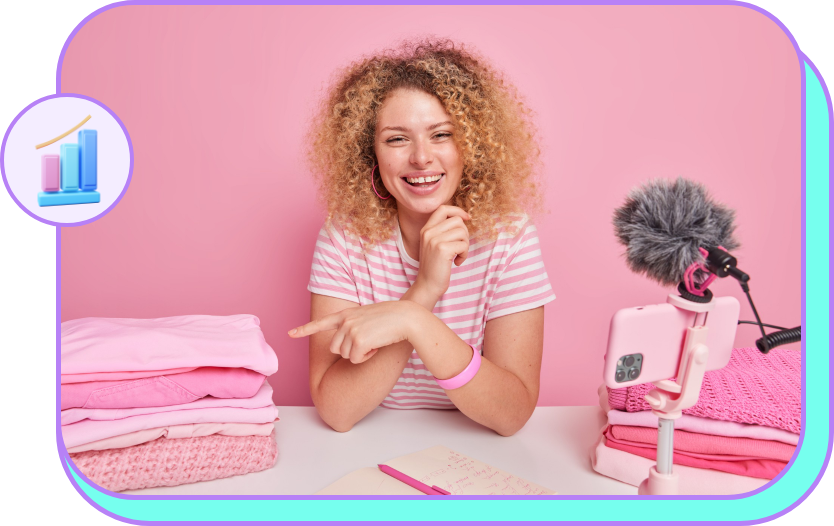 Simply said, an Instagram giveaway enables you to gift away anything in return for a follower, a reply, or another specified action. Instagram giveaways are typically time-limited contests in which businesses promise to award a goodie to just one (or maybe more) select participants who meet a series of requirements. When executed properly, giveaways can certainly assist you in building a significant Instagram following, promoting your brand, and sharing your unique products or solutions with more people than you could through organic channels.
So how do you host a giveaway, and what are some tips to keep in mind when doing it?
How to Host an Instagram Giveaway (+ Tips and rules to follow while doing it)
Identifying your contest's strategy should be your first step. This will entail deciding on the type of contest you wish to hold. You must also establish time restrictions. When choosing a winner, ensure the contest's finish time and day are specified and upheld.
Selecting the product, solution, or activity you'll offer as your prize should be your next priority. Your objective will determine how this changes. You should probably give away a particular product as your reward if you want to raise awareness of, say, a new product release. As an option, in contrast, you might wish to collaborate with a company to design a prize that is special and will interest both of your target markets.
It might be useful to add the rules of your giveaway in the contest post caption or a Story Highlight when sharing about it on Instagram. Your audience will find them quickly if you do this. It would also be ideal to highlight any significant guidelines up front when promoting the event on your site, a specific landing page, or other social networking sites. If this isn't doable, point users to the caption of the giveaway post or another location where the instructions are easily visible.
Additionally, ensure that you include a time limit in your description and attach "Giveaway Closed" after it ends. You should also let your entrants know how much time they have to meet your criteria. For example, you may write, "Giveaway! For a shot at winning any ceramic mug from our shop over the next 24 hours, simply tag a pal in the comments and mention your desired mug ASAP." Moreover, if you can't ship worldwide, do provide information explicitly if your contest is exclusively limited to particular regions.
Once you've chosen what to give away, it's time to let everyone know that you're giving something away in the first place. Spread the word as much as you can about your Instagram contest. You should share it on Instagram Stories and every other social networking site that your company uses.
You might even consider coming up with or using your hashtag. Hashtags on Instagram typically enhance account reach and helps your post appear in Explore channels. To promote your offer, think about coming up with a catchy and distinctive marketing hashtag.
Finally, if you're holding a contest, you'll undoubtedly want to see some hard data regarding how it affects the visitors to your page. So make sure you have a reliable social media tracking solution that enables you to stay up to date with entrants.
That's about it in terms of the steps of creating, hosting, and promoting your giveaway. But before we jump into the giveaway tips and ideas, let's understand some critical Instagram giveaway guidelines.

Instagram Giveaway Guidelines
Instagram's guidelines for giveaways are comparatively straightforward. You must first and foremost add a message informing visitors that your promotion is unrelated to Instagram, something like this:
According to Instagram policies, Instagram, Inc. is not sponsoring, managing, or affiliated with this offer in any way. Entrants acknowledge that they are Thirteen years of age or older, release Instagram from liability, and accept Instagram's terms of service by participating.
Although it may sound strange, some laws apply to marketing contests, including those held on Instagram. It is only made more challenging by the fact that these laws are frequently location-specific. They can differ from state to state and become particularly challenging when dealing with foreign arrivals.
You'll have to conduct your own research and possibly decide if it's beneficial to get the aid of a lawyer with your giveaway's legality. Running a fruitful Instagram giveaway may depend on you guaranteeing that you are taking all necessary legal precautions. Above all, always follow the contest regulations. If a winner meets your requirements, make sure the product is delivered to them and all other winners.
Because of this, it's crucial to make sure your regulations are well-defined in preparation and that you've done your due diligence in terms of the law. The following four rules, when followed, guarantee that tournaments go smoothly:
●     First and foremost, it is entirely your responsibility to guarantee that all competition-related activities comply with the law.
●     Second, let your followers know not to tag themselves in pictures unrelated to them.
●     Third, you must disclose to all participants that Instagram is not a partner or sponsor of the competition and is not responsible or affiliated in any way.
●     Finally, you must declare that Instagram is merely a means and not a partner to your contest and that you alone bear all of the risks associated with it.
Now with that out of the way, let's jump right into some fun Giveaway ideas!
Instagram Giveaway Ideas
1) Hit like and comment on the giveaway post
One of the simplest yet most effective giveaway ideas is to push for engagement on a post. One of the most popular Instagram giveaway formats is rather straightforward: you tell your participants they must like and/or respond to the post in order to enter. This competition's format is convenient for all participants.
Applicants don't need to do anything overly complicated to be considered. Additionally, you may track entries without using anything like Instagram hashtags. Get likes and comments on your post from followers for them to be eligible to obtain a free product or an experience. This increases participation and helps boost your profile's visibility on Instagram.
The fundamental goal of Instagram contests is to increase the number of visitors to your page. Why not delegate it to your supporters? To enter your contest, all you have to do is instruct folks to tag one (or three) friends in the comments. Instagram trolls and people who simply join random contests in bulk can be sorted out by incorporating a comment to the entry conditions.
Additionally, it increases interaction with the post, which helps the algorithm prefer your content. By doing this, your followers may send notifications to the friends they've tagged, directing them to both your post and the comment they're tagged in. Oftentimes this can even lead to the newly tagged accounts liking and tagging other friends of their own in the comments to enter the giveaway.
3) A fun photo contest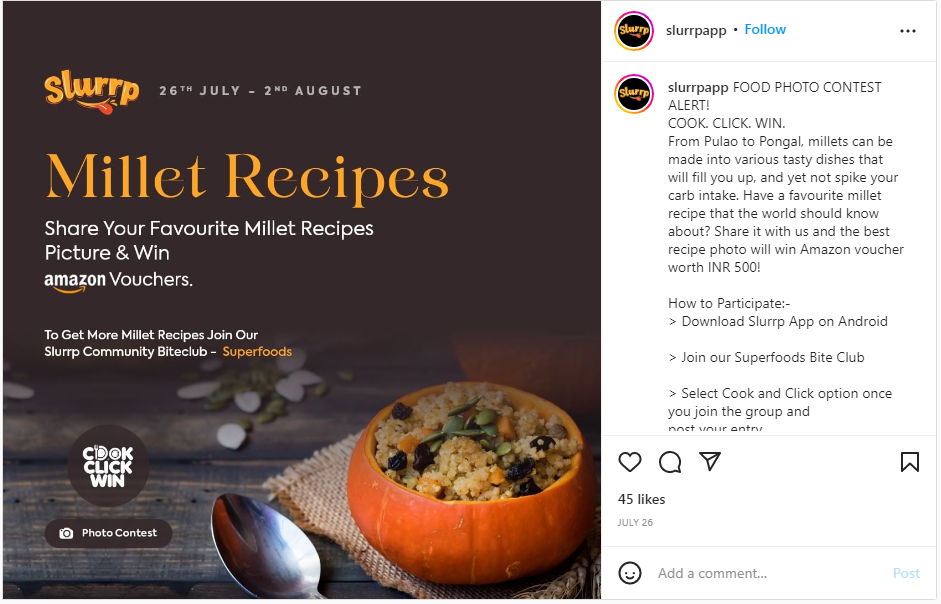 The people in your community frequently post content to Instagram. By enticing people to post a photo featuring your brand, you will foster this action for your own returns. To guarantee optimum brand visibility, you should also promote the use of your custom hashtag. One of the most effective Instagram giveaways for increasing interaction and company visibility is a photo contest.
Participants' Instagram friends and followers learn about your company when they post images with your custom hashtag on their accounts. You might even be able to persuade some members of this larger network to participate in the contest with the correct reward. This is one of the most well-liked Instagram giveaway concepts since it gives you access to an unending supply of user-generated content.
Your followers can upload photos on their Stories or on their Feed depending on your preferences and help spread awareness about your brand. The example given in this section encourages applicants not only to click a photo but to cook something up as well which can be immense fun when they are followers of culinary brands and chefs.
4) Trivia alert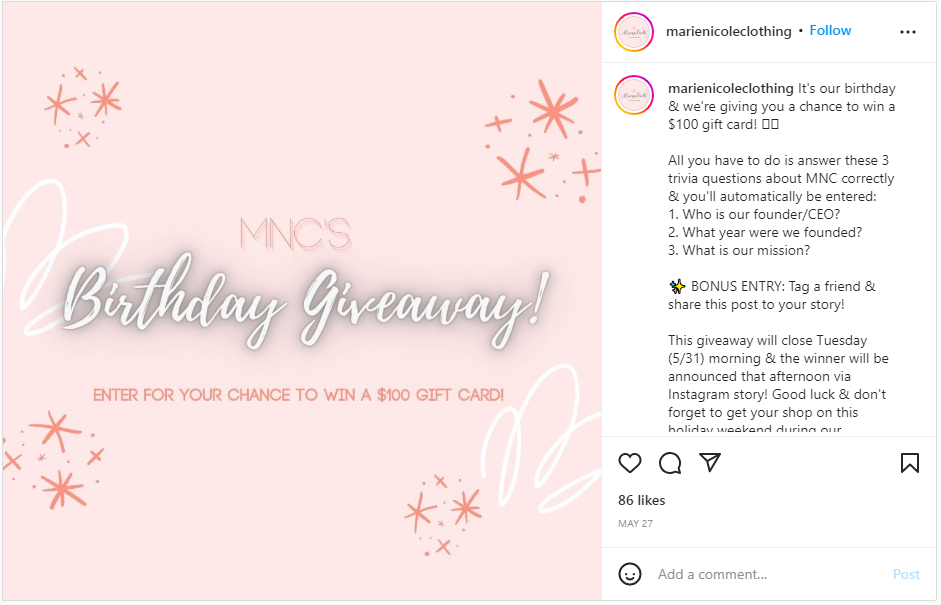 Offline trivia competitions have been held for millennia. There is no possible explanation why you shouldn't employ an age-old method on your page! Instagram quiz contests let your following demonstrate their knowledge. You may ask people to comment on your page, your company, or even a hot issue right now like sporting activities or celebrity culture.
Typically, you'll choose to arrange it so that the winning response is chosen at random. The period of time during which your post is active is shortened if the prize is awarded to the first correct response. Trivia posts are immensely fun to hold and carry an educational purpose too. Whether the trivia is based on your brand information or on any existing general knowledge, it's bound to get some conversation going on your feed!
In the example given above the poster is spreading brand awareness while also testing how much their following knows about them already. Trivia or quizzes are great ways to also check how well your audience knows you and their idea of your brand in general.
5) A crossword or puzzle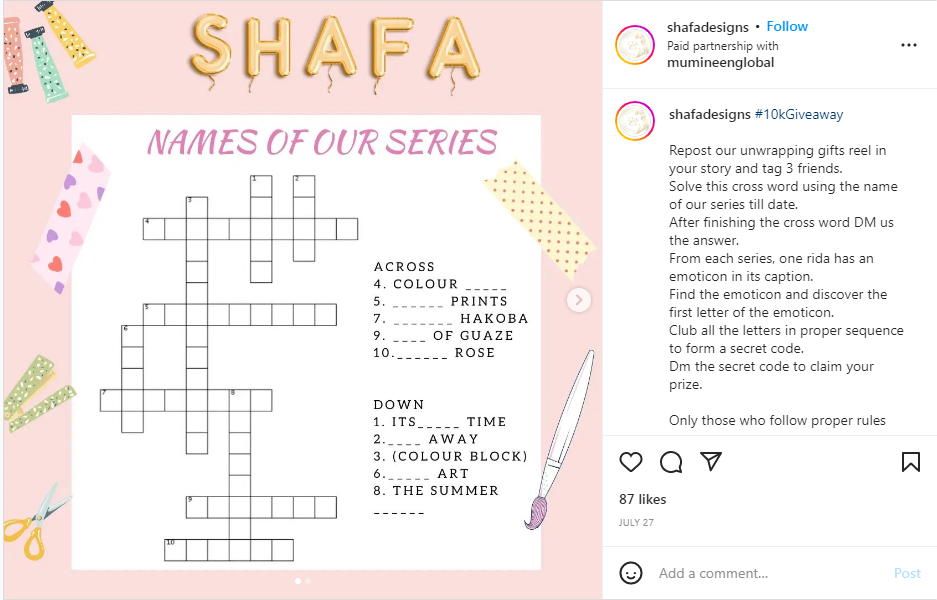 In line with the trivia-related giveaway, you can also construct a crossword of your own as a little friendly competition among your followers. With the rising popularity of word-related puzzles like Wordle, there's a good chance that your followers may jump right into it. This is an especially good tactic if you don't want to push your followers to tag or create user-generated content as it can stop some users from participating at all.
This method also ensures a winner by making the result difficult to accomplish. Moreover, if you keep it complex users will take a good amount of time figuring out the answers. This is one of the easiest ways to pick a winner as you won't have to do it based on luck or chance instead the reward goes to whoever is able to crack the code to your giveaway prize.
Instagram Giveaway Ideas : Conclusion
Instagram giveaways are a goldmine of data that is just waiting to be discovered. It is not only a terrific method to increase your following but it also helps generate awareness about your business. You undoubtedly already know that if your profile is a Business page, you may receive analytics information for your Instagram feed. The days after the Instagram giveaway is the ideal time to explore your analytics if you've never looked at this information.
The power to increase brand exposure is the main benefit of Instagram giveaways and contests. According to a Tailwind study, Instagram contests receive around 64X more responses and 3.5X as many likes as regular social media posts. Additionally, using a customized hashtag increases brand visibility by letting your audience know what your company is called and where to find you online.
Additionally, giveaways give you access to a wealth of user-generated information. For instance, you may quickly reuse these contest submissions from your selfie contest under your own Instagram Story page. As a result, giveaways and challenges can help you interact with your community and raise the visibility of your business on social media.