Since the days of only using square photographs that were heavily filtered and over-exposed, Instagram has risen tremendously. Despite being almost twelve years old, Instagram is still one of the most popular and useful social media networks for brands. It's the second most popular app and the seventh most frequented website in the entire globe in 2022, proving that it is indeed thriving.
It's crucial that you have a firm grasp of the app's best practices if you manage the social media marketing for your company. However, this is evidently easier said than done because social media platforms are continuously upgrading and evolving, introducing and removing features on what appears to be a frequent basis. So how do marketers keep up with this ever-evolving app and make their mark on social media?
The first step is scheduling and creating high-quality content that helps your brand shine. There is no justifiable reason to tackle social media posts in the same manner as in the past. For good cause, the times of posting content on the fly and every other day are steadily declining. When it comes to promoting on Instagram, social media marketing companies must be alert.
There is a lot to accomplish on the media creation front, from monitoring the competition to keeping up with the current platform trends. While real-time posting at the appropriate moment might be fantastic for genuine interactions, scheduling Instagram posts has too many rewards to be brushed aside. Every Instagram marketing plan relies on the company's content quality and consistency on the channel to be successful. Finding important advertising opportunities that will enable brand strategists to connect with and interact with their Instagram followers is essential.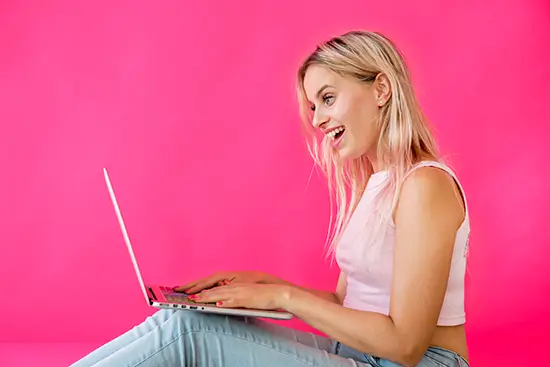 You should post content on Instagram at set dates and times, which can empower you to reach your brand's goals, assuming you have a scheduling roadmap in hand. Instagram scheduling makes it easy to organize content on the social media platform. Advertisers can keep their drafted posts on Instagram planned and ready to post. Instagram content scheduling is an essential step in the social media marketing research phase. You can seamlessly optimize your page's content with the help of a scheduling tool and content calendar.
In this article, we'll look at the benefits of scheduling your social media content, the tools you can utilize to schedule posts, and procedures to maintain accuracy.
What is content scheduling?
Content scheduling generally refers to the process of creating, storing, and publishing posts on a specific day, time, and month. It generally involves the use of a content calendar in which we plan and post content based on the best timings and when there are product launches.   Both in-app scheduling and the use of third-party programs are solutions for planning content. Native scheduling can be difficult if the platform does not offer such features.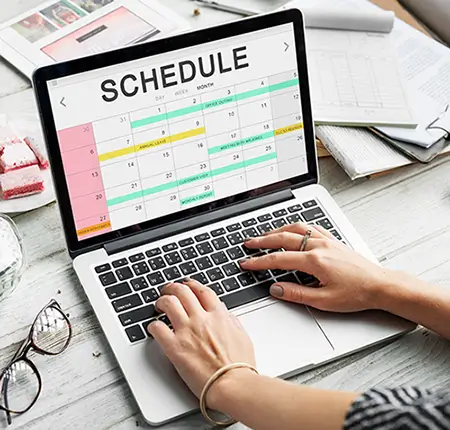 Third-party applications and social media scheduling tools can be useful in this situation. A software program or application known as a social media scheduling tool allows you to plan out your social media content across several social media sites and profiles. You don't have to be "constantly connected" simply because social media is. You and your social media team should plan ahead and maintain focus on other duties by organizing your social media posts in advance. But why do we need to schedule our social media posts? What are the benefits of scheduling Instagram posts?
Why we need to schedule content and the benefits of scheduling Instagram Content
1) Time and energy saving
Scheduling Instagram content can at the very least help you make significant time savings. There will be more chances to engage with followers and reply to comments as a result. Even the finest Instagram scheduler cannot handle the grunt job of cultivating client connections. You may spend more time engaging with your audience when you maintain a posting schedule and are flexible.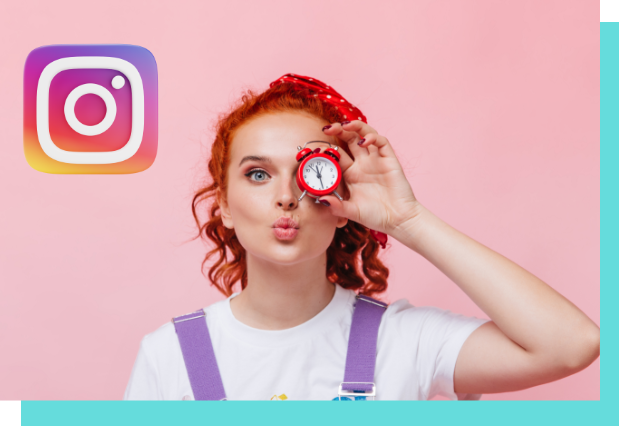 It might be challenging to make the time to maintain your posting schedule while you're actively operating a company as there is so much to accomplish. Making an Instagram post might be the last thing on your thinking as you focus on establishing your company and managing the logistical parts. The same problem affects social media marketers and content producers as well.
Without a doubt, organizing your content in advance will provide you with more time. After that, you can use the time you've freed to focus on other parts of managing your company. You can have good content posted every day if you set aside a few hours at the start of the week. Depending on the site you are using, you can plan your posts longer than a month in preparation or more.
2) Boosts content quality and aesthetic value
It also enables you to establish a content calendar structured to schedule your Instagram posts. A broad assessment of your planned activities will enable you to identify any lost opportunities or content timeline discrepancies. This is a terrific approach to make sure you're harnessing pivotal moments and keeping a healthy balance of various content types. Instagram users are also drawn to visually appealing pages, whether that means sticking to a particular color palette or featuring a good variety of content types.
Curating and posting high-quality content is the first step toward building your social media presence. One of the best ways to go about this is to convey your brand's aesthetic and express your brand identity. Some easy ways to achieve this are by using brand-specific fonts, colors, symbols, and images. For example, if your brand's logo colors are blue, silver, and red, incorporating these colors into your content can help cement your brand image in the eyes of your followers.
Developing and displaying your brand image online requires a good amount of planning. Using an Instagram content scheduler or planner can help you strategically plan and share content that matches your aesthetic. It's extremely rare for random or on-the-go photos to fit into your existing Instagram aesthetic. A single image can call for a sizeable amount of time depending on how you edit and caption the photo. Keeping a content schedule can help you map out your posts and create high-quality content that adheres to your brand's aesthetic vision.
3) It can help boost conversions
The true objective of Instagram marketing for the majority of businesses is to attract users to their websites, where they can find out more, buy the product, or interact with other digital information. Therefore, it's simple to overlook the fact that the objective is to direct more people away from Instagram and onto your website or sales pages when you're focused on producing excellent Instagram content and perfecting your aesthetics.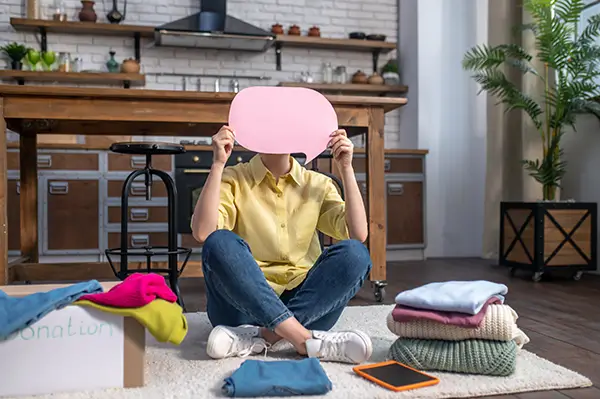 But for both regular grid pieces and your Instagram Stories, that's where scheduling and arranging your material enter the picture. If you can plan, you can obtain a bird's eye view of where and, more crucially, how frequently, you're bringing traffic to your website. Simply including a swipe up in your Instagram Stories photos or including a call to action to visit the link in your bio can all help drive traffic to your website.
4) Consistent content creation
Establishing a social media profile proficiently requires consistency. If you don't consistently post new content for your following to interact with, the Instagram algorithm will eventually learn to de-prioritize your profile since you're getting fewer interactions. Your following may gradually stop paying attention to you as a result, which means you lose exposure. It's easy to ensure that you're sharing on Instagram often and at the appropriate intervals by arranging your posts in advance.
This means that you always have content for your audience to interact with. Planning also ensures you have a consistent set of high-quality content to post no matter what happens in the future. As I've mentioned in the previous section, figuring out what periods bring the greatest amount of engagement is essential to creating a content schedule.
For instance, Later looked at over 35 million feed posts to see when the optimal time was to share your content. The greatest times to post on Instagram during the week, according to Later's study of 35 million global Instagram posts, are:
Monday at 5 a.m.
Tuesday, at 6 a.m.
6 a.m. on Wednesday
5 a.m. on Thursday
6 a.m. on Friday
6 a.m. on Saturday
6 a.m. on Sunday
These are just the timings they found based on their location and brand though. It is equally or doubly important for you to test when your posts gain the most traction on your feed. There's no other way of going about the Instagram algorithm game as it favors authenticity over everything else. Understanding how to plan Instagram content will save you a bunch of time and make posting less disruptive to your day. Instead of creating and posting content on the fly numerous times each day, you should sit down and plan out your entire week's worth of posts in one meeting.
5) Error-free posts with careful analysis of metrics
Instagram users are saturated with a tonne of content every day. Companies must produce compelling content that motivates users to take desired actions ( such as liking, commenting, sharing, or saving content). Your business will not benefit in any way if you manually create Instagram content and publish it at strange hours when your viewers are hardly even online.
For this reason, scheduling Instagram posts is best done after deep evaluation. You can also optimize your Instagram post requirements and still have the flexibility to include spontaneous posts if you schedule content. Using an Instagram scheduler will enable you to discover more about your sharing habits and how your posts are organized. This will also help you understand what aspects of your Instagram advertising need to be improved.
Once you schedule your content you leave little to no room for error when posting. It helps control and maintains your content quality when you dedicate time to creating, editing, and polishing overall platform content. Another aspect to consider is the fact that you will never require more content as there will be a steady flow of consistent content on your feed that you've prepped and kept for followers.
Scheduling content in advance helps you analyze and forecast any bottlenecks in the future. So you should consider upgrading to an Instagram business or creative profile because Instagram Insights is only available to company or creator profiles. You can simply check your metrics if you have an Instagram company or creator profile by going to the Insights tab in the Instagram app.
With that, we've reached the end of this section. Now that we've understood the benefits of Instagram content scheduling, let's get right into the different methods of scheduling your Instagram posts!

How to schedule Instagram posts
Assuming that scheduling your Instagram posts is necessary, let's move on to the most crucial topic: how to schedule your posts without utilizing any third-party software. But is it possible to immediately schedule Instagram posts from the platform? Long story short, the answer to that question is Yes. Although you cannot do it via the mobile app itself, there are various steps to create essential Instagram scheduling workflows within the website. The first is via Instagram's Creator Studio.
Even if you can't yet generate posts from Instagram.com, you can still organize and create Instagram photos from your desktop using the Facebook Creator Studio. Facebook Business Suite is the second best option to directly plan posts on Instagram. The site allows users to upload your images, create descriptions, and see your scheduled material before it goes live, similar to Creator Studio. The ability to post through mobile is a fantastic feature of Business Suite. In this post, we'll mainly explore how to schedule posts using the Facebook Creator Studio.
Visit http://facebook.com/creatorstudio to access Creator Studio first.
The profiles and sites you are linked to with your Facebook profile will instantly log you in. Remember that to use this feature, you must have a Creator Profile or a Business Account. You will be prompted to add your Instagram profile if you haven't already. To link your profile, press the link and follow the on-screen instructions. If your account is already connected you can jump right into scheduling posts.
The Creator Studio also allows you to mention people and disable comments in addition to organizing and generating content. Even in paid advertising, content developers can use it to tag strategic partners. You may schedule numerous image posts, carousels, and clips for IGTV using Creator Studio. Instagram Stories is the only feature that you cannot schedule using Creator studio. You could still schedule stories using our scheduling tool Awesome Social, so don't worry.
You can follow these steps after connecting your Creator Studio dashboard to your Instagram Business Account:
●     Click Instagram Feed after selecting Create Post in Creator Studio. You will be able to pick whichever Instagram profile if you have more than one.
●     You can incorporate up to 30 hashtags and mentions in your caption.
●     Click "Create Post" from the left-hand side after you are connected. Select if you want to make a post for your Instagram feed or upload a longer-than-60-second IG clip. You can transfer photos and videos from your PC or add them immediately from your Facebook page.
●     Then click Save after tagging any profiles you want to present.
●     At this point, you have two options for sharing your post: either click Publish to do so immediately or choose the arrow next to it to choose Schedule. Once you've completed composing your post, select "Publish" by clicking the drop-down button next to it.
●      Then select the publication day and timing, and then select Schedule once more. The "Schedule" option lets you pick the day and hour that the post will be published.
●     To complete the schedule, click the blue "Schedule" icon.
●     You can also choose to save the post as a prototype so that other members of your team can evaluate it before it is published.
Although the Creator Studio is a fantastic tool for scheduling Instagram posts, it has some somewhat limited functions. You can only arrange posts for Facebook and Instagram, to begin with. So you'll need to utilize a different solution if you wish to handle content scheduling for other platforms. This is where social media schedulers come in handy, let's explore some of the top ten Instagram scheduling tools in the next section.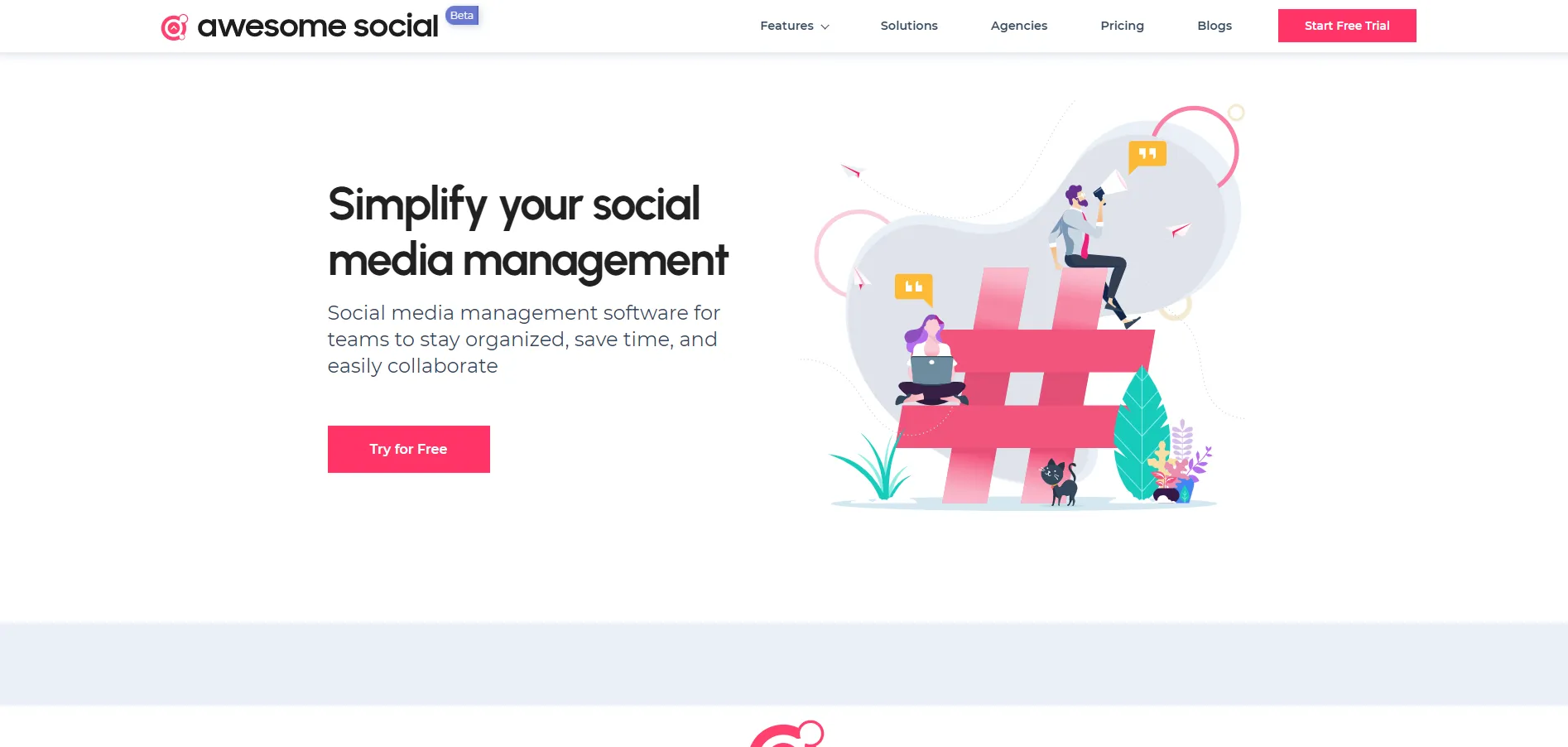 An all-in-one Instagram scheduling and social media management application called Awesome Social strengthens your online presence. It's simple to schedule.
Post or schedule your material on Instagram and other chosen social media platforms, track success, interact with users, and work quickly and effectively with your team.
The features of Awesome Social may effectively strengthen your social media.
Awesome Social's following features:
Directly schedule your posts: With just one click, you can quickly and bulkily upload your material to Instagram and other social media sites. That helps you save a tonne of time and work.
Keep your Instagram caption concise, clear, and to the point by include all of your hashtags in your initial comment. By include all of your hashtags in your remark, you can expand the audience of your article.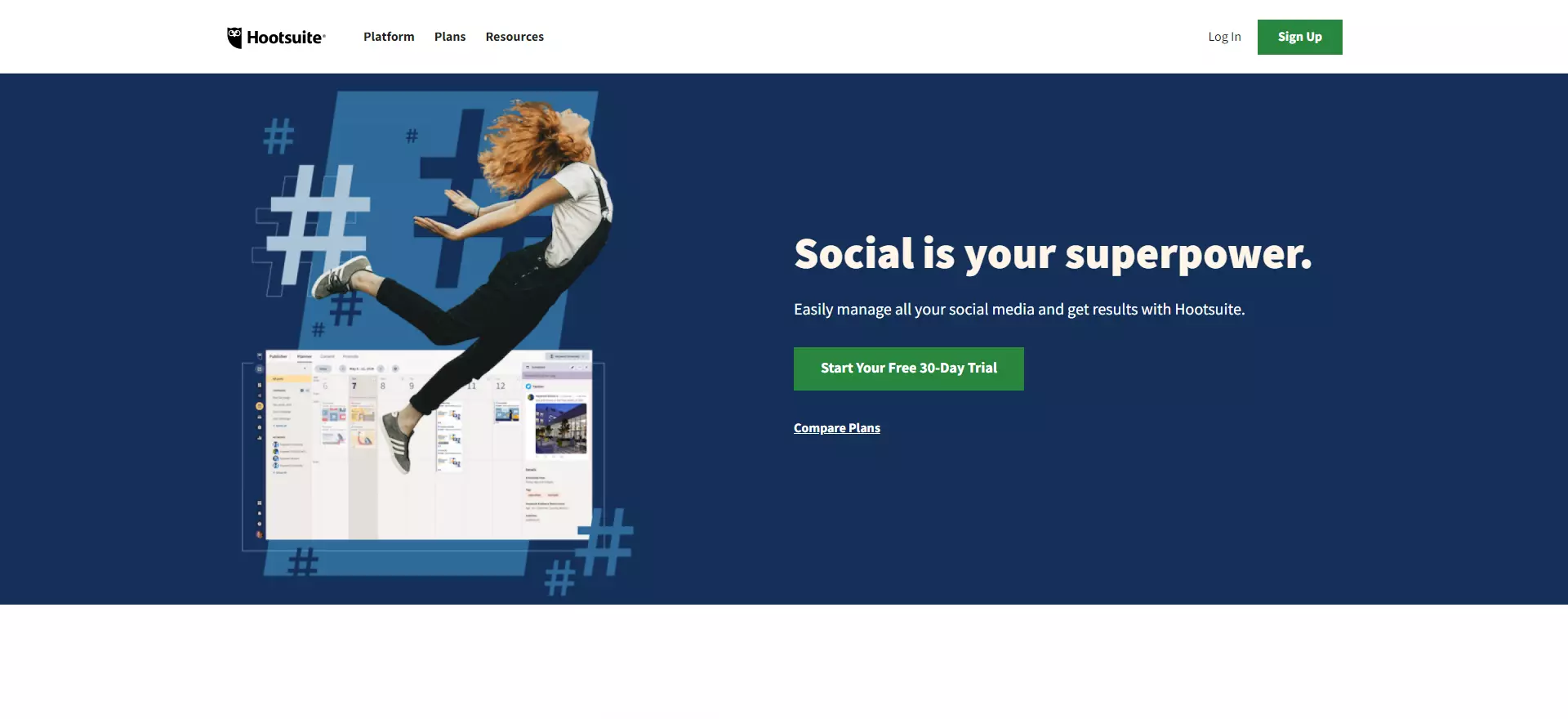 Among the most widely used applications for planning social media posts is Hootsuite and for a discernible reason.
One benefit is that it lets you maintain and operate many social media accounts across platforms like Facebook, Twitter, Instagram, and YouTube in distinct columns. WordPress is supported as well. Even while the streamlined dashboard is pretty simple to use, the amount of data it contains may first seem overwhelming. The fact that you may alter what information appears for each account is another advantage.
Hootsuite can oversee and assess fresh content, track client interactions, schedule numerous posts, and offer real-time insights. With this software, you can quickly view a user's social data and find social queries, hashtags, and other pertinent information for your unique feed.
Google Drive, Dropbox, and Microsoft OneDrive are all accessible with Hootsuite. Since any member of the team can readily obtain digital information, the software offers efficient, interactive posting and workflows for large teams. An improved video-first feature was also recently developed to optimize video footage for different social media platforms.
It provides some of the most powerful analytics and report creation available, but it only offers certain key templates in the more premium subscriptions. For instance, the Enterprise Plan is the only one that offers Facebook Aggregate and collaborative performance reporting. Hootsuite's primary flaw is its cost, which might be unreasonably high for smaller companies. But this is a valuable, comprehensive tool for a major corporation with a bigger workforce.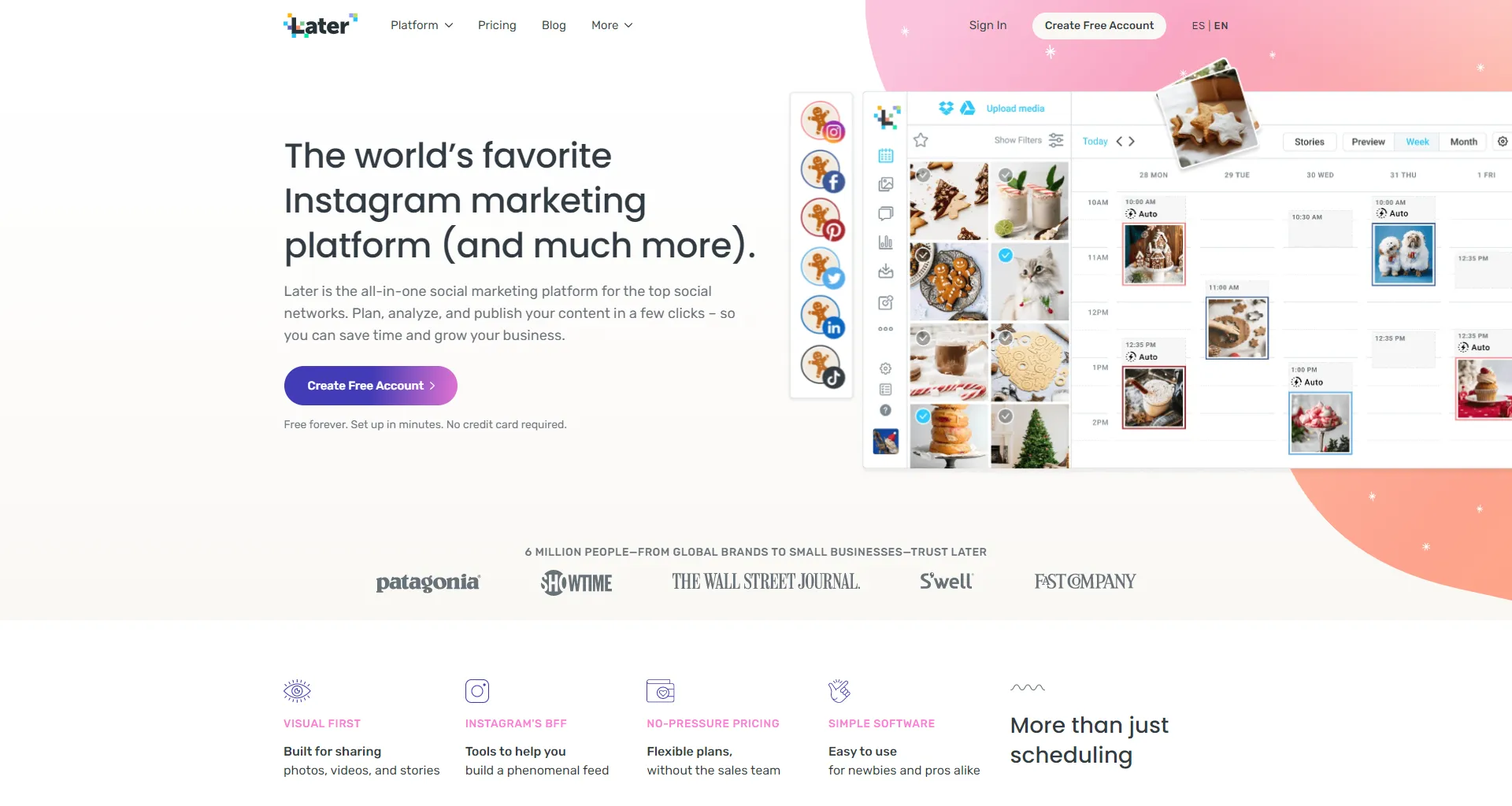 Although Later allows you to upload content to a number of different social media channels, Instagram is its primary focus. Later, you start a post with a photo instead of its words, contrasting many other social media publishing and scheduling applications. You post the picture to Later after which you write the caption for it.
Setting up Later such that it uploads directly to Instagram can be difficult at first. However, the workflow is simple once you have converted your Instagram profile to a Business or Creator page. A Media Library is the foundation of Later. Adding photographs to your Media Library at the start of each article makes them accessible for later postings.
Your media files offer the option to add labels and annotations to them, and you can give any photo you want to prioritize a star. Your photographs can be filtered in a number of different ways. If you own one of Later's subscription services, you can post and stream videos as well. Creating and uploading Stories is made easier using Later.
You can drag and drop content into available time slots on your calendar using Later's Quick Schedule. This is what a queue would be in Later. Your multimedia content will be added to the next available timeframe Later. You can use Conversations if you buy one of Later's business plans. You can also manage your Instagram responses directly within Later using Conversations. Later is a great social media scheduling tool for Instagram but if you're looking for an app that helps you with other platforms it may not be the best option.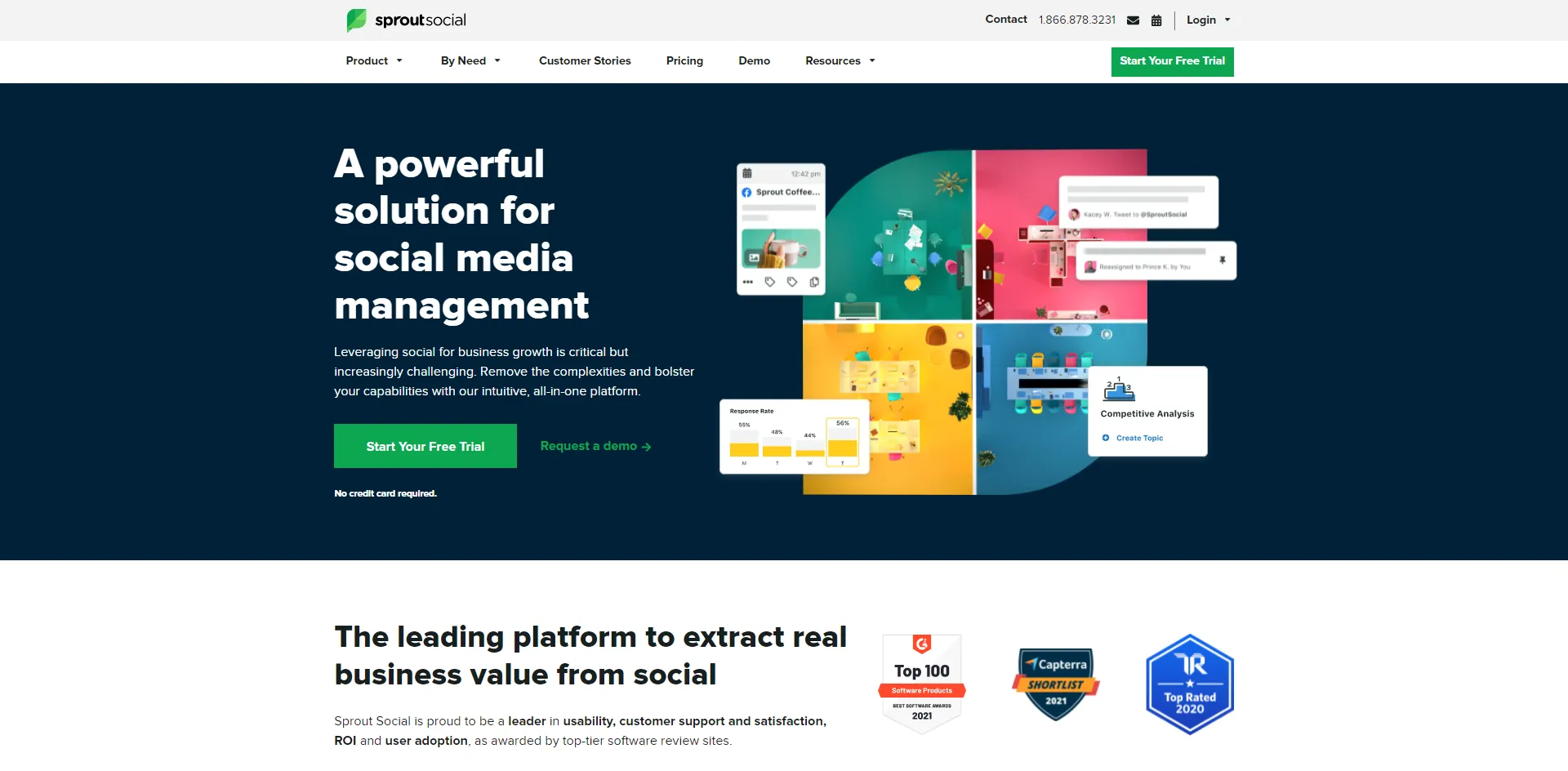 Sprout Social facilitates teamwork in addition to providing market-leading scheduling tools, a dynamic calendar, and an asset administration library. User-level authorization empowers marketing directors, writers, and anyone in between special access to participate in your marketing effort.
Your team can get a bird's eye perspective of what is posted and promoted each day using Sprout Social's calendar feature. To help you assess how effectively various pieces of content fare on social media, the suite also contains a range of social media metrics. Plans start with a free 30-day trial and run around $89 to $249 per month.
Additionally, Sprout makes it simple to evaluate the results and alter your long-term plan moving forward once your content has been planned and published. However, Sprout Social is a relatively pricey social media scheduling service, much like Hootsuite. Independent digital marketing agencies or content producers who don't need such advanced capabilities may find it to be unnecessarily complex and expensive.
5) Monday
In contrast to the majority of the products we've listed in this article, Monday.com isn't focused on coordinating and posting to social media sites. Unrelated to social networking, numerous businesses use Monday.com to schedule various content pieces. Its main objective is to make your teams more productive and efficient.
But because of this, it's perfect for those who want to organize their social media account management processes. Monday.com is built around its boards. To handle your assignments, workflows, and regular tasks, Monday offers boards that are completely customizable columns. As a representation of your workflow, users create calendars. Any tasks and operations your team completes can be arranged on the boards within the site.
There are many starter templates available on Monday.com, including one made especially for managing social media. This builder creates two boards:
●     Proposals and requests for campaigns
●     Project Status and Growth
In the Campaign Suggestions and Requests board, personnel of your organization can offer ideas for future social media pieces. Then you employ it to develop a productive and consistent strategy for your social media efforts. Monday.com is a brilliant option if you need an all-encompassing scheduling tool for your content. It offers a great variety of content scheduling and publishing features that are helpful to writers and creators alike. But if you're looking for a more social media-specific scheduler this is not the best option.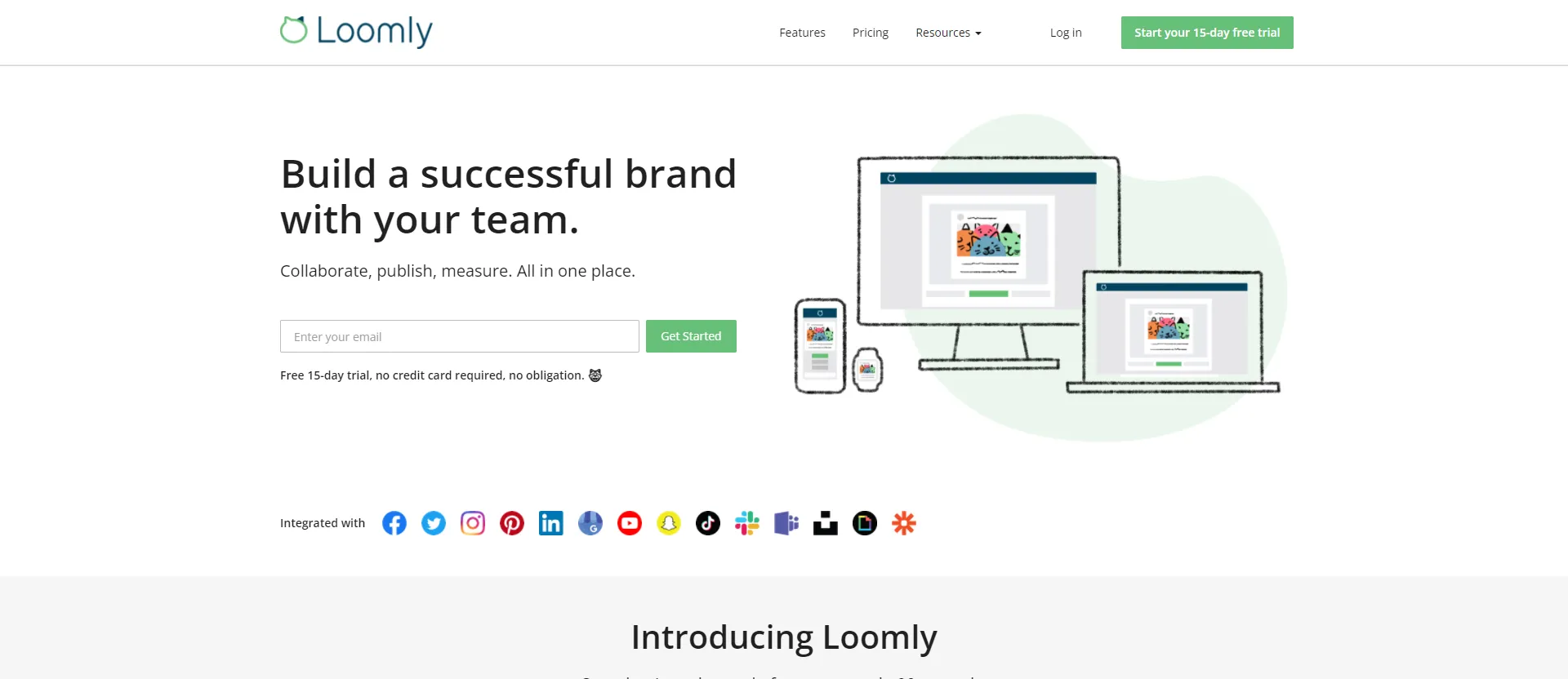 Loomly is a robust platform for managing and planning social media posts that has a simple, user-friendly layout. After a 15-day, no-credit-card trial, there are four pricing options available. They start at the $26/month Base plan for users with 10 or fewer social media accounts and go all the way up to the $269/month Premium Plan, which supports up to 30 users and 50 social media accounts.
Loomly can set a variety of scheduling workflows, which is a helpful functionality for first-time users. The procedure for creating a post is simple to follow and easy to implement. You have the option of starting a post from conception to completion or using post inspiration from RSS feeds to generate prototype posts automatically. Although you can alter the post's specifics for the social networking sites you would like to use, you must first construct the post's core copy.
You can choose your demographic and establish a budget for your ad campaigns if you want to make a sponsored post for Facebook from within Loomly. Loomly is one of the most user-friendly tools available which makes it ideal for anyone who's starting their digital marketing journey. But like most beginner-friendly tools it does not offer some complex features you may find in tools like Buffer or Hootsuite.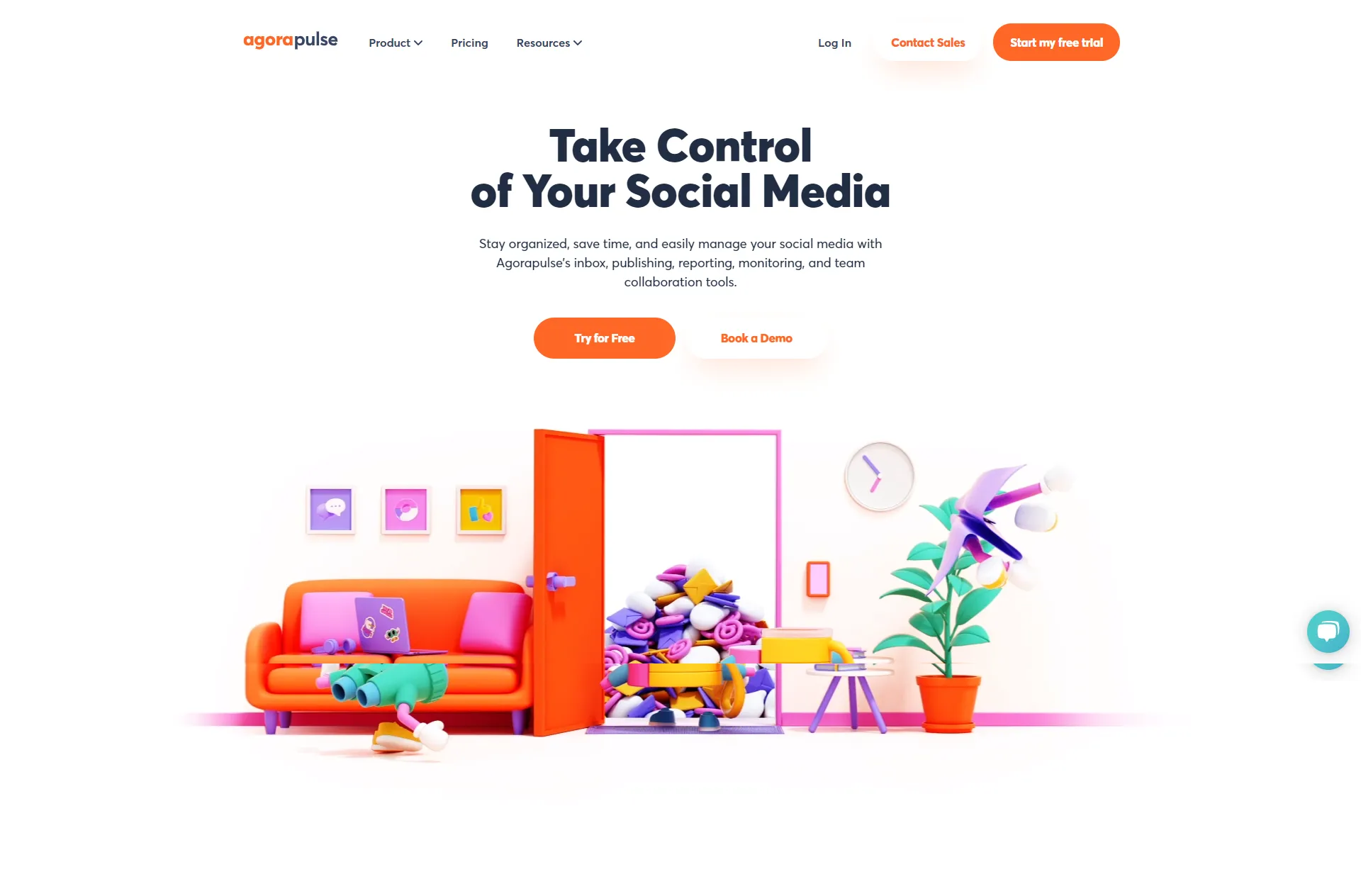 Agorapulse offers team members and businesses an economical social media calendar and scheduling solution. It provides four options, ranging in price from $39 per month for Solo users to $239 for Enterprise users. The number of social accounts and users supported by each plan varies significantly, while there are also distinctions in terms of information retention and ad comment regulation.
You may connect with your social media platforms using Agorapulse to post, communicate, analyze, and monitor your content. It integrates YouTube, LinkedIn, Facebook, and Instagram. All of your social media profiles may be updated simultaneously, and a pipeline or timetable will guarantee that your content is posted at the most effective times. You can re-queue or re-schedule seasonal posts using this software. Each post can be modified to make use of features unique to each social media platform.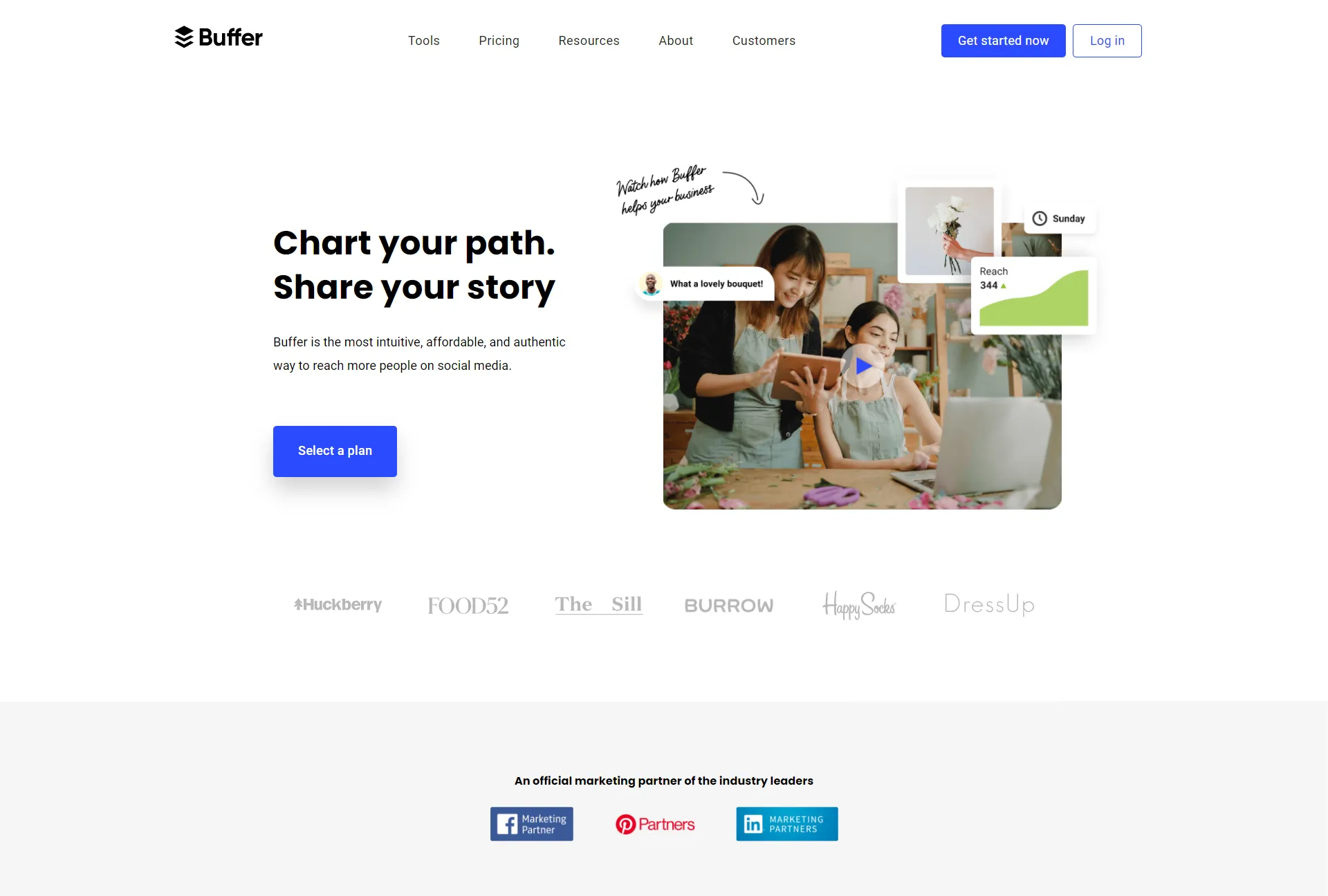 With a premium account from Buffer, you can schedule an infinite number of social media updates. Buffer uses a freemium business model. A newbie has plenty of opportunities to determine if social media automation will be useful to them. Buffer, as the moniker suggests, lets you compile a list of significant content you want to publish and schedule them to go out at times that are more relevant to your demographic.
You can customize and tweak your posts on every social media platform using Buffer. It is simple to add website links, headlines, and photos swiftly to your Buffer calendar using the mobile Buffer tool and the internet browser extension.   It also offers tips on when you should post to each of your platforms. Additionally, Buffer offers stats that illustrate the effectiveness of your posts.
Under the Publish label, Buffer offers three plans: Pro ($15/month), Premium ($65/month), and Business ($99/month). Pro ($15) and Business ($35) subscription options are available for their Reply package. This makes Buffer one of the more affordable tools for posting on various social media platforms but they do not offer features as comprehensive as Hootsuite or Sprout Social.
scheduling Instagram Posts : Takeaway
Social media scheduling tools are a dime among dozens worldwide. Scheduling your content or Instagram post generation will allow you to upload from your PC without waiting. You can keep your work structured and sophisticated by scheduling Instagram postings. You can receive reminders for scheduled postings from some tools.
Organizing how you manage your social media will boost your productivity and performance. It will assist you in establishing and achieving your page goals. You can prioritize tasks and ease the pressure or stress with its assistance. A well-planned schedule also makes it simpler to develop a consistent brand image and guarantees that your fans remain interested.