Although it may appear to be a minor aspect of your profile, writing the right Instagram bio for your brand can be difficult. Your bio sets the tone for your brand's online visibility. While writing an effective Instagram bio may appear simple, it involves some effort and originality. Your Instagram bio is your opportunity to introduce your brand.
It's a short space, but when used properly, it can be impactful. In this post, we'll get into the most essential elements necessary when creating your Instagram bio. Alongside this, we'll provide some examples of different brands that have a compelling and interesting Instagram bio to help increase followers.
Let's get right into the top 6 essential Instagram bio elements!
The 8 Essential Instagram Bio Elements
1) The Perfect Profile Photo
The profile photo is the first essential component when building your business bio. This should be connected to the creative vision of your company. A brand logo, a physical place, or even a fresh product image could be included. However, any image you use, should look eye-catching and be connected to your company. Ensure the image is equally appealing whether viewed at its smallest size as well as its largest. The profile picture is a symbol for your brand and represents your brand's identity online. Use an image similar to Awesome Social, who have just included their logo for the profile photo.
2) A Unique Username and Name
Ensuring your name Field is optimized with your name and/or a detectable term will be the next step in producing a solid Instagram bio. If you work in healthcare, for example, you probably want to provide your entire name as well as your professional title. For example, the Instagram account by Dr.Chytra includes her profession and industry.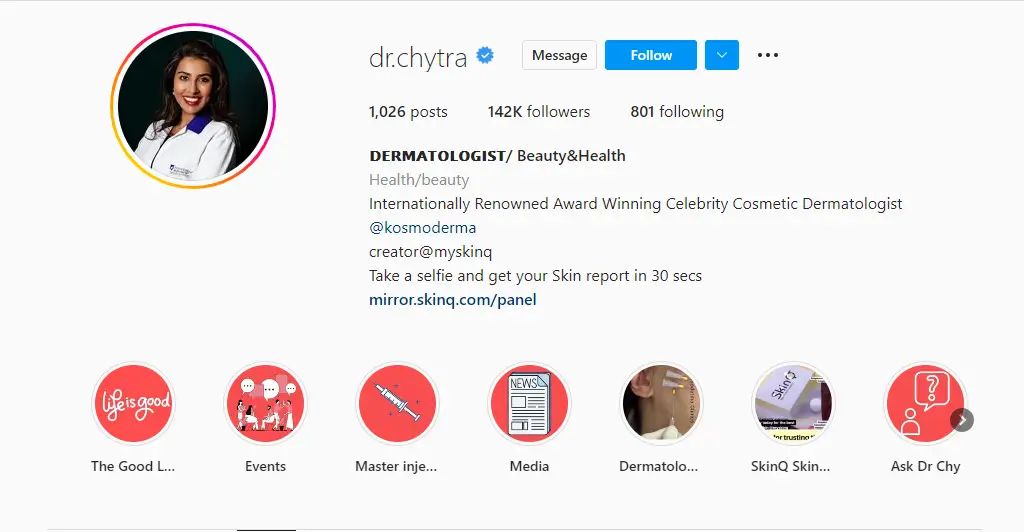 People will be able to effortlessly select your account if they look for you on Instagram through the search bar with your industry or profession's keywords. Instagram uses the title and username sections in search results, so making sure they're optimized is a good idea.
3) Your Business Bio
This is the area beneath your title where you can describe yourself, or in this situation, your business identity. According to Instagram bio theories, you should consider three words that best define your company and utilise those as a reference point.
While this is a wonderful start, you must aim to personalise it by adding your unique human component. Nobody enjoys reading Instagram bios that are bland and uninspired. They give your business an indifferent feel. Instead try creating a bio, similar to Kajah Beauty which conveys a clear human connection and the brand's charming identity.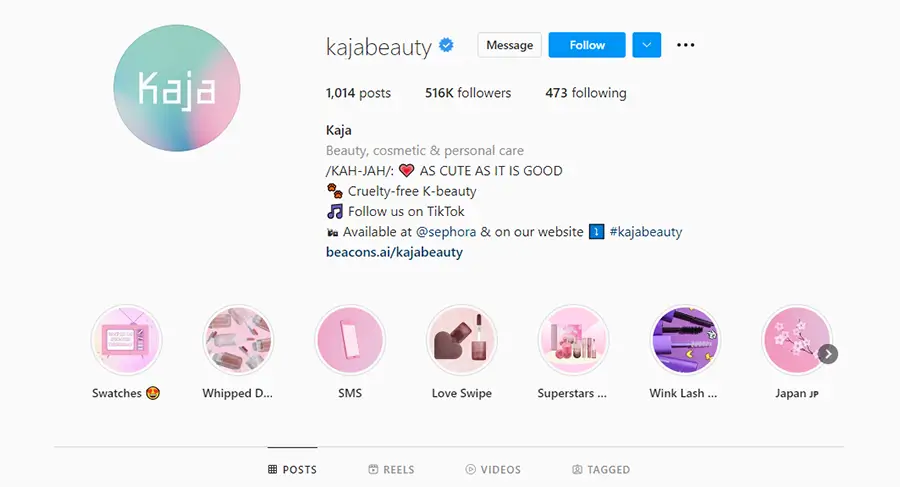 Their account gives their followers an easy-going and fun image, which works perfectly in their favour as a beauty brand. So also consider your followers and audience base when creating a bio.

4) Add Your Website URL
Your bio should contain your website URL as a must-have. You will only be able to put your website's URL to your bio on Instagram; posting it in your feed is not a possibility. Your URL must fit into the space allotted, which is restricted to 150 characters. Make sure your URL is short and easy to recognize for users. If you're a well-known business like ZARA, you may simply provide the URL to your website in your Instagram bio.

This would not be the best approach for a growing company. Alternatively, you can include your website URL at the bottom of your bio, along with some emojis pointing to it.
5) A Call To Action Link or Text
Your website link should have a clear call to action to back it up. This CTA can come in the form of emojis or text where you highlight the CTA, for instance, the text can be written along the lines of "Click here to read the latest blog post" or it can be simple emojis pointing at the link with text in all caps. One example of an excellent CTA is HelloFresh's get cooking CTA.

Your CTA gives you more chances to sell, so ensure that it is easy to access and clearly visible.
Instagram has given Business Accounts the option of devoting a distinct area in their Instagram bio to their business location, address, and contact information. If you provide your email address, a second email button will appear on your page. Users will be sent to their smartphones' default email apps after tapping this button. Companies with a dedicated physical address, on the flip side, should also include their complete address. This would create a location button, which would send users to their device's map app when they click it.
Now that we have a rough idea of what elements you need to include in your Instagram bio, let's get into two of the lesser-known elements you can add to your Instagram bio.
7) Add a fun and brand relevant tagline

Use a unique phrase in your Instagram bio to make it intriguing and eye-catching to your followers. A tagline will enable you to inform visitors in a few words what your brand does. In your Instagram bio, you can also include an overview of your company's core values or your mission and vision. Adidas's tagline "Impossible Is Nothing" is included in the form of a hashtag as well as within its URL link. You can follow a similar pattern when creating your tagline or make it longer and more informative to users.
8) Add emojis and line breaks when needed
Emojis would help you to communicate your company's individuality. Emojis can also be used to replace particular words. Emojis help Instagram bios appear more lively in general. Emojis can be searched for, thus they should be included in the Name column if possible. You may also use line breaks in your Instagram bio to highlight your strengths. It also improves the readability of your Instagram profile. Additionally, some emojis can even be used to describe your products and give users an insight into your brand's best sellers. An example of this can be seen with the swimwear brand Hello Molly.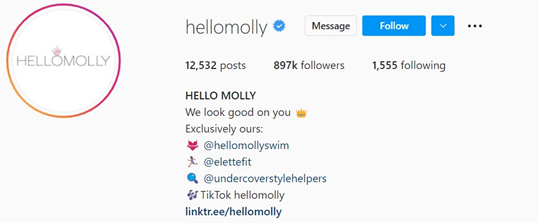 These were some of the top 8 Instagram bio elements, try using some of these tips and guidelines when creating your Instagram bio.
Creating Bio For Instagram : Key Takeaway
Although profile photographs attract attention, it is the text that appears beside them that persuades a person to follow your page. Some Instagram biographies quickly catch our attention, while others blend in with the crowds. Because you must keep under the 150-character restriction, having a strong sense of direction is essential when creating an Instagram bio for a company. Determining what you want from your bio can help you filter down your options. So, when writing your bio, keep a specific purpose in mind and write it down.
As you've seen, there are numerous factors to consider when establishing a polished Instagram bio for your business. Your Instagram bio, on the other hand, doesn't have to be stagnant, you can always choose more dynamic bios in the future. Experiment with numerous emoticons, calls to action, content, and other options. You'll learn what your following relates to and what helps for your brand by customizing your Instagram bio.