Have you already picked a few great words to write your Instagram captions? But you would like more than the default Instagram font. You might have noticed other Instagram users have chosen different fonts for their posts and bio. However, how have they done it? We will share the secret of choosing a different Instagram font. You can select diverse fonts for your Instagram profile, bio, or posts.
What are the potential reasons for Changing Instagram font?
The biggest reason for choosing a unique font for Instagram are-
· To differentiate your Instagram profile
As Instagram is a highly creative platform, several artists, creators, and designers have joined it to showcase their portfolios. Many small and big brands also have created their Instagram profiles to draw the attention of their target audience. There is a high level of competition on this social media platform. So, you can try to gain everyone's attention by using custom fonts.
· Prove your creativity
Successful marketers like to experiment with their Instagram content. The social platform provides several opportunities for experimentation. One of them is by altering the font of the text.
· To focus on the latest trends
If you analyze social media marketing landscaping, you can find a lot of new and emerging trends. So, you should not stick to a particular trend for a long period. In due course, your Instagram followers may think your profile is outdated, and they will not like to read your post.
Which font is available to Instagram users?
Proxima Nova is the most popular font developed by Mark Simonson. This commercial font is found on various websites.
Origin of cool Instagram fonts
If you have tried to change the current Instagram font, you will find no other fonts available for your use. Then, how have other Instagram users used funky bubble letters and cursive fonts in their profiles? However, there are very limited styles of fonts. Symbols and stylistic letters found in Instagram captions are Unicode letters. You can also look for some special characteristics and insert symbols in your word processor. You will find several distinctive symbols. There is no need to discuss more technical details. Most importantly, you can use some symbols for your Instagram bio and posts.
Instagram font styles need to be chosen while writing the Stories, bio, and caption. Also, you have to choose a reliable font generator tool for this purpose. Font generators are intended to streamline the font-changing process. However, they also enable you to leverage benefits from other options before selecting the font style for your brand. That is why you get the freedom to pick the Instagram fonts you need.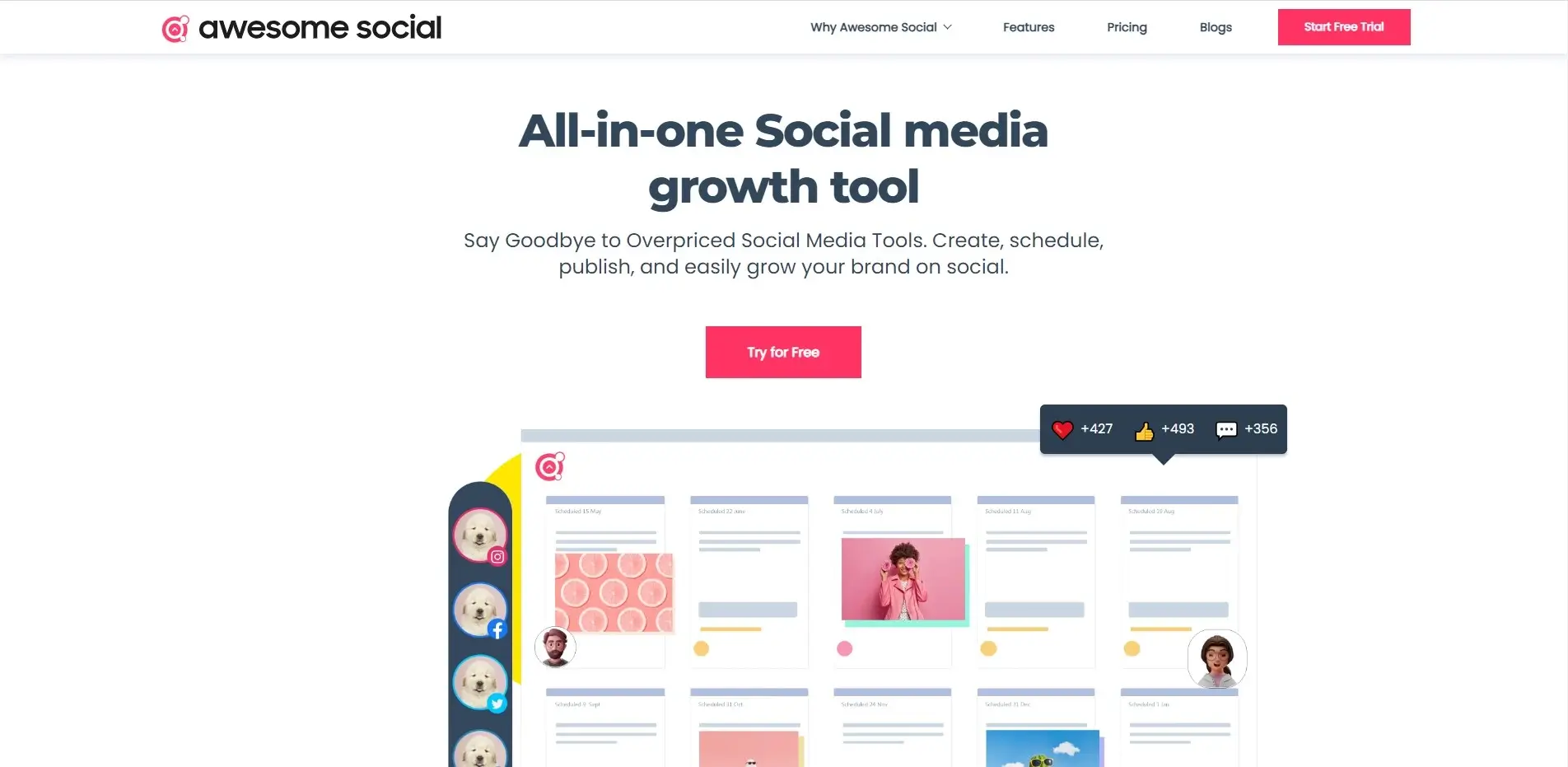 It is not easy to read Instagram captions when the user has chosen a long caption. To get different fonts, you can use Awesome Social. Check the steps for using this Instagram Planning tool.
Access your Awesome Social account to modify your Instagram font. You can open the font generator from your desktop.
Upload the photo. You can also choose the existing image.
Type your caption.
Choose from various Instagram fonts like Cursive, Serif, Italic, and Bold. Some users like to combine multiple styles for their fancy fonts.
You do not need to stick to a single style for a caption. Any style can be used for different parts of the caption (but not Hashtags). Click on various fonts that you prefer using for your Instagram profile.
So, choose the most reliable font generator and make the overall process easier.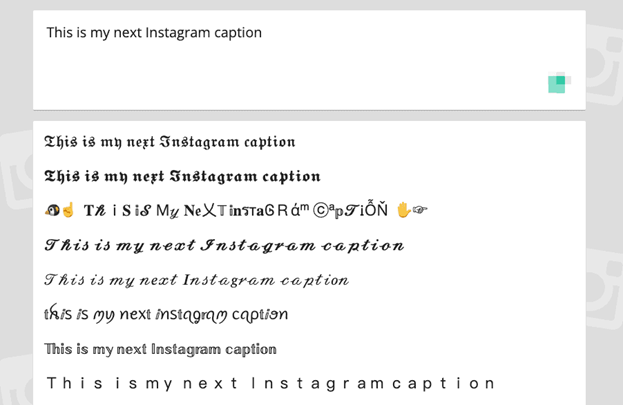 It is another intuitive tool that lets you select the unique Instagram font for your caption. Your main task is to type of desired text and look for the fonts available for you.
There is a text field in the interface of IGFonts. So, you can enter the Instagram content and choose the font style. After accomplishing this step, the tool starts generating fonts for the output.
Some Instagram marketers rely on Fontget, which presents you with a range of font styles. Your Instagram profile can also be previewed with diverse fonts. You can see how they would work and match your brand.
Use the fun tool to select new fonts and explore the related emojis that are suitable for your text.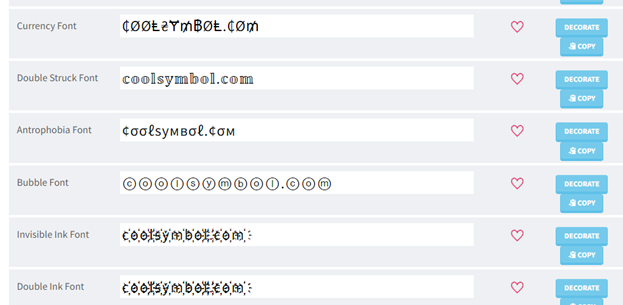 It is a web-based tool designed to generate different fonts for Instagram captions, bio, and comments. Moreover, the tool presents you with over 100 font styles. You may choose any of them and add symbols to make your text more interesting. It is easy to use the app, as there is no need to sign up with the platform.
Lingojam is a user-friendly tool that does not need any download. The font generator works almost like the Instagram Fonts tool. What you should do is type the text in the box and choose the right font options. Pick the font you prefer and copy the text to paste it on Instagram and other social media platforms.

Change Instagram Bio Font
While writing your Instagram bio to promote yourself, you can pick a unique style for your font. It is a way to make your bio more prominent to others. If you are not aware of how to alter the Instagram bio font style, you can look for an intuitive font generator. In this case also, the scheduling tool, Awesome Social, is the perfect solution.
· 1 - Open the font generator app for your Instagram font
You can upload a post or create a draft to start using the tool. You can then type the content you like to display in your Instagram bio. After formatting the font for the Instagram bio correctly, you have to select the most attractive text. Control + C also helps you copy the content.
Updating the Instagram bio font is very easy now. If you have already opened the Instagram app, you have to go to the Profile menu. Then, hit the Edit Profile option from it.
Reach the Bio textbox and drag the newly chosen Instagram bio font to it. You may also apply the font only for a few sentences.
After updating the bio with a different font, you can click on the Submit button.
Make sure that your Instagram bio has proper line breaks and spaces. You have to remove it if there is too much space after punctuation marks, emojis, and text symbols.
Another font generator for your Instagram bio is MetaTags.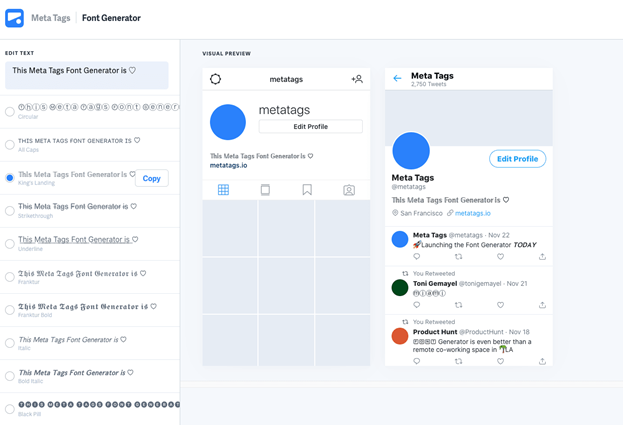 There are some easy steps for customizing your Instagram bio fonts using MetaTags.
Visit the official site of the font generator- https://metatags.io/font-generator.
You can then enter the text to the left part of your screen. The font styles are shown below it.
There are different font options, and you have to pick one based on your preference. Copy the content and open your Instagram profile.
Click on the Edit Profile section.
Paste the content in your bio section.
Make sure that the size of the Instagram bio is not more than 150 characters.
Updating the font on the Instagram post
IGFonts.io is a reliable choice for updating your Instagram post with a new font. Visit the official platform of IGFonts.io and then go through some steps.
Enter the text in the box.
Multiple font options are available for you. Choose any of them and copy the content.
Open your Instagram profile and craft a post.
Paste the content and share it.
Updating your Instagram Stories with a new font
We have already said how Awesome Social and other font generators help you use a different font with a simple copy-paste activity. The same is applicable to Instagram Stories. Just select the font to be used and paste the content to Instagram Stories.
You may also look for new font styles for your Instagram Stories. Over time, we have noticed the emergence of several eye-catching fonts. Open the Story section and update the fonts. Tap the next button in the corner and scroll through the list of fonts.
So, there is no need to have the technical skills to use font generators. But you have another way to update the font. Instagram itself provides you with a list of fonts for your Stories.
Visit Instagram Stories and snap a photo that you like to share
Enter the text
Click on the Aa button on the interface.
By swiping the screen right and left, you can choose the right font
Hit the Done option
Choosing a new font style for Instagram Stories is essential for developing your brand through regular content. Although you may like to stick to a few fonts, it is a creative strategy to make your marketing successful.
· New fonts for Instagram users
The Instagram Stories editor is available with a range of new fonts. So, you have to open the editor and click on the font icon. We have made a list of the most popular font options.
· Double-layer drop shadow
The upgraded version of the app presents you with a popular font, Strong. Double-layer drop shadow is a trendy choice. The colors of the drop shadow can be generated automatically depending on the chosen text color. However, you will be able to alter the colors from foreground to background by clicking the highlight button.
· A new variant of Modern
Modern has a new outline highlight with a playful and cute twist. You can pair it with a block font design. But, it is tricky to read the outline variant. So, it is better to avoid the font for Instagram Stories.
· Comic Sans with a new look
The Instagram community loves this font due to its playful look. Although the font is irregular, it is best for brands that prefer a youthful and casual.
· Serif font for an editorial feel
It is another new font for marketers that are trying to develop an editorial look in the Stories section. You can also create a contemporary style with this font. The colorways are adjustable by clicking on the wheel. Fashion-forward brands can choose this refined font style.
Think of changing Instagram fonts? Check for some best tips for higher engagement
You like to select cool font styles for your Instagram caption, bio, and Stories. But every font is intended to serve a purpose. Besides, new font styles let you make your Instagram captions more attractive. As a result, there is a chance of increasing your sales. You have to be thoughtful while choosing custom fonts because they can make a difference to your brand image.
Choose a unique Instagram font for the main points-
Users may not like to read the overall content when scrolling through Instagram pages. Every caption does not gain their attention. They are always interested in new posts. To hold their attention, you should pick a stunning font. It will prevent the reader from scrolling the page.
For instance, you can decide on a good font for your CTA that includes just 35 characters. The first few words of the caption can be formatted with the Bold style.
No need to update all Instagram fonts
The most important trick is to avoid modifying all Instagram fonts. Although the font styles are beautiful and help you differentiate your profile, you should not use them for every post. Make strategic use of new fonts to get the best result.
So, you can avoid using an Instagram Font Generation tool for each of your feed posts. Your followers will find it repetitive.
Choose the bold format for your keywords
It is another psychological trick to evoke emotion and find a reaction. So, find out the keywords and key phrases to trigger the desired action.
New Instagram font for your events
You might have announced an event on the Instagram platform. You have to pick a unique font to draw the attendees' attention and encourage them to purchase tickets. If you show the relevant details in a bold format, it can catch everyone's eye.
Significantly, the date, time, and other details of the event should be highlighted. Instagram users can check their calendars to know whether they will be able to attend it.
Match your short captions with cursive fonts
There are fancy fonts to make your caption highly attractive. However, you should not update the full paragraph with the cursive font style. It makes it difficult for readers to read the content. So, do not make your Instagram followers confused. Simplicity is always desirable. Write precise yet impactful sentences for your Instagram captions.
Create powerful captions with diverse fonts
In case of multiple CTA buttons and actions for your Instagram followers, you can highlight them in various fonts.
· Maintain brand consistency
Your creative Instagram font must align with other activities for your branding campaign. A particular Instagram font appears to be attractive. However, if consistency is not maintained, you will not get the best result. Go for 1 to 2 fonts for your Instagram content.
· Focus on accessibility
Depending on Unicode characters, you can choose custom fonts. It means readers should be able to read the font regardless of their devices and browsers. Not every font style or character is readable from any device. So, be careful while choosing the fonts.
Changing the font in your Instagram Bio : Key Takeaway
Instagram is a reliable platform with an aesthetically pleasing and intuitive interface. Still, there is a lack of default font options for customizations.
Instagram Stories offers a number of font options. However, for comments and bios, you cannot find any integrated customization options. That is why third-party tools come to your help. These simple tools enable you to modify the font style and paste the formatted content on Instagram. You may choose between free and paid versions of the font generator.
FAQs
· How should I update the font on the Instagram post?
It is not possible to choose a new font while writing your Instagram post. But, using Unicode symbols, you can make the font appear unique. They are effective for altering the fonts of your comments, description, and profile.
· Can I choose the Bold format for the Instagram bio and captions?
Instagram scheduling tools or font generators can be used for this purpose. Use the tool to create the bold text and paste the content on the bio section or caption.
· Can I write my Instagram profile name with a different font style?
Like the caption and bio, your profile section can be updated with a new font using the font generator.