E-Signature verification solutions are in high demand considering the enduring shift toward remote workplace modes. The electronic signature solution served as a response to the Covid-19 pandemic. "Digital Signatures" needed verification to validate identities and allow transactions.
The signature authentication market was worth USD 957.24 million in 2019. Forecasters estimate it to rise to 4.8 billion USD by 2026. In today's market, there is a wide range of e-signature software available for both small business owners and larger teams. However, finding the proper solution for your company might be tough, especially if all you truly want is a quick way to sign documents.
DocuSign is the leading e-signature software available to users worldwide. HelloSign is a fresher solution for users who want to stick to simplistic signature solutions. Today, we'll look at both the prominent competitors in the electronic signature sector and see what they can offer.
DocuSign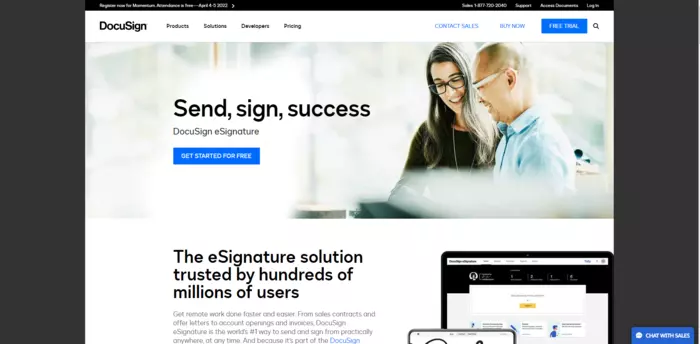 DocuSign was one of the earliest organizations to pioneer e-signature software, and it currently provides one of the world's most popular e-signature solutions. It is an element of their broader cloud-based System of Agreement Platform, which enables companies of all sizes and sectors to rapidly overhaul and modernize their documentation workflow. They do everything from drafting contracts to signing, executing, and maintaining them—from nearly anywhere around the globe and on almost any gadget.
DocuSign is the most widely used online signing platform. It also offers a vast user base and has garnered a substantial amount of positive feedback. Geolocation capturing and real-time performance reporting in DocuSign allows us to develop templates and workflows, access extensive analytics, and collect safe and reliable online signatures. DocuSign is also available in around 43 languages worldwide.
HelloSign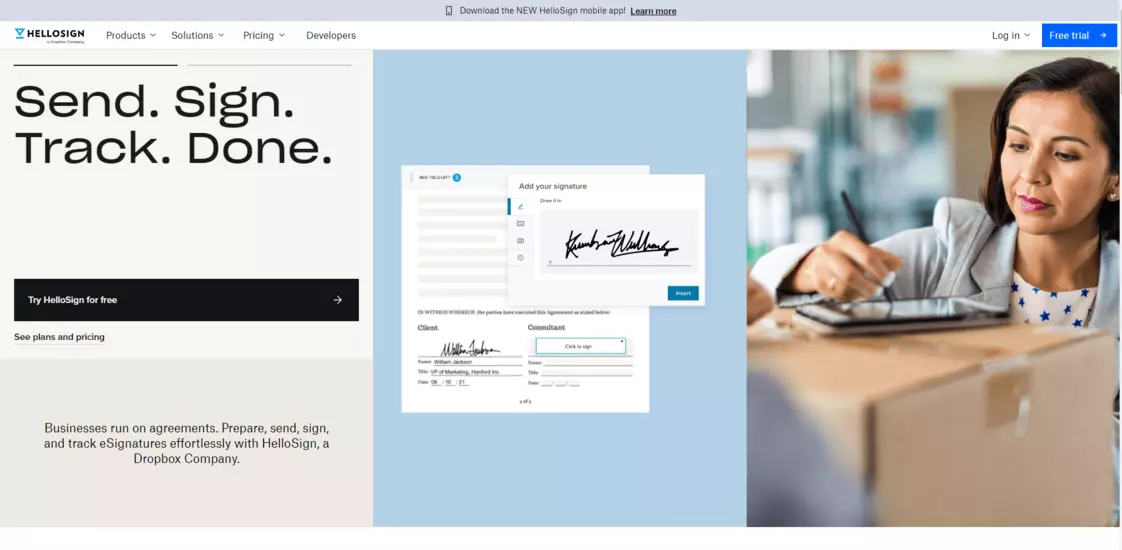 HelloSign is digital transaction management (DTM) and electronic signature tool that incorporates documentation signing, signature tracking, and regulatory compliance. HelloSign has a significant benefit in that it allows virtually limitless signatures in the least expensive tier above the free version. HelloSign's products are divided into three tiers, each with its own set of unique characteristics.
HelloSign is meant to streamline your business and make DTM easier with automatic mail notifications, in-person signature captures, and more, whether done by the web app or smartphone app. HelloSign is now available in 22 languages, making it even easier for document writers and recipients all across the world to utilize. It's an excellent option for freelancers because it provides a free edition that allows you to use HelloSign's basic functions with some monthly restrictions.
Now that we know a bit about both tools, let's get into the comparison!
Comparison
1. The e-signature process
When you first access DocuSign, you are prompted to attach a file. If you are a signatory, you will be directed to the next stage, which is document processing. Following that, you'll be asked how many signatories there are, and you'll be able to order the signing fields and write a comment for the other signatories. When you've completed all of those actions, DocuSign takes charge and sends an email to the other signatories.
HelloSign's method is a little more user-friendly and simplistic. After you log in, you must enter the signatory's name. And if you are the signatory, you can allow the computer to use your credentials to sign documents automatically.
In comparison to DocuSign's 4 or 5 screens, HelloSign requires just two. But, both companies focus on the ease of signing from any device, particularly mobile devices and online platforms. Except in situations where network connectivity is required to complete the signature, each service provides offline document signatures.
Verdict: A Tie! DocuSign has more steps than HelloSign does, but they offer analytics and other advanced features. HelloSign is ideal if all you need is a tool to sign your online paperwork.
2. Pricing Plans and Features
DocuSign Pricing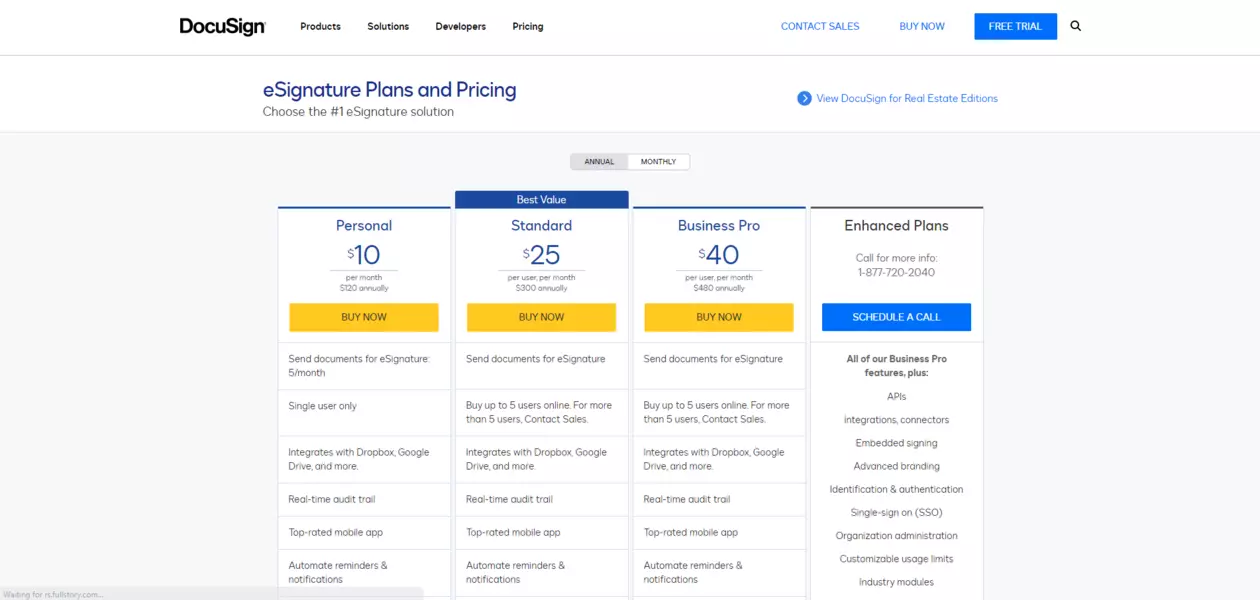 We can classify DocuSign's plans based on the number of Users each plan supports. Individual or Personal user plans include the following features:
Only one user is permitted.
Number of documents for signing: 5/month
The fundamental fields
App for mobile devices
Reusable templates
Workflow fundamentals
Audit trail in real-time
Offers integrations with Google Drive, DropBox, and other services.
Their Basic Plan starts at $25 per user every month and adds up to $300 per year. They provide the following benefits:
E-signature for documents
The basic fields
App for mobile devices
Reusable templates and designs
Workflow fundamentals
Audit trail in a real-time basis
Integrations with apps like Google Drive and DropBox.
Several languages
Notifications and reminders
Customized branding options
Their Business Pro Plans start at $40 per person, every month, for a total of $480. These are some features you can only get with the Pro Plan
Shareable Documents
Comments
Shareable Templates
Reports from the team
eSignatures in person
Personalization and branding
Attachments for signatories
Fields of collaboration
Fields of expertise
Fields for drawing
Consent with a single click
SMS verification
PowerForms
Obtain Payments
Send in Bulk
The pricing structure for DocuSign is ideal for large enterprises. Apart from that, here are some features that are specific to DocuSign:
Advanced Analytics
Biometric Phone Authentication
Collaboration and Markup tools
Dynamic forms
Advance Correct
Agent Role
CC Anywhere (Carbon Copy)
But before we get into the direct comparison, let's go over HelloSign's pricing plans.
HelloSign's Pricing Plans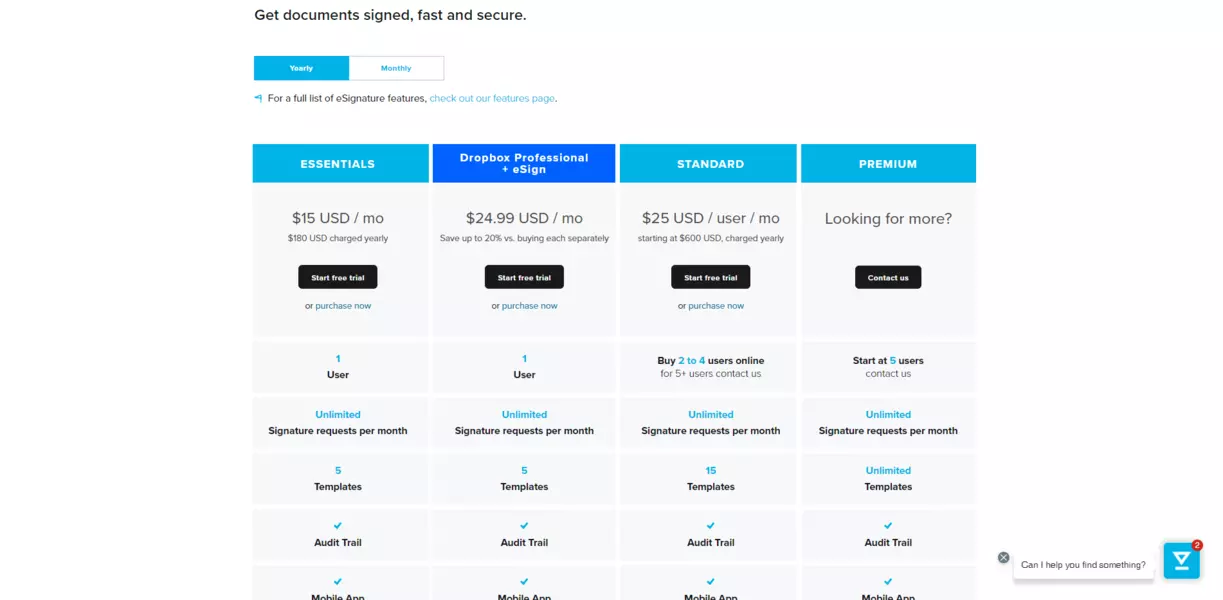 Their Essentials Single User Plan starts at $15 per month and is charged annually for $180. The following are the highlights of their entry-level plan:
Per month, you can make an unlimited number of signature requests.
5 Template options
Mobile Browser Reminers and Notifications
Signatory Information
Authentication of data
Different Languages
Links to Templates

Their DropBox and eSign Plan for Individual Users costs $24.99 per month and includes the following capabilities. This list includes features from their previous essentials plan as well:
Benefits of Dropbox Professional
Three terabytes of encrypted file storage
Send up to 100GB worth of files
Mobile offline folders
Watermarking of documents
Priority chat assistance
Files recovery within 180 days.
Their Standard Plan starts at $25 a user per month and costs 600 USD annually. They offer the following features for 2-4 users at the basic level:
Per month, you can make an unlimited number of signature requests.
15 Template Options
Reminders and notifications
Audit Trail
Mobile App
Signer information
Validation of data
Several Languages
Links to Templates
Branding
Bulk Documentation
Team-based features
Sharepoint and Salesforce integrations
HelloSign's Premium plans do not show any specific entry-level price point. This price tier is for those who want enterprise-level software for their e-signature needs. Apart from this, some specific features to HelloSign's offerings are HelloFax, HelloWorks, and HelloSign API. The company has been committed to enabling paperless offices from its start.
HelloFax is still in operation. It has its pricing options as well as capability sets. If you require paperless faxing, it can surely enhance the bargain, even if it is an additional expense. Some other services offered by HelloSign each have their pricing and feature sets. HelloWorks is one of them. The HelloSign API is the other.
HelloWorks is a platform that allows you to integrate the signature collection into mobile web apps. It aspires to be a more web-based and mobile-friendly alternative to PDF forms. The HelloSign API enables developers to include signature collecting into their preferred programs.
Comparison
When we get to the nitty-gritty details of both company's plans, we can see that there is no clear winner. DocuSign offers features that are far more advanced than HelloSign. Whereas HelloSign is ideal if all you want is to sign your documents at an inexpensive price. DocuSign is ideal for large-scale companies and those who are looking for analytics and in-depth reporting features. In contrast, HelloSign is the better option for freelancers and small-scale businesses who are looking to sign documents and nothing more.
Verdict: A tie! Both companies offer very different services and bring different features to the table. In terms of features alone, DocuSign is the clear winner, as they offer far more advanced capabilities. In contrast, if we're looking solely at the price and only want to use our e-signature software to sign documents, HelloSign is your pick.
3. Integrations
HelloSign's Essentials subscription contains integrations with Google Docs, Dropbox, Microsoft OneDrive, and other services. Zapier is the app's primary connector, allowing you to effortlessly integrate any software you select. DocuSign, on the other hand, has hundreds of direct integrations with a diverse range of vendors. This includes SalesForce and nearly every other integration supported by HelloSign.
While DocuSign provides a free version to get customers started, every paid plan offers more than HelloSign does at the identical level. This includes their unlimited document upload, bulk send options, and more. The amount of templates you can build with DocuSign is not limited. As a company grows, this provides more freedom. DocuSign also provides a broader range of integration possibilities across all plans. Many significant connectors with CRM systems such as Salesforce and Microsoft are locked behind personalized pricing at the enterprise tier.
Verdict: DocuSign wins! When it comes to integrations, we can all agree, that DocuSign is the clear winner. You can connect Dropbox with any of their packages. However, if you want to integrate with Microsoft Dynamics or Salesforce, you will need to upgrade to the Enterprise plan.
4. Authorization and security levels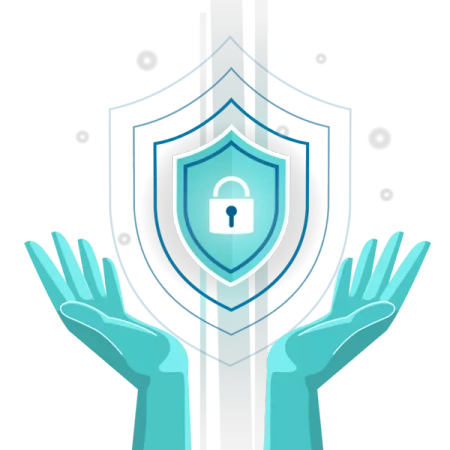 HelloSign ensures that signed and authenticated papers are protected and follow industry rules. When a receiver signs a file using HelloSign, it is legally enforceable under the United States Electronic Signature in Global and National Commerce Act (ESIGN).
Alongside this, it is also legally binding under the Uniform Electronic Transactions Act (UETA) and is compliant with Electronic ID and Trust Services (eIDAS), HIPAA, and SOC 2 regulations. Furthermore, any data transmitted through HelloSign is protected with AES 256-bit encryption and is secured throughout its server network. HelloSign offers a webpage to explain their security measures, but it is not half as detailed as the security details offered by DocuSign.
DocuSign also adds a tier of security to its solutions, ensuring that your business fully complies with its industry. DocuSign is built on industry-standard electronic signature software. DocuSign's Signature Appliance adheres to globally recognized electronic signature regulations and leverages industry-standard Public Key Infrastructure (PKI) digitally signed software. DocuSign is also certified for conformance with government standards in the US and the European Union under FIPS 140-2 Level 3, FIPS 201 PIV Standard, and Common Criteria EAL4+ (EU).
DocuSign when compared to HelloSign offers more comprehensive details about their security measures. DocuSign has a webpage with a variety of whitepapers for various topics. Product security, a security brief, and security and legal processes are among the whitepapers available. Both applications provide a wealth of information about their security and safety features. But DocuSign gives users a greater variety of security resources when compared to HelloSign's webpage.
Verdict: A tie! In terms of security measures, both apps offer equal amounts of data protection. But if you want a deeper look into their security measures, DocuSign provides you with more resources and information to better understand them.
5. Branding and customizations
Most businesses like to put their logo or trademark on the paperwork they send. Both DocuSign and HelloSign enable companies to do so with customized branding opportunities. DocuSign provides branding options, allowing users to customize icons, headers, and colors within their documents. Users can also add a logo, which will appear on the doc and in any emails sent. The DocuSign logo is always present in some fashion in the documentation. But the company logo and color palette allow for some customization over the UX.
With HelloSign, you can't modify the style and feel of the file. But you can attach your brand logos, insert a corporate tagline, alter your email signature, and add a personalized URL. You can do this so that signatories can reach a confirmation page that you manage when the signing is finished. Additionally, HelloSign provides white labeling solutions, allowing brands to erase the HelloSign branding from their documents. HelloSign is one of the few docusign alternative in the industry that allows brands to completely disassociate themselves from their electronic signature vendor.
That means you may create files that are solely your business's property, free of HelloSign's brand or watermark. Which helps give them a polished and distinctive appearance. As a result, we must award this round to HelloSign. While DocuSign offers more customizations for your document's appearance, HelloSign allows you to create contracts that are unique to your brand.
Verdict: HelloSign wins for those who want to keep their documents connected to their brand alone. In contrast, DocuSign is the best option for those who want to create documents with specific color schemes and customizations.
6. Customer Ratings and Reviews
DocuSign and HelloSign both receive a lot of positive feedback from users globally because they're prominent solutions. Gartner assigns a 4.5 to DocuSign and a 4.6 to HelloSign, putting them on a par. DocuSign, on the other hand, is the clear winner in terms of client numbers and market share. However, there is no obvious winner in terms of likeability, resulting in yet another tie.
G2's ratings for HelloSign are at 4.7 out of 5 stars, with 1,314 reviews currently. Whereas DocuSign has a 4.5 with around 1,855 reviews right now. Popular mentions for HelloSign's product involve the words "Simple," "Easy," "Saves time," and more. In contrast, DocuSign has "Time Saver," "Customer Service," and "Business processes."
Verdict: It's a Tie!
The Final Verdict
As previously said, HelloSign is better suited to small businesses. It's less expensive while preserving a high level of quality and ensuring that all of your documents are confidential and legally valid. HelloSign is an excellent choice for small enterprises that can get by with simple templates and don't need to integrate with anything more than Dropbox, Google Drive, and other basic user applications.
DocuSign is a superior option for larger businesses that wish to leverage more integrations, manage more templates, and experience efficient document workflow. If your company is expanding or you're seeking to sign up numerous customers for a plan, DocuSign is probably a better option. DocuSign also offers more CRM integrations and reports, and analytics for companies looking to upscale.
This debate will never be resolved objectively because both tools have excellent functionality. These features can benefit many types of businesses, and only by putting them to the test will you be able to determine which ones work best for you. With so many alternatives, obtaining e-signatures and integrating signing software might be perplexing. However, the best thing to do is to experiment with various tools to see which one best meets your needs.
Awesome Sign: A Great Alternative
So, if you're looking to experiment with some fantastic e-signing tools, check out Awesome Sign! Awesome Sign is a great hellosign alternative, allowing you to simply e-sign papers. Awesome Sign makes it simple to update, sign, and manage your documents from any device. Sign up for a free trial here to learn more.